23+ Camping Dessert Recipes You Are Gonna Love!
Who doesn't think about a sweet treat to end a meal of awesome camping food?
These camping dessert recipes include campfire desserts besides smores (even though we have those too!)
Psst we're compensated…see our disclosures.
Camping Dessert Ideas
Easy camping desserts make perfect endings to meals in the great outdoors!
You need to consider if you want no-cook desserts or sweet treats you have to bake, fry or toast as well as what equipment you need to make them.
---
Dutch Oven Dessert Recipes
We love cooking with campfires and these camp oven desserts are some of our favorites.
Camping Smores Dutch Oven Brownies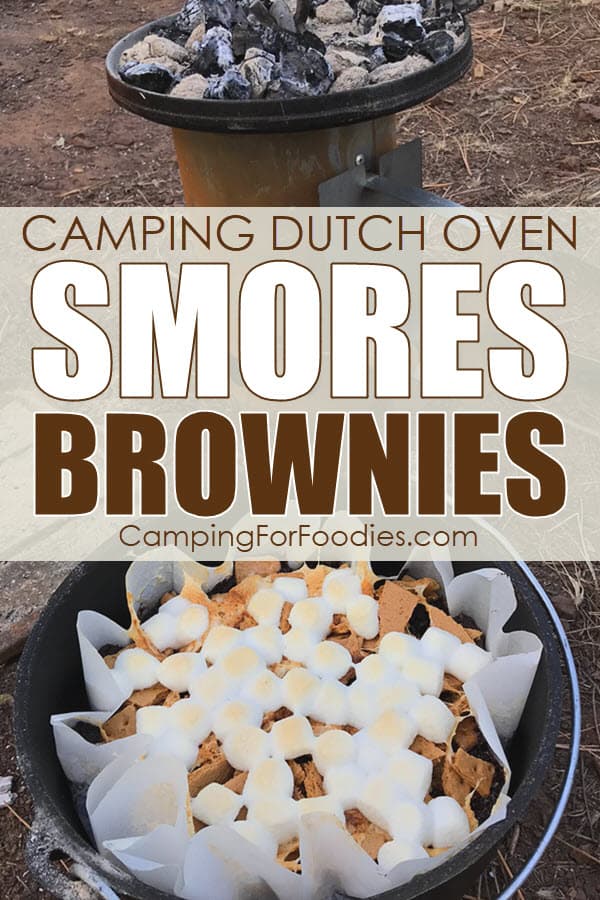 These camping smores Dutch oven brownies are oooey, gooey, easy and indulgent!
What more could you want for dessert?
---
We use parchment liners when we bake many of our one pot camping meals, like these brownies.
If you don't know how to use Dutch oven liners … you should because cleanup is a BREEZE!
You can make your own out of a roll of parchment paper …
… or use pre-cut styles.
Lodge Manufacturing Parchment Paper Dutch Oven Liners
---
Dutch Oven Carrot Cake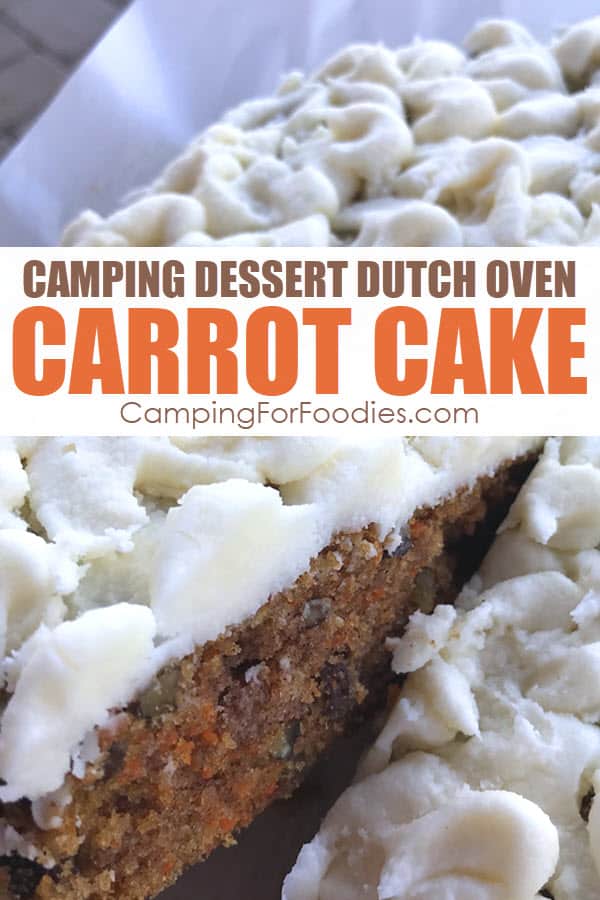 No electric appliances are needed for this camping version of carrot cake made from scratch using your cast iron Dutch oven.
---
Dutch Oven Blueberry Cobbler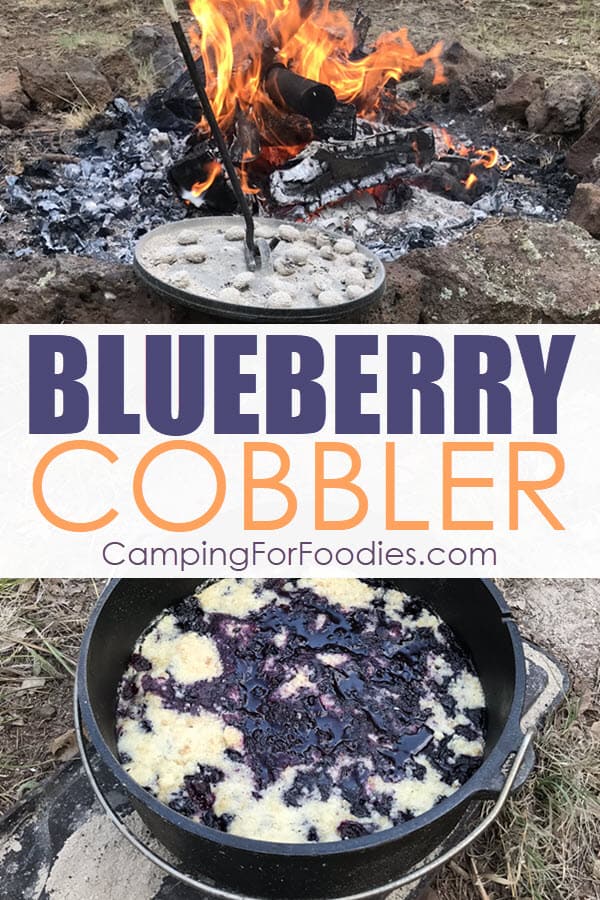 This simple recipe starts with fresh blueberries that are topped with an easy cobbler … it is sooooooooo good!
---
Chocolate Lava Dutch Oven Cakes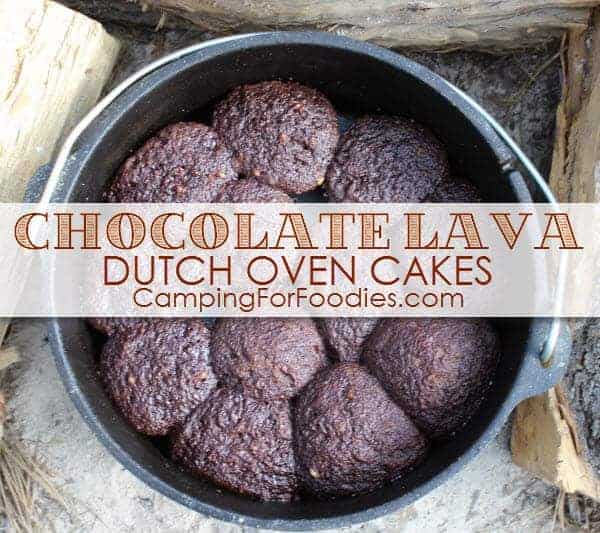 Who doesn't love a little chocolate to complete a meal?
These lava cakes are moist and decadent!
---
Blueberry Lemon Dutch Oven Muffins
These blueberry lemon muffins have a lovely glaze drizzled over the top and are perfect as a warm dessert or as a sweet breakfast item.
---
Camp Chef Dutch Oven Carry Bag
---
Easy Dutch Oven Pineapple Upside Down Cake
There are not many Dutch oven desserts camping families always agree upon but this simple cake is just that for our family.
It is the perfect ending to easy camping meals!
---
Dutch Oven Cinnamon Bread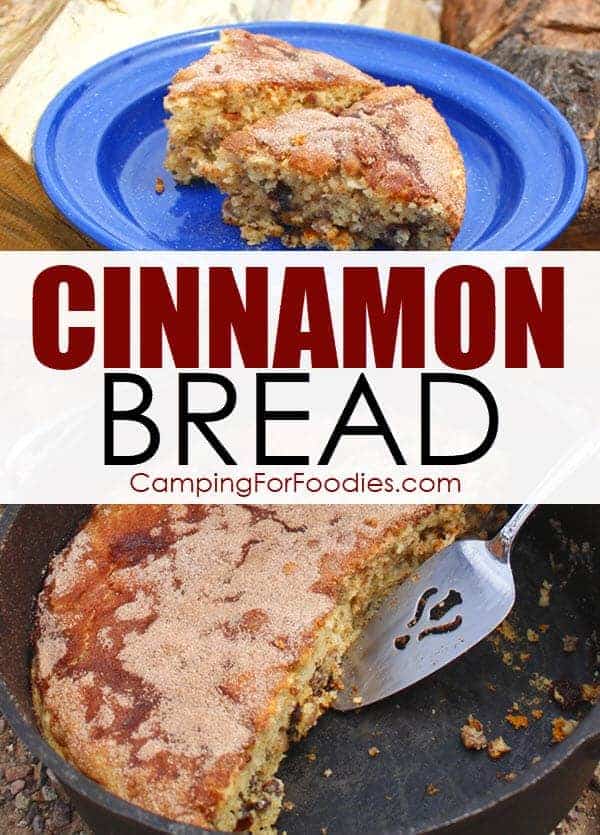 Some camp oven dessert recipes are great for breakfast too … like this yummy cinnamon bread! It goes great with a cup of joe! If you don't know how to make coffee when camping, we have awesome methods for making big batches for large groups, multiple cups for families and techniques for brewing individual servings.
---
Upper Crust Apple Pie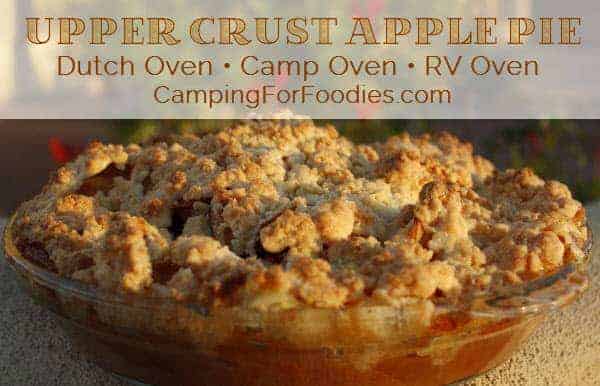 This Dutch oven apple dessert is one of our favorite pies for enjoying on fall camping trips!
---
Did you know you can bake on your propane stove using your Dutch oven with a dome and heat diffuser plate?
You can!
Camp Chef Dutch Oven Dome
---
Dutch Oven Berry Cobbler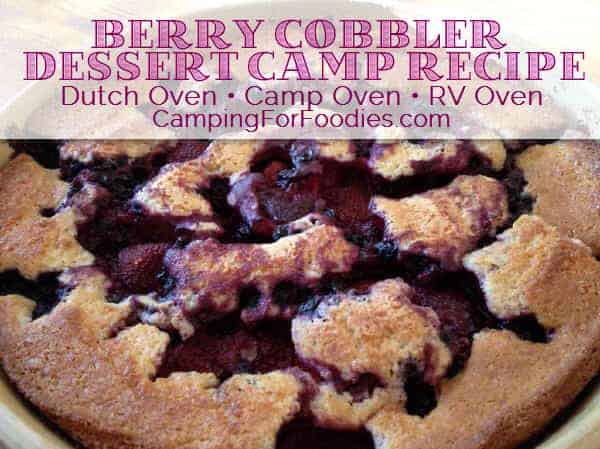 This is one of our Dutch oven dessert campfire recipes that was originally created at home when we were trying to use all of the food we had in the house before a big move across the country!
---
Camp Dutch Oven Coffee Cake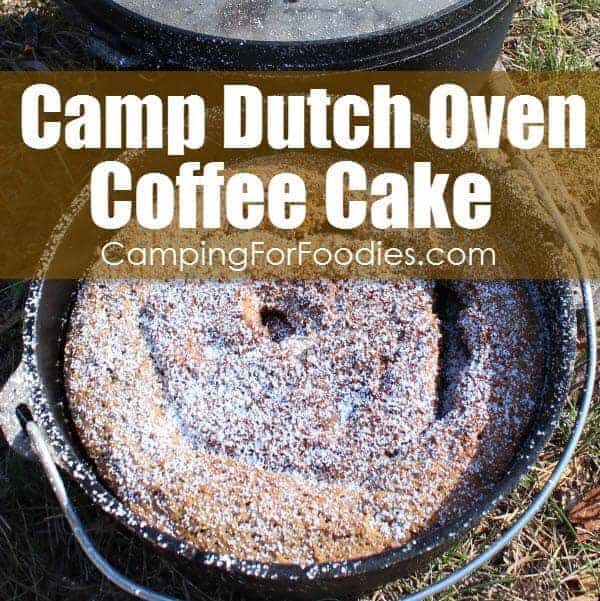 This slightly sweet coffee cake is one of our camping breakfast ideas we make as a dessert too.
---
Lemon Blueberry Topped Campfire Dutch Baby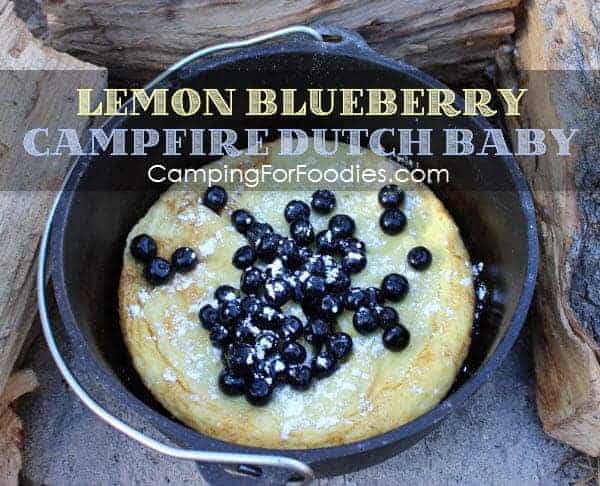 The combination of lemon and blueberry often make an appearance on our summer cast iron desserts camping menu because the flavors are fresh and fabulous!
---
Campfire Dutch Oven Jalapeño Cornbread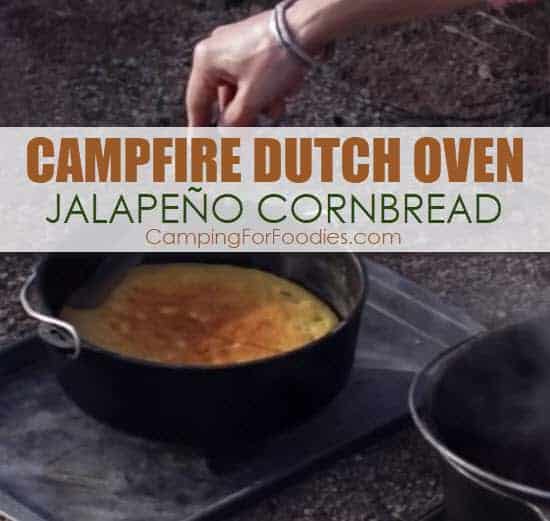 We usually make this cornbread to accompany our campfire chili but if we have leftovers (which is not very often) it quickly disappears from the dessert table!
---
Make Ahead Camping Desserts
If you like baked goods but don't want to do a lot of baking at the campsite, try making desserts that freeze well.
Caramel Nut Brownies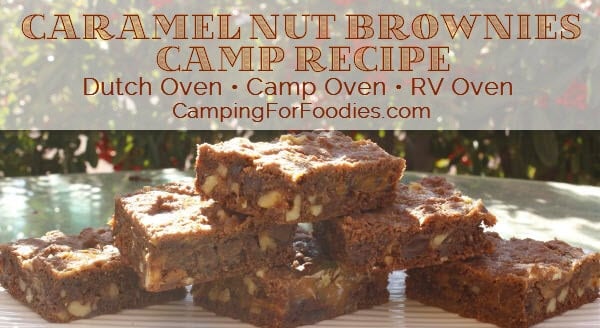 You can make these brownies at the campsite but you can also make them at home, slice them, wrap them individually and then freeze.
When you are ready, just defrost as many as you need during your trip.
---
Campfire Desserts
Some sweet treats are perfect for campfire cooking!
Campfire Smores Recipes: 10 Mouth-Watering Variations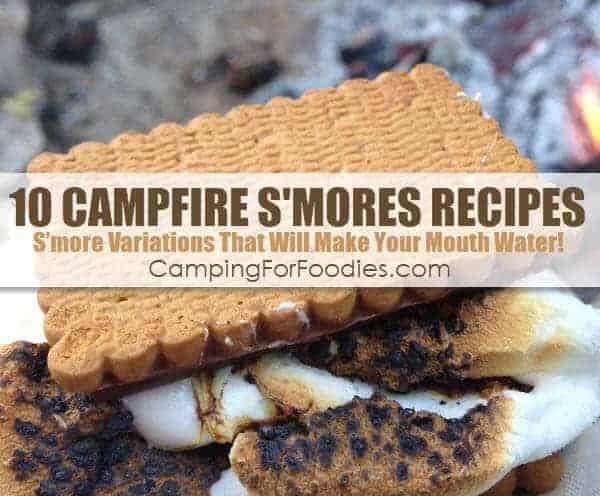 When you think of easy campfire recipes … especially classic camping food desserts … you probably think of smores.
These unique variations will make you fall in love all over again with this timeless treat!
When you are planning camping meals for two, s'mores are a great option because you can make only the number you want and won't have tons of leftover sweets from a family-sized portion dessert.
---
Campfire Donuts Dutch Oven Camping Recipe
Want easy campfire desserts?
These donuts only use 3 ingredients making them one of the quickest Dutch oven camping recipes we have ever made!
---
Camp Stove Desserts
Camp stove recipes for dessert are so nice!
Why?
Because it is so easy to just turn your camping propane on and off … rather than dealing with campfires or charcoal briquettes.
Grilled Pound Cake With Berries
This is one of our camp dessert recipes that uses fresh ingredients along with packaged ones.
It is so yummy you would never know it starts with a prepared pound cake!
---
Chocolate Covered Peanut Butter Balls
You'll find these peanut butter balls on our list of camping food recipes no refrigeration required.
They are perfect when you are short on cold food storage space!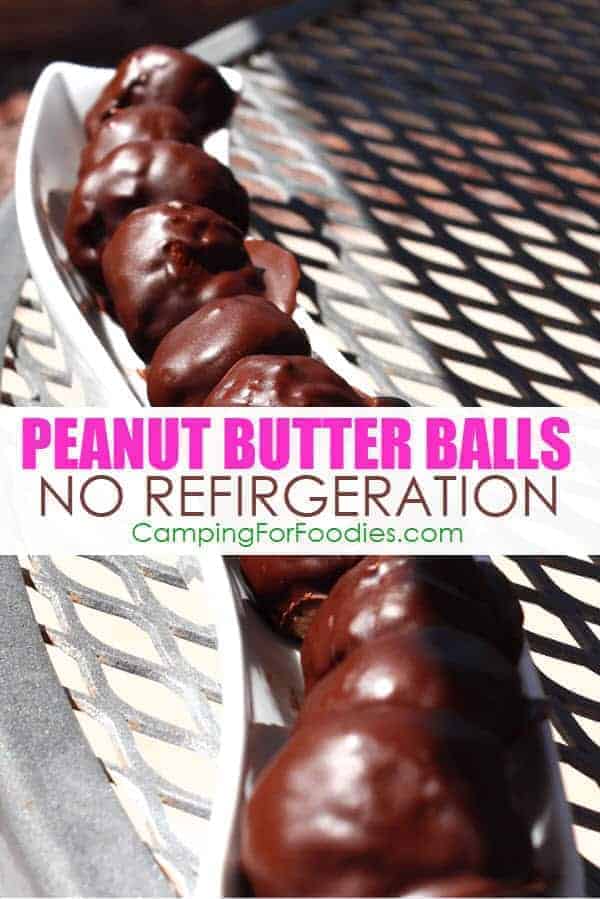 ---
Campfire Desserts Tin Foil Packets
Foil packet meals are the easiest for cleanup!
Spiced-Up Mixed Nuts
If you are looking for a not-too-sweet snack for dessert, you need to try these spiced nuts!
They are cooked in foil pouches over your campfire or grill and make really tasty vegetarian camping recipes that can be eaten throughout the day.
---
Easy No Cook Camping Desserts
When you just don't feel like cooking but want dessert…
Fruit And Nut Peanut Butter Stuffed Tortilla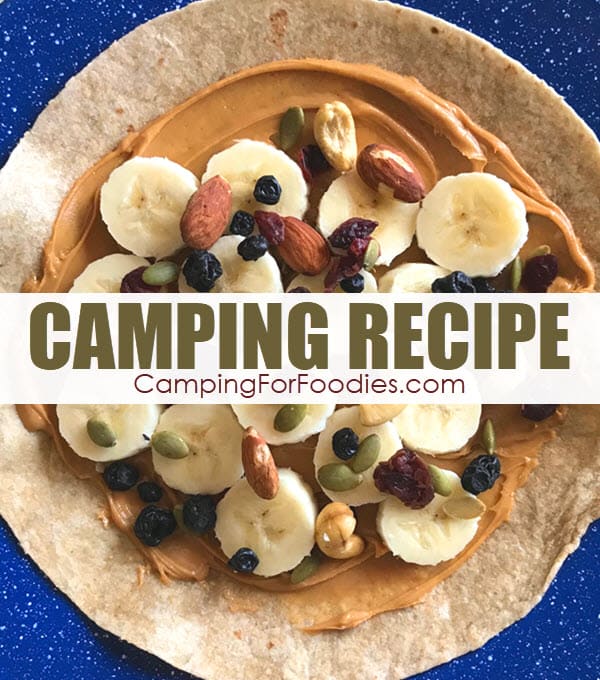 Don't you love healthy desserts that are packed with protein?
This stuffed tortilla is great for dessert, breakfast, lunch or a snack on the trail or at camp!
---
Fresh Fruit Tossed In Honey Mint Syrup
Fresh fruit is a healthy camping dessert but is not very exciting … until you add a honey mint syrup!
Do the prep at home and this dessert becomes part of your make ahead camping meals that is perfect for the campsite.
It also works as great road trip food ideas and travel snacks for your adventures that require longer travel distances.
---
Adorable Camping Desserts From Across The Web
Photo Credit: thriftyjinxy.com
Drop some mini marshmallows and chocolate chips in a sugar cone, wrap them in foil and heat them over a campfire!
Talk about fun camping activities for kids!
Pie Iron Dessert Recipes
Cooking on sticks is always a favorite thing to do around campfires!
Photo Credit: campfirefoodie.com
You can't get easier than cooking refrigerator cinnamon buns in your pie irons for dessert!
Cooking on sticks is just one of our list of 10 fun activities and campfire games the entire family can enjoy together.
Photo Credit: recipesfromapantry.com
Beverages To Pair With Camping Food Desserts
Wash it all down with a cup of…
This campfire hot cocoa is a "sippable dessert" on its own but also pairs well with your "chewable desserts" too.
If you are like me, you love a nice strong cup of coffee to go along with your camp desserts.
Got a favorite dessert for camping we should try?
Leave us a comment and tell us about it … we'd love to hear from you!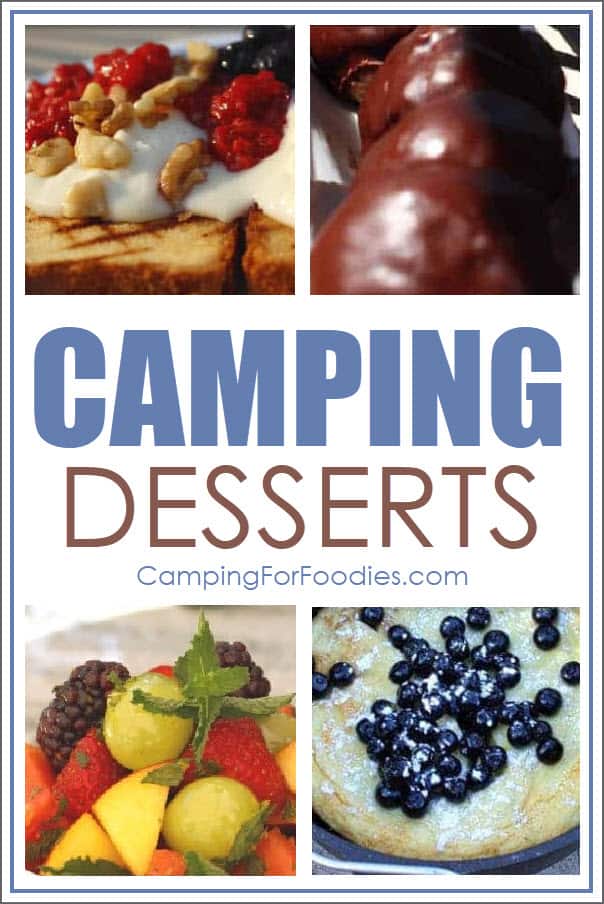 ---
More Ideas For Awesome Camping Food
Plan an awesome recipe for each meal on your menu.