23+ Simple Campfire Meals In Foil You Are Going To Love!
One of the most popular ways to cook camping food is over a fire.
These campfire meals in foil are easy, delicious and practically clean-up themselves!
And, that makes more time available for camping fun!
Psst we're compensated…see our disclosures.
Campfire Foil Recipes
One pot camping meals can be made in camp Dutch ovens, skillets or foil packets like the ones we've got here.
This Campfire Hobo Stew in foil is a step above traditional hobo stew but it is still super easy and fast … I promise. With the simple addition of a fresh rosemary sprig, you'll be amazed at how flavorful these traditional hobo foil packets camp meal becomes.
One of the best things about making foil packet meals is their ability to scale because of the individual servings, they are quick camping meals for two or they can serve large crowds.
---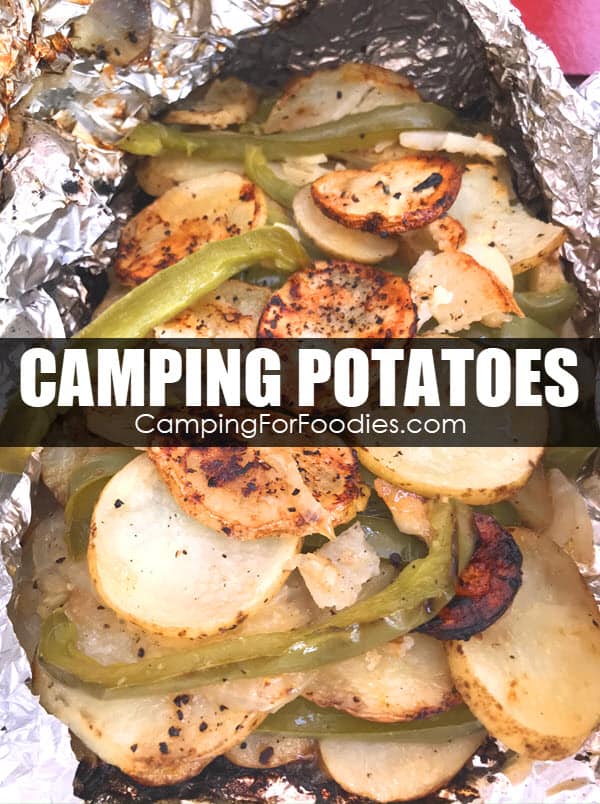 Potatoes in foil must be on every camper's menu! This easy recipe is the perfect side dish for grilled meats.
Knives With Blade Guards
---
You will be amazed at how a few spices and a little honey taste in this Spiced-Up Mixed Nuts Camping Recipe! This is one of our camping food recipes using non-refrigerated ingredients from your pantry.
---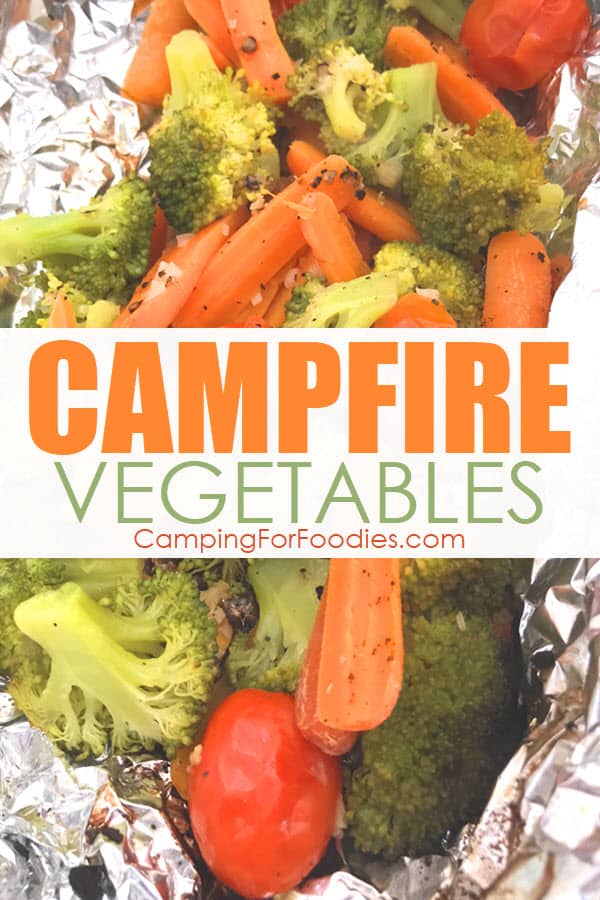 Cooking fresh veggies in a foil packet makes a fast and healthy side dish for grilled meats.
---
This is one of my favorite foil packet fish recipes because it is super simple, moist, flavorful and relatively healthy (but keep that under your hat so it doesn't get the 'healthy tastes horrible' tag and nobody wants to try it!)
932°F Heat Resistant Leather Long Sleeve Insulated Grill Gloves
---
These Camping Foil Packets Grilled Spiced Potatoes use white potatoes and yams offering a great flavor and texture combination.
---
This Chicken Pesto Pizza Easy Camping Recipe needs a lightly wrapped package around 6 ingredients to make this dinner in minutes!
---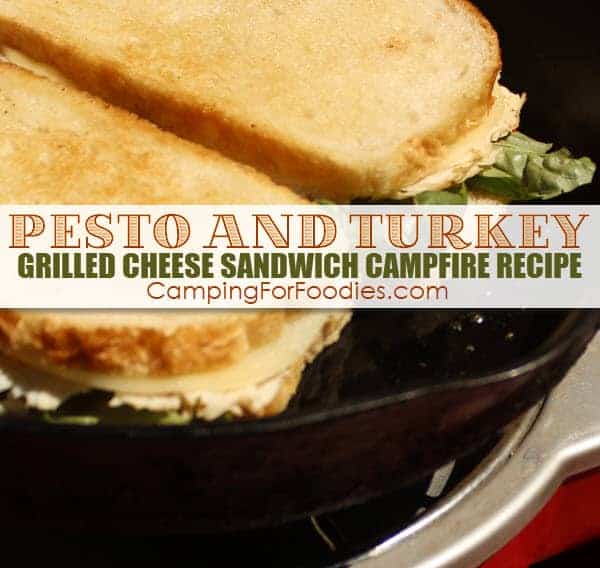 This Pesto And Turkey Grilled Cheese Sandwich Campfire Recipe can be made using a cast iron griddle or skillet … or it can be wrapped in foil packets for toasting directly over the campfire. It is one of our really easy camping meals you have to try!
Camp Chef Lumberjack Over Fire Grill
---
We have lots of other campfire recipes for cooking meals without tin foil too!
---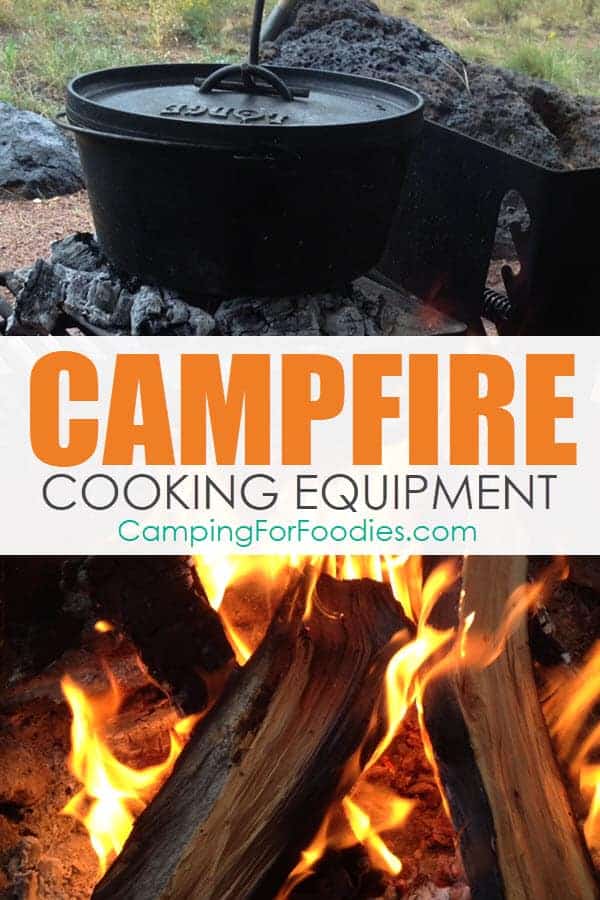 Cooking over the campfire is easy … especially if you have the right tools! Check out this campfire cooking equipment you can't live without!
---
Campfire Meals In Foil From Around The Web
Photo Credit: recipesfromapantry.com
Easy campfire foil packets dessert recipe lovers, this one is for you. We have Campfire Apple Crisp Foil Packs full of sweet juicy apples, cinnamon and granola.
Photo Credit: www.spendwithpennies.com
Foil Packets are a fun and delicious way to prepare dinner. Potatoes, juicy barbecue chicken breasts, cheese, and green onions are wrapped up in foil and baked or grilled to tender perfection.
Photo Credit: littlesunnykitchen.com
Super easy french toast foil packet with cinnamon, strawberry, and walnuts. This can be cooked in the oven, on a grill or over the campfire that can be enjoyed for breakfast or dessert.
We have more camping breakfast ideas that are cooked on camp stoves and in Dutch ovens!
Photo Credit: thesearchforimperfection.com
Foil pocket smore's dip is a super fun and easy way to enjoy this classic camp fire dessert.
Can't get enough of this sweet campfire treat? Try these 10 mouth-watering smores camping variations!
Photo Credit: www.wholesomeyum.com
Healthy salmon foil packets with vegetables in 25 minutes! Make delicious & EASY baked salmon foil packets in the oven or salmon foil packets on the grill.
If you are actually catching your own dinner, check out these other camping food ideas that include common lake-dwelling fish.
Photo Credit: www.simplystacie.net
This summer grilling recipe is a triple whammy – it's easy to prep, simple to cook and fast to clean up afterwards. Your family will love these individual foil packets filled with veggies, shrimp and a mouthwatering sesame sauce.
Photo Credit: deliciouslittlebites.com
Filled with plenty of juicy sausage and flavorful veggies, these Keto Sausage, Pepper and Cauliflower Foil Packets are the perfect meal for at home or out in the wild. They can be grilled or baked in the oven.
Photo Credit: kimandkalee.com
Scrumptious garlic steak and potatoes foil packs make for a super easy family dinner or even a backyard grill-out with friends!! It's also such a great meal to enjoy while you camp as well!
Photo Credit: recipesfromapantry.com
The whole family will love these make-ahead Shrimp Foil Packs full of juicy shrimps, quick cook veggies and everyday spices. Bonus is that they require minimal prep and no cleanup.
Photo Credit: thesoccermomblog.com
The foolproof (and easy) way to bake perfectly juicy restaurant-quality salmon in foil!
Photo Credit: thesoccermomblog.com
Cajun Shrimp Foil Packets are packed with bold flavors – an easy and healthy dinner ready in about 20 minutes!
Photo Credit: thegoodheartedwoman.com
Campfire stew in foil is one of those tin foil camping meals that is easy, fun, and so good that you'll want to make it even when you aren't camping.
Photo Credit: cookeatgo.com
These Foil Packet potatoes make an amazing and easy dinner!! Package them at home for an amazing camping dinner or side dish!
Photo Credit: www.happyfoodstube.com
These Cabbage and Sausage Foil packets are delicious, easy to make and perfect for camping!
Photo Credit: deliciouslittlebites.com
Filled with slices of sausage and low carb vegetables, these Keto Sausage and Cabbage Foil Packs with Radishes are the perfect meal for at home or over a camp fire. They can be made on the grill or in the oven. These make perfect all-in-one campfire foil meals for campers on Keto diets.
---
---