33+ Camping Breakfast Ideas That Are Unique, Easy And Fun!
When it comes to camping food, how do you like your breakfast at camp? Sweet or savory? Hot or mild?
No matter what you might be in the mood for, these easy camping breakfast ideas will satisfy your appetite for a delicious camp meal to begin your day in the great outdoors! 
Psst we're compensated…see our disclosures.
Camping Breakfast Burritos, Sandwiches And Wraps
Hobo Eggs
You only need 3 basic ingredients and 8 minutes to cook this simple breakfast. Don't think this is just the classic egg and buttered toast combination … the bread in this recipe is more like the flavor and texture of a buttery grilled cheese (without the cheese).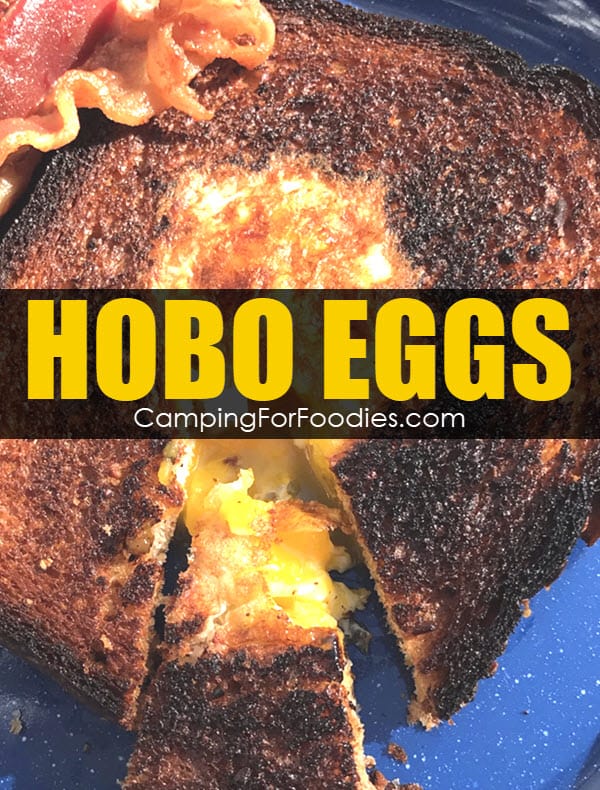 ---
California-Style Camping Breakfast Burritos With Avocado, Eggs & Chorizo
There is nothing like a well-rounded breakfast burrito with super-fresh ingredients. These California-style breakfast burritos highlight the creamy texture and smooth flavor of the beloved avocado. You'll get tons of protein and fiber with the eggs, cheese, chorizo and potatoes … all of that goodness is wrapped in a yummy tortilla making it really easy to eat.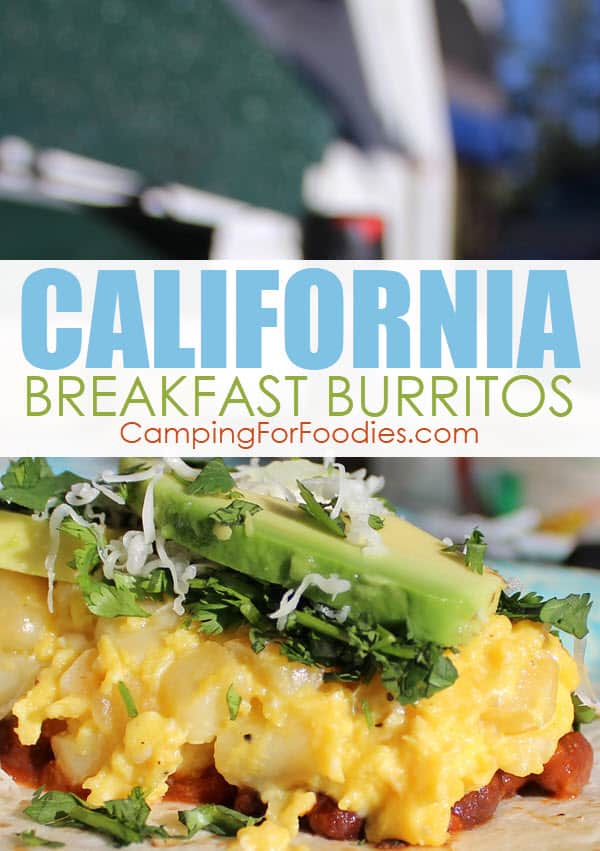 ---
Camping Breakfast Sandwiches
It is like an egg McMuffin but better because it is homemade and fresh. Make a sandwich out of a fried egg, bacon and cheese with a toasted English muffin. This easy recipe can be made for solo campers, as camping meals for two, or scaled up to feed large crowds.
---
Greek Pita Sandwiches Camping Breakfast Recipe
Our family LOVES these pitas! The combination of breakfast ingredients and bold flavors in the Greek sauce and veggies take it toward the lunch hour … in other words … this hearty camping breakfast is the perfect brunch meal to satisfy you till dinner!
---
Bacon Avocado Breakfast Wraps Camping Recipe
Thinking walkable camping breakfast ideas are in order for your camp menu? Try these breakfast wraps! The combination of bacon and avocado make scrambled eggs in a wrap a delicious meal. It is one of our favorite camp stove recipes but if you prefer campfire cooking, you can make it there too!
---
Breakfast Burrito Camping Recipe
Want a handheld "walkable feast"? Try this easy burrito recipe! The chorizo sausage, cheddar cheese, sour cream and cilantro pack a punch with the scrambled eggs all wrapped in a convenient (tortilla) package.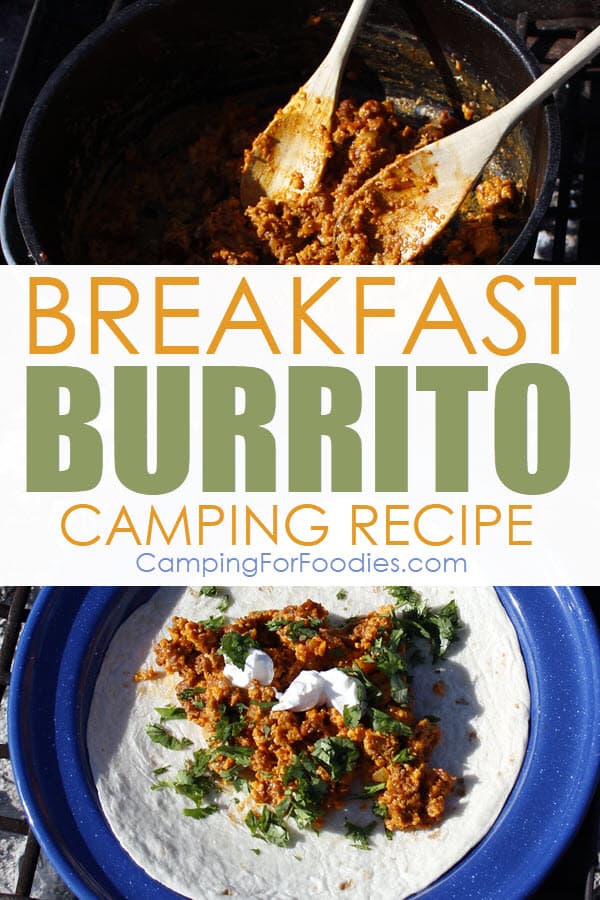 Camp Chef Dutch Oven Carry Bag
---
One Pot Camping Breakfast Casseroles And Skillet Meals
Mountain Man Breakfast Dutch Oven Camping Recipe
This is one of those breakfast one pot camping meals where everything is cooked in a single pot. No list of camping breakfast ideas would be complete without the always-favorite Mountain Man Breakfast! Our version is a little extra cheesy, meaty and slightly spicy because we use hot breakfast sausage and green chilies. YUM!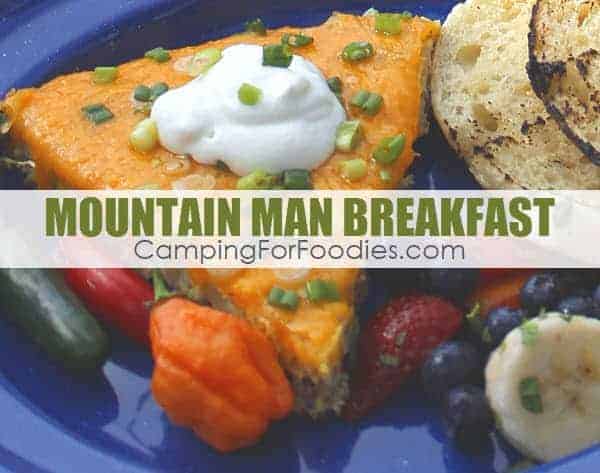 ---
Cowboy Breakfast Skillet One Pot Campfire Breakfast
The really awesome thing about this cowboy skillet breakfast is that you can make scrambled or sunny side up eggs together in the same pan. Just drop your style of egg into the sausage, potato and veggie mixture to cook them right over your morning campfire.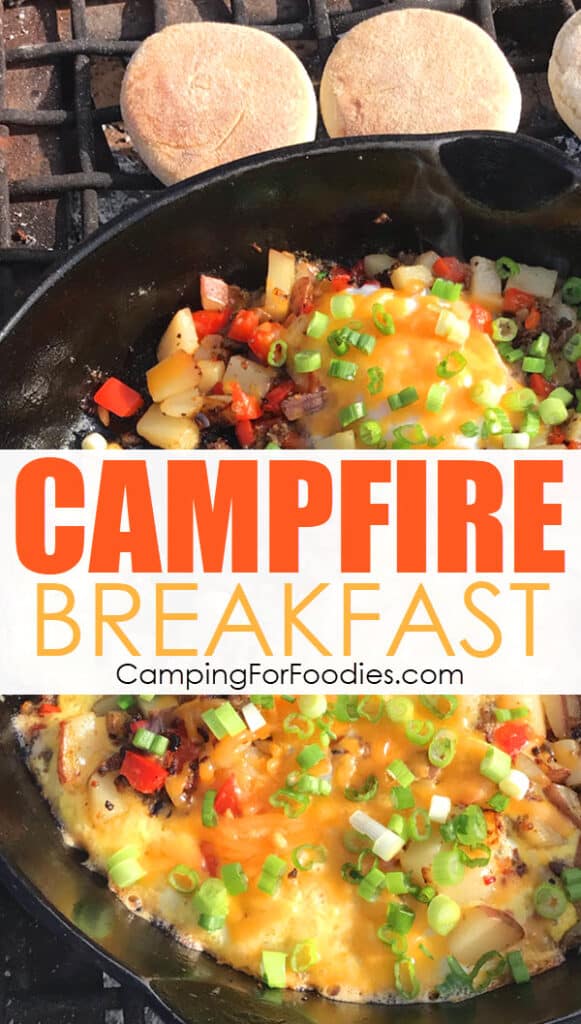 ---
Southwestern Dutch Oven Breakfast Casserole Camping Recipe
If you have not discovered chorizo sausage on your camping breakfast table … you should! This Southwestern breakfast casserole is bold and simple, thanks to that wonderful ingredient! The slices are firm but moist because of the secret ingredient … cottage cheese!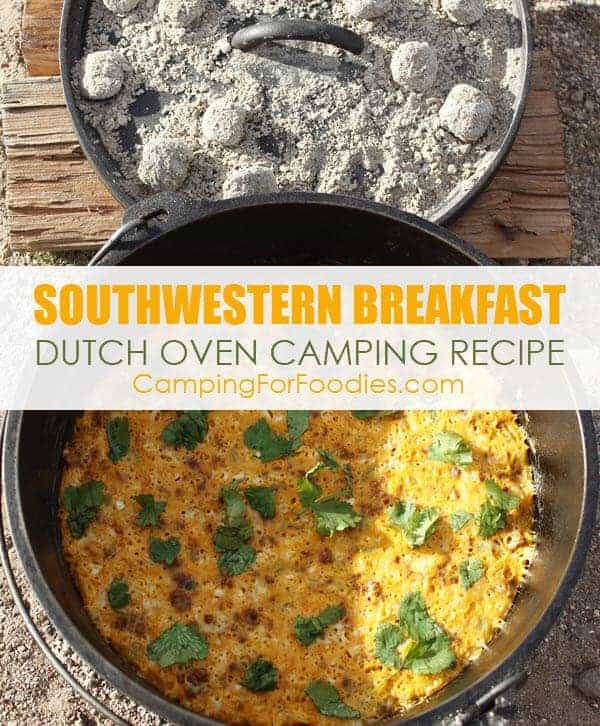 ---
Dutch Oven Egg Bake
Don't feel like chopping anything? This egg bake is for you! It is quick to put together, fast to bake and satisfying to eat! Hot pork sausage, country style hash brown shredded potatoes, eggs and cheddar cheese are kicked-up a notch with the addition of dry mustard and Worcestershire sauce.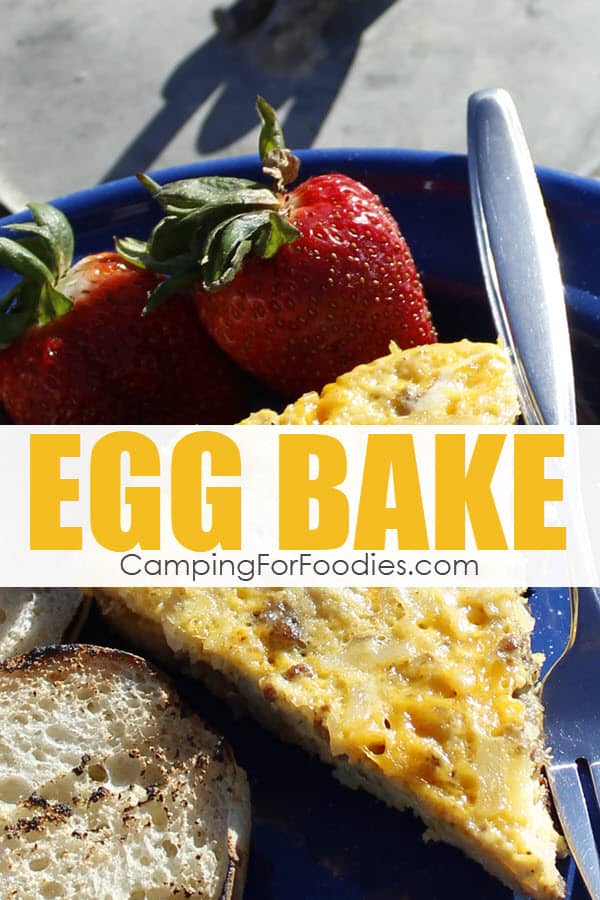 ---
Campfire Dutch Baby Recipes
Lemon Blueberry Topped Campfire Dutch Baby Recipe
The combination of lemon and blueberry make this light and fluffy Dutch baby camp breakfast a real winner! The simple batter uses a pinch of nutmeg for warmth and the entire thing is finished off with a sprinkling of powdered sugar.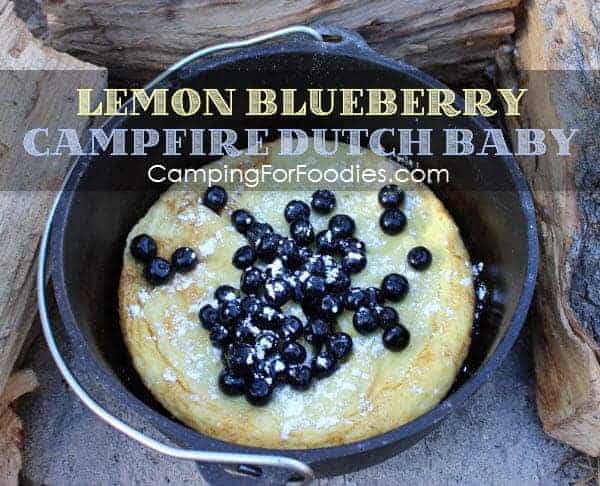 ---
Savory Dutch Baby Dutch Oven Camping Recipe
Who is up for some bacon, cheese and fresh green onions sitting on top of a fluffy Dutch baby pancake for breakfast? If your family is like mine, this is one of those camping breakfast ideas that always gets a "Yes, please" answer to that question! It is a fun meal to eat with your hands … like a slice of pizza!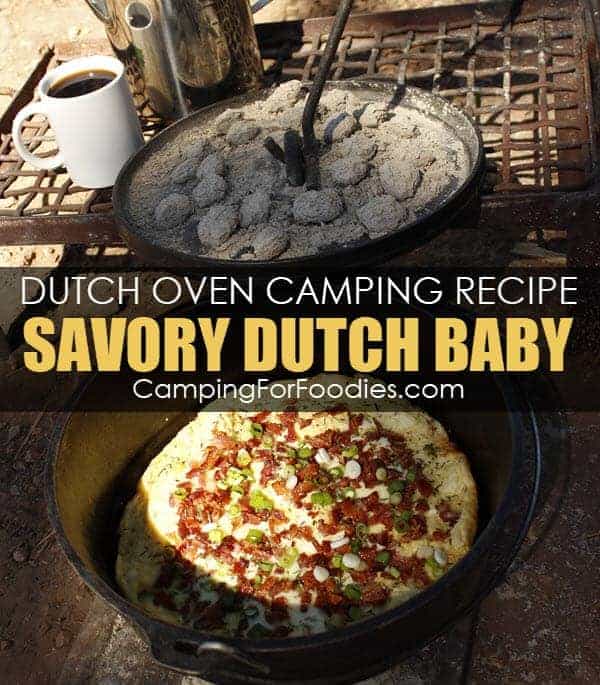 Lodge Camp Dutch Oven Lid Lifter
---
Camping Pancakes And French Toast
Camping Dutch Oven Campfire French Toast Recipe
Don't you love the idea of doing French toast at the campsite that cooks in one pot and everyone can eat together? The powdered sugar glaze is an amazing final touch to this warm cinnamon-spiced French toast casserole. If you want a campfire breakfast foil packets version of French toast, you can get it and tons of other campfire meals in foil!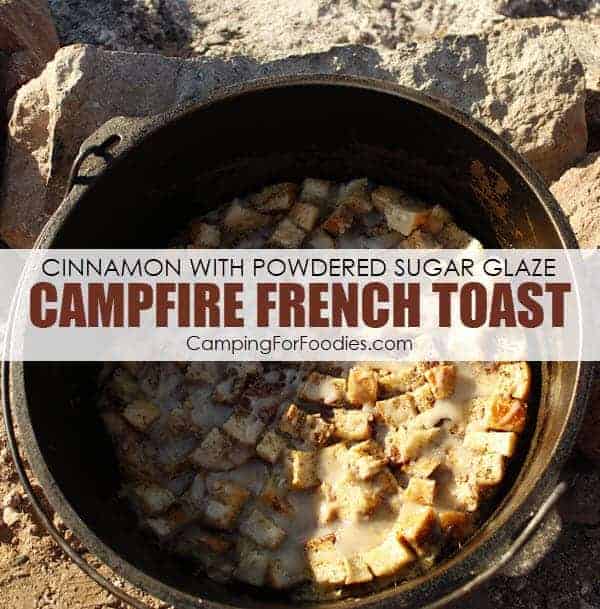 ---
Peanut Butter Chocolate Chip Camp Stove Pancakes
Who knew that a box of just-add-water pancakes could taste like an almost gourmet camping breakfast? The secret to these awesome pancakes … the super-simple peanut butter sauce! And really, kids of all ages like chocolate chips for a treat!
---
Campfire French Toast
This Texas-style bread makes a wonderful French toast! You dip the slices in a simple egg mixture then cook them in butter on a cast iron griddle over your campfire. The buttery taste and slightly crispy texture are fantastic.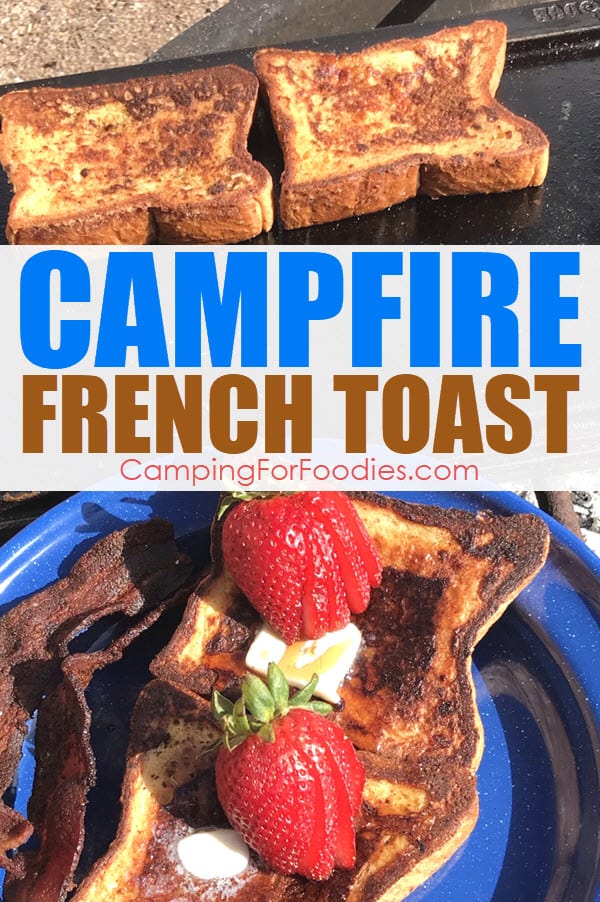 ---
---
Coleman Gas Camping Stove | Classic Propane Stove, 2 Burner
---
Breakfast Campfire Dutch Oven Coffee Cakes And Muffins
Camp Dutch Oven Coffee Cake Recipe
We don't eat coffee cake very often but when we do, we want it to be this one! The cinnamon and brown sugar combination makes this camping breakfast the perfect pairing with a bold cup of camp coffee! You can make it the morning you are going to eat it or prepare it as a make ahead camping breakfast so you just need to slice and serve.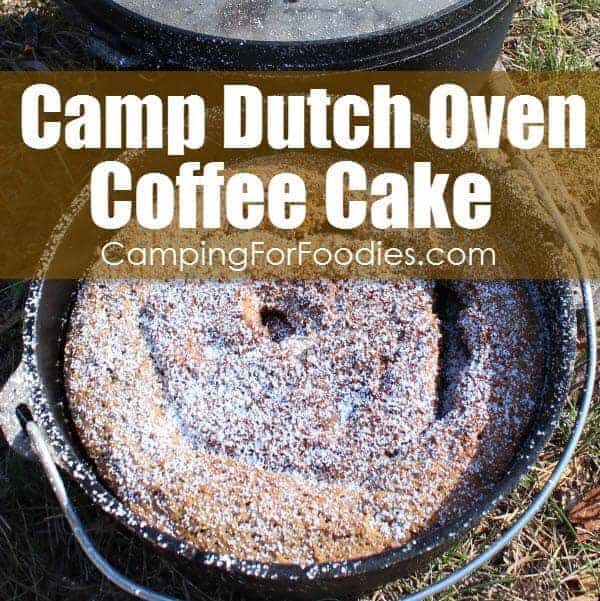 ---
Blueberry Lemon Dutch Oven Muffins Camping Recipe
These oooey, gooey, sweet and slightly tart blueberry muffins make a wonderful camping breakfast but they are also a nice treat for dessert! You can use a regular muffin pan or do what we did … use foil cupcake liners in your camp Dutch oven to make rustic-shaped muffins.
---
Campfire Biscuits And Dutch Oven Bread Camping Recipes
Dutch Oven Biscuits
The nice thing about biscuits for breakfast is their versatility! You can top them with sausage gravy, sandwich a fried egg in between them or add your favorite jam for a slightly sweet morning treat. This recipe starts with a baking mix to make measuring and mixing the dry ingredients camp-meal friendly.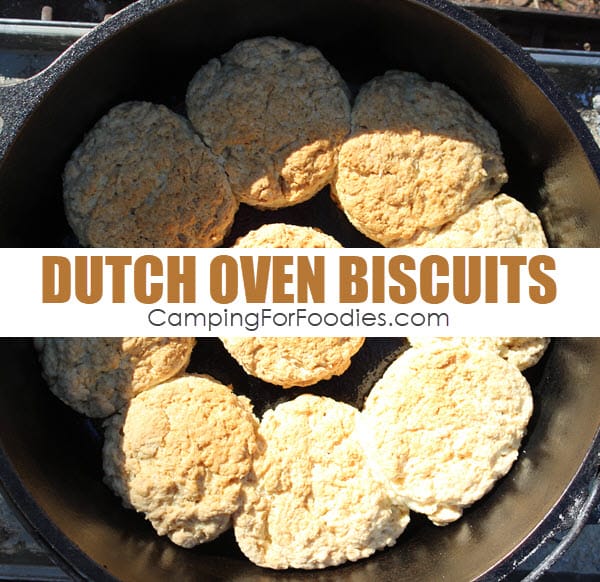 ---
Dutch Oven Cinnamon Bread Camping Recipe
Sweet breads are yummy for breakfast alongside a stiff cup of campfire coffee! The cinnamon and sugar give this bread its sweetness while the pecans and raisins add texture and moistness.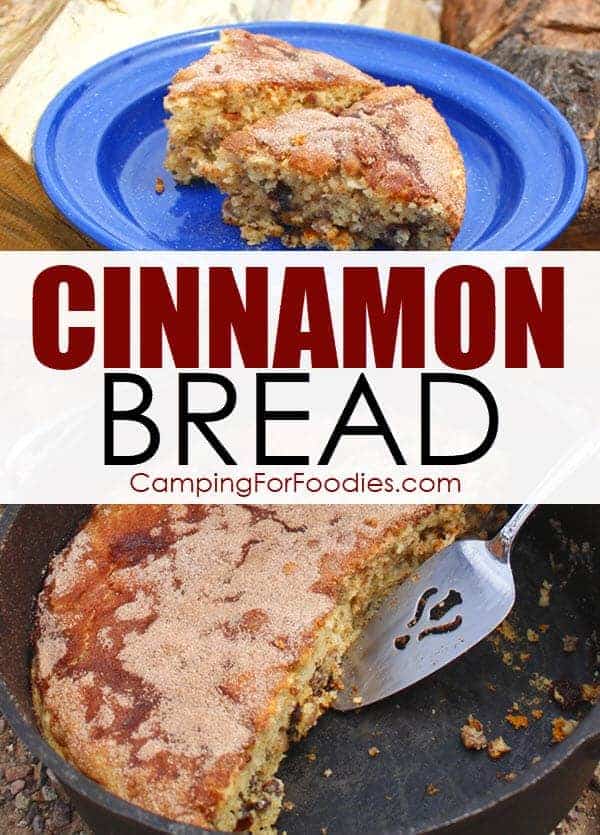 Lodge Manufacturing Parchment Paper Dutch Oven Liners
---
Camp Dutch Oven Quiche, Pizza And Frittata Recipes
---
Bacon And Cheese Quiche Camp Dutch Oven Recipe
Want to know how I got my husband to eat quiche? I added bacon and cheese! This recipe is a great breakfast idea that can easily be served for lunch or dinner with a fresh salad. One of the ways I made this a camp-friendly recipe is by using a frozen pie crust.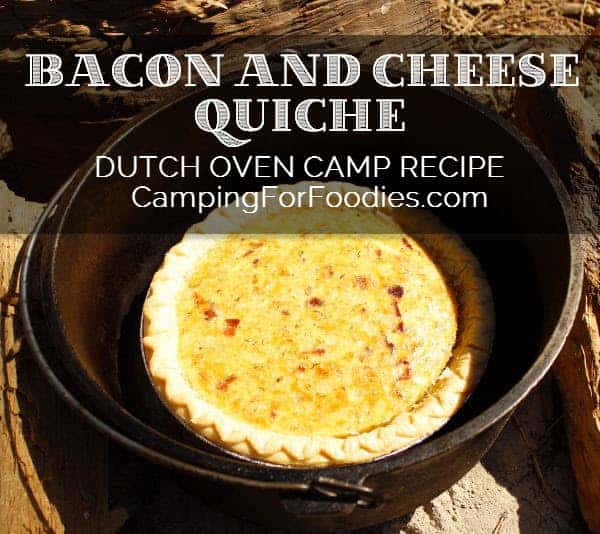 ---
Dutch Oven Breakfast Pizza Camping Recipe
You don't have to wait for dinner to have pizza during camping trips. This pizza is hearty and a totally fun breakfast camping idea the kids go crazy for! It uses cornmeal in the crust giving it a nice texture and flavor.
---
Camping Scrambled Eggs
Dutch Oven Scrambled Eggs Camping Recipe
This simple recipe is one of the easiest camping breakfast ideas for large groups … it can be easily scaled up or down to feed as many people as you need. Just heat a little butter, soften up a bit of onion and then scramble the eggs with a bit of cheese.
---
Dutch Oven Bacon Scramble
This easy bacon scramble is made in a Dutch oven and can be cooked using a camp stove, campfire coals or charcoal briquettes. The typical eggs, bacon and cheese are enhanced with tomato, onion and fresh spinach.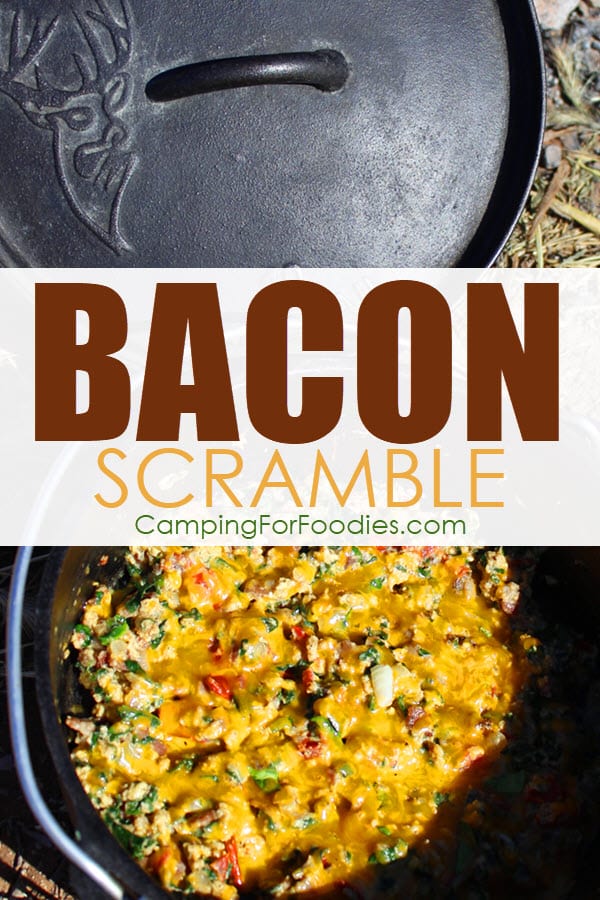 ---
Breakfast Camping Burrito Bowls
These burrito bowls will have you eating in about 15 minutes! This healthy camping breakfast is packed with protein and fiber making each bowl yummy and filling too! Start with canned black beans, avocado, eggs, cheddar cheese and finish off with some prepared salsa for a quick and satisfying breakfast.
---
Fun Camping Breakfast Ideas
Cast Iron Skillet Breakfast Nachos Camping Recipe
If you think nachos are a fun camping breakfast idea … you won't be able to contain yourself when you see how we melt the cheese for these breakfast nachos! The tortilla chips are a fun vehicle to deliver the scrambled eggs, black beans, melted cheese, tomatoes, avocado and sour cream to your mouth!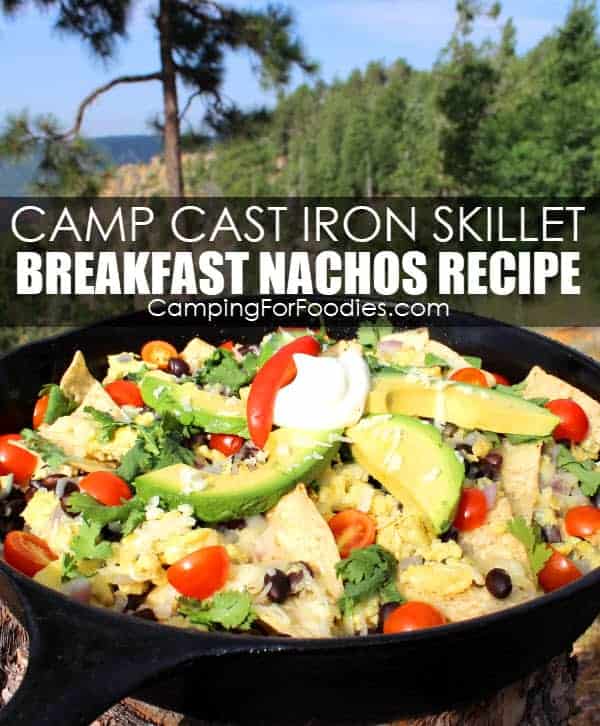 ---
Carrot Cake Oatmeal Camping Breakfast Recipe
Sure, you could have plain oatmeal with brown sugar or maple syrup … but … why would you when you could have this fresh and exciting carrot cake alternative? Oatmeal is the perfect easy camping breakfast food that you can dress up or down with interesting toppings.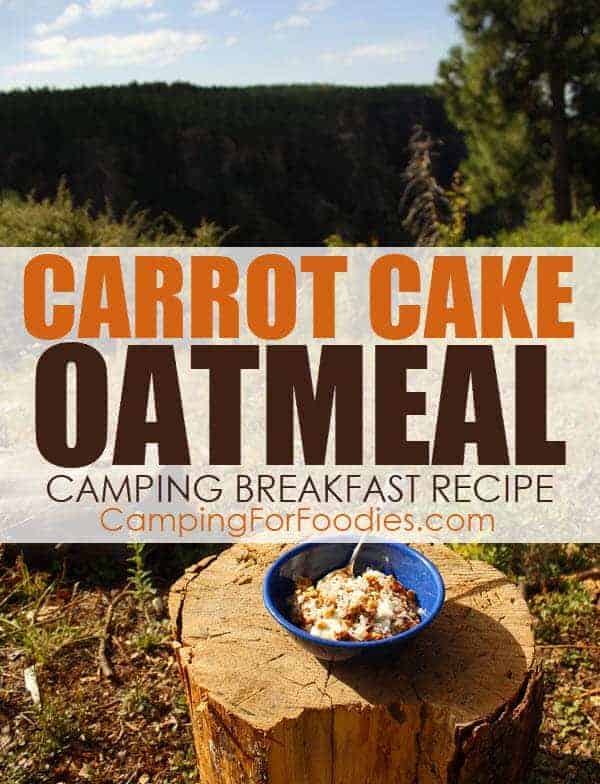 ---
---
---
Muffin Tin Eggs Campfire Recipe
I love using build-your-own camping breakfast ingredient bars! Each hungry camper chooses the ingredients they want in their muffin tin campfire eggs.
---
No Cook Breakfast Camping Ideas
---
---
10 No Recipe Quick Breakfast Ideas For Camping
When you want simple breakfast food for camping that requires no cooking or recipe, try these options:
Cereal and milk
Yogurt, fruit and granola parfaits
Toast and jelly
Bagel and cream cheese
Hard boiled eggs and toast
Peanut butter and jelly on sliced bread
Cheese and crackers
Trail mix and fruit
Dried fruit and jerky
Apples dipped in peanut butter
---
Camp Coffee Beverages
---
What Is Cowboy Coffee And How To Make It
Could you even think about having breakfast while camping and not also enjoy a cup of java. You can make your camp coffee, cowboy style, perk style, drip style, pressed, or cold!
---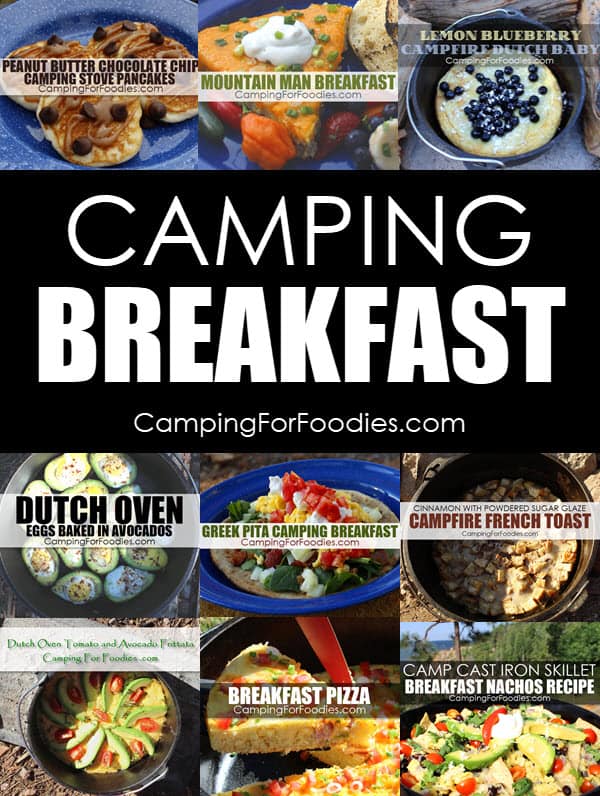 ---