5 Trip Planning Tips When Camping During Thanksgiving!
The big camping holidays: Memorial Day, Fourth of July, Labor Day and Thanksgiving.
WHAT?
Yes, I said Thanksgiving camping!
If you have not tried it, you should.
One of the big bonuses of camping during Thanksgiving is having all the outdoor activities associated with camp trips after you finish your big turkey dinner with all the trimmings!
Psst we're compensated…see our disclosures.
Planning Tips For Camping Over Thanksgiving
Use these trip tips to ensure a fun and stress-free experience when you decide to go camping for the big holiday.
---
Tip 1. Use A Checklist For Thanksgiving Camping Trips
Some people go camping so often they don't need reminders or checklists to organize for a trip.
But, the most seasoned campers may not even think about special items needed for camping on a holiday during the off-season.
Using a good checklist will keep you organized and stress-free.
Our camping trip planner template will walk you through every aspect of your trip … it is printable and FREE!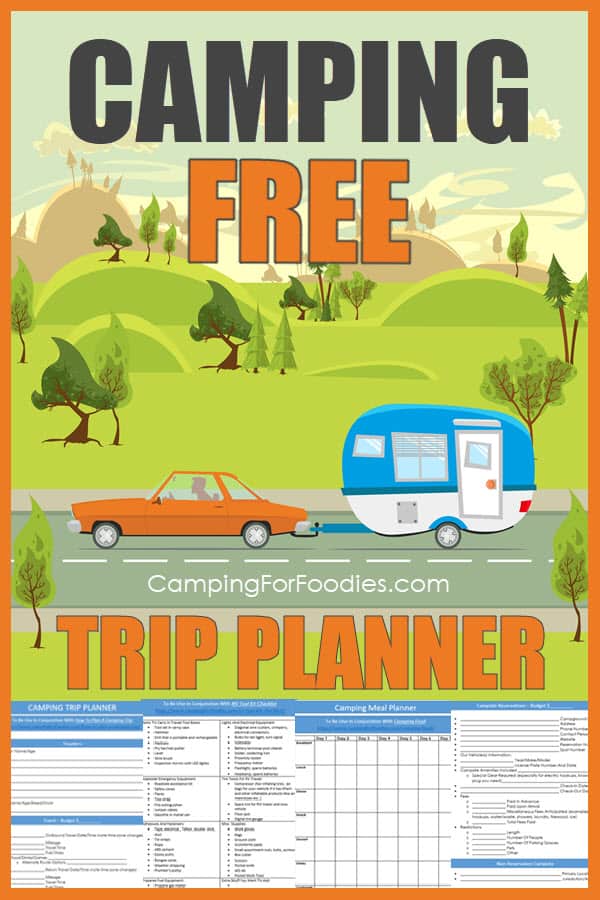 ---
Tip 2. Consider Weather When Planning Your Thanksgiving Camp Trip
Where you will be camping and your driving route should be planned with weather in mind.
Thanksgiving Camping Destinations
If you are staying at a campground, public park or RV park, make your reservations well in advance and check with the staff to see if they have any restrictions or advice for camping over the holiday.
Ask about local events, weather, planned road closures and sources of information where you can receive updates.
You wouldn't want to be a "surprise entry" in the local Thanksgiving parade, right?
If you are staying in a remote area like a National Forest, BLM Land or other dispersed camping area you should verify the area and the access roads you plan to use will be open for your arrival through your departure.
Many remote areas are seasonal and close the gates to visitors.
Some closures are based on calendar dates, others are based on weather conditions so check with the governing agency to get the local details.
If your Thanksgiving camping trip is planned for a spot in a National Forest, you may want to familiarize yourself with the rules on camping in National Forests.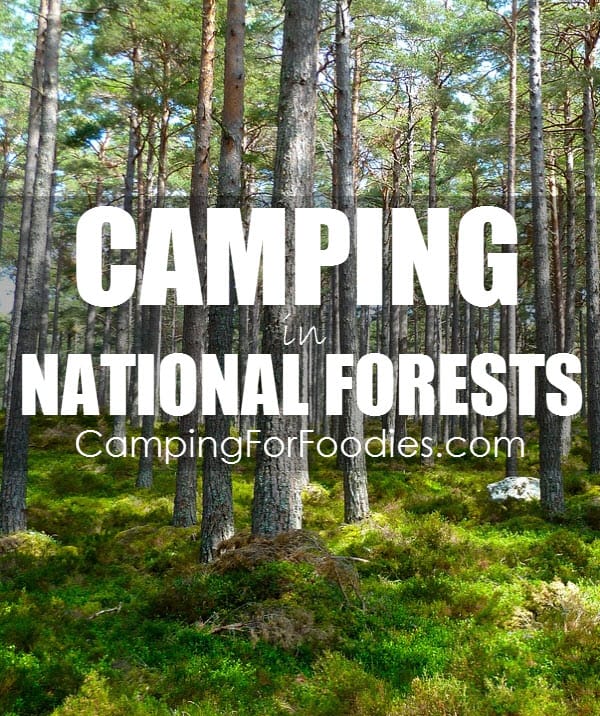 ---
Routes To Your Thanksgiving Camping Destination
Consider the road and weather conditions along your travel route.
Plan for an alternate route in case your primary route is closed for some reason. 
As an example, we decided to spend one Thanksgiving holiday weekend at the Burnt Corral Campground on Apache Lake.
Even though Apache Lake has similar weather and elevation to the Phoenix metro area, there is no direct way to get there because those big beautiful Superstition Mountains are in the way!
So, our departure and destination weather was great but because of the travel route and higher elevations we traveled through, we experienced rain and snow on our drive.
Our trip was safe but slower than normal.
---
Weather Alert Gear
It's always handy to have a Weather Alert Radio on camping trips (no matter what time of year you are traveling).
In addition to AM/FM/SW/NOAA Weather Alerts some models also have a flashlight, reading lamp, cellphone charger and they operate on various types of power including solar!
5-Way Powered Solar Power, Dynamo Crank, Wind Up Emergency AM/FM/SW/NOAA Weather Alert Radio With Flashlight, Reading Lamp And Cellphone Charger
---
Cold Weather Camping Tips
Camping on Thanksgiving in a tent can be a little challenging if the weather at your destination is cold.
Get tips on staying warm camping in a tent to camp comfortably year round!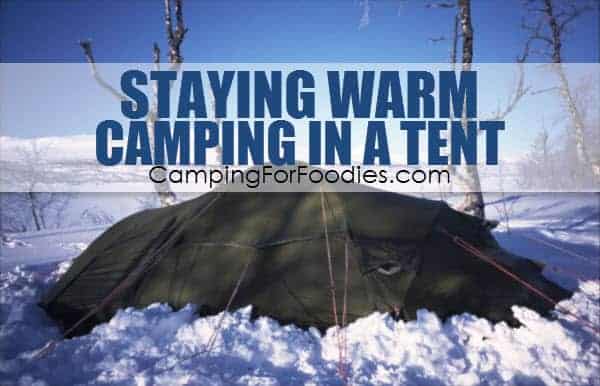 Most destinations will be mild enough to just do your regular thing if your Thanksgiving camping trip is in an RV.
But, if you happen to go to a location with cold winter weather, these winter RV camping tips will help … especially if winter RVing is new for you.
Dress for success!
I have to admit, I am the first one to get cold and the last one to warm up when we are camping in cold weather.
So, I had to find ways to stay warm (and quit complaining about the temperature) before I was un-invited on winter camping trips! LOL
These winter camping clothes will keep your body loving you so you (and your camping buddies) will totally enjoy your camping Thanksgiving trip!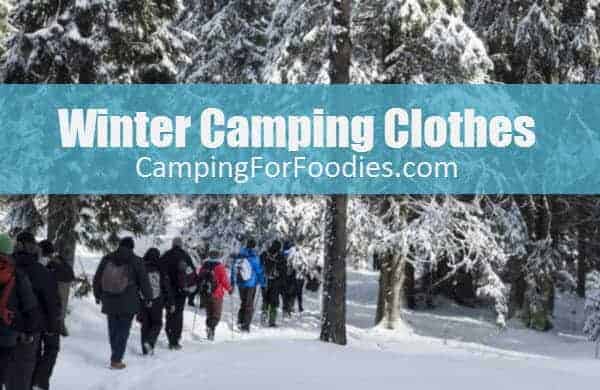 ---
Tip 3. Special Equipment And Resources For Camping In Bad Weather
Be prepared with the appropriate vehicle and tools for the worst case scenario in weather.
It's a good idea to monitor the weather before your departure as well as during your stay.
We all know weather forecasts are always 100% accurate … LOL.
You may need special information resources and equipment in your vehicle to prepare for harsh weather conditions.
---
Free Weather And Road Conditions Resources
We think these are the best camping apps to help you prepare for challenging weather during travel and at your Thanksgiving camping location.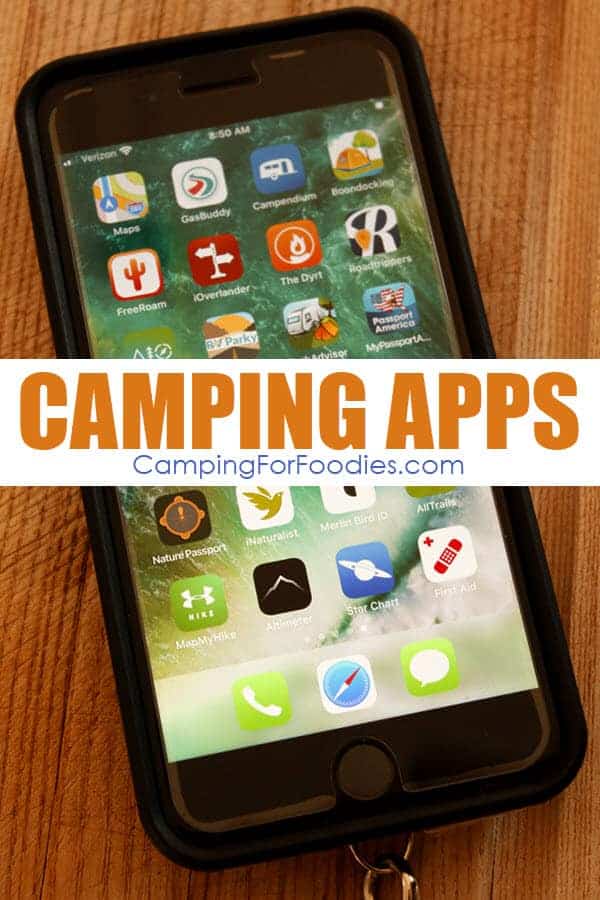 ---
5-1-1 National Travel Alert System
The National 5-1-1 Travel Information Alert System is a great resource for nationwide travel info.
511 is a program within the U.S. Department of Transportation Federal Highway Administration that provides current real-time information about national roadway travel conditions that can be accessed by the easy-to-remember 3-digit telephone number or the website: https://ops.fhwa.dot.gov/511/
Arizona Department Of Transportation
If you are traveling within Arizona I can't say enough good stuff about ADOT … I just LOVE them!
Their communication team is totally on top of information about traveling in this beautiful state of Arizona.
You can find traffic updates from them at AZ511.gov, and by dialing 5-1-1 in Arizona from any landline or mobile phone, Outside Arizona, dial 1-888-411-ROAD (7623).
ADOT's communication team is FABULOUS with their twitter updates.
If you are not on Twitter and you will be traveling around Arizona, ADOT is enough of a reason to get tweeting!
If you tweet a question to them, they will answer you almost immediately about road conditions, closures, anticipated openings etc.
You can find them at https://twitter.com/ArizonaDOT.
---
Special Equipment For Thanksgiving Trip Weather
It's always handy to have a snow brush for fall and winter camp trips because you never know when you might need it for your vehicle as well as your regular camping equipment like tents, awnings, RV rooftop, picnic tables, grills etc.
The brush is great for removing rain water too!
26″ Snow Brush With Foam Grip
---
People who live in harsh winter conditions use tire traction chains often but for those of us who live in milder climates … the question is more like "chain what?"
This is one thing you don't want to overlook if there is even a remote possibility that you will need them at any point during your Thanksgiving camping trip!
Tire Traction Chains
---
Most campers have some sort of shovel for camping.
Make sure yours is easily accessible throughout your Thanksgiving camping trip … especially during travel.
We think the most convenient shovels are adjustable and can be disassembled for easy storage and packing.
Utility Scalable Camping Portable Aluminum Shovel
---
Doesn't everyone have a set of jumper cables?
Well, at least MOST everyone does … Just make sure you don't leave them in your garage!!!!!
Ummmm, we may have done that once … the good news is that we learn from our mistakes. LOL
Because the weather can be very unpredictable, it is a good idea to anticipate needing a jump when camping in the fall.
Booster Cable 4 Gauge x 20Ft In Carry Bag (4AWG x 20Ft) UL-Listed
---
Having emergency traction tools that can provide additional traction in snow and mud is a really good idea for Thanksgiving camping trips especially because forecasts are not always accurate.
If you expect dry weather but a storm rolls in and produces wet conditions, you want to make sure you don't get stuck because of traction issues.
SubZero GripTrax Traction Tool
---
Walking around a slick campsite with snow and ice is dangerous so consider packing a non-toxic ice melter for your cold-weather holiday trips.
We like using non-toxic products that are safe for animals, people and vegetation.
Non-Toxic Pet Safe Ice Melt, Salt-Free No Concrete Damage
---
Just because you are camping on a holiday, doesn't mean you forget regular routine camping stuff.
Don't forget to bring the normal tools too! Get your FREE copy of our RV Tool Kit Checklist!
---
Tip 4. Planning Your Thanksgiving Camping Meal
There are a few things to consider when planning your big Thanksgiving feast.
How large is the group? Do you WANT to have leftovers or just enough for one meal?
What is your cold-storage capacity before and after the meal?
Are you making dishes that travel well? How many can be made in advance at home?
Can you serve out of the vessel the food is cooked in? Do you need special serving utensils?
Do you need special cooking equipment or fuel sources?
Get all of our recipes so you can enjoy a traditional camping Thanksgiving dinner with turkey and all the trimmings!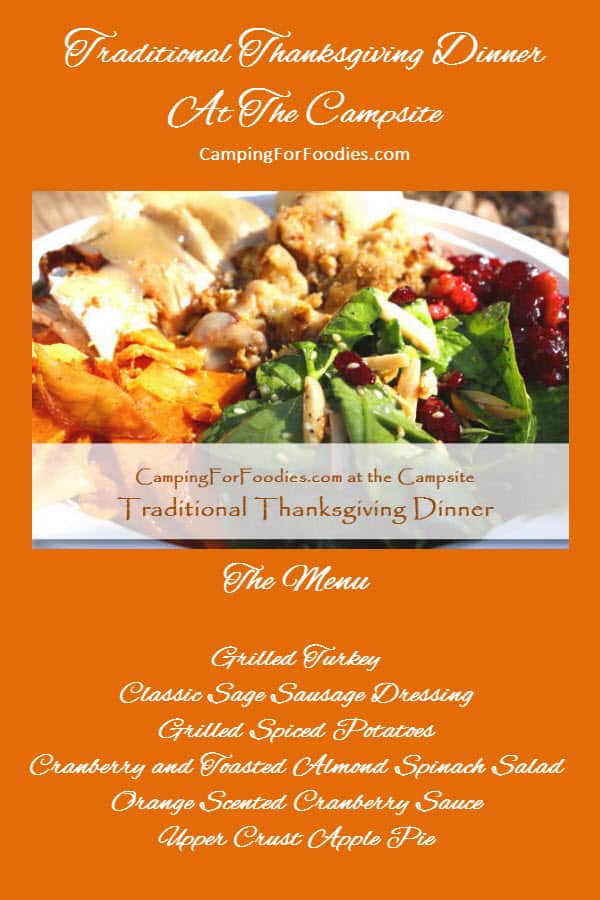 ---
Camping Thanksgiving Meal Timing
To have the entire meal ready at the same time, consider using various cooking methods.
Use these tips for meal timing for Thanksgiving camping recipes too.
---
Cooking Turkey At The Campsite
Don't know how to cook a turkey at the campsite?
No worries, we can help!
See how to cook a turkey while camping using 3 different methods.
---
Tip 5. How To Make Memories And Reflect On The Holiday
Because you probably won't be camping over the Thanksgiving holiday every year … make it special when you do.
The unique combination of a camp setting and a special holiday allows you to get creative in the ways you celebrate and remember your holiday.
Even if you typically use reusable plates on your regular camping trips, I recommend using disposable plates for your Thanksgiving dinner to reduce the amount of cleanup required after your big feast.
Activities And Decorations For Thanksgiving Camp Trips
Check out these unique Thanksgiving camping ideas that will create a grateful atmosphere at your holiday celebration in the great outdoors.
---
If you actually want to do activities to create your own decorations right at your campsite, try these fun and simple Thanksgiving camping crafts.
---
The Meaning Of Thanksgiving
Take time to reflect on what you are thankful for and the meaning of Thanksgiving.  Here's a bit of history on the holiday from Wikipedia:
Thanksgiving, or Thanksgiving Day, is a holiday celebrated in the United States on the fourth Thursday in November. It has been celebrated as a federal holiday every year since 1863, when, during the Civil War, President Abraham Lincoln proclaimed a national day of "Thanksgiving and Praise to our beneficent Father who dwelleth in the Heavens", to be celebrated on the last Thursday in November.[1] Thanksgiving was also celebrated nationally in 1789, after a proclamation by George Washington.[2] As a federal and public holiday in the U.S., Thanksgiving is one of the major holidays of the year. Together with Christmas and New Year, Thanksgiving is a part of the broader holiday season.
Read more on Wikipedia here: Thanksgiving (United States)
---