50 Memorial Day Camping Recipes for Your Holiday Menu (they work in the backyard too!)
Holiday travel requires a few extra camping tips!
You don't have to settle for the old hot dogs, beans and potato salad recipes for your Memorial Day weekend camping menu. 
No matter your cooking preference … Dutch ovens, campfire, grill, camp stove, RV stove/oven etc … we have recipes that the whole family will enjoy! Psst we're compensated…see our disclosures.
Memorial Day Menu Recipes For Campsites Or Backyards
Because we all have our favorite cooking methods, we have organized these Memorial Day camping recipes this way:
Dutch oven Memorial Day Menu Recipes (my personal favorite )
Campfire Or Grill Memorial Day Menu Recipes (my husband's specialty )
Propane Cooktop Memorial Day Menu Recipes (super handy if you are camping with fire restrictions )
No-Cook Memorial Day Menu Recipes (salads are just the beginning )
Camping Smores Memorial Day Menu Recipes (toast them, don't burn them )
Camping Cocktails Memorial Day Menu Recipes (cheers )
&
---
Dutch Oven Memorial Day Menu Recipes
---
Who said you can't have pizza for breakfast?
The kids and adults will love this Dutch Oven Breakfast Pizza Camping Recipe!
It is a fun camping recipe that is savory, filling and totally yummy!
---
---
---
---
If you can't even think about Memorial Day camping recipes without thinking about a sweet ending to your meal … try this Upper Crust Apple Pie!
I always make it for our Thanksgiving camping trips … but, it is a real crowd-pleaser all year long!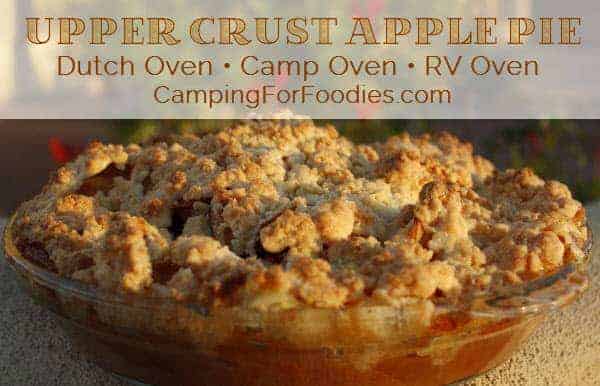 ---
Cast Iron Meat Rack/Trivet
Some Dutch oven desserts are made directly in the oven and others can be made in a pan inside the oven … if you are using a pan inside the oven, you may want to raise the pan off from the bottom of the oven with a Cast Iron Trivet.
These are also helpful if you are roasting large cuts of meat that you want to prevent from scorching.
&
---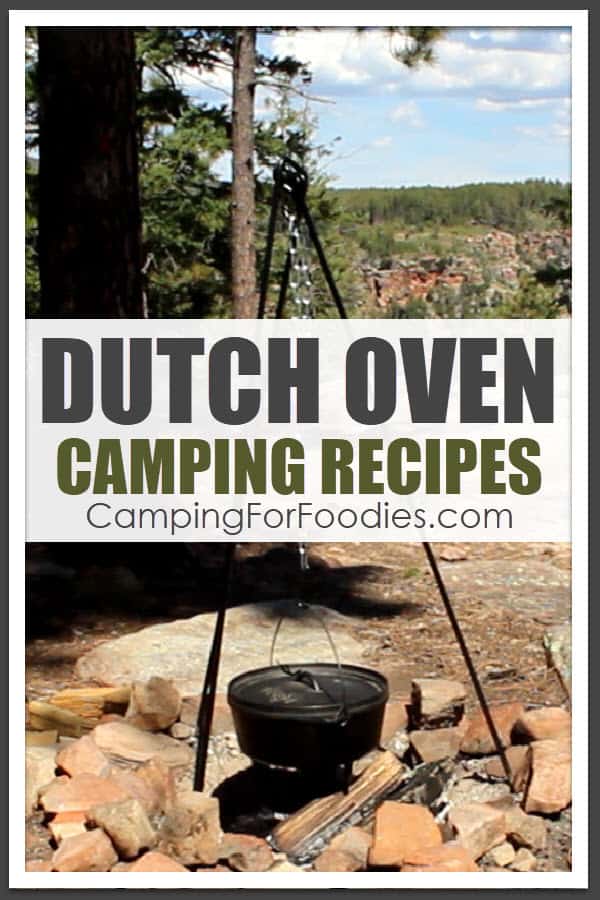 We have an entire post dedicated to Dutch oven campfire cooking with recipes for breakfast, lunch, dinner and dessert!
You'll find those recipes and more cooking tips in our Dutch oven camping recipes post.
---
Campfire Or Grill Memorial Day Menu Recipes
I really like doing "build your own" bars when I have picky eaters to feed on camping trips!
This Muffin Tin Eggs On The Campfire Recipe let's each camper pick which ingredients they want in their breakfast!
---
---
---
---
---
Normally, I love cooking at the campsite but every so often, I just say … cook for yourself!
That's when I set up an ingredient bar and let each camper make their own meal like with this Campfire Hobo Stew Recipe In Foil Packets!
Ingredient bars are one of my favorite ways to easily feed large groups of people which is often the case with camping Memorial Day weekend events.
&
---
---
Propane Cooktop Memorial Day Menu Recipes
Talk about a totally fun and festive recipe to celebrate Memorial Day camping in the great outdoors!
These Peanut Butter Chocolate Chip Camping Pancakes make me feel like a kid again but you don't have to be a kid to love them!
They are SO EASY because they start with "just add water" pancakes.
You might ask, how in the world could they possibly be yummy?!?
The secret is the "almost gourmet" sauce!
Don't worry … it is simple to make but don't tell anyone because they would never know you didn't slave for hours making it! LOL
&
---
Coleman Propane 3-Burner Camp Stove
Camp stoves are great … especially when you are required to cook with propane in times of fire restrictions.
For most of us, camping includes grilling and campfires. 
Sadly, when rain has been scarce and the forest is dryer than laundry lint, the dreaded "No Campfires" and "No Charcoal" restrictions come out … ugh! 
I've been stuck with an "uncookable menu" in the past.
So, I have a list of camping recipes that require only a propane camp stove for preparation.
I've got you covered for your Memorial Day camping menu recipes! 
&
---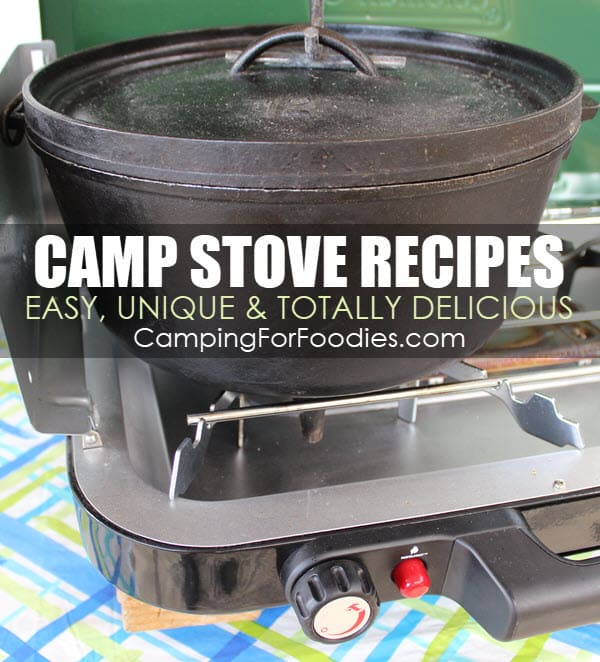 Amazing camp stove recipes you'll want to make more than once!
---
This 6-ingredient Pastrami Reuben Sandwich Recipe is so simple and fast, you'll have enough time to be part of the Memorial Day camping parade … assuming there is one where you will be camped for the holiday.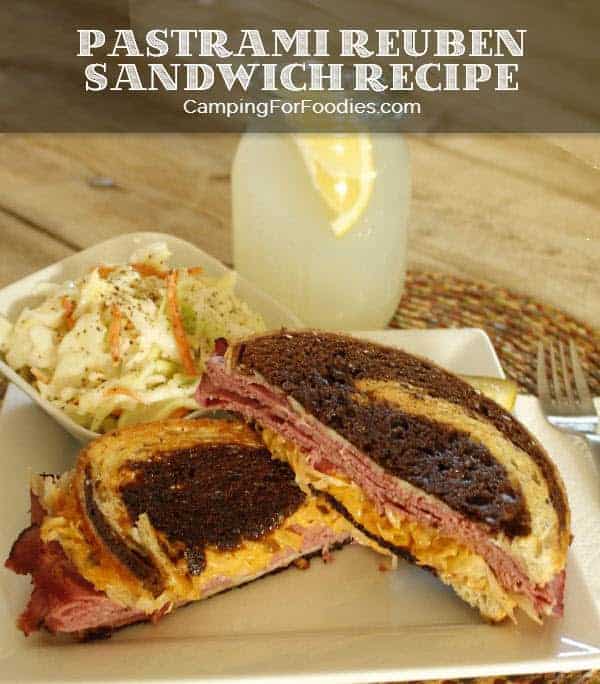 ---
Propane Refill Adapter
If you do lots of cooking with camp stoves that use 1-pound propane bottles, you may want to consider refilling them with a Propane Refill Adapter. Never used one before?
Don't worry … we'll show you how!
&
---
---
This hearty Cast Iron Skillet Camp Chicken Recipe is so satisfying and even though it uses canned tomatoes, beans and corn, it is packed with fresh flavors from the fresh avocado and cilantro.
I'm guessing it will become one of your favorite camp recipes you enjoy all year long!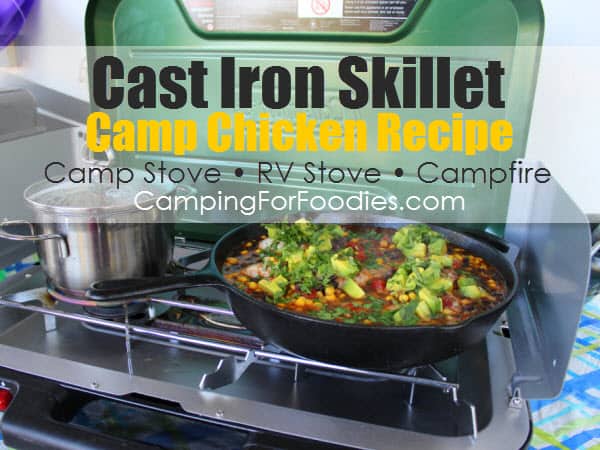 &
---
Camp Chef Explorer 3X Three-Burner Stove
If your Memorial Day camping trip will consist of larger groups of people, you may need a larger camp stove than just a tabletop style.
This Camp Chef Explorer 3X Three-Burner Stove has a cooking area that measures 14-inches x 49-inches and a cooking height of 29-inches.
There are three 30,000 BTU cast-aluminum burners with a total output of 90,000 BTU/hr.
It even has removable legs for portability and you can adjust them if you are cooking on uneven ground.
&
---
---
No-Cook Memorial Day Menu Recipes
I love making cold, no-cook recipes when the weather is hot during our trips.
We live in Phoenix and have seen temperatures over 100 degrees for our Memorial Day camping trips!
Thankfully, that is not normal but when it does happen, I like to be prepared with a cold food menu.
This Easy No Cook Healthy Southwest Camping Salad Recipe makes a refreshing side dish and if you add a little protein (like cubed chicken from the deli), it becomes a satisfying main course.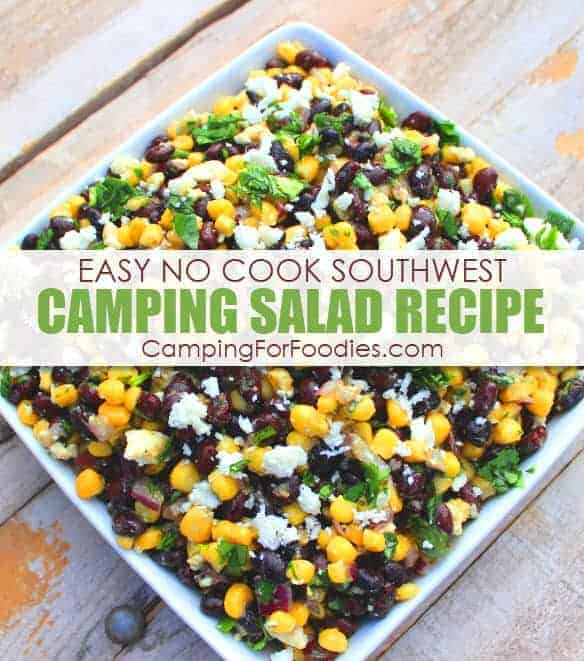 &
---
---
How do you make a sandwich exciting? I mean, a couple of slices of bread and some lunchmeat from the deli is not what I call a meal!
This Basil And Prosciutto Sandwich Recipe is a great alternative and just as easy!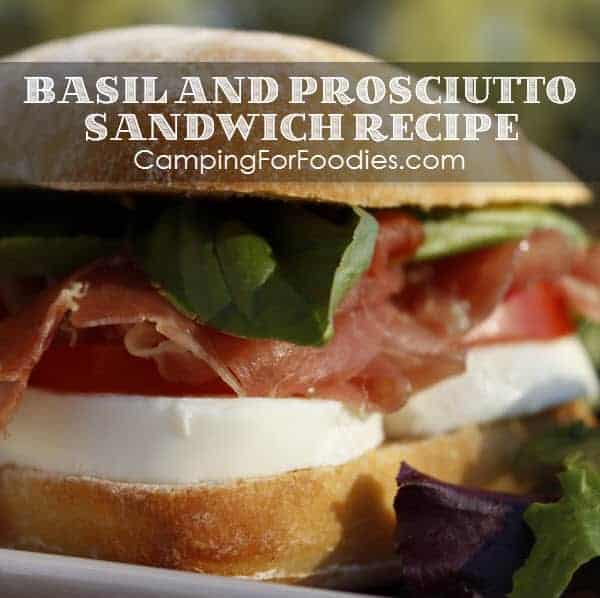 ---
Igloo Quick and Cool 150-Quart Cooler
If you are planning a mostly-cold menu for your Memorial Day camping trip, don't underestimate the size of the cold storage you'll need.
Many ingredients are "refrigerate after opening" and if your family does not eat the entire recipe in one sitting, you will need to store leftovers in a cooler or your RV refrigerator.
&
---
The most refreshing dessert for warm weather camping is my Fresh Summer Fruit Tossed In Honey Mint Syrup!
I might be a little biased, but every time I serve this recipe, it gets rave reviews!
I like serving it as a side dish for main meals too!
&
---
Microplane Classic Zester/Grater
Want to know my secret weapon for getting a TON of flavor with very little effort?
It is ZEST!
If you don't use the juice and zest of fresh citrus, you are missing out on a simple camping hack!
A Microplane Zester/Grater is lightweight and easy to carry with your other camp kitchen utensils.
It is awesome for grating hard cheeses, like Parmesan, too!
&
---
Camping Smores Memorial Day Menu Recipes
S'mores are a MUST on the menu to kick off the summer camping season on a Memorial Day Weekend camping trip!
Check out all of our yummy recipes in our 10 Mouth-Watering Smore Variations post. #2 Just Might Change Your Life!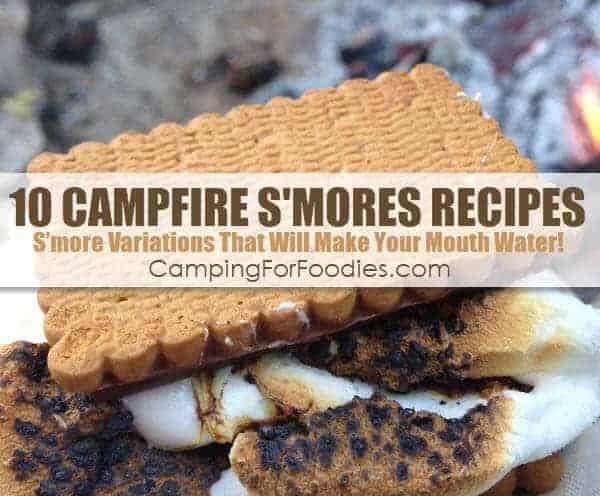 &
---
---
Camping Cocktails Memorial Day Menu Recipes
Camping cocktails MUST be refreshing but DON'T have to include booze.
Most of ours are "alcohol optional" recipes and family-friendly … like this Lemon Mint Cocktail aka Mint-Kissed Lemontini. YUM!
&
---
---
Want to sip a cocktail that will make you pucker just a tad?
This Raspberry Lemon Drop Cocktail Recipe is slightly sweet and slightly tart … and, oh so refreshing!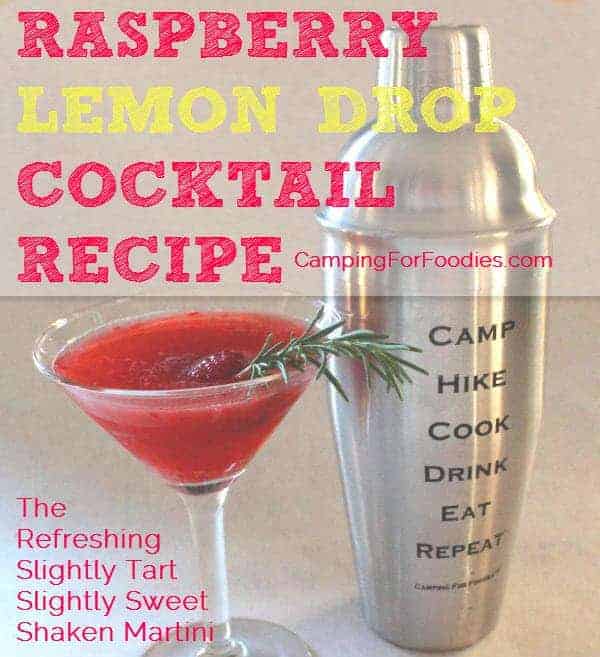 ---
Unbreakable Martini Glasses
If you enjoy a martini but don't want to deal with the potential of broken glass, consider using Unbreakable Martini Glasses that are made from a high quality polycarbonate plastic that gives you the feel of crystal glass but won't break if you drop them!
&
---
We love using fresh fruit and herbs to make cocktails and mocktails for Memorial Day camping drink menu special treats!
Get Kona Grill's Secret Strawberry Basil Lemonade Recipe in our VIDEO and find out why Dustin needed to be rescued by a Boy Scout group at the Grand Canyon!
&
---
Camping Flexible Cutting Mat
I love using my Camping Flexible Cutting Mat when I am slicing fruit for my camping cocktails!
This thing is so cute, I hang it as a decoration when I am not using it!
&
---
See More Memorial Day Menu Recipes…
You'll find the entire list of 50+ camping recipes that are great for the campsite or backyard!
&
---
Find More Memorial Day Camping Tips
And a little extra help in our Memorial Day Weekend Camping Trip In 10 Easy Steps post.
&
If all the campgrounds are booked, here is a video and tips to turn your trip in to a dispersed camping adventure.   
If you waited too long before trying to make your Memorial Day weekend campground reservation and they're all full…don't give up…go dispersed camping!
&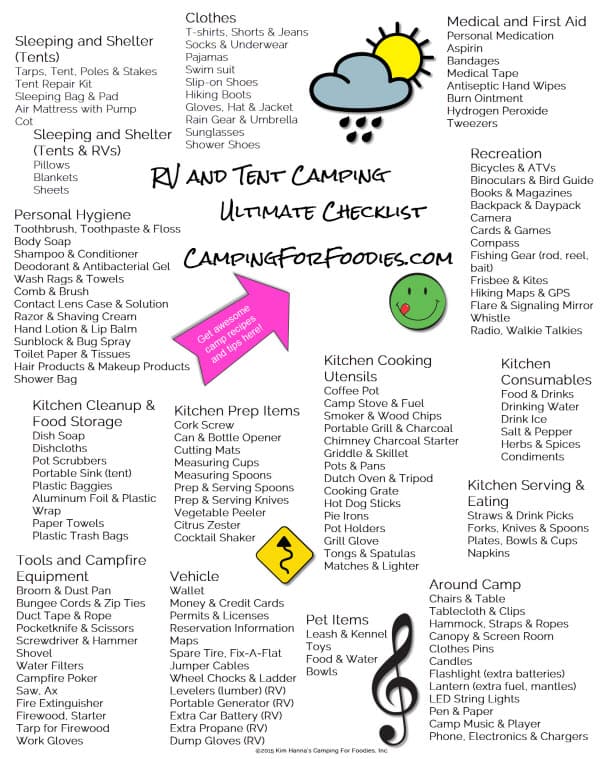 Don't forget to pack a thing for your memorial day camping event!
Use our FREE printable Ultimate RV And Tent Camping Checklist!
You don't want to find out in the middle of your trip you forgot to pack the soap! 
&
---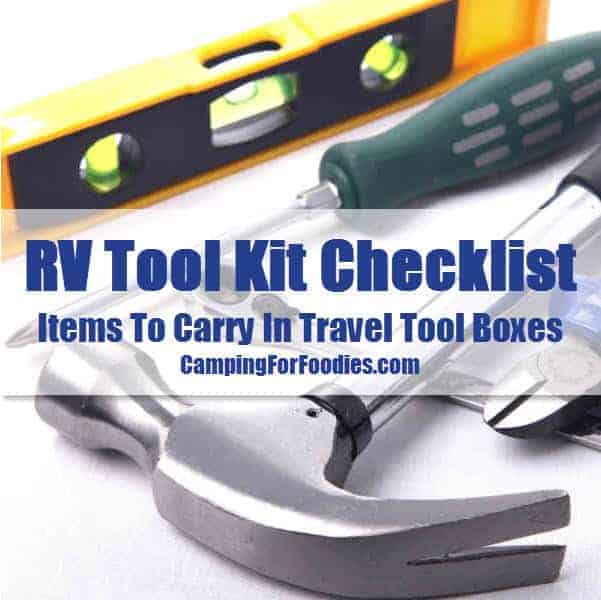 If your Memorial Day camping adventure will be in an RV, you should grab your FREE printable copy of our RV Tool Kit Checklist before you hit the road!
&
---
You will also love these great sources for information on camping, fire restrictions and other helpful information.
For national camping, recreation and incident information:
For camping in Arizona at the state parks:
For recreation and camping information within counties in Arizona:
Enjoy this Memorial Day holiday and please don't forget to celebrate and pay tribute to those who have paid the ultimate price in service to our country.
---
No time to look for recipes, create a menu and write a grocery list? No Problem! Get our 3-Day Dutch Oven Camp Menu Plan here!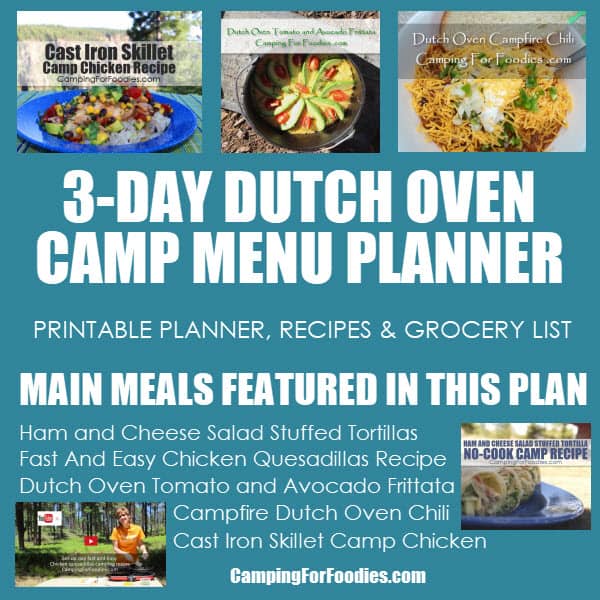 ---
Our Cool Camping Products Make Great Gifts!
Cutting Mat
Mat Set
Shaker Set
Hammock
&
---
If you need camping recipes and menu ideas, you can find them here at the Camping For Foodies Camping Recipes list.
Don't miss a thing…sign up for Camping For Foodies email updates!
Your purchase of our products will help support World Vision ® Building a better world for children.
---
Pin It For Later!