50+ Unique Camping Gifts For Couples! Crazy Cool Gift Ideas That Are Creative And Cute For 2019!
You can find awesome camping gifts for individuals, couples and families.
These camping gifts for couples include active gear, cool electronic devices, cute home decor, fun vehicle gadgets and more! 
Psst we're compensated…see our disclosures.
Hammock With Attached Carrying And Accessory Bag
Easy Access to Drinks, Magazines, Phones
50+ Unique Camping Gifts For Couples
We have so many fun gift ideas for camping couples … you can leisurely scroll through them all or quickly jump to the category that you're interested in…
Active Gear Couples Camping Gifts
His And Hers Wearable Camping Gifts
Food And Beverage Camping Couples Gifts
Relaxing Camping Gift Ideas For Couples
Home Decor Camping Gifts For Couples
Couples Camping Accessories
Rainy Day Gifts For Couples Who Camp
---
Active Gear Couples Camping Gifts
---
---
Inflatable 2-Person Kayak Set With Aluminum Oars And High Output Air Pump
Some camping couples love fast-paced active camping trips that include water-based activities … say "hello" to the 2-Person INFLATABLE Kayak Set! 
Its low-profile makes it perfect for lakes and mild rivers.
The set includes aluminum oars and a high output air pump!
We love inflatable gear that reduces space requirements for storage and transportation.
This kayak makes a fun camping anniversary present for couples who like to camp near bodies of water … this is positively one of the best! 🏆
&
---
---
Using alternative modes of transportation, like bicycles, helps to avoid National Parks crowds while still fully enjoying the park!
---
Active couples tend to be health conscious and activity wristbands are a great way to track progress.
The Fitness Tracker With Heart Rate Monitor tracks daily steps, distance traveled, calories burned and activity time.
It has 14 sport tracking modes for tracking different types of workouts including typical camping-related activities like: walking, running, riding, hiking, trekking, as well as dancing, badminton, fitness, spinning, treadmill, yoga, basketball, football and tennis.
And it monitors your sleep!
This watch lets the workout continue because you can check, read, call, calendar, SMS and SNS.
One for him + one for her = terrific technology gifts for active couples who like to keep moving on their camping trips!
& 
Fitness Tracker With Heart Rate Monitor
Sleep Monitor 14 Sports Mode
&
---
Hiking poles are great for short hikes and long backpack trips.
The BAFX Anti Shock Hiking Pole Set is a pair of durable lightweight aluminum poles with anti-shock springs for comfortable trekking; carbide and rubber tips are included to hike on various types of surfaces.
The poles are conveniently packed at around 26 inches and extend to approximately 53 inches for hiking.
The Folding Hiking Pole has an ultralight shaft made from aluminum alloy and a tungsten steel rod tip under the rubber footing.
It is easily packed at around 13 inches when folded and extends to approximately 53 inches for hiking.
You can be sure that "foldable" hiking gifts for couples that can be easily pack for transportation and storage … are the BOMB!
&
Anti Shock Hiking Pole Set
Folding Collapsible Hiking Pole Set
&
---
Using hiking poles helps warn critters you are coming which gives them time to get away rather than confront you on the trail (I'm speaking mainly of rattlesnakes here) and this is one of our most important desert hiking tips.
---
---
---
For eco-conscious camping couples, solar camping gear makes great gifts!
---
Location awareness is just one of the camping safety tips that will keep campers happy, healthy and safe on outdoor adventures!
---
LifeStraw Personal Water Filter
This thing is amazing!
The LifeStraw Personal Water Filter removes most waterborne bacteria and protozoan parasites from contaminated water WITHOUT iodine, chlorine or other chemicals!
This straw make an awesome addition to a camping gift basket for couples who camp, backpack and hike with very little gear.
They are also great pieces of equipment for emergency situations.
&
---
His And Hers Wearable Camping Gifts
---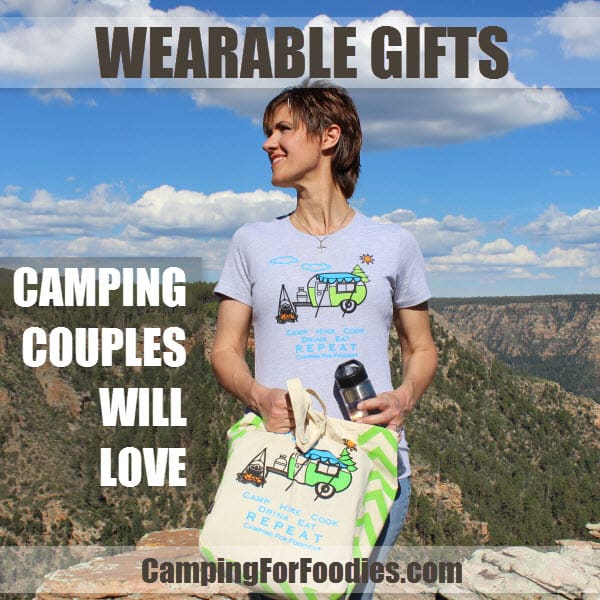 ---
---
---
---
Food And Beverage Camping Couples Gifts
---
---
Camp, Hike, Cook, Drink, Eat, Repeat Stainless Steel 5-Piece Cocktail Shaker Gift Set
No wrapping necessary!
This complete 5-Piece Cocktail Shaker Gift Set comes in a ready-to-give decorative box! 
Everybody wants to play the bartender with this Camp, Hike, Cook, Drink, Eat, Repeat shaker set!
These bar accessories are awesome gifts for people who love camping in style with a refreshing drink.
I'll toast to that 😉 Cheers!
&
---
Check out these camp cocktails for some inspiration to make yummy drinks around the campsite too!
---
Mr And Mrs Couples Camping Ceramic Coffee Mug Set
Coffee mugs are great camping anniversary gifts for couples who love a cup of java … they are easy, cute … and give a nice warm and fuzzy! ☕☕
This Mr. And Mrs. Couples Camping Ceramic Coffee Mug Set is perfect because it has the "look" of speckled enamel camping mugs but these are actually ceramic which is great for holding coffee hot for a longer period of time when camping in cooler weather!
The Mr and Mrs text is printed on both sides of each mug which also happen to be dishwasher and microwave safe too!
&
---
If you are thinking about doing a big camp coffee themed gift basket, consider some of these totally cool coffee gadgets gifts every coffee loving camp couple will absolutely love!
---
---
---
I love the idea of creating really unique wedding gifts for camping couples by assembling a fun collection of camping cooking equipment they can use while making gourmet feasts on their adventures!
It is a super fun alternative to giving standard household kitchen gadgets!
---
---
If you want to create a yummy basket filled with all of the ingredients to make almost-gourmet smores camping treats, consider these s'mores and include our free printable recipe card with all of these unique combinations!
P.S. If you do this, make sure you include the ingredients for Tropical Therapy, Wild For Chocolate and Nuts Over Nutella … YUM!
---
Picnic Backpack With Cooler Compartment
Some backpacks are made for hiking … others backpacks are made for eating!
Yes, it's true!
This Picnic Backpack has a cooler compartment for food, an insulated detachable bottle/wine cooler, picnic supplies for 4 people (including cutlery) and a fleece blanket with waterproof backing!
These are fun camping gift ideas for couples who like to do a little light hiking to find unique settings for enjoying a leisurely picnic. 
It is no surprise that this cool backpack is one of the most popular camping Christmas gifts!
&
---
Mr. and Mrs. Can Coolers Gift Set
Keeping your beverage cold  and not "sweaty" in the outdoors can be a challenge when camping in warm weather.
Koozies are great holders for cold drinks in cans and small bottles making them fabulous camping gear for couples who camp during the warmer months of the year.
We particularly love this Mr. and Mrs. Can Coolers Set and especially the little red hearts used for punctuation.
P.S. To my husband, yes, I would love to receive these from you, xo 😘
&
---
His And Hers Wine Tumbler Set
For camping couples who like wine, but prefer something a little more interesting than a plain plastic cup … this His And Hers Wine Tumbler Set makes wonderful wedding gifts for campers!
The set includes 2 wine glasses with removable lids that have a slider button to prevent accidental spillage, 2 bent stainless steel straws and a wine bottle opener.
The cups can also be used as coffee cups and hold 12 ounces of hot or cold beverages.
&
&
---
Heart Shaped Pie Iron
Have you ever made a love-filled campfire pie?
It's not about the recipe ingredients … it is all about the shape of the edible creation!
These Heart Shaped Pie Irons make romantic camping gifts for people who like cooking with the classic pie iron but with a little extra heart! 💝
&
---
For more traditional couples, square is the way to go!
Square Pie Iron Cookers mean you don't have to cut off the crust of the bread!
After you are done cooking with the irons, just set them in the Pie Iron Kickstand to cool before packing them neatly into a Storage Bag.
Oh, and don't forget to throw in a recipe book too! 
Pie Iron Creations is an awesome little book with recipes like Peanut Butter Waffles, Inside-Out Jalapeno Poppers, BBQ Cheesy Chicken and Extreme Brownies … just to name a few! 
This equipment combination makes great outdoor gifts for couples who love camping and eating food that is as much fun to make as it is good to eat! 😊
Pie Iron Cooker
Pie Iron Kickstand
Storage Bag
Pie Iron Creations
&
---
---
Relaxing Camping Gifts For Couples
---
---
Kelty Low-Love Seat Camping Chair
All camp chairs are not created equally!
We love the chairs that are quilted, like this Loveseat Camping Chair.
Quilted chairs are so much more comfortable and when you are sipping your coffee on a cool camp morning, it is so nice to snuggle up in a loveseat to watch a beautiful sunrise as a happily camping couple!
This type of gear makes really fun camping wedding gifts!
&
---
---
Coleman Queen Airbed Cot With Side Tables And 4D Battery Pump
Take tent camping sleep to a new level by elevating off the ground for a better night of sleep!
This Coleman Queen Airbed Cot With Side Tables includes a 4D battery pump that inflates and deflates the airbed … in other words … save your breath!
The two side tables have cup holders to keep drinks and other personal items within easy reach!
This cot has a durable steel frame that supports up to 600 lbs.
Gear like this makes great wedding gifts for outdoorsy couples!
&
---
---
ALPS Mountaineering Foam Camping Mat
Using a foam mat under a sleeping bag is a great way to protect and insulate campers from the ground while tent camping.
This ALPS Mountaineering Foam Camping Mat easily rolls up for packing and is available in multiple sizes and thicknesses.
These things make awesome gifts for people who love camping in tents but don't love sleeping on hard and cold ground.
&
---
Home Decor Camping Gifts
---
Happy Campers Live Here Wood Box Sign
Some camping couples never want to leave the campsite!
This is a fun sign to hang in their home reminding them (and everyone who comes to visit) that they are happy campers hanging out at home just W-A-I-T-I-N-G for their next camp trip!
This Happy Campers Live Here Wood Box Sign is a cute decoration for homes and RVs and can stand on a surface or hang on a wall.
Decorative signs are camping ideas for couples gifts that are really great for newlyweds who need to decorate a new home as well as new RV owners!
&
---
For RVing duos, we have more ideas to find gifts for RV owners that include super practical as well as absolutely whimsical RV gadgets.
---
Campfire Donut Candle
This Campfire Donut Candle is the perfect starter to make camp gift baskets.
Yes, you heard me correctly … CAMPFIRE DONUT candle!
This one is made with notes of Powdered Sugar, Glazed Donut and Cedarwood Essential Oil plus it has a 25 to 45 hour burn time.
Candles make a nice addition to camping-themed gift baskets.
I'll take a dozen to go, please!
&
---
The camping couple who washes and dries together … stays together!
You know what I mean … sharing in the chores means they both have time to go exploring together and there is always something new to explore on camping trips!
This Camping Dish Towel Set is so fun with the Home Is Where You Park It and Life Is Better When You're Camping messages making these towels fun gifts for couples who camp using whimsically designed kitchen accessories.😊
Home Is Where You Park It Towel
Camping Dish Towel Set
&
---
Happy Camper Personalized Ornament
Personalized gifts are extra special!
One of the most popular gifts to personalize is Christmas ornaments but don't think you can only give them during the holiday season.
A personalized ornament makes a really cute gift topper and you can get them in holiday themes, like this Happy Camper Personalized Ornament, or get something a little more generic.
Either way, they make great Christmas gifts for couples who RV camp!
&
---
There are tons of super cute camper ornaments that make unique presents!
---
Talk about cute! There are so many fun personalized gifts for campers that include gear, games and more!
---
---
Couples Camping Accessories
---
These Passport To Your National Parks booklets make awesome camping theme gifts for couples who love camping in our National Park System! 
It lists all of the National Parks within the United States and the U.S. territories.
It is the perfect tool for trip planning as well as capturing the memories at each park.
The book provides space for "cancellation stamps" which can be found in almost every National Park's visitor center.
&
Passport To Your National Parks
Full U.S. And Territories Parks List
&
---
Handheld Hummingbird Feeders
We don't know of a camping couple on the planet that doesn't enjoy getting visits to their campsite from the local hummingbirds!The birds certainly have a personality that won't quit!
It's especially funny when they "get in your face" to let you know they are waiting for you to refill the feeder! 🤣
These Handheld Hummingbird Feeders make awesome little gifts camping couples really enjoy!
They are small and lightweight which makes them a non-essential item that is easy to pack!
I don't know about you but deciding which "non-essential" gear is worth packing is not always something our family agrees on. 😳
But, we do agree that we should ALWAYS carry our hummingbird gear! 😍
&
---
If you need creative ideas for wrapping the gifts you are giving to your camping couple friends, check out our Fun Camping Wrapping Paper And Creative Gift Wrap Ideas here!
---
Home Is Where We Park It RV Mat
One of the easiest ways to keep the inside of an RV clean is by leaving the dirt outside!
This Home Is Where We Park It RV Mat is not just functional … it's totally cute! It comes in different sizes and colors and it folds up to a compact size for easy storage inside its own carrying bag.
Camping couples who don't like cleaning "preventable dirt" inside their RV will love this gift!
&
---
---
S'mores Duct Tape
Because s'mores and duct tape are part of every camping trip!
Rolls of S'mores Duct Tape are totally cute camping gifts that are practical and really inexpensive too.
I don't know a camping couple who would not get a real kick out of receiving this particular "almost edible" duct tape as a present! 😂
&
---
---
Rand McNally 2020 Large Scale Road Atlas
Some couples always seem to camp at the same location, others are a bit more adventurous.
Using a Rand McNally Large Scale Road Atlas is a great trip planning tool for finding new destinations to experience while camping as well as route planning that might be a little off the beaten path.
It makes a great gift for couples who like to experience many different camping locations by traveling across the country.
&
---
Motorola 23-Mile Range, 22-Channel Two-Way Radio Set
Instead of yelling "HEY HONEY, STOP … YOU'RE GONNA HIT THE TREE" when backing up the vehicle at the campsite, she can quietly let him know in a softer, gentler tone with her radio.
(Yes, we can say this from experience!)
This Motorola's 23-Mile Range 22-Channel Two-Way Radio Set has a range of 23 MILES!
Interference is no problem with 22 channels each with 121 privacy codes.
They also have 11 weather channels (7 NOAA) with alert features!
These radios make really useful gifts for RVing couples who do a lot of maneuvering in and out of campsites … one being the driver while the other is providing the directional guidance.
&
---
Garmin RV 760LMT Portable GPS Navigator
No more fighting over directions while driving!
The Garmin RV 760LMT Portable GPS Navigator is almost a marriage saver … LOL!
But seriously, this thing provides RV-specific services, repair shops, truck stops and a nationwide list of repair and tow facilities.
It gives you specialized routing based on customizable info like your RV's height, weight, width and length!
It's in the upper price range of our gift ideas but if you have the cash to spend on this GPS, the camping couple receiving it will thank you for a lifetime!
&
---
Rainy Day Gifts For Couples Who Camp
---
---
Family Camping Journal
When a camping trip is soggy because of rain, it's a great time to catch up on entering things into a Family Camping Journal or reviewing the memories that have already been recorded there.
We love journals with writing prompts about favorite vacation memories, best camping recipes, space for a daily photo etc.
These journals make great gifts for couples who want to cherish their camping memories for years to come as well as share them with their friends.
&
---
BIRDCAGE Amazing Places National Parks Game
Playing card games is one of the most popular ways to enjoy a rainy camp day!
These Amazing Places National Parks Playing Cards include a full deck of cards with awesome photography of National Parks and cool facts about the Parks on each card.
The fun thing about giving a deck of these cards as a gift is that they provide inspiration and camping ideas for the couple's future trips!
&
---
Memory Challenge: National Parks
The Memory Challenge: National Parks game includes 100 picture cards featuring beautiful photography of the National Parks and the animals that live in them.
It's a great game to play as a couple as well as a family … and … it makes a fun gift that can be enjoyed by campers 8 years and older!
&
---
---
Rummikub – The Original Rummy Tile Game
True confession time … our family is addicted to Rummikub – The Original Rummy Tile Game! 
I really don't know what it is, but we get a little crazed and extra competitive when this game hits the table!
In case you have never played, the object of the game is to form runs and sets as you try to play all your tiles.
The first player to use their tiles wins the hand.
If you decide to give this as a gift, you might want to get one for your family too! 😉
&
---
---
The Long, Long Trailer
Doesn't every family have their "favorite family movies"?
I know ours does and we recently discovered The Long, Long Trailer and it's at the top of our favorites list!
I would expect every couple who camps in an RV will totally relate to every single scene in this movie!
It stars Lucille Ball and Desi Arnaz as a newly married couple buying an RV for the first time and celebrating their honeymoon on the road!
What could possibly go wrong with new RV owners traveling in an overweight super long trailer on tightly curving mountain roads???
This movie makes really fun wedding gifts for campers and for camping anniversary presents for long-time RVing couples who love a good, clean, really funny, old-fashioned flick!
&
---
---
National Parks Map Poster
Rainy camp days are perfect for planning future camping trips! 
Bucket list planning tools make great gifts for people who love camping in different locations that require some traveling.
This particular National Parks Map Poster has 600+ National Park Service locations and U.S. travel destinations like NASA Space Centers, National Monuments and more!
These posters make unique camping wedding gifts for outdoorsy couples who have a lifetime of trips in their future!
&
---
If you are looking for the best camping gifts for couples who always seem to forget to pack something really important, in addition to these gift ideas, give them a FREE copy of our checklist for camping, Ultimate RV And Tent Camping Checklist so they never forget to pack an essential camping item again! They will love you forever! LOL 😂😍😉
&
---
Need More Camping Gift Ideas? Check Out These Posts!
---
The Christmas holiday season is one of the biggest gift-giving times of year! Our Christmas Gifts For Campers And RV Owners: 100+ Ideas For This Holiday Season post is updated daily during the shopping season so you can see which are the most popular gifts of the year!
&
---
Small gifts that fit in a Christmas stocking are perfect for giving all year round! Our 100+ Camping Stocking Stuffers For RV And Tent Campers post features some of the best little camping gifts that start under $10! Some of them even start below 5 bucks and they are NOT JUNK!
&
---
Thinking you might want to do a little DIY camping gift holiday giving? Check out our Campfire Hot Cocoa post! It's warm, yummy and makes a thoughtful, inexpensive and unique Christmas gift for people who love to camp!
&
---
Pin It For Later!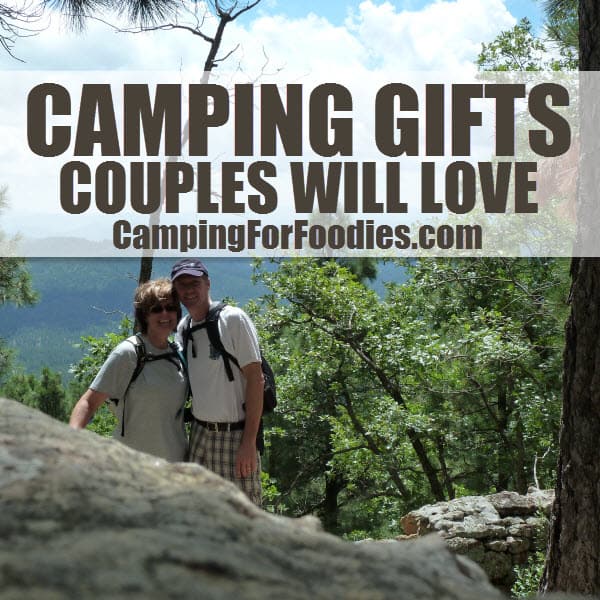 ---
No time to look for recipes, create a menu and write a grocery list? No Problem! Get our 3-Day Dutch Oven Camp Menu Plan here!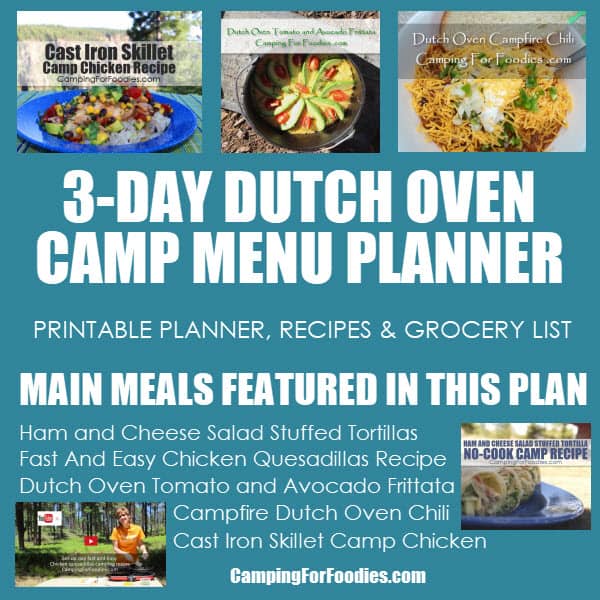 ---
Our Cool Camping Products Make Great Gifts!
Cutting Mat
Mat Set
Shaker Set
Hammock
&
---
If you need camping recipes and menu ideas, you can find them here at the Camping For Foodies Camping Recipes list.
Don't miss a thing…sign up for Camping For Foodies email updates!
Your purchase of our products will help support World Vision ® Building a better world for children.