51+ Gluten Free Camping Food Ideas That'll Make You Want Seconds!
You don't have to miss out on yummy camping food because of special dietary needs.
If you're looking for totally delicious ideas for gluten free camping food, you're in the right place. These simple recipes will have your camp crowd asking for another helping!
Psst we're compensated…see our disclosures.
Gluten Free Camping Meals For You Or A Guest?
FOR YOU … If you are living a gluten-free lifestyle yourself, you are already familiar with preparing GF meals and are just looking for yummy recipes for your camp trips, please scroll right past this section to find gluten free camping recipes for every meal of the day.
FOR A GUEST … If you are preparing gluten free recipes for a camping guest who has celiac disease and are not familiar with cooking GF meals, let me mention a few things including the necessity to read food labels to ensure the ingredients you are using are gluten free.
When people with celiac disease eat gluten (a protein found in wheat, rye and barley), their body mounts an immune response that attacks the small intestine.
A food that is gluten free may become gluten contaminated if it is not harvested or processed correctly.
Common Foods That Contain Gluten
Pastas & Noodles
Breads & Pastries
Crackers
Baked Goods
Cereal & Granola
Breading, Coating Mixes & Croutons
Sauces & Gravies that use wheat flour as a thickener
Flour Tortillas
Beer & Malt Beverages
Brewer's Yeast
Anything else that uses "wheat flour" as an ingredient
Naturally Gluten-Free Food Groups
Fruits
Vegetables
Meat & Poultry
Fish & Seafood
Dairy
Beans, Legumes & Nuts
Please visit the Celiac Disease Foundation to learn more.
---
Breakfast
Muffin Tin Campfire Eggs
Combine campfire fun …with … make your own breakfast. These muffin tin eggs are awesome because you just build-a-bar and let each camper create their own combinations. My favorite ingredients are deli ham, cooked bacon, green peppers, green onions, tomatoes, shredded cheese, jalapenos and mushrooms. This is one of our kid-approved campfire recipes that is fun to make and yummy to eat.
---
Cowboy Breakfast Skillet One Pot Campfire Breakfast
It is so nice to have everything in one pan when you make breakfast in a cast iron skillet over a campfire. This cowboy skillet includes the potatoes, sausage and eggs in one skillet. The really great thing is that the eggs can be cooked scrambled and sunny side up … at the same time! This is one of my husband's favorite camping breakfast ideas because he likes his eggs scrambled and I prefer sunny side up.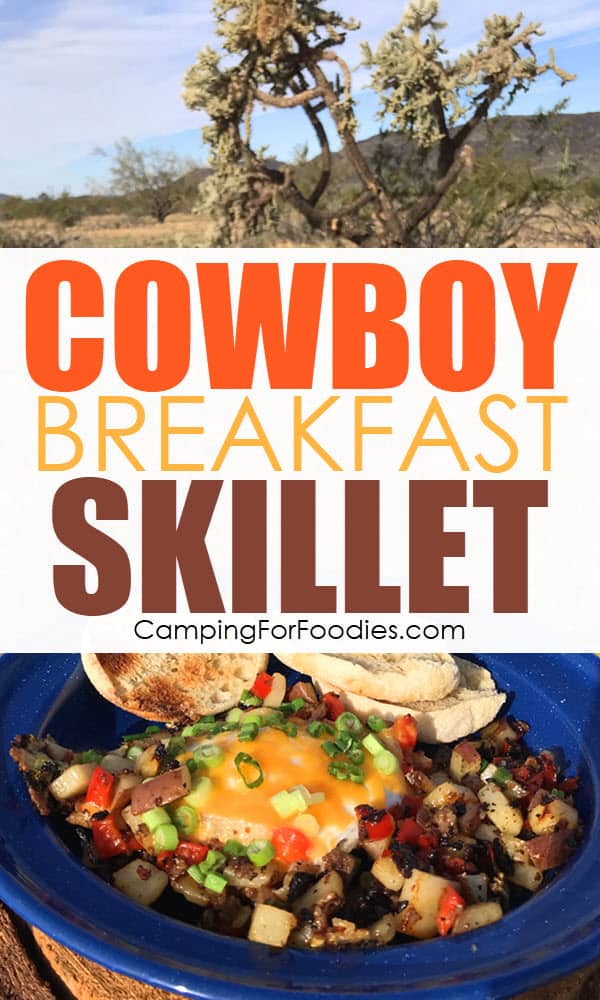 ---
Dutch Oven Tomato And Avocado Frittata
When I make frittata and quiche recipes, my husband thinks it is a "ladies" sort of food but not this one. The really amazing thing is that he didn't even realize there is no meat in this meal … LOL. The onion, garlic and dried herbs make this savory breakfast really special. Add in some cheese, fresh avocado and cherry tomatoes and you hit a home run!
---
Breakfast Camping Burrito Bowls
You won't even miss the tortilla when you put your breakfast burrito in a bowl. This quick meal is packed with protein, fiber and fabulous flavor with black beans, avocado, eggs, cheese and salsa. You will have this recipe on the table in under 15 minutes!
---
Dutch Oven Bacon Scramble
Don't you just love camp meals that are quick to prep? This breakfast scramble only takes about 10 minutes to gather the ingredients and get them into the pot. Spinach is a surprise ingredient in this satisfying recipe that also includes a bit of bacon, onion, tomato and cheddar along with the eggs. This is one of my favorite camping meals for two when my husband and I are camping alone but it can easily scale up for larger groups.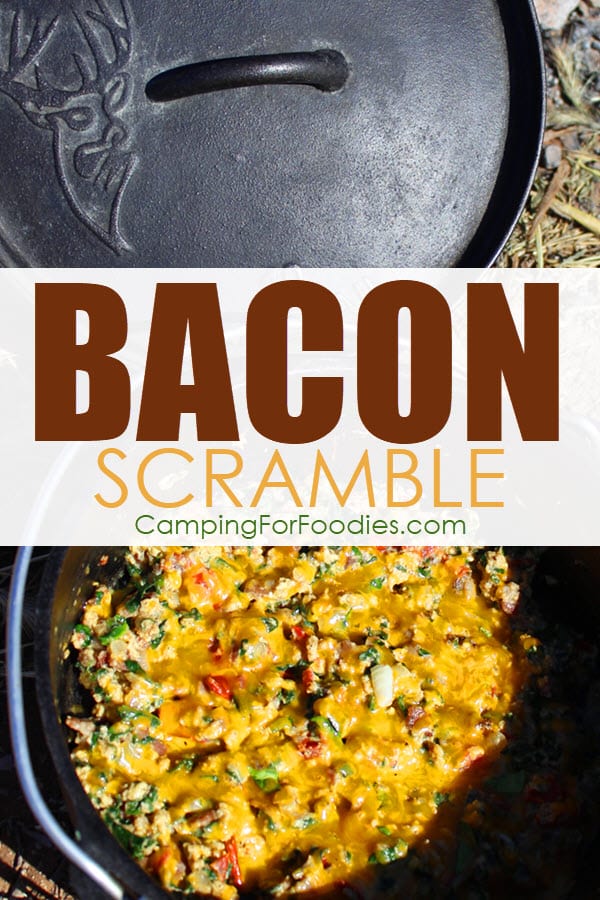 ---
Carrot Cake Oatmeal
How do you blend carrot cake and oatmeal for breakfast? It's easy! Just add some spices, shredded carrots and raisins to your steel-cut oats then top with a delectable "frosting" made from honey, plain yogurt, a few walnuts and shredded coconut.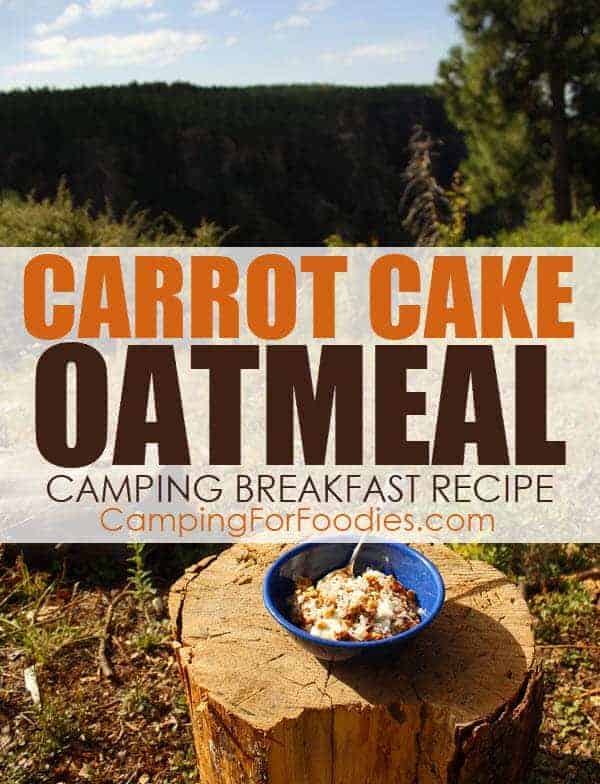 ---
Cast Iron Skillet Breakfast Nachos
We love making unexpected foods while we're camping. These breakfast nachos fall into that category. They are more of a brunch with the breakfast part coming from scrambled eggs and the lunch part coming from tortilla chips (make sure you use gluten free), black beans, cheese, tomatoes, cilantro, avocado and sour cream.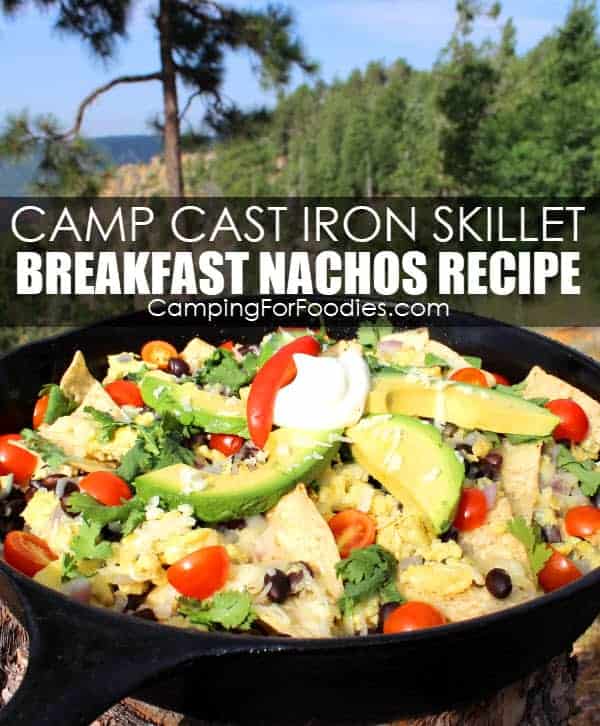 ---
Mountain Man Breakfast
You don't have to be and adult male to enjoy this Mountain Man Breakfast! We put a twist on this classic dish by making our version meatier and moister with a slightly spicy touch of the southwest. We use hot breakfast sausage, green chilies and a few drops of our favorite hot sauce then add some eggs, onion, garlic, green onions, hash brown potatoes and sour cream to finish it off nicely.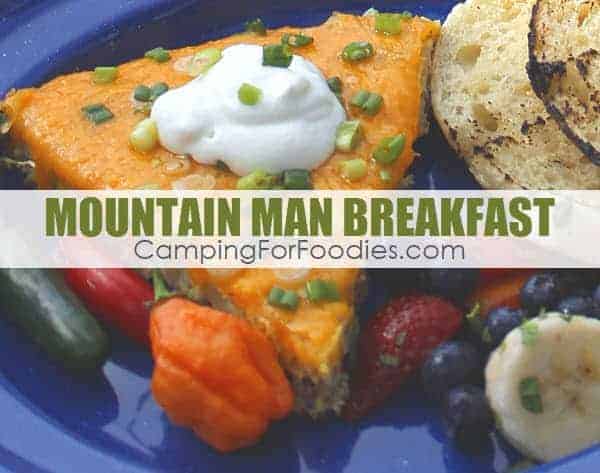 ---
Camp Chef Dutch Oven Carry Bag
Dutch Oven Breakfast Eggs Baked In Avocados
You only need a few ingredients to make these cute little baked eggs in your Dutch oven. The combination of eggs and creamy avocados are uniquely scrumptious and a great way to start your day. You can add a little hot sauce or salsa for a bit of heat if you'd like to jazz it up with some extra spice.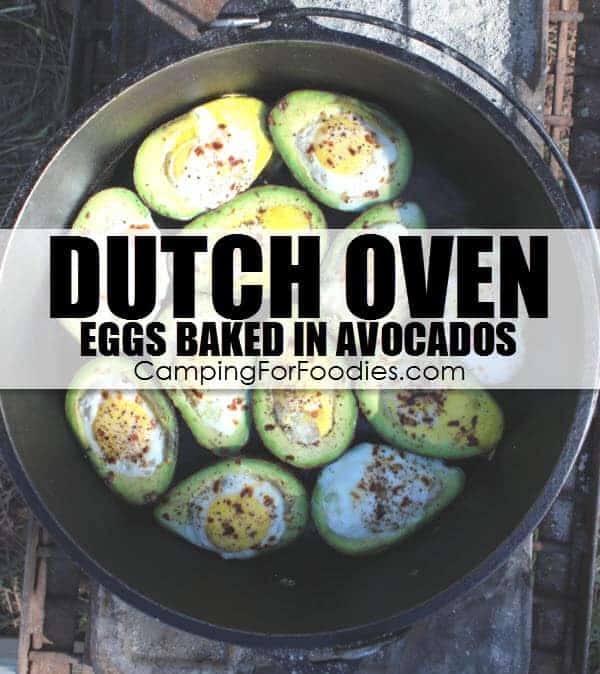 ---
Dutch Oven Scrambled Eggs
Making basic scrambled eggs is a simple go-to breakfast that is easy to scale up or down … depending on how many people you are feeding. This version is jazzed-up with a bit of onion and cheese. You can add a sprinkling of fresh parsley but it is totally optional.
---
Dutch Oven Egg Bake
This is one of our Dutch oven camping recipes that requires NO CHOPPING. But, that doesn't mean this egg bake has no flavor … on the contrary! The eggs and hash browns get really exciting with the addition of hot pork sausage, dry mustard, Worcestershire sauce and cheddar cheese.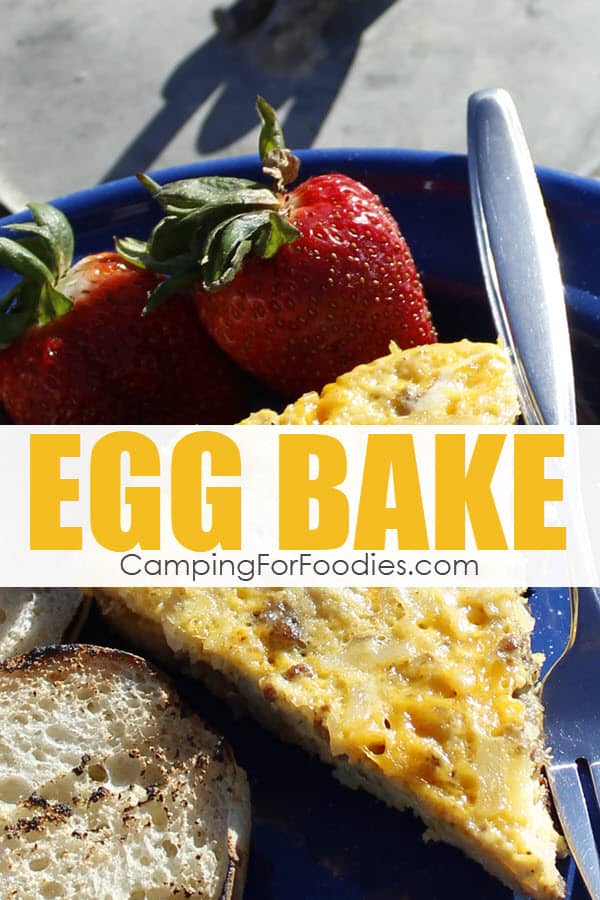 ---
Appetizers & Snacks
Camping Flexible Cutting Mats
Rosemary Spiced Nuts
I try to avoid using too many fresh herbs because they don't always transport well but fresh rosemary is very tough AND it provides amazing flavor so it is more than worth it. It only takes 5 minutes to prep this snack that uses roasted and salted mixed party nuts that are made extraordinary with some butter, brown sugar, chipotle chili powder, cumin, allspice and, of course, the fresh rosemary.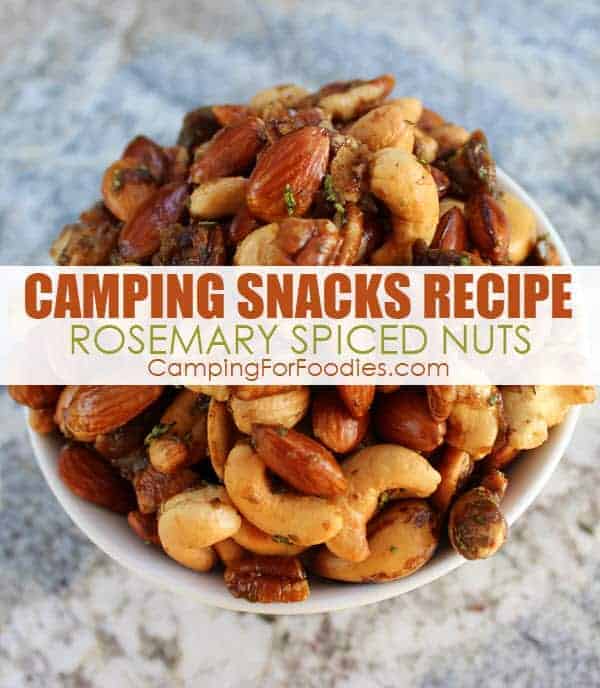 ---
Stuffed Baby Bells Dutch Oven Campfire Appetizer
If you want a heavy appetizer to serve during happy hour instead of making dinner, these stuffed peppers are a great option. They start with mild Italian sausage, onion and garlic which is made gooey and creamy with cream cheese and cheddar cheese. All of that is stuffed in baby bell peppers that serve 6–8 people as a substantial snack.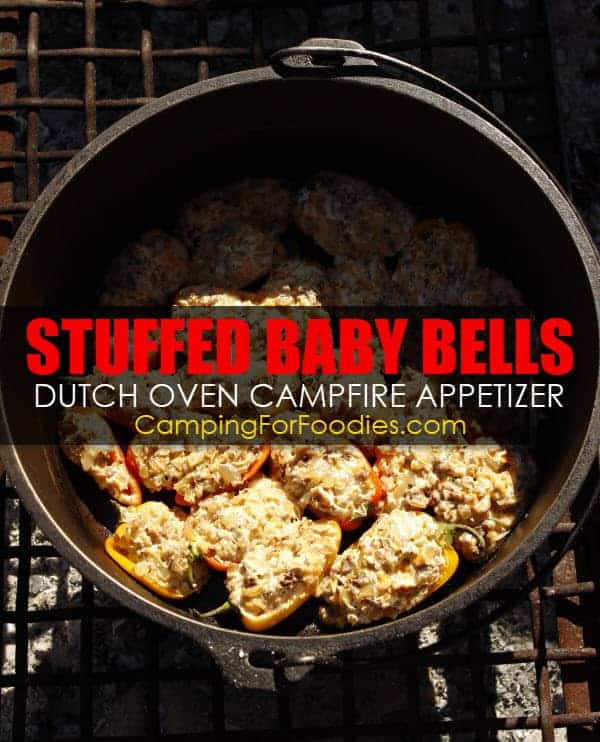 ---
Dutch Oven Campfire Spinach Dip
Going to a potluck and need something the crowd will rave about? Make this spinach dip! It combines frozen (defrosted) chopped spinach, canned artichoke hearts, garlic, mayo, cream cheese and Parmesan cheese that you bake in a Dutch oven till it is warm and bubbly. Serve it with some gluten free crackers or bread.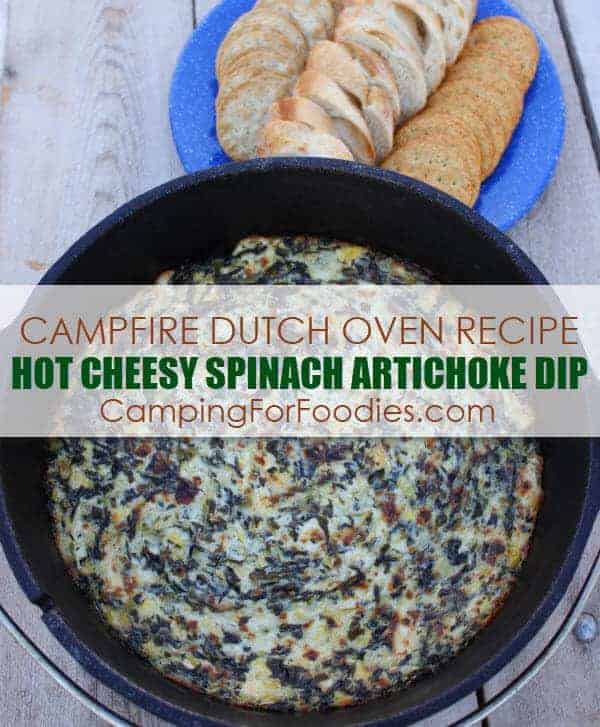 ---
Spiced-Up Mixed Nuts
I know what you're thinking … I just shared a nut recipe but this one is different. It is spicier than my Rosemary Spiced Nuts and this one is made in a foil packet over a campfire or grill. Just lay out a piece of aluminum foil and toss together some mixed nuts, chipotle chili powder, ground cumin, black pepper, honey and olive oil … fold it into a packet and cook for about 10 minutes for delectable camping snacks.
---
Fresh Guacamole
You have to do a bit of chopping to make fresh guac but it is totally worth it! Mix up some fresh avocados, tomato, jalapeno pepper, garlic, red onion, and cilantro and serve with gluten free tortilla chips for a fantastic snack or appetizer with your favorite Mexican dinner.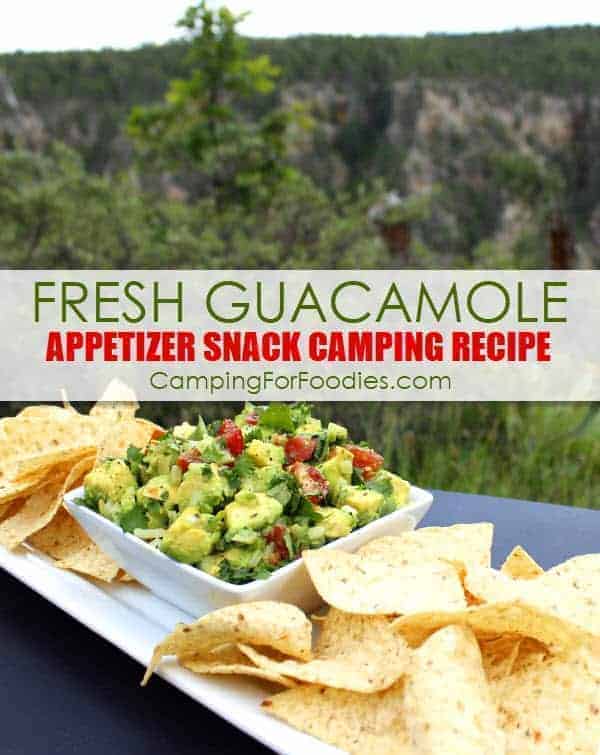 ---
Lunches
Chicken Parmesan Wrap Recipe
This quick and simple recipe uses spinach wraps and prepared ranch salad dressing to make a yummy hand-held meal. Although most are gluten-free, a few brands of those items do contain gluten, so check the labels to be sure. The veggies round out this satisfying meal.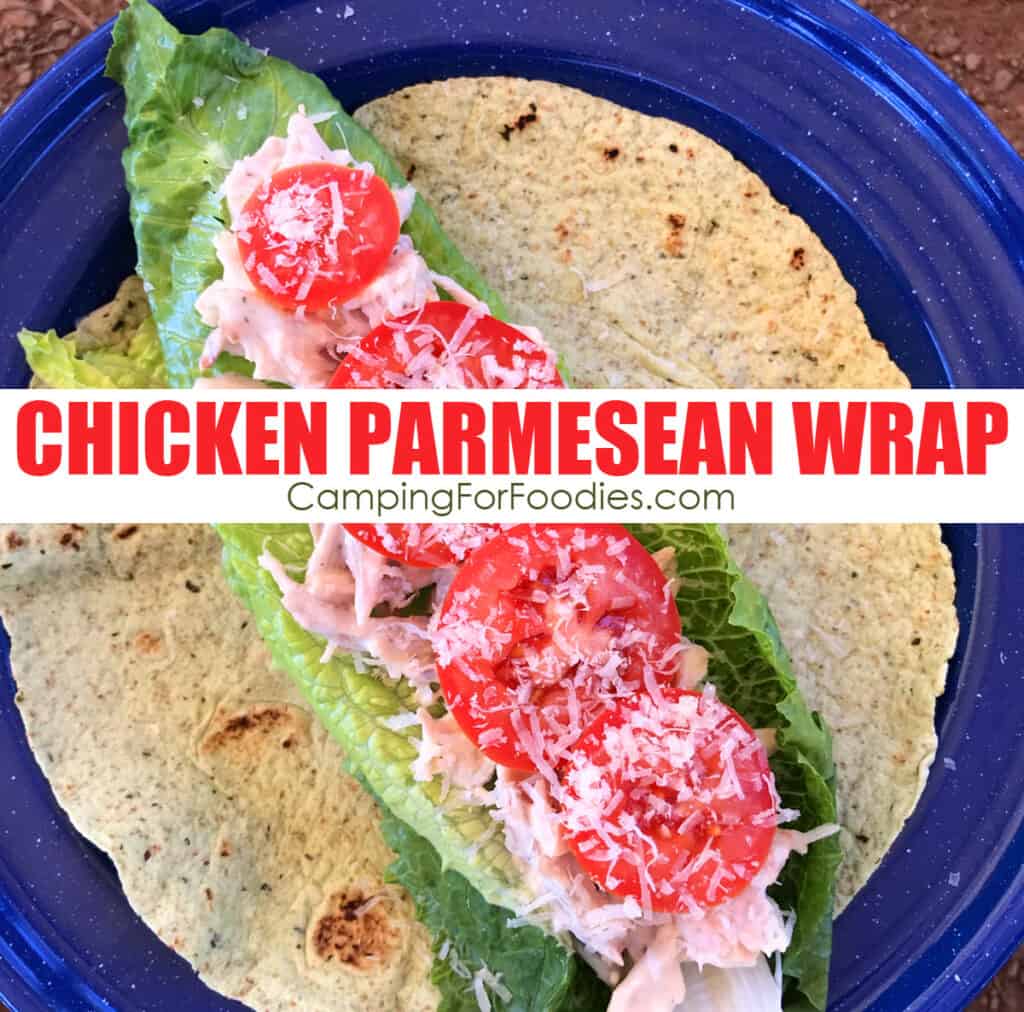 ---
Soups, Sides & Salads
932°F Heat Resistant Leather Long Sleeve Insulated Grill Gloves
Hot Italian Sausage Soup Campfire Recipe
It is hard to believe the list of ingredients is so short when you taste this luscious soup that is perfect on winter camping trips. The flavor comes from the hot Italian sausage, bacon, onion and garlic … the creaminess comes from the chicken broth, potatoes and heavy cream. Add some fresh spinach for flavor and texture and you have a campfire soup you will make over and over again.
---
Easy No Cook Healthy Southwest Camping Salad
How do you make frozen corn and canned black beans taste amazing? Add a simple homemade dressing and toss with a bit of queso fresco cheese and fresh cilantro! It is one of my favorite no cook camping meals that makes a great side salad but is substantial enough to stand-alone as a main dish.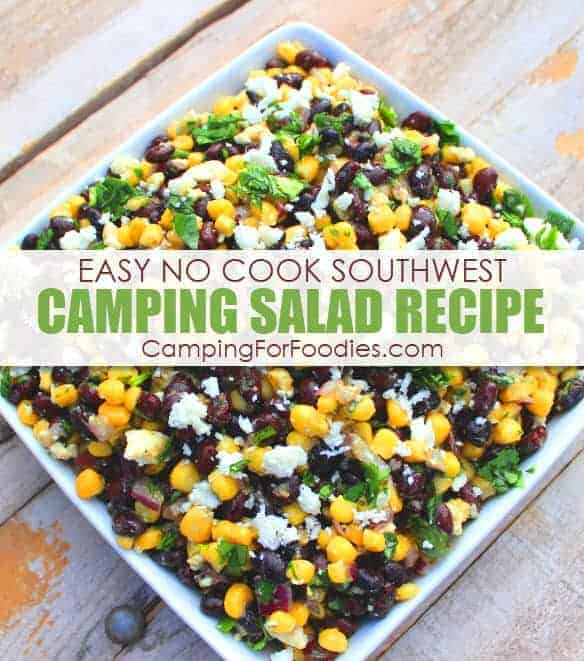 ---
Camping Potatoes In Foil
Potatoes have a nice long shelf-life and don't need to be refrigerated … so … they are a popular ingredient in lots of camp recipes. This simple recipe combines potatoes, onion, garlic, bell pepper and butter that are layered together and cooked in a foil packet. I like making entire campfire meals in foil when I don't want to do dishes. LOL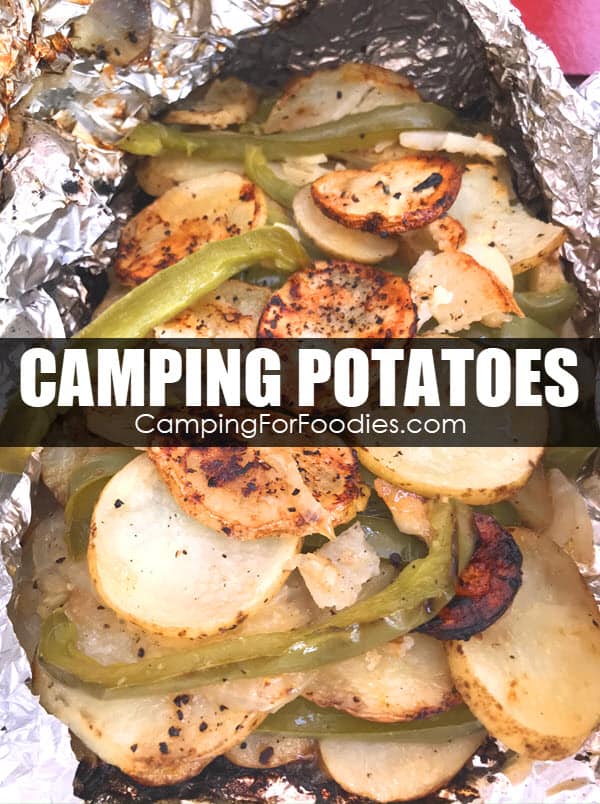 ---
Glazed Grilled Carrots
These charred carrots taste wonderful when served alongside a grilled protein like fish. You just toss them in a little olive oil and salt then let the campfire coals or charcoal briquettes do the work. After they are softened and charred on both sides, you'll toss them with a bit of lemon juice, honey and rosemary just before serving.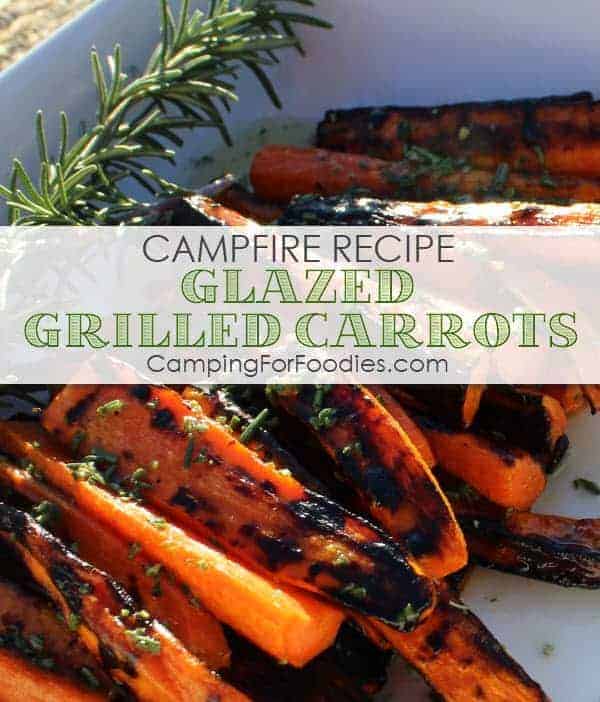 ---
Campfire Corn On The Cob
If you don't count the water and salt, this recipe has ONE INGREDIENT … You can't get easier than that! See how simple it is to grill corn right over your campfire to get a sweet and bold ear of charred corn. We serve this as one of our camping side dishes but in the peak season (May through September) we grill enough ears and make them an entire meal.
---
Grilled Potato Wedges
Oh my goodness, these potato wedges are tasty! You won't even miss French fries if you make these alongside a grilled burger. You can just toss sliced potatoes with olive oil but by adding rosemary, cumin and chipotle chile powder … these things are over the top and one of our favorite camping grill recipes.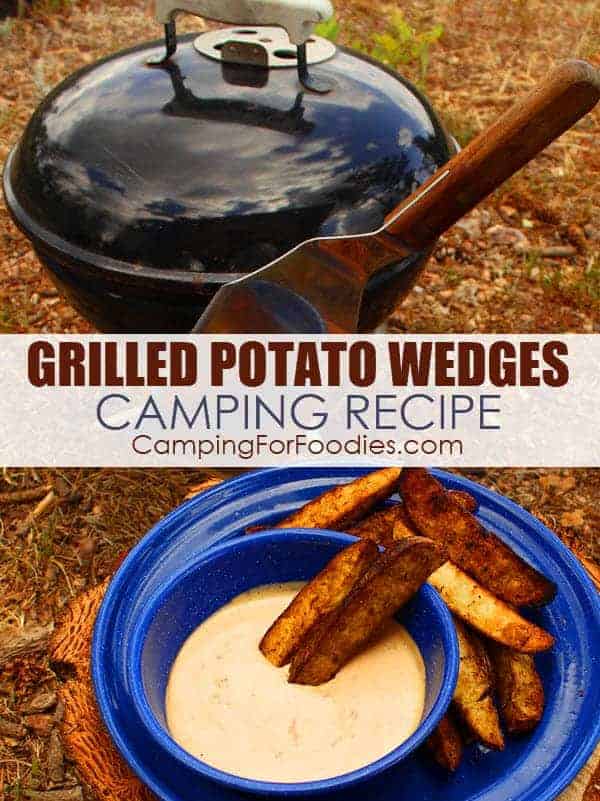 ---
Campfire Veggie Packets
When you chop veggies and cook them over a campfire, you either need to use a grill basket or foil packet to avoid dropping them into the fire. This recipe combines broccoli, carrots, cherry tomatoes, garlic and butter to make a simple and refreshing side dish for grilled meats or can be the main course as one of our vegetarian camping recipes.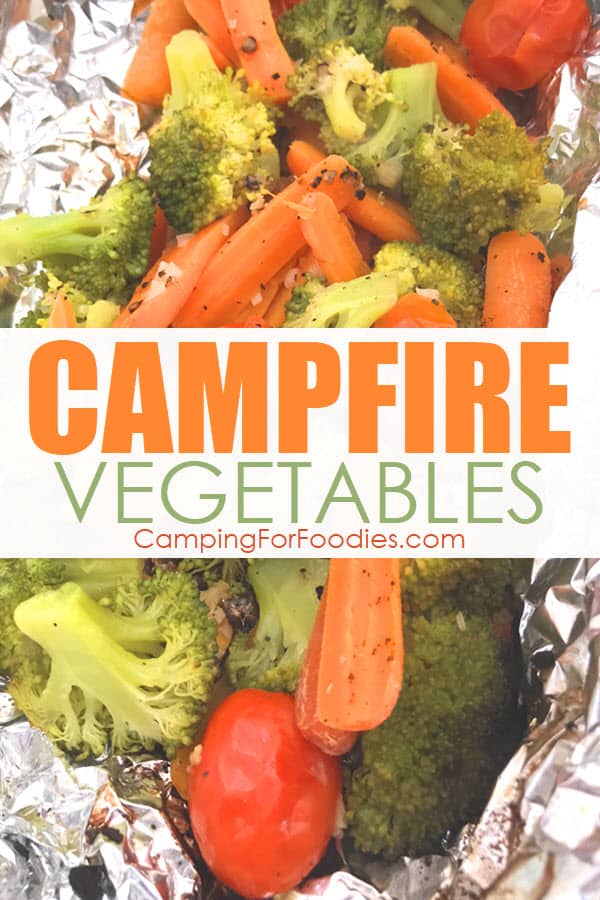 ---
Mexican Three Bean Salad
Don't hate me when I tell you that this recipe has 17 ingredients! You just need to open some cans and measure a few spices! This is one of our shelf-stable camping food recipes no refrigeration required. With 3 types of beans, canned Mexican style corn and green chilies … this meal provides lots of fiber and protein. The flavor comes from a simple homemade dressing that includes readily-available dried spices. We like serving this as one of our camping salads along with grilled meat with Mexican spices.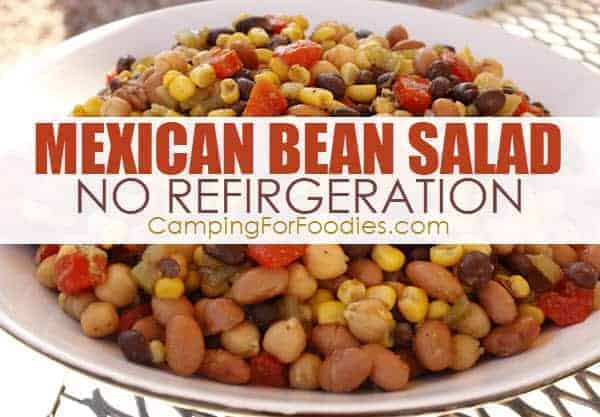 ---
Potato Salad With Bacon And Chives
My family is filled with bacon-lovers so this potato salad is one of the most frequently requested side dishes I serve at home and at the campsite. Add a bit of celery, onion, garlic salt and celery salt to the mayo and you'll be amazed at how much flavor comes out of this yummy recipe. The really nice thing about this recipe is that it tastes better after the flavors marry for a day or two so prepare it at home as one of your make ahead camping meals then it is ready to serve on your trip.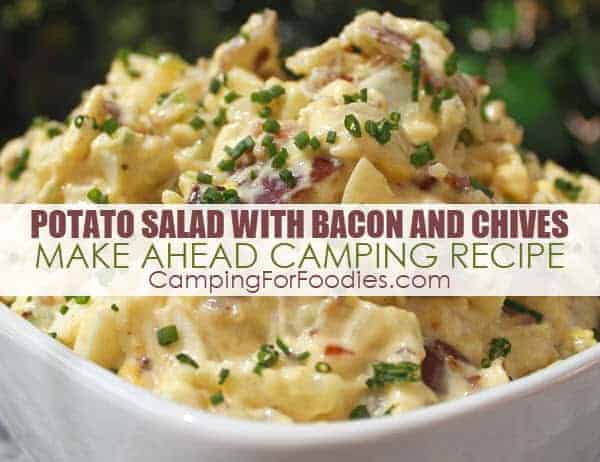 ---
Dinners
Lodge Adjustable Camp Tripod, 40 to 60-Inch Tall
Fork-Tender Beef Dutch Oven Campfire Stew
I love making one-pot camping meals that don't require tons of effort. You only need about 15 minutes to prep this beef stew that includes onions, potatoes, carrots and celery in the meal. You'll want to make this on a lazy-day around the campsite because you'll need to stoke the fire every so often. This recipe cooks for about 2 hours which is why the beef chuck is fork-tender by the time you serve it. After you try it, you'll understand why it is one of our favorite winter camping recipes.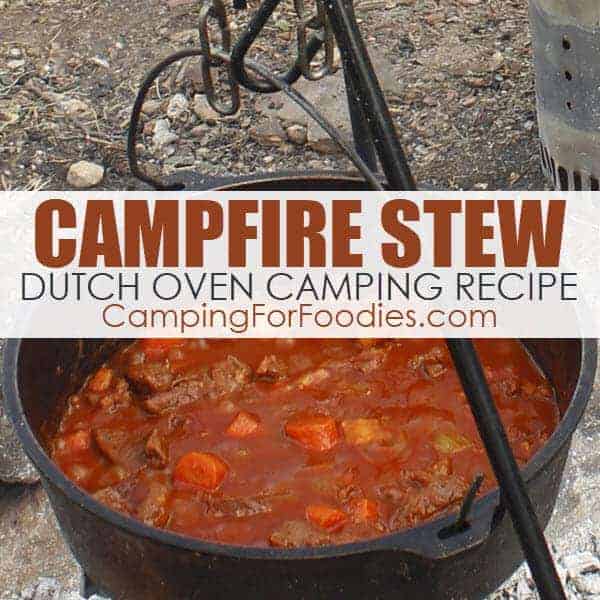 ---
Easy Dutch Oven American Chinese Chop Suey
Get out your knife and cutting mat because this yummy chop suey is packed with veggies! The carrots, onion, mushrooms, garlic, celery and water chestnuts are the background for the chicken that is combined with ground ginger, red pepper flakes, chicken broth and soy sauce. You won't miss your favorite take-out restaurant when you make this dinner at your campsite.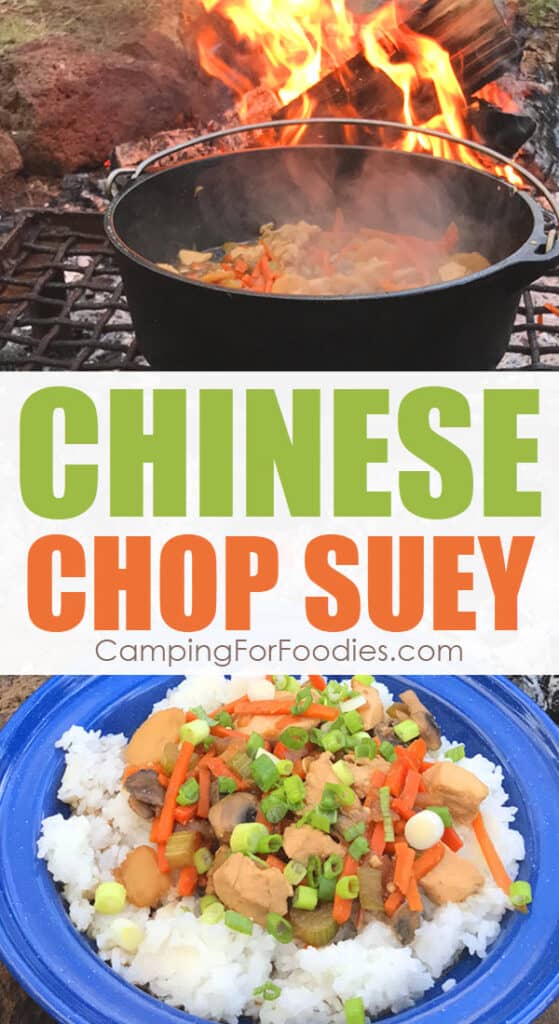 ---
Grilled Flat Iron Camping Steak Recipe
If it only takes 5 minutes to prep and 8 minutes to cook, why is this recipe's total time over 6 hours? Because of the magic of marinating! This really simple marinade uses brown sugar, balsamic vinegar, olive oil, Worcestershire sauce and a couple of dried spices to provide amazing flavor and tenderize a relatively tough cut of meat making it tender and juicy.
---
Dutch Oven Pork Chops And Rice
One-pot dinners are so awesome for quick cooking and fast clean-up! These pork chops take on a mild Italian flavor as they cook with rice and a bit of onion, garlic, oregano, bell pepper and tomatoes.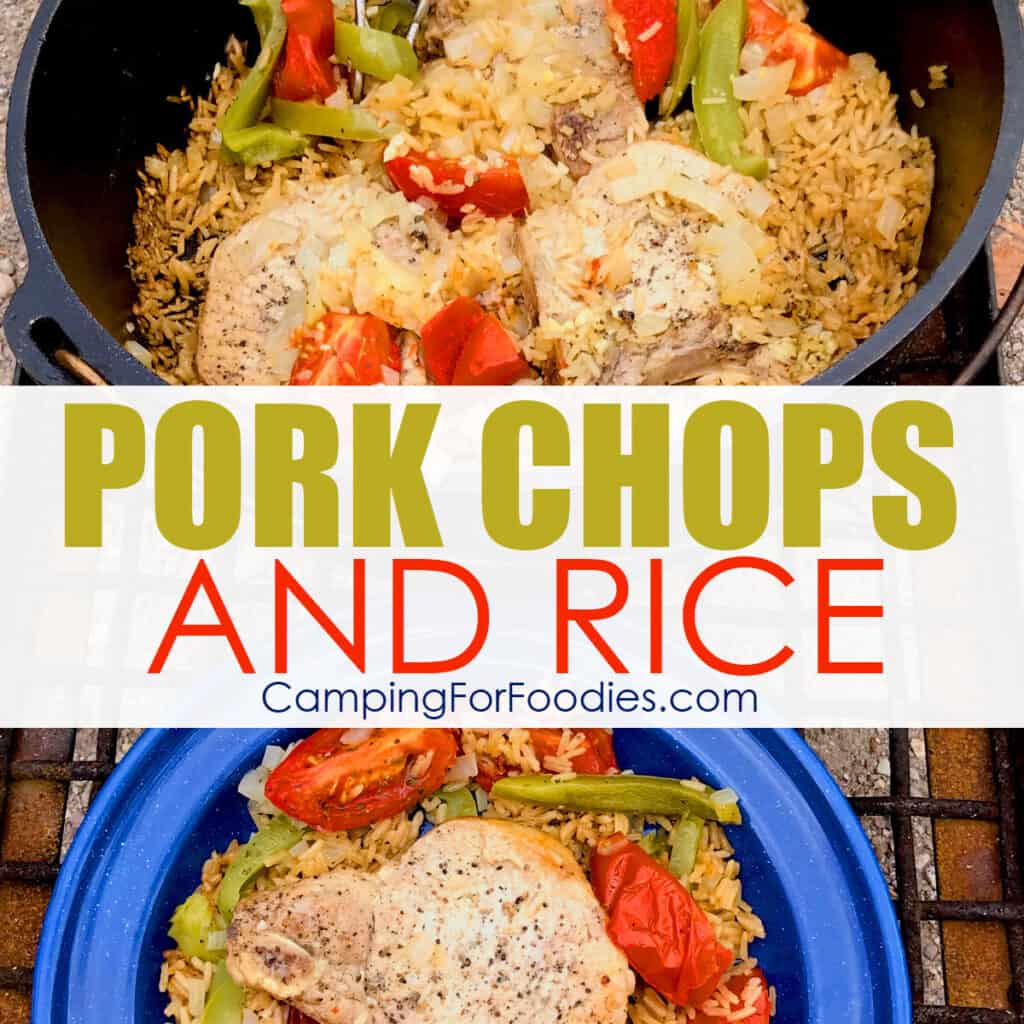 ---
Chicken And Veggie Camping Kabobs
Chicken is really bland unless you give it lots of flavor. This recipe marinates cubed chicken for 4 hours, giving it time to absorb all of the tang that comes from bottled Italian salad dressing. Make sure you use a gluten free dressing for this meal that is amazingly quick to prep and grill.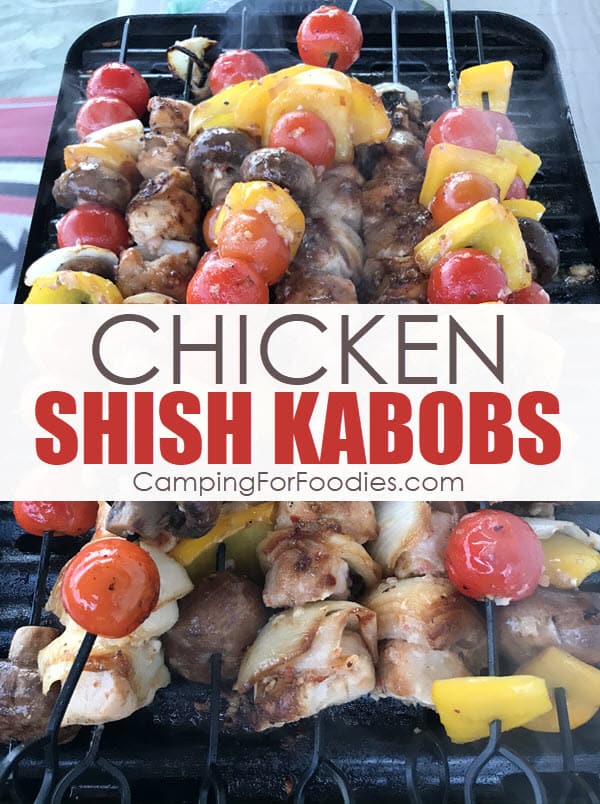 ---
Dutch Oven Pork Chops
When you cook bone-in pork chops, you get tons of flavor right off the bat. Add some chicken broth, cider vinegar, mushrooms, onion, brown sugar, garlic and dried thyme to the pot and you have an award-winning combination.
---
Dutch Oven Chicken And Potatoes
As one of my favorite one pot camping meals, the chicken, potatoes and carrots cook together in this recipe that is simple to prep and cook! The secret ingredient that adds a ton of flavor with very little effort … a little bit of bacon!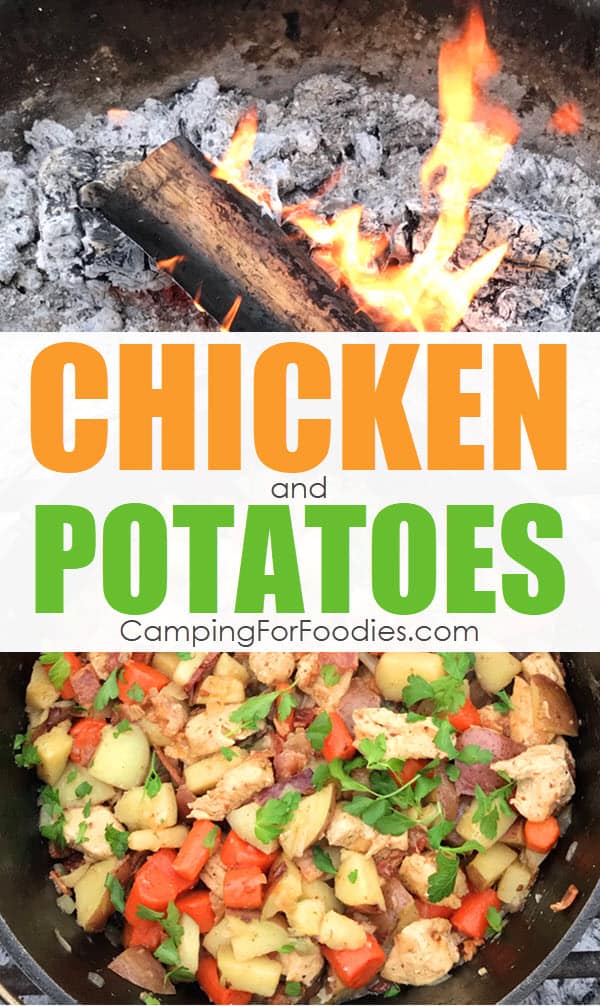 ---
Dutch Oven Steak
Meat and potato lovers will enjoy this affordable steak dinner. A simple marinade makes flank steak strips so tasty and fork-tender! Add in some fingerling potatoes and you have a yummy steak dinner that won't break the bank!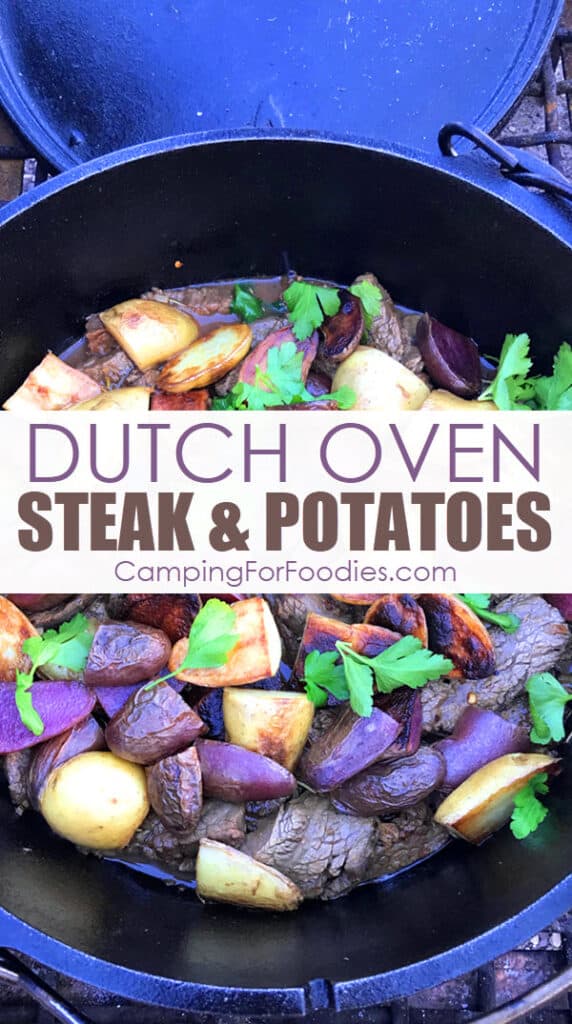 ---
Camp Oven Chicken Curry
I don't like creating recipes that use "weird" ingredients … you know, those things you have to find in specialty supermarkets that you have to drive miles and miles to find and hope they have what you are looking for when you arrive. So, I'm happy to report that the exotic flavors in this chicken curry dinner come from readily-available ingredients you can find in the international aisle of typical grocery stores. The red curry paste, curry powder and coconut milk are the secret ingredients to making this dish easy to create and exceptionally delicious.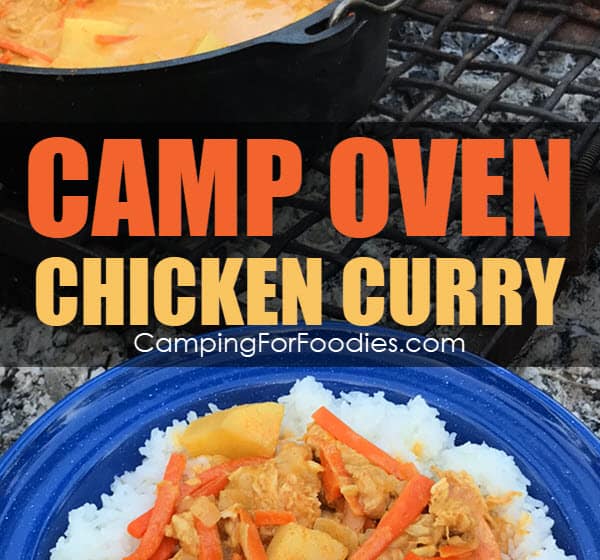 ---
Grilled Halibut Fillet Camping Recipe
If you are looking for easy camping meals you can almost always count on grilled fish. The sauce is what turns this halibut into something that tastes phenomenal. Combine some brown sugar, garlic powder, ground ginger, cayenne pepper, vegetable oil, soy sauce and lemon juice then use it to baste the fish while it is grilling. YUM!
---
Camping Dutch Oven BBQ Ribs
We have one of the coolest portable smokers that is perfect for camping and we are always making ribs on it … but … I know everyone doesn't have a smoker so these BBQ ribs are made in a camp Dutch oven, which almost every camper has in their kitchen gear box. Plan on making these ribs on a day where you are hanging out at the campsite because it takes about 6 hours of cooking to make these baby backs that are fall-off-the-bone tender.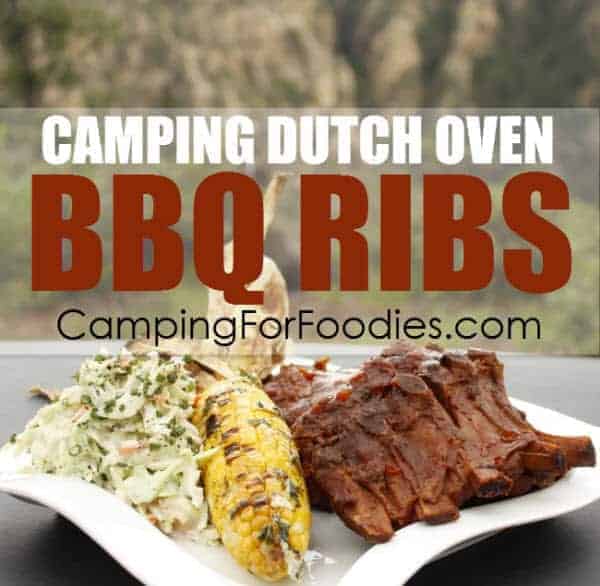 ---
Campfire Dutch Oven Thai Basil Shrimp
This is one of my favorite splurge camping dinner recipes. Shrimp is too expensive to make a regular appearance on my camp menu. So when you see it there, you know it is outstandingly delicious! The soy, onion, garlic, mushrooms, jalapeno and fresh basil provide a ton of flavor to this shrimp dinner.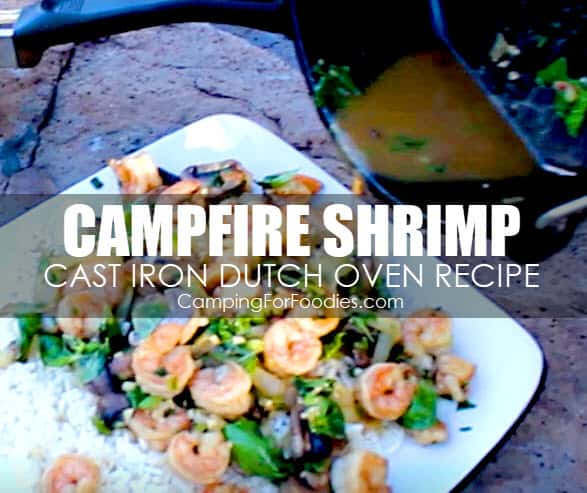 ---
Knives With Blade Guards
Easy Campfire Dutch Oven Dijon Mustard Sauce Chicken Recipe
When I realized how much flavor comes from Dijon mustard, I started using it in almost everything! For this recipe you'll need to brown the chicken then take it out of the pan to make the simple sauce that combines onion, garlic, apple cider vinegar, chicken stock, sour cream and Dijon mustard to make a smooth and creamy sauce.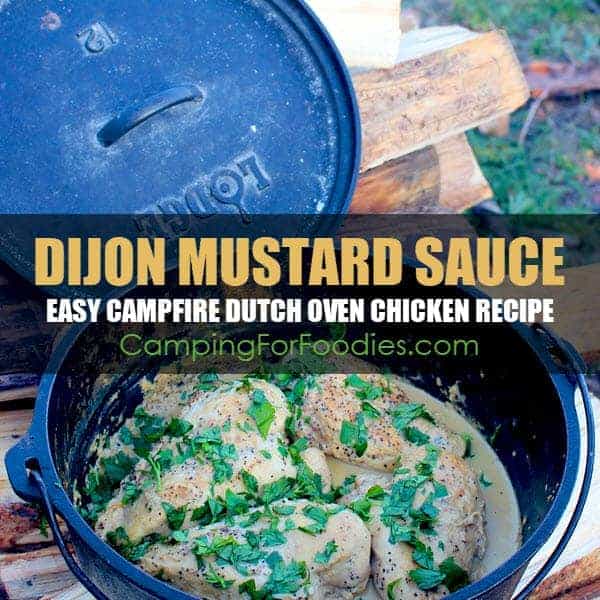 ---
Campfire Hobo Stew Recipe In Foil Packets
I have two campfire stew recipes. One is made in a cast iron Dutch oven and this one is made in foil packets. I like doing individual packets when I have picky eaters in my crowd. I set up an ingredient bar and let them add the items they like while avoiding those they hate. For this recipe I use beef chuck, onions, baby carrots, peas, mushrooms, garlic, cherry tomatoes, baby potatoes, fresh rosemary sprigs and fresh parsley. The secret to the AMAZING flavor? Fresh rosemary sprigs! You don't have to do any chopping, just throw the entire sprig into the packet to cook, remove it to eat and enjoy.
---
Dutch Oven Chicken And Rice
This comfort food favorite is made without canned soup but is still super simple to create. Dried thyme and fresh garlic combine to provide a mild flavor to the chicken. Add some defrosted peas and carrots, rice, chicken broth and cream cheese for a rich and creamy texture.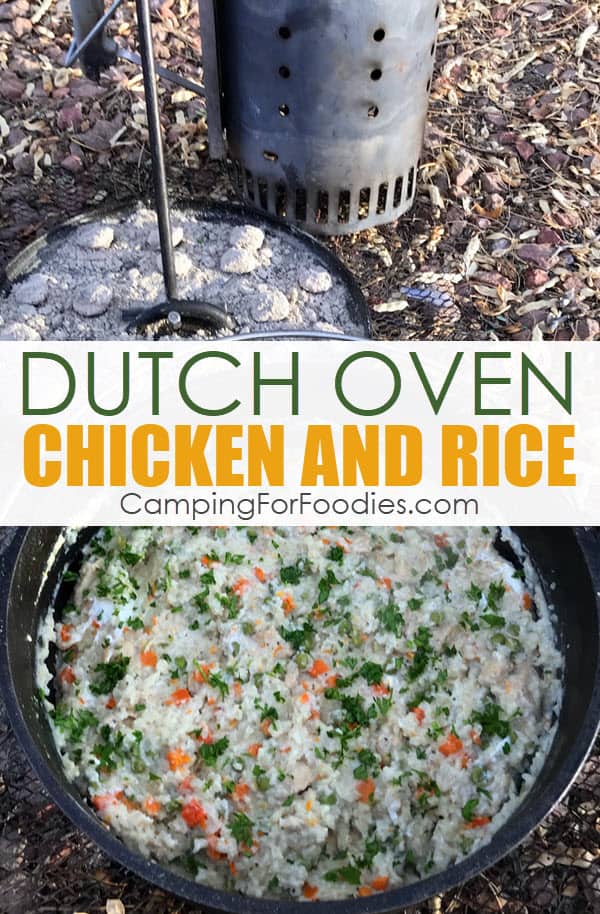 ---
One Pot Cast Iron Fish
Spanish flavors influence this one pot fish dinner. You can make this as one of our camp stove recipes or place your cast iron skillet over your campfire coals or RV stovetop. Then, soften the onion and garlic in some oil, with turmeric, oregano, basil and cayenne pepper. Next, add tomato, bell pepper and rice … drop in the fish and cook till the rice is soft and fish is cooked through.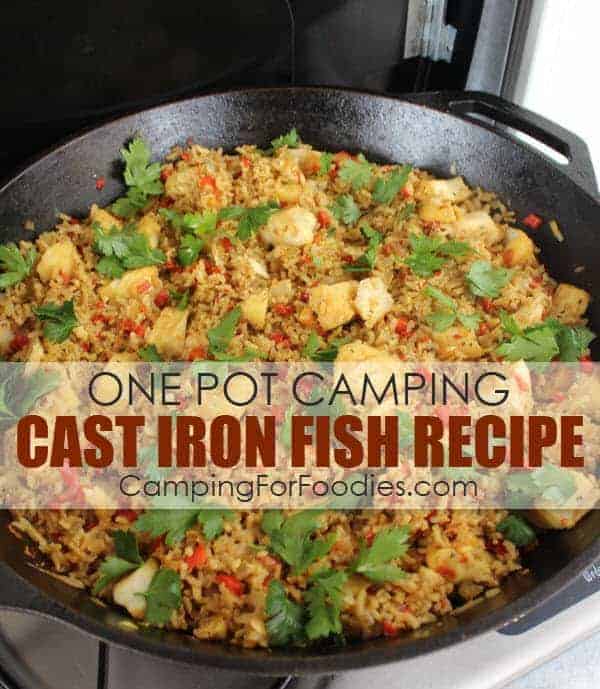 ---
Dutch Oven Latin Campfire Chicken
I love the flavor and texture sweet potatoes add to one-pot camp dinners. This Latin flavored meal uses prepared salsa and chicken broth to cook the chicken along with some spices, red bell pepper and black beans to create a dazzling dish.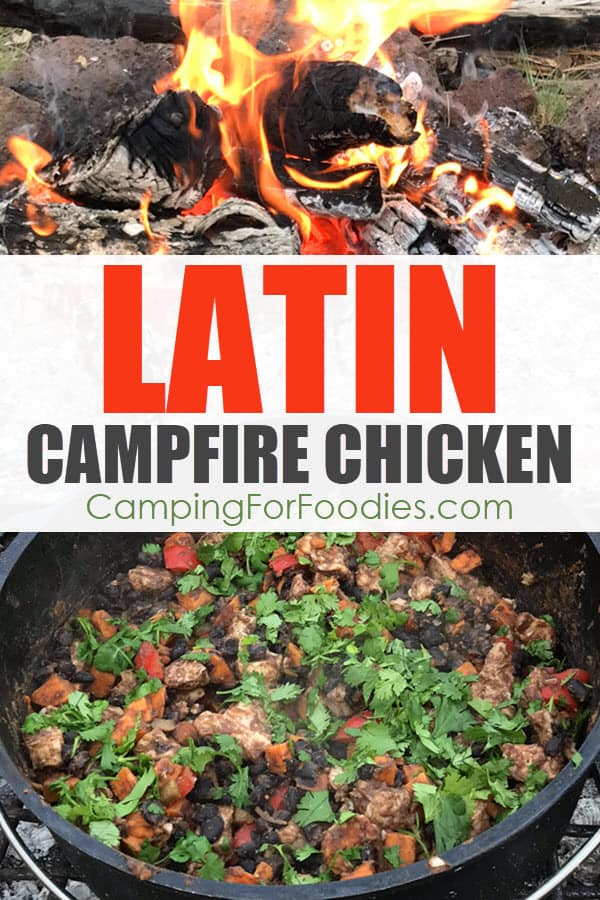 ---
Easy Grilled Mahi Mahi With Mango Salsa
You can find imported mangoes throughout the year but peak season runs May – September. So, mark your calendar and put this dinner on your menu plan. This recipe starts with a homemade marinade that the fish sits in for about an hour. But the star of the show is the mango salsa that features fresh mango, red bell pepper, red onion, fresh cilantro, jalapeno pepper and a bit of lemon and lime juice. You'll think you are at an expensive seafood restaurant on a tropical island when you eat this meal.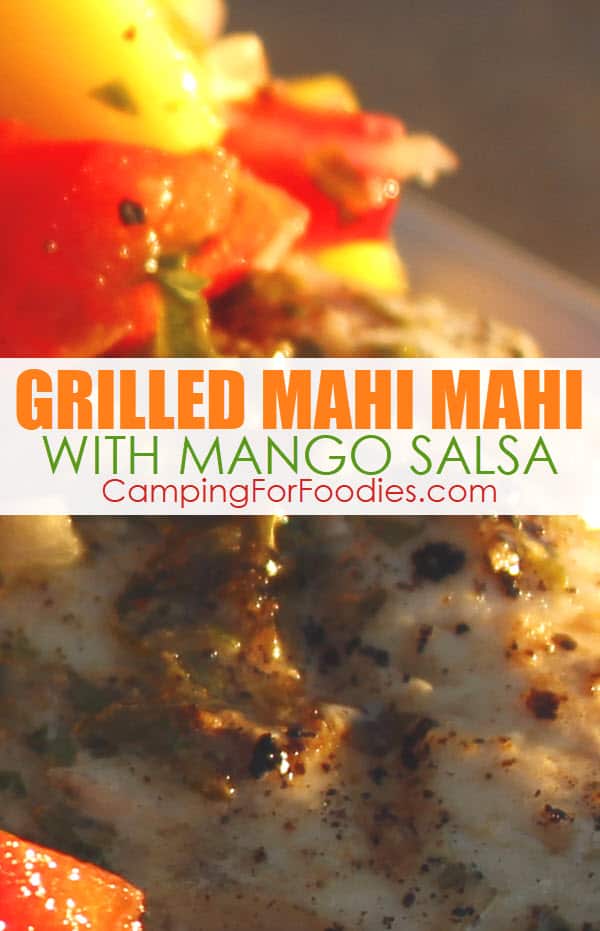 ---
Simple Grilled Dijon Chicken With Garlic And Jalapeno
Lemon juice, olive oil, Dijon mustard, garlic and jalapeno pepper combine to make a simple marinade for these yummy grilled chicken breasts. You'll reserve some of the marinade for basting during cooking and serving with the grilled meat.
---
---
Campfire White Chili Recipe
If you live in an area subject to wildfires, like we do in Arizona, you can make your campfire chili recipes on a propane camp stove when fire restrictions are in place. This version uses ground turkey that is jazzed up with Mexican flavor profiles using canned diced green chili peppers, cumin, oregano, chili powder, cayenne pepper, cilantro and jalapeno slices.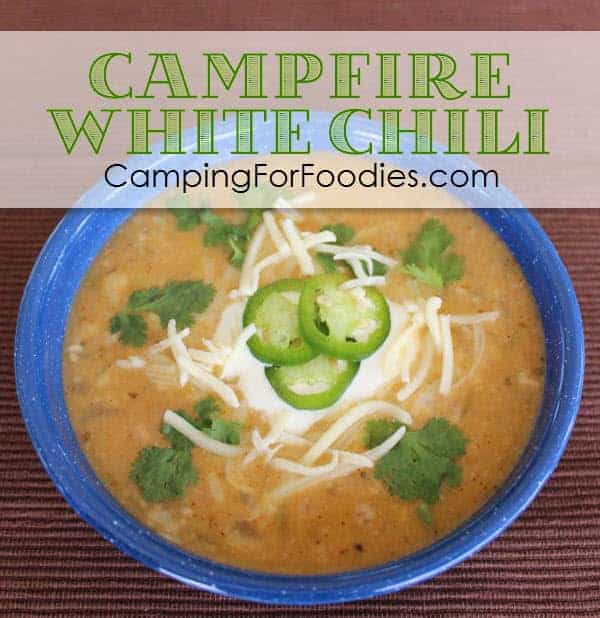 ---
Dutch Oven White Chicken Chili
Our family loves chili so much, I make many versions of this awesome camping meal. One of my white chili recipes uses ground turkey, this one uses cubed chicken breast meat. The cumin, green chiles and cilantro give this recipe a Mexican flavor profile. The chili is gluten free but if you want to serve tortillas or chips on the side for dipping … make sure you are using a GF version.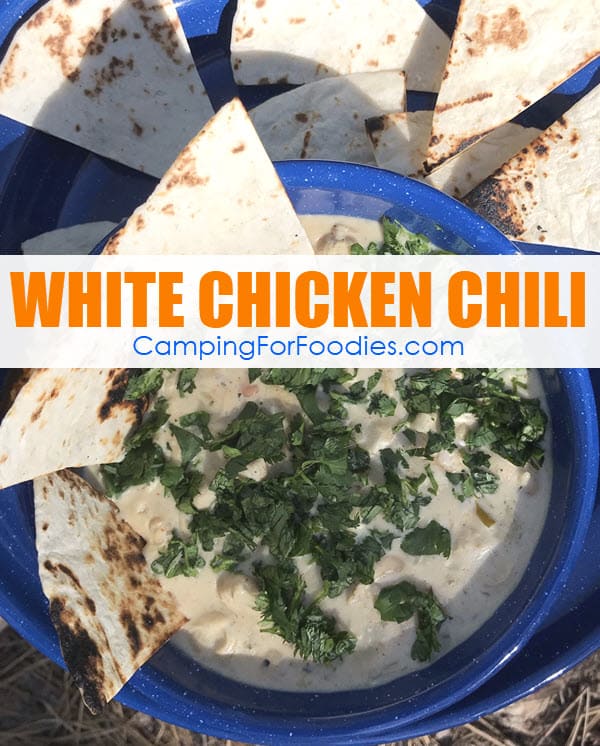 ---
Cast Iron Skillet Blackened Trout With Cajun Cream Sauce
My brother-in-law said this was THE BEST MEAL HE ATE IN HIS LIFE when I made him my blackened trout with Cajun cream sauce. If you try it, let me know if you agree. Be ready with your side dishes because this only takes 5 minutes to prep and about the same to cook.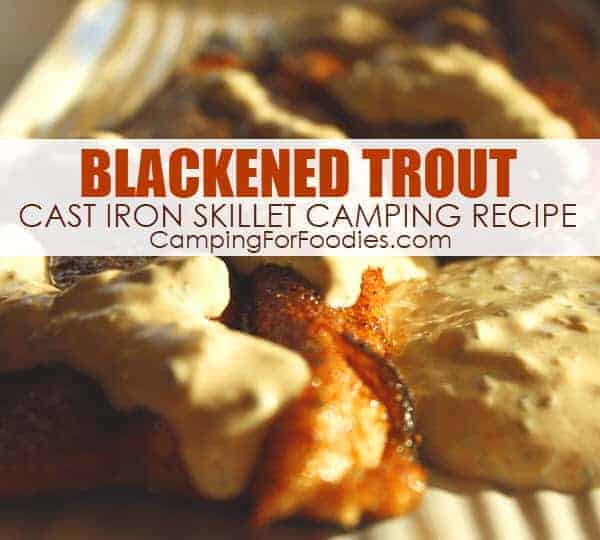 ---
Asian Beef And Broccoli Camping Dutch Oven Recipe
If you want a really fast but flavorful dinner, try this beef and broccoli. You make it at home, freeze it in a gallon freezer bag … then … defrost at the campsite for a quick "dump and cook" dinner. The ginger and garlic make a bold statement in this Asian-inspired meal.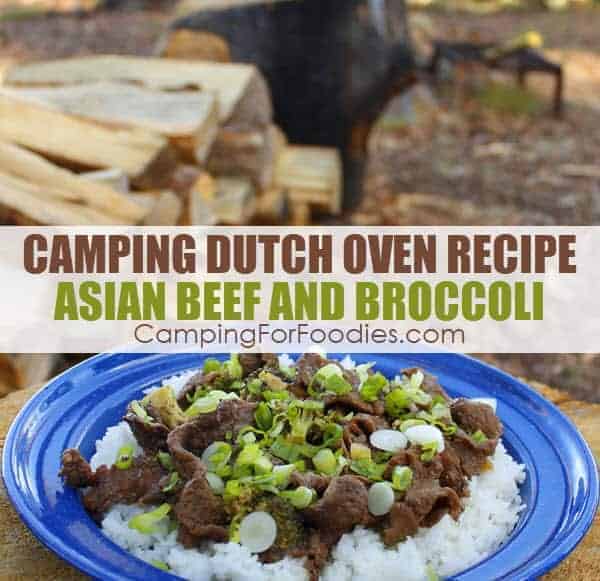 ---
Dutch Oven Jambalaya
This family-friendly jambalaya is not too spicy for milder tastes. It features a thick tomato-based sauce as well as chicken, sausage and shrimp. We like it served over rice rather than having the rice mixed in the pot. If you have a busy camp trip planned, the majority of this meal can be prepped at home too.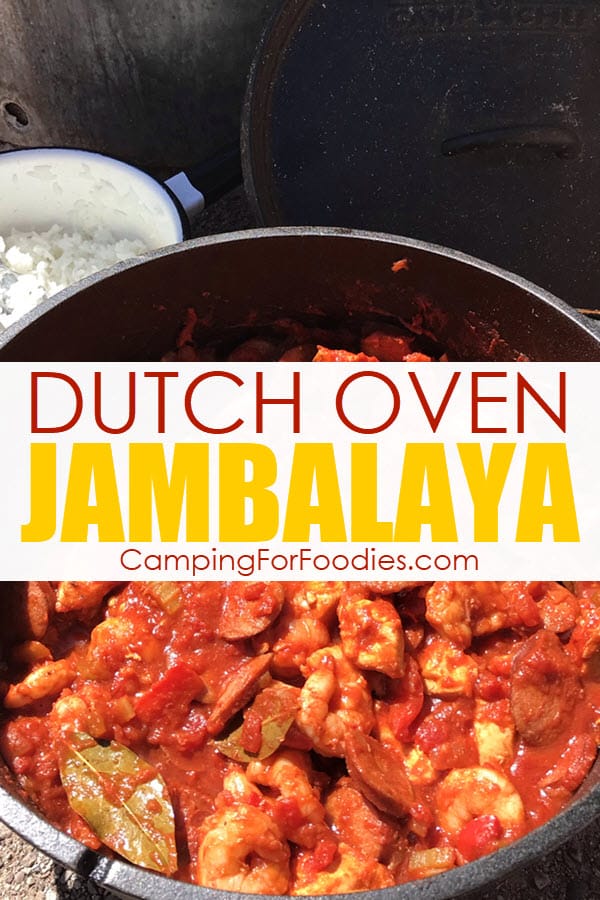 ---
Lemon Feta Campfire Chicken
The Greek inspired flavors in this recipe are subtle, fresh and fabulous. I love the combination of kalamata olives, oregano, garlic and feta cheese. This is a great recipe for campfire cooking but it also can be made over your camp stove or RV stove.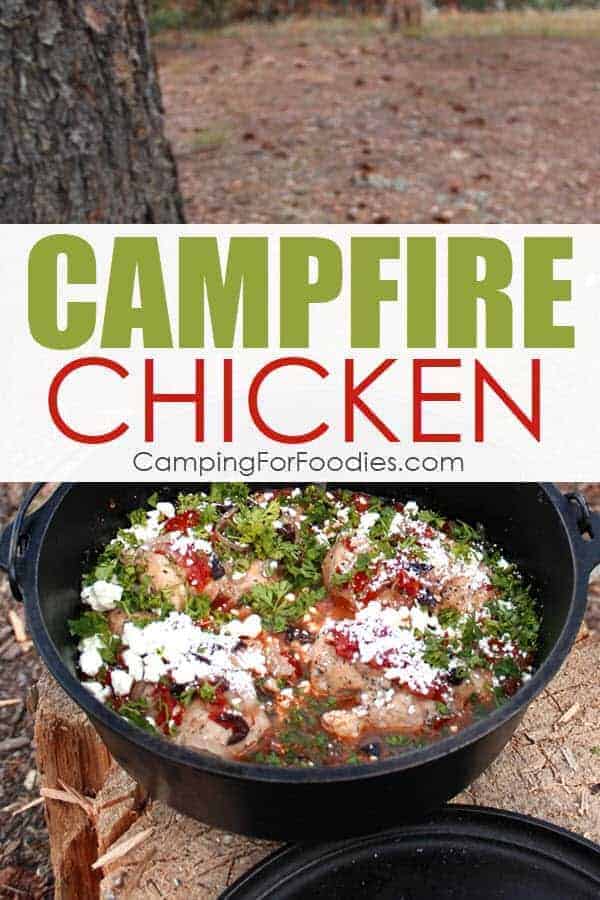 ---
Avocado Spinach Salad With Grilled Shrimp
If you want a light and refreshing summertime dinner, try this one! The grilled shrimp are the star of the show and compliment the simple homemade dressing, spinach, citrus and avocado really well. You can grill the shrimp over a campfire, propane grill or use a grill pan on a stove top.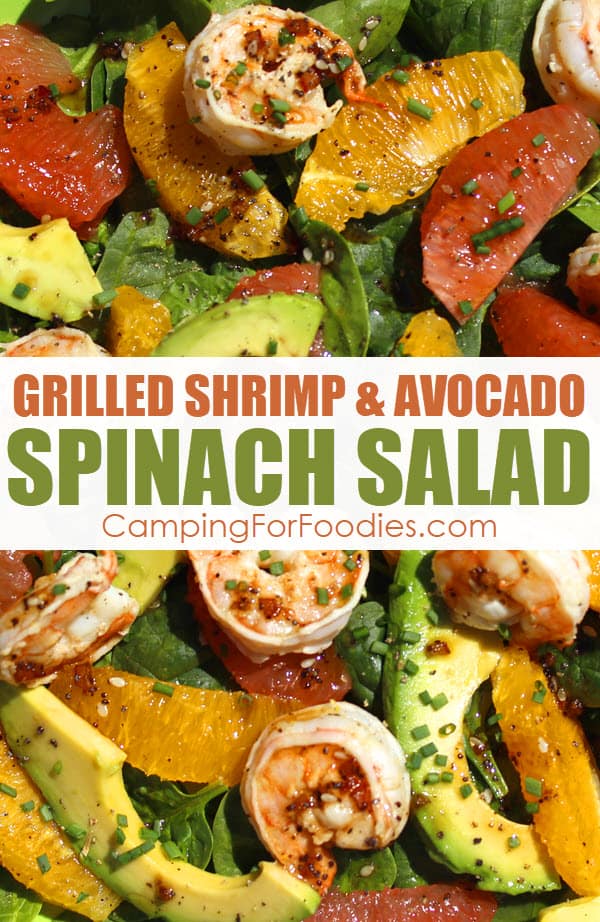 ---
Cast Iron Skillet Chicken Breast Recipe
The Mexican flavors in this simple meal are so yummy. Canned black beans, tomatoes and corn help to make this recipe easy but freshness is added with onion, garlic, avocado and cilantro.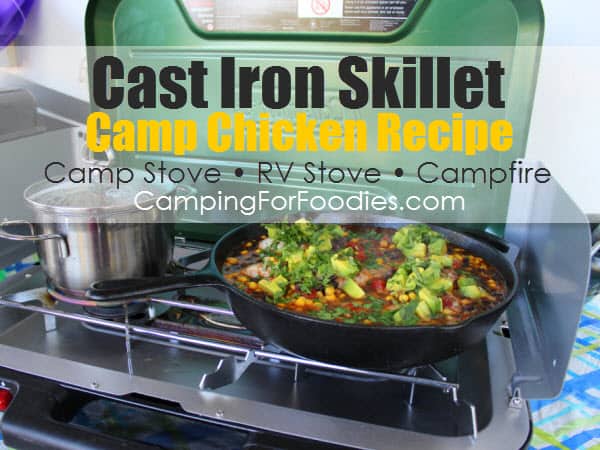 ---
Desserts
Fresh Summer Fruit Tossed In Honey Mint Syrup
I wouldn't normally call fresh fruit a dessert but I do when it comes to this recipe because the honey mint syrup is absolutely mouthwatering. Once the fruit is gone, I use the syrup that is remaining in the bowl as a refreshing sweetener for a glass of sparkling water.
Camp Casual Bowl & Servers Set
---
---
Chocolate Covered Peanut Butter Balls
All of the ingredients to make these chocolate covered peanut butter balls are shelf stable so be sure to read the labels and use gluten free ingredients. These are fun desserts to make at the campsite but they can also be made at home and frozen so you just defrost the amount you need in any given sitting.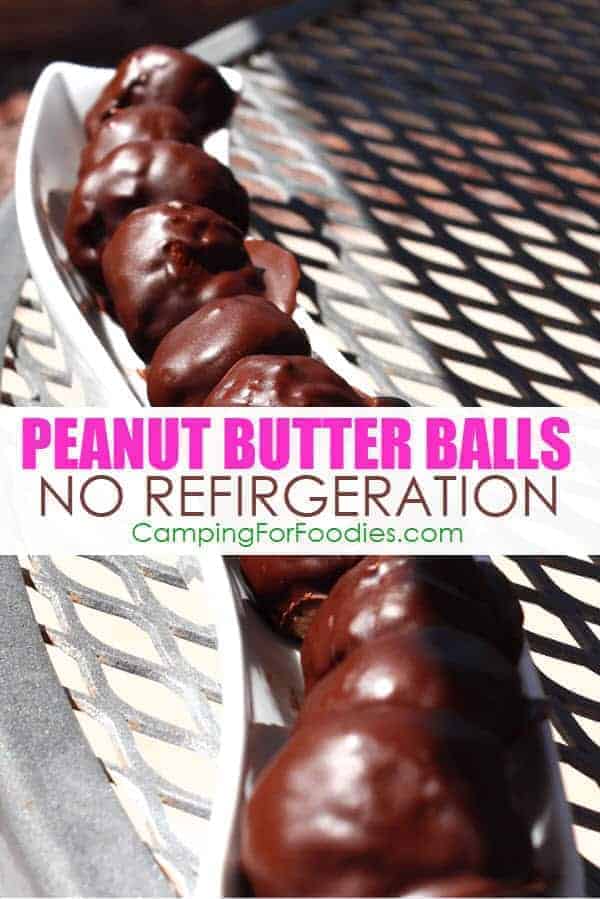 ---
Campfire Apple Crisp Foil Packets
I love camping dessert recipes that are cooked over an open flame. You can make an apple crisp right over your campfire … in a foil packet … no cleanup required! This recipe uses granola to create the crunchy crumb topping so be sure your granola is gluten free.
---
More Food Ideas For Camping Trips
No matter what type of cooking you want to do, we've got recipes for you!