65+ Camping Dinner Recipes That Are Simple, Scrumptious And Satisfying!
You really want great camping food for every meal of the day.
Eating nourishing camping dinner recipes feed the body and satisfy the soul … especially if you gobble them up around a crackling campfire!
Psst we're compensated…see our disclosures.
Camping Dutch Oven Dinner Recipes
Dutch Oven Pork Chops And Rice
You can't go wrong with one-pot camping dinners! These pork chops are cooked with rice and veggies. A bit of onion, garlic, oregano, bell pepper and tomatoes provide a mild Italian flavor to this yummy and easy dinner.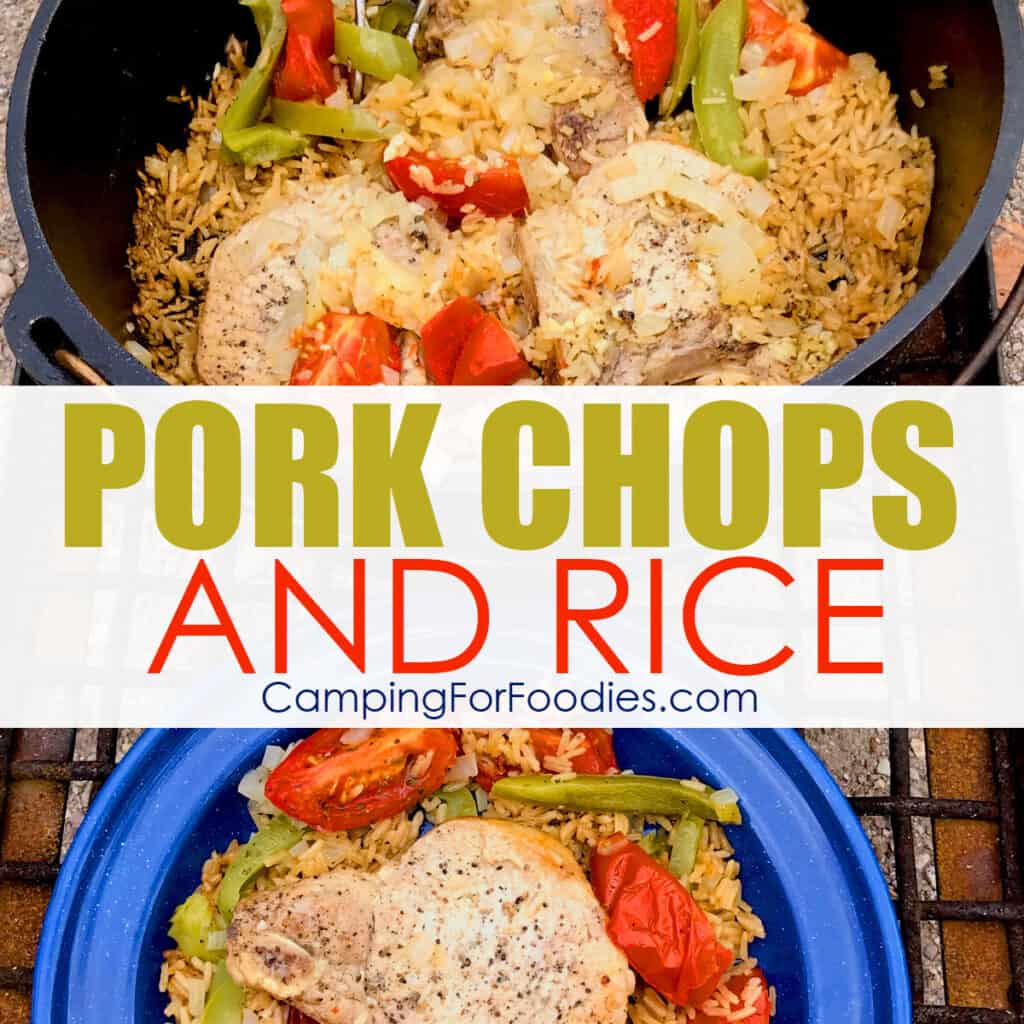 ---
Dutch Oven Beef Sandwiches
3 ingredients and NO prepping make this dinner really easy to prepare. The amazing flavor comes from the tangy and slightly hot pepper juice that the beef roast is simmered in … low and slow … resulting in fork-tender shredded beef sandwiches.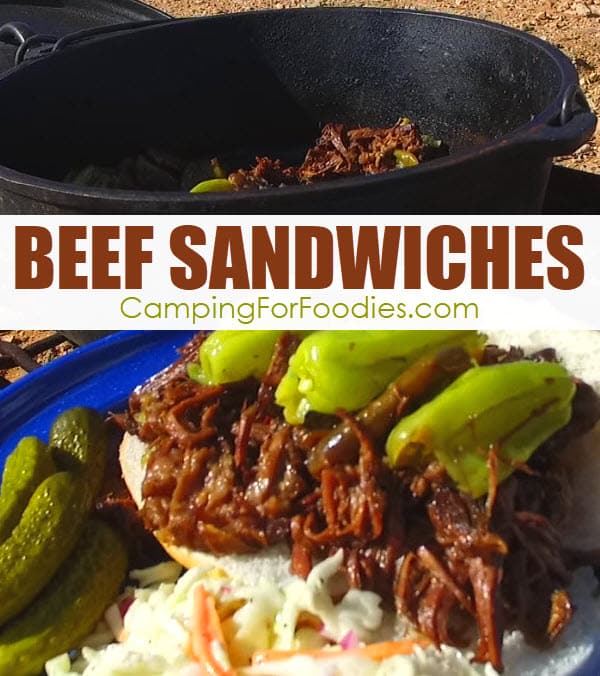 ---
Dutch Oven Chili: Secret Family Recipe Revealed
It took me years to get this family-secret chili recipe out of my brother-in-law! But, he finally shared his wildly popular Dutch oven chili recipe with me so I could share it with you! The homemade spice blend, ground beef, Italian sausage and a splash of beer make this chili recipe one that you can't stop eating!
---
One Pot Creamy Cajun Chicken Camping Pasta
Pre-cooked chicken breasts are the secret to putting a really yummy dinner on the table in minutes! When you want to spend the day away from your campsite exploring hiking trails and beautiful scenery … you don't have to settle on drab food for supper. This one pot pasta meal combines mild Cajun flavors along with a simple creamy sauce made from cream cheese. It will be on your table in about 30 minutes.
---
Dutch Oven Steak
Enjoy steak on a budget at the campsite! This recipe combines flank steak and petite fingerling potatoes in an amazing sauce to create a fork-tender dinner with an affordable cut of meat.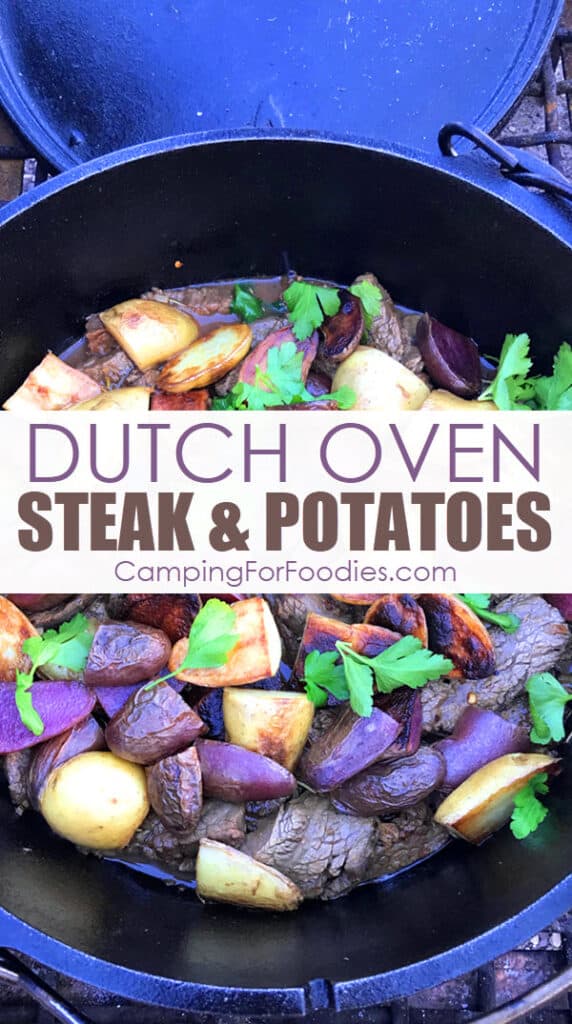 ---
Cast Iron Dutch Oven Chicken Enchiladas
Using pre-cooked shredded chicken makes these enchiladas easy to prepare at the campsite! Just mix it with your favorite enchilada sauce, some chopped onion and shredded cheddar cheese then roll it up in tortillas to bake. These are great after an appetizer of chips and our fresh guacamole.
---
Camping Dutch Oven BBQ Ribs Recipe
Plan for a day around camp to tend to these ribs that cook low, long and slow … they are fall-off-the-bone tender! The smoke flavor is added to the sauce with a little bit of liquid smoke. This is a great way to make ribs at the campsite if you don't have one of those really cool portable smokers.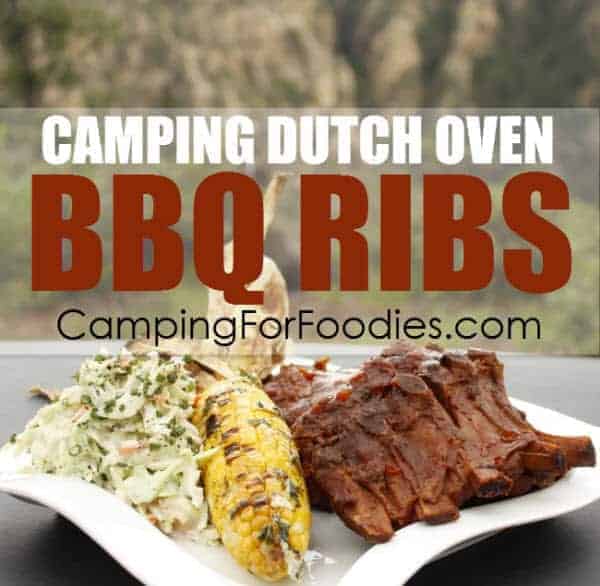 ---
Easy Dutch Oven American Chinese Chop Suey
Try this chop suey that is filled with your favorite vegetables, chicken and sauce served over rice. The amazing flavor comes from readily available spices and condiments like ground ginger, red pepper flakes and soy sauce as well as fresh veggies including mushrooms, celery, carrots, onion, garlic and green onions. You won't miss your favorite take-out restaurant when you are out in the wilderness!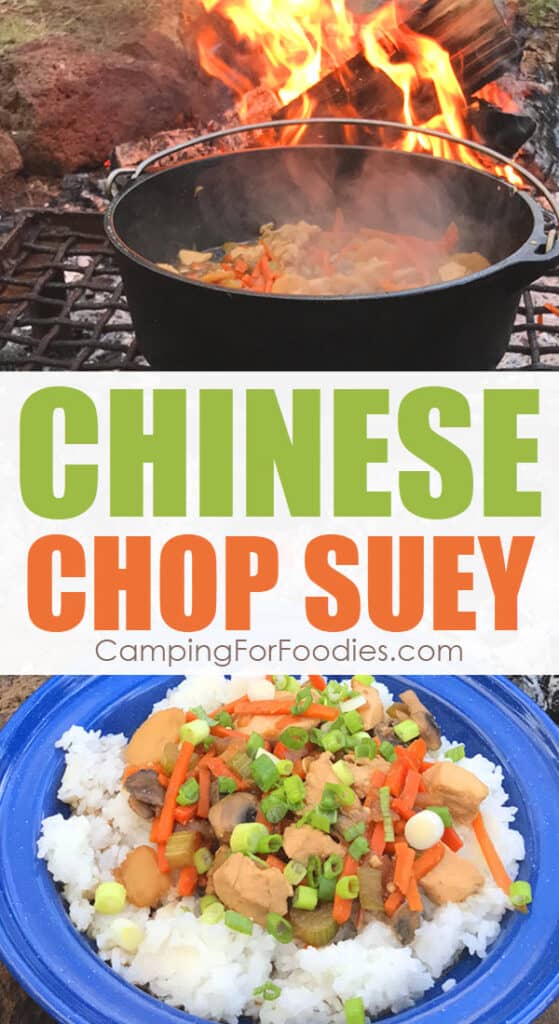 ---
Dutch Oven Campfire Goulash
Want warm comfort food for dinner on a cold weather camping trip? Try this amazingly easy and yummy campfire goulash! The sausage, beans and pasta make a flavorful combination that also packs this dish with carbs and protein to keep you warm and give you energy for nice long hikes.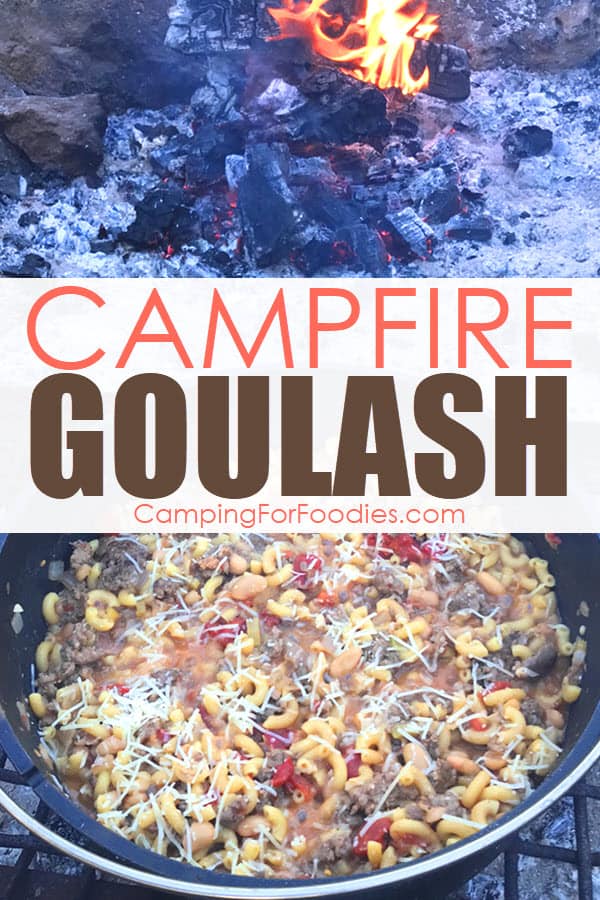 ---
Easy Dutch Oven Chicken Pot Pie With Refrigerated Biscuits
Cold weather camping trips are much cozier with warm comfort food. This chicken pot pie has an upper crust that is simply made using refrigerated biscuits. And, the veggies are already chopped for you because you just dump in a defrosted bag of mixed veggies.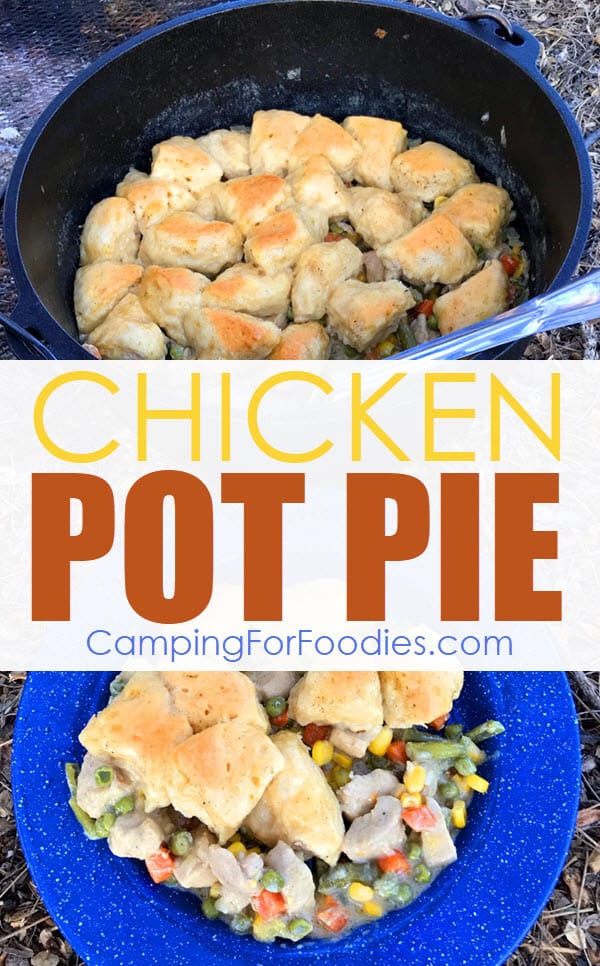 ---
---
Camp Oven Chicken Curry
You won't believe how easy this almost-gourmet dinner is to make! The fixings do all the work for you in this simple meal. You don't have to go looking for specialty ingredients because I created this recipe using curry paste, curry powder and coconut milk … which are all easily found in regular grocery stores.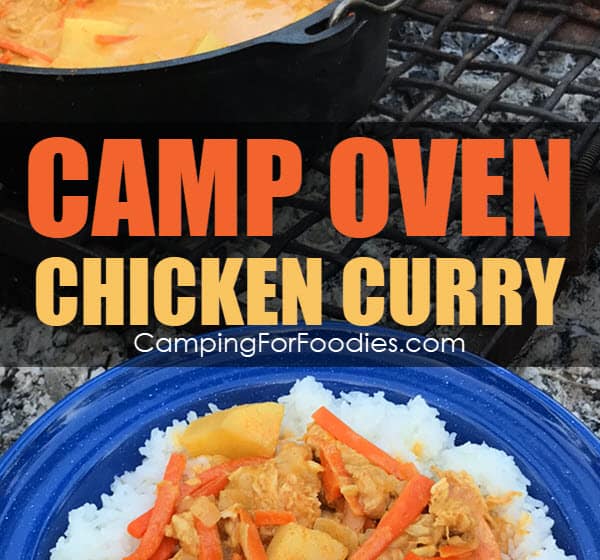 Lodge Camp Dutch Oven Lid Lifter
---
---
---
Dutch Oven Chicken And Potatoes
We use bacon as the secret ingredient to make this chicken super flavorful. Because we love one pot camping meals as much as you do … we added the potatoes and carrots right in the Dutch oven and cooked everything all together.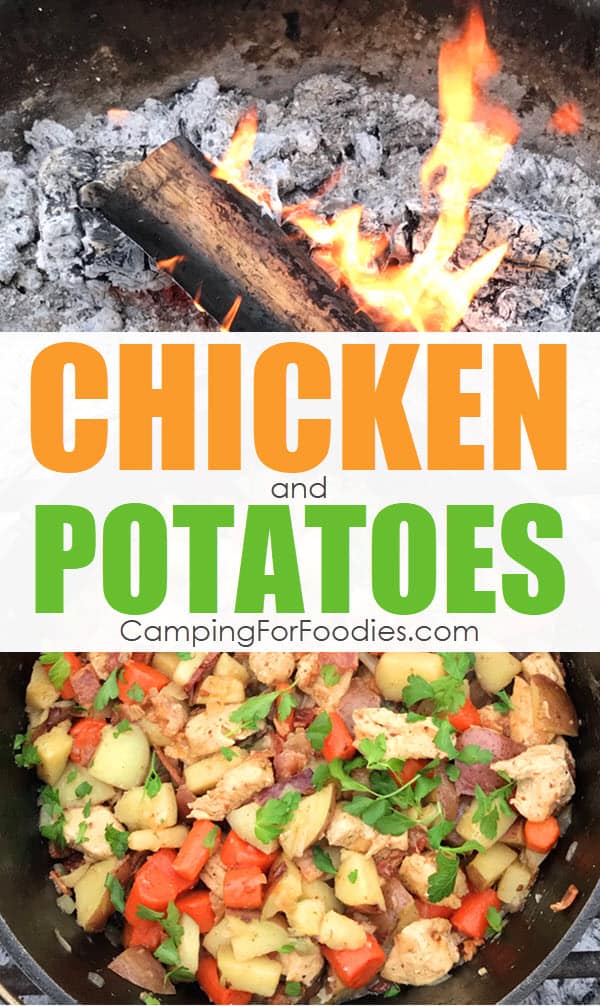 ---
932°F Heat Resistant Leather Long Sleeve Insulated Grill Gloves
---
---
Camp Casual Bowl & Servers Set
---
---
---
---
Dutch Oven Jambalaya
The entire family will enjoy this not-too-spicy jambalaya featuring chicken, sausage and shrimp in a thick tomato sauce. Serve it with hot sauce on the side so the heat-lovers in your crowd can boost the spiciness to their liking.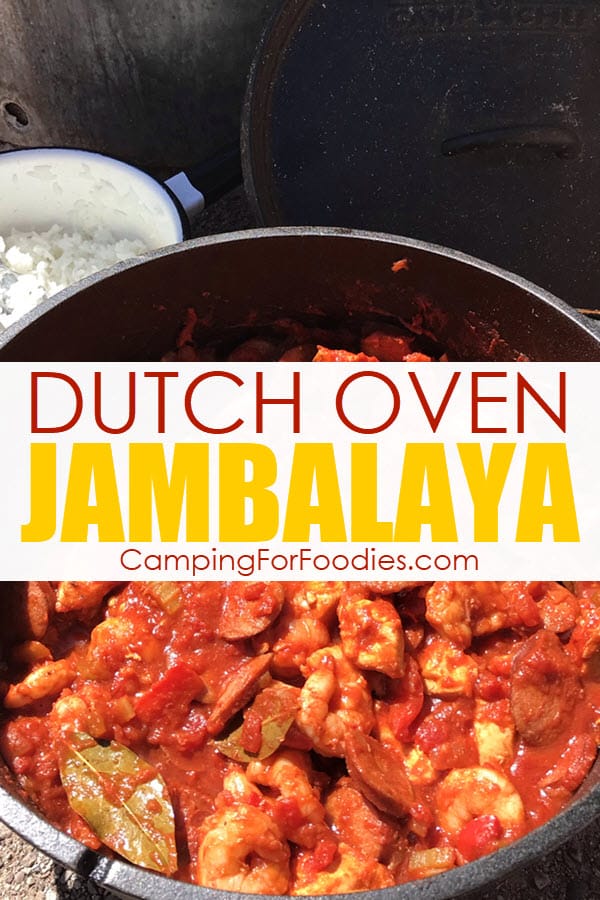 ---
---
Dutch Oven Sausage
Got 5 minutes? Great, you have enough time to prep this one pot camping dinner!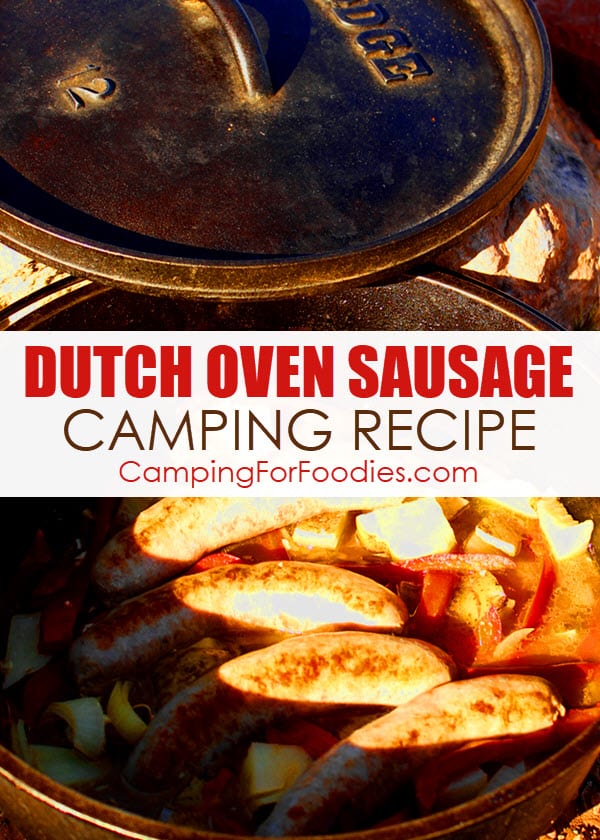 ---
Middle Eastern Inspired Chicken Dutch Oven Camping Recipe
I'll let Carla, a reader, tell you about this recipe…
I gotta tell ya…this is my go-to chicken dish when I have company. It is phenomenal. I cook it all day so that the chicken gets nice and sticky. It is great to make the day ahead and even better as left-overs. I had people over for a Middle Eastern feast and they kept going back for seconds (and thirds) of this dish. I know some people are wary of cooking with fruit, but, one of the guys at my dinner absolutely hates fruit in meals. In fact, he was telling us, while he was eating this dish, how much he hates fruit. I waited until he was finished and said, "Weird. Cuz there's both dates and apricots in that third helping you're going for." HAH! Thanks for this recipe – it has a permanent home in my 'winner's cookbook'.
---
---
Campfire Dutch Oven Chili Recipe
I'll let MiKayla, a reader, tell you about this recipe…
Truly the best chili ever. I have been making this recipe for about 3 years now and will even make it at home on the stove in my dutch oven. I finally had to leave a comment as I just won a chili cook-off at work with this recipe! Thank you so much!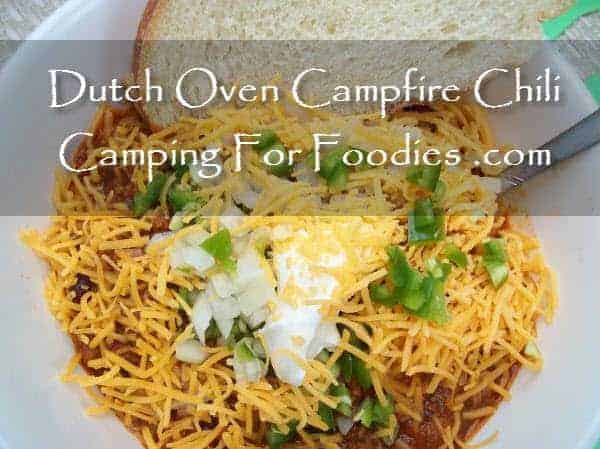 ---
---
Campfire Dutch Oven Gumbo Recipe
This gumbo is one of those good camping recipes for dinner crowds … it makes about 12 servings which can be increased if you serve it over rice with bread on the side.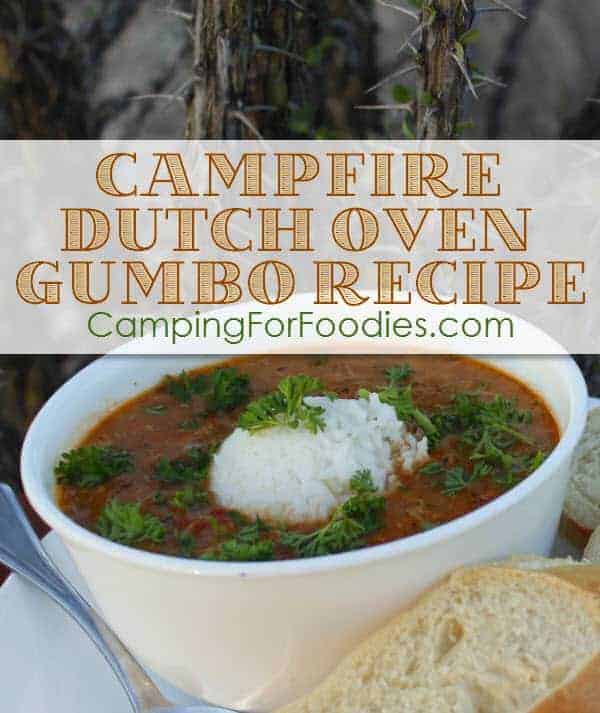 Camp Chef Dutch Oven Carry Bag
---
---
---
---
---
---
---
Dutch Oven White Chicken Chili
This rich and creamy chili is so satisfying. It starts with cubed chicken breast meat and some Mexican-flavored spices. The great Northern beans and cream cheese give it a smooth yet hearty texture that is really filling. The fresh cilantro gives it a nice bright finishing touch. You'll love the fast prep too!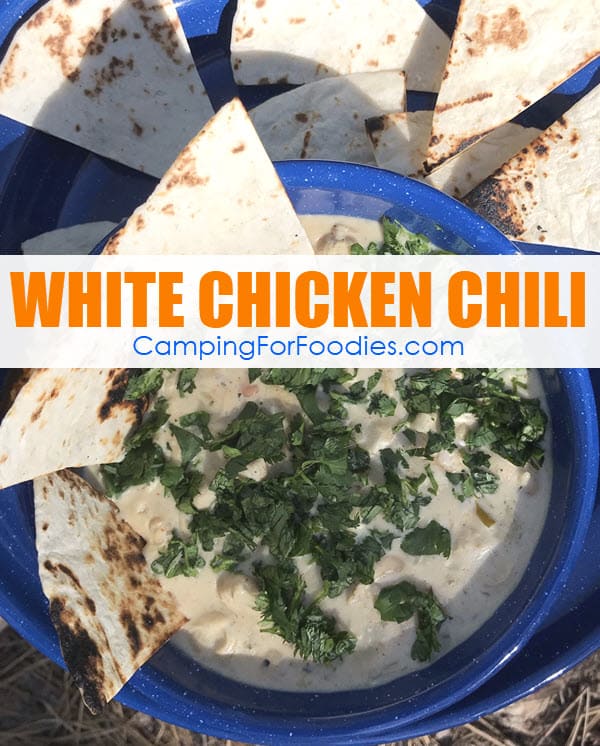 ---
Dutch Oven Chili Mac
When you want a filling meal that is fast to prep, try this classic camp one-pot meal. The beef, beans, tomatoes and cheese provide great flavor as well as tons of carbs and protein along with the macaroni. Homemade comfort food never tasted so good!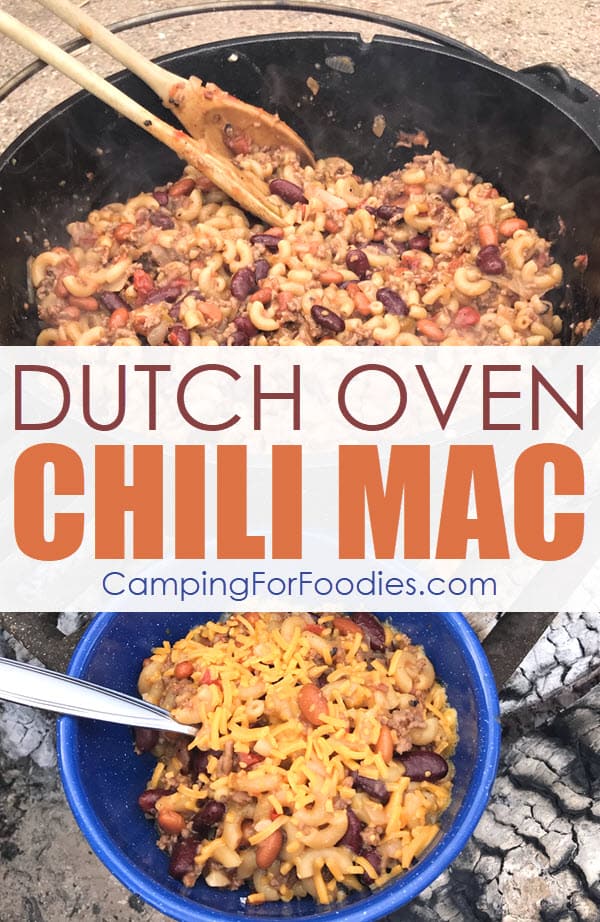 ---
Dutch Oven Spaghetti And Meatballs
We had plain spaghetti and meatballs on one of our camping menus. But, that was the meal we planned to eat after a day of visiting local wineries in southern Arizona. So, these drunken meatballs in a flavorful sauce were born!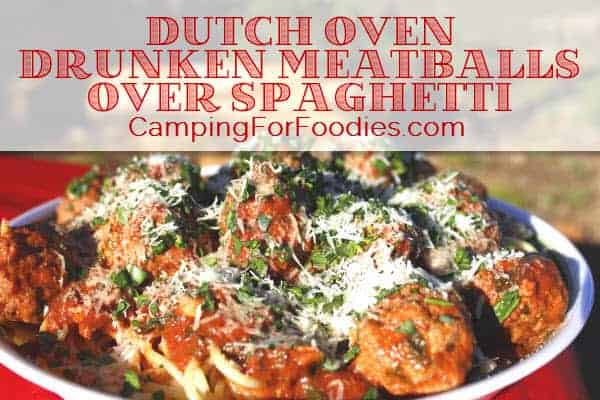 ---
Camping Grill Dinner Ideas
---
Chicken Shish Kabobs
It only takes minutes to prep and grill kabobs. The amazing flavor comes from the hours of marinating the meat and veggies!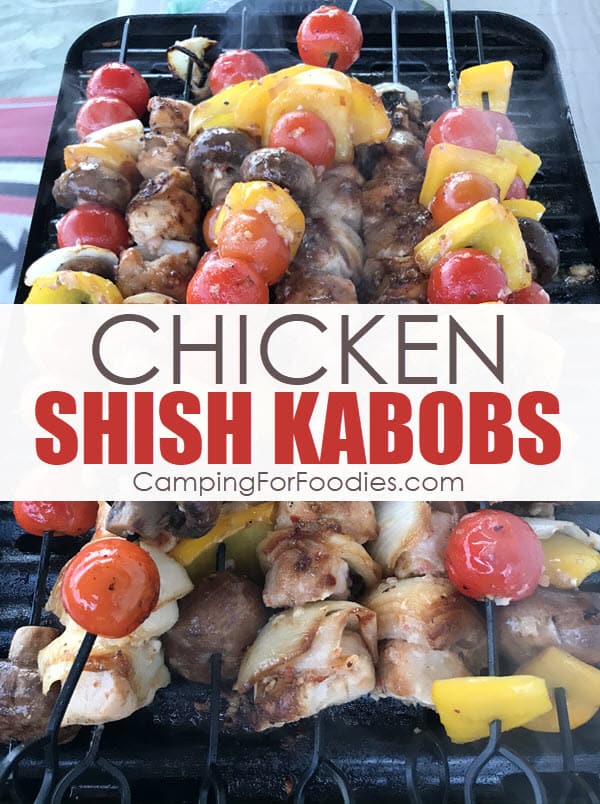 ---
Grilled Flat Iron Camping Steak Recipe
This easy dinner recipe takes about 13 minutes to prep and cook! The flavor comes from the 6+ hours of marinating (while you explore the great outdoors!)
---
Easy Grilled Mahi Mahi With Mango Salsa
If you enjoy tropical flavors and a super-fast cooking dinner, try this Mahi Mahi. The mango salsa is fresh and slightly sweet with a touch of heat. You can grill the fish with a propane or charcoal grill, over your campfire or with a cast iron griddle on top of your camp stove.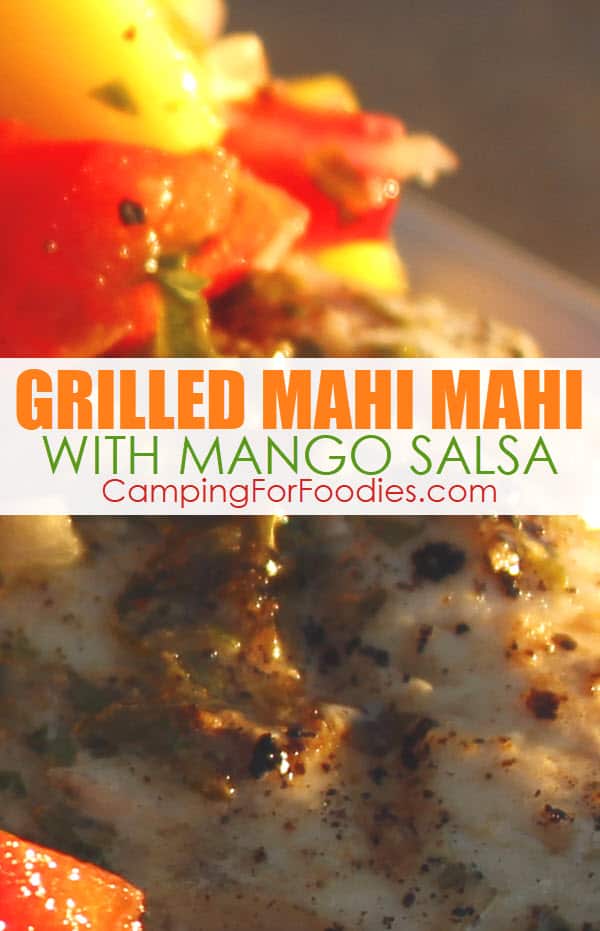 ---
Simple Grilled Dijon Chicken With Garlic And Jalapeno
Whip up a quick marinade to season a simple chicken breast then grill it over your campfire or using a camp grill powered by charcoal or propane. This slightly spicy and zesty sauce is made with Dijon mustard, garlic and a bit of jalapeno pepper.
---
---
---
---
Camp Stove Dinner Ideas
One Pot Spaghetti Camping Recipe
It is important to have quick and simple dinner recipes for your busy camp days. This one pot spaghetti only takes 5 minutes of prep and it is cooking!
---
---
Cast Iron Skillet Chicken Breast Recipe
If you have picky eaters in your camp crowd who think healthy can't taste good … don't say a word about this recipe … just serve it to them … they will LOVE it! The boneless skinless chicken breasts are cooked with black beans, canned diced tomatoes and canned corn then topped with fresh avocado and cilantro.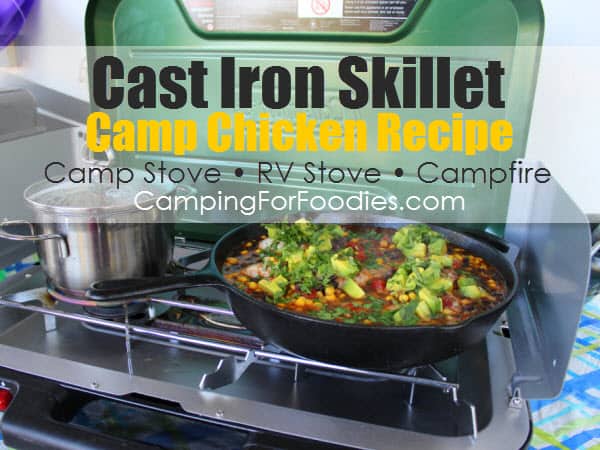 ---
---
---
Shrimp In Garlic Wine Sauce Over Pasta
Get one pot and one skillet ready to cook on your two-burner camp stove for this simple shrimp and pasta dinner. While the angel hair is boiling, you'll be making a simple butter and garlic white wine sauce then quickly cooking the shrimp in that. Less the 30 minutes and dinner is served!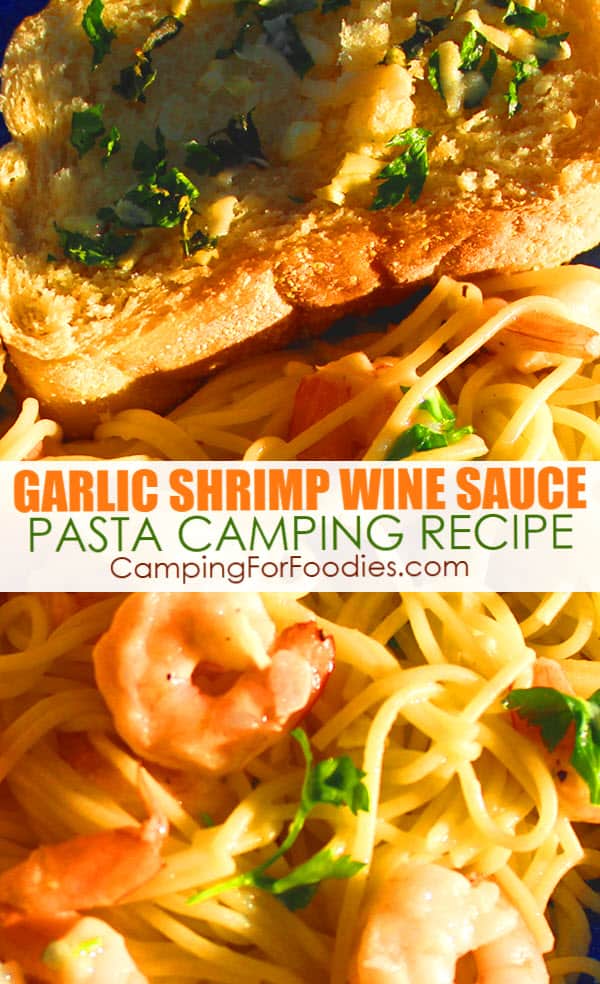 ---
---
---
---
Coleman Fold N Go 2-Burner Propane Stove
---
Campfire Dinners
Campfire Corn On The Cob
During the summer we make an entire supper out of campfire corn on the cob … you should too! It is really good just plain but extra special with basil butter!
---
Tin Foil Dinners For Camping
---
---
Make Ahead Camping Dinners
Dutch Oven Thai Campfire Chicken Recipe
Thai flavors are unusual at the campsite but this recipe is made easy because you prep and freeze the ingredients at home, then just defrost and cook at camp.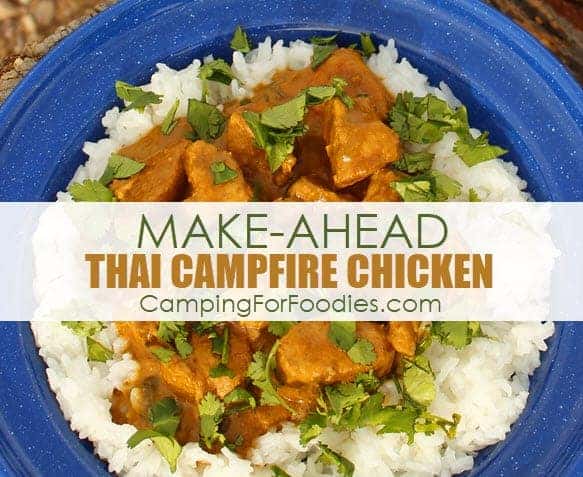 ---
---
---
No Cook Camping Dinners
---
Basil And Prosciutto Sandwich Camp Recipe
Having an ordinary cold sandwich just doesn't cut it for dinners … this simple recipe only uses a few ingredients but they are fresh and fabulous when served on ciabatta rolls!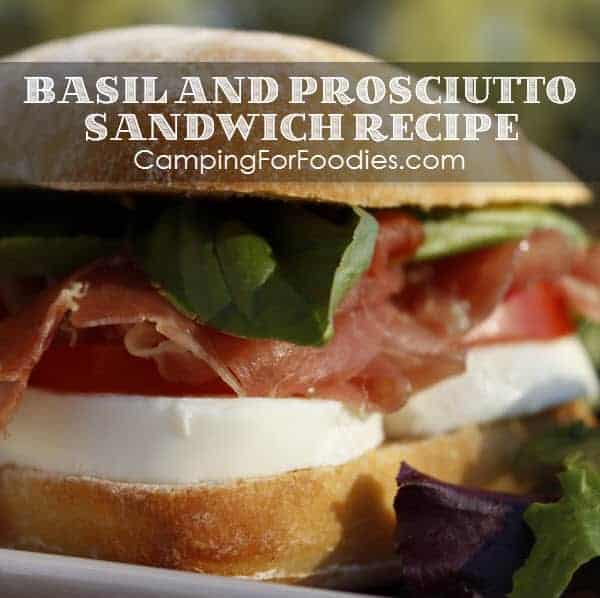 ---
---
Easy No Cook Healthy Southwest Camping Salad Recipe
This salad is one of those easy dinner recipes for camping that can be eaten with a fork or rolled up in a tortilla. Vegetarians love this meal but you can also add cubed chicken or steak for meat eaters.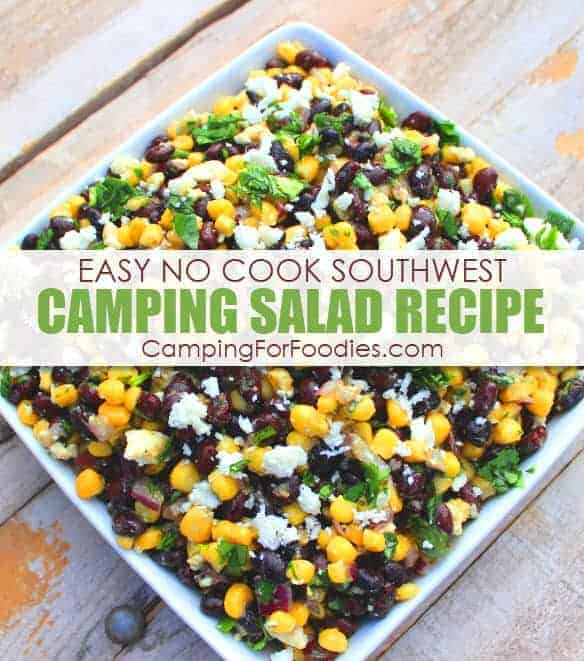 ---
---
No Refrigeration Camping Dinners
---
---
Easy Camping Dinners
Kansas City Style Homemade Old Fashioned Molasses BBQ Sauce
Dinner can't get much easier than grilling some meat and brushing on a little BBQ sauce to finish it off! This KC style barbeque sauce has bold flavors from the molasses, brown sugar, honey and chili powder. It can be made at home and refrigerated for a month or so … that means, it is ready whenever you are heading out for a last minute camp trip.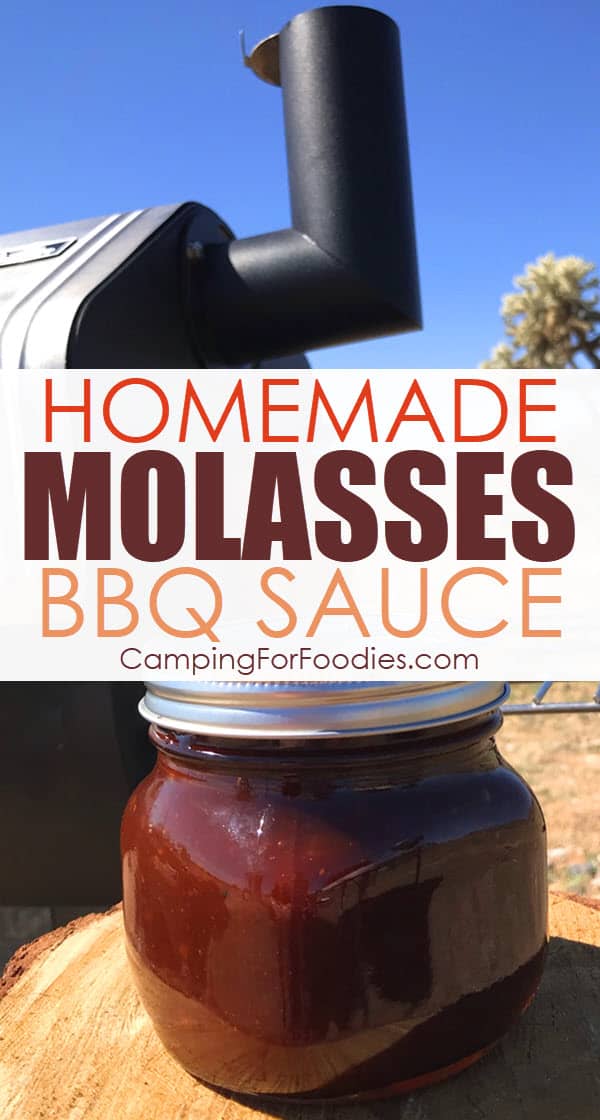 ---
---
---
Camping Dinner Recipes For Portable Smokers
Chuck Roast Burnt Ends (A Quick Version Of Poor Man's Brisket)
Unlike traditional brisket point burnt ends, this Poor Man's version is done using beef chuck roast and smokes in a fraction of the time. Add some flavorful Kansas City dry rub, smoke for a few hours, add some Kansas City style old fashioned molasses BBQ sauce, cover and smoke for a few more hours and you have a meat candy meal fit for a king.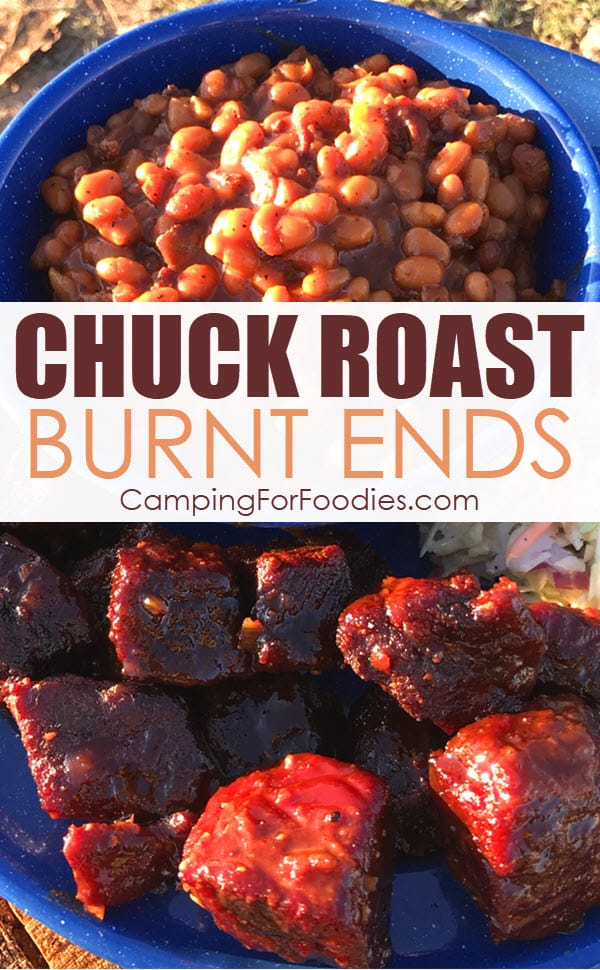 ---
Easy Smoked Chicken Legs On A Pellet Grill
If you have a portable pellet smoker, you can make really easy main dishes that require almost no prep. These smoked chicken drumsticks start with a really simple spicy dry rub that can be made and stored in a cool, dry place for up to a year.
---
Green Mountain Davy Crockett Sense Mate Electric Wi-Fi Control Foldable Portable Wood Pellet Tailgating Grill with Meat Probe
Camping Thanksgiving Dinner
Traditional Camping Thanksgiving Dinner
The biggest food holiday of the year is Thanksgiving so if you want to experience it in the great outdoors … don't sacrifice having your favorite dinner with turkey and all the trimmings!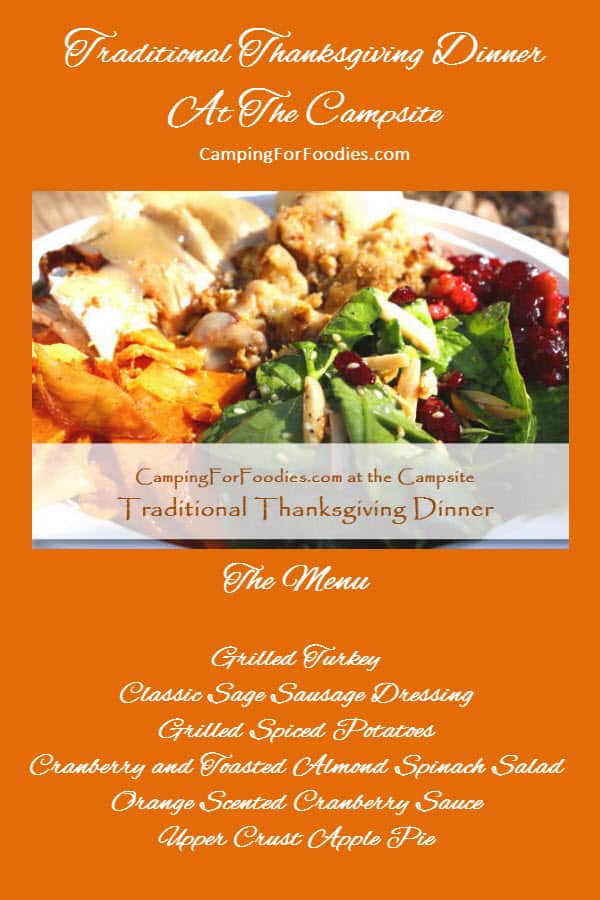 ---
Camping Dinner Sides
Camping Side Dishes
Make sure your entire meal is well-rounded by adding some exciting side dishes to your main dish.
---
After Dinner Camping Desserts
---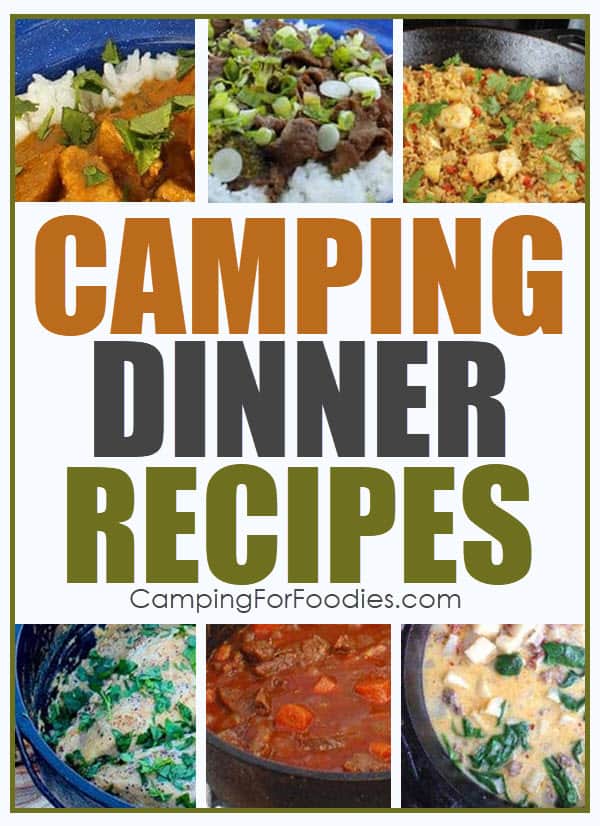 ---