75+ Outstanding Camp Stove Recipes You'll Want To Make Again!
Creating simple camping food cooked over a camp stove, in my humble opinion, is the best use of propane! (I'm not kidding)
These camp stove recipes are unique, simple and totally delicious!
Let's get cooking!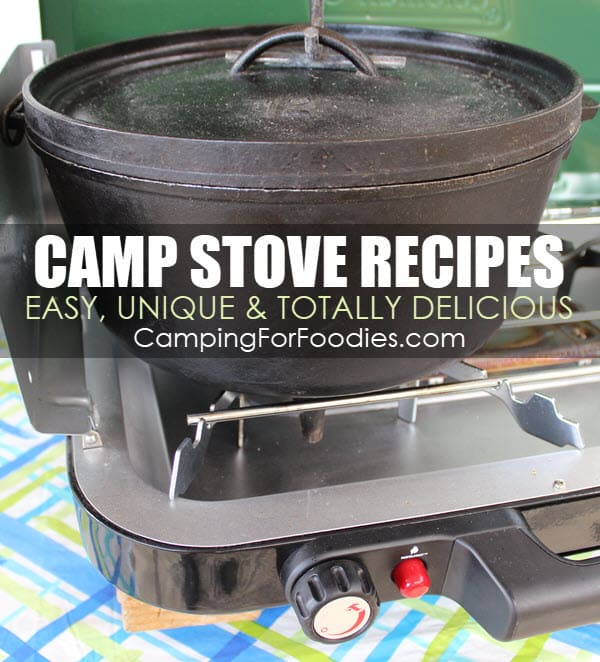 Psst we're compensated…see our disclosures.
Unique And Delicious Camp Stove Recipes
We live in Arizona and deal with camping without fire so I create recipes that can easily transition between a camp stove and a campfire so we don't end up eating cold beans from a can! LOL
---
Baking On A Camp Stove
A quick note about the recipes here that are baked…
If you are using your camp stove and Dutch oven to bake recipes, you will need a Dutch oven dome and heat diffuser plate to properly circulate the air above and below the oven.
Camp Chef Dutch Oven Dome
---
Breakfast
Savory Breakfast Recipes
California-Style Camping Breakfast Burritos With Avocado, Eggs & Chorizo
Don't you just love the creamy texture and smooth flavor of a California avocado? Those little gems are not just for your guacamole! These California Breakfast Burritos start with a tortilla that is piled high with eggs, chorizo, beans, potatoes and cheese. Then they are finished off with fresh cilantro and avocado slices.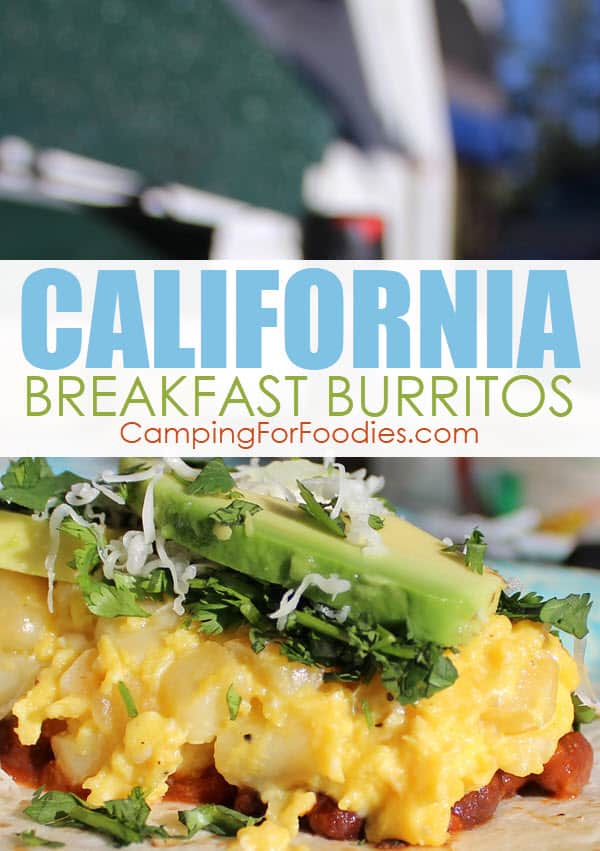 ---
Cowboy Breakfast Skillet
This entire meal is made in one skillet and includes eggs cooked sunny side up and scrambled along with sausage, onion, bell pepper and potatoes. Top the skillet breakfast off with a bit of cheddar cheese and green onion and you have a hearty breakfast. Cowboys usually cook over campfires and this recipe can be cooked that way or over your propane camp stove.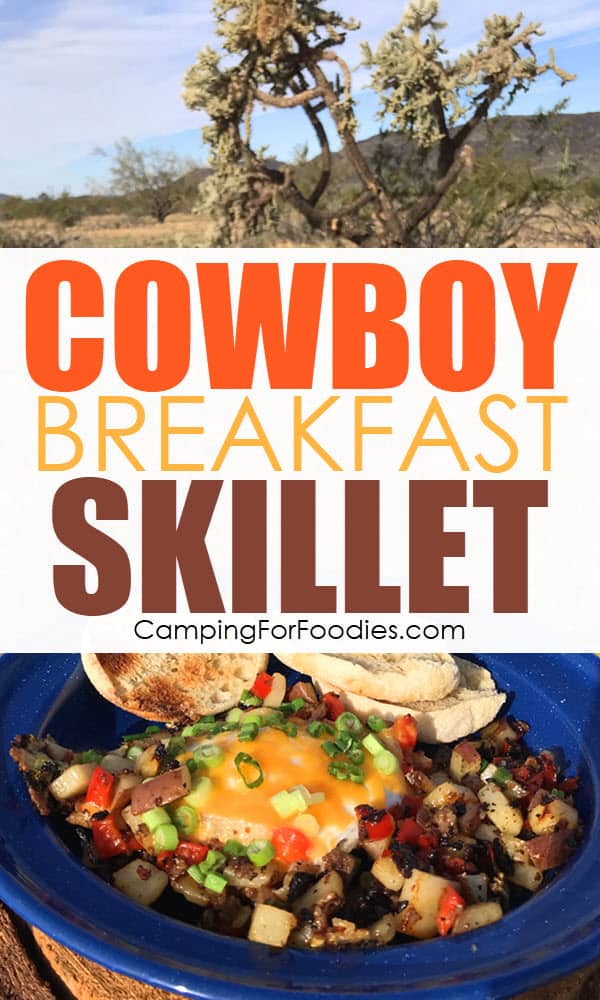 ---
Dutch Oven Bacon Scramble
If you have bacon-lovers in your crowd, try this easy recipe for a warm and satisfying breakfast. It combines bacon, eggs and cheese with a bit of onion, tomato and spinach for a refreshing morning meal.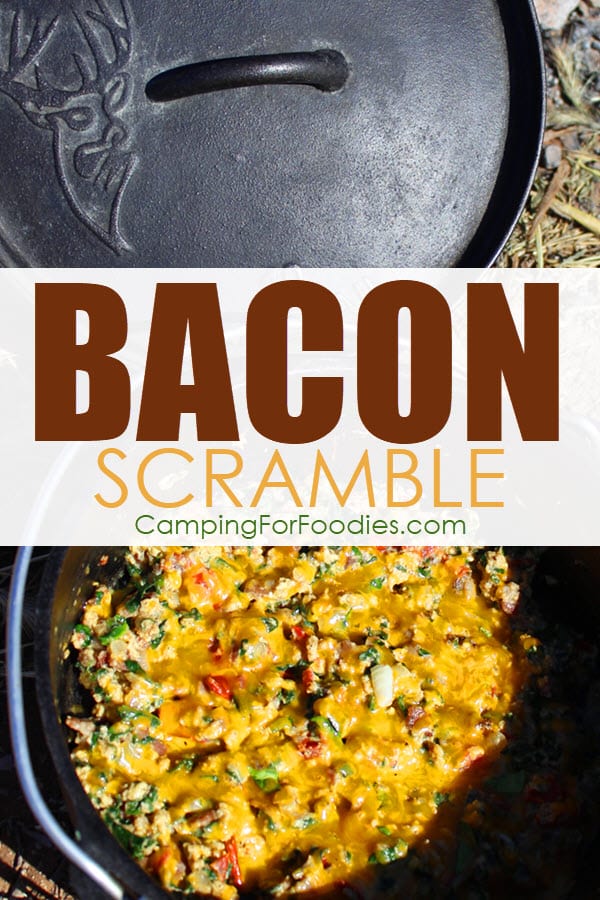 Camp Chef Dutch Oven Carry Bag
---
Bacon Avocado Breakfast Wraps Camping Recipe
Want to walk and eat as you explore the great outdoors? This is a simple camp stove recipe that will have you enjoying every bite as you stroll around camp admiring the sunrise!
---
Camping Breakfast Sandwiches
These quick breakfast sandwiches can be made for one or scaled up for a crowd! We like making them with bacon but you can just use a slice of deli ham to make them even quicker if you're in a hurry to get on to your activities for the day.
---
Greek Pita Sandwiches Camping Breakfast Recipe
Our family loves eating this hearty meal for brunch! It is filled with fresh veggies, eggs, bacon and sausage. You might not be hungry till dinner … tomorrow … after eating this filling meal!
Knives With Blade Guards
---
Breakfast Camping Burrito Bowls
These breakfast bowls are healthy, yummy and FAST! There is so much protein in this quick breakfast including black beans, eggs and cheese but the real flavor comes from the salsa and fresh avocado!
---
Cast Iron Skillet Breakfast Nachos Camping Recipe
We love nachos! Yes, even for breakfast! This morning meal is fun, fresh and filling! The breakfast part starts with eggs and cheese but it gets really exciting when you add tortilla chips, black beans, fresh avocado, tomatoes, cilantro and sour cream!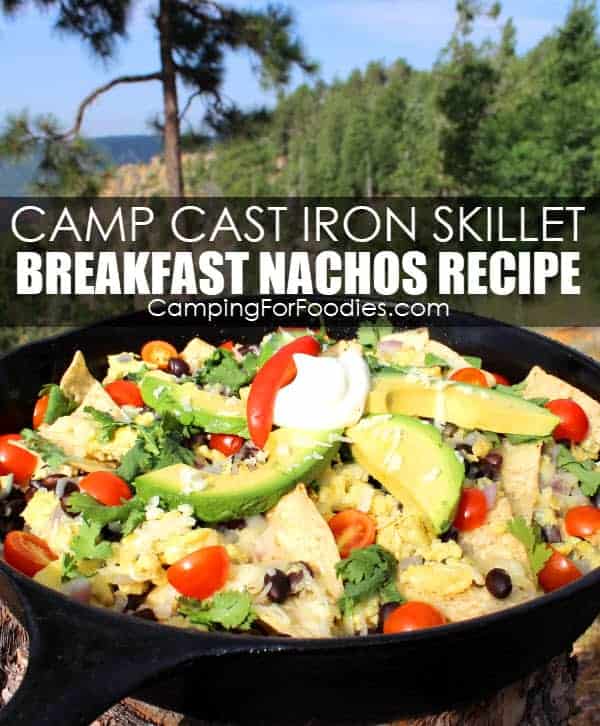 ---
Hobo Eggs
If you have 8 minutes and 3 simple ingredients, you can make this surprisingly delicious breakfast! The egg is fried in buttered bread creating a grilled cheese-type of flavor and texture that tastes amazing!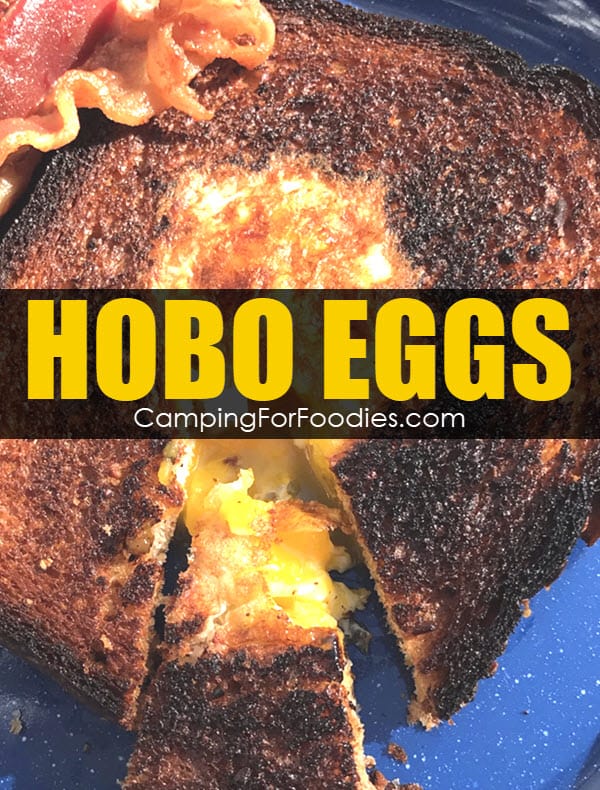 ---
Breakfast Burrito Camping Recipe
We call this easy breakfast burrito a "walkable feast" in your hand! So much flavor comes from the chorizo sausage you could almost roll that up in the tortilla and call it good … but don't … because when you add a bit of onion and cheese to the eggs, you made an amazingly delicious and easy breakfast. The finishing touch is a bit of cilantro and sour cream.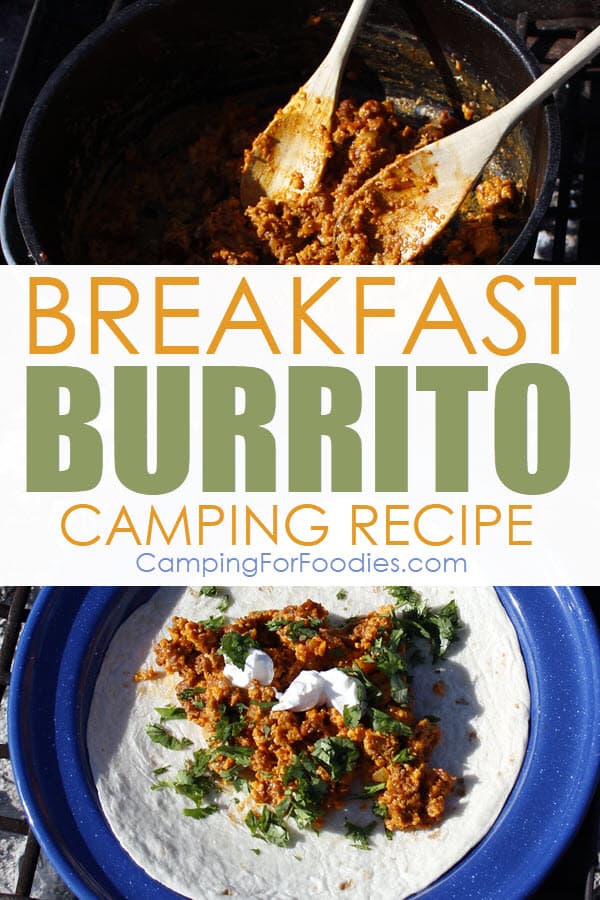 If you don't have one, we've got tips so you can find the best Dutch oven for camping.
---
Dutch Oven Scrambled Eggs Camping Recipe
Making simple scrambled eggs are great options to feed small groups or large crowds. These are spruced up by sautéing a bit of onion in butter then adding the eggs and some cheese. Topping with fresh parsley gives a nice finishing touch but it is totally optional.
---
Dutch Oven Biscuits
You can make these flaky biscuits on your propane camp stove by using a Dutch oven dome instead of using campfire coals or charcoal briquettes. This recipe starts with a mix which does a lot of the work for you by measuring and mixing dry ingredients. You don't need any yeast or special tools to make these yummy biscuits.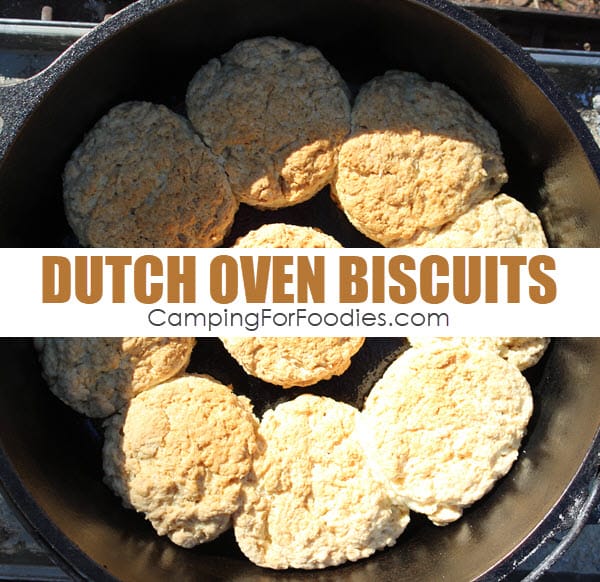 ---
Sweet Breakfast Meals
Peanut Butter Chocolate Chip Camp Stove Pancakes
You might think fun pancakes are just for kids but adults love them too! You'll be amazed at how easy they are because the base is just-add-water pancake mix. The totally yummy part of this camp stove breakfast is the super simple sauce!
The camp stove we used to make this recipe is one of the best propane camping gear items we have used while cooking in the outdoors.
Coleman Fold N Go 2-Burner Propane Stove
---
Carrot Cake Oatmeal Camping Breakfast Recipe
Want to know how to get kids to eat oatmeal and love it? Serve them this recipe and they'll be begging for a second bowl! The shredded carrots, raisins, nuts and shredded coconut are healthy and delicious. But, the best part is the "frosting" that is made from a mixture of plain yogurt and honey!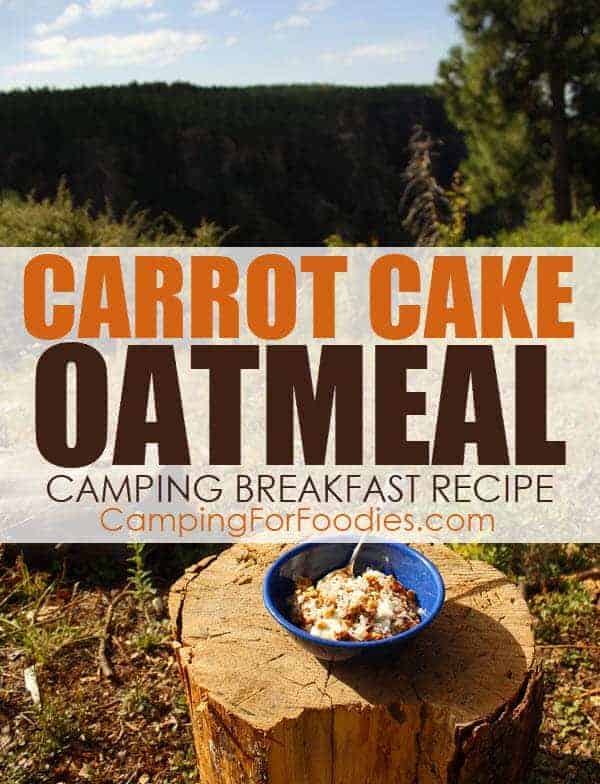 ---
---
Campfire French Toast
I like making this yummy French toast over my campfire but you can also make it using a camp stove. The Texas toast is the beginning of a great recipe. Dip the slices in the egg mixture then cook them in butter on a cast iron griddle for a wonderful taste and texture. Just make sure you have even heat under the griddle and be prepared to move the slices around for even toasting if you have hot spots directly above the stove's burners.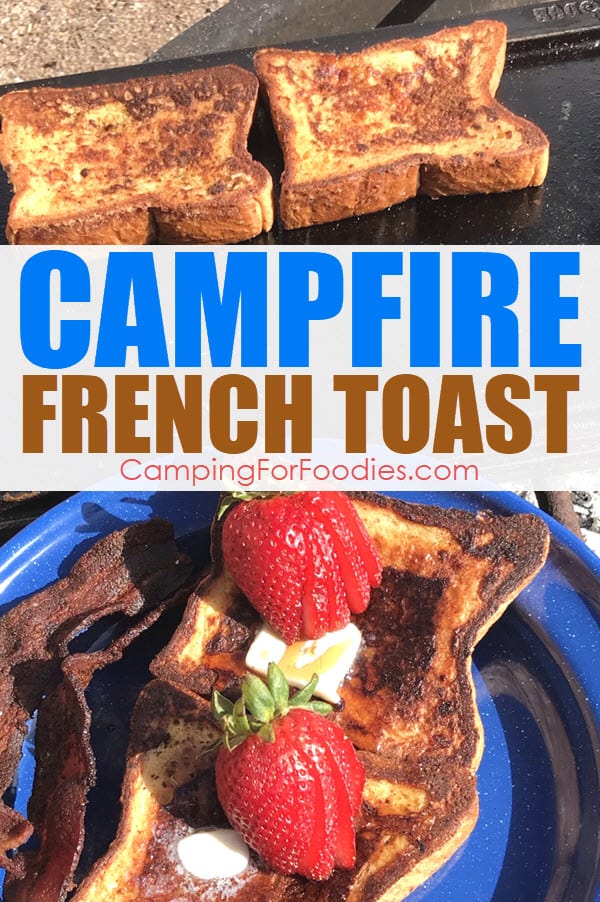 ---
Lunch And Dinner
Pasta
Dutch Oven Chili Mac
No need to pre-boil the macaroni for this one-pot dinner! This classic comfort food is perfect for colder weather camp trips. The pasta combines with the beef, beans, tomatoes and cheese to make a flavorful meal filled with carbs and protein!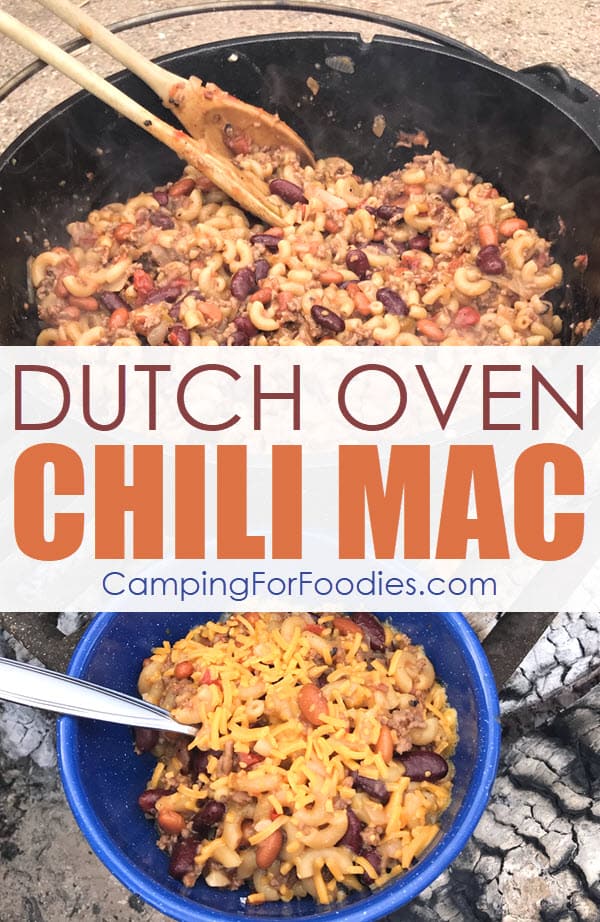 ---
Shrimp In Garlic Wine Sauce Over Pasta
Get out your two burner camp stove and cook the pasta in one pot while you make the easy garlic butter sauce with white wine and shrimp in a skillet beside it. They both cook so fast, your dinner will be on the table in 30 minutes or less!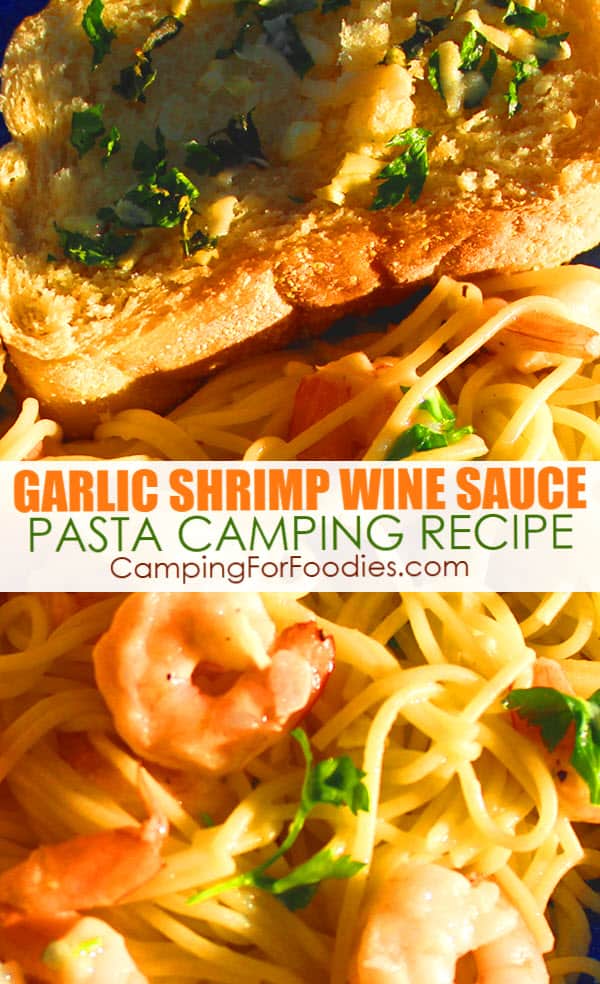 ---
One Pot Spaghetti Camping Recipe
Only 5 minutes of prep time and you'll have this easy one pot spaghetti meal cooking on your camp stove or over your campfire! One of the reasons I love this recipe is that the pasta cooks directly in the sauce … no separate pot of boiling water is required! The tasty meat sauce is topped with fresh basil and parmesan cheese.
---
Pasta In Garlic Sun Dried Tomato Cream Sauce
Pasta is a great food to cook on camp stoves … especially if you have one pot going for the sauce and another one going for the pasta. This creamy pasta recipe makes my normally-low-carb Dad ask for seconds!
---
One Pot Creamy Cajun Chicken Camping Pasta
Throw a pot on your stove, boil some chicken broth then throw in some farfalle and cook till al dente. Don't blink … you're almost done! Now, stir in sliced pre-cooked chicken, fire roasted tomatoes, cream cheese and some Cajun spices for a yummy dinner that is quick to the table. The smooth and rich sauce is balanced nicely with a touch of heat from the spice blend.
---
Dutch Oven Spaghetti And Meatballs
If you have a little extra time and a splash of extra wine … you need to make these homemade drunken meatballs over pasta! The tender meatballs simmer in a flavor-packed sauce that features a touch of your favorite red wine.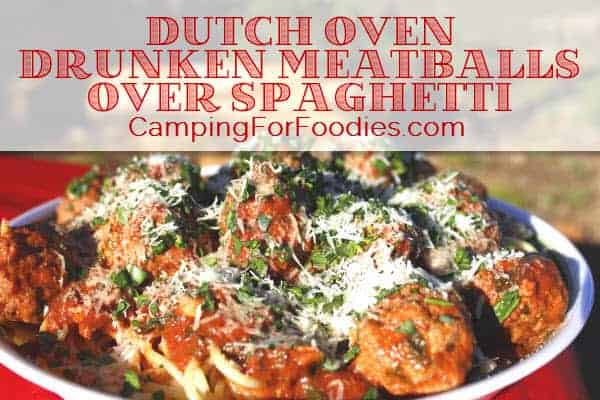 ---
Dutch Oven Campfire Goulash
This totally yummy comfort food can be made over your stove or campfire and only takes 5 minutes to prep! Most of the flavor comes from the Italian sausage and garlic and the meal provides lots of energy to your body with protein from the beans and carbs from the macaroni.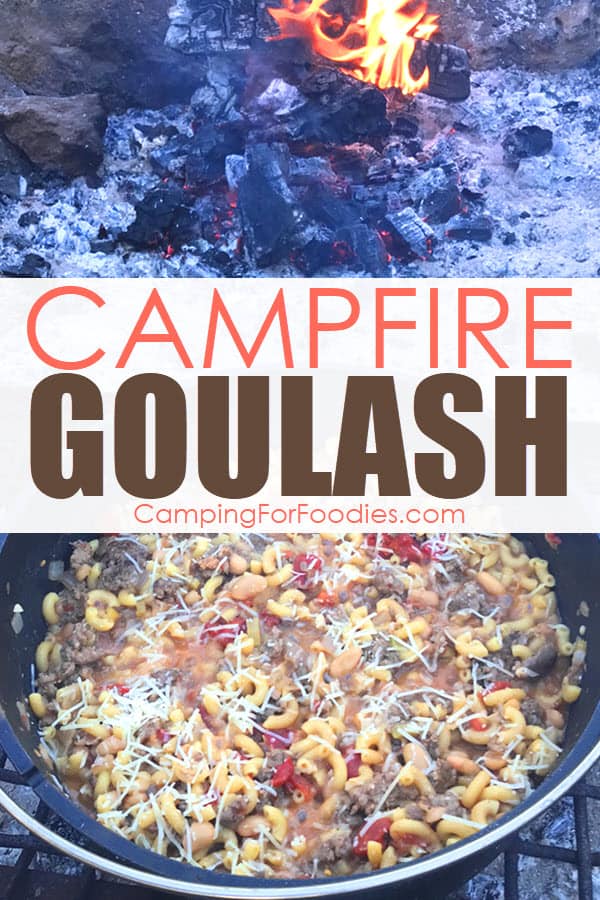 ---
Dutch Oven Pasta Stuffed Manicotti
Bake this stuffed manicotti in your camp Dutch oven using your camp stove, Dutch oven dome and heat diffuser plate. Then, serve it at your campsite with a side salad and garlic bread for an amazing Italian feast on your next trip!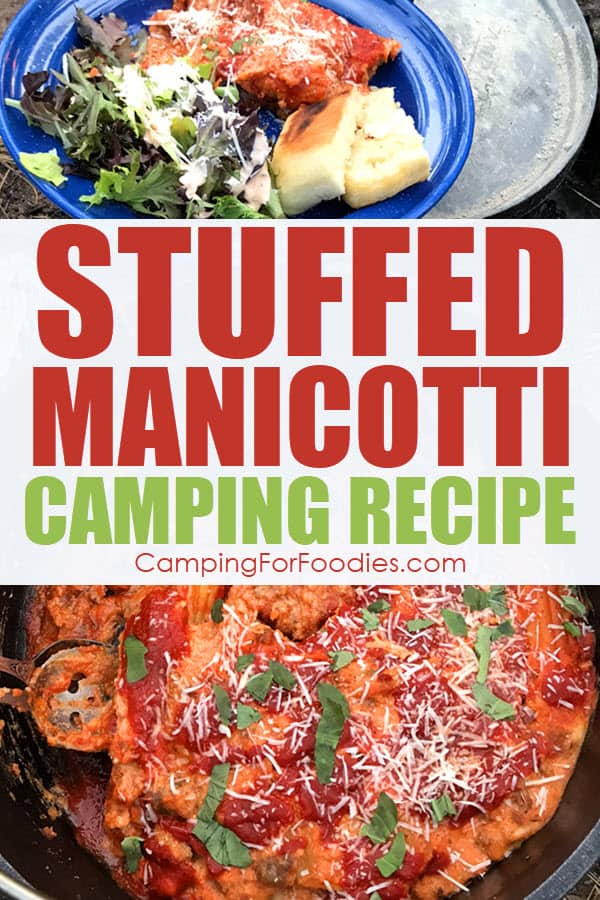 ---
Seafood
---
One Pot Cast Iron Fish Camping Recipe
The really good news about this one pot fish recipe is that you don't have to catch your own dinner! Just about any fish from your local grocery store will work in this Spanish flavor influenced camp dinner!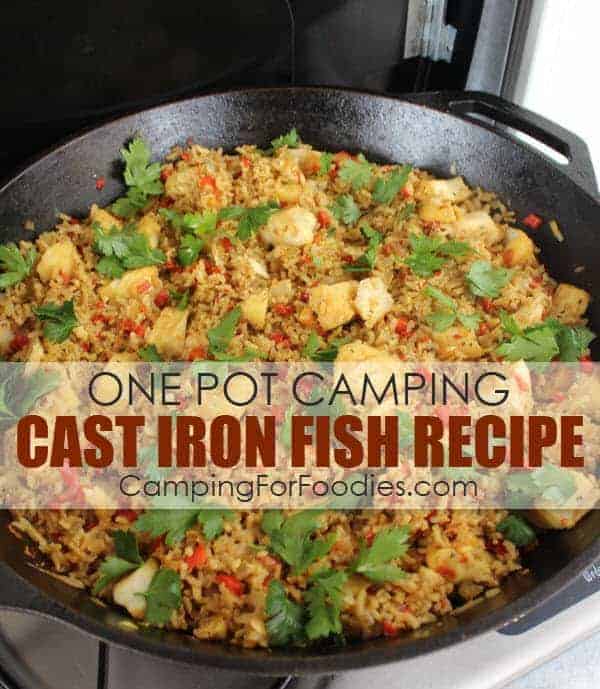 ---
Blackened Trout With Cajun Cream Sauce Camping Recipe
When I served this dinner to my brother-in-law … he said it was THE BEST MEAL HE ATE IN HIS LIFE! For real … it is that good! The secret is the cooking technique and the cajun cream sauce. This is a must-try camp dinner!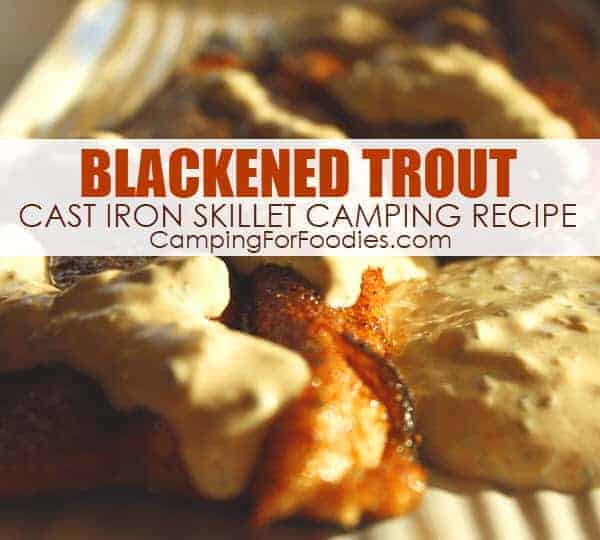 ---
Shrimp Po Boys
Shrimp is such a fast-cooking protein which is awesome when you want to eat and run off to your next campsite activity. This recipe takes a little bit of time to prep (especially if you don't start with shrimp that is peeled and deveined, which I don't recommend) but cooks in minutes. And, you'll feel like you are hanging out in the Big Easy even if you are on a mountaintop in Colorado!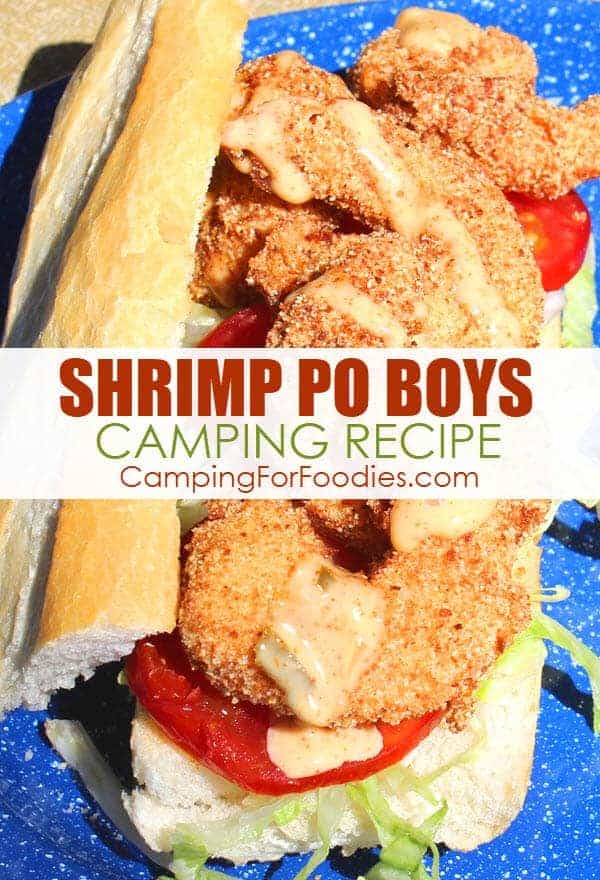 ---
Asian Inspired Cast Iron Dutch Oven Campfire Shrimp Recipe
Oh the sauce!!! When you decide to splurge and get spendy with shrimp on your camp menu … you'll be happy you served this Asian inspired campfire shrimp recipe! The classic flavors of soy sauce, onion and garlic are enhanced with a bit of jalapeno pepper and fresh basil.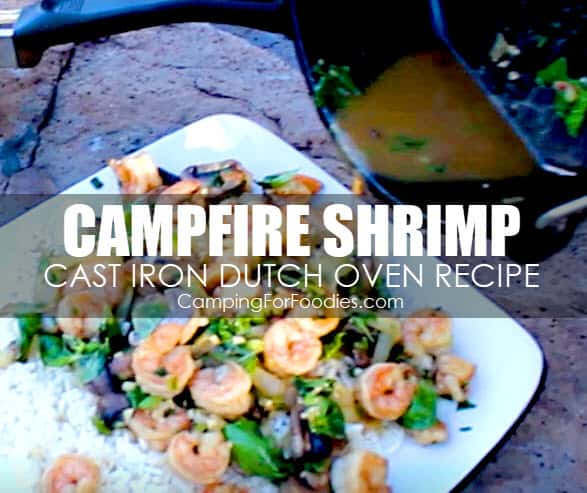 ---
Easy Grilled Mahi Mahi With Mango Salsa
Grilled fish is one of the fastest cooking camp dinners you can make. Use a cast iron grill pan over your camp stove to make this grilled Mahi Mahi that features an amazing but simple mango salsa with tropical flavors.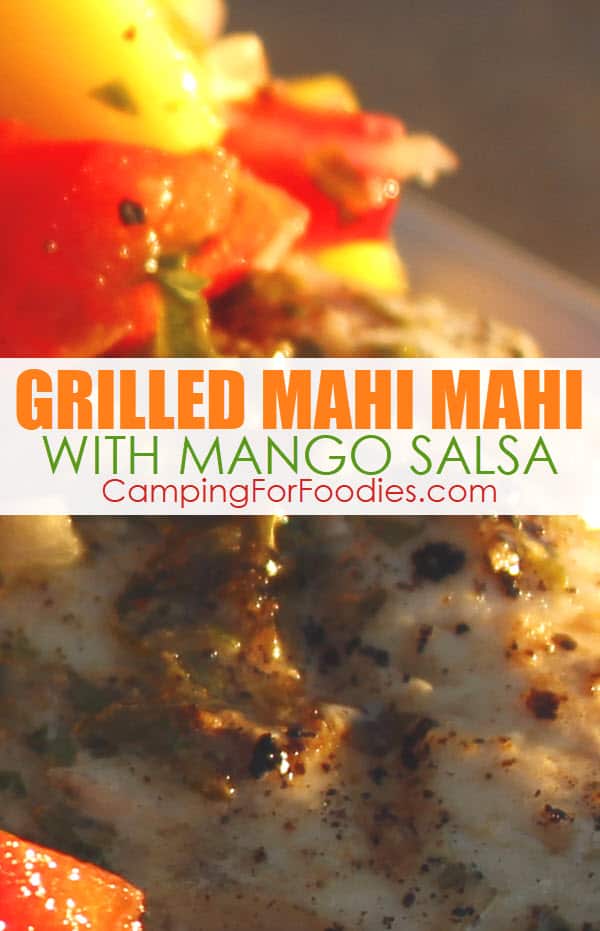 ---
Chicken & Turkey
Cast Iron Skillet Chicken Breast Recipe
Canned black beans, tomatoes and corn compliment the chicken breasts in this simple dinner. A punch of freshness comes by adding fresh garlic, onion, avocado and cilantro.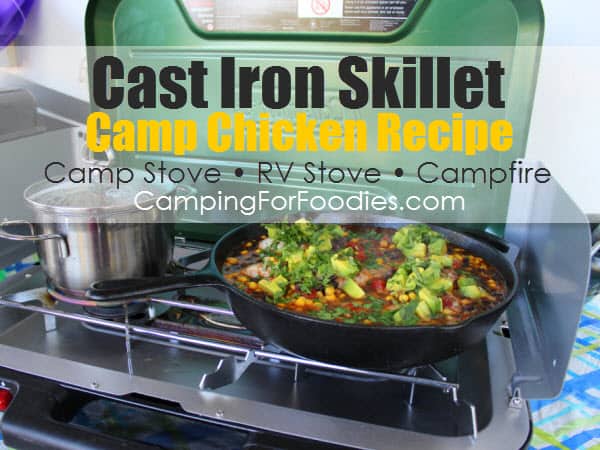 ---
Grilled Greek Pita Sandwich Recipe
This super-flavorful Greek chicken pita sandwich makes a hearty meal for lunch or dinner. Most of the recipe can be made ahead and you just grill the chicken and assemble the sandwich at camp. A grill pan on a propane stove works well for this recipe but you can also do the grilling over camp grills using propane, charcoal or campfire coals.
---
Dutch Oven Chicken And Potatoes
This is a really simple and hearty Dutch oven dinner that cooks with heat from below the pot. You can make it on your stove or over a campfire. It combines chicken, potatoes and carrots in a single pot and the secret ingredient that packs a punch of flavor … a little bit of bacon!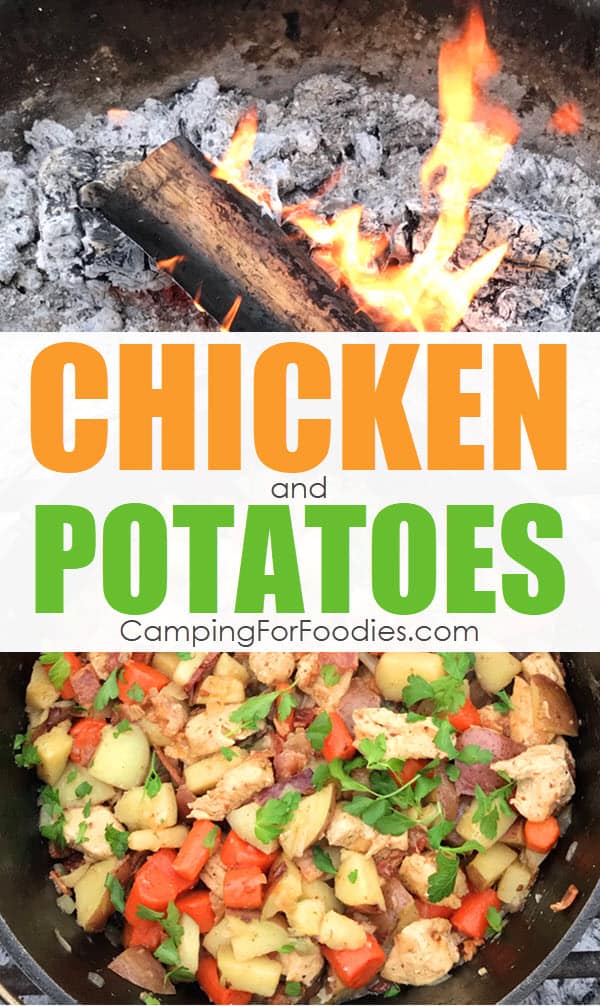 ---
---
Middle Eastern Inspired Dutch Oven Chicken
This is the cheapest plane ticket around! You can be transported to the other side of the world without ever leaving your campsite in the middle of the U.S.A. This Middle Eastern inspired chicken recipe has bold flavors and cooks in minutes!
I make it using a cast iron camp Dutch oven on the top of my propane stove but I also use the coals of a campfire for this internationally-flavored camp dinner meal.
---
Simple Grilled Dijon Chicken With Garlic And Jalapeno
When you want a grilled meat for dinner but want to cook on your camp stove, just place a cast iron griddle over your stove's burners. This quick marinade is made zesty and slightly spicy with Dijon mustard, garlic and a bit of jalapeno pepper.
---
Chicken Shish Kabobs
These shish kabobs only take a few minutes to prep … then sit in a marinade for about 4 hours … then can be grilled over a campfire, camp grill or camp stove with a grill pan! The nice thing about kabobs is you can change the meat and the veggies to make whatever combination you like.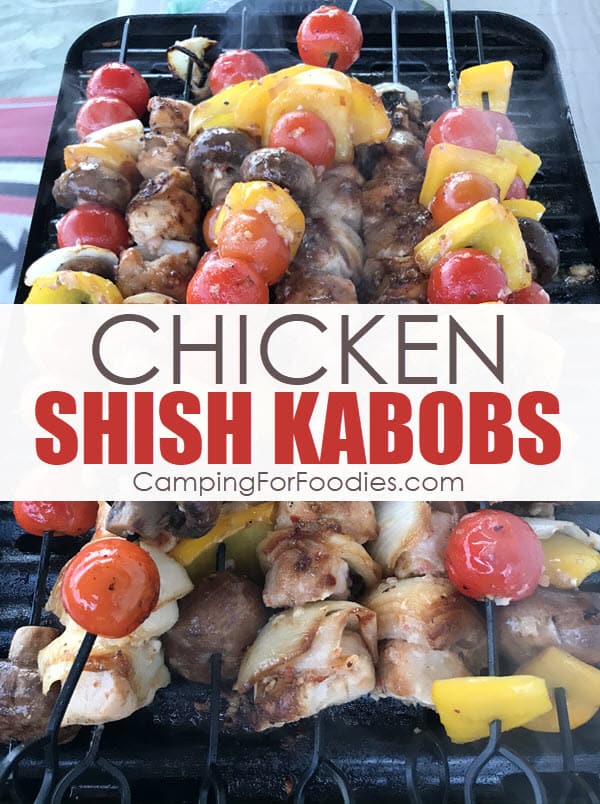 ---
Lodge Pre-Seasoned Cast Iron Reversible Grill-Griddle
White Chili Recipe
Chili is one of our favorite meals to make at the campsite … especially in cooler weather! This white chili is made with ground turkey meat in a Dutch oven. I've made it using a propane stove as well as a nice bed of campfire coals.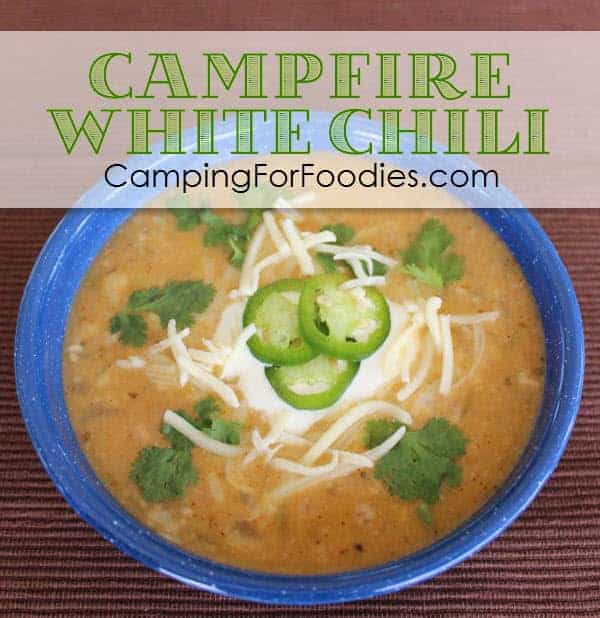 ---
Dutch Oven White Chicken Chili
I KNOW, I KNOW! You're thinking … didn't she just tell me about a white chili recipe? Yes, I did. But I have two white chili recipes. One is made with ground turkey and this one is made with cubed chicken breast meat. The rich and creamy texture is so filling and delicious in this version you'll want to put it in your "regulars" recipe box.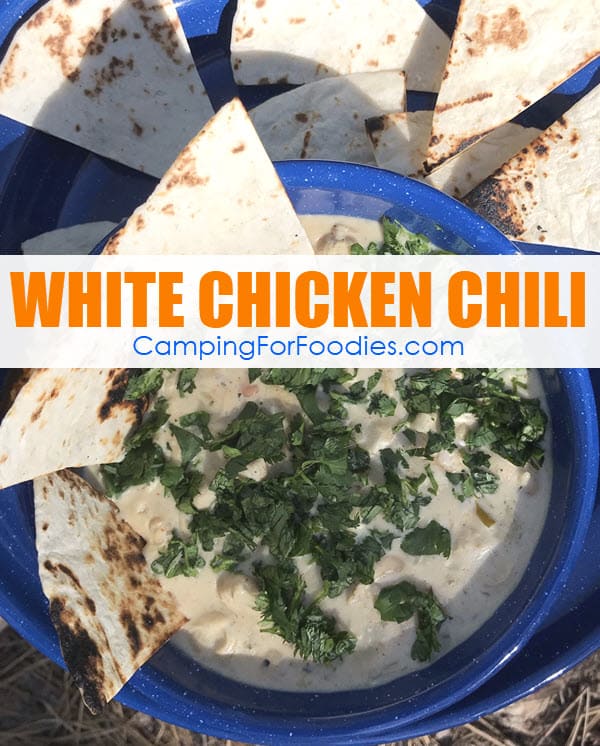 ---
Chicken Pesto Pizza Easy Camping Recipe
This chicken pesto pizza can be made over a campfire or in a camp or RV oven … but … it can also be made using a propane camp stove using your Dutch oven dome and heat diffuser for convection type heating.
---
Spicy Chicken And Corn Chili
This spicy chicken and corn chili is yummy and a great dinner when you don't have cold food storage space … it uses only non-refrigerated ingredients! Canned chicken, corn and pinto beans are the base for this quick and simple meal.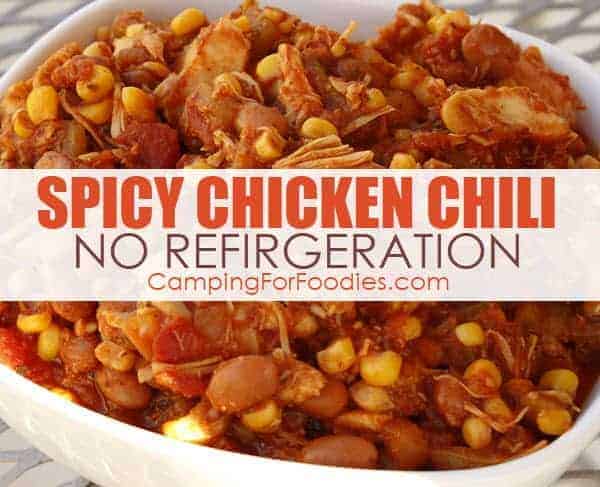 ---
Easy Dutch Oven American Chinese Chop Suey
If you love getting take-out chop suey … you're gonna be happy that you can enjoy that yummy meal out in the wilderness! Just chop some fresh veggies and use your cast iron Dutch oven like a wok! This recipe works on your camp stove or over a campfire. You'll start with some carrots, onion, mushrooms, garlic and celery … then add the chicken. Toss in some ground ginger, red pepper flakes, chicken broth, soy sauce and water chestnuts and cook through. Serve over a nice bed of rice and use a fork if you forget to pack the chop sticks!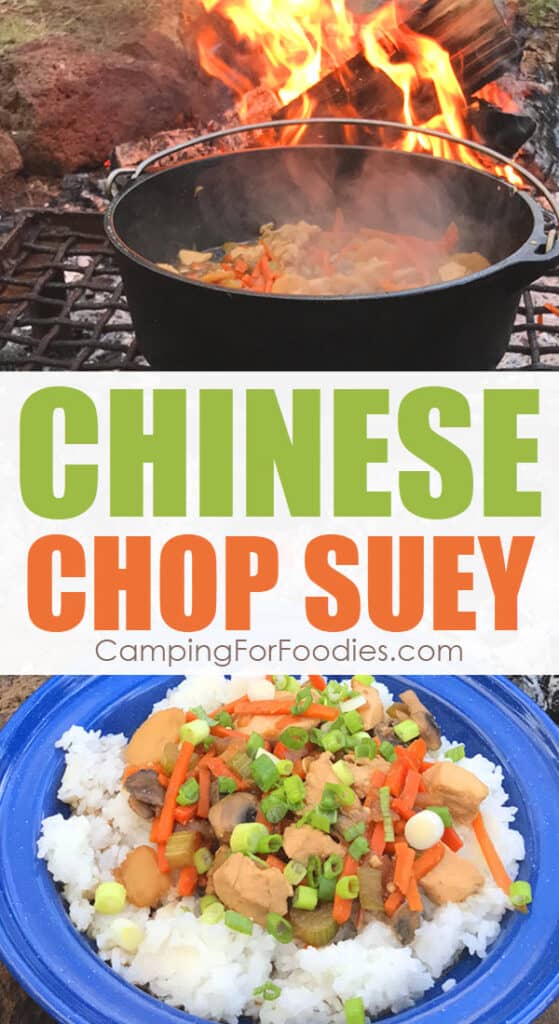 ---
Dutch Oven Thai Campfire Chicken Recipe
Talk about a totally easy make-ahead freezer meal that has off-the-chart fantastic flavors! This Dutch oven Thai campfire chicken is a prep at home then just dump and cook at the campsite dinner. The combination of coconut milk, peanut butter, soy sauce and spices make this dinner AMAZING!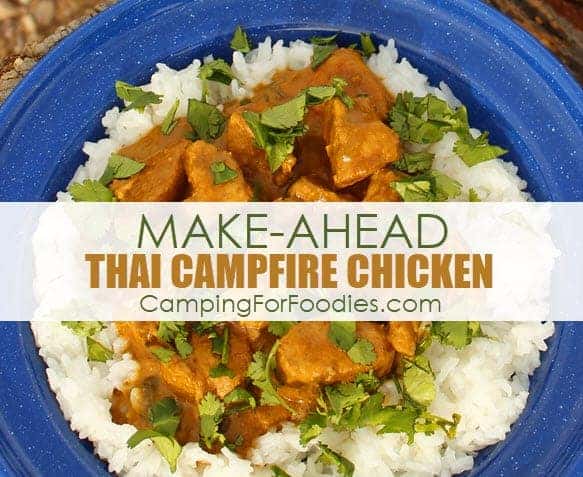 ---
Dutch Oven Latin Campfire Chicken
You are gonna LOVE this one pot Latin chicken dinner that can be made using your camp stove or campfire coals! Ordinary chicken is made extraordinary with a few spices, prepared salsa, black beans and a sweet potato.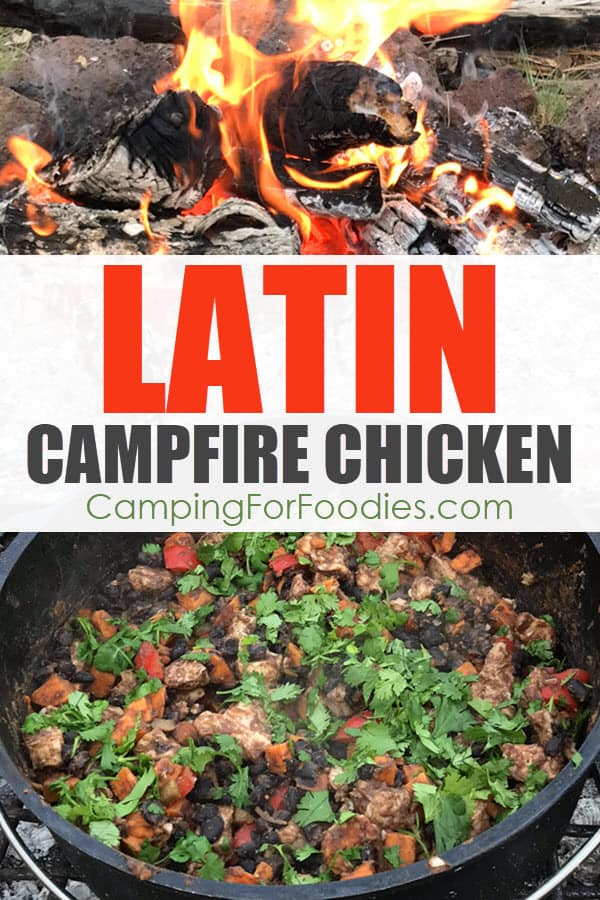 ---
Cast Iron Dutch Oven Chicken Enchiladas
These enchiladas are made simple by using pre-cooked shredded chicken. They can be baked on a camp stove using a Dutch oven dome or be made using coals from your campfire or charcoal briquettes.
---
Dutch Oven Chicken And Rice Camping Recipe
When it is cold outside, treat yourself to this warm and creamy chicken and rice casserole. It is so simple to make and doesn't even use canned soup! This classic comfort food is updated with jasmine rice.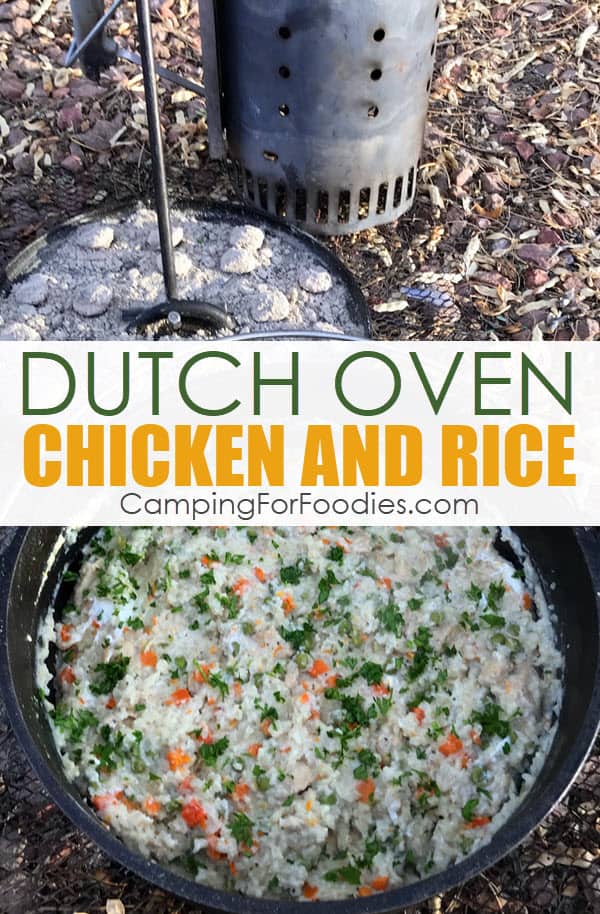 ---
Camp Oven Chicken Curry
This camp oven chicken curry is an almost-gourmet dinner and you won't believe how easy it is to make in your Dutch oven! The flavor comes from readily-available ingredients that have a TON of flavor: red curry paste, curry powder and coconut milk … they do all the work for you!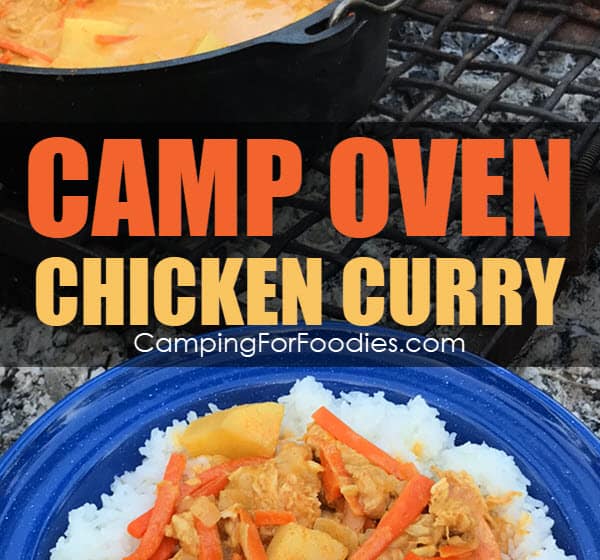 ---
Lemon Feta Campfire Dutch Oven Chicken
Using readily available ingredients with outstanding flavors creates yummy dinners. This lemon feta chicken is made in a Dutch oven over a campfire or can be made right on a camp stove!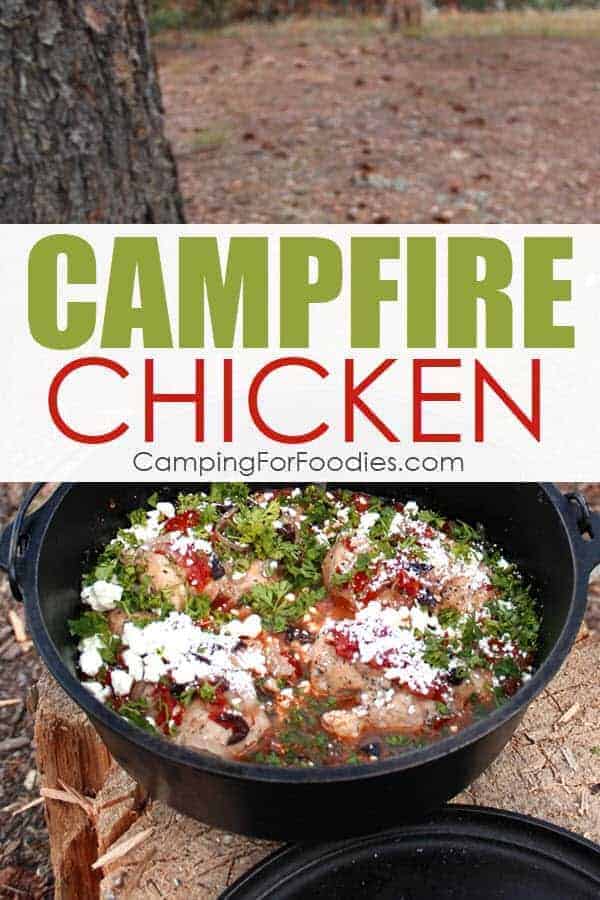 ---
Italian Chicken Cacciatore Dutch Oven Camping Recipe
I prefer making easy campfire recipes in my Dutch oven … because I just love building and cooking over the open flame of a crackling wood fire … but … I love meals like this Italian chicken cacciatore that can easily transition to a camp stove especially if it is raining and we forgot to cover our firewood … that gets soaking wet … and … won't dry out for days. LOL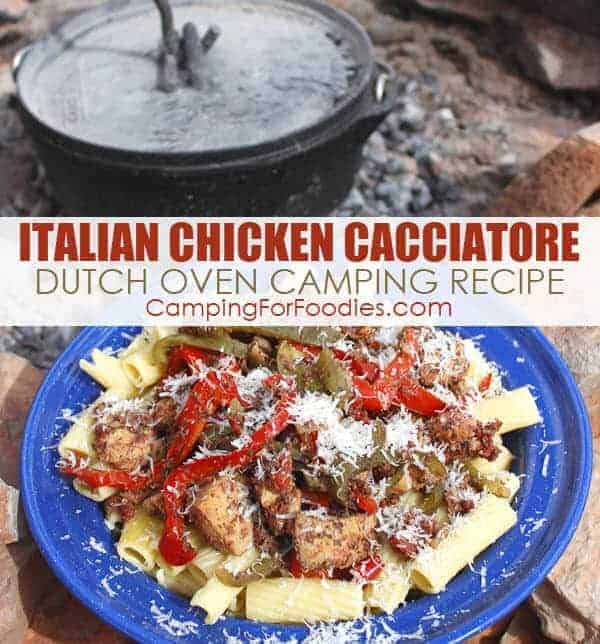 ---
Easy Campfire Dutch Oven Dijon Mustard Sauce Chicken Recipe
You can save money and feed a lot of people if you use an inexpensive protein. And, you can always find chicken on sale and freeze it so it is ready to use on your trips. This easy recipe is filled with flavors from the really simple sauce!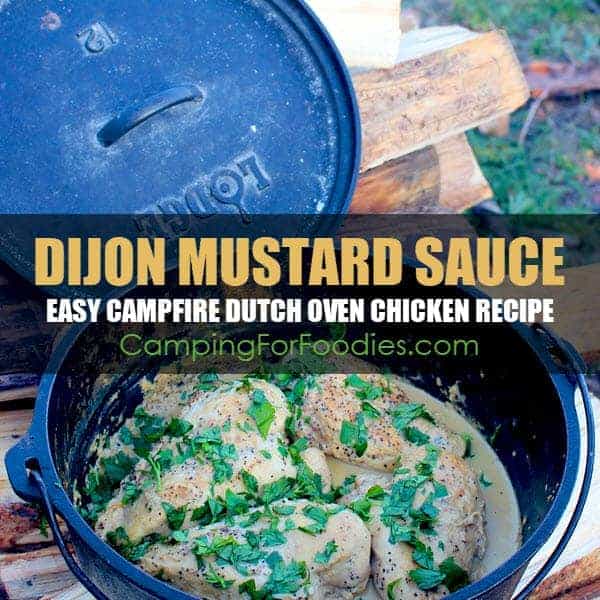 ---
Easy Dutch Oven Chicken Pot Pie With Refrigerated Biscuits
Get out your Dutch oven dome and heat diffuser plate to bake this simple upper-crust chicken pot pie that is made with refrigerator biscuits. It is made even easier with veggies that are already chopped for you because it calls for defrosted mixed veggies.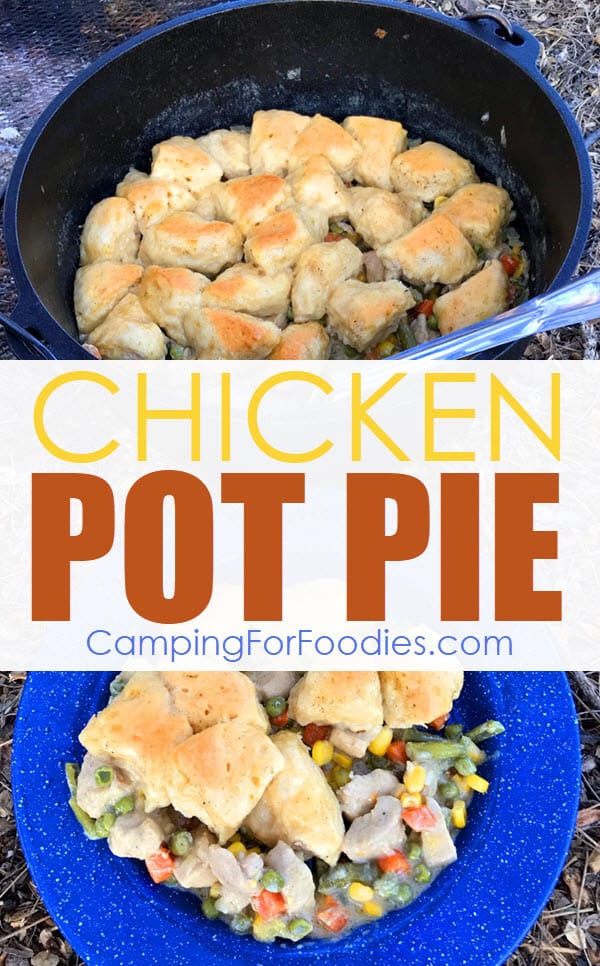 ---
Beef
Dutch Oven Beef Sandwiches
Hearty sandwiches make great dinners when camping in the summer. These beef sandwiches use only 3 basic ingredients and require NO prepping. So, why do they taste amazing? The low and slow cooking and tasty simmering juice that is tangy with a touch of mild heat.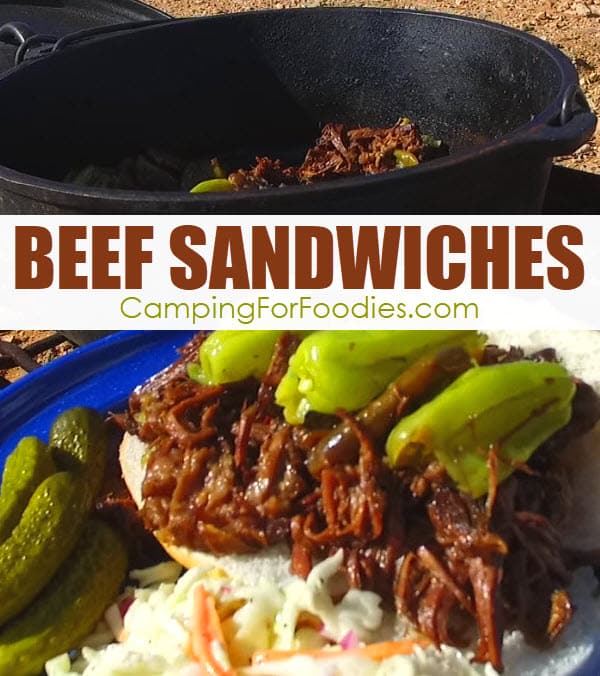 ---
Dutch Oven Steak
You don't have to break the bank when you want to serve steak for dinner. This simple recipe uses an inexpensive but tough cut of meat to create a hearty meal. Flank steak strips are flavorful and fork-tender after marinating in this simple recipe. The fingerling potatoes make this dinner feel a little fancy too!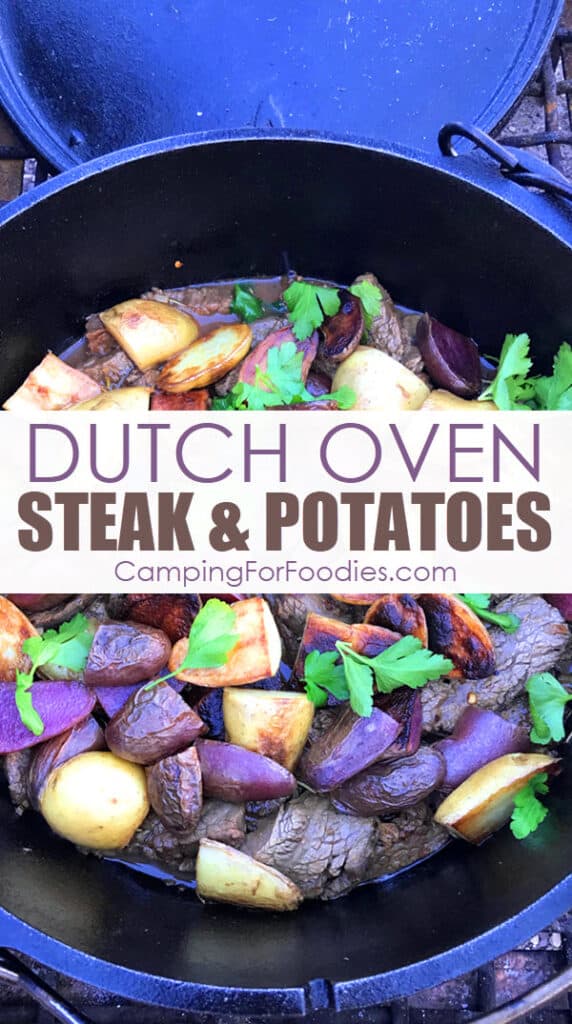 ---
Dutch Oven Camping Tacos
We call these "10 minute tacos" but we have them down to a science because we make them all the time. You might need 20 minutes to get these Dutch oven tacos on your table when you first start making them. LOL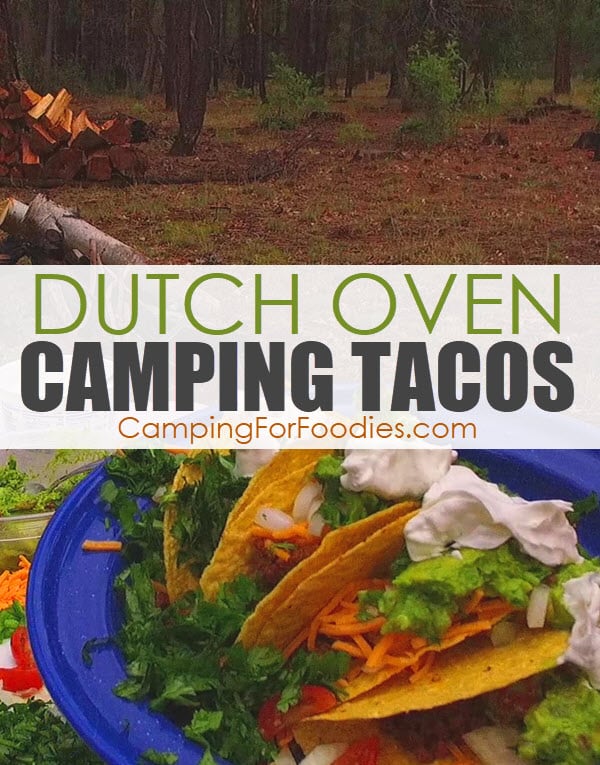 ---
Pastrami Reuben Sandwich Camp Recipe
Our family loves eating grilled sandwiches for a big lunch or a speedy, quick dinner. This sandwich is one of those camp stove recipes easy enough to have your meal on the table in minutes! And, because it is individual servings, it makes perfect camping meals for two.
---
---
French Dip Beef Sandwiches Dutch Oven Campfire Recipe
My husband is a beef-eating kind of guy and he LOVES this French Dip that simmers in a Dutch oven on a camp stove top or over the flames of a campfire. The onion powder, ground mustard and garlic provide a ton of flavor to the canned beef broth in this recipe.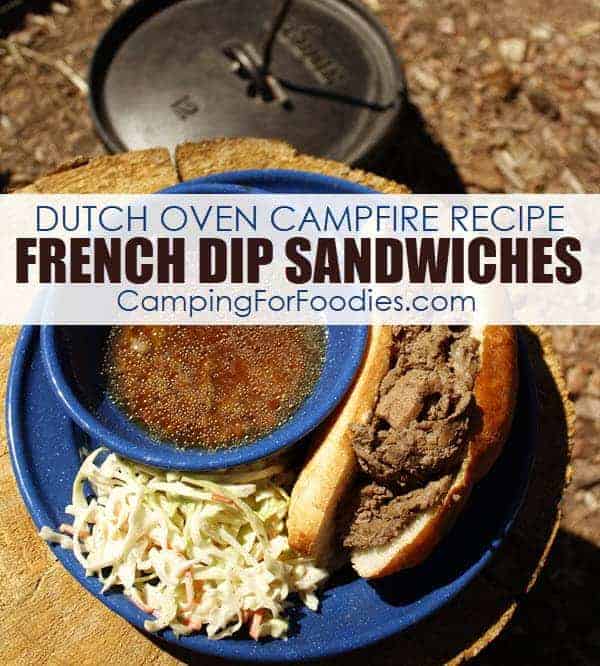 ---
Campfire Stew Dutch Oven Camping Recipe
This is the BEST campfire stew … of all time! It is hearty, filling and easy … and … it can be made over a campfire or using a stove. A bit of bacon adds flavor to this fork-tender beef stew. The potatoes and carrots are cooked with the meat making a fantastic one-pot meal.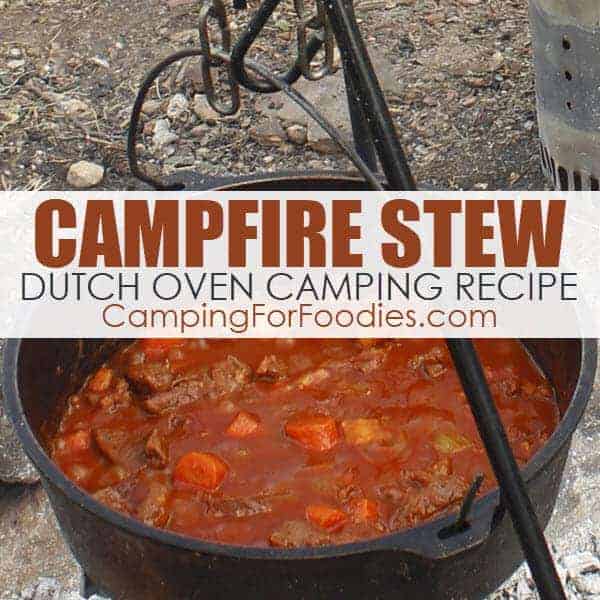 ---
Pork
Dutch Oven Pork Chops And Rice
This simple one-pot dinner cooks the meat, rice and veggies together. The mild Italian flavors come from a bit of onion, garlic, oregano, bell pepper and tomatoes.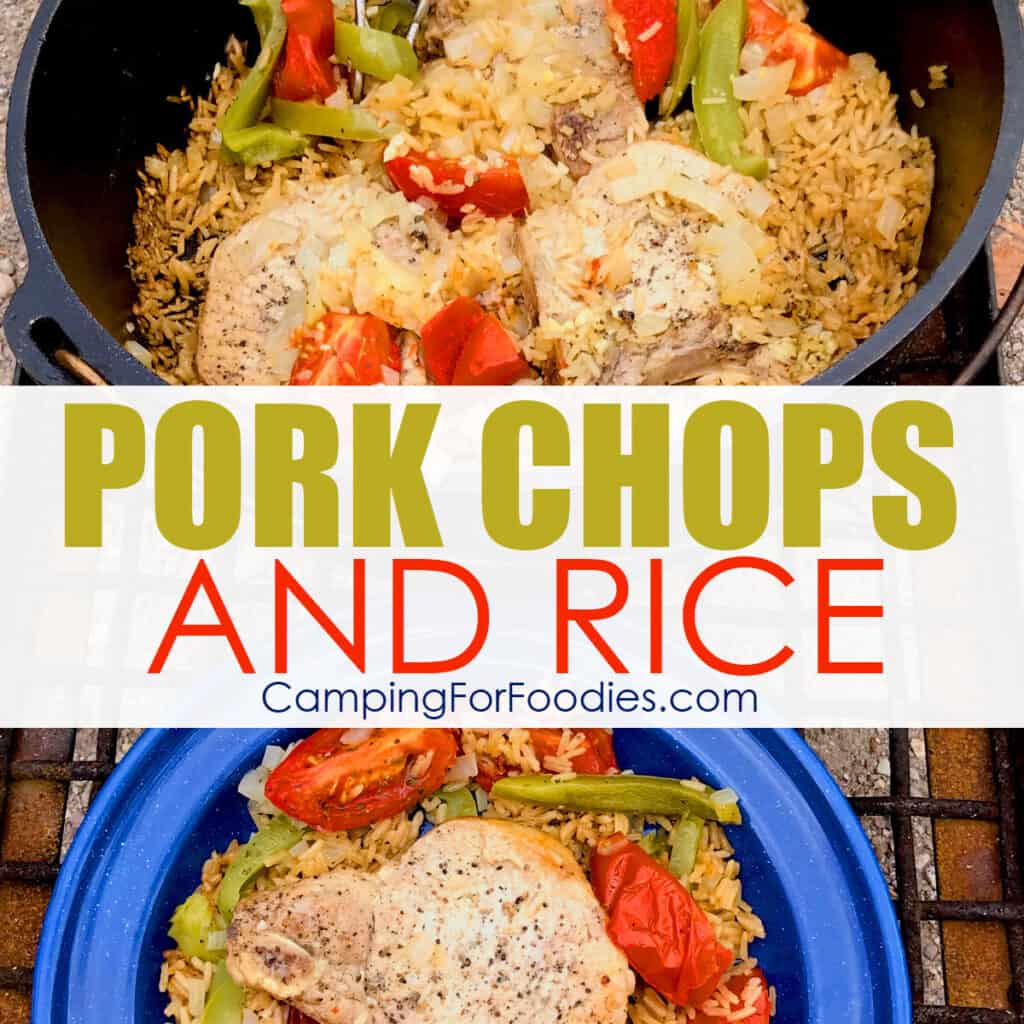 ---
Camping Dutch Oven BBQ Ribs Recipe
These are finger-lickin' good ribs! This recipe almost makes the meat fall off the bone because the ribs simmer in BBQ sauce for about 6 hours. So, you can keep them cooking over a low campfire, with charcoal briquettes or using your RV or camp stove. Whichever cooking appliance you choose, make sure you have enough fuel to finish the cooking process!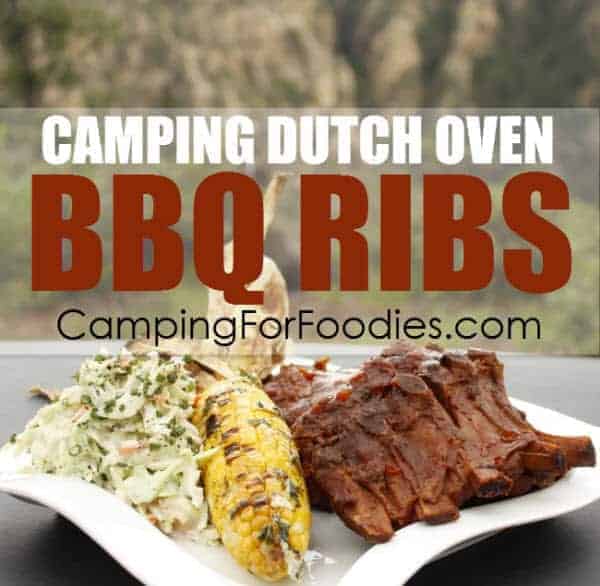 ---
Lodge Camp Dutch Oven Lid Lifter
Dutch Oven Sausage
You can have this meal prepped in 5 minutes creating a yummy one pot camp dinner that can be cooked on you camp stove or over a campfire! You'll start with beer brat sausages, potatoes, onion, garlic and bell pepper then cook everything in a canned beef broth. It's quick, simple and satisfying.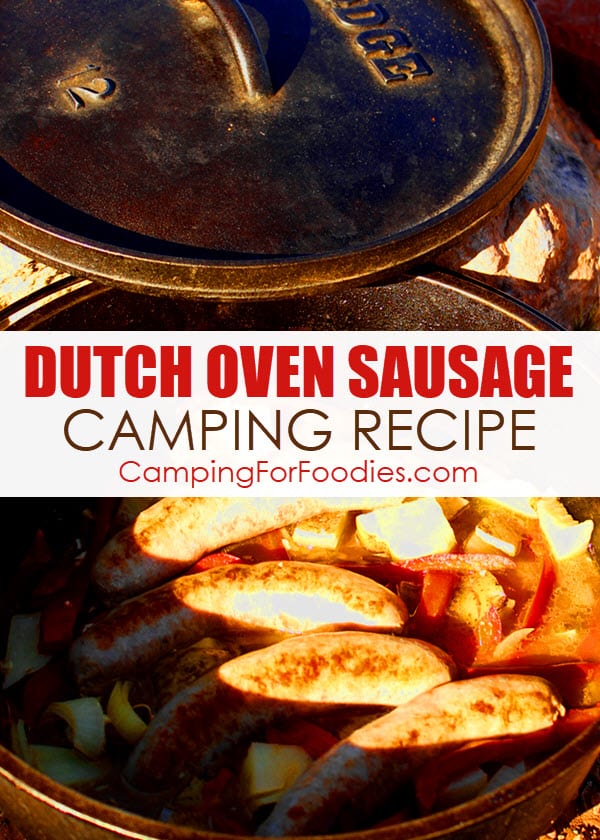 ---
Dutch Oven Pork Chops Campfire Recipe
Do you like meals that have a slightly sweet and salty flavor profile? If you answered, yes, you've gotta try these Dutch oven pork chops! You can make this incredibly tasty meal on a camp stove, RV stove or campfire.
---
Meat Combinations
Campfire Dutch Oven Chili Recipe
If you want to try a real crowd-pleasing campfire chili recipe this is it! This can be made in a Dutch oven over a campfire or on an RV or camp stove. You'll appreciate the flavor that comes from using ground beef and ground Italian sausage.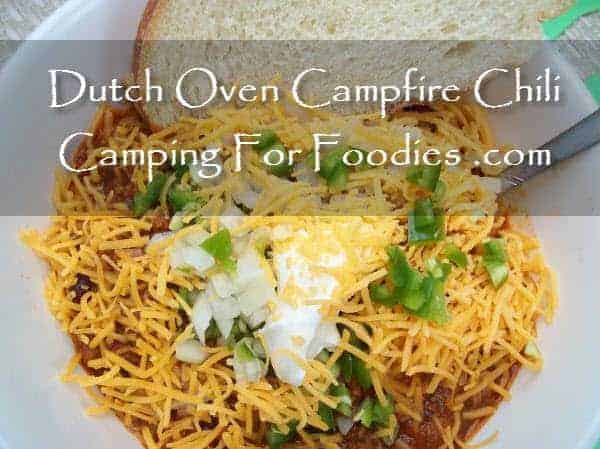 ---
Dutch Oven Chili: Secret Family Recipe Revealed
After years of begging my brother-in-law for his chili recipe, he finally shared his family secrets! He starts with a homemade spice blend, adds ground beef, Italian sausage and a touch of beer … simmers this pot of goodness for at least 2 hours and serves us chili we can't stop eating!
---
Dutch Oven Jambalaya
Every member of your family will enjoy this not-too-spicy jambalaya that features chicken, sausage and shrimp in a thick tomato sauce … all served over a bed of fluffy rice. It is simple to make all of it at the campsite but if you want to make it even easier, most of this recipe can be prepped-ahead at home.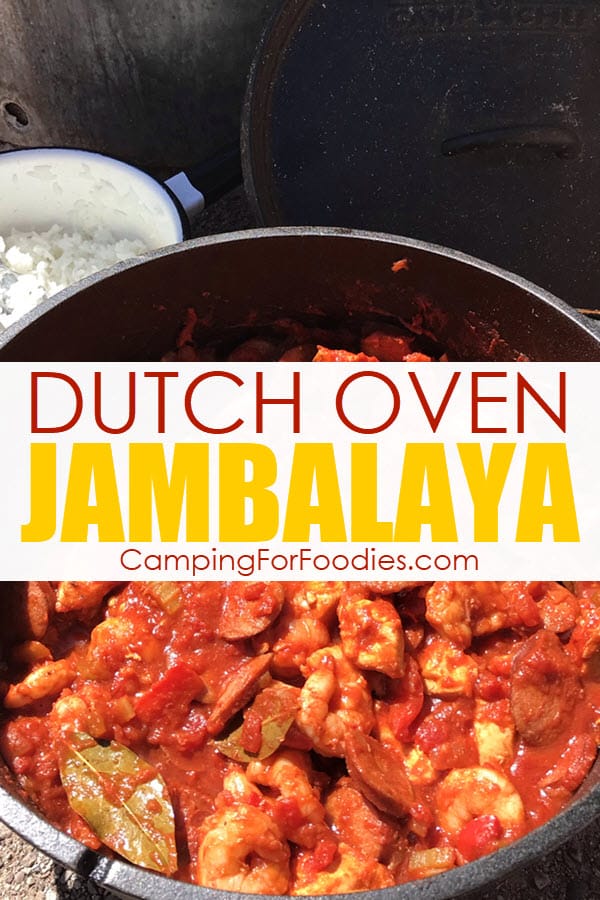 ---
Soups, Sides & Snacks
Hot Italian Sausage Soup Campfire Recipe
On cold-weather camp trips, there is nothing better than a rich and hearty soup for dinner! Serve this hot Italian sausage soup with a nice loaf of warmed crusty bread and you have a yummy dinner.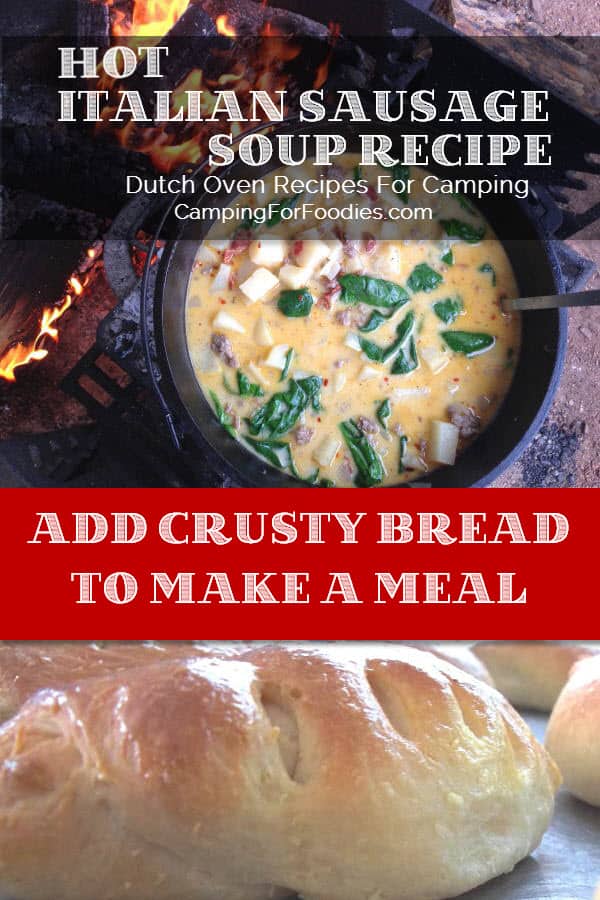 ---
Dutch Oven Mac And Cheese Camping Recipe
This easy comfort food is made with processed cheeses to keep it simple and reduce the cold food storage space required for your ingredients. Bake it on your propane camp stove with a Dutch oven dome and heat diffuser plate!
---
Camp Chef Dutch Oven Dome
---
---
Camping Nachos
These nachos are so easy, fast and totally flavorful! The best way to make them on your camp stove is to create convection heat with a Dutch oven dome and heat diffuser. They can also be made as one of our easy campfire recipes.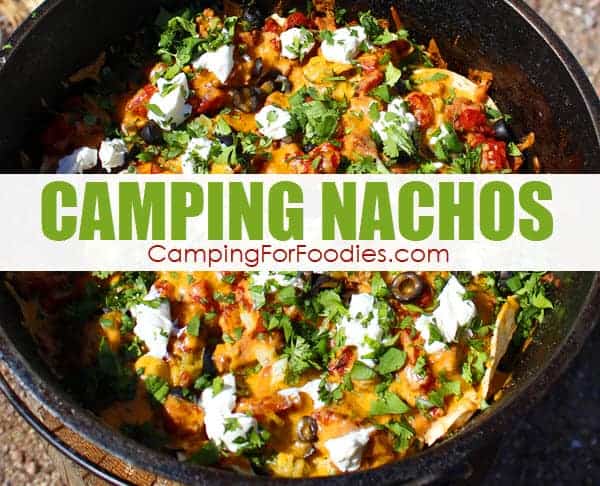 ---
Rosemary Spiced Nuts Camping Snacks Recipe
You won't believe how easy and delicious these rosemary spiced nuts are … the only problem … you can't stop eating them! You start with a party nut mix and spice them up with some butter, brown sugar, spices and fresh rosemary. YUMMY!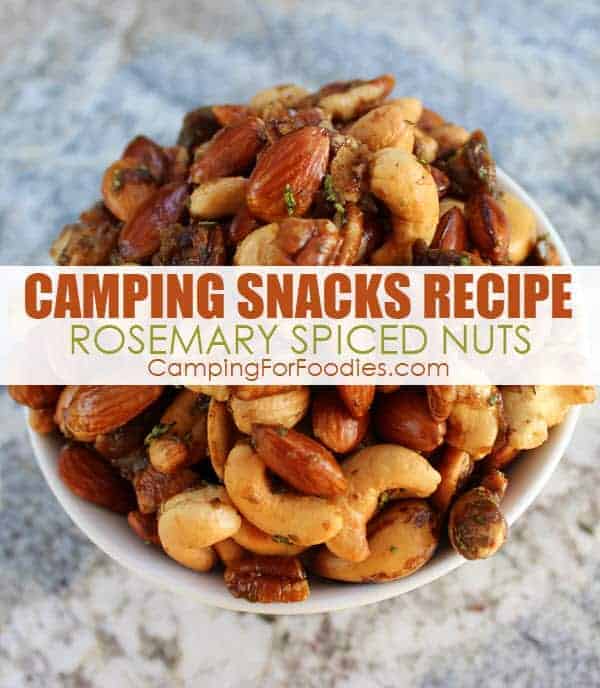 ---
Potato Salad With Bacon And Chives Make Ahead Camping Recipe
You might wonder why I have this make-ahead potato salad recipe on a list of camp stove recipes. Well, this recipe is best after it sits for a day or two because once those flavors merry … BAM … this potato salad is ridiculously tasty! So, it is the perfect candidate for make ahead camping recipes!
But, you can just as easily make this side dish on your propane camp stove and my post will give you some tips to make it simple!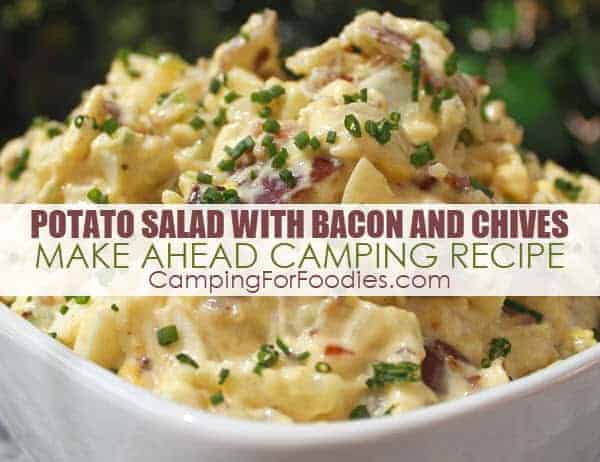 ---
Desserts
Chocolate Covered Peanut Butter Balls
These peanut butter balls are a yummy sweet treat! They use non-perishable ingredients right from your pantry! The combination of peanut butter and marshmallow fluff create a quick and easy base for these chocolate dipped cookie balls.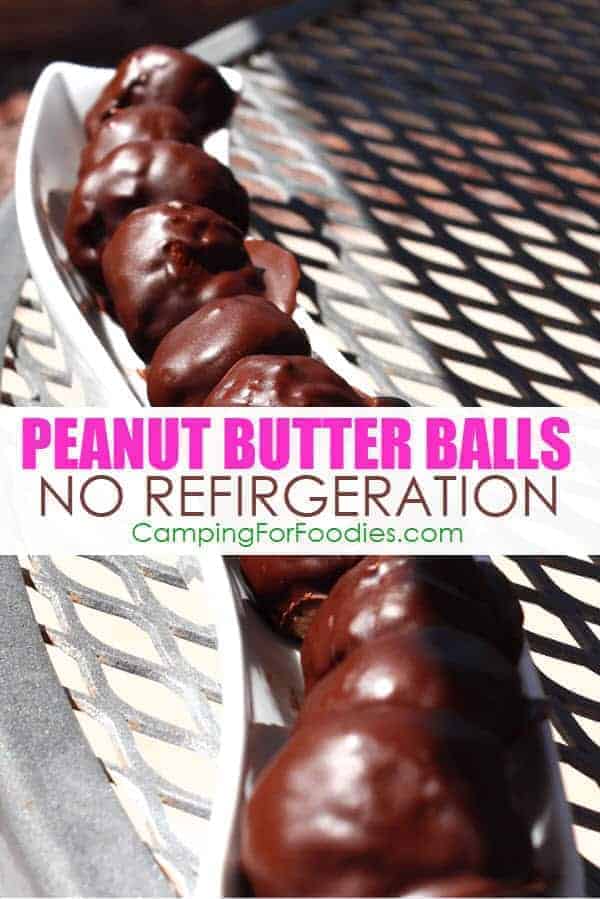 ---
Baked Goods On A Camp Stove
Many desserts are baked in an oven with heat that is circulated around the bottom, up the sides and over the top.
If you are using a camp Dutch oven to bake your desserts on top of your camp stove, you will need a Dutch oven dome and heat diffuser plate to properly circulate the air above and below the oven.
Camp Chef Dutch Oven Dome
---
Dutch Oven Carrot Cake
You actually can make a from-scratch carrot cake at your campsite! This cake is so moist and has a yummy cream cheese frosting. The shredded carrots and raisins add moisture while the pecans add texture to this cake that only takes 15 minutes to prep and 40 minutes to bake.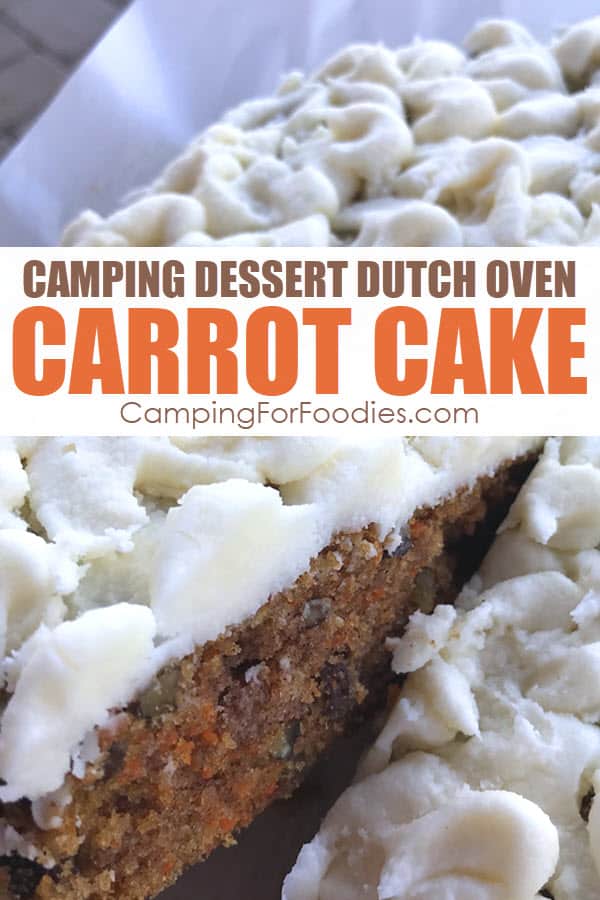 ---
Dutch Oven Blueberry Cobbler
Cobbler is so simple and yummy! This easy recipe uses fresh blueberries and can be baked with your camp stove, Dutch oven dome and heat diffuser plate. The secret ingredient that makes this dessert so good is orange juice!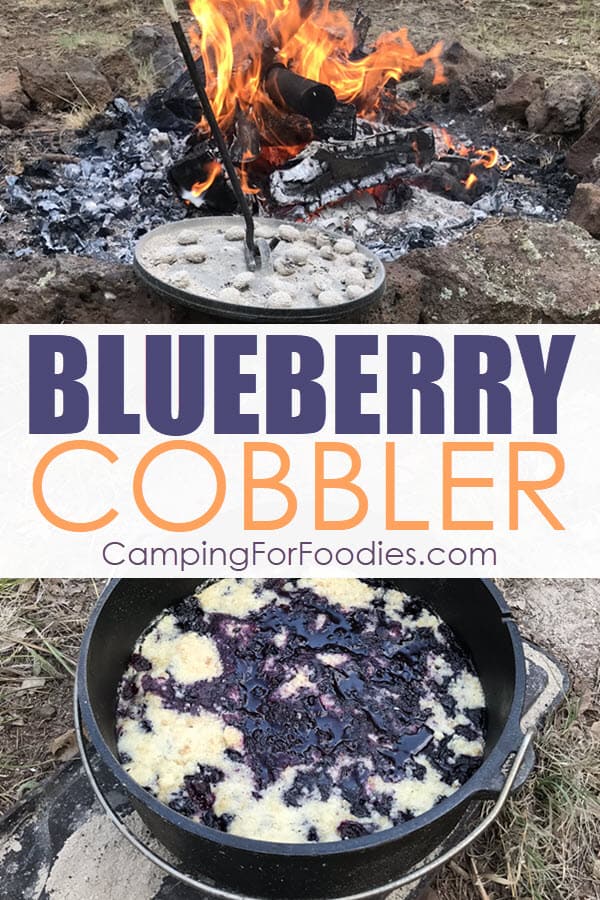 ---
Camping Smores Dutch Oven Brownies
Baking usually happens with a Dutch oven using campfire coals or charcoal briquettes but you can also bake on your propane stove if you have a Dutch oven dome and heat diffuser plate! These FANTASTIC brownies start with a boxed brownie mix and are made into a s'mores flavored treat by adding broken-up graham crackers and mini marshmallows.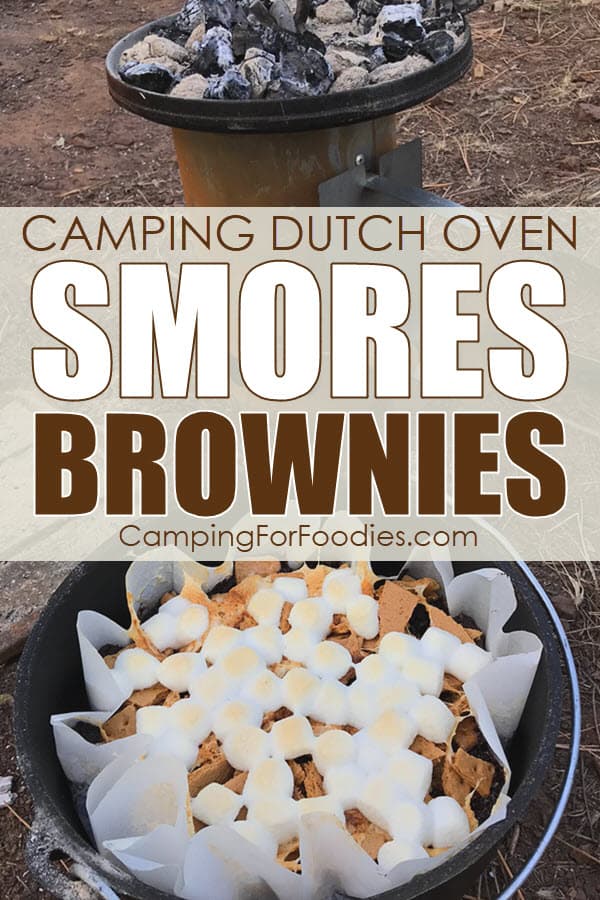 ---
Sauce Recipes Made On Your Camp Stove
Kansas City Style Homemade Old Fashioned Molasses BBQ Sauce
You can make fast and easy barbeque recipes on your camp stove. Use a grill pan to cook your favorite meat … beef, pork and chicken all work well … as long as the cut is not too thick. Then, slather it with a sweet and tangy BBQ sauce like this Kansas City style homemade molasses bar-b-q sauce recipe. Get more homemade BBQ sauce recipes including mustard flavored, Sriracha flavored and more.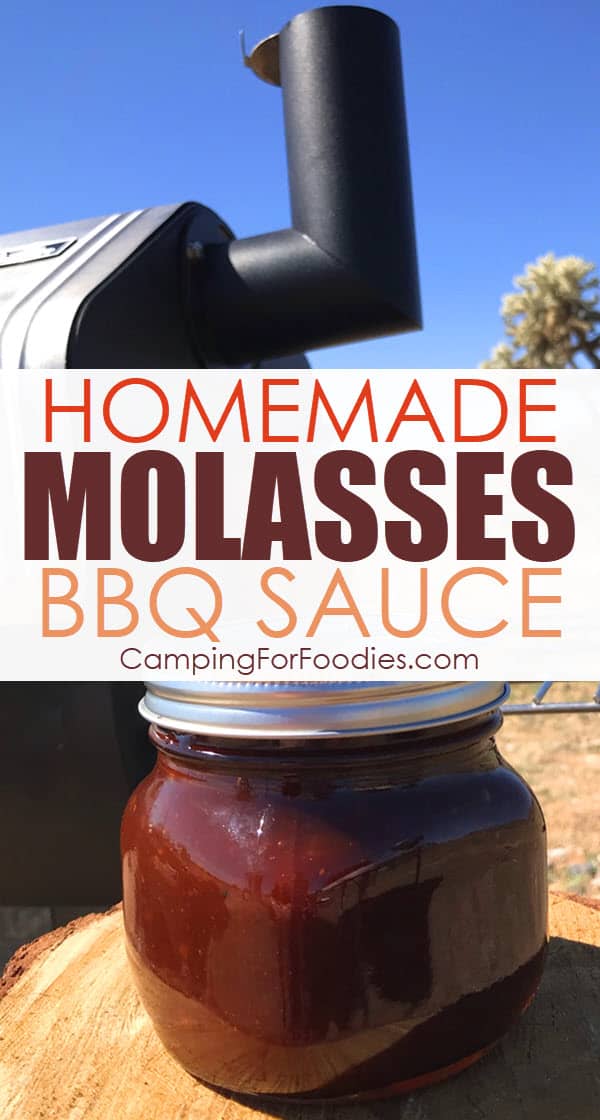 ---
Beverages
Campfire Hot Cocoa
Even in the middle of summer, this campfire hot cocoa is a real treat! You make the mix ahead of time and just use individual servings as you need them. Simply heat the milk over your stove or campfire then stir with some cocoa mix in a mug … sit back, sip and enjoy!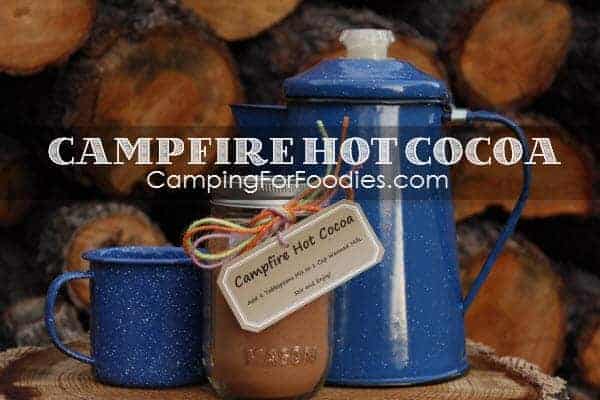 ---
Your Propane Tank Is Empty, Now What?
---
More Camp Meal Ideas