77+ Easy Dutch Oven Camping Recipes (BEST Delicious Meals For Campfire Cooking)
No trip is complete without great camping food!
Our Dutch oven camping recipes make camp oven cooking easy!
Psst we're compensated…see our disclosures.
Breakfast Recipes
Blueberry Lemon Muffins
Fresh lemon and blueberries create these amazingly delicious, slightly sticky muffins that just might make you forget your table manners and lick your fingers! Make a quick batter and pour it into foil cupcake liners to bake these beautifully imperfect muffins.
---
Tomato And Avocado Frittata
Camp breakfast ideas, like this frittata, are my favorite because everyone can eat at the same time rather than cooking individual eggs to order. The combination of tomato, avocado and cheddar cheese please my camping crowd every time I serve this yummy breakfast.
---
French Toast
The warm flavors of cinnamon, nutmeg and cloves, make this French toast the perfect breakfast on fall and winter camping menus. Drizzle the sweet powdered sugar glaze and your meal is served! Much of this recipe can be prepped-ahead so you just have to "dump and bake" at camp.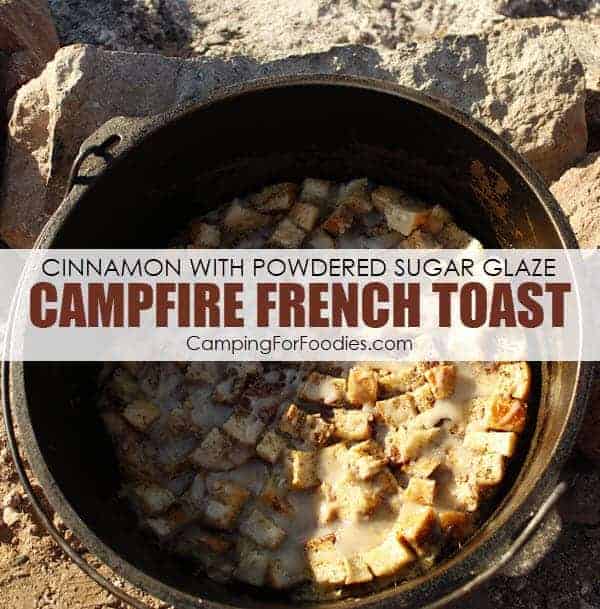 ---
Mountain Man Breakfast
Our mountain man hearty breakfast recipe is cheesy, meaty and moist! The hot breakfast sausage, green chilies and cheddar cheese create slightly spicy flavors with a nod to the American southwest. With eggs and hash browns added to the mix, this is truly a one pot breakfast that is hearty enough to keep you satisfied until dinner!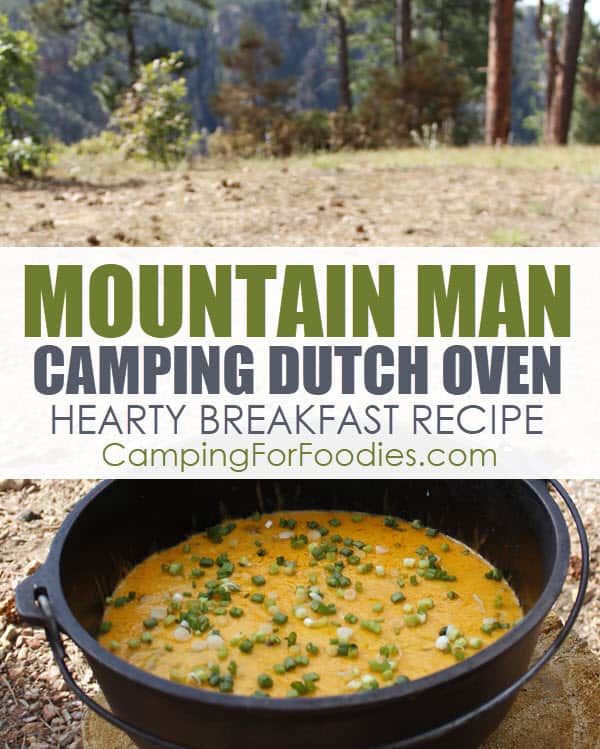 ---
Lemon Blueberry Topped Dutch Baby
Dutch baby recipes are really easy to make in camping ovens. Just mix up a simple batter, pour into the pot and bake till puffy. This one features fresh blueberries tossed in lemon and sugar to create a slightly sweet topping making a great go-to breakfast or fabulous camping dessert.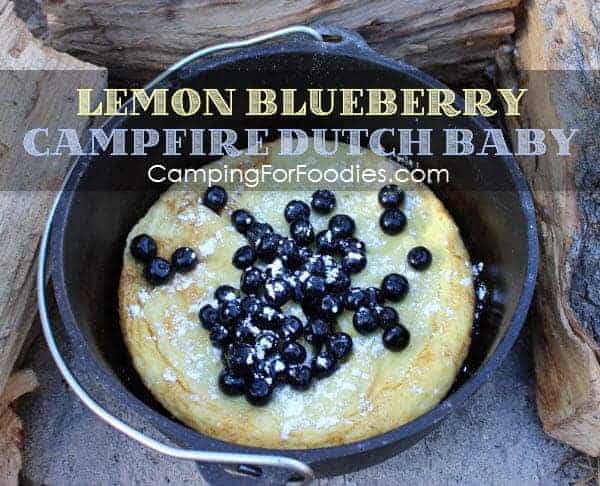 ---
Campfire Donuts
These donuts only use 3 ingredients and take mere minutes to make. They are made with refrigerator biscuit dough. Just cut a circle in the center to create the doughnut shape and doughnut holes, then fry and enjoy this warm sweet treat for breakfast or dessert!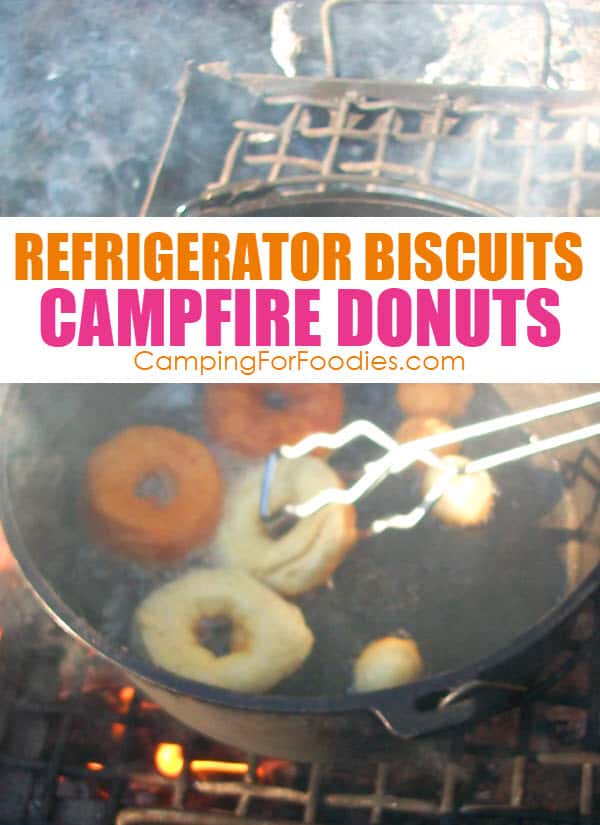 ---
Dutch Oven Egg Bake
This egg bake requires NO chopping and is a simple recipe that is put together in a flash when you are cooking with hot coals from a morning campfire. It's one of our camping breakfast ideas that includes eggs, breakfast meat and potatoes all in one pot.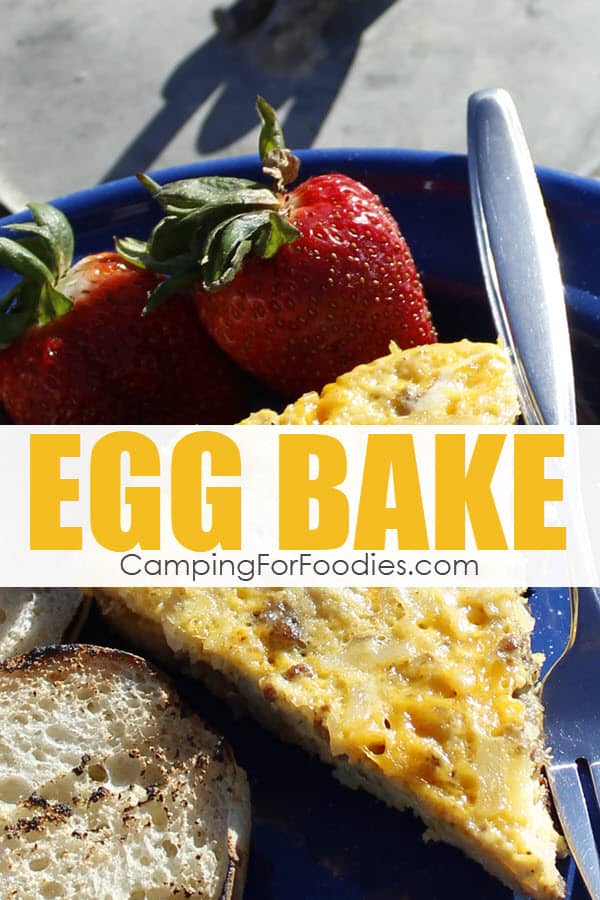 ---
Camp Chef Dutch Oven Carry Bag
---
Breakfast Burrito Camping Recipe
Camp fire cooking doesn't get much easier than throwing a pot over fire and quickly cooking up chorizo, eggs and cheddar cheese to wrap in tortillas for breakfast. Cook these burritos using a cast iron skillet or oven to make one of the best easy camping meals.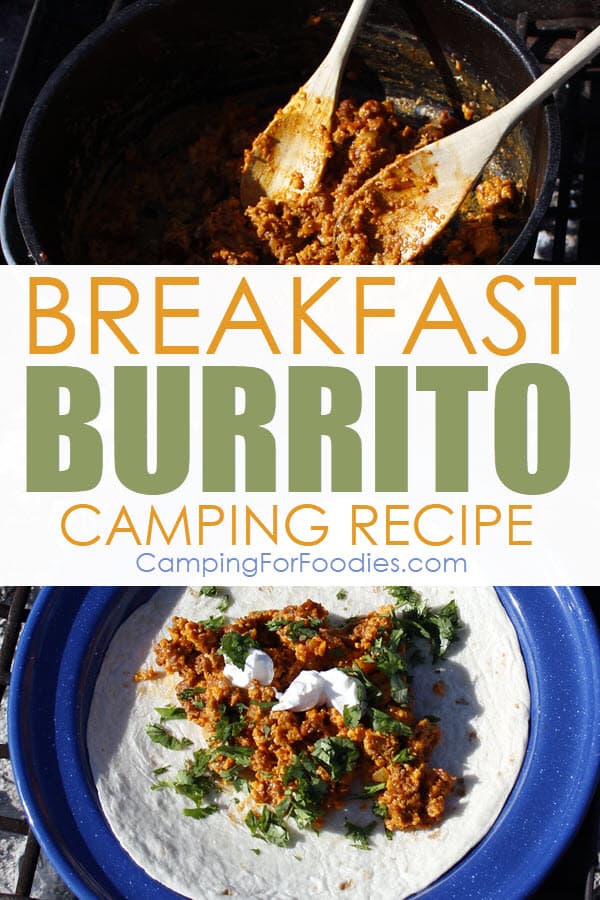 ---
Bacon Scramble
We took ordinary scrambled eggs and turned them into a gourmet recipe for breakfast by adding a bit of bacon, onion, tomatoes, spinach (yes, I said spinach) and cheddar cheese to make this fantastic bacon scramble that will be on your table in 30 minutes!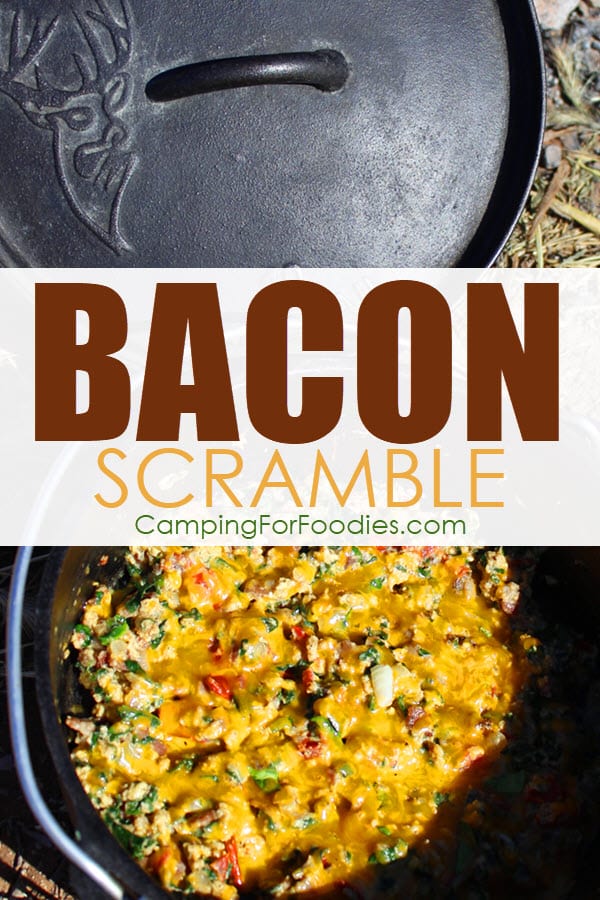 ---
Dutch Oven Scrambled Eggs
These basic scrambled eggs are jazzed up just a bit with onion and cheese. This super simple breakfast can be cooked using the heat from a campfire, charcoal briquettes or propane stoves like your camp stove or RV stove.
---
Coffee Cake
The best part about making this coffee cake for breakfast is having leftovers later in the day! The cinnamon and brown sugar are not overpowering and the powdered sugar is a nice finishing touch to this cake that takes about a half hour total time!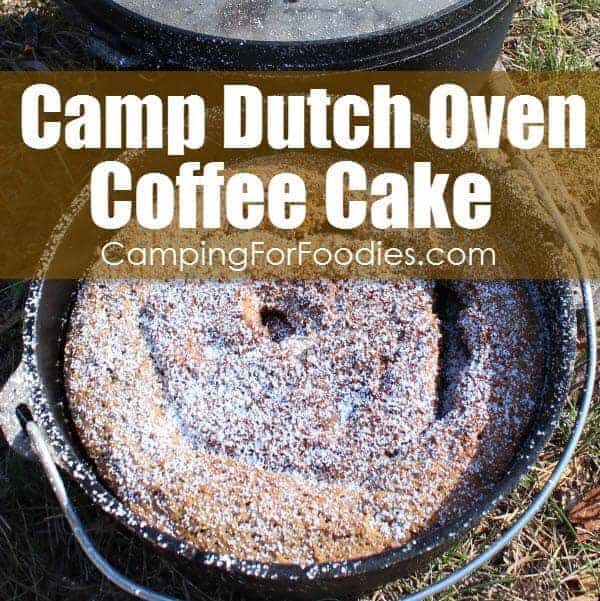 ---
Breakfast Pizza
Looking for breakfast camping meals camping kids will get excited about? Try pizza! This cornmeal batter crust is topped with ham, cheese, green onions and tomatoes. If I'm cooking for a bigger crowd, I make this pizza and coffee cake so they stack-bake at the same time.
---
Savory Dutch Baby
Got bacon and cheese lovers in your camp crowd? This savory Dutch baby is soooooo good and easy too! You don't even have to serve it with forks because you slice it like a piece of pizza and enjoy the slightly crispy crunch of the pancake-like crust.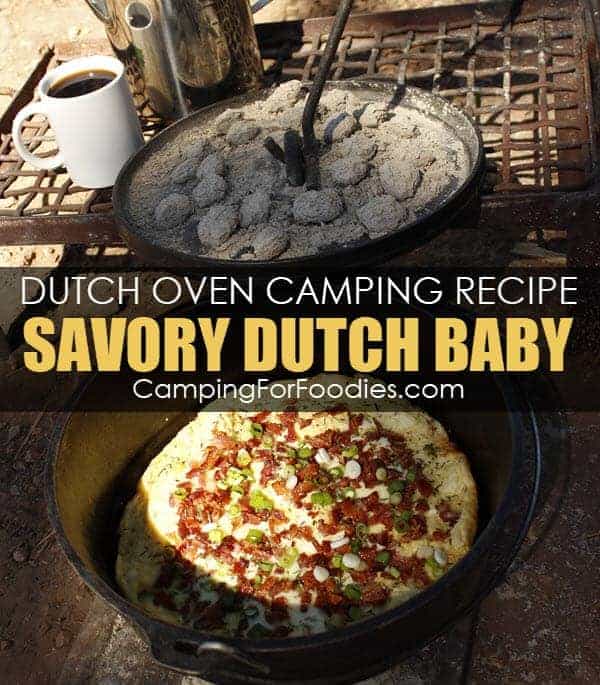 ---
Southwestern Breakfast Casserole
This breakfast casserole is one of our favorites boasting Southwestern flavors that come from the chorizo sausage, colby jack cheese, green chilis and cilantro. It will make you jump out of your sleeping bag when your food is this flavorful!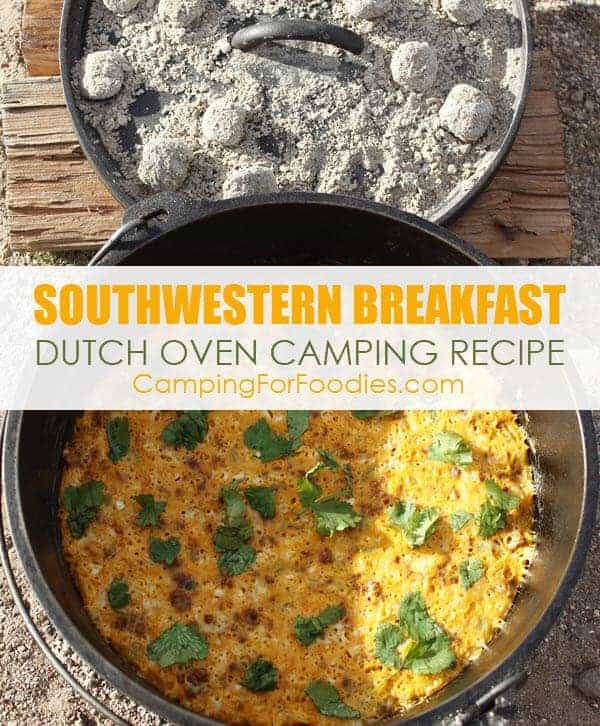 ---
Eggs Baked In Avocados
Do your outdoor cast iron cooking meals look like art? These breakfast eggs in avocados have to be one of the cutest breakfast camping recipes of all time! You just slice the avocados, remove the pits, crack in an egg, top with some seasonings and bake!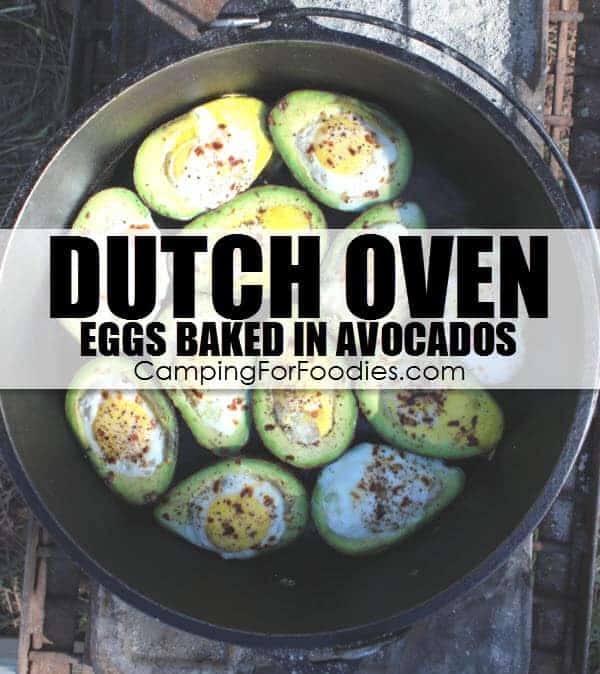 ---
Bacon And Cheese Quiche
Do you know what to cook for lunch? Quiche! My husband thought quiche should only be served at "lunch for ladies" until he tried this recipe with bacon and cheese. I have NEVER met a person who loves bacon as much as my husband does! LOL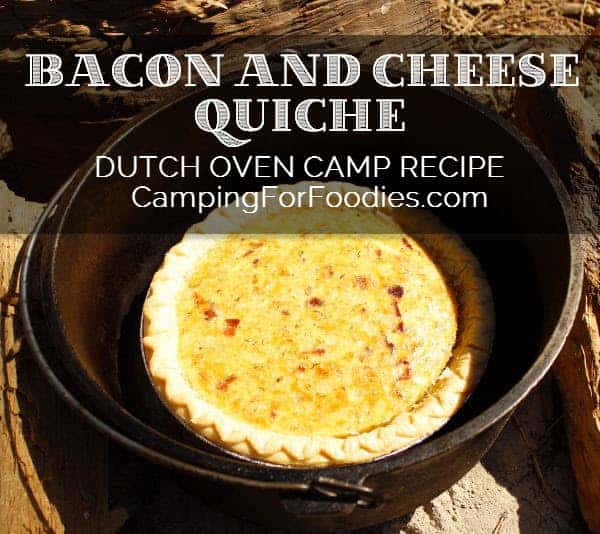 This quiche takes a bit more effort than our other easy camping lunches but it is worth it! When I am making camping meals for two, I prepare this quiche for a hot breakfast … refrigerate the leftovers and then serve it cold the next day with a nice side salad for lunch or a light dinner!
---
Lodge Camp Dutch Oven Lid Lifter
---
Appetizers And Snacks Recipes
Camping Nachos
Want to know what to make when you need a Mexican-themed camping appetizer? Here it is! Campfire cooking doesn't get any easier or more fun than these tasty nachos that only take 5 minutes prep time and 15 minutes to cook! This delicious recipe is the perfect starter to a meal featuring your favorite Mexican food.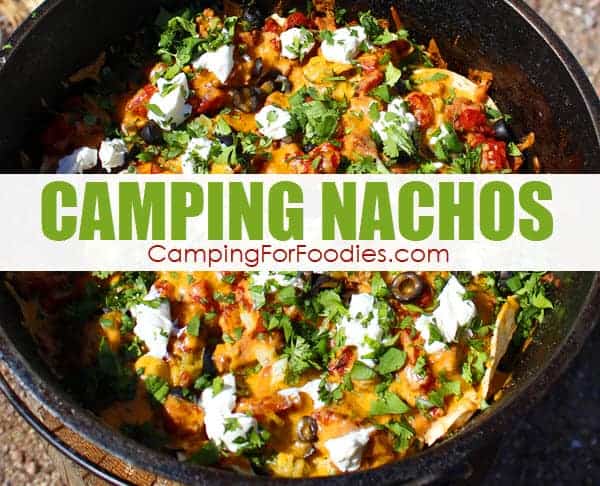 ---
Hot Cheesy Spinach Artichoke Dip
Do you know what to cook for camp parties? This hot dip! It is packed with flavor from the cheese, spinach and artichokes. Serve it with crackers and baguette bread slices for dipping. It's great for happy hour snacks and camping potlucks!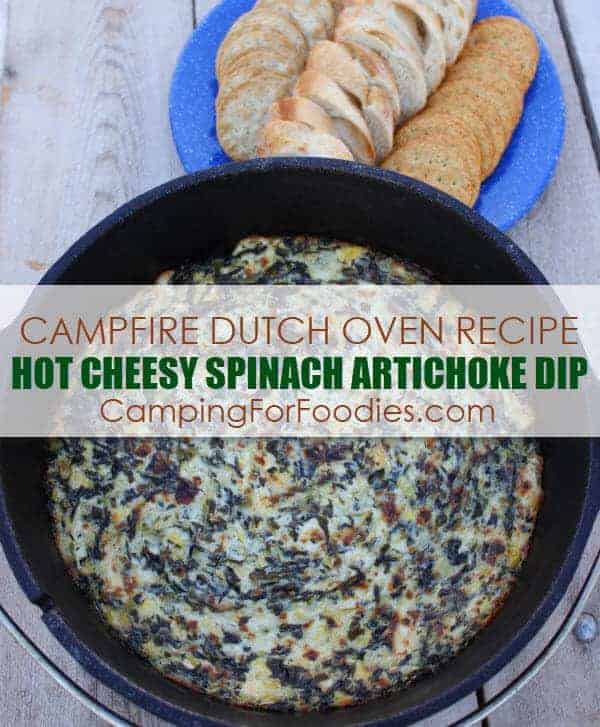 ---
Stuffed Baby Bells
You can't eat just one when it comes to enjoying these stuffed baby bells appetizer bites. Mix a bit of Italian sausage, garlic, onion, cheddar and cream cheese to stuff into baby bell peppers and bake for an AMAZING treat. These little gems will disappear right before your very eyes!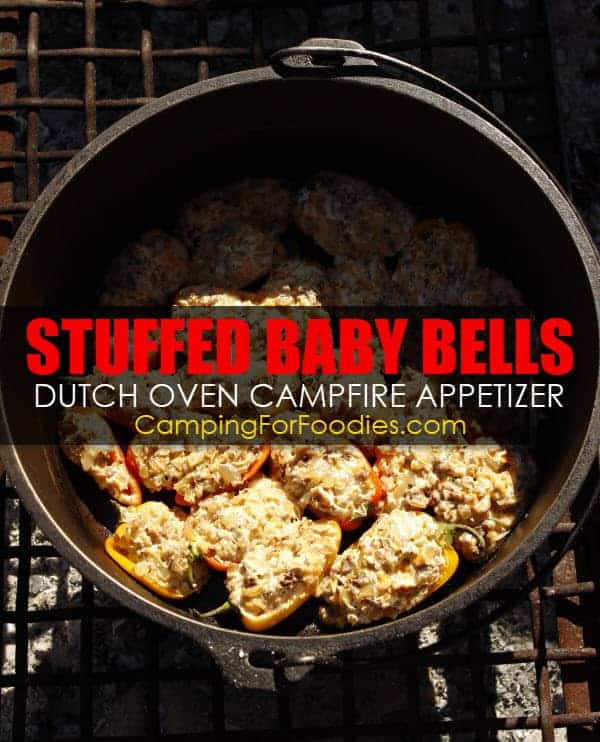 Get more ideas to make yummy camping snacks like Strawberry Basil Bruschetta, Fresh Guacamole, Rosemary Spiced Nuts and more!
---
Side Dish Recipes
Classic Sage Sausage Dressing
When you're making big dinners for camping holiday events, like Thanksgiving, you are probably making camping food for a crowd along with a bunch of other menu items. A serving of sage and sausage stuffing is one of our must-have camping side dishes in the fall.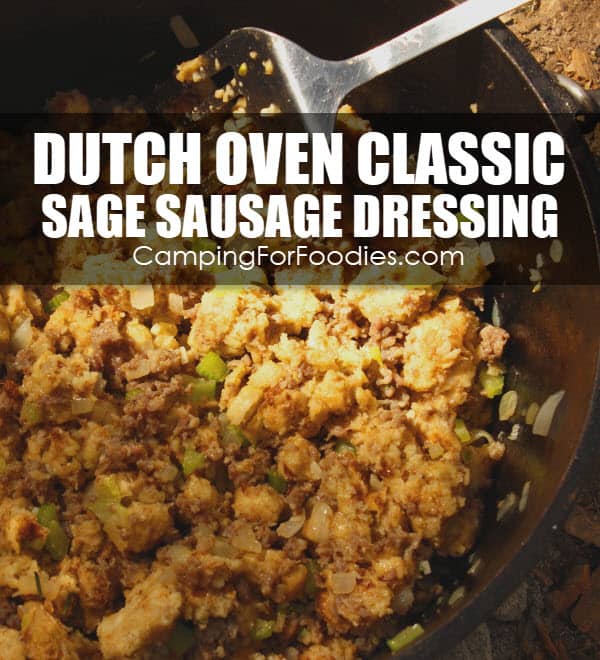 ---
Mac And Cheese
This mac and cheese is one of the most comforting easy camping side dishes to indulge in at the campsite. It's made with processed cheeses for simplicity and reduce the amount of cold storage space required for the ingredients! Pair it with a quick grilled burger or hot dogs and dinner is served!
---
Dinner Recipes
With over 30 camp oven recipes for dinners, you can make a new meal every day of the month without repeating a recipe!
Chicken
Easy Dutch Oven Chicken Pot Pie With Refrigerated Biscuits
This filling and hearty semi-homemade chicken pot pie is really simple because of the fluffy upper-crust that is made using refrigerated biscuits. Another shortcut comes from the frozen mixed veggies that are already chopped for you!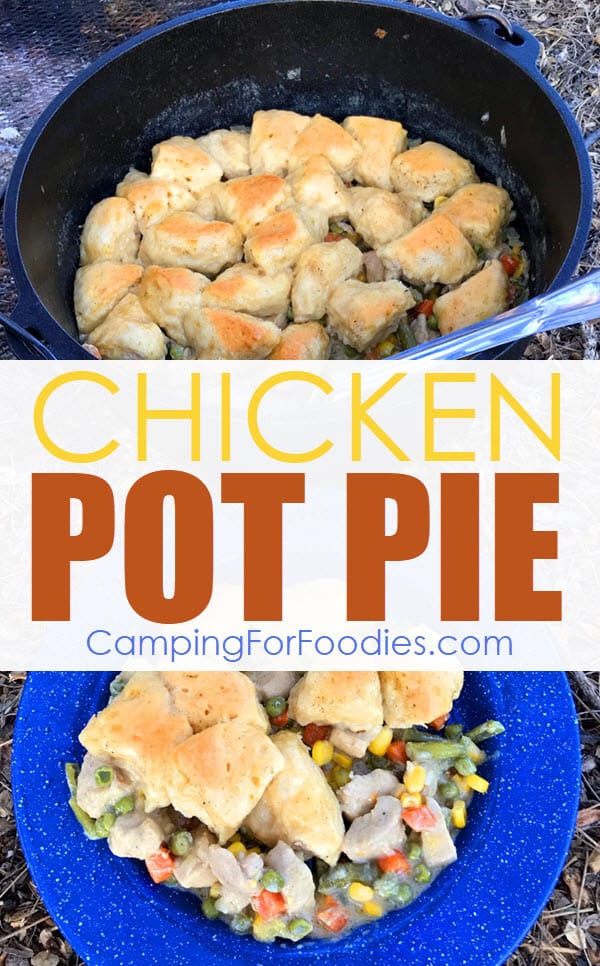 ---
Dijon Mustard Sauce Chicken
A super-simple way to dress up a standard budget-friendly chicken breast without a lot of effort is with this easy Dijon mustard sauce recipe. Making a fast pan sauce is one of my favorite ways to elevate meat when cooking at camp.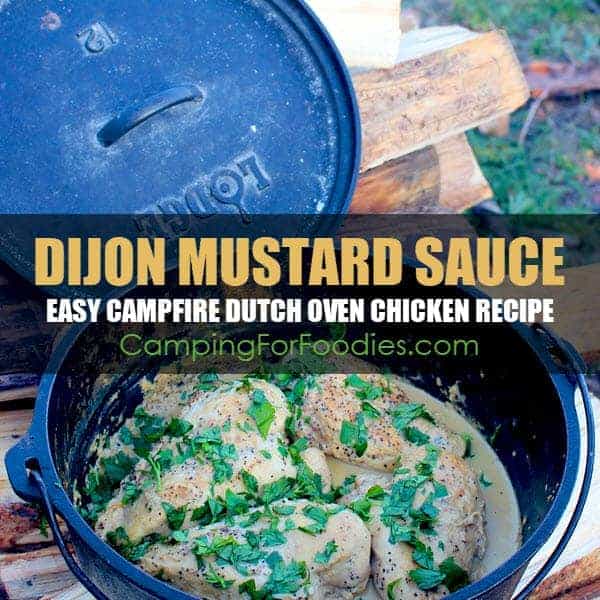 ---
Dutch Oven Chicken And Potatoes
You gotta love one pot camping meals you can cook over a campfire or on a camp stove. This yummy dinner combines chicken, potatoes and carrots in one Dutch oven. We add a bit of bacon to create tons of flavor with minimal effort.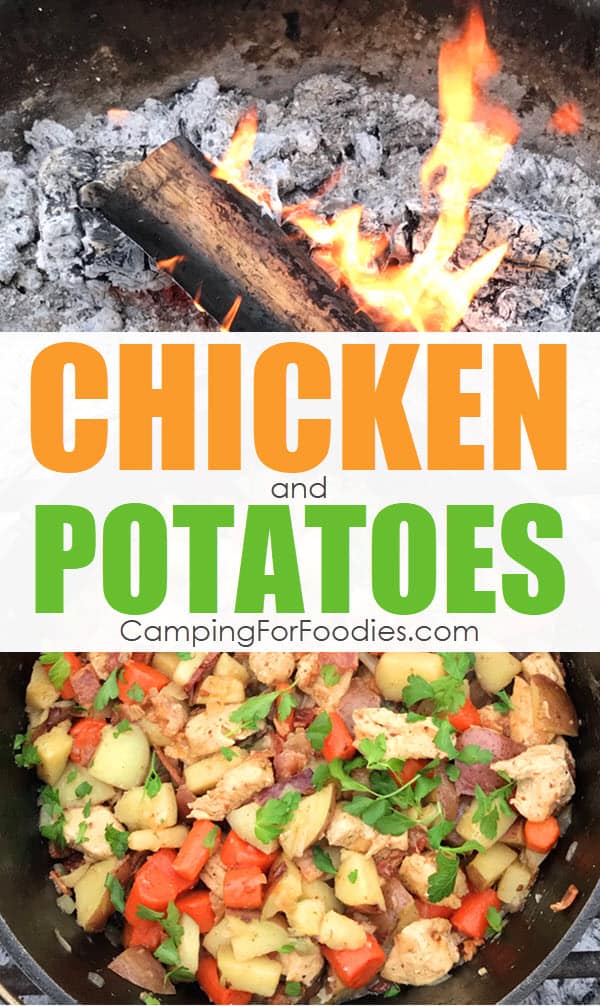 ---
Chicken Enchiladas
If you like ooey, gooey, cheesy Mexican food, you're going to agree: This is one of the best camping dinners! These simple enchiladas start with pre-cooked shredded chicken and a prepared sauce. Chop some onion, stuff the tortillas and in 10 minutes, this meal is ready to bake.
---
Thai Chicken Recipe
Thai chicken is the best dinner if you want to just "dump, simmer and serve" at the campsite because it is one of our awesome make ahead camping meals! This recipe uses coconut milk, peanut butter and a blend of spices making ordinary chicken taste amazing!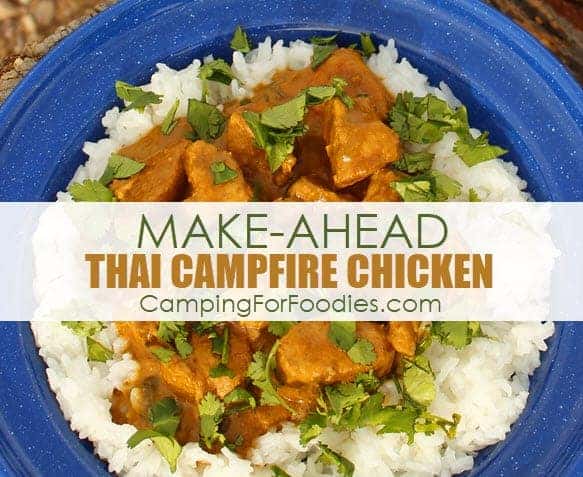 ---
Latin Chicken
You'll find a new favorite one pot camping dinner when you try this Latin chicken recipe. It includes the black beans, chicken and potatoes all simmering together in a simple sauce. This is a great meal if you want to do campfire cooking tripod style or use a grate.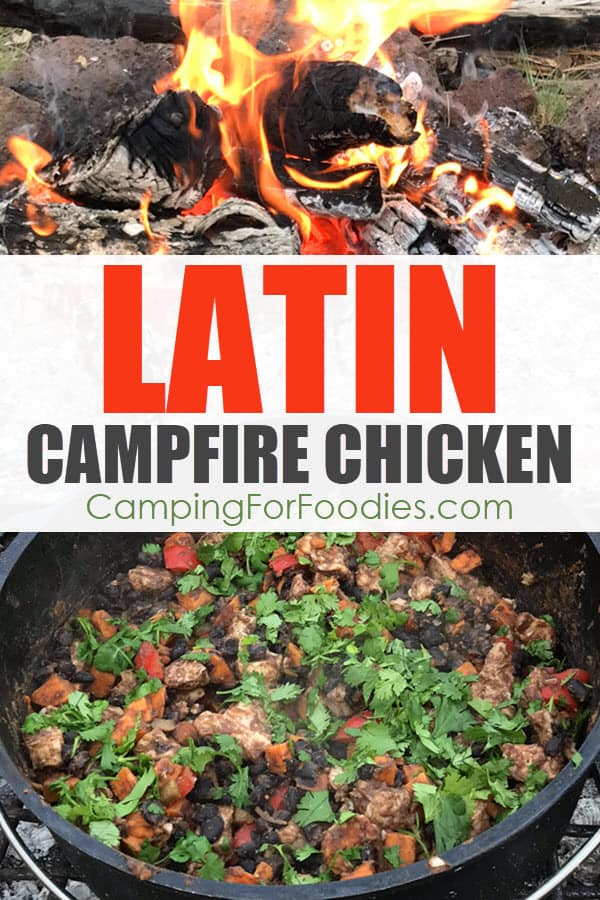 ---
Dutch Oven Chicken And Rice
The ultimate dinner ideas from the Midwest include casseroles! When you want a really warm and hearty comfort food meal at camp, try this baked chicken and rice casserole that is super easy and doesn't use canned soup … the creaminess comes from cream cheese!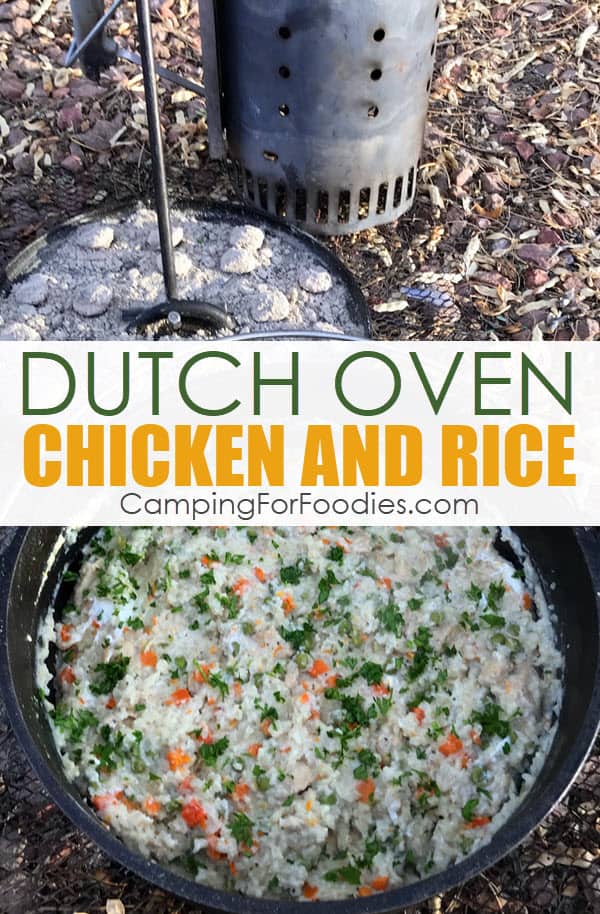 ---
Camp Chef Lumberjack Over Fire Grill
---
Camp Oven Chicken Curry
Enjoy this almost-gourmet camp meal without a ton of work! The curry and coconut milk in this dinner do the job of bringing big flavor to this yummy meal! For my family, this is one of the most requested camping dinner recipes they always crave.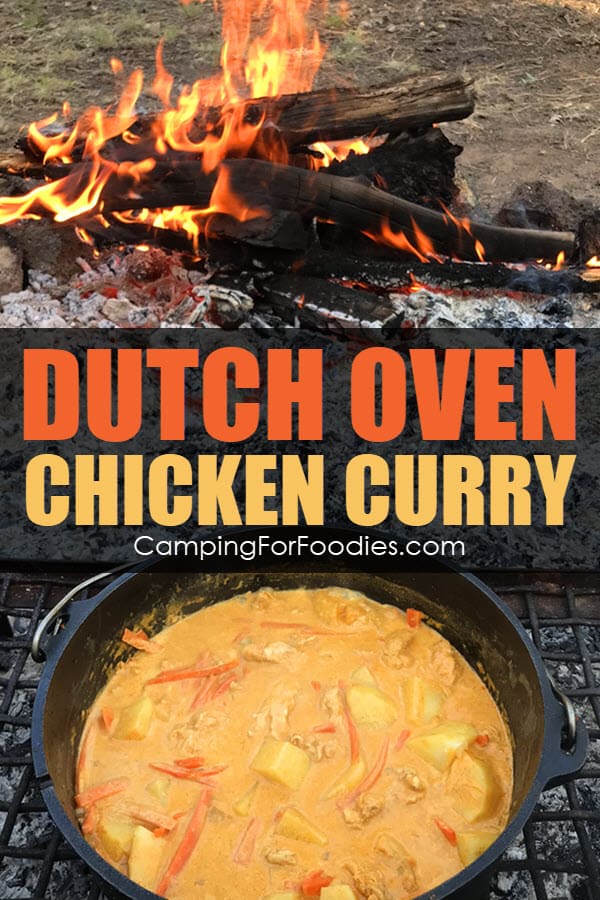 ---
Middle Eastern Inspired Chicken
It is so refreshing to do flavors from around the world at your campsite! Carla, a reader, made a comment about the guy who was shocked to find out he was eating fruit and loved it after she served him this Middle Eastern inspired chicken with dried apricots and dates.
---
Italian Chicken Cacciatore
When you're in the mood for simple Italian dishes offering healthy alternatives to using a sausage-based meat sauce, try chicken cacciatore. It is one of those easy dinners for camping because you chop everything at home, throw it into a freezer bag then dump and cook at camp.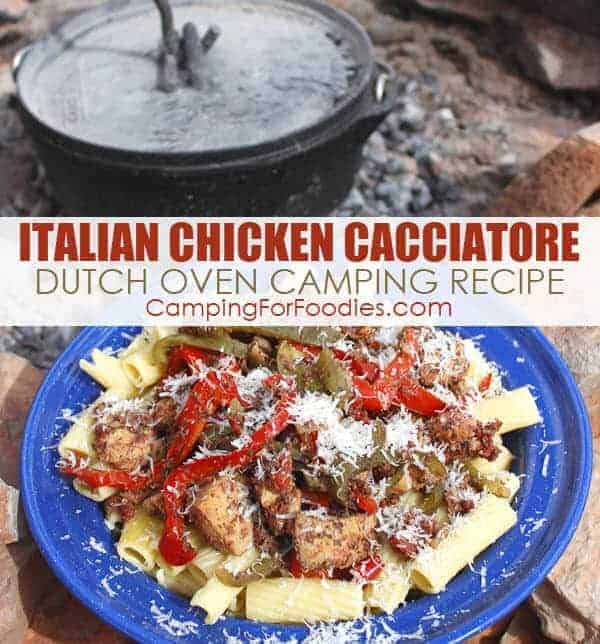 ---
---
Lemon Feta Chicken
You gotta love using an inexpensive protein, like chicken, for cooking at the campsite. These subtle and fresh Greek-inspired flavors come from the garlic, lemon juice, kalamata olives and feta cheese to perk-up basic chicken. This dinner only takes 15 minutes to prep for cooking!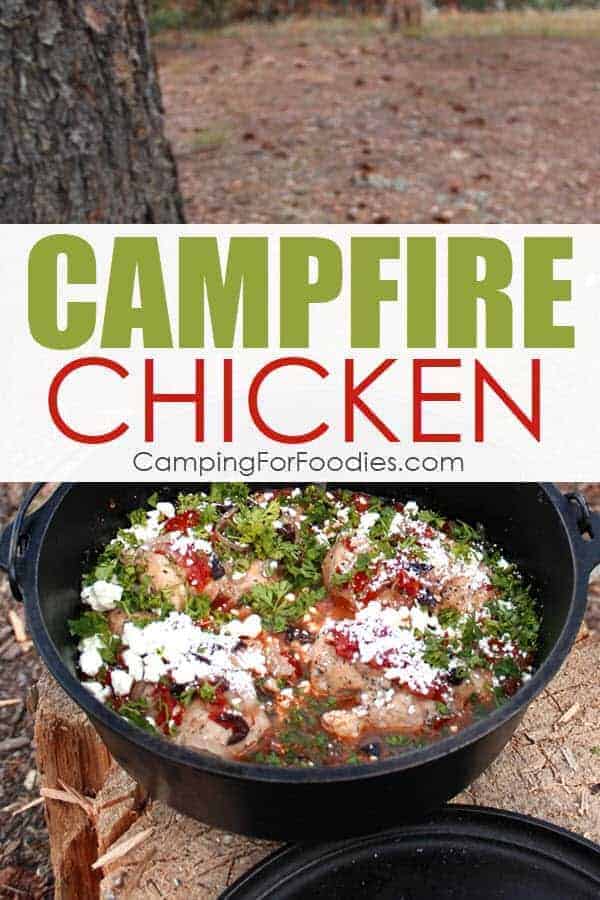 ---
American Chinese Chop Suey
You don't have to miss your favorite Chinese takeout meal while you are camping! This chicken chop suey is made from readily available, simple ingredients you can find in your local grocery store!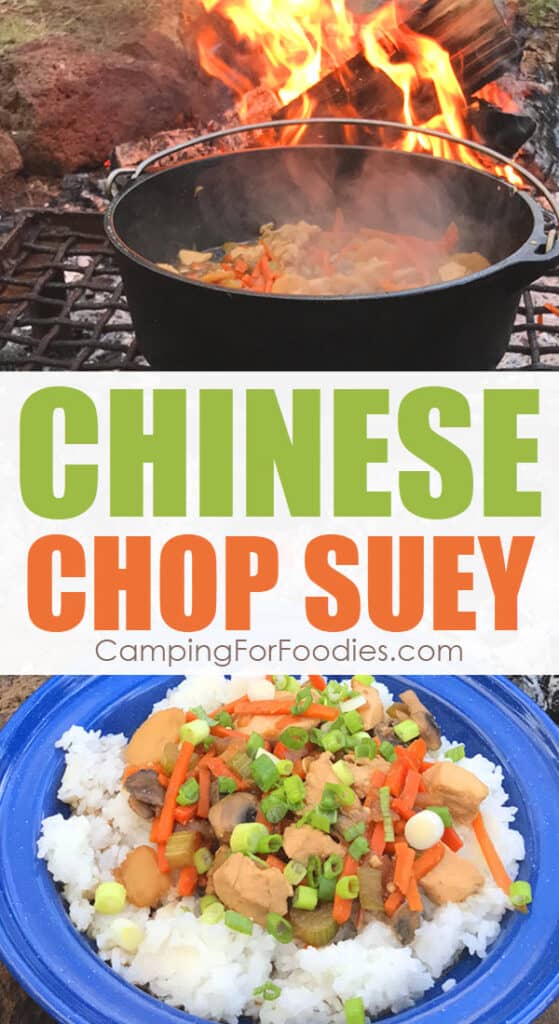 ---
Dutch Oven White Chicken Chili
We love making chili on our camping trips. This version is a white chili made with cubed chicken breast meat and great Northern beans. The thick and creamy texture is easily achieved with cream cheese. It has a slightly Mexican flavor profile from the cumin, green chiles and cilantro. This one is a keeper!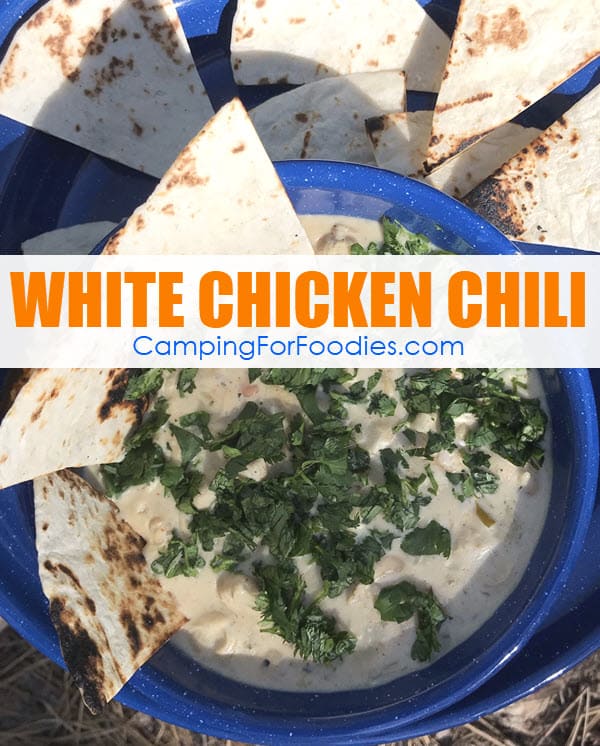 ---
Beef
Dutch Oven Beef Sandwiches
If you have 2 minutes and 3 basic ingredients, you're ready to make this easy camping recipe that requires NO prepping! The beef roast is made really tender with a low and slow cooking process. The mild peppers provide a tangy flavor with just a tad of heat.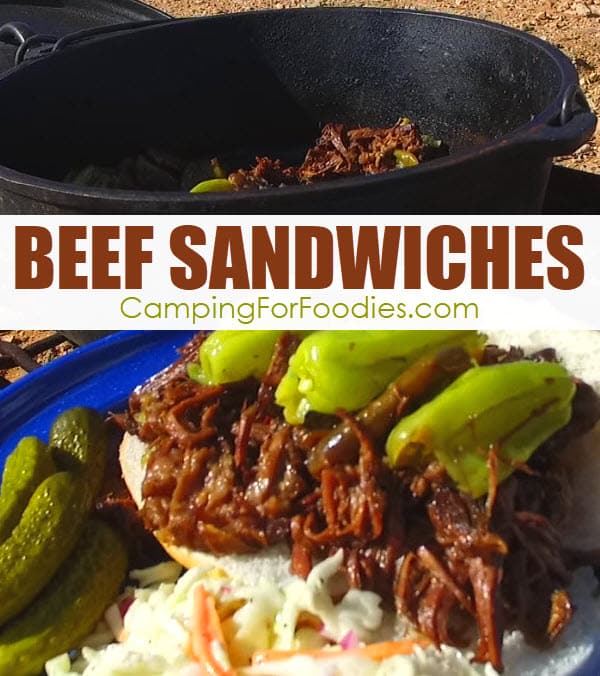 ---
Dutch Oven Chili Mac
This recipe uses beef, beans, tomatoes and cheese to create a great combination that offers a homemade classic comfort food one-pot meal. Finicky kids and fussy adults all love this warm and hearty dinner.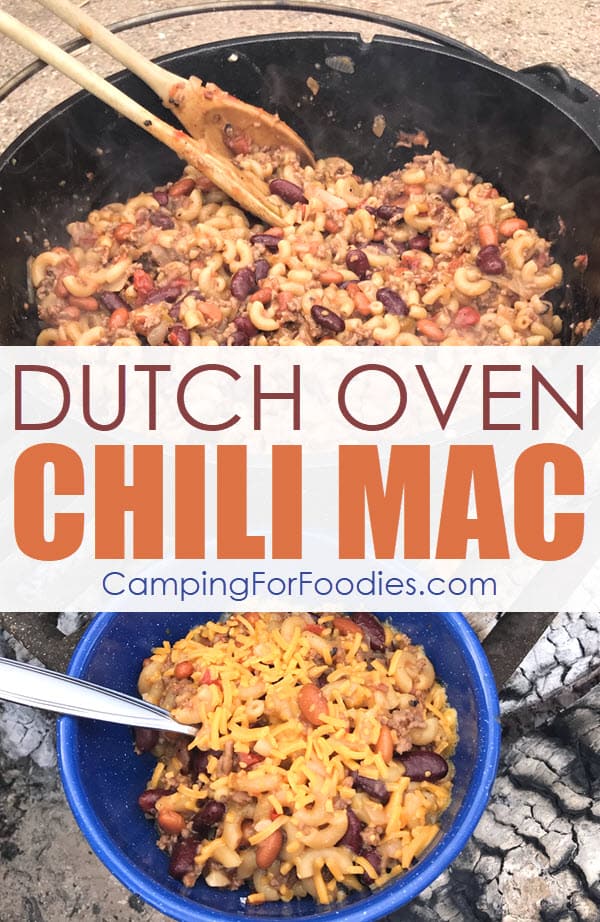 ---
Dutch Oven Steak
Using flank steak makes this recipe affordable, using a simple marinade makes it easy and tender, adding potatoes makes it a one pot meal. You are gonna LOVE this almost-gourmet dinner!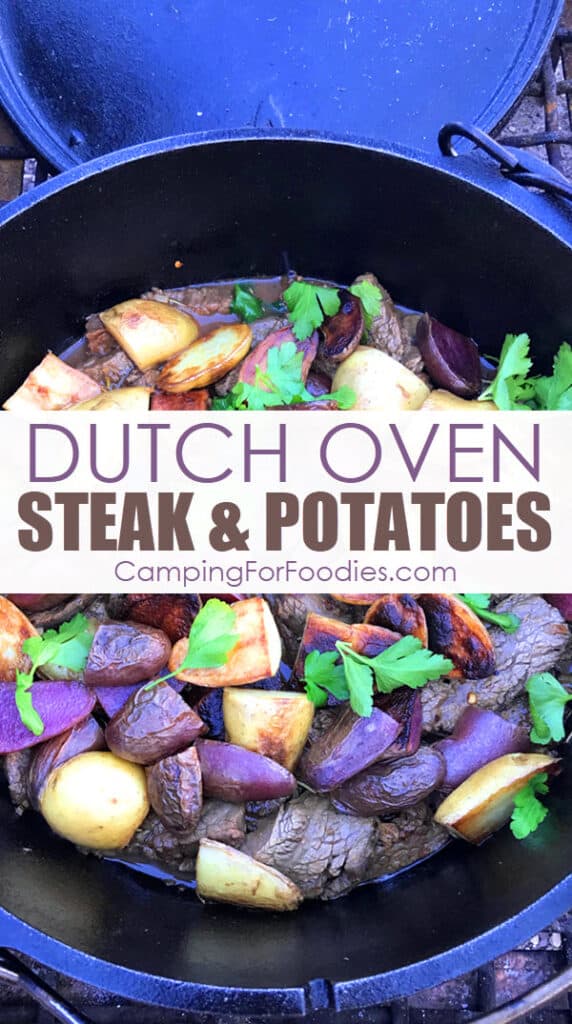 ---
Beef Stroganoff
This stroganoff is a quick and simple one pot meal that does not skimp on flavor! You'll brown strips of flat iron steak, sauté the mushrooms, onion and garlic add some beef broth and boil the pasta then mix in a bit of sour cream and voila … it's dinnertime!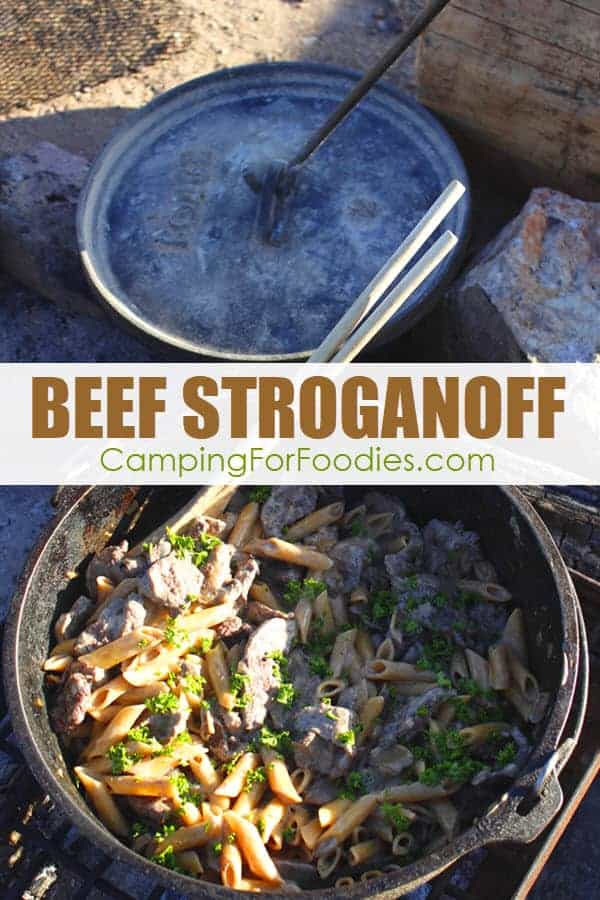 Cast iron campfire cooking recipes can be set up two ways. You can use your tripod over fire pits to hang your vessel over the heat or you can place it directly on a stationary camp fire grate that is set on the fire pit floor or attached to a camp fire ring.
I prefer stationary grates when I'm cooking my easy campfire recipes in windy conditions, like you can see in the video of me making my beef stroganoff recipe. In calm conditions, I like using a tripod like I did when I made my stew video.
Heavy Duty Over Fire Camp Grill Grate
Adjustable Camp Tripod, 40 to 60-Inch
---
Campfire Stew
When it comes to warm and hearty camp oven suppers, this beef stew camping recipe gets 5 STARS! It has a thick tomato-based sauce and veggies that are cooked together with cubed beef chuck that gets fork tender! It's a lip-smacking one pot camping meal you'll love! I like using the tripod in our campfire cooking kit but I've also made this stew using an over-fire grill grate.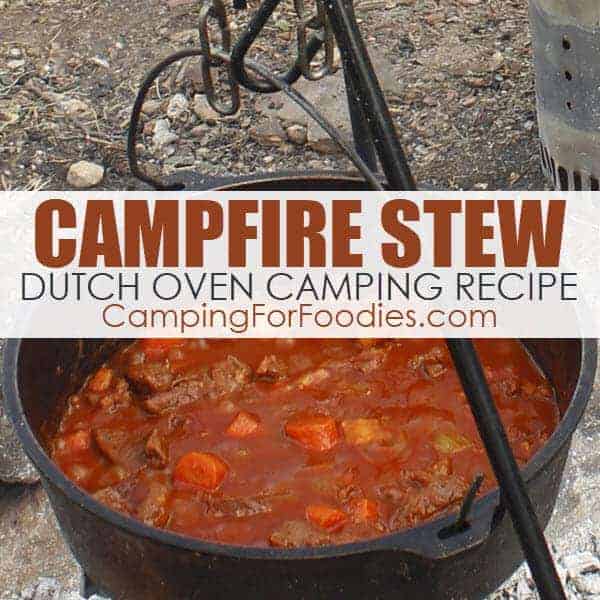 ---
Campfire Roast Beef
Camp cooking is really flavorful with very few ingredients, if you know which ones to use. This easy pot roast recipe cooks fork-tender roast beef over your campfire using beef broth, canned fire roasted tomatoes, canned green chile peppers and Mexican seasoning blend to flavor the beef roast and potatoes.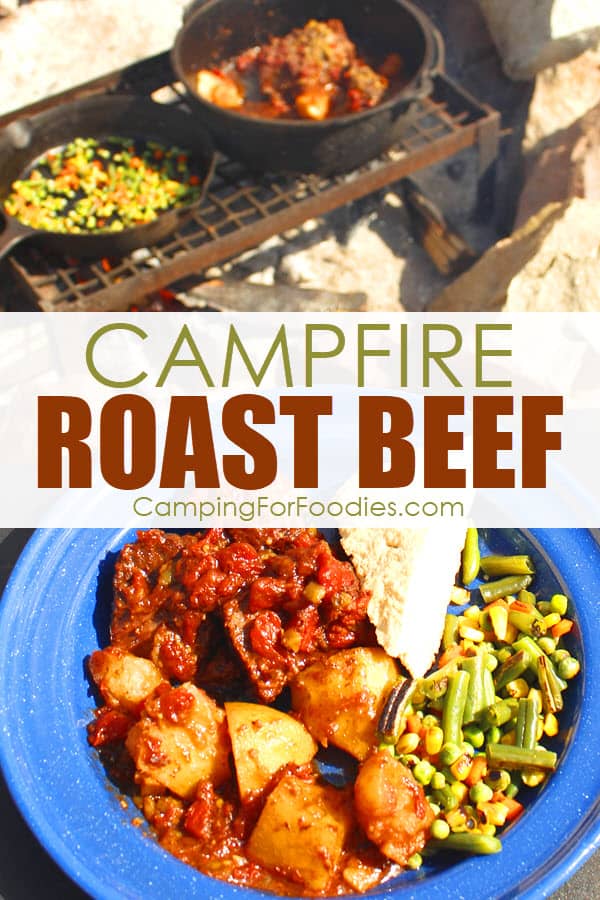 ---
Camping Tacos
Cooking with cast iron ovens doesn't mean you are slow cooking all day long. These super-fast tacos can be on the table in 20 minutes or less! And, you can cook them over a campfire, using charcoal briquettes or make them as one of our speedy camp stove recipes!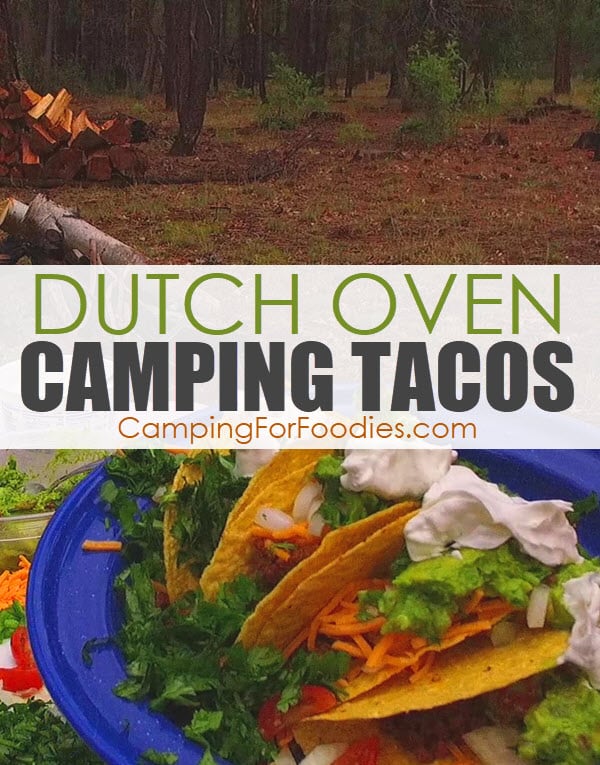 Camping Flexible Cutting Mats
---
Asian Beef And Broccoli
You can't get much faster when it comes to cooking camp dinners. This beef and broccoli make-ahead freezer meal uses apple cider vinegar to tenderize flat iron steak flavored with a blend of Asian spices. Do the prep at home, then "dump and cook" over your campfire!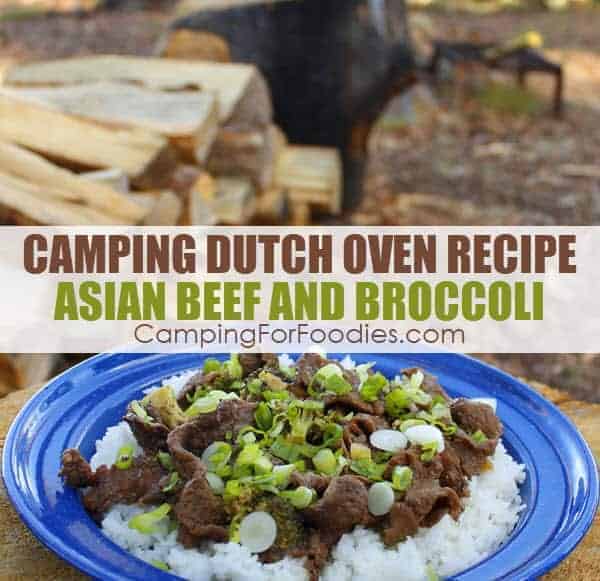 ---
French Dip Beef Sandwiches
Flank steak is transformed with simple ingredients to make this French dip sandwich which is a "dump and cook" meal prepped at home, then frozen in a freezer bag for quick defrosting and cooking at camp. It satisfies the hearty hot sandwich fan and low maintenance campsite cook!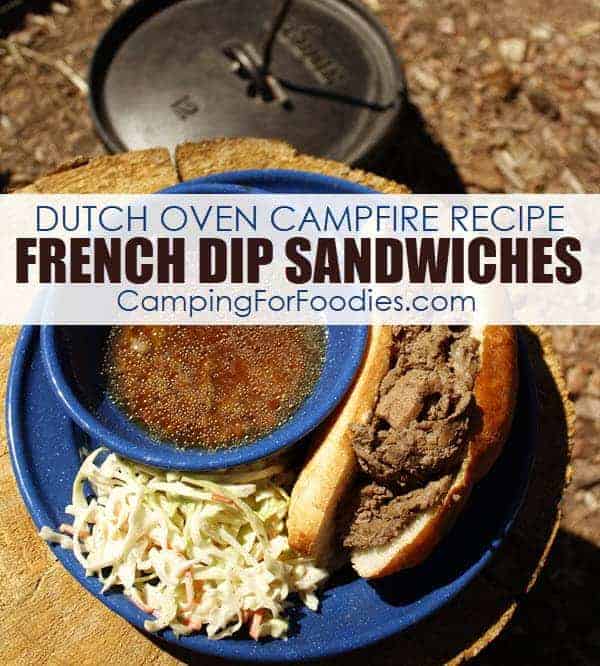 ---
Dutch Oven BBQ Ribs
These tender mouth-watering ribs require a little time and attention. The meat simmers in sauce about 6 hours, so, read a book or play a game of horseshoes around camp so you can easily maintain the charcoal briquettes or camp fire throughout the day. You won't be disappointed in these ribs!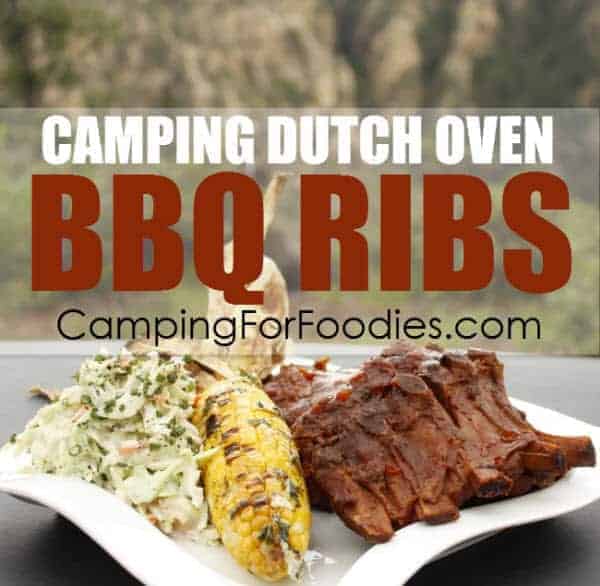 ---
Spicy Steak Chili
This chili WON'T have your camping crowd asking "Where's the meat?" Forget the hamburger, this recipe calls for steak! The chuck steak, bacon and beef stock are the start to a magical meal that has an amazing flavor combination of dried spices and black beans to create a hearty chili.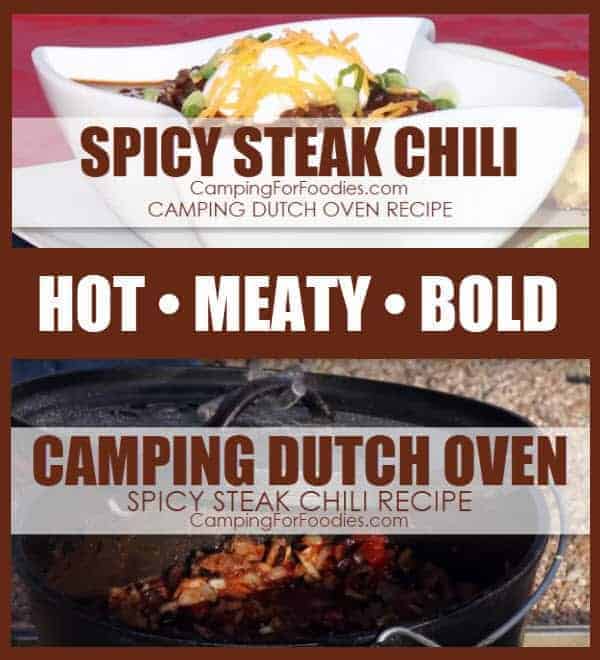 ---
Pasta
One Pot Creamy Cajun Chicken Camping Pasta
When you have pre-cooked chicken breasts ready to slice and drop into a quick pasta recipe, you can get a fantastic dinner on the table in minutes! This one pot dinner combines chicken and farfalle pasta with cream cheese, fire roasted tomatoes, some seasonings and a fresh jalapeno pepper to make a mildly spicy meal that is balanced with a rich and velvety sauce.
---
Dutch Oven Pasta Stuffed Manicotti
This recipe was designed for outdoor camp cooking with minimal effort, producing a restaurant-quality meal! You'll be amazed at how delicious these simple ingredients taste. Just combine Italian sausage, three types of cheese, jarred spaghetti sauce and fill the manicotti noodles to bake in sauce.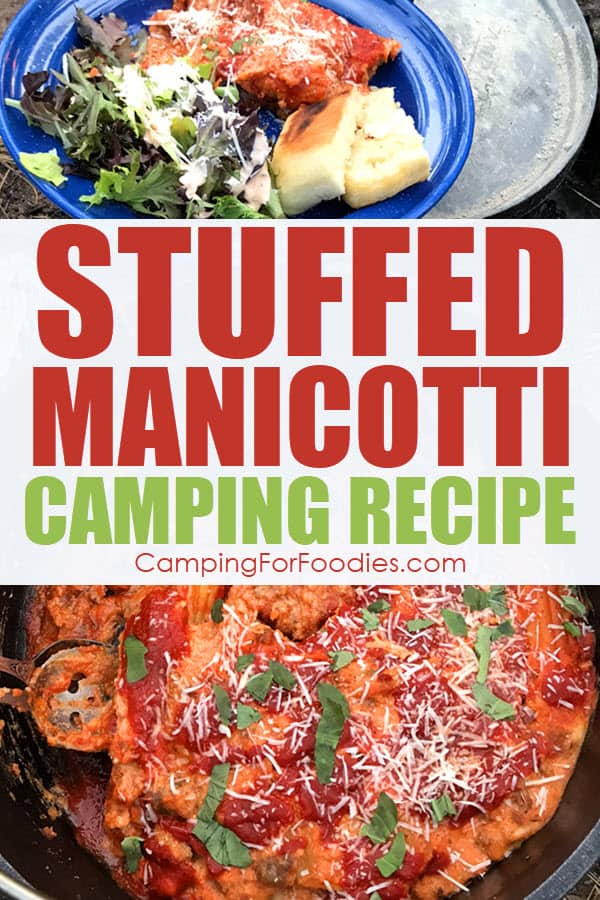 ---
Goulash
Want warm comfort food for cold weather trips? This goulash is one of our dinners cooked using a campfire grate or tripod. If you need an alternative to open fire cooking, it can be one of those simple meals cooked over a camping stove too.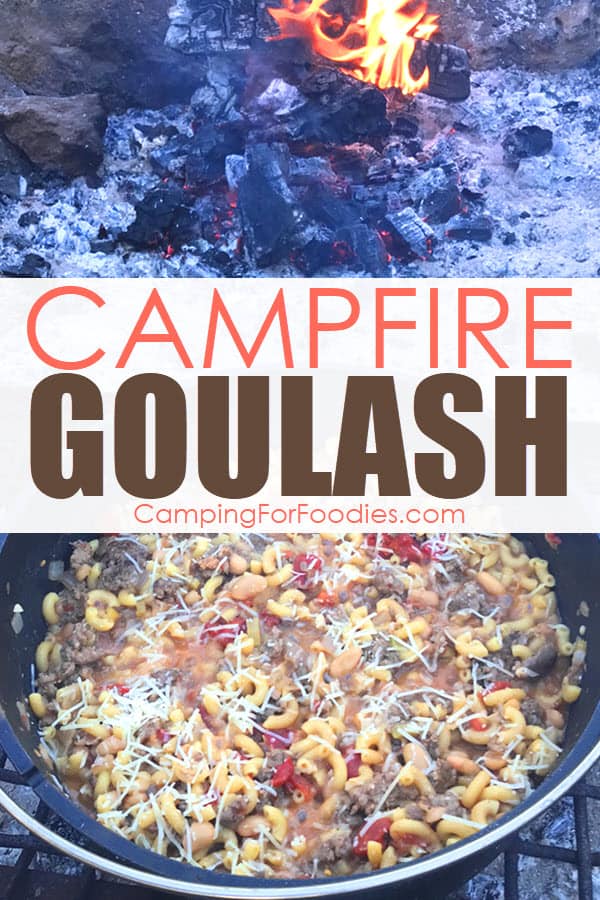 ---
One Pot Spaghetti
This super-simple one pot dinner can be made over a camp fire or camp stove. Best of all, it only takes 5 minutes of prep before you can start cooking! You don't need to pre-boil the spaghetti, it cooks directly in the sauce!
---
Dutch Oven Lasagna
Just like at home, camp lasagna is a bit of a chore. Really, it takes lots of yummy ingredients to get a nice depth of flavor with this classic, family-favorite comfort food. Using ready-to-bake (no boiling required) pasta makes this version an easier recipe for camping dinners.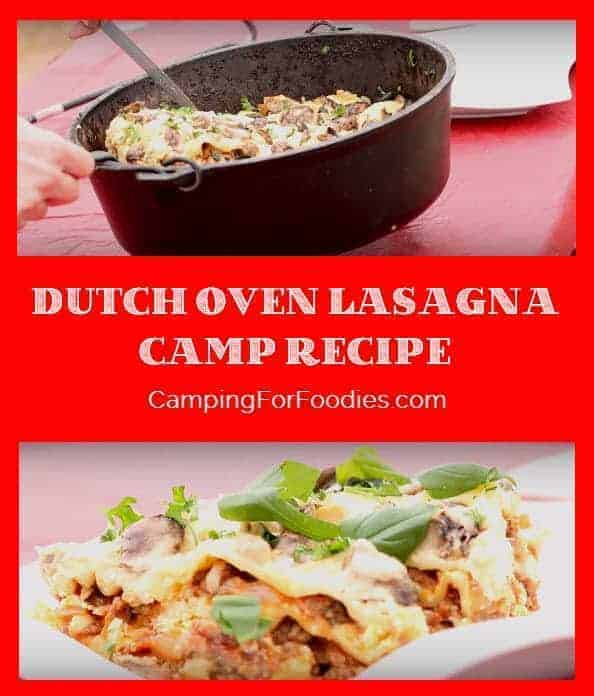 ---
Dutch Oven Spaghetti And Meatballs
Adding a little wine to the sauce made this dish one of my best dinner recipes; my regular camping crowd begs for it on my camp menus! The homemade meatballs use ground beef and pork making them flavorful and tender. The wine, tomatoes and garlic produce a delicious sauce.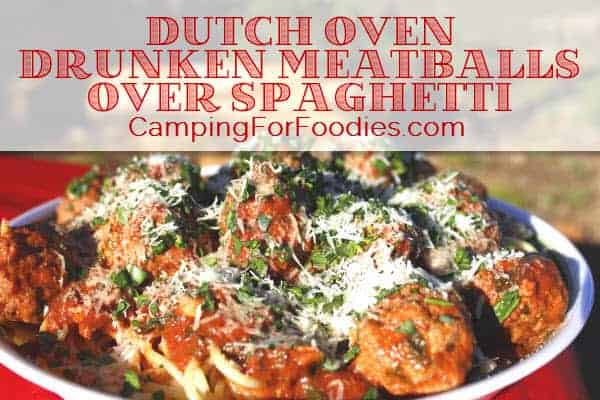 ---
Pizza
Dutch Oven Pizza
This "from scratch" pizza is made simple by using a batter-based crust rather than a traditional dough crust. One reader comment made me laugh: "Thank you for this recipe! I am now a camp cook hero to my pizza-loving husband!"  You can add all of your favorite toppings to this yummy camp dinner.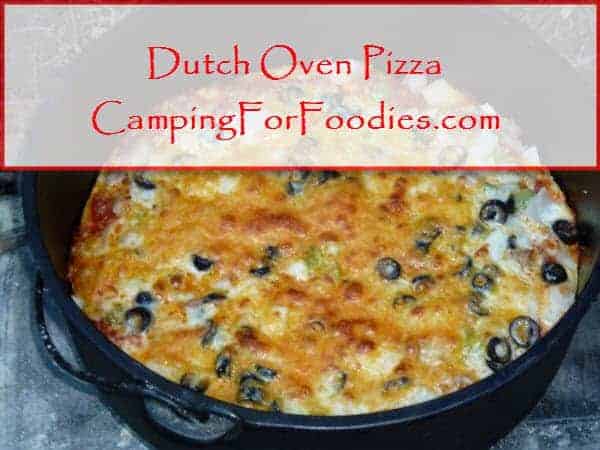 ---
Easy Chicken Alfredo Pizza
Combining prepared ingredients with fresh ones is one way I make great meals at the campsite without tons of effort. This pizza is one of those. It uses a prepared crust and Alfredo sauce then adds some cherry tomatoes, pre-cooked shredded chicken, a couple of cheeses, green onions and basil.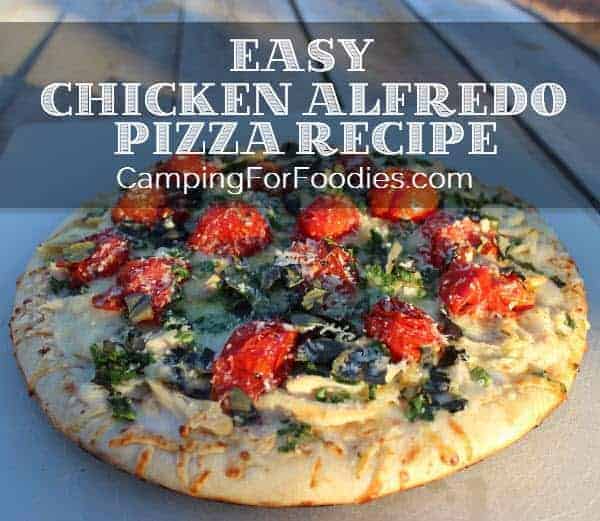 ---
Chicken Pesto Pizza
Our family likes putting anything on top of a pizza (especially my homemade pesto) but I also use prepared pesto to make this simple recipe. Add a bit of cooked shredded chicken, mozzarella and parmesan cheese then top with fresh basil leaves for a quick and yummy dinner.
---
Pork
Dutch Oven Pork Chops And Rice
One-pot camping recipes make dinner so easy! This one combines pork chops with rice, garlic, tomatoes and bell pepper slices to create a mild Italian flavor profile. This simple meal is quick to prep and easy to cook.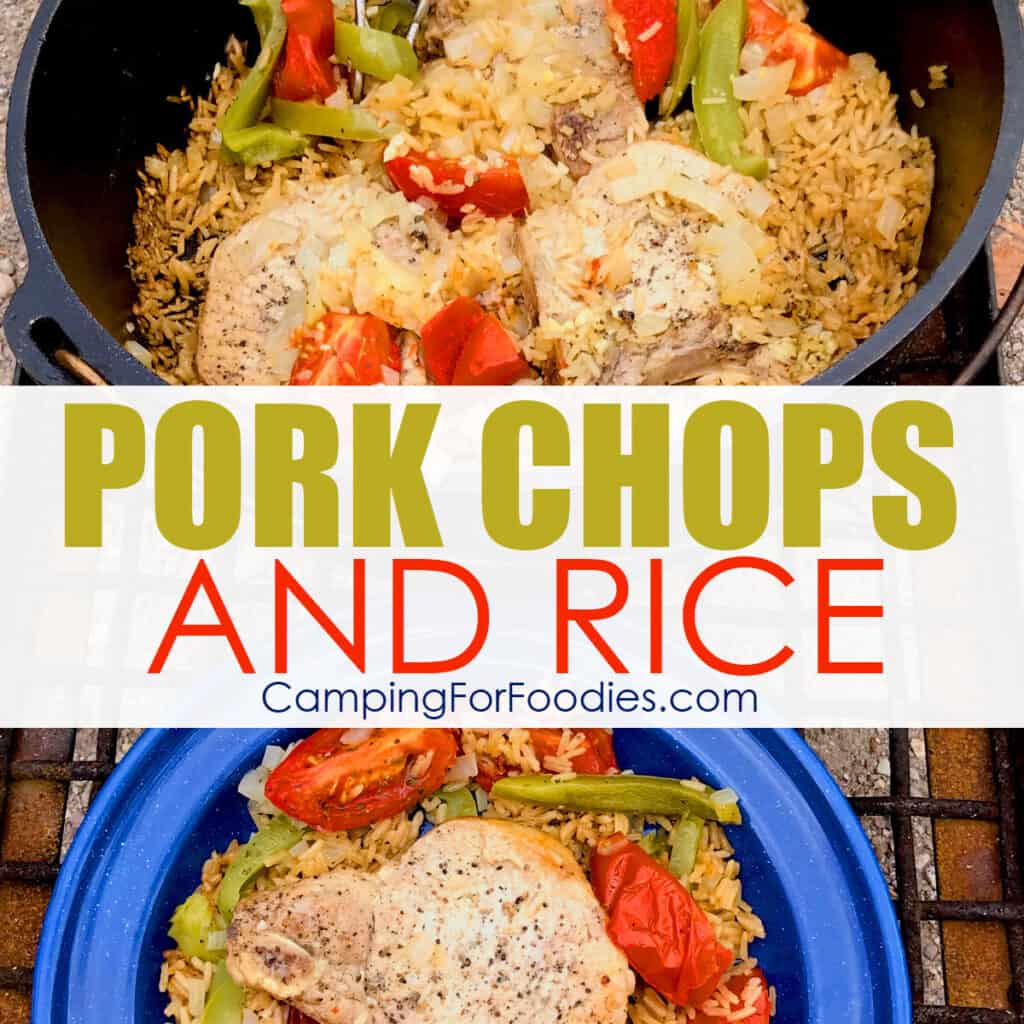 ---
Pork Chops
Simmer these slightly sweet and totally tender pork chops using campfire coals, charcoal briquettes or even a camp stove! The AMAZING flavor comes from seasoning then browning the pork chops followed by cooking them in a sauce made from chicken broth, cider vinegar, brown sugar and fresh garlic.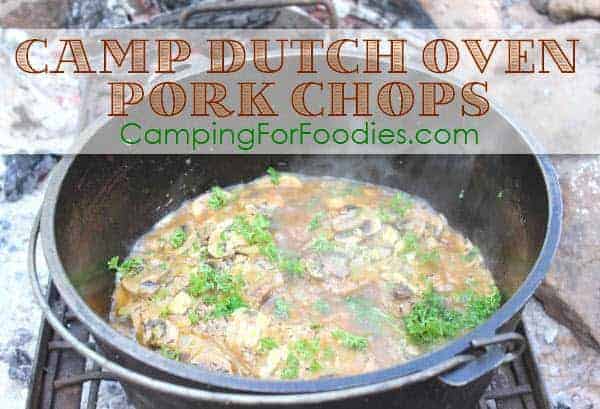 ---
Hot Italian Sausage Soup
Camping soups are typically starters for meals but this hearty recipe makes a full meal when served with crusty bread. The Italian sausage, potatoes, spinach, garlic and cream are combined for cooking over open fires to create a delectable meal for your next camping trip in cold weather.
I make this soup in a 12 inch Deep (not standard depth) oven that holds 8 Quarts (not to be confused with a 12qt oven which is also known as 16 inch classic depth oven). For more information on determining what's a oven size capacity that best fits your needs, check out "What size Dutch oven should I buy for camping?" later in this post.
---
Dutch Oven Sausage
Lots of one pot meals consist of stews and varieties of chili. This sausage features beer brats, onions, peppers and potatoes cooked together in a yummy beef broth. It only takes about 5 minutes to prep and provides a hearty one pot dinner meal.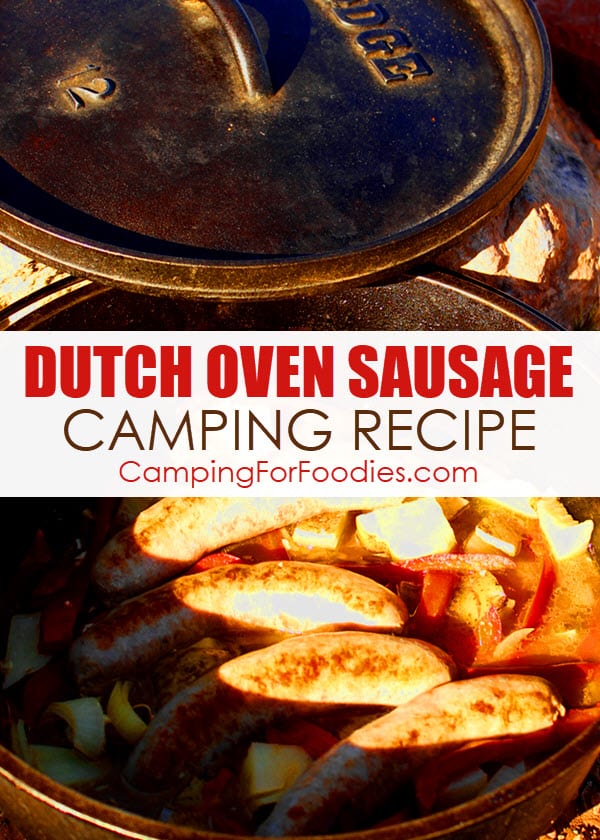 ---
Sausage Sauerkraut
Only have 10 minutes to make dinner? This meal only uses 3 ingredients and needs no prep! The smoked sausage has all the flavor you need to spice up the sauerkraut and bread dumplings. I like serving a dab of Dijon mustard for a little extra zing.
---
Turkey
White Chili
This recipe is a slight twist on the traditional tomato-based chili; it uses ground turkey, white beans and chicken broth as its base. And, because chili and camping cornbread go together like peanut butter and jelly … you'll find an awesome recipe for jalapeño cornbread here too.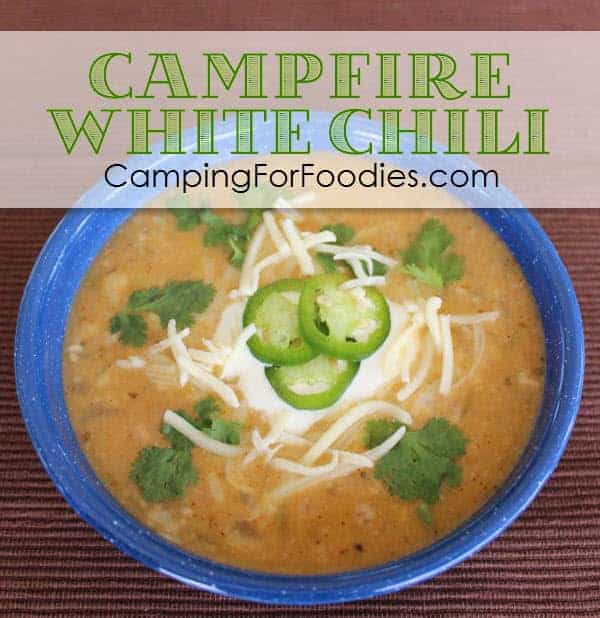 ---
Seafood
Asian Inspired Campfire Shrimp
When you are in the mood for shrimp at the campsite, you don't have to make the standard shrimp boil foil packets. This Asian inspired shrimp is one of our gourmet camping meals that has phenomenal flavors from a few fresh ingredients like garlic, green onions, mushrooms and basil.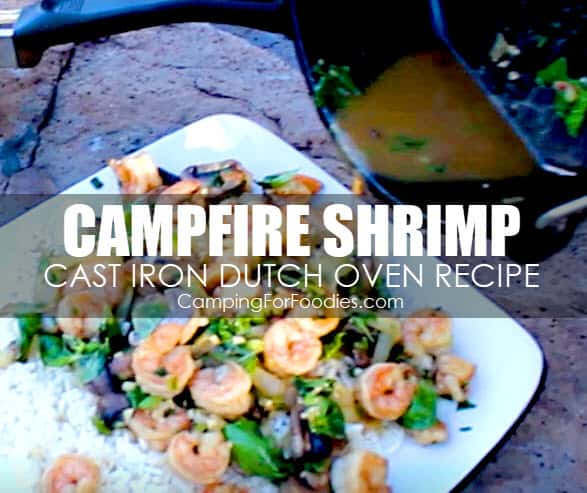 ---
Meat Combinations
Dutch Oven Chili
What do you cook when you're thinking of warm winter camping recipes that are simple one pot camping meals? Chili, of course! This award-winning chili is easy enough to make at the campsite or it can be made at home, frozen and then just reheated.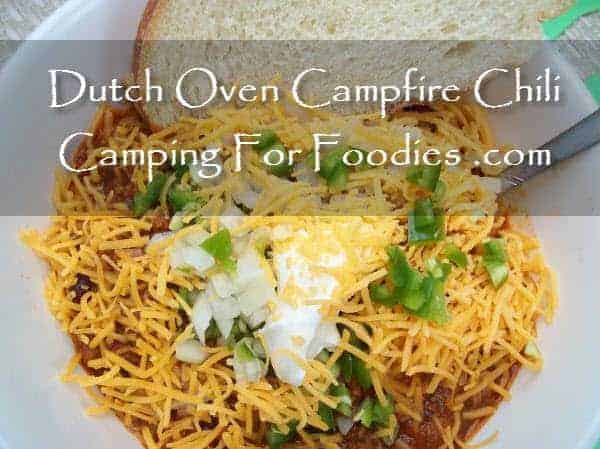 ---
Dutch Oven Gumbo
Want dinners camping crowds will enjoy? Try gumbo! We use andouille sausage, chicken, shrimp and bacon for extra flavor. It feeds 10-12 but can be scaled up if you have a 16 inch oven (which is also known as a 12 qt oven).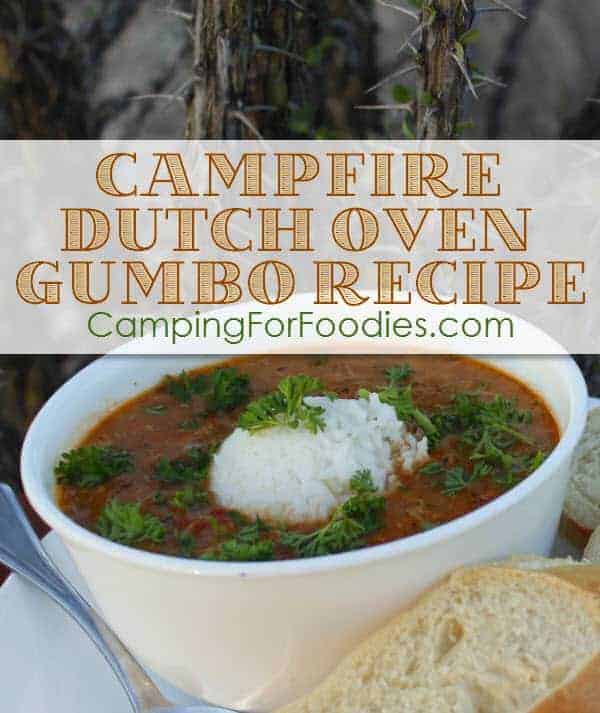 ---
Camp Chef Dutch Oven Carry Bag
---
Dutch Oven Chili: Secret Family Recipe Revealed
You can never have too many chili recipes for camping trips, right? This one is my brother-in-law's secret family recipe that he FINALLY shared with me after years of keeping it hush-hush. The homemade spice blend, ground beef, Italian sausage, and a touch of beer make this dinner favorite one that you just can't stop eating!
---
Easy Dutch Oven Jambalaya With Shrimp, Chicken & Sausage
This thick tomato-based sauce is a family-friendly version of jambalaya that is not too spicy. Serve some extra spicy creole seasoning, hot sauce or red pepper flakes on the side for the real heat-lovers in your crowd!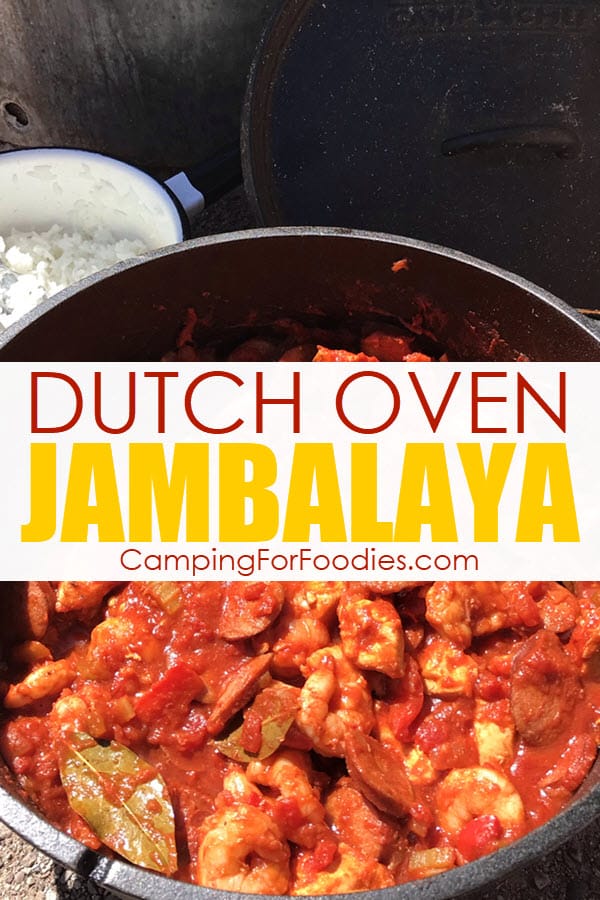 ---
Desserts
Dutch Oven Carrot Cake
No electric mixers are required for this totally moist carrot cake that is made easy for the campsite! The carrots and raisins create a super-moist cake that is topped with a yummy cream cheese frosting. Try it once and it'll become one of your favorite camping dessert recipes!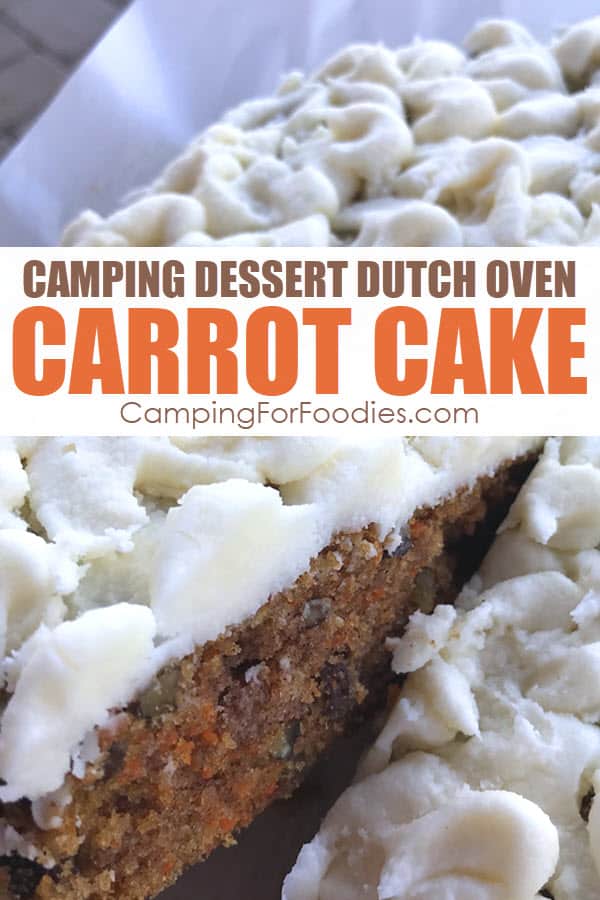 ---
Camping Smores Dutch Oven Brownies
Ever have s'mores brownies? These little gems are oooey, gooey and an exciting twist on the old campfire dessert. And, they are totally easy to make! You start with a boxed brownie mix then add some pecans, graham crackers and mini marshmallows to make this marvelous dessert.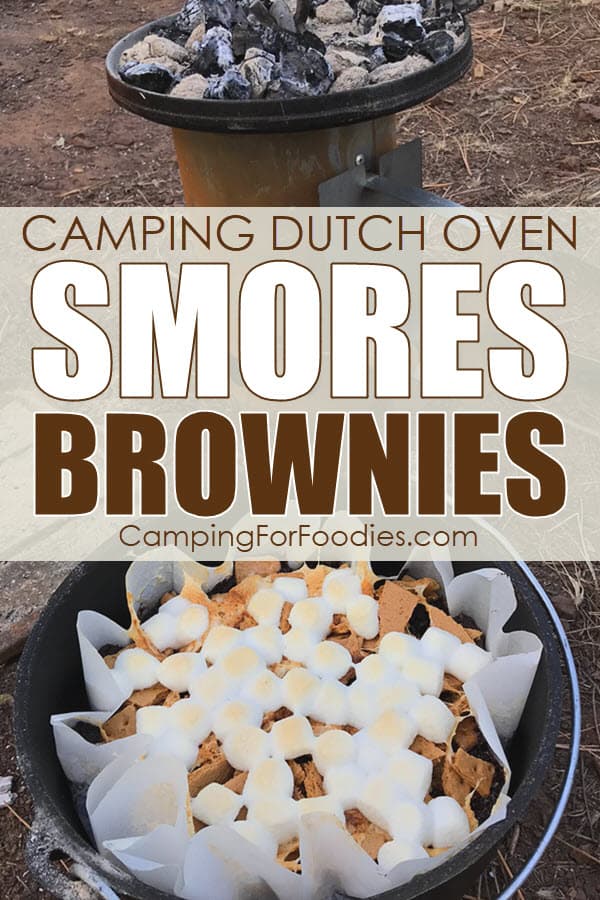 ---
Dutch Oven Chocolate Lava Cakes
Individual cakes are not just for 5-star restaurants! Make lava cake batter with eggs, sugar, flour, melted butter and chocolate chips. Pour it into a Dutch pot lined with cupcake foil wrappers and bake for 10 minutes to make one of our favorite Dutch oven baked goods.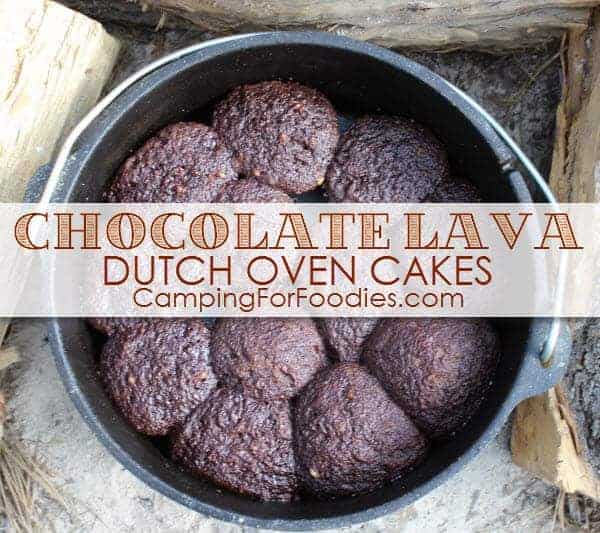 ---
Dutch Oven Blueberry Cobbler
Enjoy this cobbler; my blueberry-loving dad sure did when I surprised him with this yummy dessert on his birthday camping trip! You can also change out the berries for another fruit to make an awesome peach cobbler, cherry cobbler or whatever floats your boat.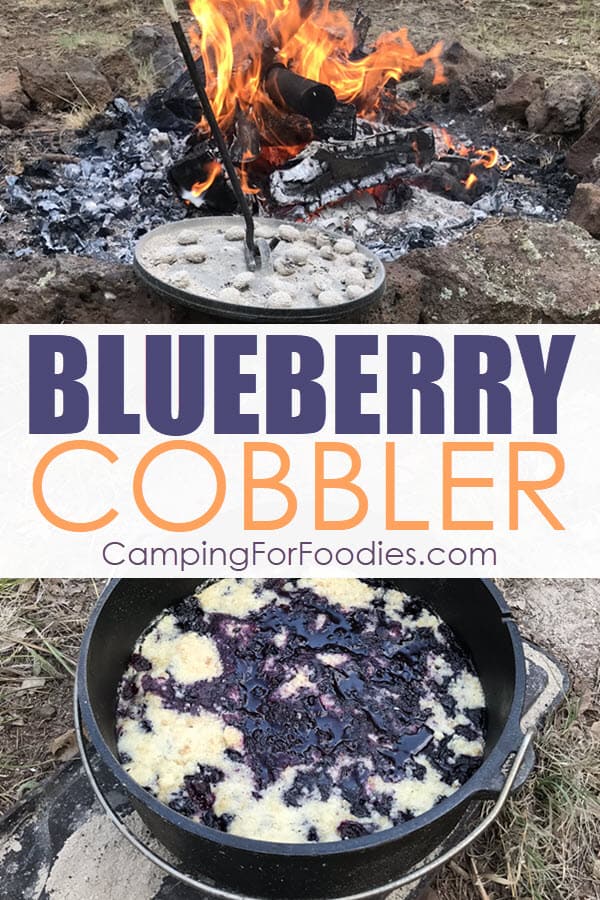 ---
Dutch Oven Pineapple Upside Down Cake
This cake was the winner when all 5 family members agreed they wanted this easy dessert for their "birthday" cake on our annual birthday campout. You start with a cake mix, add some pecans and coconut for extra flavor and texture, then bake this scrumptious, super-simple dessert.
---
Upper Crust Apple Pie
We have celebrated Thanksgiving on trips and this camping apple pie is always on the menu! The upper crust on this pie avoids rolling out dough. Get all of our recipes, trip tips, crafts and decorating ideas to have a wonderful time on Thanksgiving camping trips!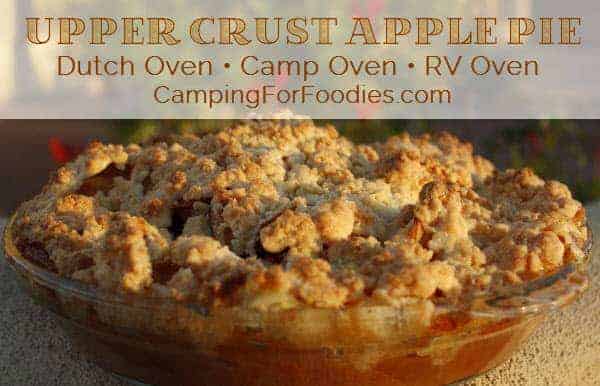 If you want something even easier, Boy Scout recipes are known to be really quick and simple. They have a super easy apple cobbler recipe that uses canned apple pie filling, cake mix, Sprite and a touch of cinnamon. It's also called apple dump cake because you just "dump and bake" this easy dessert.
---
Dutch Oven Berry Cobbler Dessert
This mixed berry cobbler was invented when I needed to use freezer and pantry ingredients prior to a cross-country move. The flavor in the simple batter comes from butter, flour, sugar and vanilla. Pour it into your oven, top with berries and a bit of sugar then bake.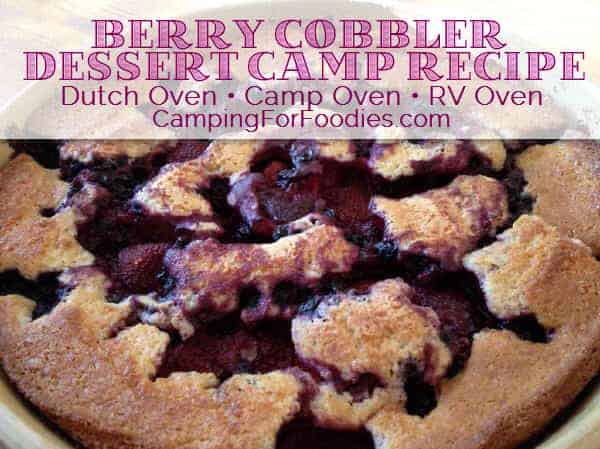 ---
Caramel Nut Brownies
I've made this recipe at camp and at home. These caramel nut brownies freeze well if you cut them in advance, then, you can easily defrost only the number needed to serve. Start with German chocolate cake mix, add some caramels, walnuts and chocolate chips to make this delightful dessert.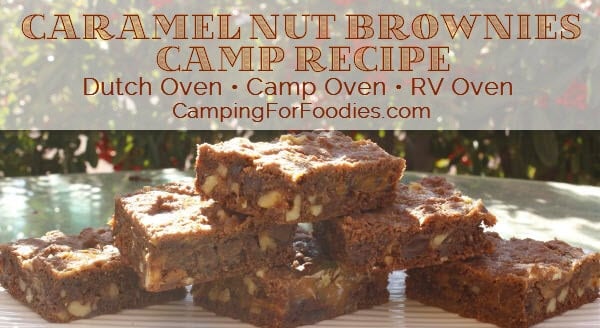 ---
Weber Rapidfire Chimney Starter
---
Breads
Dutch Oven Biscuits
This biscuit recipe makes scrumptious flaky and savory little gems. Our family likes making these biscuits while we are whipping up some sausage gravy in a cast iron camping skillet over the fire to create one of our absolute favorite cowboy breakfast meals!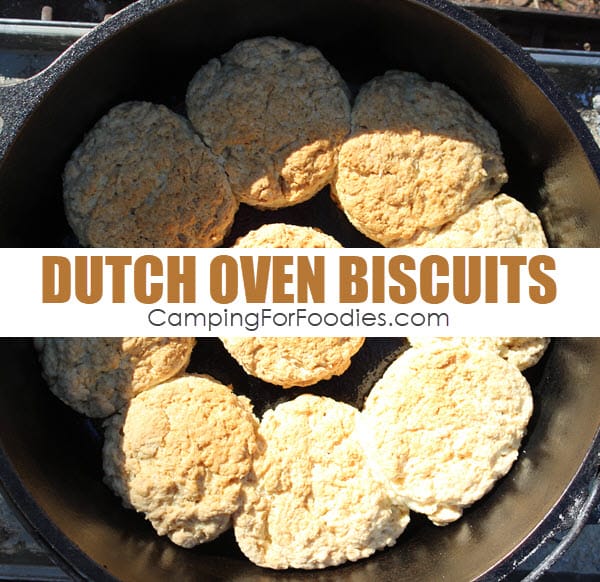 ---
Dutch Oven Cinnamon Bread
When you're making bread recipes, the process is simplified if you measure and mix the dry ingredients at home. Then, combine the wet and dry elements at camp and bake! The pecans provide a nice texture and raisins produce a moist sweet cinnamon bread in this recipe.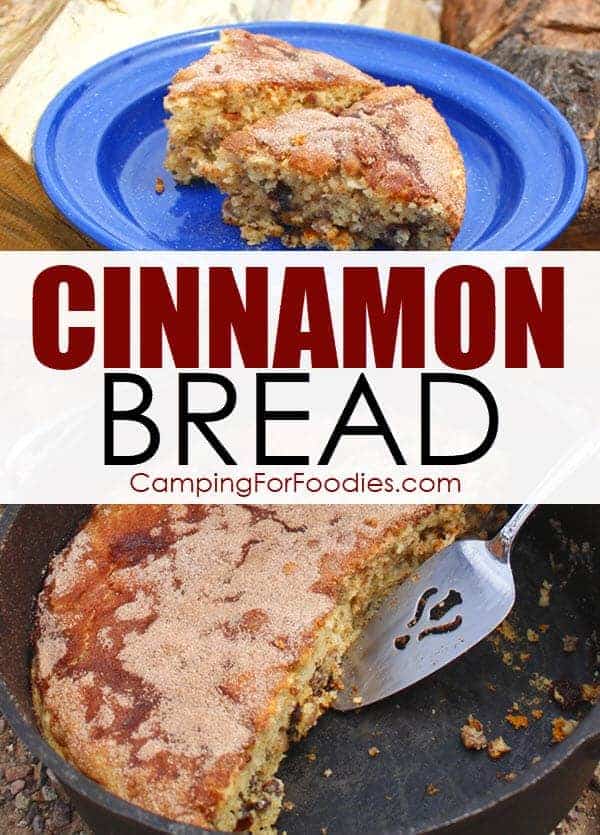 Whether you are making rolls, breads, biscuits, cakes or anything baked, it is best to cook with charcoal briquettes for a more consistent baking temperature.
---
Jalapeño Cornbread
I'm not kidding when I say some of our recipes are so good, you'll need to fend off your campsite neighbors if you share them. This cornbread is one of them! Defrosted frozen corn and a jalapeño pepper are what make this simple from-scratch recipe so tasty.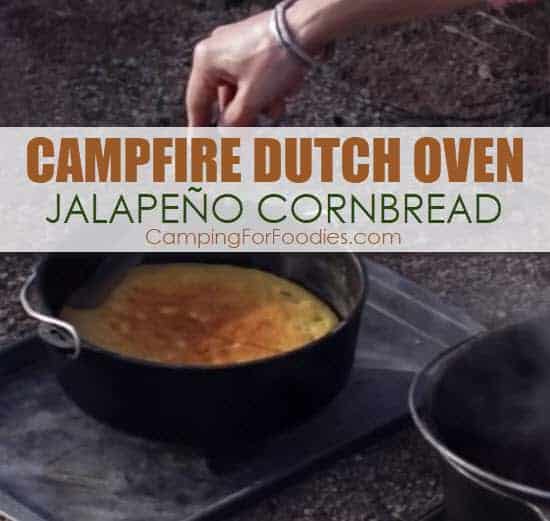 ---
Dutch Oven Bread
We like serving a warm, freshly-baked bread alongside our stew recipe. This no yeast bread requires minimal kneading. With a biscuit-like texture, we slice and serve it with a little butter on top. If there are leftovers, a spoonful of jam is the perfect partner!
When you are baking, a standard depth oven is the best type for bread because it allows for even browning of the top and bottom of the bread at the same time.
---
Did you ever think about how much a campfire pot looks like a which's brew when it is simmering away over a blazing fire? Well, if you camp over the trick or treat holiday, you need to check out our Halloween camping food ideas that will satisfy your appetite and put some slightly spooky fun into your meals!
---
If you are camping without fire during fire bans, you can still bake in your camp oven by using a propane camp stove with a heat diffuser plate and dome.
Camp Chef Dutch Oven Dome
---
Tips For Making Outdoor Recipes
Dutch Oven Temperature Control
No matter what you are cooking … but especially when you are baking … you need to know how to control the temperature.
---
Dutch Oven Temperature Chart
If you are cooking with charcoal briquettes, it's a good idea to keep our chart handy so you know how many coals are needed to maintain a particular temperature for the size of oven you are using.
---
How To Use Dutch Oven Liners
When you are baking, it is helpful to use parchment liners … they make it really easy to lift baked goods out of the oven to cool!
---
Lodge Manufacturing Parchment Paper Dutch Oven Liners
---
How To Slow Cook Ribs In Dutch Ovens
It is easy to slow cook ribs if you know how! I like making recipes that are slow cooked on days when I catch up on my reading and can leisurely tend to the coals throughout the day.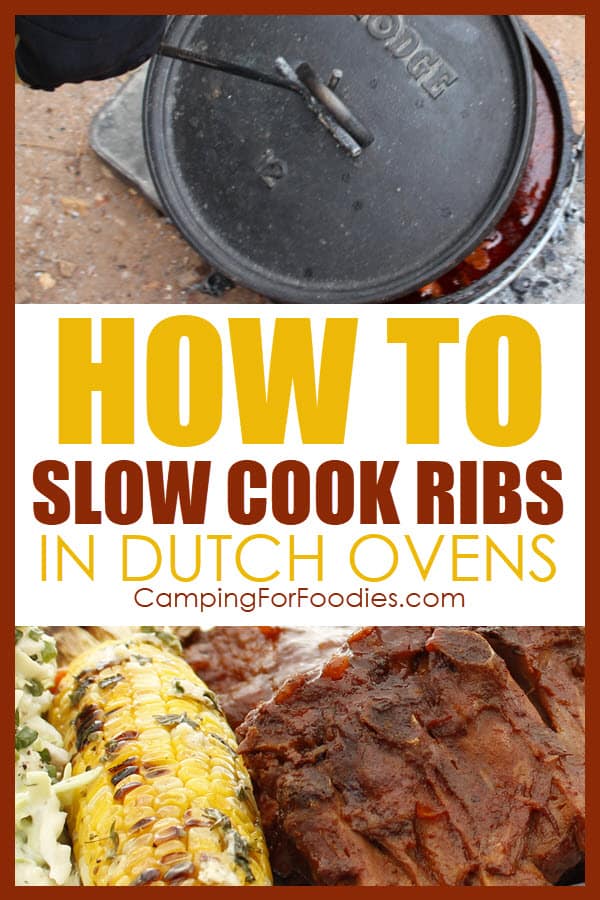 Dinner Camp Cooking Tip: When you are cooking your dinner meals, you may not have sufficient lighting to complete the cooking process so be sure your camping lights are strategically positioned before the sun goes down!
---
---
How To Use A Dutch Oven
Cooks who know how to properly cook with Dutch ovens, really enjoy the art of cooking with them when they are out in the wilderness! Many cast iron campfire recipes can be transitioned for cooking on propane stoves if you run out of firewood or open flame fires are prohibited during hot and dry weather conditions.
---
Cast Iron Care
Cleaning And Seasoning Cast Iron Cookware
When you are finished with your cooking, you need to do some cleanup. Get all the information you need to clean and season your cast iron cookware and maintain your gear in tip top shape!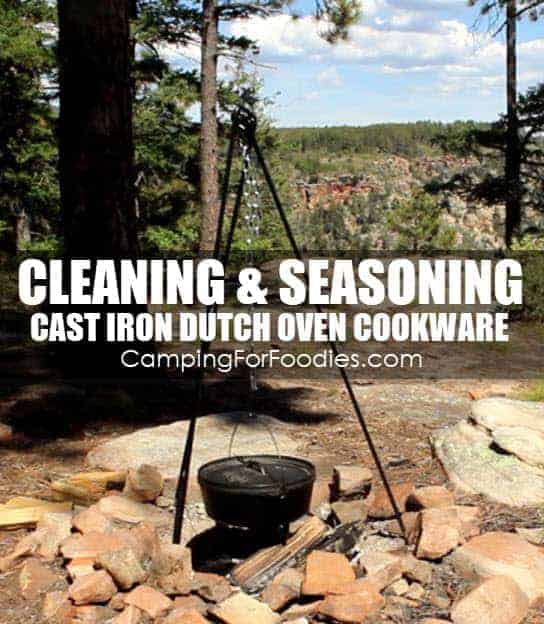 ---
Shopping Tips
---
Best Dutch Oven For Camping
You can't make great camp recipes without the right gear! Do you make lots of 10 inch Dutch oven recipes for two or do you make huge camping meals for large groups? Find YOUR personal best Dutch oven that is designed for the way you camp.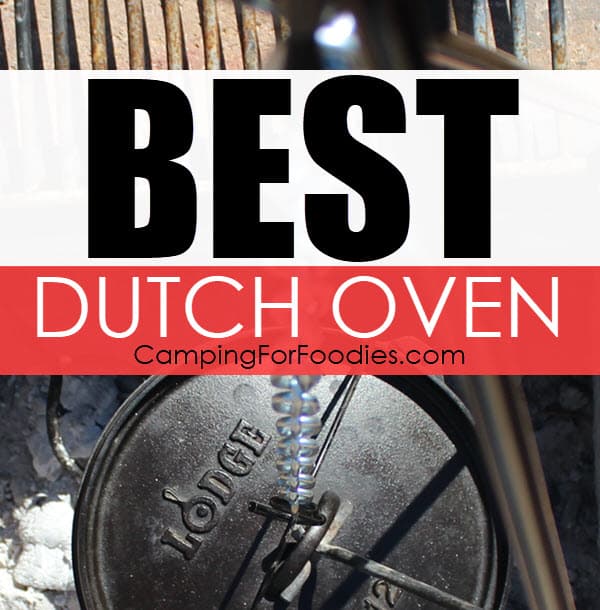 ---
Outdoor Cooking Accessory Buying Guide
Lodge Accessories
For cooking and cleanup, you'll love these terrific Lodge accessories! You'll find awesome Lodge camping recipes in their cookbooks. They make really great gear for storage and transportation of your cast iron cookware. Then, after you make their delicious recipes, you can use their terrific accessories for cleaning (the cleaning brushes and pan scrapers are my personal favorites!)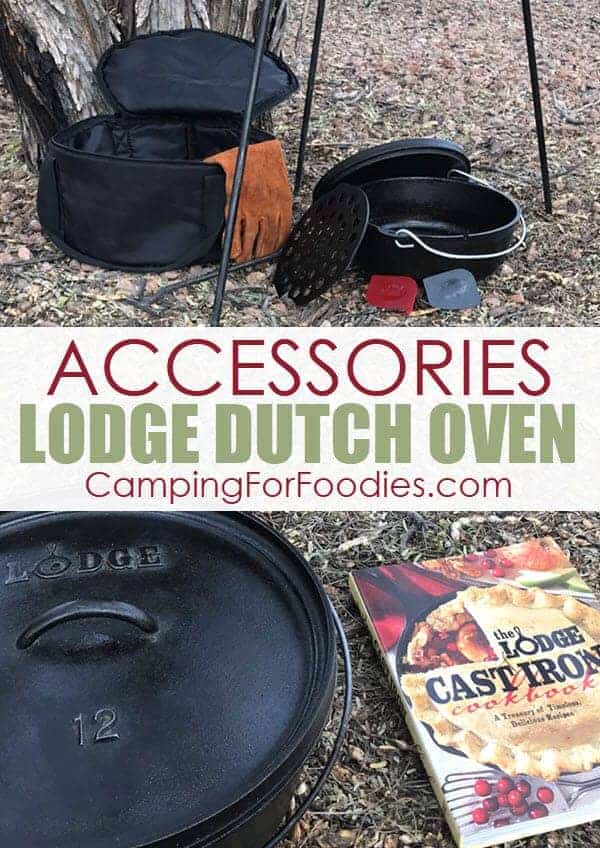 ---
Camp Oven Accessories
The right accessories make the cooking process easier, more fun and these tools make unique gifts for your favorite camp chefs!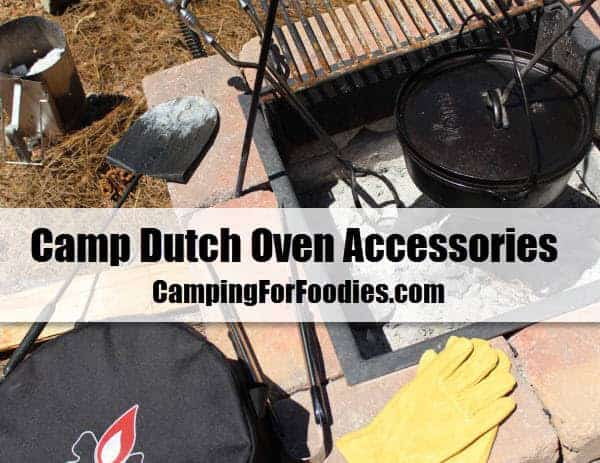 ---
Slow Cooker To Dutch Camp Oven Conversion
If you have a favorite crock pot meal you want to make in your cast iron camp oven at the campsite, you'll need to make some adjustments. Check out these tips on crock pot to D. O. conversion for help turning your Grandma's famous slow cooker meals into recipes for camping.
---
Popular Cookbooks
You can find the perfect cook books no matter how simple or complicated you want to get with your food menu. The Boy Scouts are used to making camping meals for a crowd and their Scout's Cookbook includes basic recipes as well as some that may surprise you!
The Camp Dutch Oven Cookbook is filled with 5 ingredient recipes and is a best seller for people who want easy recipes.
If you use a Lodge camping oven or some other brand, you'll enjoy The Lodge Cast Iron Cookbook that has more of a gourmet camping recipe style requiring a bit more work but produces complex and interesting flavors that are worth the effort. This book contains some of the best Lodge recipes that camping cooks love to make.
Scout's Dutch Oven Cookbook
The Camp Dutch Oven Cookbook: Easy 5-Ingredient Recipes to Eat Well in the Great Outdoors
The Lodge Cast Iron Cookbook: A Treasury of Timeless, Delicious Recipes
These books make great gifts for budding camping chefs!
---
Here's how a real cowboy makes Cowboy Chili
Cowboys have invented some of the best recipes for camping because they are used to cooking with minimal gear in rugged outdoor conditions. Plus, cowboys work up huge appetites so their dinner meals are designed to feed groups of hungry guys.
---
More Good Camping Food Ideas
See all of our recipes and cooking methods!
---