AMAZING Camping Gifts For Mom On Mother's Day! (Sunday, May 9, 2021)
Moms love receiving camping gifts too!
This year Mother's Day falls on Sunday, May 9, 2021 so mark your calendar!
Our list of totally unique camping gifts for mom includes items from pajamas to cocktail shakers and bird houses to hand crafted camping themed cookies.
We found super-cute camp things you and mom will absolutely adore.
Psst we're compensated…see our disclosures.
Mother's Day Gift Idea Guide: Gifts For Camping Moms
These are super fun camping accessories for mom. If you are looking for practical camping gear for mom, we've got ideas for that too!
---
Hand Crafted Camping Themed Cookies
Hand-crafted sweet treats are a fun and unique way to celebrate camping moms! These custom designed cookies are available in regular sugar, chocolate sugar, red velvet, Mathca green tea, Ginger Spice, or shortbread cookies.
They arrive perfectly because they are made to order and are individually wrapped for freshness and packaged in bubblewrap!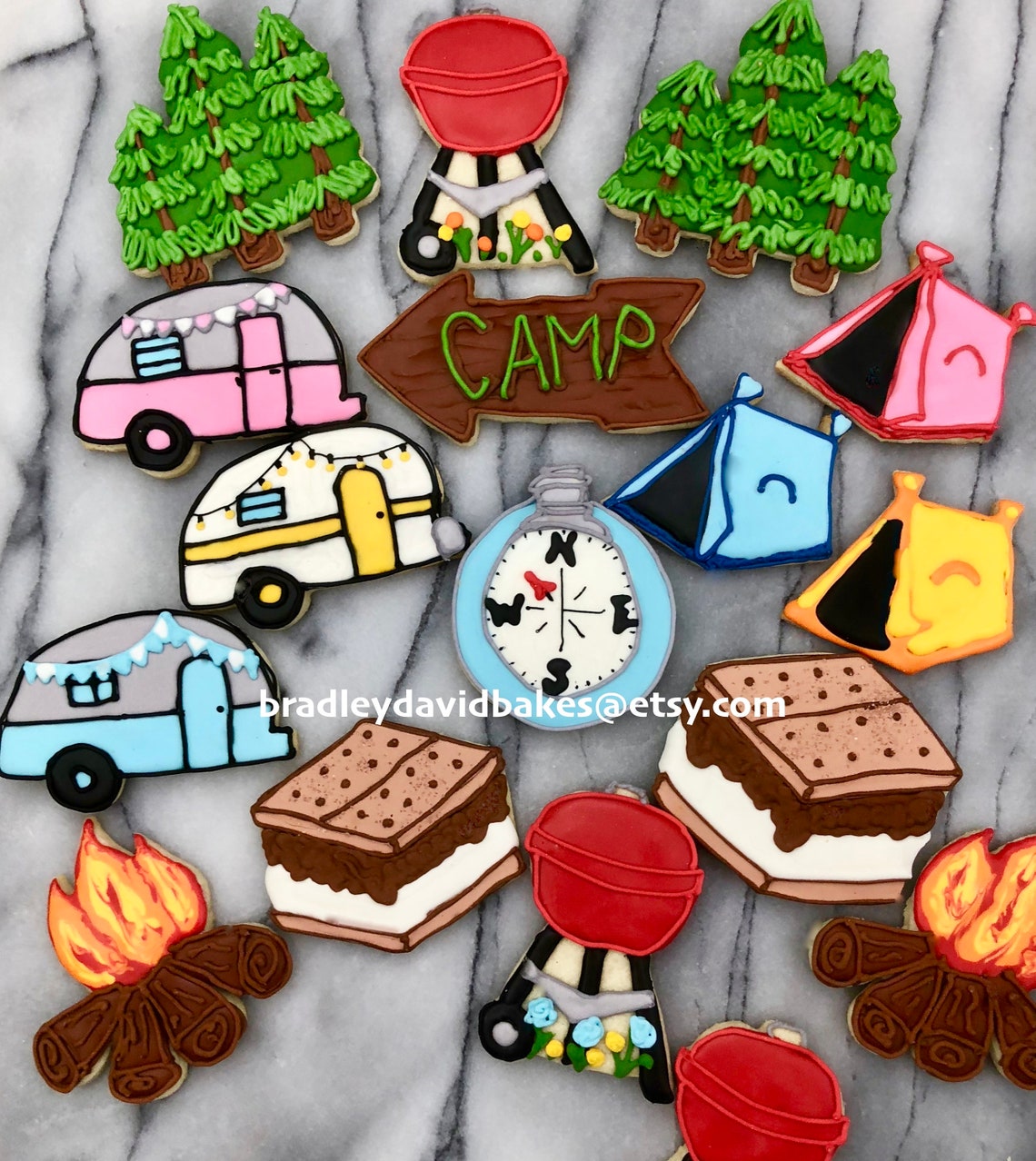 Custom Hand Crafted Camping Themed Cookies

---
Customized Fire Pit
How many moms have their very own personalized camping fire pit? All 4 sides of this firepit can be personalized with your own IMAGES as well as TEXT!
This is one present mom will cherish forever!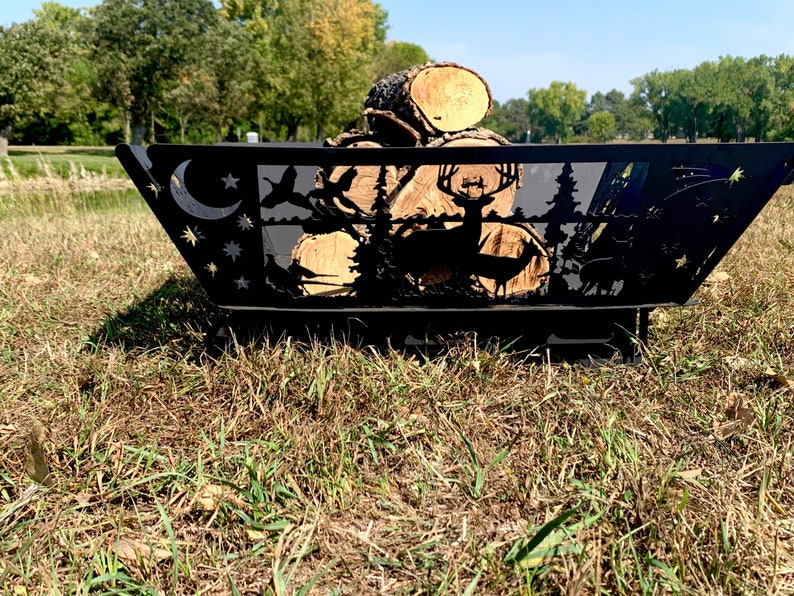 Custom Portable 4-Sided Personalized Camping Fire Pit

---
Artificial Succulents In Ceramic Camper Trailer Planter
Brightly colored camper gifts for mom, like this Ceramic Camper Trailer Planter, are cute for homes, offices and RVs.
This planter comes with artificial succulents so she doesn't even have to do any planting!
Artificial Succulents In Ceramic Camper Trailer Planter
---
Camping Hair Don't Care Women Embroidered Cap
Is there any mom you know who does not adore the fact that she does not HAVE TO do her hair while she is camping?
This Camping Hair Don't Care Embroidered Cap is so cute and makes bad hair days feel just perfect!
This is one of those camping gifts for mom that is also a gift for the rest of her camping crowd so they don't have to look at her exposed camp hair. LOL
Sun Nowa Yellow Camping Hair Don't Care Women Embroidered Trucker Style Cap Hat
---
Camping Theme Sleek 5-Piece Cocktail Shaker Gift Set
With a message like "Camp, Hike, Cook, Drink, Eat, Repeat" all the bases are covered in this super cool stainless steel Camping Cocktail Shaker Gift Set!
Nothing beats fresh muddled fruit and herbs to make a gourmet lemonade or mom's favorite martini!
The decorative box means these camping themed gifts are ready to give … no wrapping required!
Stainless Steel 5-Piece Cocktail Shaker Camping Gift Set
---
Retro Trailer Birdhouse
Whether mom loves watching birds at home or at the campsite, this fun retro trailer birdhouse will be a real conversation starter (for the humans, that is … come to think of it, the birds might do a little singing about it too!)
Add a little bag of birdseed and the cute package makes super fun outdoor Mother's Day gifts!
Spoontiques Trailer Birdhouse
---
Want more lighting ideas for outdoor mom gifts? Check out our Best Camping Lights For Lighting Your Campsite post for cool gift ideas to light her path! These lights operate using various power sources, can be operated by remote control and even include lights you can wear!
---
I'm Unplugging Hammock
Mom will love you for getting her this "I'm Unplugging" Hammock With Attached Accessory And Carrying Bag!
She will be able to relax in this hammock and have easy access to her favorite book, drink and sunglasses in the attached accessory bag!
This is one of those camping gifts mom will never forget!
I'm Unplugging Hammock With Attached Carrying And Accessory Bag
---
Outdoor Campfire Popcorn Popper
Cooking on sticks is a favorite camping activity for so many families!
If your mom enjoys snacking on popcorn, this Outdoor Campfire Popcorn Popper makes a fun gift for Mother's Day.
This popper allows you to pop your treat right over the campfire.
Move over marshmallows … we've got another stick that needs some space around the fire!
Traditional Outdoor Shake And Pop Popper
---
Camp Casual Mug
This Camp Casual Mug is perfect for a freshly brewed cup of camp coffee!
The whimsical design features camp signs, wildlife and camp trip memories against a sweet tangerine color!
The 15 oz. ceramic mug is dishwasher and microwave safe too!
And, really, what camping mom do you know that doesn't want to start her morning with a strong cup of coffee in a fun mug?
Camp Casual Mug Tangerine Trip
If your mom is a coffee lover, you can find tons of other cool camp coffee gadgets in The Best Camping Coffee Gadgets Make Unique Gifts For Coffee Lovers Who Camp post.
By the way … these are not just gifts for outdoor moms, dad's like them too!
---
---
This Is How I Roll RV Camping Pajamas
Camping themed pajamas make super cute gift ideas that moms can wear at the campsite or at home!
These RV camping pjs are bright, fun and made with 100% pure cotton.
Sleep tight mom … we've got a full day of hiking set for tomorrow!
Women's Retro Camping Design Cotton PJ Nightgown
---
---
Retro Glamping Trailer Wine Bottle Koozie Hugger
Cold storage, including keeping drinks cold, at the campsite can be a problem and a great way to help the situation is to use huggies.
If your mom is a huggie fan, she will get a kick out of this retro glamping trailer bottle hugger that is large enough for wine bottles!
Keeping white wine chilled at the campsite is easy and stylish with camper themed gifts like this one!
Another Day In Paradise Retro Glamping Trailer Wine Bottle Hugger Insulator
---
Happy Camper Cocktail Napkins
These happy camper cocktail napkins are so fun!
The colorful retro camper scenes are almost like a little piece of artwork!
The 5″ square 3-ply napkins are the perfect size for happy hour festivities.
These napkins are so cute … moms camping idea may be to frame them and hang them in her RV instead of use them as napkins at the campfire happy hour! LOL
Happy Camper Cocktail Napkins
---
What Happens In The Camper Stays In The Camper Plaque
Some of the best gifts for camping moms are the ones she can enjoy all year round.
If your mom likes whimsical home decor, giving her a fun camping quote she can display might be the perfect gift idea for Mother's Day.
This What Happens In The Camper Stays In The Camper Plaque is cute for moms with a fun sense of humor about camping and interior design.
What Happens In The Camper Stays In The Camper Sign Camping Travel Trailer Plaque
There are tons of cute Mother's day camping gift ideas in our Inspirational And Funny Camping Quotes post.
It is full of awesome camping quotes on fun gear she can wear, hang on walls, drink from, write on and more!
---
Retro Camper Trailer Flexible Cutting Mat Set
The fun and colorful retro camper trailer design and a message of "Camp, Hike, Cook, Drink, Eat, Repeat" makes food prep a blast with this flexible camping cutting mat set that has three sizes for different tasks!
They are lightweight enough to curl to funnel food into bowls and skillets.
They are cute enough to hang on hooks and display like little pieces of camping art when they are not in use.
These cutting mats make awesome outdoor gifts for moms who enjoy cooking out in the wild!
Flexible Camping Cutting Mats
---
Glamping With MaryJane: Glamour + Camping
This Glamping With MaryJane: Glamour + Camping Book is soooooooo fun!
It's all about glamorous camping with information on trailers, backyard glamping, housekeeping, gear, safety, entertainment and more!
It even spotlights women who settled in the West and their 3 G's of grit, grace and glam! 
This is one of those outdoor gift ideas for moms who like to add pretty touches to their camping adventures.
Glamping With MaryJane: Glamour + Camping
Want more Mother's Day glamping gift ideas?
Check out our post: Cute Glamping Accessories And DIY Glam Camping Ideas And Tips for ridiculously adorable glam camping accessories!
---
Waterproof Travel Makeup Bag
When you are camping with mom, a day of personal grooming is a fun way to spend a relaxing afternoon.
And, yes, she can wear makeup while camping if she wants to!
This Waterproof Travel Makeup Bag is awesome for carrying beauty products whether she is using an RV bathroom or using a public campground shower facility.
The bag is foldable, lightweight and washable too!
Foldable Waterproof Travel Makeup Bag
---
Camping Trailer Socks
Whimsical socks are always fun gifts for outdoor moms!
These Camping Trailer Socks are brightly colored and the little campers set in the evergreen trees with white fluffy clouds are sure to put a smile on her face when she opens this present!
Camping Trailer Socks
---
DIY Mother's Day Gifts For Campers
Homemade gifts are precious, thoughtful and affordable … actually, they can be super cheap and fun to make.
Here are a few camping Mother's Day homemade gift ideas that won't break the bank! 
---
Campfire Hot Cocoa Mix
Who doesn't love a warm cup of hot chocolate on a chilly camp night?
The best homemade mother day gifts are the ones you can eat and drink!
This Campfire Hot Cocoa is a delicious mix of simple ingredients and if you add a cute little bow, and combine it with a fun camp coffee mug, they make adorable outdoor gift ideas for mom.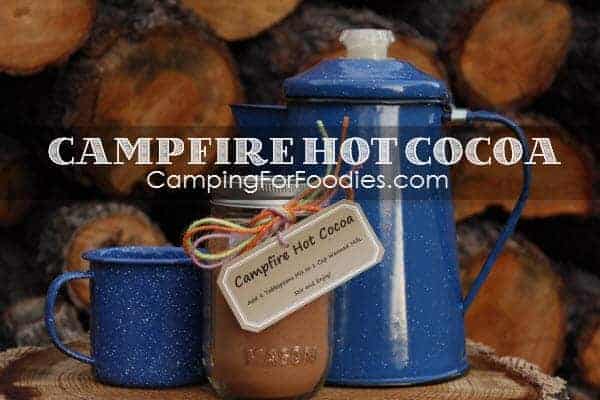 ---
Camper Painted Rock
Sons and daughters can get as creative as they want with this Rock Painting Camping Activity. These adorable gifts can be used as paperweights, garden decorations and more.
Fun design ideas include:
Retro campers
Tents
Hiking Boots
Marshmallows and campfires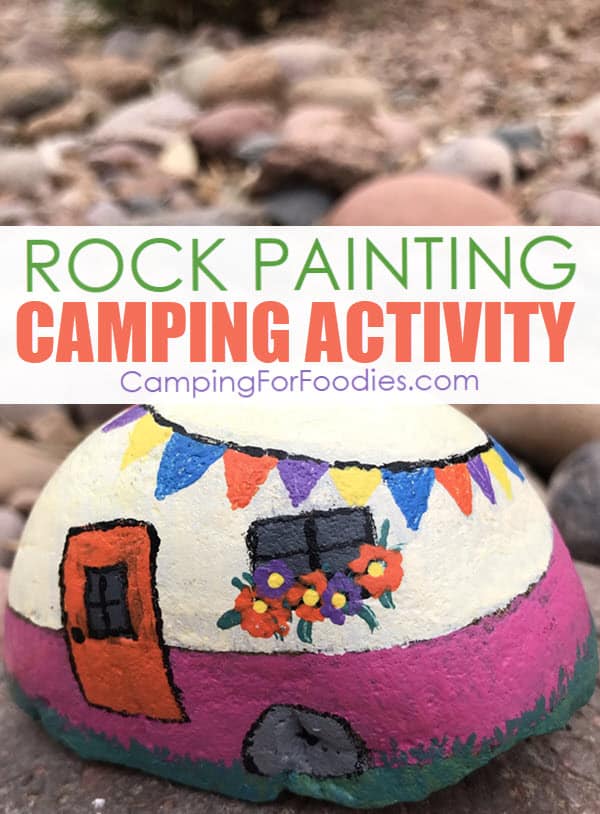 ---
Practical Gear & Camping Gadgets For Mom
Thinking your mom would appreciate some state of the art camp gadget? Check out the BEST camping gear on the planet!
Camping Games
If your mom loves playing camping games on her trips, get her some super fun games she can play with the entire family! We have ideas for geocaching treasure hunt gifts, rainy day games, active camp games, yard games, board games and more!
Camp, Hike, Fish, Bike & ATV Gifts For Mom
Some camping moms really get active when they are out in the wilderness. Get gift ideas for active women who like to camp, hike, fish, bike and ride ATVs!
Campfire Cooking Equipment
If your mom is anything like me, she love cooking over a campfire! Get her some amazing campfire cooking equipment she will use on every, single camp trip! The campfire tripods, marshmallow extending forks and cooking grates are really cool.
Awesome Gear For Camping In The Rain
We have really practical tips and gear to enjoy camping in the rain. The waterproof dry bags and camping clotheslines are especially nice.
RV Gifts For Mom
There are so many fun and practical RV gifts it is hard to pick a favorite. Ladies like the cute RV-themed rugs that keep the dirt outside but they also like the travel journals with RV specific writing prompts including dates/weather/routes, odometer readings/miles per gallon, who you are traveling with/meet along the journey, sites/memorable events, dining experiences and places to remember for next time and more!
Cool Camping Lanterns
Give mom the best propane lantern for her style of camping. We've picked out styles including the brightest, easiest to transport, best bang for the buck and more!
Storage & Organization Trailer Gifts
Campers are tiny spaces and can get totally cluttered in a hurry. We have 15+ camping storage ideas with gadgets that make great gifts.
Tech Gadgets For Camping Moms
If your mom likes to keep her digital devices operating on camp trips, you've gotta check out these gift ideas. See how to charge phone while camping without electricity using camp stoves, lanterns, Bluetooth speakers, hand-cranks, the sun and more!
---
Cute Camping-Themed Gift Wrap Ideas
Once you find the perfect camping gifts for mom, you'll want to make the package as special as her Mother's Day camping gifts!
Check out our Fun Camping Wrapping Paper And Creative Gift Wrap Ideas post to get inspired!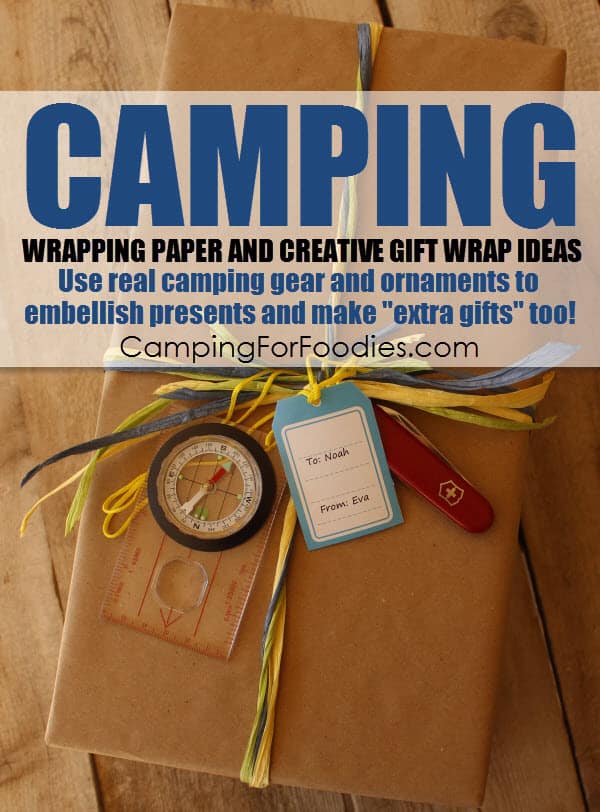 ---
Take Mom Camping On Mother's Day
Just an additional thought … what better way to give mom her special camping gift than on an actual camp trip!
I'm sure she would love a special camp meal cooked just for her!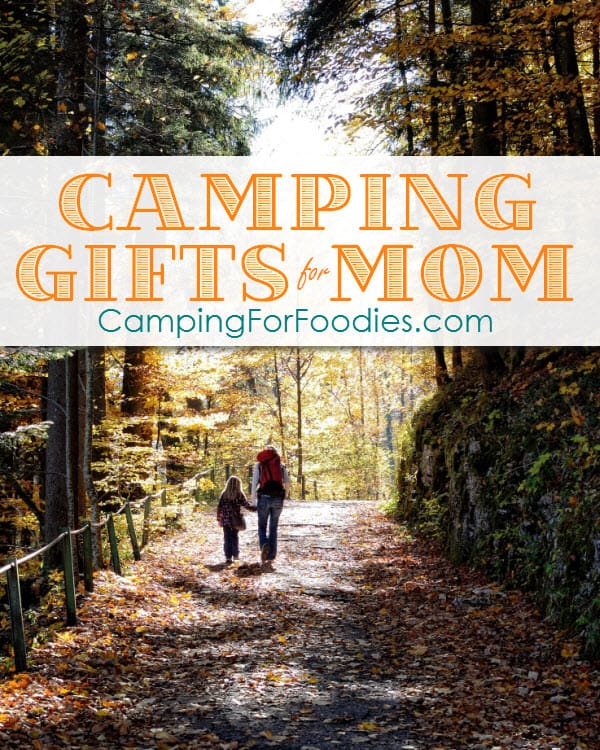 ---