Avocado Spinach Salad With Grilled Shrimp (Fabulously Fresh & Gluten Free)
Fresh camping salads that include a lean protein make awesome lunches during hot summer camp trips.
I have almost eliminated the word "healthy" from my vocabulary because so many people think healthy = bland and boring food. This Avocado Spinach Salad With Grilled Shrimp is anything but that!
The combination of sweet and tart starts this camp recipe off on the right foot!
The textures are complex and the cold citrus, avocado and spinach contrast beautifully with the warm shrimp!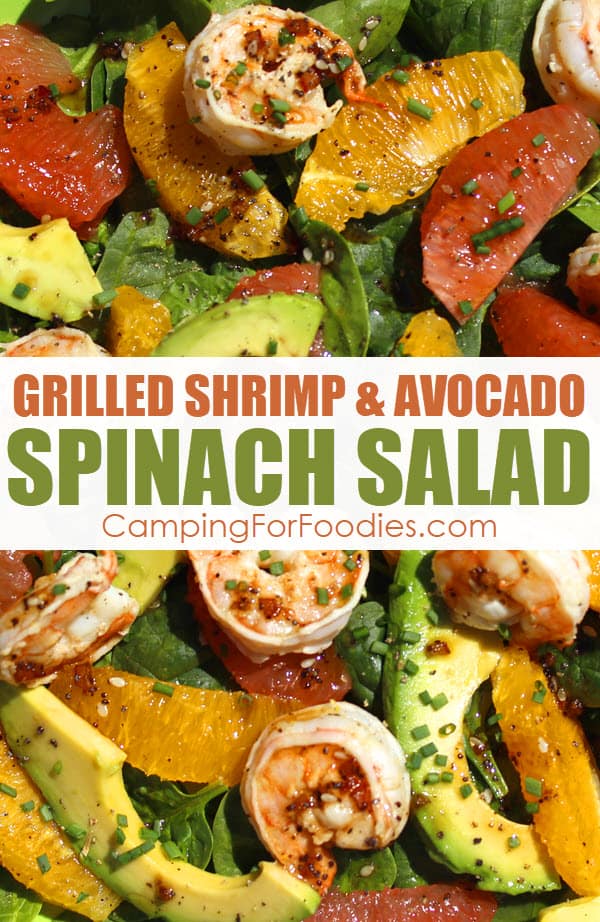 Psst we're compensated…see our disclosures.
Prep To Make Salads For Camping
You can totally make this recipe entirely at the campsite but when you want to make really easy camping lunches, you can do some of the prep at home.
This recipe uses a simple homemade dressing and marinade. You can make both of these ahead and just refrigerate them until you are ready to use them on your camp trip.
---
Methods Of Cooking Grilled Shrimp Spinach Salad
Most salads use completely raw ingredients … this one requires grilling. I don't recommend cooking the shrimp ahead of time because the cold salad ingredients are nicely complimented by the warm shrimp.
Camp Cooking Tip: There are lots of methods to grill shrimp at the campsite. You can use a cast iron grill pan to make this as one of our camp stove recipes and cook over a propane camp stove or RV stove top.
Lodge Pre-Seasoned Cast Iron Grill Pan With Assist Handle
Camp Cooking Tip: The easiest method for grilling this particular recipe is using a propane stove with a grill pan or a propane grill because the shrimp take only about 5 minutes to cook so a quick propane method is perfect … especially if you are not using a campfire or charcoal briquettes for another purpose. But, there are other options.
As one of our easy grilling recipes for camping you can use a propane camp grill or use charcoal briquettes with a portable grill to cook the shrimp.
If you have a fire going, you can make this as one of our easy campfire recipes, to cook over a medium temperature of campfire coals.
Camp Cooking Tip: If your cooking surface has wide openings (like many campfire grates), you may need to use a grill basket to keep the shrimp from falling into the fire.
Campfire Basket Grill With Long Handle
---
Steps To Make This Salad
Step 1. Prepare your ingredients as directed.
Camping Flexible Cutting Mats
Step 2. Prepare your heat source for grilling over a medium heat.
Step 3. Marinate the shrimp.
Step 4. Grill the shrimp. Whatever cooking method you choose, be prepared because this is a really fast-cooking recipe. It will only take about 2-3 minutes per side to cook the shrimp. You are looking for them to be opaque and no longer pink. Camp Cooking Tip: If you overcook shrimp they will have a rubbery texture so make sure all of your ingredients and utensils are ready for serving before you start grilling the shellfish.
Step 5. Plate and serve. You will layer the ingredients on plates starting with the spinach then adding the grapefruit, oranges, avocados and shrimp. Finishing with the dressing and chives. Then, dig in and enjoy!
PS. This healthy recipe is so good that it passes the he-man test! When I was testing it at home, I told my husband we were having a spinach salad with citrus, avocado and grilled shrimp for lunch. He told me he was not very hungry (Translation: he'd rather eat something else.)
But, like the loving guy he is, he played along and sat down to test my creation. He CLEANED HIS PLATE and wondered if I would be making it on our next camp trip! So I say, this camp recipe is a keeper!
This meal even gets bonus points for being delicious gluten free camping food that satisfies gluten-tolerant people too!
---
What To Serve With This Salad
This fresh summery salad stands on its own. But, for campers who like a few extra carbs with their meal, serve some crusty bread or crackers with it too.
---
More Shrimp Camping Recipes
Shrimp can be a pricy ingredient but you don't have to eliminate it from your camp menu. This Shrimp In Garlic Wine Sauce Over Pasta is garlicky, buttery and serves 4 with just one pound of this slightly-costly shellfish.
Bring the flavors of N'awlins to the great outdoors with this Shrimp Po Boys Camping Recipe that combines crispy deep-fried shrimp with an easy homemade remoulade sauce that puts this sandwich OVER THE TOP!
After you try it, you'll know why this Campfire Dutch Oven Thai Basil Shrimp is one of my favorite Dutch oven shrimp recipes. The sauce is A-M-A-Z-I-N-G-L-Y delicious! The savory notes come from soy sauce, onion and garlic while the sweet essence comes from a bit of sugar and the heat comes from a jalapeno pepper. The flavor that really makes this dish shine comes from fresh basil … YUM!
This Dutch Oven Jambalaya is an easy version of this classic Cajun meal that includes shrimp, chicken and sausage. We made our not-too-spicy variety with just a little heat so campers with milder taste buds could enjoy it too.
---
Print This Avocado And Grilled Shrimp Spinach Salad Camping Recipe
Prep Time 15 minutes
Cook Time 5 minutes
Additional Time 15 minutes
Total Time 35 minutes
Ingredients
Salad Dressing Ingredients
2 teaspoons finely minced red onion
1 teaspoon poppy seeds
1 teaspoon sesame seeds
4 tablespoons olive oil
2 tablespoons balsamic vinegar
Salt and pepper, to taste
Shrimp Marinade Ingredients
2 tablespoons olive oil
1 lemon, zest and juice
1 teaspoon garlic salt
Black pepper, to taste
Salad Ingredients
32 shrimp (20-30/lb size), peeled and deveined*
4 ruby red grapefruits, segmented
4 oranges, segmented
4 avocados, cut into slices and tossed in lemon juice to prevent browning
1 lemon, juiced
4 cups firmly packed spinach
4 tablespoons chopped fresh chives
Instructions
Prep-Ahead At Home
You can save time at the campsite by preparing these ingredients at home or you can just put them together while at camp. If you'd like to prep-ahead, do these steps:
Place the salad dressing ingredients in a sealable jar and refrigerate until ready to use. Shake vigorously before serving.
Place the shrimp marinade ingredients in a sealable jar and refrigerate until ready to use.
If you don't buy shrimp that is already peeled and deveined, you need to do that prior to marinating. You can do this at home and place the shrimp in a tightly-sealed food container and refrigerate (no longer than a day or two) until you are ready to cook.
At The Campsite
Prepare your heat source and cooking equipment for grilling over a medium heat.
Place the shrimp in a plastic sealable bag, pour in the marinade and toss to coat. Set the bag aside to marinate just about 15 minutes.
Prepare the salad ingredients and set them aside until you are ready to assemble the salad.
Grill the shrimp over medium heat until it is opaque and no longer pink. Cook on each side but don't overcook them … no rubbery shrimp allowed! About 2-3 minutes per side. Camp Cooking Tip: Cooking methods include using a cast iron grill pan over a propane camp stove or RV stove top or you can use a grill basket to hold the shrimp over a campfire or grill (propane or charcoal) to cook the shrimp without dropping them into the fire if the cooking grate has large slats and wide openings.
Assemble the salad. Start with 4 plates and evenly divide the ingredients to build the salads with a base of spinach then add the grapefruit, oranges, avocados and grilled shrimp. Top with dressing and finish with a sprinkling of chives. Serve immediately and enjoy.
Recommended Products
As an Amazon Associate and member of other affiliate programs, I earn from qualifying purchases.
Nutrition Information:
Yield:
4
Serving Size:
1
Amount Per Serving: Calories: 816Total Fat: 52gSaturated Fat: 8gTrans Fat: 0gUnsaturated Fat: 42gCholesterol: 84mgSodium: 1030mgCarbohydrates: 80gFiber: 26gSugar: 40gProtein: 22g
---
More Delicious Camping Meal Ideas
You don't have to go "gourmet" with every recipe but it is fun to try new and different food. We have super-simple food ideas as well as more complex concoctions.
---
In case you haven't noticed, I am a tiny bit passionate about this whole thing so I didn't stop by sharing my secrets with the totally fun and awesome ladies (and a few brave guys) who were at my LIVE demonstration at Cabela's…I also shared it on 3tv's Good Morning Arizona!