Campfire Cooking Is As Easy As Snap, Crackle, Pop, Cook!
There are so many methods to make awesome camping food.
When you want to add the most excitement to meal creation,
you have to choose campfire cooking!
Not only do you end up with yummy culinary creations, you get to build, maintain and relax near a crackling fire with mesmerizing dancing flames too.
Psst we're compensated…see our disclosures.
Open Fire Camp Cooking Tips
Using flexible cutting mats with a cute camp scene of a Dutch oven cooking food over a camp fire ring is a must-have for campfire cooks!
& 
Camping Flexible Cutting Mats
Learn the best campfire cooking techniques including efficient campfire cooking setups, getting maximum flavor from your food, open campfire heat control and more.
You can't cook over a campfire unless you know how to start one!
These tips will help you start your campfire even in the roughest weather conditions.
When you have the right campfire cooking gear, you instantly become a wilderness chef!
Nothing is better than campfire grilled corn on the cob in the summer!
It is easy, fun and delicious!
Most campers who cook over campfires like the durability of cast iron Dutch ovens.
We have tips to help you choose the best Dutch oven for your type of camping and cooking!
Cast iron Dutch ovens are the cooking vessel of choice for many campfire chefs.
Learn how to use them like the pros do!
Add a few essential Dutch oven accessories to your camp kitchen gear for simple transportation, storage, cooking and cleaning of your equipment!
Looking for easy and tasty Dutch oven recipes?
We've got loads of them!
We have tons of recipes to inspire you to make awesome campfire meals.
One of the most popular methods of camp fire cooking is using foil packets.
The cleanup is almost non-existent too!
You can't cook over a campfire without having s'mores for dessert at least once during your trip!
Lodge is a favorite brand when it comes to campfire cooking.
They have a great line of accessories that make cooking and cleanup simple.
Knowing how many coals to use and where to place them is super important, especially if you are baking things like …
Mountain Man Breakfasts, Dutch Oven Pizzas, breads, cakes and pies!
You can test your knowledge in this post with questions like …
How much heat comes from a coal?
Do ashes add or reduce heat?
Where should you place coals?
What size Dutch oven should you use?
Should you use a standard depth or deep Dutch oven?
You want to start and finish your campfire meal with smiles on faces!
Keep your camping clan healthy with proper food handling techniques.
Keeping your perishable food cold and free from cross-contamination is easy with these cooler packing tips.
Your cast iron camp cookware will last for generations if you maintain it properly.
Use these 4 simple steps to keep your gear in top shape!
If you will be cooking with a campfire and have kids in your group, be sure to practice campfire safety as well as all of the other tips we suggest to keep your littles safe and sound.
If kids are too small to help with cooking and maintaining a campfire, they can still participate by making dryer lint fire starters that are fun and easy to create.
If you want to cook your meals at your campsite but don't want to do the meal prep, try our make ahead meals.
Some are "dump and cook" while others just need to be reheated.
You probably won't find campfire grill grates if you are camping in National Forests so be prepared to bring your own or cook with a tripod.
If fire restrictions are activated while you are camping, you'll need to transition your cooking method to use an easily controlled flame.
That usually means cooking with propane grills and camp stoves.
We live in Arizona and have planned campfire meals that we had to transition to propane stoves because of fire restrictions.
Here are some of our favorites.
Get more camping tips for every aspect of your trips!
Then, go enjoy your next journey!
---
Winter Campfire Cooking
If you like campfire cooking in the summer … you will LOVE it in the winter!
You stay warm and cook your meals all at the same time.
Check out our favorite winter camping recipes for your next cold-weather menu plan.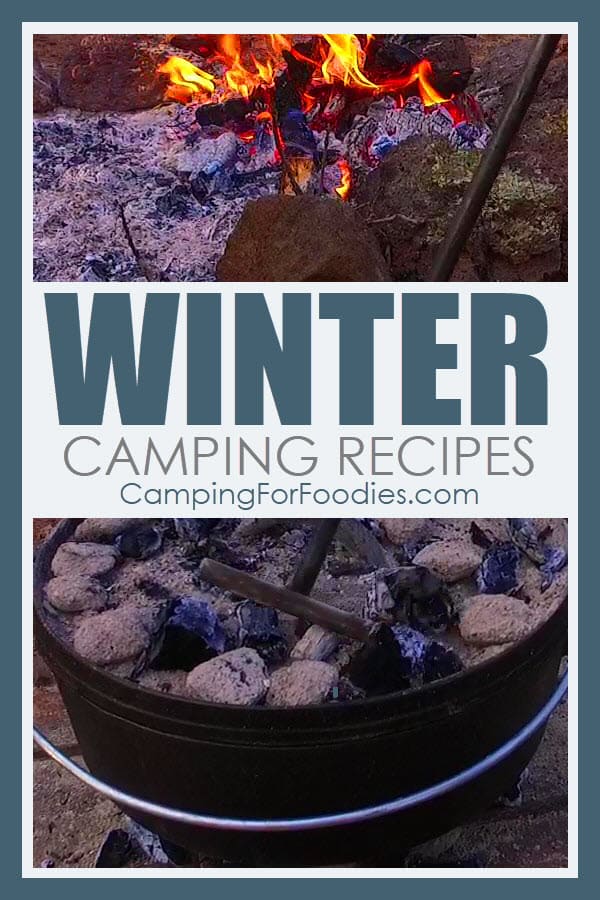 ---
Our Cool Camping Products Make Great Gifts!
---