Campfire Dutch Oven Chili Recipe! You're Gonna Want A Second Bowl!
One of our favorite winter Dutch oven camping recipes is chili (it's great in summer too!)
This Campfire Dutch Oven Chili Recipe is thick and hearty with a rich spicy tomato sauce.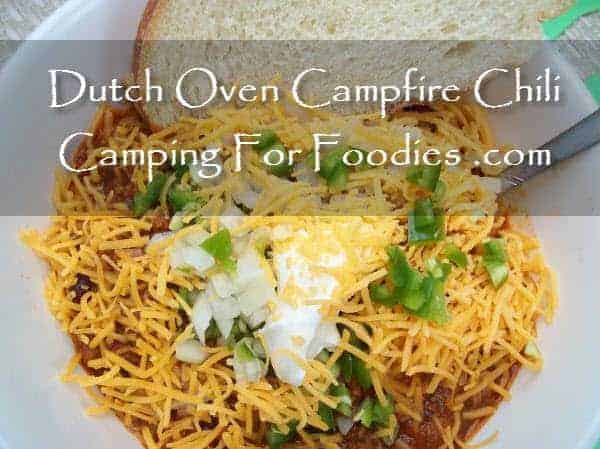 Psst we're compensated…see our disclosures.
Steps To Make This Dutch Oven Campfire Chili Recipe
This chili is the perfect dinner to add to your favorite winter camping recipes list when the afternoons are on the cool side and you want to warm up by the campfire as well as cook over it! 
It's also super easy to make this chili in a camp Dutch oven using a camp stove or RV stove.
Step 1. Start the campfire.
Start your campfire and set up the Dutch oven for cooking over medium-high heat.
This particular time, we set our oven on a grate rather than using a hanging tripod.
If you need a little help getting your fire going … check out our post for tips: Fire Starters Camping Enthusiasts Must Have!
---
Step 2. Chop the veggies.
There is just a little prep work when it comes to this campfire chili recipe.
Just chop a few veggies … onions, garlic, bell and jalapeno peppers and you are cooking!
I totally LOVE my Camping Flexible Cutting Mats that come in 3 sizes and allow me to curl them to easily funnel food directly into my camp Dutch oven.
Camping Flexible Cutting Mats
---
Step 3. Brown the meat.
You will be browning ground beef and pork sausage in your camp Dutch oven over medium-high heat for this campfire chili recipe.
Camp Cooking Tip: When you are cooking over a campfire, you can quickly brown meat in your Dutch oven.
You actually want to be cooking over the campfire coals while you maintain additional "fuel" with a campfire you are feeding with new firewood off to the side.
Then you can move coals closer to … or … further away from your camp Dutch oven to control the heat.
If you are baking with your camp Dutch oven, it can be easier to maintain a precise temperature if you use charcoal briquettes as the heat source.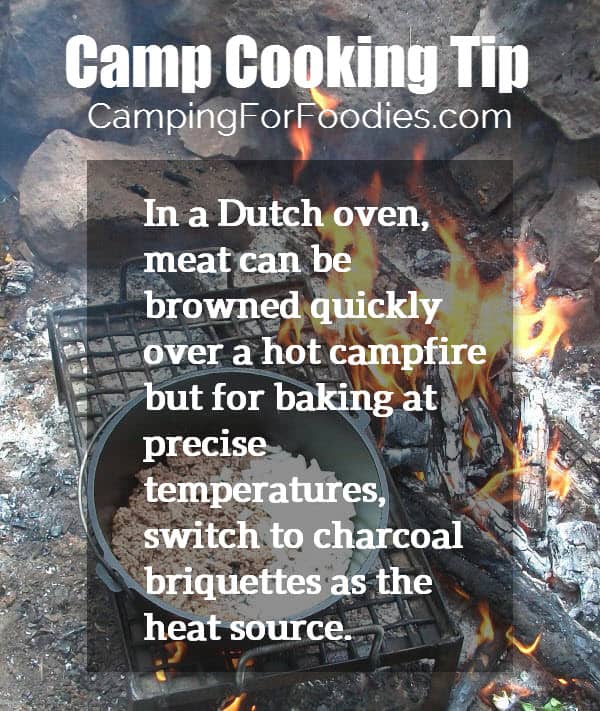 ---
Step 4. Add the veggies.
After the meat is browned, you need to add the onions, garlic, bell pepper and jalapeno peppers you have chopped for this camping chili recipe.
You will cook the veggies until they are softened then add the final ingredients.
---
Step 5. Add remaining ingredients.
Now add the V-8, tomato sauce, kidney beans, pinto beans, cayenne pepper, sugar, oregano, ground black pepper, salt, cumin and chili powder.
---
Step 6. Simmer over the campfire.
You will bring the chili to a boil, then reduce the heat to low … cover … and simmer for about 2 hours stirring occasionally.
Camp Cooking Tip: You will probably have to move some of the campfire coals away from the Dutch oven in order to reduce the heat from medium-high to low. 2 HOURS!
I know … simmering for 2 hours seems like an eternity but this Dutch oven campfire chili recipe is worth the wait!
Just break out your favorite games to pass the time.
If you need some new ideas, check out our favorite campfire games your entire family will enjoy!
---
Step 7. Serve with toppings.
Everyone has their favorite toppings for chili.
We recommend sour cream, onion, cheddar cheese, jalapenos and crusty bread or our easy Dutch oven biscuits to go along with our Dutch oven chili recipe.
---
Camp Cooking Tip: If you are making camping meals for two and don't need to feed a big crowd but you have a taste for chili … just "re-invent" the leftovers for another meal later in your trip.
Some ideas: chili-mac, chili dogs, chili burritos or chili-topped eggs for breakfast that can be served on plates or wrapped in tortillas for breakfast burritos.
---
Campfire Cornbread With Chili
Want to make the classic combination of cornbread and campfire chili?
Try our totally yummy Campfire Dutch Oven Jalapeño Cornbread Camping Recipe!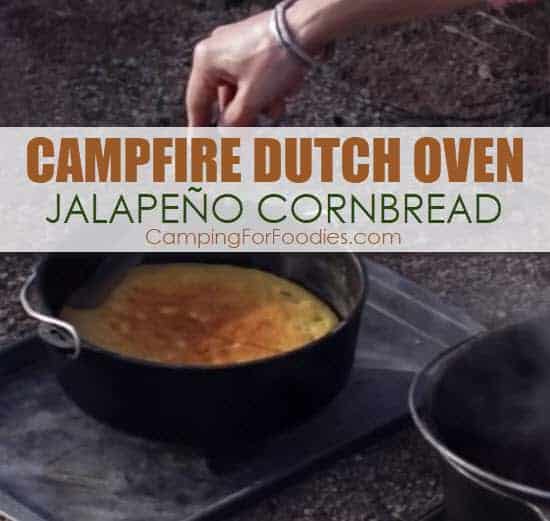 ---
Similar Camping Chili Recipes
We have lots of one pot camping meals and currently have 6 different campfire Dutch oven campfire chili recipes on Camping For Foodies. You may want to try one or all of them!
This Campfire White Chili Recipe is made with ground turkey and it is beyond yummy with a slight Mexican flare from the cumin and cilantro.
Like a creamier version of white chili? Try this Dutch Oven White Chicken Chili that starts with cubed chicken breast meat. It is quick to prep and simple to make. The thick and hearty texture is easily achieved using cream cheese.
It took me forever to get this one from my brother-in-law: Dutch Oven Chili: Secret Family Recipe Revealed! It is a little more work than the average chili recipe but it is well worth it!
This Spicy Steak Chili Camping Dutch Oven Recipe is a bit too spicy for me but my husband loves it … he is a heat freak in case you didn't know!
I created this Spicy Chicken and Corn Chili Camp Recipe for The Emergency Kit Cook Off which prohibited the used of any perishable food items. So, I used non-perishable canned goods and dried spices to create a dish that is perfect if you are low on refrigerator/cooler space during your camping trips!
Want chili with pasta? Try this Dutch Oven Chili Mac. It is a one-pot meal that does not require pre-boiling the macaroni!
---
Print This Campfire Dutch Oven Chili Recipe
Prep Time 15 minutes
Cook Time 2 hours 30 minutes
Total Time 2 hours 45 minutes
Ingredients
1 lb. ground beef
1 lb. hot Italian ground bulk pork sausage (if you want to tone down the spice, use mild or plain)
1 can (46 fluid oz.) V8 vegetable juice
1 (29 oz.) can tomato sauce
1 (15 oz.) can kidney beans, drained and rinsed
1 (15 oz.) can pinto beans, drained and rinsed
1 1/2 cup chopped onion
2 cloves garlic, finely minced
1/4 cup chopped green bell pepper
1 jalapeno pepper, finely chopped
1/8 teaspoon ground cayenne pepper
1/2 teaspoon white sugar
1/2 teaspoon dried oregano
1/2 teaspoon ground black pepper
1 teaspoon salt
1 1/2 teaspoon ground cumin
1/4 cup chili powder
Optional Toppings
Sour cream
Chopped onion
Shredded cheddar cheese
Finely chopped jalapenos
Loaf crusty bread
Cornbread
Instructions
Start your campfire and set up a 12-inch DEEP Dutch oven for cooking.
Add ground beef and pork sausage. Cook over medium-high heat, stirring and breaking up the meat until evenly brown.
Add the onions, garlic, bell pepper and jalapeno pepper to the meat mixture and cook till softened.
Now add the V-8, tomato sauce, kidney beans, pinto beans, cayenne pepper, sugar, oregano, ground black pepper, salt, cumin and chili powder.
Bring to a boil, reduce heat to low and cover. Simmer for about 2 hours stirring occasionally until the chili has reached the desired thickness. Camp Cooking Tip: Adjust the heat by positioning the camp Dutch oven closer to, or further away from the campfire coals to maintain the proper temperature.
Top and serve. Our recommendation of optional toppings: cornbread, sour cream, onion, cheddar cheese, jalapenos and crusty bread. Try our delicious Dutch Oven Jalapeno Cornbread that has a little kick! https://www.campingforfoodies.com/campfire-dutch-oven-jalapeno-cornbread-camping-recipe/
Recommended Products
As an Amazon Associate and member of other affiliate programs, I earn from qualifying purchases.
Nutrition Information:
Yield:
8
Serving Size:
1
Amount Per Serving: Calories: 738Total Fat: 32gSaturated Fat: 10gTrans Fat: 1gUnsaturated Fat: 17gCholesterol: 104mgSodium: 1652mgCarbohydrates: 72gFiber: 7gSugar: 12gProtein: 42g
---
Cooking Tips For Making Campfire Chili
Need help getting your fire started for cooking this Campfire Dutch Oven Chili Recipe?
These Coghlan's fire sticks are non toxic, they leave no odor and burn completely.
They even light after being submerged in water!
Coghlan's Fire Sticks
---
If you are cooking this campfire chili recipe in a large campfire ring, using a camp grill grate is the perfect way to organize your fire pit for cooking off to the side of the campfire area.
This is one piece of campfire cooking equipment we use on a regular basis when we are boondocking in remote camping locations.
Texsport Heavy Duty Over Fire Camp Grill
---
Using long "Tweezers" will help you stay a safe distance from the hot campfire while you are adjusting your firewood while cooking your camping chili.
The Perfect CampfireGrill Heavy-Duty Log Tweezers
---
Put a smile on your face while you are chopping your veggies for this Dutch oven campfire chili recipe by using these cute retro RV camper trailer flexible cutting mats with the camp, hike, cook, drink, eat, repeat message.
Camping For Foodies Flexible Cutting Mats with Retro RV Camper Trailer Theme Design, Set of 3. Fun Message. Camp, Hike, Cook, Drink, Eat, Repeat.
---
After your Dutch oven is pre-heated, take extra precaution when handling the hot cooking utensils … the lid as well as the handle.
A cast iron lid lifter can keep you safely away from the hot campfire and coals as you lift this campfire Dutch oven chili off of the fire to serve it.
Coleman Cast Iron Lid Lifter
---
More Simple Camping Recipes
---