Campfire Dutch Oven Gumbo Recipe To Feed A Crowd!
Soup and stew campfire recipes are great options for feeding larger crowds.
The ingredient list for this Campfire Dutch Oven Gumbo Recipe is a bit longer than our usual camp meals but it's the flavor layers that make this dish an all-time favorite.
Our gumbo recipe is intended for a kick-back day of campfire tending and relaxed cooking at the campsite.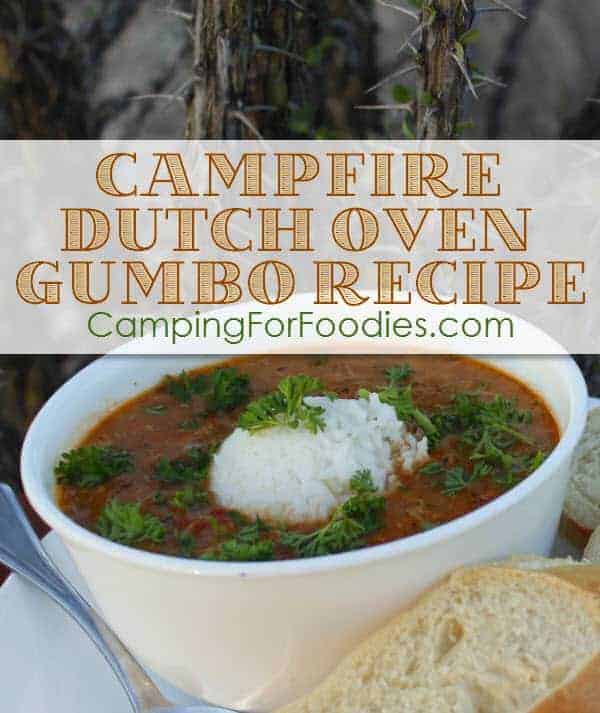 Psst we're compensated…see our disclosures.
How To Make Dutch Oven Gumbo
Talk about winter camping recipes that are hearty, warm and filling … this gumbo tops the charts!
---
12-Inch Deep Camp Dutch Oven, 8 Quart
This gumbo Dutch oven recipe feeds a crowd of 10-12 people and needs a 12-Inch DEEP Camp Dutch Oven …
or a Regular Depth 14-Inch Camp Dutch Oven …
both have an 8-quart capacity and will work.
If you use a standard depth 12-inch camp Dutch oven, you will NOT be able to fit the entire recipe in one pot so you'll have to use a second pot … especially after you add the roux mixture.
---
Cast Iron Dutch Oven Size Capacities
| | | |
| --- | --- | --- |
| 8 Inch Classic | 2 Quarts | 8 Cups |
| 10 Inch Classic | 4 Quarts | 16 Cups |
| 10 Inch Deep | 5 Quarts | 20 Cups |
| 12 Inch Classic | 6 Quarts | 24 Cups |
| 12 Inch Deep | 8 Quarts | 32 Cups |
| 14 Inch Classic | 8 Quarts | 32 Cups |
| 14 Inch Deep | 10 Quarts | 40 Cups |
| 16 Inch Classic | 12 Quarts | 48 Cups |
---
Cooking Tips For Making Gumbo In Dutch Ovens
Camp Cooking Tip: There is quite a bit of chopping involved with this campfire Dutch oven gumbo so I recommend doing all of the prep work first … then start the cooking … UNLESS you have a crew helping you, then have everything going at the same time!
I like using my flexible cutting mats for prepping my camping meals because they are lightweight, easily curl to funnel food directly into the cooking pot and they can be hung from hooks for storage after use.
Plus, they are SUPER CUTE and make great gifts!
Camping Flexible Cutting Mats
---
Camp Cooking Tip: This campfire gumbo combines layers of flavors and is the perfect recipe to feed a group of 10-12 people.
The same recipe can feed even larger groups if you serve it with a nice crusty bread on the side and start with an appetizer like my Awesome Hot Cheesy Spinach Artichoke Dip Campfire Dutch Oven Appetizer Recipe.
---
Camp Cooking Tip: Cajun Dutch oven recipes that require a roux need a larger surface area to cook two pots over the campfire at the same time so check the cooking grate capacity before you actually start your campfire.
---
Camp Cooking Tip: You are going to use a separate cast iron skillet to make the roux for this recipe. I like cooking this Dutch oven gumbo directly over my campfire on a grill grate so I can work the 2 pans at the same time. Alternatively, you can make the roux on a camp stove or RV stove if you prefer.
---
Camp Cooking Tip: Be EXTREMELY CAREFUL when you pour the roux into the cast iron gumbo pot.
The pan can be heavy and hot so make sure you are using heat resistant gloves which happen to be essential gear items in our campfire cooking equipment box.
Also, like I mentioned before … you must use an 8-quart or larger camp Dutch oven … OR … you will have to separate the batch in two pots at this point.
---
Camp Cooking Tip: The roux takes 30-60 minutes of whisking to blend the ingredients and develop the flavor and dark color. You can use a roux in other camp meals too … it is great for thickening soups and stews!
---
---
Similar Camping Recipes
If you like Cajun flavors, be sure to try these Dutch Oven Camping Recipes too!
This easy Dutch Oven Jambalaya is a family-friendly version that is not too spicy. It features a combination of chicken, sausage and shrimp in a thick tomato-based sauce. Serve it over fluffy rice with a bottle of hot sauce on the side for the campers in your crowd who like a spicier version.
Make this Campfire Stew on your cold-weather camp trips. This hearty one-pot meal cooks the beef, carrots, and potatoes for about 2 hours producing a fork-tender meal that is soooo satisfying.
---
Print This Campfire Dutch Oven Gumbo Recipe
Prep Time 30 minutes
Cook Time 4 hours
Total Time 4 hours 30 minutes
Ingredients
4 slices bacon, chopped in small pieces
3 pounds chicken thighs with bones
1 pound andouille sausage, sliced
2 large onions, chopped
3 stalks celery, chopped
1 large green bell pepper, chopped
28 oz. diced tomatoes (undrained)
4 oz. can green chilies
4 garlic cloves, chopped
2 teaspoons salt
1/2 teaspoon black pepper
1 teaspoon dried thyme
1 teaspoon dried basil
1/2 teaspoon cayenne pepper
1/3 cup vegetable oil
1/2 cup all purpose flour
8 cups chicken stock
1 pounds medium shrimp, peeled and deveined
12 servings white rice cooked according to package directions
Fresh parsley, chopped (optional)
Instructions
Heat large 12-inch DEEP Camping Dutch Oven over medium-high campfire heat.
Fry bacon.
Add chicken, sausage, onions, celery, bell pepper, diced tomatoes, green chilies, garlic, salt, black pepper, thyme, basil and cayenne pepper.
Bring to a boil.
Slow simmer for 2 hours. Note: you will probably have to reduce the heat from the campfire at first then you may have to add more firewood to maintain the temperature of the campfire in order to keep the gumbo slow simmering. All of this depends on your specific elevation and weather conditions so just monitor the gumbo and adjust your campfire as necessary.
Remove chicken from Dutch oven and let cool slightly to the touch, then remove meat from bones and add chicken back to the Dutch oven.
Make the roux. In hot Cast Iron Skillet, add oil and flour then stir with wire whisk till well blended and roux starts to bubble (this will take about 5 minutes), then turn down heat by removing some campfire coals to maintain a medium heat. Keep stirring until the roux mixture starts to turn brown, keep LOWERING THE HEAT as the mixture continues to get deeper in color (if you don't reduce the heat during cooking, the roux will burn). It can take 30 – 60 minutes to get the roux to the deep color you are looking for.
Once the roux is a brown color, slowly add the chicken stock stirring constantly.
After the chicken stock is combined with the roux it will begin to boil. Once that has occurred, transfer it to the gumbo in the Dutch oven and combine till it simmers and make sure you are using Heat Resistant Gloves when handling hot cooking equipment.
Just before serving, add the shrimp and cook until no longer translucent.
Serve in bowl over rice and top with fresh parsley.
Recommended Products
As an Amazon Associate and member of other affiliate programs, I earn from qualifying purchases.
Nutrition Information:
Yield:
10
Serving Size:
1
Amount Per Serving: Calories: 946Total Fat: 44gSaturated Fat: 12gTrans Fat: 0gUnsaturated Fat: 30gCholesterol: 308mgSodium: 1922mgCarbohydrates: 75gFiber: 3gSugar: 8gProtein: 61g
---
Once you are done enjoying this delicious recipe, don't forget to take care of your valuable camp cast iron cookware! It will last for generations if you treat it right! Our Cleaning And Seasoning Cast Iron Dutch Oven Cookware post has great tips to keep your investment in tip-top shape!
---
More Camping Recipes
There are so many unique meals you can make at the campsite. Try a recipe for every meal of your next trip!