Campfire Stew Dutch Oven Camping Recipe (it is easy, hearty and tender!)
Talk about Dutch oven camping recipes to please a crowd!
When it comes to Campfire Stew, the best way to make it hearty and tender is by simmering it over a campfire for a few hours.
This easy beef stew recipe contains beef and vegetables making it one of the best one pot camping meals.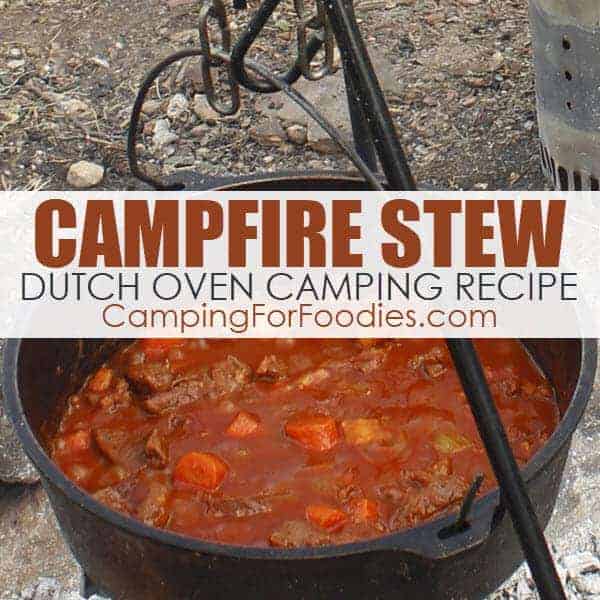 Psst we're compensated…see our disclosures.
How To Make This Dutch Oven Stew Camping Recipe
No matter when we make this stew, it is a fantastic dinner. It is one of our favorite winter camping recipes because it warms you to the core!
Step 1. Prepare your campfire for cooking.
This is a fast beef stew to prepare but it cooks for quite a while (to get the meat nice and tender) so you'll want to get your campfire started before you start your food prep because you'll need some time for the campfire coals to begin to form.
For some people, starting a campfire is no problem. For others … it can be a bit challenging.
Not to worry, we have an entire post dedicated to those campers! Check out these camping fire starters before you strike the match!
Step 2. Prep the veggies.
You will be chopping and peeling some vegetables including garlic, onions, potatoes, carrots and celery for this cast iron Dutch oven beef stew which happens to be one of our favorite gluten free camping food meals.
The task is way more fun when you use cute cutting mats and you can easily funnel food directly into your pot because they are lightweight, flexible and they curl!
Camping Flexible Cutting Mats
Step 3. Prep the beef and bacon.
You'll be cutting the meat into bite sized pieces for this camp oven stew recipe.
Even though the meat will be very tender after simmering in the beef broth and tomato sauce, you still don't want to have to cut it before taking a bite.
Also, make sure you liberally season the beef with salt and pepper before it is seared.
Step 4. Heat your camp oven and add the bacon.
You don't need to add any oil to your 12-inch camp oven, because the fat will render from the bacon as you cook it.
We like the flavors of a traditional old fashioned beef stew with potatoes and other vegetables but we always like adding a twist so the bacon is the beginning flavor we build this delicious meal upon.
Step 5. Add the beef.
Now it is time to add the beef to the oven with the bacon and the fat.
Don't drain any of the bacon grease, that fat provides a quick layer of rich flavor to this tasty camp stew.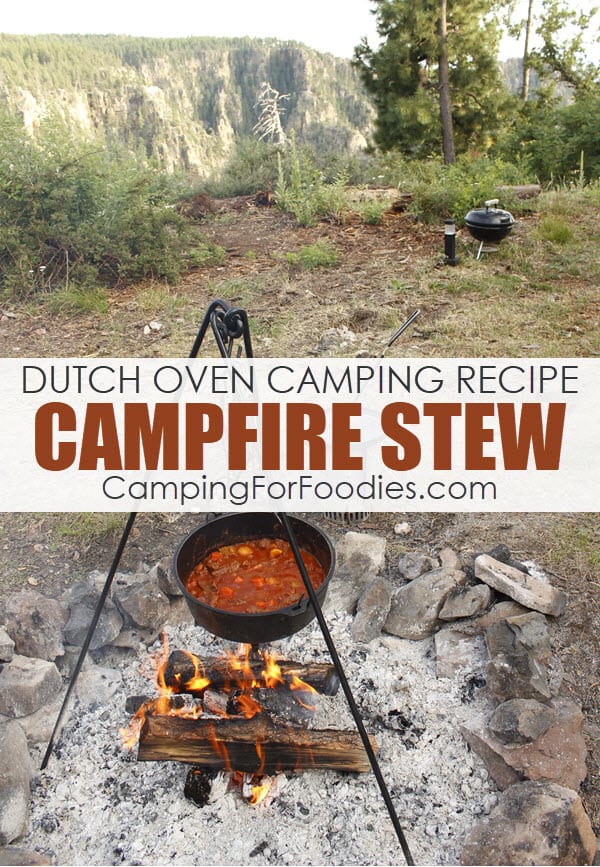 ---
Step 6. Reduce the heat.
Now you can reduce the heat to medium so you don't burn the garlic and onions.
Camp Cooking Tip: If you are using a tripod for cooking over your campfire coals, you can just raise and lower the chain to move your oven closer or further from the campfire to reduce and increase the cooking temperature.
If you are using a different piece of campfire cooking equipment, like a non-adjustable grate, you will need to reduce or add more coals to control the heat.
Step 7. Add the liquids and spices.
Once the veggies are softened, you'll add the tomato paste, beef broth, rosemary, parsley, thyme, potatoes, carrots and celery, stirring to combine.
Camp Cooking Tip: As you are adding ingredients to your pot, you may want to remove the oven from the campfire so you don't get burned and you have an easy time of adding and stirring in the ingredients for this camping stew recipe.
I find it easiest to remove the oven from the tripod using heat resistant gloves that protect my hands and arms from the heat and also give me the ability to easily control the oven's handle.
Step 8. Bring to simmer.
It's time to bring this luscious pot of hearty beef stew to a simmer over your campfire coals.
You are just waiting for it to start simmering before you cover it for the remainder of the cooking time.
Step 9. Cover and wait.
Now it is time to place your lid on the oven because you are going to continue simmering this one pot camping dinner until the meat and vegetables are tender which will take approximately 1 – 2 hours (the longer the better)!
You can make these easy Dutch oven biscuits while the stew is cooking.
Step 10. It's almost done!
You will continue simmering this campfire beef stew with the lid removed.
At this point, you are just waiting for the consistency you like in your stews.
Camp Cooking Tip: The longer it simmers with the lid removed, the thicker the stew will become.
---
Alternate Cooking Methods For Campfire Dutch Oven Beef Stew
We do most of our camp trips in remote areas of National Forests in Arizona and if the weather is hot and dry, we are often under fire restrictions and are unable to cook this camp oven beef stew over a campfire.
Check out our camping fire restrictions post for more tips.
Camp Cooking Tip: When we can't use a campfire to make this beef stew in camp ovens, we make the slight adjustment and make it as one of our camp stove recipes. If you are using small 1 pound propane tanks on your stove, make sure you have enough of them to cook for long periods of time. This particular recipe simmers for about two hours and you don't want to cut that time short because that is how the meat gets soooooooo tender.
We love the eco-friendliness of refilling 1 lb propane tanks that we use with our camp stove.
---
Recipes Similar To Beef Stew
We have two camping dinner recipes for campfire stew, this one that cooks a big batch in one pot, and another that cooks individual servings in foil packs.
We think this is the best beef stew for cooking in a cast iron pot over a campfire … but … if you have picky eaters you may want to consider a Campfire Hobo Stew Recipe In Foil Packets that is made in single foil pouches so each camper can choose which ingredients go into their meal and which ingredients don't make it into their packet!
My Dutch Oven Cowboy Stew is a one pot meal that uses lots of canned goods including pinto beans, tomatoes, green beans, corn and green chilies. Flavor comes from the ground beef, a couple of slices of bacon and andouille sausage.
3 simple ingredients … low and slow Dutch oven cooking … and you've got a fabulous dinner on the table. These Dutch Oven Beef Sandwiches are perfect for summertime camp trips.
This One Pot Creamy Cajun Chicken Camping Pasta is so easy and fast! You boil the pasta and then combine pre-cooked chicken, cream cheese, fire roasted tomatoes, a jalapeno pepper and some Cajun spices to make a yummy one pot comfort food dinner you'll want to make again and again.
Dutch Oven Chili: Secret Family Recipe Revealed! This amazingly delicious chili was a secret recipe for years until my brother-in-law decided it was too good to keep to himself. It starts with bacon, ground beef and Italian sausage then uses a homemade spice mix and a splash of beer to make a chili you can't stop eating!
How about a big pot of Campfire Goulash too!?!? This hearty comfort food is packed with carbs, protein and tons of flavor to give you energy and keep you warm on cold weather trips!
---
Pairings For Camping Beef Stew
You really don't need to serve anything else with this one pot dinner but lots of people like to soak up the flavorful sauce with a nice crusty bread.
If you want to go all out, make this Dutch Oven Bread that is savory with a biscuit-like texture and requires no yeast and minimal kneading.
Looking for a bread that is slightly sweet with a touch of heat? Try out Campfire Jalapeño Cornbread. It is also great with a bowl of chili!
---
Print This Campfire Stew Dutch Oven Camping Recipe
Prep Time 15 minutes
Cook Time 2 hours 15 minutes
Total Time 2 hours 30 minutes
Ingredients
4 slices thick bacon, cut into small pieces
2 pounds boneless beef chuck, cut into bite-size pieces
Salt and pepper, generously to taste
1 large onion, coarsely chopped
4 cloves garlic, minced
1 (6 oz.) can tomato paste
1 (32 oz.) container of beef broth
1 teaspoon dried rosemary
1 teaspoon dried parsley
1 teaspoon dried thyme
3 large potatoes, peeled and cut in 2-inch pieces
5 carrots, cut in 1-inch pieces
2 stalks celery, cut in 1-inch pieces
Instructions
Prepare your campfire for cooking.
Prep vegetables as described: garlic, onions, potatoes, carrots and celery.
Prep beef and bacon as described.
In 12-inch camp Dutch oven, cook and stir bacon over medium-high heat until bacon is browned and crisp.
Season beef with salt and pepper and add to Dutch oven, stir until beef is seared.
Reduce heat to medium, add garlic and onions, cook till softened.
Add tomato paste, beef broth, rosemary, parsley, thyme, potatoes, carrots and celery, stirring to combine.
Bring to simmer over medium heat.
Cover and continue simmering, stirring occasionally until meat and vegetables are tender, approximately 1 – 2 hours. Camp Cooking Tip: We like our stew meat to be extremely tender so I give it as much time in the pot as possible. I always plan for 2 hours of simmering time unless we have a super busy camping day and I just don't have that luxury. No matter what, don't increase the campfire temperature to the boiling point because that will just make the meat tough.
Remove lid and continue to simmer until your Campfire Stew reaches your desired thickness. Camp Cooking Tip: The longer it cooks with the lid removed, the thicker the stew becomes. If you want a soup-like stew you will be ready to serve shortly after the meat and veggies are tender. But if you want a thick beef stew (which is how our family likes it), you should plan on about 20 more minutes to finish cooking to that consistency.
Recommended Products
As an Amazon Associate and member of other affiliate programs, I earn from qualifying purchases.
Nutrition Information:
Yield:
4
Serving Size:
1
Amount Per Serving: Calories: 747Total Fat: 20gSaturated Fat: 8gTrans Fat: 1gUnsaturated Fat: 12gCholesterol: 236mgSodium: 720mgCarbohydrates: 59gFiber: 8gSugar: 7gProtein: 85g
---
More Yummy And Simple Camp Meals
There are so many fun recipes to make your campsite menu exciting and yummy. Try a few new recipes on your next trip!