Camping Safety Tips For Families Who RV And Tent Camp
Keeping insects away from the campsite area is a good first defense in avoiding problems from insects.
The 3-wick candle is made with real citronella oil, has a wind-resistant design and a wide base to prevent tipping.
---
Repel Natural Insect Repellent
Protecting your campsite area from insects is a first defense; protecting your body is a second defense.
This Repel Natural Insect Repellent has a cool, refreshing and strong scent that is pleasant to humans but not to insects.
It repels mosquitoes and deer ticks for up to 6-hours and contains oil of lemon eucalyptus which is DEET-free.
&
---
We have an entire post dedicated to the subject of winning the battle over bugs at the campsite!
See how to keep bugs away including flies, mosquitoes and other insects!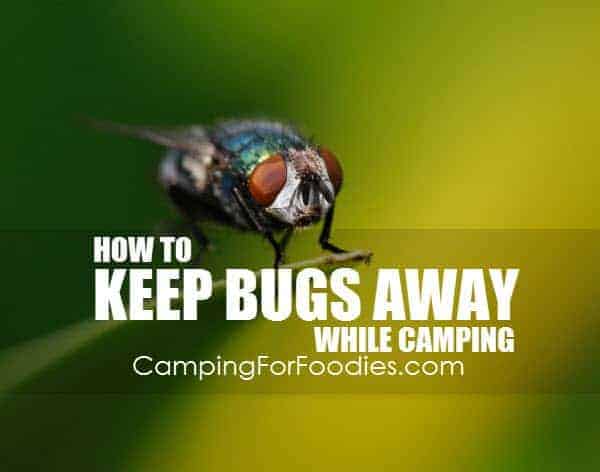 &
---
Camping Safety Tips #7: Practice Campfire Safety
Everyone seems to love roasting marshmallows around a crackling campfire. But, without proper precautions, campfires can cause safety issues; here are a few things to consider:
Use safe starters to light your campfire … never use gasoline or other flammable fuel.
Stay a safe distance from your campfire … especially small kids.
Wear protective gear when cooking with your campfire.
Keep your campfire small and contained.
Have a fire extinguisher ready in case your campfire accidentally gets too big.
Remove tripping hazards near your campfire.
Fully extinguish your campfire before going to bed or leaving your campsite.
&
---
Rutland Safe Lite Fire Starter Squares
Rutland Safe Lite Fire Starter Squares make it easy to start a campfire when you don't have kindling.
They even work when wet!
If you are planning to cook over your campfire, these starter squares won't flavor food and won't flare up.
They were designed to meet the strictest air quality codes and are made from recycled wood chips and wax which are non-toxic.
&
---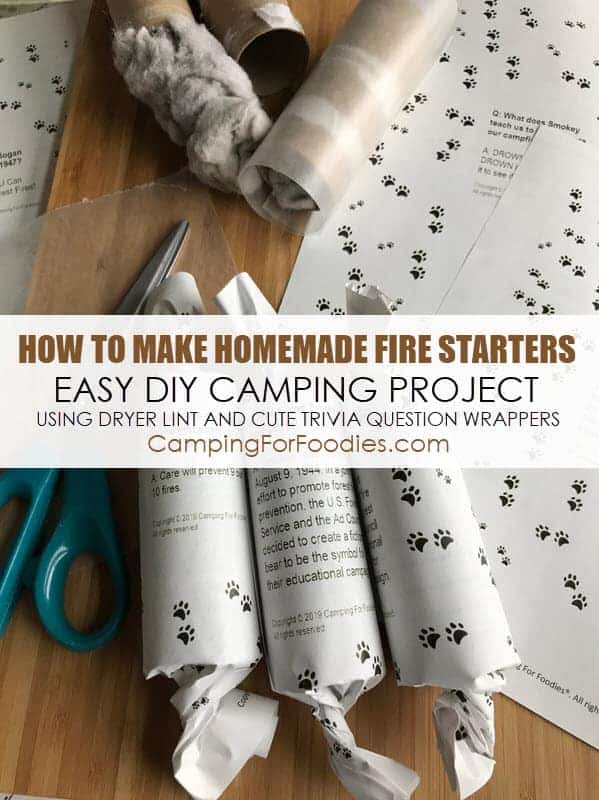 Thinking the kids might get a kick out of making their own camping fire starters?
Check out this fun project to make your own homemade fire starters for you next camp trip!
If you think you might want more options for commercially made camping fire starters, you will find tons of super cool options available on the market!
&
---
---
Sure you could roast marshmallows for the ordinary s'more but why would you when you can try new and interesting smores ideas?!?
You'll want to get creative with these Campfire Smores Recipes: 10 Mouth-Watering Smore Variations!
&
---
US Forge Lined Leather Welding Gloves
When cooking with your campfire, adult supervision is the name of the game.
Kids should be carefully supervised and limited to age-appropriate tasks.
Adults should handle hot cooking accessories, like Dutch ovens and grill grates, with heat-tolerant gear.
These US Forge Lined Leather Welding Gloves are designed to provide protection from the extreme heat of welding making them more than sufficient around a campfire.
They are durable, pliable and have a comfortable lining.
&
---
Coleman Rugged Folding Camp Shovel
Never leave your campfire unattended!
As Smokey the Bear says … Only you can prevent wildfires.
Be sure to fully extinguish your fire before going to bed or leaving your campsite.
Douse it with water and stir it with a shovel until it is no longer smoldering.
In the absence of water, bury the fire by stirring dirt or sand into the embers.
Continue the process until the entire area is cool to the touch.
This Coleman Rugged Folding Camp Shovel is actually a multi-tool that can be used as a shovel, saw (serrated edge to saw through roots) and axe (sharpened edge to chop).
When fully extended, the shovel measures 23″ and folds to 10″ for storage and transport.
&
---
Kidde Pro 210 Fire Extinguisher
We carry several multipurpose extinguishers on all of our camping trips.
Place your fire extinguisher in an easy-to-access location at your campsite.
Your entire family should know where it is and how to use it.
This Kidde Pro 210 Fire Extinguisher fights all types of fire (trash, wood, paper, liquids, electrical equipment).
It is fully rechargeable and the pressure gauge allows you to do an immediate pressure status check.
&
---
Once your fire is safe and secure, don't forget to have fun and play some campfire games!
We have a post with 10 fun activities and campfire games for families and kiddos!
&
---
Camping Safety Tips #8: Prevent Heat And Cold-Caused Illnesses
When camping in warm-hot conditions, protect your family from dehydration and sunburns.
When camping in cold conditions protect your family from hypothermia.
Here we're focusing on summer camping but cold weather camping has special challenges which we provide lots of tips for in these other blog posts:
Another way to stay safe from the heat is by staying out of direct sun on hot days.
If you have an RV with an awning, extending it is an easy way to provide instant shade.
If the wind picks up and you don't know how to keep RV awnings from flapping, try this simply DIY hack!
&
---
Aqua-Tainer 7-Gallon Rigid Water Container
Make sure your camping destination has an ample supply of drinking water.
You may need to carry your own (or extra) supply if you don't have access to drinkable water … like when boondocking off-the-grid in remote camping areas in National Forests.
We carry more water than we expect to need in several jugs.
This Aqua-Tainer 7-Gallon Rigid Water Container has a screw-on vent and a hideaway spigot for on-demand water dispensing.
Their molded contour grip makes them easy to carry.
&
---
It is always important to follow good camping safety tips, but it is especially important if you are boondocking in remote areas away from emergency services.
Get tips in our Boondocking: How And Where To Go Dispersed Camping post and keep your family safe as you enjoy the great outdoors!
---
Hiking is a family-friendly camping activity but can potentially cause dehydration … Drinking plenty of water before, during and after the hike prevents it. 
Providing each hiker with a constant supply of water keeps everyone safe.
This CamelBak Kids Mini Hydration Pack is designed just for kids.
The breathable back panel makes it lightweight and the sternum strap features a built-in safety whistle.
For adults, the TETON 2-Liter Hydration Backpack only weighs 2 pounds when empty and has a low-profile athletic cut.
It has multiple pockets to carry extra gear and the 2-liter hydration bladder has triple-heat sealed edges and a 2″ opening for easy filling and cleaning.
CamelBak Kids Mini Hydration Pack
TETON 2-Liter Hydration Backpack
&
---
Chill Pal PVA Cooling Towel
Last year we were camping in Yosemite National Park over the July 4th holiday and it was H-O-T during our hikes!
The rock formations are so beautiful that I could hardly stand it but my enjoyment of the experience quickly began to deteriorate as the day went on because I was not prepared for the lack of shade along our hike path.
I did not overheat thanks to Cooling Towels, but I did hike slower than normal.
That was on our first day … on the subsequent days of our trip, we chose to begin our hikes in the very early morning so we were finished when the heat of the day arrived.
I totally enjoyed every hike and rotated between two cooling towels to keep my body temperature safe.
&
---
If you have not been to Yosemite National Park … you really need to get there at some point in your camping life!
It is one of the most beautiful places on the planet!
And, I am saying that as the local Arizona camping girl who has the Grand Canyon in my own backyard!
Check out our post on Yosemite National Park camping … it has a VIDEO and tips on what to see and do.
You'll see why I give this place a "Must See Bucket List Rating"!!!
&
---
---
---
Sun Bum SPF 70 Continuous Spray Sunscreen
Wearing sunscreen is a non-negotiable issue for our family.
We love our Arizona sun-filled days but we need to protect from harmful rays.
This Sun Bum SPF 70 Continuous Spray Sunscreen is a moisturizing sunscreen that protects from harmful UVA/UVB rays while enriching your skin with Vitamin E.
It is water-resistant so sweating on your hike is no problem! You can go swimming with it too!
&
---
Camping Safety Tips #9: Stay Clean And Sanitized
Illness from inadequate hand washing on camping trips is easily avoided by using alcohol-based hand sanitizers as well as providing a conveniently located hand washing station.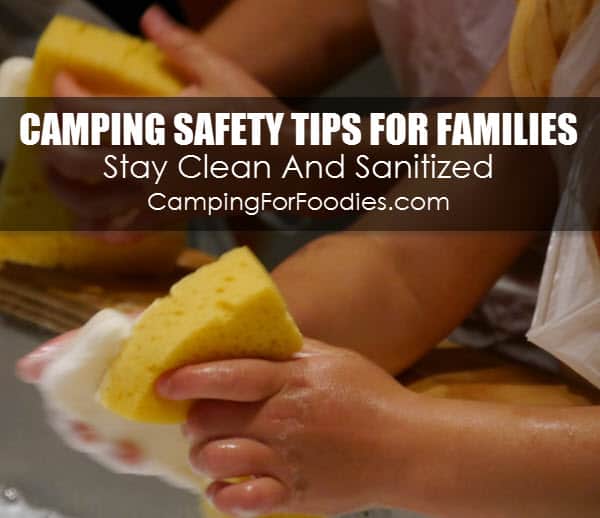 ---
Portable Camping Sink
Make it convenient for your family to wash their hands throughout the day.
This Portable Camping Sink is a unique set-up that allows you to pump the water with your foot (that's the hands-free part) so your hands are free to suds up and rinse!
Having the built-in towel holder and soap dispenser ensures your family is actually getting clean rather than just "rinsing the dirt away" … Yes, I've seen big and little kids alike do that maneuver … Ugh!
&
---
Wet Ones Antibacterial Wipes
Sanitizing wipes are the bomb! These Wet Ones Antibacterial Wipes kill 99.99% of germs, are hypoallergenic and enriched with skin-conditioning aloe.
Because they are portable and convenient, they get used!
These single packs are easily carried in a backpack or pocket … That's a good thing!
&
---
---
Camping Safety Tips #10: Prepare For Medical Needs
You don't want to be out in the wilderness to find you are out of adhesive bandages!
BEFORE your trip, restock expired medicines/ointments as well as used/missing items in your first aid kits.
You can know exactly what to do in every first aid situation if you download the FREE Red Cross app on your phone.
It is just one of the best camping apps you should have before your next trip!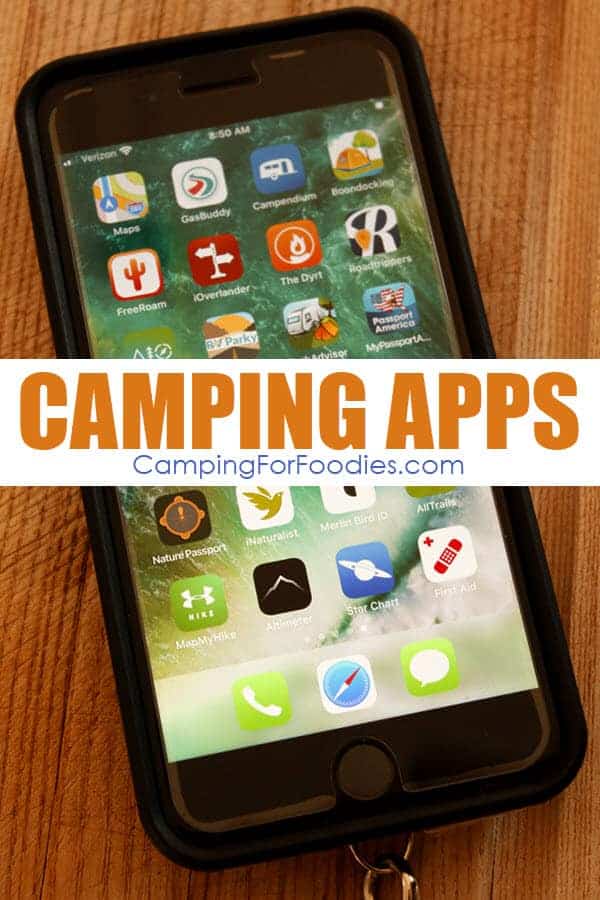 ---
Compact 299 Piece First Aid Kit
Having a first aid kit designed to handle minor medical emergencies is a good thing to keep in your vehicle and at your campsite.
This Compact First Aid Kit is equipped with various styles of bandages, prep pads, cleansing wipes, closure strips, cold compress, emergency blanket, first aid tape, tweezers, blister relief pad, scissors, gloves and more!
&
---
Camping Safety Tips #11: Avoid Weather Hazards
Weather can be unpredictable. Before your trip, check the weather forecast for the area where you will be camping … then use a weather alert radio to stay informed of any hazards throughout your trip.
Follow these preventive measures:
Don't set up camp near standing dead trees that may blow over and injure your family in a storm.
Take protection from lightning by avoiding metallic objects and high ground especially isolated tall trees. If you are staying in a campground or RV park with traditional building structures, those will probably be the safest location in a lightning storm; otherwise, your vehicle will most likely provide you the best protection. The National Weather Service has more lightning safety tips.
Take cover in a protected area during windy storms and avoid natural flying debris like tree limbs, as well as man-made items like overhead tents and awnings.
Rocks and paved surfaces can get slick during rainstorms, take precaution and don't slip.
Plan for safe indoor activities in case bad weather changes your normal outdoor plans.
---
---
When unexpected bad weather changes your outdoor plans, relocate to safety and comfort … move the party inside a sheltered area.
Be prepared with rainy day camp games and keep the fun in your trip.
---
Camping Safety Tips #12: Wear Appropriate Clothing And Footwear
Have you ever seen someone hike in flip flops?
We have … and, it is NOT a pretty sight!
Make sure you pack proper clothing and footwear for your planned activities.
Consider sun protection clothing.
The Ultraviolet Protection Factor (UPF) is a rating that represents the amount of UVA and UVB radiation that passes through fabrics and reaches your skin.
Learn more from the Skin Cancer Foundation.
&
---
---
---
---
Camping Safety Tips #13: Practice Propane Safety
Carbon monoxide (CO) poisoning is something to take very seriously.
It can kill!
The most common sources of carbon monoxide emissions from camping propane comes through the use of heaters and cooking equipment.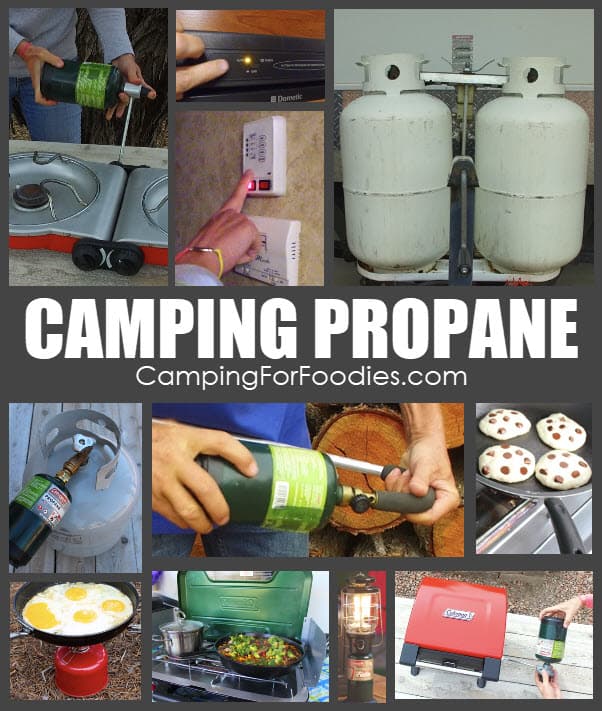 Additionally, gas-powered equipment, like generators or even your vehicle, can produce dangerous carbon monoxide.
Get more RV tips and hacks on this subject and more.
---
---
Camping Safety Tips #14: Prepare In Advance
Before you go, there are a few odds and ends to address:
Get vaccinated.  Cuts and puncture wounds leave open doors for bacteria infections. So, your doctor may recommend tetanus shots and other vaccinations prior to your camping trip.
Tell someone where you will be camping and hiking. Sign in and out of the log located at the trailhead.
Know the location of the nearest hospital in case you have to rush there for an emergency.
---
Camping Safety Tips #15: Use A Checklist
Using a checklist helps you stay organized and stress-free!
We have a FREE Printable Camping Checklist that will help you to be prepared for your awesome camping adventures.
We also have an awesome RV Tool Kit Checklist if your camping adventures will be in a home on wheels!
Get more tips on how to plan a camping trip and a free printable trip planner too.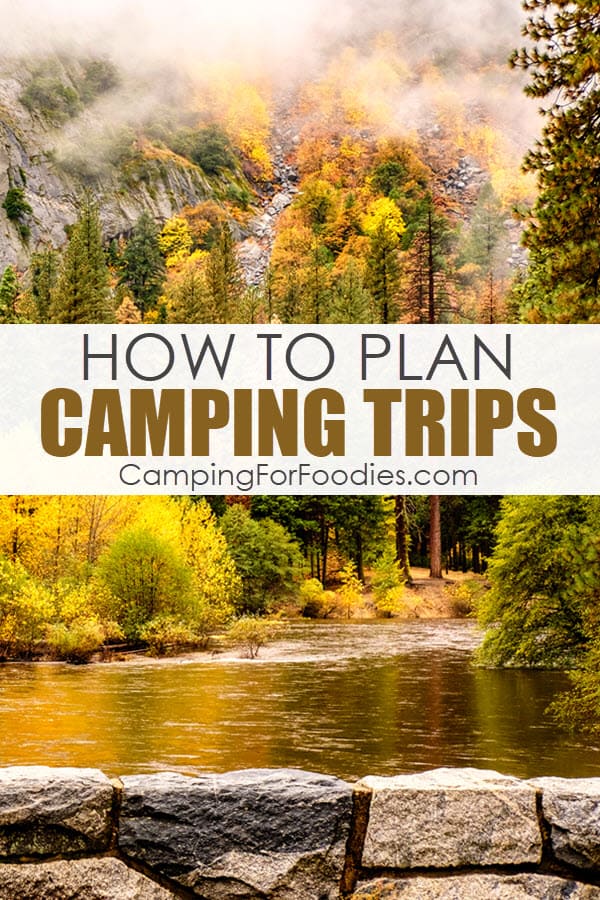 &
---
---
If you need camping recipes and menu ideas, you can find them here at the Camping For Foodies Camping Recipes list.
Don't miss a thing…sign up for Camping For Foodies email updates!
Your purchase of our products will help support World Vision ® Building a better world for children.
---
Pin this for later…