Camping Security Protects Valuables From Theft
Some of our camping tips are focused on fun … others on staying safe so you can have fun!
We don't worry about being safe because we practice easy camping safety techniques on our trips.
We worry more about a big unfriendly dog next door than we do about our personal safety and camping security of our valuables.
Even so, we do take simple precautions to reduce the potential for theft and maintain a secure campsite so we can focus on the fun stuff!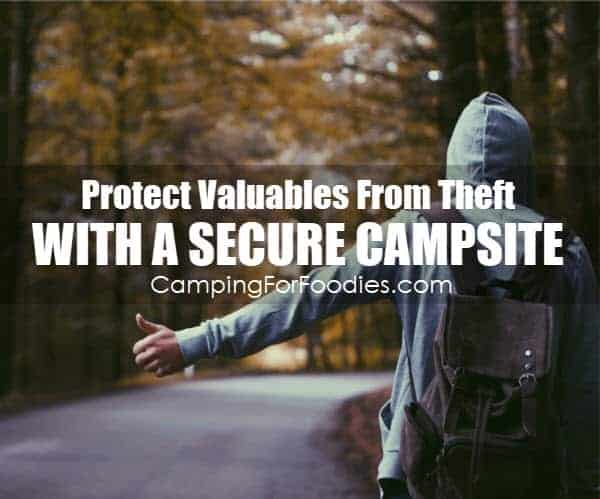 Psst we're compensated…see our disclosures.
Protect Valuables From Theft With A Secure Campsite
It is most important to protect your personal safety while camping but you still want to protect your stuff too.
Whatever you do, remember that gear can be replaced … you can't!
---
Tips To Maintain A Secure Campsite
1. Carry Your Valuables With You
Leave your silver, gold and diamonds locked up at home … Only take valuables that are absolutely necessary for your excursion.
If you always carry your valuables on your body while you are camping, you will never lose track of them.
When you're using public bathrooms and showers keep your valuables in sight.
Put them in a small bag and bring them with you.
If you are hiking, riding ATVs, going to restaurants or stores, you can wear your valuables using money belts and backpacks.
If you remove your carrying device, keep an eye on it.
My husband and I take turns wearing our backpack so we can share the load.
Basic Camping Security Gadgets We Like
Shower Tote Bag I love keeping all of my small valuables in one bag. Not only can you take a shower tote with you when using public showers, I also throw mine into my backpack when hiking and into my purse when shopping.
Travel Money Belt I've had a money belt for years … even before I started camping! You can wear them anywhere and keep your valuables discretely hidden on your body unlike wearing an exterior fanny pack.
Hydration Backpack When we go on our day-hikes, we take a ton of water (well, not literally a ton, but more than required so we don't run out before getting back to our campsite), some healthy snacks and all of our valuables. Because we only take valuables that are necessary for our trip, we can fit them into our backpack easily so we don't have to leave them unattended at our site.
Shower Bag Tote
Travel Money Belt
Hydration Backpack
&
2. Hide And Lock Smaller Valuables In Cars, RVs Or Portable Safes
If you are locking valuables in your car, make sure to hide your treasures when no one is around to see where you are putting them.
When we camp in our tent, we usually lock our valuables in our car.
For a day of hiking, the car is unattended at the trailhead.
Diversion decoy safes are an easy way to hide valuables in plain sight. 
They are great for placing in a tent, RV, car or around the campsite.
For more discrete storage in a car, a personal security lock box fits under a seat and is secured with a cable and lock.
When we lock valuables inside our RV, we close the shades and lock the doors and windows.
Remove the attractiveness of the valuables by eliminating them from plain view.
You can also permanently mount a small safe within your RV for extra security.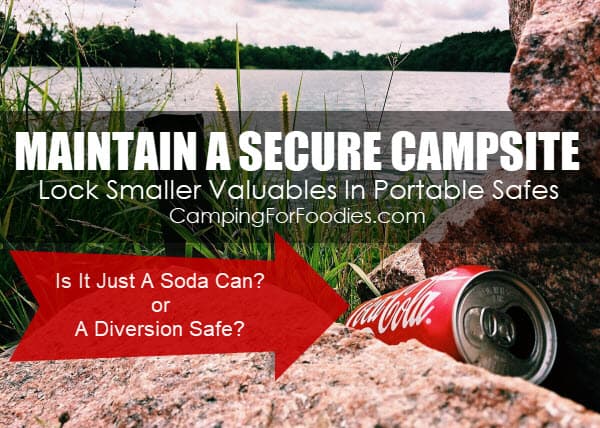 Basic Camping Security Gadgets We Like
Personal Vault Security Lock Box Don't want to carry your valuables with you? No problem! Let your car help protect your stuff. Lock your valuables in a safe that can be hidden under a seat and secured with a cable.
Diversion Safe Some of the most fun safes are diversion safes like a soda can that can be nestled into your cooler with your other drinks.
Security Safe Yes, you can mount a safe inside your RV! My husband and I used to have a mobile catering business and we traveled to our events in our RV. We handled lots of cash so we permanently installed a safe to secure our money until we could get to the bank. That safe gave us peace of mind, especially when we were away from our campsite.
Personal Vault Security Lock Box
Diversion Safe
Security Safe
&
3. Securely Lock Larger Valuables That Can't Be Easily Hidden
Some valuables are just too big to be hidden.
For larger items, locking them at the campsite is the best option.
Some common targets include RV batteries, bicycles, generators and even RV's themselves.
They can be locked with specialty locks and secured to permanent fixtures like trees and poles.
Basic Camping Security Gadgets We Like
Locking Cable When we go on long-weekend camping trips in locations without power, we run off of our RV batteries and solar panels. If we are planning to go for an extended trip or we are planning to use large amounts of power, we carry our generator with us and use a locking cable to secure it to our RV or a nearby tree. There is nothing worse than having an expensive generator "grow legs and walk away"! LOL Funny, NOT funny!
Coupler Lock You know how I mentioned we had a safe inside our RV when we were in the mobile catering business? Well, our cash would be secured in the safe but if someone stole our entire trailer, we would still be crying! We always used a coupler lock to secure our trailer. It fits into the trailer ball socket. Let's make sure a new family isn't hooking up and driving off with your home on wheels!
Tool Lock Box Whether you are camping in a tent or RV, you are going to need some tools. Depending on your tool collection, you might have quite a bit of money invested and unfortunately, tools are a popular target for thieves. In addition to securing your tools, a truck tool box also keeps everything organized and in one place which is always a good thing!
Locking Cable
Coupler Lock
Truck Tool Lock Box
&
4. Get To Know Your Neighbors
Think "Neighborhood Block Watch" for this tip to enhance your security while camping.
One good neighbor looking out for another makes for a secure campsite.
Introduce yourself to the people camping near you and let them know if you are leaving for the day to go hike, ride ATVs, visit gift shops etc.
It helps if you bring some fresh baked Blueberry Lemon Dutch Oven Muffins in the morning and ask if they can keep an eye on your campsite while you are away from camp.
RV Specific Camping Security Gadgets We Like
When it comes to security RV tips and hacks, use your rig to protect your stuff … but … protect your rig too!
HitchSafe Key Vault If you camp using a vehicle with a hitch, you can use this totally cool vault! It fits inside your receiver and has a small compartment to hold your valuables. You cap the vault with a heavy-duty rubber cover that conceals it from view and protects it from dust and debris.
Wall Clock With Hidden Safe If you have been reading my blog, you know I have absolutely NO desire to have a clock anywhere near me on our camping trips! After all, it is all about unplugging and relaxing … right? So, it won't surprise you to hear that the only wall clock I think is worth hanging on an RV wall is one with a hidden safe! Don't you agree?
Universal Coupler Lock When your RV is parked at a campsite or at a storage facility, it is easy and convenient to use a coupler lock to protect your entire vehicle from theft. It is a little more work for you to remove the lock before you hook up and head down the highway but it is worth the added layer of security for your home-sweet-home on wheels!
HitchSafe Key Vault
Wall Clock With Hidden Safe
Universal Coupler Lock
&
5. Choose Your Campsite Wisely And Maintain Awareness
We do most of our camping in remote campsites within National Forests … some locations are more hidden away than others.
You want to camp in an area that is a bit more visible so a potential thief has a chance of being interrupted. 
On the flip side, if you are camping at music festivals or other special events with large crowds, be aware that thieves can get lost in a crowd so strategically set up to maximize your campsite security.
Know where your valuables are, especially expensive gear and electronics.
Don't place your valuables at a publicly-accessible location. 
Do place them well within your campsite boundaries.
You will notice a stranger walking in the middle of your campsite but suspicious activity along an adjacent pathway is more difficult to detect.
As always, man's best friend is a great security device and most dogs love camping too!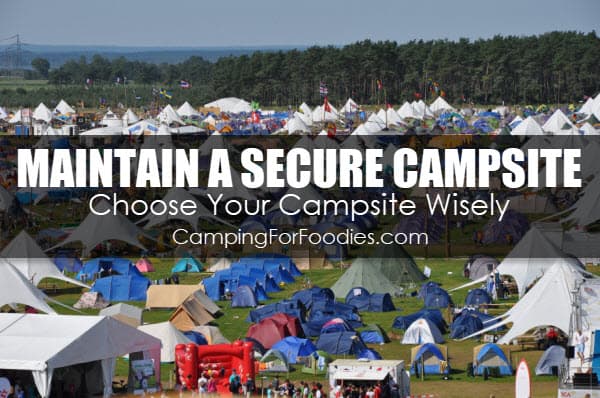 Basic Camping Security Gadgets We Like
Battery-Powered Motion Sensors Thieves do their business in secret and they like darkness. We use battery-powered motion lights in our RV to detect movement after dark. The added benefit to these is lighting up the bathroom when we are trying to find it in the middle of the night!
Portable Safe Using a safe that is small enough to easily transport yet large enough to hold valuable items like your phone, keys, cash, credit cards etc is great especially if it has an integrated cable that can secure it to a stationary item.
Dog Bed If you are relying on your dog as a layer of security protection while camping, make sure he (or she) is comfy and enjoying the trip too! Don't forget the dog bed … Ruff!
Battery-Powered Motion Sensors
Portable Safe
Dog Bed
&
---
6. Research Your Camp Area
There are so many apps that allow users to contribute information about a camping location that can be really valuable to know before you go.
Some of the best camping apps can help you plan every aspect of your trip … including security preparation.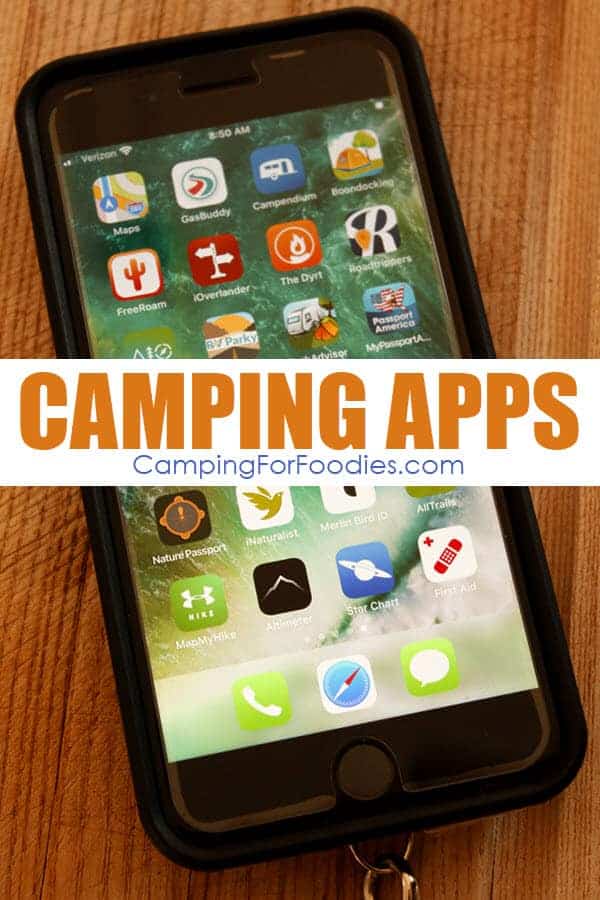 ---
Check out our post with Rules For Camping In National Forests so you are happily legal if you decide to camp in the wild!
A Secure Campsite Makes Camping Fun
Most people who camp are honest, fun-loving people. So take a few precautions, stay alert but don't go overboard.
Have a great time and enjoy your trip. For more camping tips on safety and security, check out these posts:
---
Your concern for a secure campsite is always a good idea but can be even more important if you are camping in remote locations away from emergency services.
Check out our Boondocking: How And Where To Go Dispersed Camping post for tips on camping in the wild.
---
---
If you need camping recipes and menu ideas, you can find them here at the Camping For Foodies Camping Recipes list.
Don't miss a thing…sign up for Camping For Foodies email updates!
Your purchase of our products will help support World Vision ® Building a better world for children.