Carrot Cake Oatmeal Camping Breakfast Recipe (on the table in 15 minutes!)
It is not easy to come up with unique camping breakfast ideas, especially when the star of the show is oatmeal!
This fast, easy and exciting Carrot Cake Oatmeal Camping Breakfast Recipe turns a camping staple into a freshly interesting breakfast meal.
The traditional flavors in carrot cake are easily incorporated into this camp stove breakfast that will be on the table in 15 minutes!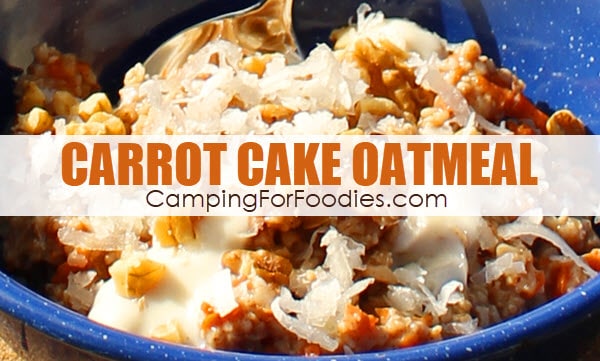 Psst we're compensated…see our disclosures.
Carrot Cake Camping Oatmeal Recipe
Step 1. Measure and mix ingredients.
This oatmeal is so easy and so fast you really don't need to speed things up … BUT … if you don't carry these spices in your typical spice assortment, you can easily measure and mix the cinnamon, allspice and salt at home and bring the mixture to the campsite in a container with a tight-fitting lid.
Rubbermaid Easy Find Vented Lids Food Storage Container Set
Step 2. Cook the oats. You will cook the oatmeal in a saucepan over your camp stove which will only take about 10 minutes.
Coleman Fold N Go 2-Burner Propane Stove
Camp Cooking Tip: If you prefer to cook this oatmeal camping recipe over a morning campfire, that will work too. Just make sure you are cooking over coals rather than flames and keep the heat low enough to slowly simmer the oatmeal.
Step 3. Make the sauce. You might wonder how you get the cream cheese frosting flavor of carrot cake into an oatmeal camping breakfast recipe … here's how … you make a sauce with honey and yogurt! The sauce is really the key to making this carrot cake oatmeal taste like the real thing!
Step 4. Stir in stir in carrot, raisins and spices.
Once the oatmeal has finished cooking, you remove it from the heat and stir in the carrot, raisins, cinnamon, allspice and salt. Then cover and let stand a bit for the flavors to mingle … this combination makes the nicest spiced oatmeal flavor!
Step 5. Top and serve. Serve oatmeal topped with yogurt sauce, walnuts and coconut. Oh, and make sure you find an awesome view to enjoy your breakfast!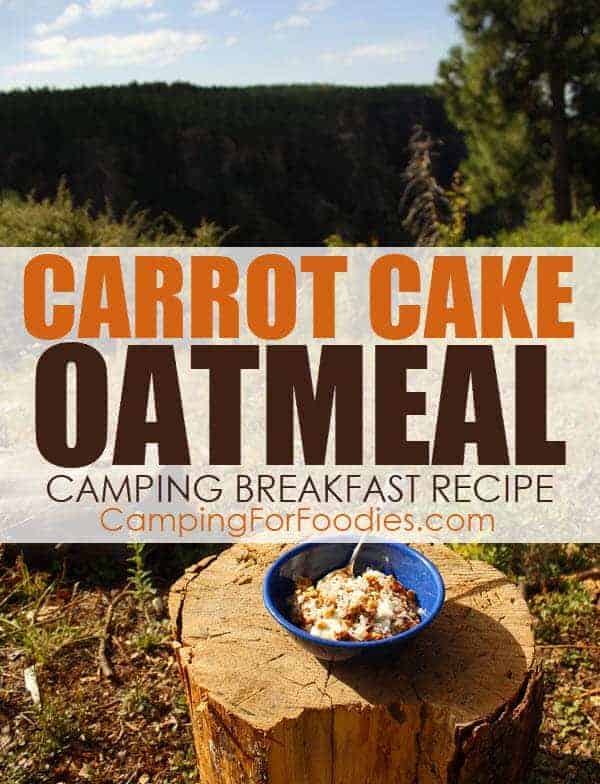 ---
Try These Too!
If you like carrot cake flavored oatmeal for breakfast, you'll love this dessert! Try this Dutch Oven Carrot Cake for a sweet treat after dinner. It is made simple for camping without the need for electric appliances but still an easy from-scratch recipe.
I really like this camping oatmeal recipe because it is a fast gluten free camping food breakfast that is different from the "ordinary" quick camping meal. Here are a few more…
These Dutch Oven Scrambled Eggs are simple, fast and yummy. It is a quick and simple I make on quiet camp mornings when I'm only feeding 2 people.
For a fast and super flavorful breakfast, I like making these Breakfast Camping Burrito Bowls that are on the table in about 15 minutes!
---
Print This Carrot Cake Oatmeal Camping Breakfast Recipe
Cook Time 10 minutes
Additional Time 5 minutes
Total Time 15 minutes
Ingredients
4 cups water
1 cup steel-cut oats
1/2 cup shredded carrot
1/2 cup raisins
1 teaspoon ground cinnamon
1 teaspoon allspice
1 pinch salt
1 tablespoon honey
1/2 cup plain yogurt
3/4 cup chopped walnuts
1/4 cup shredded coconut
Instructions
In large saucepan, bring water to boil.
Stir in oats and simmer till slightly thickened stirring occasionally, about 10 minutes.
While oatmeal is cooking, make the sauce by mixing the honey and yogurt in a small bowl.
When oatmeal is finished cooking, turn off the heat and stir in carrot, raisins, cinnamon, allspice and salt. Cover and set aside for 5 minutes.
Serve oatmeal topped with yogurt sauce, walnuts and coconut.
Recommended Products
As an Amazon Associate and member of other affiliate programs, I earn from qualifying purchases.
Nutrition Information:
Yield:
4
Serving Size:
1
Amount Per Serving: Calories: 423Total Fat: 19gSaturated Fat: 4gTrans Fat: 0gUnsaturated Fat: 15gCholesterol: 2mgSodium: 93mgCarbohydrates: 57gFiber: 8gSugar: 21gProtein: 11g
---
Get More Yummy Recipes