Cinnamon Camping Dutch Oven Campfire French Toast With Powdered Sugar Glaze
Are you ready for some sweet camping breakfast ideas? How about French toast!
There are many French toast camping recipes that start with an entire loaf of bread in a piece of foil, pour over an egg mixture, place over a campfire till done then top with diced strawberries … those are delish!
But, I was in the mood for French toast camping in the middle of December (yes, we really do camp all year-round) and there was not a single fresh strawberry in sight!
Soooo, I decided to do a "warmer" version with winter spices including cinnamon, nutmeg and cloves, bake it in my camp Dutch oven then top it with a drizzle of sweet powdered sugar glaze … my Camping Dutch Oven Campfire French Toast was a HIT!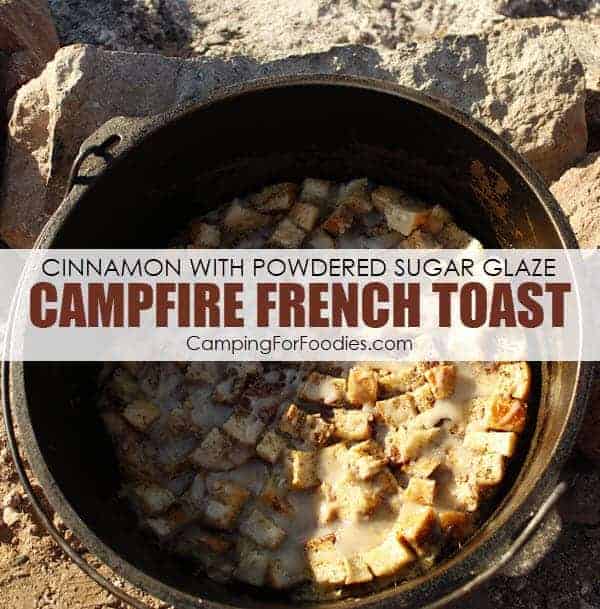 Psst we're compensated…see our disclosures.
How To Make Dutch Oven Breakfast French Toast
You can prep-ahead much of this recipe so you just have to "dump and bake" in the morning which is really great when you are making it as one of your winter camping recipes on cold mornings!
---
The Adventure Begins Enamel Camping Coffee Mug
One of the best things about this camping breakfast recipe is the amount of prep you can do ahead of time …
… so, in the morning, you can leisurely start your campfire and enjoy your ever-so-important morning java by sipping from your favorite Camping Coffee Mug before you need to "dump" these ingredients together to begin baking!
&
---
Non-Soggy Cast Iron French Toast Casserole
You've probably heard me say before that I love making Dutch oven recipes for camping that make big batches of food instead of cook one-at-a-time single servings … especially for breakfast. That's why this is one of my top picks for easy camping meals for large groups.
I make one pot camping meals when I want our entire family to sit down together to eat a meal before we start our daytime activities of hiking, fishing, biking and whatever other exciting activities we have planned!
For this almost-gourmet camping breakfast, I want a crispy french toast on the bottom with a sweet, gooey top.
One of my secrets is using bread cubes instead of bread slices.
---
Make Ahead Campfire French Toast Casserole
Food Storage Containers With Tight-Fitting Lids
When I am making a breakfast meal that requires a little more time in the cooking set-up … like starting a campfire or charcoal briquettes … I like to do as much prep the night before as possible.
So, this camping French toast casserole breakfast is great because I can combine the egg mixture and store it in the refrigerator or cooler.
I also make the powdered sugar glaze and keep it stored in a cool place too … make sure you use Food Storage Containers With Tight-Fitting Lids.
Lastly, I cube all of the bread and store it in a container at room temperature … so, in the morning my routine is simple.
I get my campfire going after I have my first cup of coffee LOL!
While those coals are getting ready, I spray my 12-inch Dutch oven with a little cooking spray and add the bread cubes to the bottom of the pan.
Next, I pour the egg mixture over bread cubes, pressing down all of the cubes so they all take a bath … you know, they are all wet.
Stir the mixture if needed in order to have all of the cubes coated in the egg mixture.
You'll let this stand for about 20-30 minutes, giving the bread cubes time to get well-soaked in the egg mixture.
Now, it is time to bake!
---
Bake The French Toast Casserole Camping Recipe
I recommend using a 12-inch regular depth campfire Dutch oven which I consider to be one of the most important pieces of campfire cooking equipment I own.
If you use a "deep" Dutch oven, you will have a hard time getting the top of this cast iron French toast casserole done before you burn the bottom.
You'll be baking at 350 degrees (if you are using charcoal briquettes, you'll need 24 total with 9 placed on the bottom and 15 on the top of your Dutch oven lid.)
If you are using a different size camp Dutch oven, check out our Dutch Oven Temperature Chart post for more information.
Bake this recipe until the egg mixture is cooked through, approximately 40-50 minutes.
Camp Cooking Tip: If you notice the edges of the Dutch oven French toast casserole getting browned too quickly, you are probably going to end up with a burnt bottom while you wait for the center to get cooked through … no worries … just move some of the coals from the bottom to the top of the Dutch oven to even out the cooking.
&
---
Even Baking Of This Dutch Oven Camping French Toast Recipe
Camp Cast Iron Dutch Oven Lid Lifter
Because the baking time is 40-50 minutes, you should expect to add coals during the cooking process.
Whether you are using campfire coals or charcoal briquettes, they will not last long enough to finish this French toast casserole Dutch oven recipe with a single set of coals.
Also, be sure to use your Dutch Oven Lid Lifter to rotate your Dutch oven throughout the cooking process.
Every 15 minutes, turn the Dutch oven bottom 1/4 turn in one direction and turn the Dutch oven lid 1/4 turn in the opposite direction … that will ensure even baking throughout the cooking time without having hot or cold spots.
&
---
Serve This French Toast Campfire Recipe
We are not using maple syrup or sliced strawberries … instead, we are using a POWERED SUGAR GLAZE to top this camping Dutch oven breakfast!
This kids will love you for this!
I make a generous amount of glaze and add a fair amount to the entire recipe … then, I reserve the rest so my hungry campers can add more to the serving on their plate if they want their portion extra sweet.
And … because no camping trip would be complete without bacon (just ask my husband) … I like to serve a thick pepper bacon on the side to give this sweet breakfast a savory balance.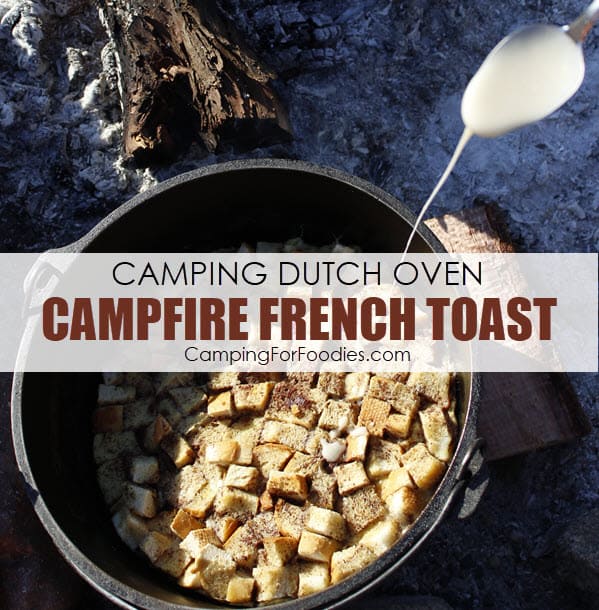 ---
More Camping Recipes Like This
If you like this recipe, try these too:
This Campfire French Toast is soooooooo simple but you would not know it by the taste! The golden brown toast is cooked on a cast iron griddle right over your campfire … in butter! The taste and texture of this amazing breakfast will please your hungry campers!
Love the combination of cinnamon and sugar? You've gotta try this Dutch Oven Cinnamon Bread that can be served for breakfast, dessert or a mid-day snack.
Much of the measuring and mixing are already done for you because this Camp Dutch Oven Coffee Cake Recipe starts with a boxed cake mix. The cinnamon and brown sugar are delightful with a cup of camp coffee.
Not many people make from-scratch cakes while they are camping but this Dutch Oven Carrot Cake is simplified for outdoor cooking. The cream cheese frosting puts this dessert OVER THE TOP!
---
Print This French Toast Dutch Oven Camping Recipe
Ingredients
Spices to measure and mix at home
4 tablespoons sugar
1 teaspoon cinnamon
1/4 teaspoon nutmeg
1/4 teaspoon ground cloves
1/4 teaspoon salt
Bread cubes
5 cups French bread cubes, cut into 3/4-inch cubes
Egg mixture
4 eggs
1 1/2 cups milk
1 teaspoon vanilla extract
Powdered sugar glaze
3/4 cup powdered sugar
2 tablespoons milk
1 teaspoon vanilla extract
Instructions
Cut bread into 3/4-inch chunks. 
Spray bottom and sides of 12-inch camp Dutch oven with cooking spray.
Place cut bread in bottom of 12-inch camp Dutch oven. 
Beat together all remaining ingredients. Pour over bread. 
Let stand 20-30 minutes for bread to soak up egg mixture.
Bake at 350° with (9 coals on bottom and 15 on top) approximately 40-50 minutes until egg mixture is cooked through.
Drizzle with powdered sugar glaze for serving.
Recommended Products
As an Amazon Associate and member of other affiliate programs, I earn from qualifying purchases.
Nutrition Information:
Yield:
4-6
Serving Size:
1
Amount Per Serving: Calories: 405Total Fat: 8gSaturated Fat: 3gTrans Fat: 0gUnsaturated Fat: 4gCholesterol: 194mgSodium: 576mgCarbohydrates: 67gFiber: 2gSugar: 36gProtein: 16g
---
Get More Camp Meal Ideas