CRAZY COOL! How To Charge Your Phone Without Electricity While Camping!
Our camping tips usually focus on unplugging … but not this time!
When you are boondocking in remote campsites it can be tough to keep your phone battery topped off.
This is a huge problem if you are using some of the best camping apps during your trip for navigating, hiking, fishing, bird watching, weather tracking, first aid and camping safety.
Don't despair!
See how to charge phone while camping without electricity using camp stoves, lanterns, Bluetooth speakers, hand-cranks, the sun and more!
These camping cell phone charger options are gonna blow your mind!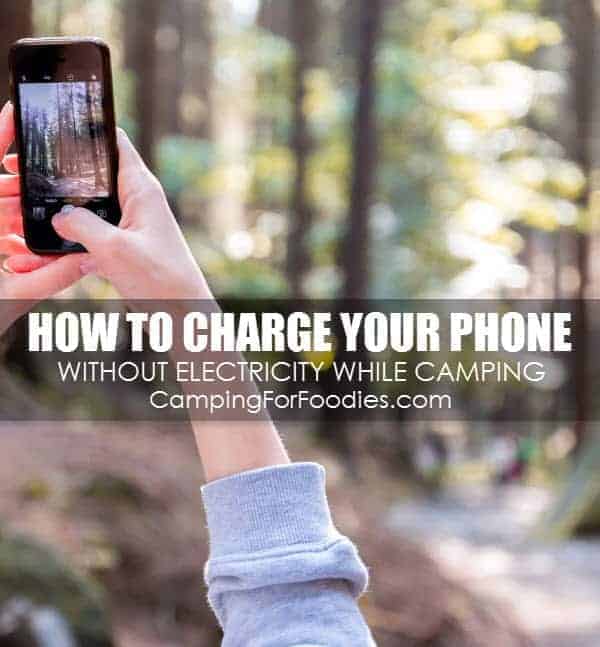 Psst we're compensated…see our disclosures.
How To Charge Phone While Camping
Knowing how to charge your phone in the wilderness is good for your personal safety while camping because you never know when you might need to dial 911 or use your device for navigation in an unfamiliar area.
Some of the best camping gear does double duty, like boil your water and charge your phone!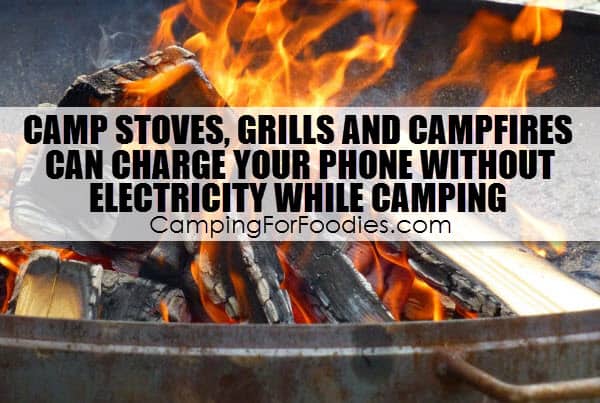 ---
Unexpected Camp Stove, Grill And Campfire Phone Chargers
Who would have thought you could charge your phone with your camp cooking equipment or your campfire?
These genius devices feature the latest technology and allow you to do just that!
If you prepare simple camp meals these might be great options for you to charge your phone camping in remote areas, but if your camp cooking is more elaborate, you might want to consider some of the other phone charging options we like to use.
BioLite CampStove 2 Wood Burning And USB Charging Camping Stove
BioLite Basecamp Wood Burning Stove And Device Charger
&
---
---
Awesome Lantern And Flashlight Phone Chargers
Staying illuminated after the sun goes down is easy with camp lanterns and flashlights.
The more advanced gear, like the LuminAID PackLite 2-in-1 Phone Charger Lanterns, can also charge your phone and tablet via USB.
LuminAID PackLite 2-in-1 Phone Charger Lanterns
---
You will want to consider your power preference too because some of these gadgets operate using batteries and some are solar powered phone chargers and power bank devices.
We have more tips on lighting options in our Best Camping Lights For Lighting Your Campsite post.
LE LED Camping Lantern Rechargeable, 600LM, Detachable Flashlight, Perfect Lantern Flashlight for Hurricane Emergency, Hiking, Fishing and More, USB Cable and Car Charger Included
Goal Zero Torch 250 Flashlight, Lantern and USB Recharger with Integrated Solar Panel
&
These types of chargers are great when you are playing geocaching camping games and you need to keep your phone charged to navigate to the hidden treasure and you also need a light if your game extends into the evening and you are hiking back to camp in the dark.
---
---
Surprising Speaker Phone Chargers
---
Love Is A Four Letter Word
If you are asking yourself how to charge your phone in the woods AND listen to your favorite tunes at the same time … you are not alone! 
For our family, playing music around the campsite is a big part of our camping experience.
Even though it was released in 2012, Love Is A Four Letter Word by Jason Mraz is still our camping anthem.
No matter which artist we are playing, we stream from our phones or ipads to our speakers via Bluetooth and we LOVE using speakers that can charge our devices too!
Now, if we could all just agree on the volume level! LOL
&
---
Why get a boring portable phone charger when you can get a portable speaker that can also charge your phone?!?! 
TREBLAB FX100 – Extreme Bluetooth Speaker – Loud, Rugged for Outdoors, Shockproof, Waterproof IPX4, Built-In 7000mAh Power Bank, HD Audio w/ Deep Bass, Portable Wireless Blue Tooth Microphone Mic
ION Audio Block Rocker (iPA76A) | Portable Bluetooth Speaker with Mic, Radio, and Wheels & Handle for Transport
&
---
Cool Hand-Crank Phone Chargers
If there was a way to "guarantee" power to charge your cell phone it would probably be with a simple but effective hand-crank device.
There are lots of options when it comes to hand-crank phone chargers so consider what other features you would like to have … some popular options include:
Emergency NOAA Weather Radio, Flashlight, Compass, Solar Power etc.
In other words, these inexpensive little gadgets are so much more than just a solar phone charger with hand crank capability!
They are great additions to camping and backpacking gear boxes on multiple levels!
RunningSnail Emergency Hand Crank Self Powered AM/FM NOAA Solar Weather Radio with LED Flashlight, 1000mAh Power Bank for iPhone/Smart Phone
American Red Cross Clipray Crank-Powered, Clip-On Flashlight & Smartphone Charger
&
---
---
Amazing Solar Phone Chargers
Camping and solar-powered gadgets are a marriage made in heaven!
Because you are already in the outdoors and under the sun … it is easy to use solar phone chargers to keep your phone battery charged.
Some things to consider include the amount of power you want your solar panels to produce, the number of devices you will be powering and the need for your solar charger to be (or not to be) waterproof.
We have great tips on using solar for lighting, cooking, showering and powering all sorts of camping and RV gear in our Solar Products For Camping post.
ROCKPALS Foldable 60W Solar Panel Charger for Suaoki/Jackery Explorer 240 / Webetop/Goal Zero Yeti/Paxcess Portable Power Station Generator and USB Devices, QC3.0 USB Ports
Solar Power Bank 30000mAh, Solar Charger, Qi Wireless Charger, Outputs 5V/3A High-Speed & 2 Inputs Huge Capacity Phone Charger for Smartphones, IP66 Rating, Strong Light LED Flashlights
&
---
Convenient Phone Rechargers
It is super handy to use a recharger to keep your phone battery topped off while camping without electricity.
The capacity of the power bank and number of connection ports are important factors to consider in relation to your power demands.
To determine the best recharger for you, think about the number of devices you have, the length of your camping trip and how much you will be using your devices.
Ask yourself, "Will I actually need to recharge my recharger during my trip?"
If your answer is "yes", you may need an entire recharging kit.
TG90 Portable Charger 20000mAh Power Bank Cell Phone Charger External Battery Pack Compatible with iPhone X 8/8 Plus 6/6S Plus iPad iPod Android Phone Tablets
Goal Zero Guide 10 Plus Solar Recharging Kit with Nomad 7 Plus Solar Panel, 2300mAh Power Bank, AA & AAA Battery Recharger with 7 Watt Foldable Monocrystalline Solar Panel
&
---
Powerful Generator Phone Chargers
If your power needs go beyond keeping your phone battery charged, you may want to skip the specific camping cell phone charger only gadgets and just use a generator to meet all of your powered-gear needs.
Some run on gasoline and others on solar power.
Check out our Best Quiet Generators For Camping post for helpful tips to determine which generator is best for you.
Briggs & Stratton 30545 P3000 PowerSmart Series Portable 3000-Watt Inverter Generator with (4) 120-Volt AC Outlets and (1) 12-Volt DC Outlet
Goal Zero Yeti 400 Portable Power Station, 400Wh Battery Powered Generator Alternative with 12V, AC and USB Outputs
&
---
---
Use Your Car Battery As A Phone Charger
If you are camping near your car it is possible to use your car battery to charge your phone.
Many car chargers have multiple ports so you can charge more than one device at a time and others are rapid power for fast charging.
Just be careful that you don't run your car battery down too low to be able to start your car when you are ready to pack up and head for home.
Maxboost Car Charger with SmartUSB Port 4.8A/24W [Black] Portable Charger for iPhone 11 Pro Max XS X 8 7 6s 6 Plus 5S SE, Galaxy S10 S9 S8 Edge, Note 10 9 8, LG G7 G8, HTC, Nexus, Pixel, iPad Pro
Apple Certified Lightning Car Charger – 3.1a Rapid Power – for iPhone 11 Pro XS Max X XR XS 8 Plus 7 6S 6 5S 5 5C SE – Cable & USB Socket for 2 Devices – Keeps You Connected
&
---
Reduce The Need To Charge Your Phone Without Electricity While Camping
If you are willing to conserve power you can reduce or even eliminate the need to charge your phone while camping without electricity.
Here are a few tips to lower your phone's power consumption.
Update apps. BEFORE you leave home, make sure your apps are all up-to-date so your phone is not trying to do an auto update while you are in the wilderness.
Turn off apps. If you are not using apps … especially your social media apps … you should turn them off instead of letting them run in the background because they are big power drains on your phone's battery.
Turn off notifications. Do you really need to know one of your friends is chatting on Facebook Live when you are trying to unplug? Ummm, no! Notifications demand power so turn them off when you are camping.
Connectivity features … just say NO! The convenience of an electronic map is great until it drains your battery faster than the speed of light. If you are not actively using your phone's Location (GPS), Wi-Fi and Bluetooth functionality you should turn them off.
Use power saving mode. Some phones have "Extreme Power Saving" modes that limit the phone's functionality for the purpose of saving power and extending battery life. Check out the specifics for your phone for details.
Reduce screen brightness. The brighter the screen, the greater the power consumption. So, lower the brightness level as much as possible to extend the battery life on your camping trips.
Text instead of call. If you need to communicate while you are camping, try to reduce your talk-time as much as possible. Texting requires much less power than talking on your phone.
Turn off your phone. If you are camping in a remote area without good cell coverage, your phone will continue searching for a signal … this devours power and rapidly eliminates the battery power. So, only turn the phone on for short periods of time when you are actually using it.
---
RV Camping Phone Chargers
If you are RV camping without electricity, we have tons of RV tips and hacks to help you keep your devices charged and anything else you want to power up!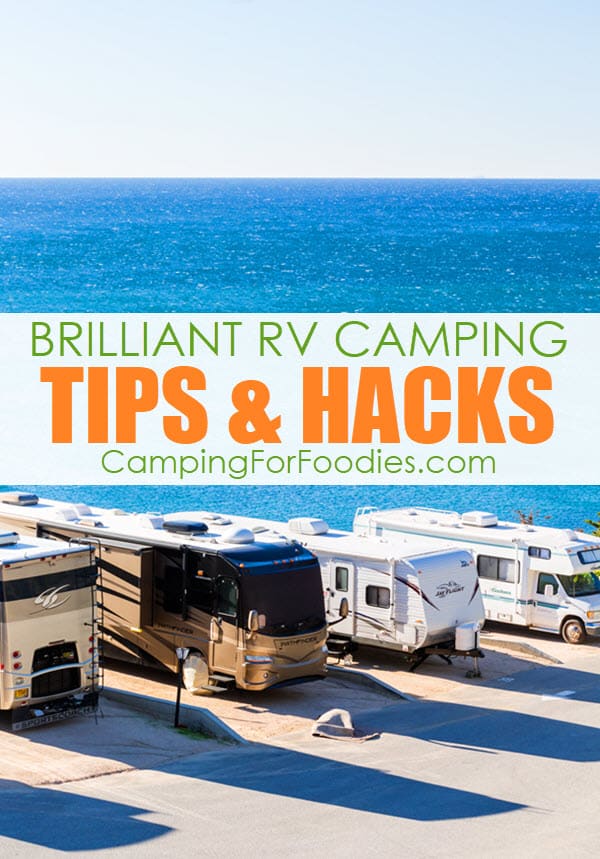 ---
---
If you need camping recipes and menu ideas, you can find them here at the Camping For Foodies Camping Recipes list.
&
Don't miss a thing…sign up for Camping For Foodies email updates!
&
Your purchase of our products will help support World Vision ® Building a better world for children.