Dutch Oven Chili: Secret Family Recipe Revealed!
When you are looking for hearty Dutch oven camping recipes to feed a crowd, think of soups, stews and chili recipes.
I make an award-winning Campfire Dutch Oven Chili Recipe but it is not as popular with my family as my brother-in-law's secret family recipe. Why have I not shared his recipe with you? Because, he kept it hush-hush … until now!
Rick's amazingly delicious Dutch Oven Chili is made with a homemade spice blend combined with ground beef, Italian sausage and a touch of beer that is cooked low and slow to build up a mind-blowing flavor profile you can't stop eating!
Psst we're compensated…see our disclosures.
Prep To Make Rick's Chili Outside
When you are making camping chili recipes that have a lot of spices, it is easiest to measure and mix the ingredients at home so you can just dump them into the pot at the campsite.
The list of spices is pretty long for this incredibly tasty meal … but … they are all readily available simple ingredients. Measure them at home, then, just place them in a plastic food container or sealable bag with a label "chili mix" and you're done.
This magic spice blend contains chili powder, dried oregano, ground cumin, dried basil, salt, black pepper, cayenne pepper, paprika, white sugar and beef bouillon cubes.
You'll also need to chop some veggies and aromatics including a bit of onion, celery, bell pepper, jalapeno pepper and garlic.
Camping Flexible Cutting Mats
---
Methods Of Cooking The Best Dutch Oven Chili Recipe
If you are making this as one of our campfire recipes, you'll need to get your fire going in order to cook over coals (rather than flames) … but you can also use charcoal briquettes as the heat source.
Camp Cooking Tip: This recipe needs to simmer for at least 2 hours so be prepared to keep adding charcoal briquettes or logs to your campfire to keep the heat going for a longer-than-normal camp meal cooking time.
You can also make this as one of our camp stove recipes so get your stove ready for cooking on a level surface and make sure you have an ample amount of propane to simmer this recipe for a minimum of two hours.
---
Best Pot For Chili
As a campfire chili dinner, you'll want to use a Dutch oven cast iron camping chili pot.
The most popular size Dutch oven is a standard classic depth 12-inch oven that holds 6 quarts … that's what Rick used, and, as you can see in the video, this recipe fills that pot.
If you have a 12-inch deep Dutch oven that holds 8 quarts, that is a better choice.
Because chili is one of those easy camping meals for large groups, you can scale this recipe up to feed a big crowd but you'll need to increase the size of the cooking pot or use multiple pots.
Camp Chef 12-Inch Classic Depth Dutch Oven, 6 Quart Capacity
Camp Chef 12-Inch Deep Dutch Oven, 8 Quart Capacity
Cast Iron Dutch Oven Size Capacities
| | | |
| --- | --- | --- |
| 8 Inch Classic | 2 Quarts | 8 Cups |
| 10 Inch Classic | 4 Quarts | 16 Cups |
| 10 Inch Deep | 5 Quarts | 20 Cups |
| 12 Inch Classic | 6 Quarts | 24 Cups |
| 12 Inch Deep | 8 Quarts | 32 Cups |
| 14 Inch Classic | 8 Quarts | 32 Cups |
| 14 Inch Deep | 10 Quarts | 40 Cups |
| 16 Inch Classic | 12 Quarts | 48 Cups |
If you're thinking about a new oven but are not sure which direction to go, we can help you answer the question, "What size Dutch oven should I buy for camping?"
If you are making this chili Dutch oven stovetop-style, you can use any type of Dutch oven or stove-top friendly large pot, just make sure it holds at least 6 quarts and has a tight-fitting lid.
---
Steps For Cooking Chili In A Dutch Oven
Step 1. Prepare ingredients as directed. Just as with all camping dinner recipes, you should prepare your ingredients as directed to make the actual cooking process simple.
Step 2. Prepare your heat source. You will initially be using a medium-high heat and eventually will be reducing to a medium-low heat.
Step 3. Brown the meat. This is one of those Dutch oven beef chili recipes that uses a 2-to-1 ratio of ground beef to ground pork but you'll also add a few strips of bacon. You are just lightly browning all of the meat now, it will get fully cooked during the simmering process.
Step 4. Add the veggies, spices and liquids. Now it is time to add all of the vegetables and aromatics you prepped earlier. Give it a good stir and then add the spice mix, beans and liquid ingredients. NOTE: This recipe only calls for 3/4 cup of beer so it is the chef's privilege to guzzle the remainder of the bottle. LOL
Step 5. Cover and simmer. It is time to reduce the heat so you are cooking this chili low and slow. Bring the heat down to medium-low, add the cover and simmer for a minimum of 2 hours.
Camp Cooking Tip: If you are using a Dutch oven tripod, you can regulate the heat by positioning the chain of the tripod to move the Dutch oven closer to, or further away from the campfire coals to raise and lower the cooking temperature.
Step 6. Serve hot. If you want to add toppings, you may consider cornbread, cheddar cheese, onions, jalapeno peppers and sour cream.
---
Pairings For Dutch Oven Campfire Chili Dinner
You really could eat just a bowl (or two) of chili but you may want to serve it with a nice crusty bread or have the traditional Dutch oven cornbread and chili combination.
We have simple and delicious camping side dishes you may want to try including a totally scrumptious Dutch Oven Jalapeno Cornbread.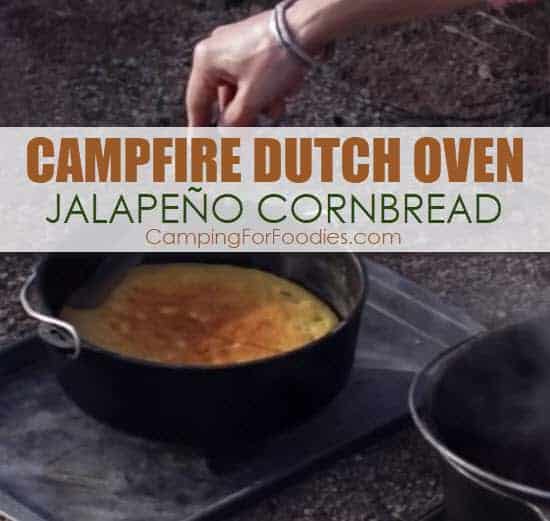 ---
Similar Dutch Camping Oven Chili Recipes
There are so many more winter camping recipes like this chili you may want to try…
Want a white version? Try this Campfire White Chili Recipe that is made with ground turkey, white beans and chicken broth.
Thinking white chili sounds good but don't want turkey? Try this Dutch Oven White Chicken Chili that uses cubed chicken breast meat. The rich and creamy texture comes from cream cheese.
This Spicy Chicken And Corn Chili Camping Recipe uses all non-perishable canned ingredients which is great when you are short on refrigerator space!
Looking for an alternative to chili but still want something warm and hearty? Try this Campfire Stew that creates fork-tender beef along with potatoes and carrots making a yummy one pot meal.
Try this Hot Italian Sausage Camping Soup with warm and crusty bread for a hot and satisfying dinner.
---
Print This Camping Dutch Oven Chili Recipe
Prep Time 15 minutes
Cook Time 2 hours 30 minutes
Total Time 2 hours 45 minutes
Ingredients
3 bacon slices, chopped
2 pounds ground beef
1 pound bulk Italian sausage
1 large yellow onion, diced
3 stalks celery, chopped
1 yellow bell pepper, seeded and chopped
1 red bell pepper, seeded and chopped
2 jalapeno peppers, seeded and chopped
3 cloves garlic, minced
1/4 cup chili powder*
1 tablespoon dried oregano*
2 teaspoons ground cumin*
1 teaspoon dried basil*
1 teaspoon salt*
1 teaspoon black pepper*
1 teaspoon cayenne pepper*
1 teaspoon paprika*
1 teaspoon white sugar*
4 cubes beef bouillon*
2 (28 oz.) cans diced tomatoes with juice
2 (15 oz.) cans kidney beans, drained
1 (15 oz.) can hot chili beans in sauce
1 (6 oz.) can tomato paste
3/4 cup beer
1 tablespoon Worcestershire sauce
2 teaspoons hot pepper sauce
Optional Toppings
Cornbread
Shredded cheddar cheese
Diced onions
Sliced jalapeno peppers
Sour cream
Instructions
Ingredients marked with * can be measured and mixed at home.
Heat a 12-inch Dutch oven over medium-high heat. Note: a 12-inch classic standard depth 6 quart Dutch oven will work but it is a little tight for this recipe, a 12-inch deep 8 quart Dutch oven or a 14-inch classic standard depth Dutch oven is better.
Add the bacon to the pot and cook until it just begins to soften then add the ground beef and Italian sausage, stirring to break up the meat as it cooks. Continue cooking until the meat is lightly browned.
Add the onion, celery, bell peppers, jalapeno peppers and garlic, stirring until combined.
Add the spice mixture including the chili powder, oregano, cumin, basil, salt, black pepper, cayenne pepper, paprika, white sugar and bouillon, stirring until combined.
Add the diced tomatoes, kidney beans and chili beans, stirring until combined.
Add the tomato paste and mix thoroughly to distribute the paste throughout the chili.
Now add the beer, Worcestershire sauce and hot pepper sauce, stirring until combined. NOTE: This recipe only calls for 3/4 cup of beer so the remainder of the bottle is reserved for the hard-working chef. LOL
Reduce heat to medium-low, cover the pot and simmer for a minimum of 2 hours, stirring occasionally. Camp Cooking Tip: When using a Dutch oven tripod, regulate the heat by positioning the chain of the tripod to move the Dutch oven closer to, or further away from the campfire coals to maintain the proper temperature.
Serve hot. Optional toppings include corn bread, cheddar cheese, onions, jalapeno peppers and sour cream. Try our delicious Dutch Oven Jalapeno Cornbread that has a little kick! https://www.campingforfoodies.com/campfire-dutch-oven-jalapeno-cornbread-camping-recipe/
Recommended Products
As an Amazon Associate and member of other affiliate programs, I earn from qualifying purchases.
Nutrition Information:
Yield:
10
Serving Size:
1
Amount Per Serving: Calories: 569Total Fat: 33gSaturated Fat: 12gTrans Fat: 1gUnsaturated Fat: 19gCholesterol: 117mgSodium: 1521mgCarbohydrates: 27gFiber: 5gSugar: 10gProtein: 40g
---
More Yummy Camp Meal Ideas
This cast iron chili is only the beginning of lip-smacking camp meals!