Dutch Oven Sausage Makes An Easy One Pot Hearty Dinner!
Who doesn't love easy Dutch oven camping recipes that make hearty one pot dinners?
This simple Dutch oven sausage features beer brats, onions, peppers and potatoes in a yummy beef broth.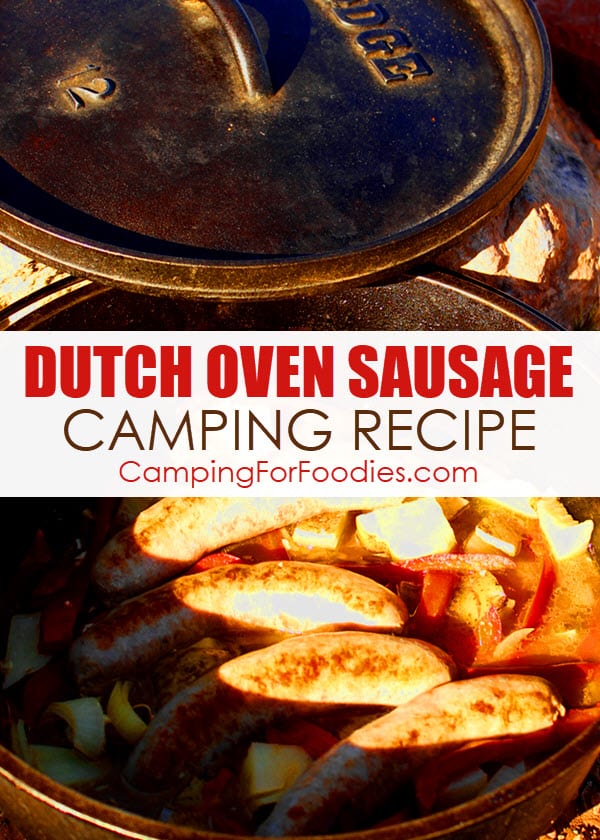 Psst we're compensated…see our disclosures.
How To Make This Dutch Oven Sausage Camping Recipe
Prepare your cooking gear before you start.
This one pot meal can be made as one of our easy campfire recipes so you'll need to use your camping fire starters to get your wood ready to make coals.
Alternatively, you can use charcoal briquettes or make this as one of our camp stove recipes, which is what we did the last time we made it because we were camping during a time of campfire restrictions.
---
Step 1. Prep the veggies
For this recipe you'll need to mince some garlic and slice an onion and bell pepper.
Camping Flexible Cutting Mats
---
Step 2. Heat the oil
You will be using a 12-inch cast iron Dutch oven to make
this meal.
First heat your pot over a medium-high heat, then add the olive oil to heat it before adding the remaining
ingredients.
---
Step 3. Brown the sausages
You will be browning the beer brats in the oil.
At this point you are not cooking the sausages, you are just
getting a nice golden brown color on all sides of the links.
Once they are browned, you'll remove them from the Dutch
oven for a bit.
---
Step 4. Add the veggies to the pot
Now it is time to add the potatoes, onions, garlic, bell
peppers to the Dutch oven.
You will be gently stirring just to combine everything.
---
Step 5. Add the broth
At this point you will just need to pour the beef broth over the veggies and then you'll top everything with the browned sausages.
The combination of the broth and potatoes make this one of our hearty winter camping recipes that is yummy for colder weather trips.
---
Step 6. Bring to simmer
While the heat is still set on medium-high, you'll wait for
the mixture to come up to a simmer.
You are almost done … talk about easy camping dinner recipes, right?!?
---
Step 7. Reduce the heat and wait
It is time to cover the Dutch oven with its lid and just
wait for the sausages to cook through and the potatoes to get tender.
This will take about 45 minutes over a lower heat.
Camp Cooking Tip: To keep the pot simmering in windy conditions you may need to increase the heat
to medium or even a high level.
If you like making easy camping meals, we've got tons of ideas for snacks, breakfasts, dinners and desserts!
---
Print This Dutch Oven Sausage Camping Recipe
Prep Time 5 minutes
Cook Time 45 minutes
Total Time 50 minutes
Ingredients
2 tablespoons olive oil
4 beer brat sausages, uncooked
4 medium-sized potatoes, washed (not peeled) and cut into approximately 1 inch cubes
1 medium onion, sliced
2 cloves garlic, finely chopped
1 red bell pepper, sliced
14 oz can beef broth
Salt and pepper, to taste
Water, if necessary
Instructions
Prepare 12 coals for cooking (* see note below).
Place the coals in a pattern that will evenly heat a 12-inch Dutch oven from below. (You are using all of the coals under the oven, no coals will be placed on the lid. Place them in a full circular pattern including the center, not just a ring around the outside.)
In your 12-inch cast iron Dutch oven over medium-high heat, heat the olive oil.
Add the sausages to the pot, turning them to assure all sides are evenly browned, about 5-10 minutes. You are just browning the sausages here … not cooking them.
Once they are browned, remove the sausages and set them aside.
Add the potatoes, onions, garlic, bell peppers to the Dutch oven and stir gently.
Now, pour the beef broth into the Dutch oven and add the sausages back to the pot placing them on top of the veggies.
Bring it up to simmer while still on medium-high heat.
Now, reduce the heat to low, cover the Dutch oven with the lid and let the pot simmer for 30 – 45 minutes until the brats are cooked through and the potatoes are tender. Check the liquid level on occasion and add water if necessary. Camp Cooking Tip: If you are cooking in windy conditions you may need to increase the heat to medium or even high in order to keep the pot simmering.
Remove the Dutch oven from the heat and add salt and pepper, to taste.
Recommended Products
As an Amazon Associate and member of other affiliate programs, I earn from qualifying purchases.
Nutrition Information:
Yield:
4
Serving Size:
1
Amount Per Serving: Calories: 584Total Fat: 37gSaturated Fat: 11gTrans Fat: 0gUnsaturated Fat: 23gCholesterol: 73mgSodium: 1324mgCarbohydrates: 44gFiber: 5gSugar: 4gProtein: 20g
---
Want foil packet meals, no cook recipes or other awesome ideas to make yummy camping food on your next trip?
Here they are!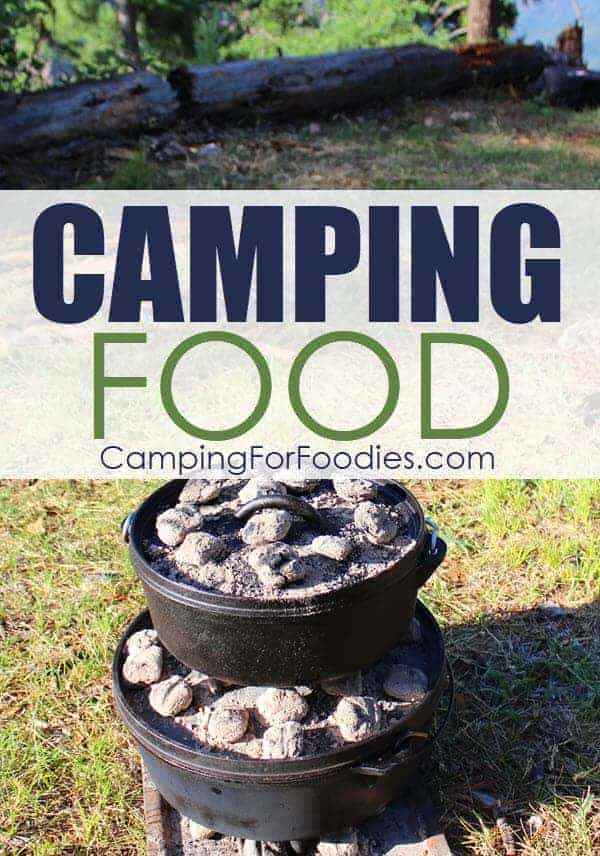 ---
---
Our Cool Camping Products Make Great Gifts!
---