Dutch Oven White Chicken Chili (Easy, Creamy & Delicious)
You can't have too many chili options on your list of favorite Dutch oven camping recipes.
This is a rich and creamy version of a beloved campsite dinner. I'm guessing this Dutch Oven White Chicken Chili is destined to become one of your most requested campsite meals so you'll want to keep it at the front of your recipe box!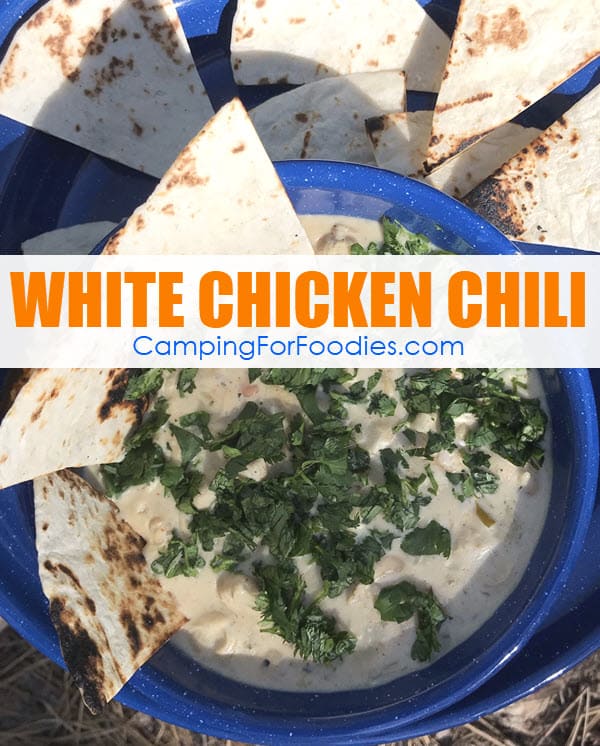 Psst we're compensated…see our disclosures.
Prep To Make This Recipe
One of the best things about making an easy recipe is the minimal effort and prep time required at the campsite. And, one pot camping meals make clean-up easy too!
For this recipe you'll only need to chop a couple of garlic cloves and a bit of white or yellow onion.
Camping Flexible Cutting Mats
You'll also need to cube some chicken breasts … you can do that at the campsite but I like to do that at home well in advance of our trips and keep it in the freezer.
Camp Cooking Tip: Cube chicken thighs or breasts into bite sized pieces, place in freezer bags in 1, 1.5 and 2 pound quantities for future use in camping dinner recipes. Label the bag with the date and contents. Remove the air from the bag and seal it tightly, store in freezer up to 3 months.
---
Methods Of Cooking Easy Chicken Chili
If you are making this as one of our easy campfire recipes, you'll need to get your fire going in order to cook over coals (not flames) … you can also use charcoal briquettes.
If you want to cook with propane, you can also make this as one of our camp stove recipes so get your stove ready for cooking on a level surface.
When cooking easy camping meals with a camp stove, it is faster than a campfire because you just turn the knob vs starting a campfire and getting it burned enough to provide coals for cooking. With minimal prep and cook time, this is the perfect meal to get to your dinner table in about 30 minutes.
---
Steps To Make Creamy White Chicken Chili
Step 1. Prepare your ingredients as directed.
Step 2. Prepare your cooking equipment, heat source and pan. I use a standard-depth 12-inch Dutch oven over medium heat. Let your Dutch oven heat up then add 1 tbsp of olive oil.
Camp Cooking Tip: If you are looking for easy camping meals for large groups, this chili is a great choice because it easily scales up. A standard-depth 12-inch Dutch oven will work even if you double this recipe. But, if you want to increase to even more servings, you will need to switch over to a super large Dutch oven that can handle the capacity.
Cast Iron Dutch Oven Size Capacities
| | | |
| --- | --- | --- |
| 8 Inch Classic | 2 Quarts | 8 Cups |
| 10 Inch Classic | 4 Quarts | 16 Cups |
| 10 Inch Deep | 5 Quarts | 20 Cups |
| 12 Inch Classic | 6 Quarts | 24 Cups |
| 12 Inch Deep | 8 Quarts | 32 Cups |
| 14 Inch Classic | 8 Quarts | 32 Cups |
| 14 Inch Deep | 10 Quarts | 40 Cups |
| 16 Inch Classic | 12 Quarts | 48 Cups |
Step 3. Add the chicken. Place the cubed chicken in the pot stirring it to slightly brown all sides so they are no longer pink.
Step 4. Add the onion and garlic. You just want to stir this in to incorporate it.
Step 5. Add the spices. It is time to put the salt, cumin, chili powder, oregano and cayenne pepper into the pot. Stir it all so that it is combined.
Step 6. Add the chicken broth, beans and green chilies. It is time to cover the pot and bring it to a boil. Then you'll reduce the heat a bit so the pot just simmers with the lid on for about 20 minutes.
Step 7. Remove cover, increase the heat to a medium-high heat. You'll stir occasionally. At this point you just want the chili to thicken slightly.
Step 8. Now you'll stir in the cream cheese and let it melt.
Step 9. Serve hot topped with cilantro.
---
What To Serve With White Chicken Chili
I like toasting flour tortilla shells, slicing them into wedges and serving them on the side for dipping into this thick white bean chicken chili.
Other great options would be crusty bread, tortilla chips, garlic bread and if you want to get even fancier, try my Campfire Dutch Oven Jalapeño Cornbread.
As is, this chili is a tasty gluten free camping food. If you decide to serve it with something on the side, you'll have to stay with GF options.
---
Optional Garnishes For White Chili Recipes
Anytime you have rich and creamy soups, stews and chili dinners, they do well with garnishes like lime wedges so campers can spritz a bit of lime juice to provide a nice bright contrast to a thick and heavy main course. Other wonderful toppings include sliced green onions, finely diced sweet onions, a dollop of sour cream, shredded monterey jack cheese and thinly sliced jalapeno peppers.
---
Similar Recipes
My family loves a big pot of chili when we're camping in cold weather. So It is no surprise I have different varieties of it to fill my menu with yummy winter camping recipes. Here are some of our favorites.
My Campfire White Chili recipe has similar flavors in the spices but it is a turkey chili that uses cannellini beans and ground turkey as its base.
If you want a more traditional chili, try my Campfire Dutch Oven Chili Recipe that is thick and hearty with a rich spicy tomato sauce. If I want to make this as a really fast campsite meal, I make it ahead at home, let it simmer all day in a slow cooker then let it cool and freeze it. Then, take it to the campsite and let the chili thaw in a cooler. When we want to eat, it is quick to reheat as many portions as we need.
My brother-in-law's Dutch Oven Chili secret family recipe uses a homemade chili seasoning spice blend combined with ground beef, Italian sausage and a touch of beer cooked low and slow in a large pot. It is AMAZING!
If you're short on refrigerator space, try my Spicy Chicken And Corn Chili that is one of my canned chicken camping recipes and uses only non-perishable ingredients.
My Dutch Oven Chicken Pot Pie is another yummy comfort food. It uses canned refrigerator biscuits to make an easy upper-crust.
If you want a totally different flavor profile with chicken, this Dutch Oven Latin Campfire Chicken is a great recipe that swaps out black beans instead of white beans and adds sweet potatoes. It is a simple meal with layers of flavors that create a delicious meal the whole family will enjoy.
---
Print This Dutch Oven White Chicken Chili Recipe
Prep Time 15 minutes
Cook Time 25 minutes
Total Time 40 minutes
Ingredients
1 tablespoon olive oil
1.5 pound skinless, boneless chicken breasts, cut into 1/4-inch cubes
1 medium onion, chopped
2 garlic cloves, chopped
1 teaspoon salt
1 teaspoon ground cumin
1/2 teaspoon chili powder
1 teaspoon dried oregano
1/4 teaspoon cayenne pepper
1 (14.5 ounce) can chicken broth
2 (15.5 ounce) cans great Northern beans, undrained
1 (4 ounce) can chopped green chiles
1 (8 oz.) package cream cheese, cut into cubes and softened
1 bunch cilantro, chopped
4 toasted tortillas cut into wedges, optional for serving
Instructions
Prepare ingredients as directed.
Heat a 12-inch Dutch oven over medium heat. Add the olive oil to the pot and let it heat up.
Now add the chicken and stir occasionally until all sides of the meat are no longer pink.
Next, add the onion and garlic, stirring until combined.
Now, add the salt, cumin, chili powder, oregano and cayenne pepper, stirring until combined.
Stir in the chicken broth, beans and green chiles. Cover and bring the mixture to a boil, then reduce the heat and simmer, covered for about 20 minutes.
Remove cover, increase to a medium-high heat and stir occasionally until the chili is slightly thickened.
Stir in the cream cheese and let it melt, stirring to incorporate.
Top with cilantro and serve hot.
Serve with toasted tortilla wedges, if desired. (Note: This chili is gluten free but if you want to serve tortillas or chips on the side for dipping, make sure you use GF versions.)
Recommended Products
As an Amazon Associate and member of other affiliate programs, I earn from qualifying purchases.
Nutrition Information:
Yield:
4
Serving Size:
1
Amount Per Serving: Calories: 574Total Fat: 16gSaturated Fat: 5gTrans Fat: 0gUnsaturated Fat: 10gCholesterol: 153mgSodium: 1160mgCarbohydrates: 42gFiber: 6gSugar: 2gProtein: 63g
---
More Yummy Meal Ideas
You probably need new and interesting recipes for every meal of your camp trip. We've got tons of them for you!