Easy And Fast Grilled Potato Wedges Camping Recipe and VIDEO (no more boring potato chips allowed!)
The best camping food does not start with a can of beans!
You don't ever have to deny your craving for fries on a camping trip with this easy and fast Grilled Potato Wedges Camping Recipe!
Sure, you could serve a burger with potato chips but why would you when you can make these fantastic grilled fries?
See how simple they are in the VIDEO!
I like serving them with my Chipotle Mayonnaise as a dipping sauce!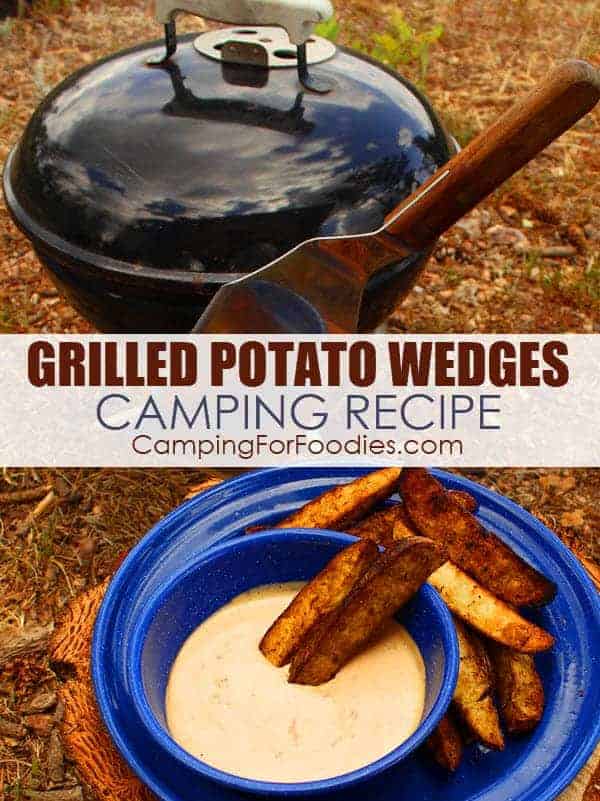 Psst we're compensated…see our disclosures.
Grilled Potato Wedges Camping Recipe
---
Rapid Fire Chimney Starter
Step 1.
The first step in making this Grilled Potato Wedges Camping Recipe is to get your charcoal going because the prep work is so fast, you'll actually need to give the charcoal a head start!
I like using my Rapid Fire Chimney Starter to start my charcoal because it lights quickly without starter fluid.
&
---
---
Gallon Freezer Bags
Step 3.
Now add the oil and spice mixture directly to a Gallon Freezer Bag. That way you can avoid using another bowl you have to wash!
You can just squeeze the bottom of the bag to mix all of the ingredients together before adding the potatoes.
After you add the potatoes, just close the seal on the bag and shake until the fries are coated with the oil/spice mixture. 
&
---
Smokey Joe Portable Grill
Step 4.
Now, place the potato wedges on the grill and cover, turning occasionally until potatoes are cooked through.
I like using my little Smokey Joe Portable Grill when I am grilling at the campsite because I can easily control the heat with the vents but you can use any type of grill or campfire grill and if it does not have a tight fitting lid, just use aluminum foil to cover the potato wedges as they cook.
&
---
Other Fun Potatoes For Camp Menus
Potatoes are awesome to take camping because they are sturdy enough to survive without refrigeration.
If you like cooking in foil, try these simple camping potatoes in foil that can be cooked over a campfire or camp grill using propane or charcoal.
For a cool weather treat, these camping foil packets grilled spiced potatoes are really nice and we often serve them when we camp on Thanksgiving.
---
Print This Grilled Potato Wedges Camping Recipe
Ingredients
2 large russet potatoes, scrubbed and cut into wedges about 1 inch thick (6-8 wedges)
1/3 cup olive oil
1 teaspoon fresh rosemary leaves, finely chopped
1 teaspoon cumin powder
1 teaspoon ground chipotle chile powder
Salt and pepper, to taste
Instructions
Heat grill to medium heat.
Cut each potato lengthwise into wedges about 1 inch thick (6-8 wedges).
In gallon freezer bag and add oil, rosemary, cumin, chipotle chile powder salt and pepper. Mix ingredients by squeezing outside of bag.
Add potatoes to freezer bag, close and shake until potatoes are evenly covered with oil and spice mixture.
Grill covered 25 to 30 minutes or until potatoes are tender and browned, turning occasionally.
Serve with Chipotle Mayonnaise Camping Recipe for dipping. Get the recipe here https://www.campingforfoodies.com/chipotle-mayonnaise-camping-recipe/
Recommended Products
As an Amazon Associate and member of other affiliate programs, I earn from qualifying purchases.
Nutrition Information:
Yield:
4
Serving Size:
1
Amount Per Serving: Calories: 305Total Fat: 18gSaturated Fat: 3gTrans Fat: 0gUnsaturated Fat: 15gCholesterol: 0mgSodium: 96mgCarbohydrates: 32gFiber: 4gSugar: 2gProtein: 4g
---
I like serving this Grilled Potato Wedges Camping Recipe with my easy Chipotle Mayonnaise Camping Recipe as a dipping sauce!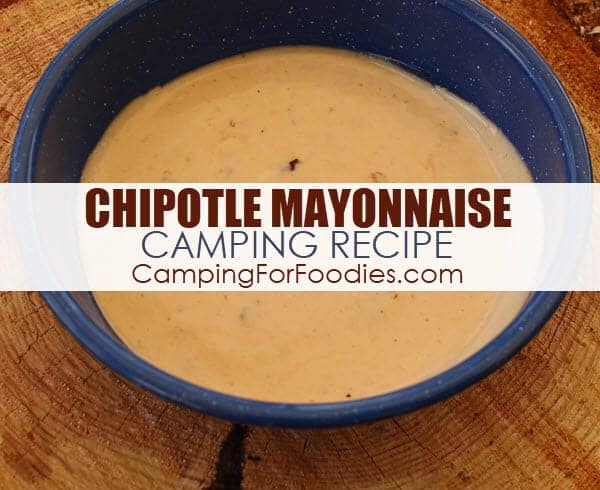 ---
Some of the best camp meals are made in camp ovens.
Try some of our dutch oven camping recipes on your next trip!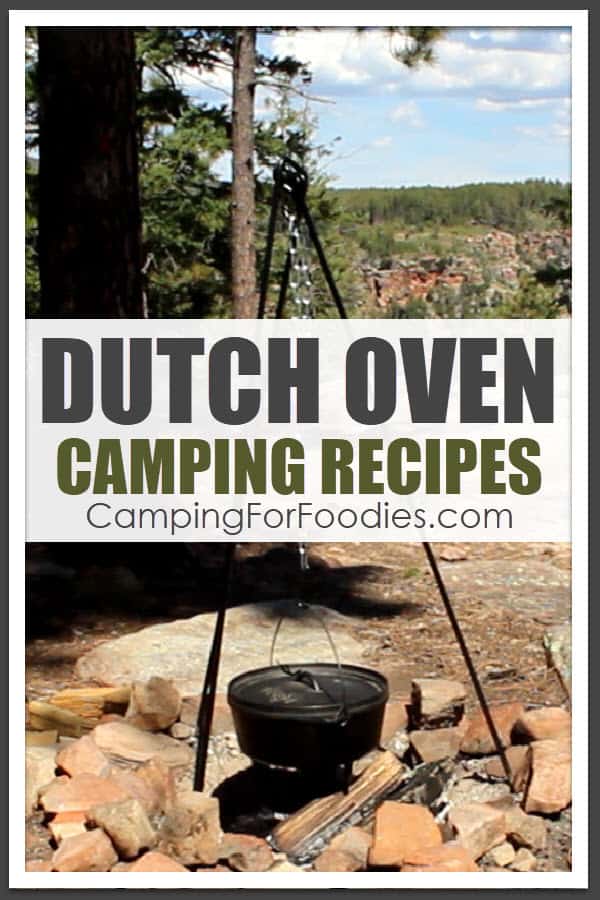 ---