Easy Dutch Oven Berry Cobbler Camping Recipe
Don't you just love sweet treats only Dutch oven camping recipes can provide?
Who knew camp cooking skills would come in handy preparing for a cross-country move? 
Moving is no easy task … especially if its over 1,500 miles from point "A" to point "B". 
When our parents decided to make Arizona their full-time home, my sister and I flew out to Chicago to help with the packing. 
We packed the entire house before we started on the kitchen.  
Our challenge: use whatever was in the fridge, freezer and pantry before the moving van arrived. 
That's where this super easy (always great for camping) throw-together Dutch Oven Berry Cobbler Camping Recipe came from.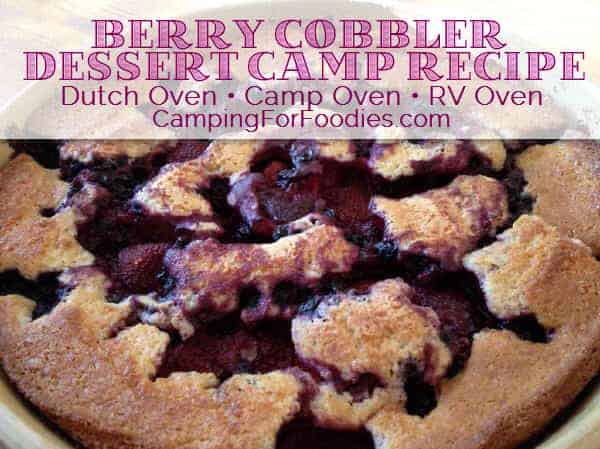 Psst we're compensated…see our disclosures.
Berry Cobbler Dessert Camp Recipe
---
Campsite equipment options include a Dutch oven, camp oven or RV oven.
Lodge Camp Dutch Oven
Coleman Camp Oven
&
---
Preheat oven to 350 degrees. NOTE: If you are using a Dutch oven, baking times vary depending on outside air temperature, elevation and humidity so be ready to make adjustments as necessary.
See my Dutch Oven Camp Cooking Tips for more information.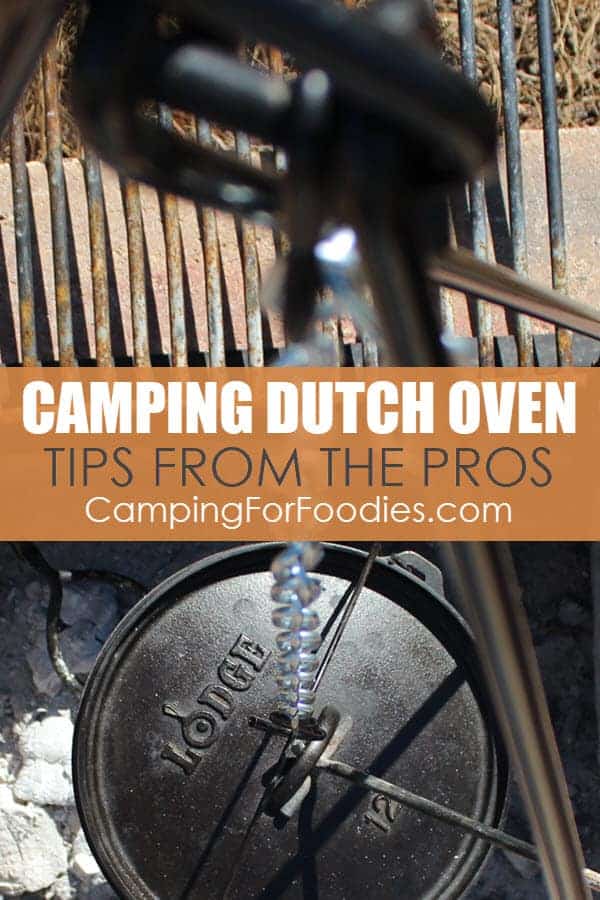 ---
How Many Coals?
Are you always wondering how many charcoals briquettes you need to maintain specific temperatures when you are baking in your camp Dutch oven?
Well, it depends on the size of your oven!
Find the answer here … Dutch Oven Temperature Chart
&
---
Weber 7416 Rapidfire Chimney Starter
If you are using charcoal briquettes with your Dutch oven, a chimney starter is great because it is a fast, efficient and clean way to light your charcoal.
&
&
---
Berry Cobbler Dessert Camping Recipe
---
Step 1. Preheat the oven.
Whichever oven you decide to use, you'll be baking this cobbler at 350 degrees which is a standard temperature for baked camping dessert recipes.
---
Step 2. Prepare the pan.
You are going to melt the butter in a 9-inch baking pan that you will be placing in the oven for cooking.
As an alternative method, you can make this cobbler directly in your camp Dutch oven.
If you want easier cleanup, you can use a foil liner insert or a parchment paper liner.
Aluminum Dutch Oven Liners
Parchment Paper Dutch Oven Liners
&
---
Step 3. Make the batter.
Now you will be mixing the flour, sugar, baking powder and salt to create the dry ingredient base for this recipe.
Next you'll add the wet ingredients: milk and vanilla extract and whisk until the batter is smooth.
---
Step 4. Add batter and berries to pan.
It is time to pour the batter into the prepared pan.
Then you will place the berries and remaining sugar over the batter.
---
Step 5. Bake the cobbler.
This recipe is fast to prep but a little slower to bake.
It will take about 50-60 minutes to get the fruit bubbly and the batter nicely browned.
---
Step 6. Serve this yummy dessert.
You need to let the cobbler cool slightly before you serve it.
The best flavor and texture comes with serving this dessert warm.
It is totally awesome as is … but … if you want to take it up a notch, add some ice cream or whipped cream to top it all off. Enjoy.
---
You'll Love This Too!
If you enjoy this very berry cobbler, you'll love this Dutch oven blueberry cobbler too!
It is made with fresh blueberries and really simple too!
---
Need Chocolate?
Fruity desserts are wonderful but if you need your chocolate fix try these camping smores Dutch oven brownies … they are oooey, gooey and totally A-M-A-Z-I-N-G!
---
Print This Dutch Oven Berry Cobbler Camping Recipe
Prep Time 10 minutes
Cook Time 50 minutes
Total Time 1 hour
Ingredients
4 tablespoons butter
3/4 cup all purpose flour
3/4 cup + 1 tablespoon sugar, divided
1 teaspoon baking powder
1/4 teaspoon salt
3/4 cup milk
2 teaspoons vanilla extract
16 oz package frozen mixed berries, defrosted (or 2 cups fresh fruit)
Optional: vanilla ice cream or whipped cream for serving
Instructions
Preheat a 12-inch standard depth camp Dutch oven to 350 degrees, 25 total coals = 17 top/8 bottom. (Alternatively, you can use a propane camp oven or RV oven.)
Melt butter in pan. A 9-inch baking pan, like pie plates, work here or you can make this cobbler directly in the Dutch oven.
In a medium sized bowl stir together the flour, 3/4 cup sugar, baking powder and salt to make the batter.
Now add the milk and vanilla to the dry ingredients and whisk until the batter is smooth.
Pour the batter into the prepared pan.
Top batter by sprinkling defrosted berries and 1 tablespoon sugar evenly over the batter.
Bake the cobbler 50-60 minutes until fruit is bubbly and batter browns.
Let cobbler cool a bit before serving warm. It is also good if you want to add some vanilla ice cream or whipped cream on top.
Recommended Products
As an Amazon Associate and member of other affiliate programs, I earn from qualifying purchases.
Nutrition Information:
Yield:
8
Serving Size:
1
Amount Per Serving: Calories: 177Total Fat: 9gSaturated Fat: 5gTrans Fat: 0gUnsaturated Fat: 3gCholesterol: 25mgSodium: 199mgCarbohydrates: 22gFiber: 3gSugar: 9gProtein: 3g
---
No time to look for recipes, create a menu and write a grocery list? No Problem! Get our 3-Day Dutch Oven Camp Menu Plan here!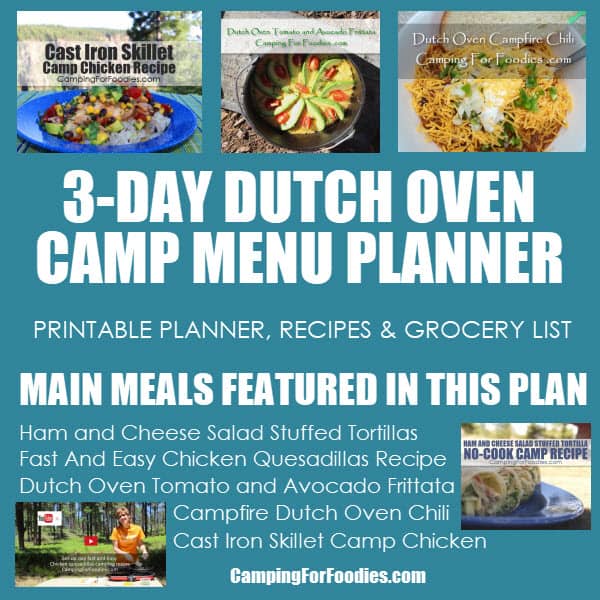 ---
Our Cool Camping Products Make Great Gifts!
Cutting Mat
Mat Set
Shaker Set
Hammock
&
---
If you need camping recipes and menu ideas, you can find them here at the Camping For Foodies Camping Recipes list.
Don't miss a thing…sign up for Camping For Foodies email updates!
Your purchase of our products will help support World Vision ® Building a better world for children.