Easy Dutch Oven Camping Tacos Made Over Campfires Or Camp Stoves!
This is one of our easiest Dutch oven camping recipes that is on the table in about 20 minutes!
When you want a super quick meal with a Mexican flair, you need to try these yummy Dutch oven camping tacos.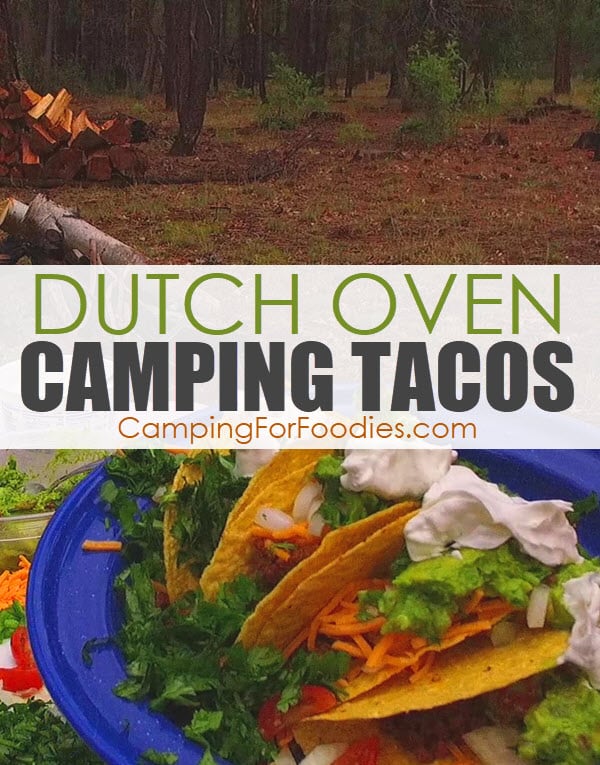 Psst we're compensated…see our disclosures.
How To Make Beef Tacos At The Campsite
You can make easy camping meals that bring in exciting international flavors no matter where your campsite is located.
If you want to expand the global theme to your camping dinner recipes, just add a similar flavor profile to your side dishes and appetizers.
Step 1. Prepare your cooking equipment.
If you are making this as one of our campfire recipes, you'll need to get your fire going in order to cook over coals (not flames) … you can also use charcoal briquettes.
If fire restrictions prevent you from using an open flame … or you just prefer cooking with propane, you can also make this as one of our camp stove recipes so get your stove ready for cooking on a level surface.
---
Step 2. Prepare the veggies and measure out all ingredients.
You'll need to chop cilantro, tomato, onion and jalapeno pepper for the taco toppings.
Camping Flexible Cutting Mats
---
Step 3. Brown the meat.
Camp Cooking Tip: If you measure your ground beef at home, you can freeze it in a plastic freezer
bag in a flat square so it transports easily in a cooler or RV refrigerator and
defrosts nicely when it is time to use it.
You'll be browning the hamburger over a medium-high heat.
Don't drain the fat.
---
Step 4. Add the seasoning.
One of the things that makes this recipe so simple is the flavor-filled taco seasoning you add to the meat.
---
Step 5. Thoroughly cook the hamburger.
You will continue cooking the ground beef until it is fully
cooked and the seasonings are completely incorporated.
---
Step 6. Build the tacos.
Every taco starts with a hard taco shell and the meat mixture, then you can add whatever
toppings you like.
We like our tacos at the campsite the same way we like them
at home … loaded with lots of toppings!
So, we add cilantro, tomato,
onion, jalapeno pepper, cheddar cheese, guacamole and sour cream.
You can use prepared guacamole but we like making this fresh guacamole camping appetizer and then reserve some for our taco dinner.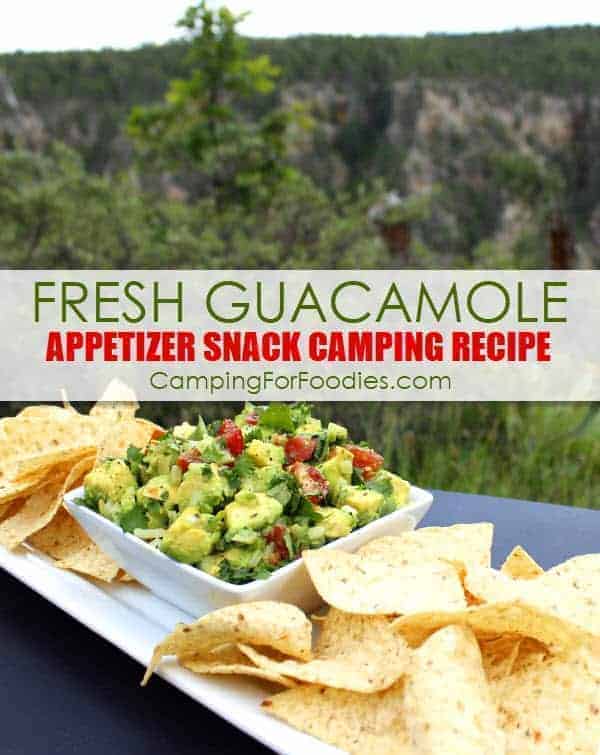 ---
Print This Dutch Oven Camping Tacos Recipe
Prep Time 5 minutes
Cook Time 15 minutes
Total Time 20 minutes
Ingredients
1 pound ground beef hamburger
2 packets taco seasoning
1 bunch cilantro, chopped
1 tomato, chopped
1 small onion, chopped
1 jalapeno pepper, chopped
1 cup shredded cheddar cheese
1 cup guacamole
1/2 cup sour cream
12 hard taco shells
Hot pepper sauce, if desired
Instructions
Prepare campfire or camp stove for cooking.
Place 10-inch cast iron Dutch oven on cooking grate over coals of campfire or on a propane camp stove.
Add ground beef to the Dutch oven and brown over medium-high heat using a wooden spoon to break up the hamburger as it cooks.
When the hamburger crumbles are almost fully cooked, don't drain the fat … just add the taco seasoning to the pot … stirring until it is fully incorporated.
Continue cooking uncovered until the hamburger is fully cooked.
Build the tacos, starting with spooning the taco meat into the shell and layering in the toppings of your choice.
You can use prepared guac for this recipe or make a fresh batch of homemade guacamole!
https://www.campingforfoodies.com/fresh-guacamole-appetizer-camping-snack-recipe/
Serve warm.
Recommended Products
As an Amazon Associate and member of other affiliate programs, I earn from qualifying purchases.
Nutrition Information:
Yield:
4
Serving Size:
1
Amount Per Serving: Calories: 780Total Fat: 45gSaturated Fat: 17gTrans Fat: 1gUnsaturated Fat: 22gCholesterol: 106mgSodium: 2012mgCarbohydrates: 64gFiber: 9gSugar: 5gProtein: 29g
---
More Camping Food Ideas
If you are looking for more delicious ideas for your next menu, check out this camping food!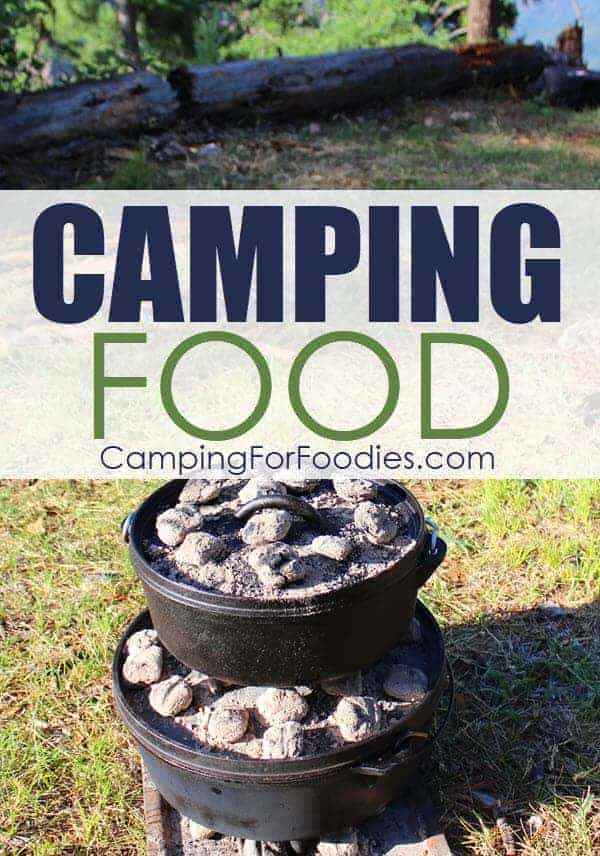 ---
---
Our Cool Camping Products Make Great Gifts!
---