Easy Dutch Oven Scrambled Eggs Camping Recipe!
When it comes to making breakfast, we love Dutch oven camping recipes that can be cooked over campfires, camp stoves or charcoal briquettes because you just never know how lazy you might be in the morning!
This Dutch oven scrambled eggs camping recipe is quick, simple and full of flavor.
As one of our camping meals for two, this recipe can be easily adjusted to feed many hungry campers.
Psst we're compensated…see our disclosures.
How To Make Dutch Oven Scrambled Eggs
The prep is fast and the cooking is simple for this yummy breakfast.
---
Step 1. Prepare Your Cooking Gear
You are going to need a 10-inch cast iron Dutch oven to make this recipe for up to 4 servings.
If you are scaling up to feed more people, you will have to increase the size of your oven accordingly.
I like making this as one of my easy campfire recipes but you can transition to charcoal briquettes if you'd like.
Another option is making this as camp stove recipes (which is great if you are cooking during fire restrictions and can't have an open flame) or do it directly on an RV stove top.
---
I always like to prep my veggies before I begin cooking so everything is calm and cooking is relaxing!
So, chop that onion before you get rolling … which is always a great tip when you are making vegetarian camping recipes.
Camping Flexible Cutting Mats
Step 2. Pre-Heat Your Dutch Oven
The way to make really nice fluffy Dutch oven eggs is to cook them over a low-medium heat.
If you get the pot too hot, you will turn the eggs brown and possibly burn them … they will also have a rubbery consistency if you cook them too fast and hot.
---
Step 3. Cook The Onion
Now you'll need to melt the butter then toss in the onion and cook until softened.
---
Step 4. Beat The Eggs
It is time to beat the eggs with the water, salt and pepper.
Camp Cooking Tip: To have a nice creamy and fluffy consistency, you need to make sure the egg yolks and whites are totally combined and you get some air into the mixture.
---
Step 5. Cook The Eggs
This is the key to making this easy recipe a success … don't rush the cooking process!
The eggs cook fast enough over a low-medium heat, just keep stirring … gently … until they are almost set.
---
Step 6. Add The Cheese
Now, add the cheese to the pot and continue stirring until it is almost melted.
---
Step 7. Remove From Heat & Serve
This is the only time I will tell you to HURRY when making this recipe!
Get the pot off the heat before you overcook the eggs.
You can add a little fresh parsley if you want but it is not necessary.
Portion out these yummy eggs and eat them while they are still hot.
Enjoy!
If you are looking for more easy camping meals, we've got them!
This cast iron skillet breakfast nachos camping recipe is a fun breakfast meal that translates into a bunch in a really exciting way.
Another great breakfast option is making this muffin tin eggs campfire recipe.
---
Print This Dutch Oven Scrambled Eggs Camping Recipe
Prep Time 5 minutes
Cook Time 15 minutes
Total Time 20 minutes
Ingredients
1 tablespoon butter
1/4 small onion, diced
4 eggs, beaten
2 tablespoons water
Salt and pepper to taste
1/2 cup shredded cheddar cheese
Small bunch fresh parsley, chopped (optional)
Instructions
Prepare for cooking in your 10-inch* cast iron camp Dutch oven. This recipe can be cooked using a campfire, camp stove, RV stove or charcoal briquettes as a heat source. *See NOTE below.
Pre-heat the Dutch oven over a low-medium heat.
Add the butter to the pot and let it melt.
Now add the onion and stir it occasionally, till softened.
In a bowl, beat the eggs, water, salt and pepper. Make sure you beat long enough to fully incorporate the yolks with the whites and get some air into the mixture.
Add the egg mixture to the Dutch oven, constantly … but gently … stirring over low-medium heat until the eggs are almost set.
Now, stir in the cheese and continue cooking until the cheese is almost melted and get the Dutch oven off the heat. If you overcook scrambled eggs they can become brown, burnt and rubbery.
Top with fresh parsley, if desired.
Serve hot.
Recommended Products
As an Amazon Associate and member of other affiliate programs, I earn from qualifying purchases.
Nutrition Information:
Yield:
2
Serving Size:
1
Amount Per Serving: Calories: 312Total Fat: 25gSaturated Fat: 12gTrans Fat: 1gUnsaturated Fat: 10gCholesterol: 415mgSodium: 522mgCarbohydrates: 3gFiber: 0gSugar: 1gProtein: 19g
---
More Breakfast Camping Recipes
If you want more super simple camping breakfast ideas, get some inspiration from our awesome collection!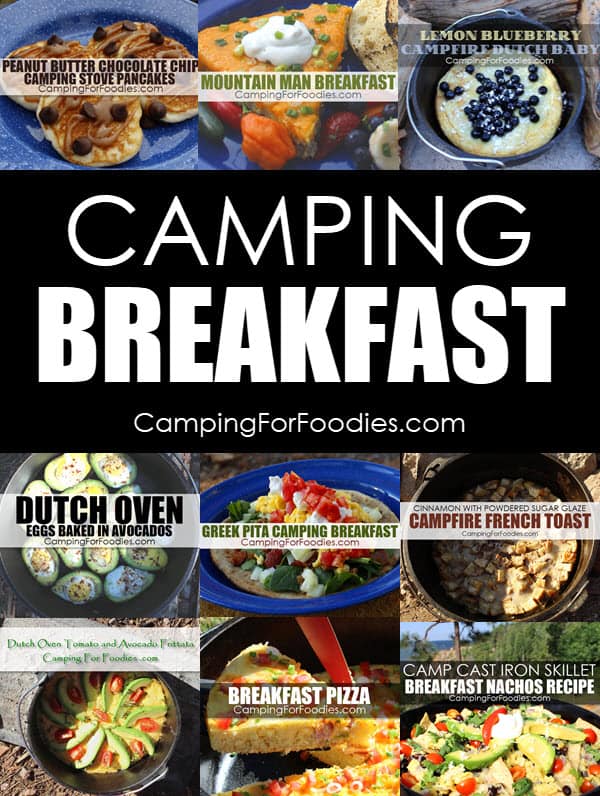 ---
---
Our Cool Camping Products Make Great Gifts!
---