Easy Make-Ahead Dutch Oven Thai Campfire Chicken Recipe
Looking for a phenomenally scrumptious campfire chicken recipe that is also one of our fantastic make ahead camping meals that you just dump into your camp Dutch oven when you are ready to cook dinner?
This is one of those unique recipes nobody expects at the campsite because it is ridiculously tasty!
It seems way too difficult to make while camping BUT it is deceptively simple!
This Dutch Oven Thai Campfire Chicken Recipe has Thai-inspired flavors that are bold, slightly sweet and make an almost-gourmet Dutch oven recipe for camping!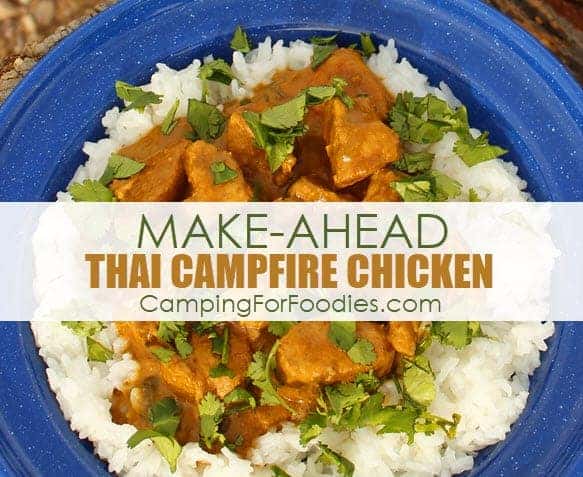 Psst we're compensated…see our disclosures.
How To Make Campfire Chicken Ahead At Home
When I am making a flavor-packed camping meal that gets a little "messy" in the prepping stage … I like to do all of that work at home where I have unlimited water for cleaning up … and a DISHWASHER too!
This Dutch Oven Thai Campfire Chicken Recipe is perfect for making at home because all of the ingredients are mixed together and cooked together.
I just combine the ingredients directly in my Gallon Freezer Bag and then work out the air as I close the seal on the bag.
I lay it flat in my freezer and just defrost it at the campsite when I am ready to cook it.
Camp Cooking Tip: When I am prepping make-ahead freezer meals I like to do a double batch which means I make 1 mess and get 2 meals out of it!
One for the campsite and one for home!
I label the bag with the name of the recipe and the date so after it freezes I don't look at it and say, "Looks like a 'mystery dinner' night because I don't remember what is in this bag!" LOL
Ziploc Gallon Freezer Bags
---
Because of its warm, stew-like consistency, this Thai campfire chicken is one of our favorite winter camping recipes!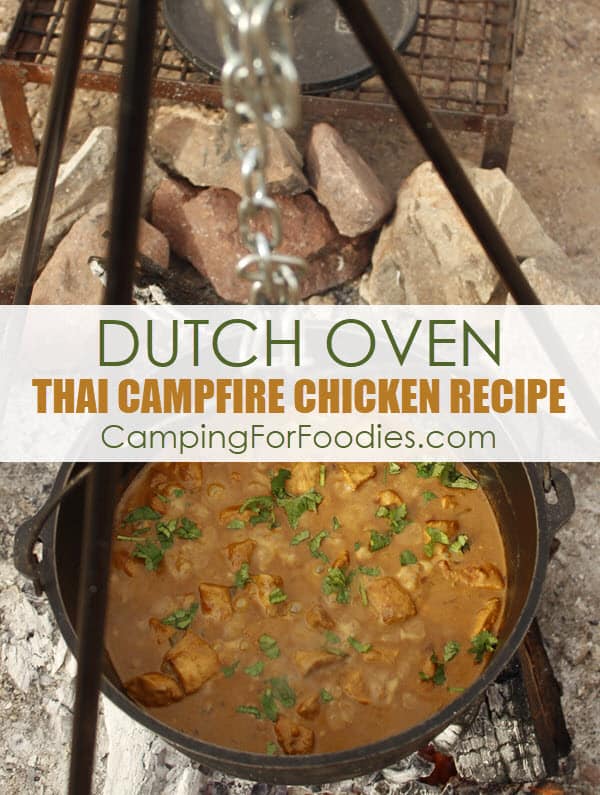 ---
How To Make Thai Campfire Chicken In A Dutch Oven
Are there any campfire recipes that don't require aluminum foil? Yes!
My personal preference is to use a Dutch oven hanging from a Camp Dutch Oven Tripod when I am making my Thai Campfire Chicken Recipe.
Because this is one of my favorite make-ahead camping meals that I prep and freeze at home … then at the campsite … I just dump the ingredients from the freezer bag into my Dutch oven and simmer over a campfire … I like to serve this recipe on busy camp activity days when we have day-long hikes planned and we arrive back to camp just in time for dinner.
Lodge Adjustable Camp Tripod, 40 to 60-Inch Tall
---
How To Cook Campfire Chicken
We live in Arizona and most frequently camp in National Forests … which means, we have to adjust our camp cooking during times of fire restrictions.
This Dutch Oven Thai Campfire Chicken Recipe is awesome because you just "dump and simmer" this camp dinner.
You can cook it directly over a campfire but if you need to transition to a camp stove or RV stove because of fire restrictions … you can easily do that!
See how to camp when camping fire restrictions are activated for more tips!
---
Dutch Oven Thai Campfire Chicken Recipe Served Over Rice
The flavor-packed sauce is the best part of this Dutch Oven Thai Campfire Chicken so I like to make sure every bit of it is enjoyed to the fullest! Make this as one of your one pot camping meals and serve a nice crusty bread on the side for dipping.
Or, make it a two-pot dinner by serving it over jasmine rice. It can also be made at home, cooled and placed in a freezer bag so you just need to defrost it and re-heat the rice at the campsite.
I also like topping this meal with a little fresh cilantro just before serving.
If you want a flavor-packed chicken dinner that is made all in a single pot, try our Dutch oven Latin campfire chicken!
---
You'll Like These Too!
Can't get enough Thai food at the campsite? Try this totally yummy, almost-gourmet camp oven chicken curry!
For a more classic version of chicken and rice, try this Dutch oven chicken and rice camping recipe that does not use canned soup!
You won't miss your favorite Chinese take-out restaurant if you make this yummy Easy Dutch Oven American Chinese Chop Suey that uses your cast iron Dutch oven like a wok!
---
Print This Dutch Oven Thai Campfire Chicken Recipe
Prep Time 20 minutes
Cook Time 30 minutes
Total Time 50 minutes
Ingredients
2 pounds boneless skinless chicken breasts, cubed in bite-sized pieces
14oz can coconut milk
1/2 cup creamy peanut butter
1 lime, zest and juice
1/4 cup soy sauce
4 cloves garlic, minced
1 bunch green onions (green and white parts), chopped
1 teaspoon ground ginger*
1 teaspoon ground cumin*
2 teaspoon curry powder*
1/2 teaspoon cayenne pepper*
Cooked rice and fresh cilantro for serving (optional)
Instructions
If making as a freezer meal, combine all ingredients in gallon freezer bag, seal and lay flat in freezer. Label outside of bag with name, cooking and serving instructions. Defrost fully before cooking. It will seem kind of thick when you dump it out of the freezer bag … but, don't worry, it thins out as it cooks.
This symbol * means measure and mix at home (if you are making this entire recipe at the campsite, you can measure and mix the ingredients that are marked with * at home.)
Dump all ingredients in 12-inch Dutch oven and cover, cooking on low simmer till cooked through (about 30 minutes), stirring throughout because it will have a tendency to stick to the bottom of pan.
Remove lid and continue cooking till desired thickness.
Serving suggestion: Top with cilantro and serve over cooked rice (optional).
Camp cooking tip: We love cooking over the campfire with our Dutch ovens, but this recipe can be made in a cast iron skillet or other pan with a lid and be made using a camp stove or RV stove.
Recommended Products
As an Amazon Associate and member of other affiliate programs, I earn from qualifying purchases.
Nutrition Information:
Yield:
6
Serving Size:
1
Amount Per Serving: Calories: 576Total Fat: 30gSaturated Fat: 16gTrans Fat: 0gUnsaturated Fat: 11gCholesterol: 129mgSodium: 833mgCarbohydrates: 22gFiber: 2gSugar: 6gProtein: 55g
---
Cast Iron Dutch Oven Cleanup
After you have enjoyed this Dutch Oven Thai Campfire Chicken Recipe, don't forget to take care of your cast iron camp cookware!
You know what I say … treat your camp cast iron gear right and it will last for generations!
Check out these tips for cleaning and seasoning cast iron Dutch oven cookware!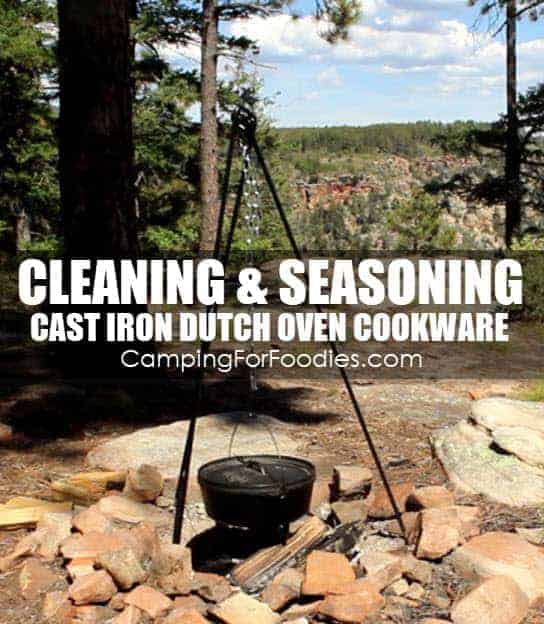 ---
Make sure you pack the campfire cooking equipment you need for all of your camp meals!
Want more ideas for yummy breakfast, dinner and dessert?
These Dutch oven recipes for camping will inspire you!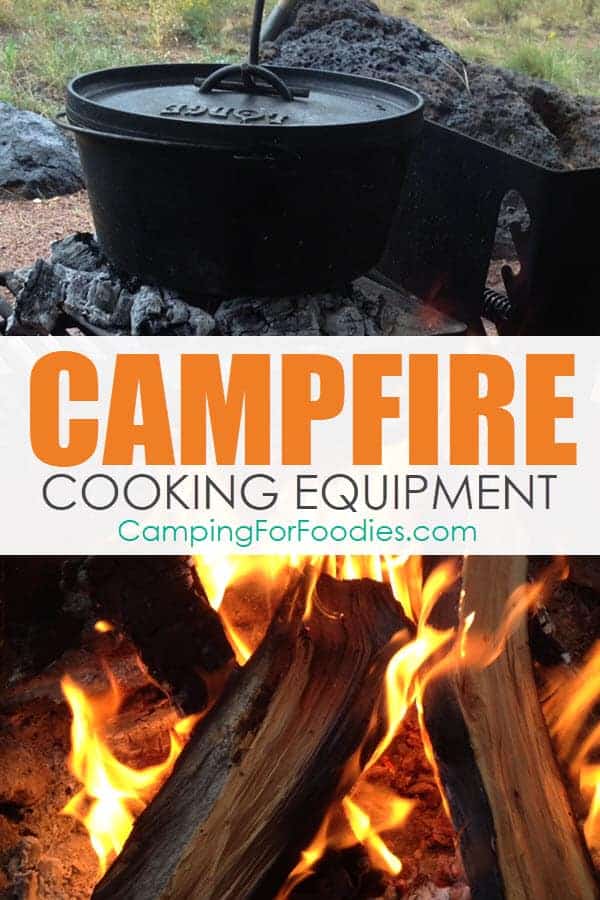 ---