Easy One-Pot Meal Perfect For The Campsite
You've gotta love Dutch oven camping recipes that please finicky kids and fussy adults at the same time.
A bowl of this Dutch Oven Chili Mac is a filling meal that takes very little time to prep. The beef, beans, tomatoes and cheese are a great combination that offers a homemade classic comfort food treat.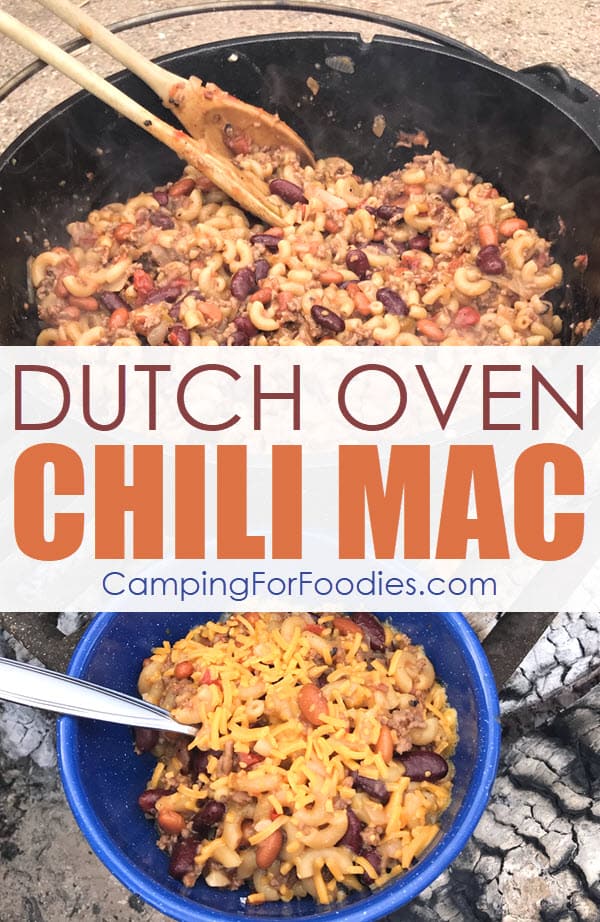 Psst we're compensated…see our disclosures.
Prep To Make This Recipe
My easy camping meals use simple ingredients that require very little prep. For this recipe you'll chop a bit of onion and garlic. Then, get out your can opener to "prep" the canned beans, broth, tomatoes and chile peppers.
Camping Flexible Cutting Mats
---
Methods Of Cooking Camping Chili Mac
You can make this as one of our easy campfire recipes by using a tripod or campfire grill grate. Just get your fire going for cooking with bottom heat. Alternatively, you can use charcoal briquettes.
If you'd like to make this as one of our camp stove recipes, you'll need enough propane for about 40 minutes of cooking time. Prepare your stove to cook on a level surface.
---
Steps To Make This One Pot Meal
I like preparing this entire recipe at the campsite but it is also a great option if you are looking for make ahead camping meals. You can easily make this recipe at home and refrigerate it for a couple of days, then just reheat it at the campsite.
With minimal prep and relatively fast cooking time, this is one of my camping dinner recipes I typically make completely onsite following these simple steps.
Step 1. Prepare your ingredients as directed.
Step 2. Prepare your heat source and cooking equipment.
Step 3. Heat the oven, oil and aromatics. You'll start by heating the oven using medium heat, then you'll add the oil. After it heats up a bit, you'll add the onion and garlic. Cook them till they are tender.
Camp Cooking Tip: I like using a standard-depth 12-inch Dutch oven for this recipe. Because it can be straightforwardly scaled, this recipe is one of my favorite easy camping meals for large groups. Depending on how many servings you need to make, adjust the size of your Dutch oven accordingly.
Step 4. Brown the meat. You're going to add the hamburger, salt and pepper to the pot. Use a spoon to break it up as it browns. You want to end up with bite-sized crumbles rather than huge chunks of meat.
Step 5. Add remaining ingredients. Now it's time to add the broth, macaroni, beans, tomatoes and green chile peppers.
Camp Cooking Tip: You don't need to pre-boil pasta if you have enough liquid in the recipe to cook it. Using undrained canned beans and tomatoes provides the liquid you need to cook the pasta while adding a ton of flavor at the same time.
Step 6. Cover, simmer and serve. You're going to bring the mixture to a boil so the pasta can cook to your desired tenderness. Top with cheese.
Camp Cooking Tip: Occasionally lift the lid to stir the pasta. You don't want your camping chili mac to stick to the bottom of the Dutch oven. If the pasta is not getting done before the liquid starts to reduce too much, just add a little more liquid (water is fine) to continue the cooking process until the pasta is done.
---
What To Serve With This Dinner
This recipe is filled with protein and carbs to provide the energy you need for your camping activities. You really don't need to serve anything with it. Some people like a little garlic bread on the side. Another good compliment is a simple garden salad.
---
Recipes Similar To Chili Mac And Cheese Recipes
If you want the ease of cooking and cleanup that comes with one pot camping meals, we have tons of them you should try.
As for warm-you-to-the-core winter camping recipes. Here are a few more…
You'll get carrots, potatoes and fork-tender beef when you make this simple Campfire Stew.
This One Pot Creamy Cajun Chicken Camping Pasta has a rich, velvety sauce that is slightly spicy and totally delicious.
You won't believe how easy I've made this Dutch Oven Beef Stroganoff … it has classic flavors that are simple to achieve in your camp kitchen.
Can you ever have enough camping chili recipes? We have a ton of them! This particular Dutch Oven Chili is a secret family recipe my brother-in-law decided he would share!
And, this Campfire Dutch Oven Chili Recipe is my award-winning version.
Spicy sausage and the fresh basil are the key to this amazing One Pot Spaghetti Camping Recipe that only takes 5 minutes to prep!
You can make this Dutch Oven Thai Campfire Chicken Recipe at your campsite really quickly if you prepare it as one of my "dump and cook" freezer meals. The Thai-inspired flavors are bold, slightly sweet and provide a unique option for your camping menu.
---
Print This Dutch Oven Chili Mac Camping Recipe
Prep Time 5 minutes
Cook Time 40 minutes
Total Time 45 minutes
Ingredients
1 tablespoon olive oil
1 medium onion, diced
2 cloves garlic, minced
1 pound ground beef
1/2 teaspoon salt
1/4 teaspoon black pepper
1 (14 oz) can beef broth
1 (16 oz) package elbow macaroni
1 (14.5 oz) can kidney beans, undrained
1 (14.5 oz) can pinto beans, undrained
1 (14.5 oz) can fire roasted diced tomatoes, undrained
1 (4 oz) can diced green chile peppers
1 cup shredded cheddar cheese
Instructions
In a 12-inch Dutch oven, heat the oil over medium heat. Add the onion and garlic, stirring until tender, about 5 minutes.
Add the ground beef, salt and pepper using a spoon to break up the meat into crumbles. Continue cooking until the meat is browned, stirring often, about 15 minutes.
Stir in the broth, macaroni, beans, tomatoes and green chile peppers. Bring the mixture to a boil and continue stirring so the pasta does not stick to the bottom of the pot, about 10 minutes.
Cover with the lid and cook until the macaroni is cooked to your desired tenderness, stirring occasionally so your camping chili mac does not stick to the bottom of the Dutch oven, about 8 – 10 minutes. Camp Cooking Tip: If the liquid is reducing too fast, and the pasta needs to cook longer, just add a little more liquid (water is fine) to continue the cooking process until the pasta is as tender as you like.
Serve hot topped with cheddar cheese.
Recommended Products
As an Amazon Associate and member of other affiliate programs, I earn from qualifying purchases.
Nutrition Information:
Yield:
6
Serving Size:
1
Amount Per Serving: Calories: 428Total Fat: 22gSaturated Fat: 9gTrans Fat: 1gUnsaturated Fat: 11gCholesterol: 86mgSodium: 681mgCarbohydrates: 25gFiber: 6gSugar: 3gProtein: 32g
---
More Yummy Meal Ideas
Make each meal of your camp trips fun and delicious by trying more simple recipes.