Easy Pesto And Turkey Grilled Cheese Sandwich Campfire Recipe!
One of my favorite ways to make easy camping meals is to "dress up" a plain old lunchmeat sandwich by using good bread and grilling it.
That's exactly what this Pesto And Turkey Grilled Cheese Sandwich Campfire Recipe is all about!
Turkey, provolone, pesto and fresh basil on toasted sour dough bread … it makes easy camping lunches or quick dinners that are fast and almost gourmet!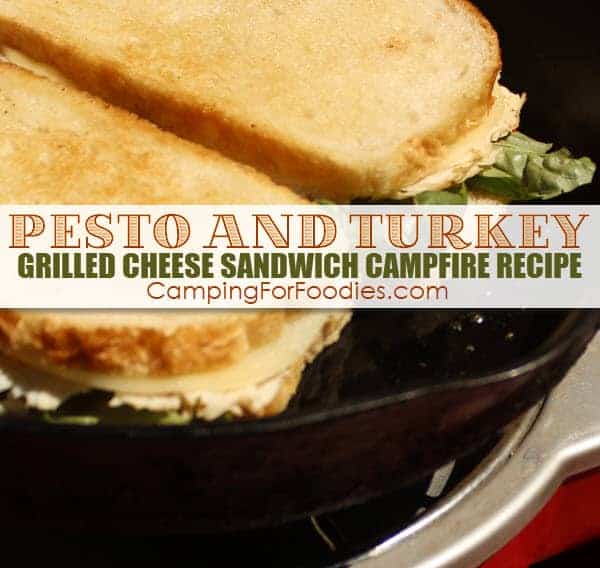 Psst we're compensated…see our disclosures.
Pesto And Turkey Grilled Cheese Sandwich Campfire Recipe
The really nice thing about making sandwiches at the campsite is their ability to scale … up for large crowds or down when you are making camping meals for two or even one!
---
Fold N Go InstaStart Propane Stove
I have often made these Pesto And Turkey Grilled Cheese Sandwiches over a campfire using my pancake griddle.
But, I live in Arizona so when we are camping during times of fire restrictions (which is quite often lately 🙁 boo!) I use my cast iron skillet over my propane camp stove 🙂 yeah! 
Either way, this recipe is one of our fastest and yummiest camp stove recipes!
&
---
How To Make These Campfire Sandwiches
Step 1. Prepare for cooking.
If you are grilling your camping sandwich on a campfire, get your camping fire starters going so your wood has time to burn down to a nice bed of coals.
As far as easy campfire recipes go, you can't get much easier than this one.
If you are using a camp stove, get your camping propane and equipment ready for cooking.
---
Step 2. Prepare the bread.
You'll be buttering one side of every piece of bread.
Then, you'll spread the pesto on the non-buttered side of 4 of the slices of bread.
---
Step 3. Build your sandwiches.
Next, you'll be layering all of the ingredients on your griddle or skillet for toasting.
---
Step 4. Toast your sandwiches.
If your turkey and cheese are cold (right out of the cooler or RV refrigerator), you will probably need to cover the sandwiches in order to get the temperature high enough to slightly melt the cheese.
You'll be grilling these campfire sandwiches using medium heat. 
Let them toast to your desired crispiness, then you'll turn them over to toast the other side. Enjoy!
---
Alternative Campfire Cooking Method
These sandwiches are so versatile, they also make awesome campfire meals in foil!
How?
Another way to toast these sandwiches is to assemble them, individually wrap them in foil and place them on the campfire grill grate for toasting!
---
Print This Pesto And Turkey Camping Grilled Cheese Recipe
Prep Time 5 minutes
Cook Time 15 minutes
Total Time 20 minutes
Ingredients
8 sour dough bread slices
4 tablespoons butter
1 pound roasted turkey deli lunchmeat, sliced thin
4 slices provolone cheese
4 tablespoons prepared pesto
1 bunch fresh basil leaves
Instructions
Prepare your campfire or camp stove for cooking.
Butter one side of all 8 bread slices.
Spread equal amounts of the pesto on the non-buttered side of 4 of the bread slices.
Lay those 4 bread slices (butter side down) on the pre-heated griddle or cast iron skillet.
Evenly divide the turkey, cheese and basil leaves … layering the ingredients on the bread slices on the griddle.
Top the layered sandwiches with the 4 remaining bread slices … make sure you have placed the buttered side out.
You may need to cover the sandwiches with a lid or foil to slightly melt the cheese.
Cook over a medium heat until the bread is toasted … then … flip the sandwiches to toast the other side. Enjoy
Recommended Products
As an Amazon Associate and member of other affiliate programs, I earn from qualifying purchases.
Nutrition Information:
Yield:
4
Serving Size:
1
Amount Per Serving: Calories: 852Total Fat: 39gSaturated Fat: 17gTrans Fat: 1gUnsaturated Fat: 19gCholesterol: 180mgSodium: 1378mgCarbohydrates: 69gFiber: 3gSugar: 6gProtein: 56g
---
Looking for new ideas for your next camping food menu? We've got them!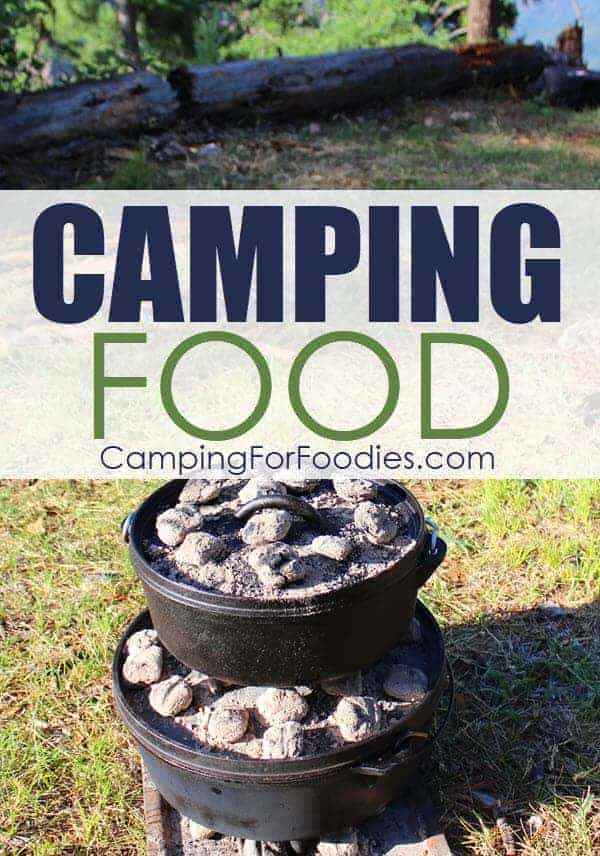 ---
---
If you need camping recipes and menu ideas, you can find them here at the Camping For Foodies Camping Recipes list.
&
Don't miss a thing…sign up for Camping For Foodies email updates!
&
Your purchase of our products will help support World Vision ® Building a better world for children.