Easy Recipes You Need To Put On Your Next Menu!
How many people you need to feed is a big factor when deciding which camping food you add to your menu.
Whether you are camping with your spouse or your best friend, these camping meals for two will satisfy your appetites and your need for smaller feasts!
Psst we're compensated…see our disclosures.
These meals are designed for outdoor cooking at the campsite or can transition for cooking in your RV kitchen.
---
Easy Camping Meals For Couples
So many recipes are created for families or easy camping meals for large groups, but when you're exploring the great outdoors as a duo, you probably want to make fare that is designed for a couple. Here are some of our favorites!
---
Chicken Parmesan Wrap Recipe
This simple lunch recipe is so easy to make because you can use leftover shredded chicken, rotisserie chicken or canned chicken. The veggies round it out to make an entire meal that is satisfying and easy to eat in its own little package … a spinach tortilla!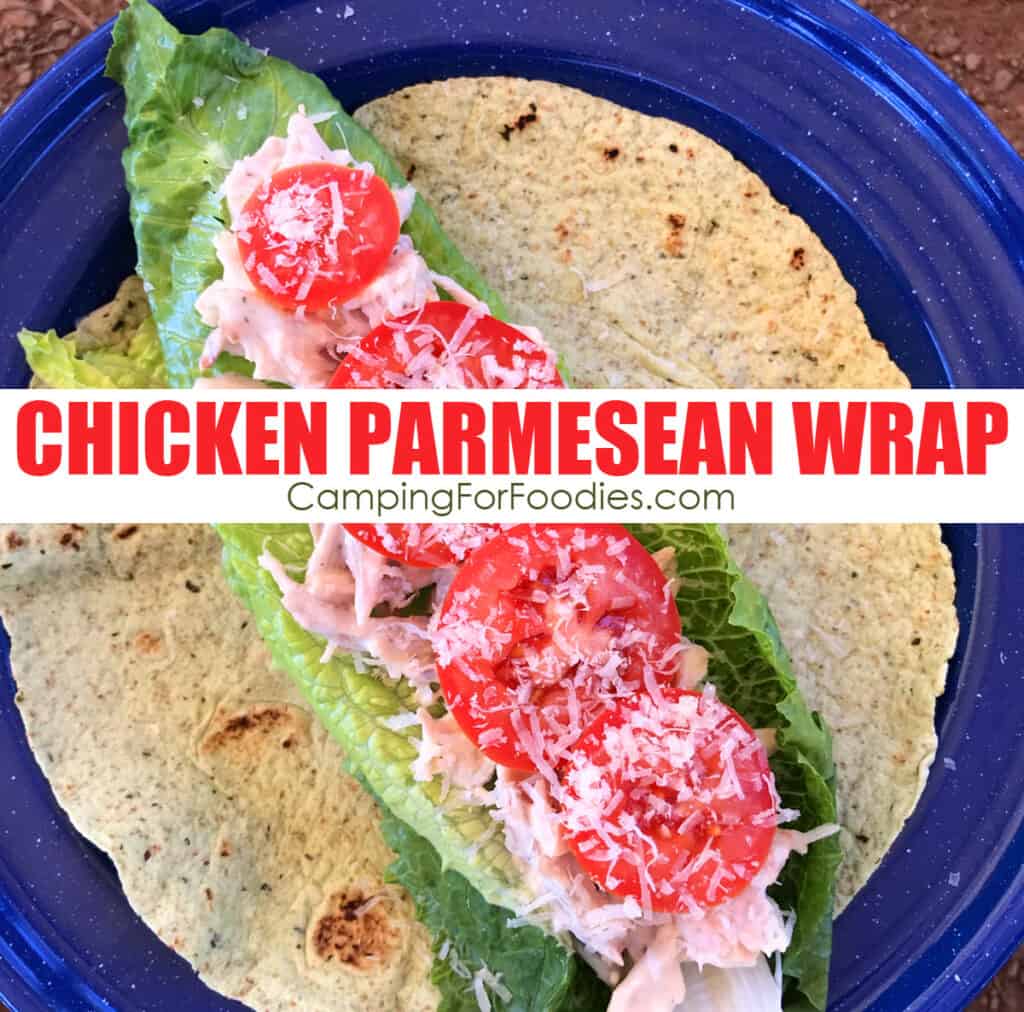 ---
Hobo Eggs
Three basic ingredients and 8 minutes are all you need to make this simple and surprisingly delicious breakfast. You fry an egg in the center of buttered bread that creates a similar flavor and texture to grilled cheese rather than buttered toast … YUM!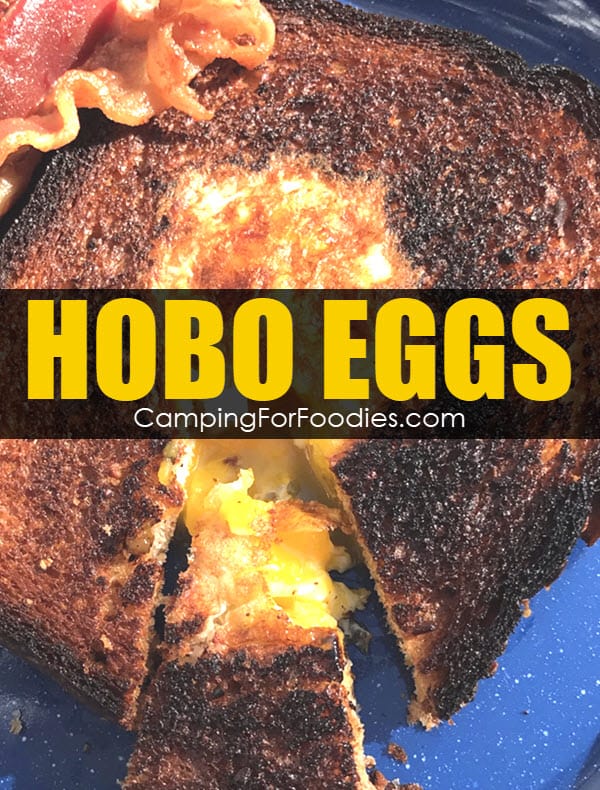 ---
---
BLT Camping Wraps
When you remember comfort foods from your childhood, don't you think of bacon, lettuce and tomato sandwiches?
Well, these BLT wraps are a deconstructed and reinvented twist on the old classic … and, I'm guessing you are going to LOVE them!
Camp Cooking Tip: Anytime you are making bacon for breakfast, make a few extra pieces so you can throw together a quick lunch or dinner without having to cook!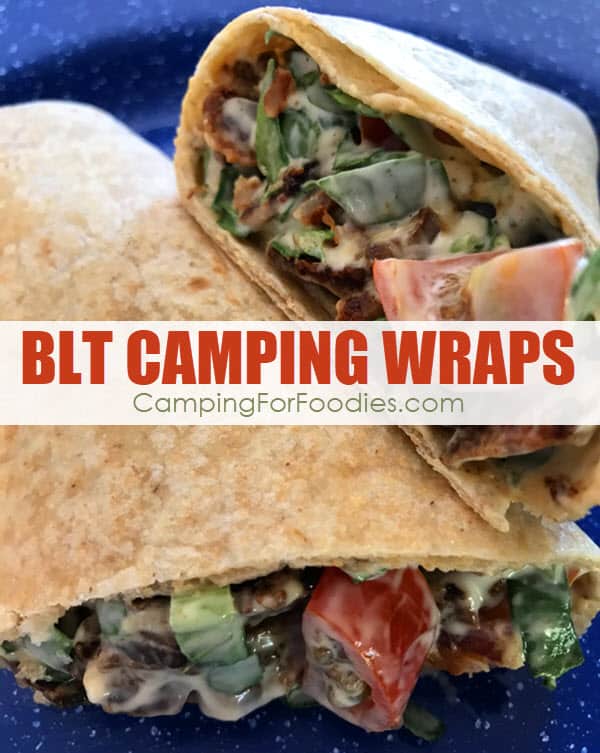 ---
Pastrami Reuben Sandwich Camping Recipe
Hot grilled sandwiches make easy camping dinners for two when you serve them with a nice side salad and a few gourmet pickles.
This is one of our family's favorite camp stove recipes when we are camping during fire restrictions and can't cook with campfires or charcoal.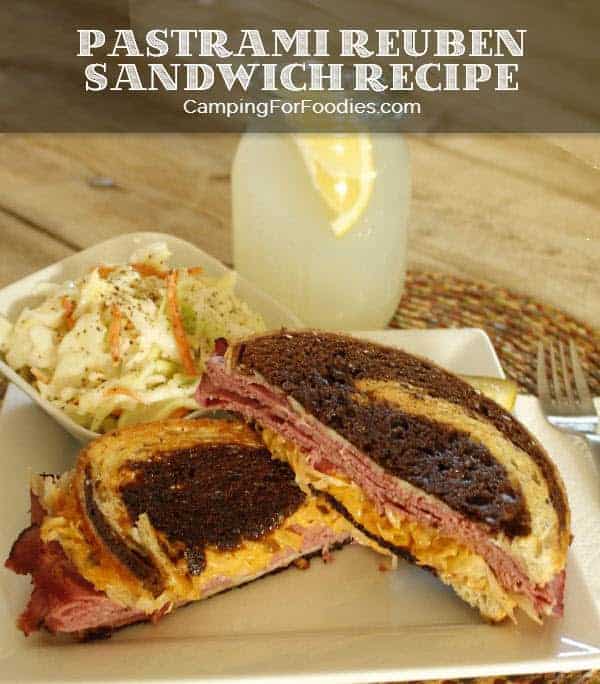 ---
Coleman Gas Camping Stove | Classic Propane Stove, 2 Burner
---
Cowboy Breakfast Skillet
When my husband and I are camping alone, this is one of our favorite breakfast meals. He likes his eggs scrambled and I like mine sunny side up … we cook them together in a bed of sausage, onion, bell pepper and potatoes. Once everything is cooked, we top with some cheddar cheese and green onions and enjoy this hearty breakfast with a cup of camp coffee.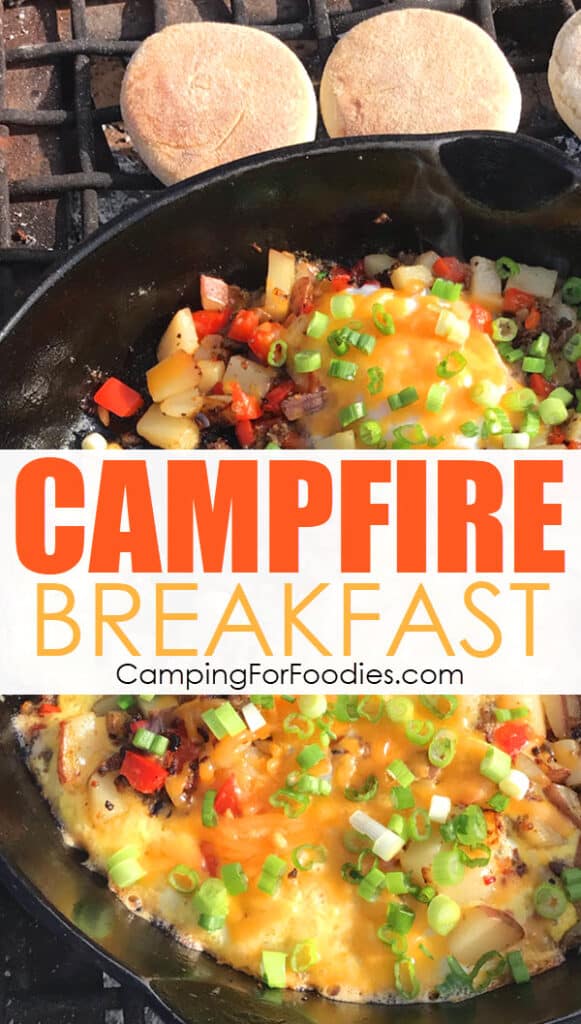 ---
---
---
Dutch Oven Scrambled Eggs Camping Recipe
Plain scrambled eggs are made more exciting with the addition of a little onion and cheese. This meal can be made in a cast iron skillet or Dutch oven over a campfire or camp stove!
---
Camp Chef Dutch Oven Carry Bag
---
---
Dutch Oven Bacon Scramble
I love making hearty scrambles for brunch! This recipe includes the bacon in the scramble rather than serving it on the side. It serves two but can easily be scaled up if you have extra guests surprise you with a morning visit!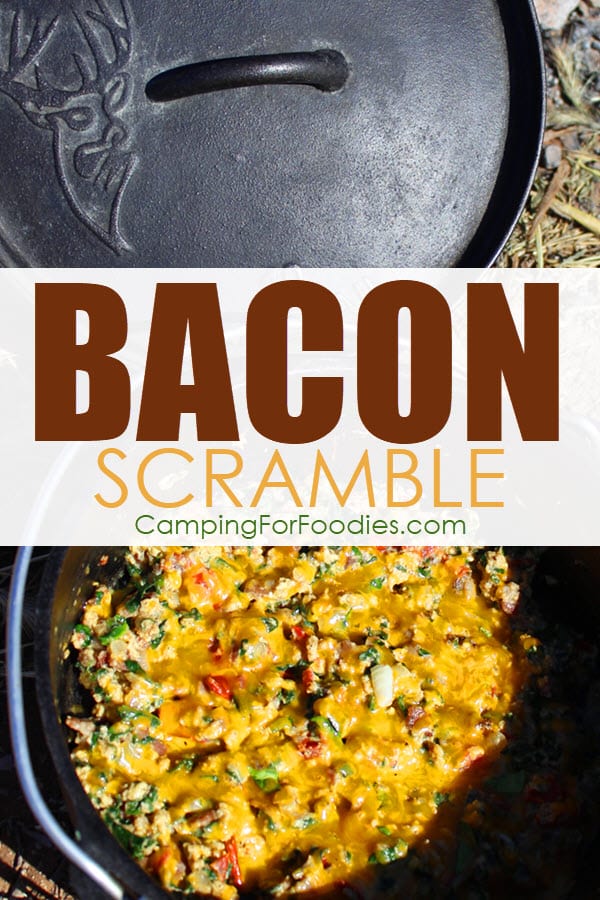 ---
---
Camp Chef Lumberjack Over Fire Grill
---
Campfire French Toast
Try this Texas toast, dipped in a simple egg mixture and cook in butter to golden brown perfection right over your campfire. Add some sliced fresh strawberries and real maple syrup to make you 2 happy campers!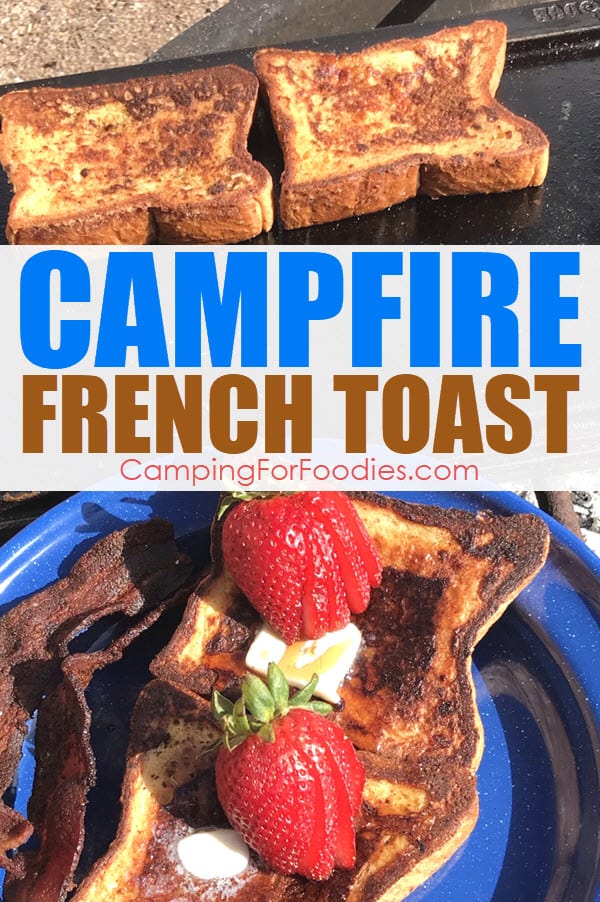 ---
Campfire Smores Recipes
Graham crackers are not the only vessel for your favorite campfire dessert! These 10 mouth-watering s'more variations include various cookies, candy and even ingredients like bacon to create uniquely luscious combinations. Take my word for it, you NEED to try the TROPICAL THERAPY smore variation … I'm guessing it will become one of your new favorite camping dessert recipes!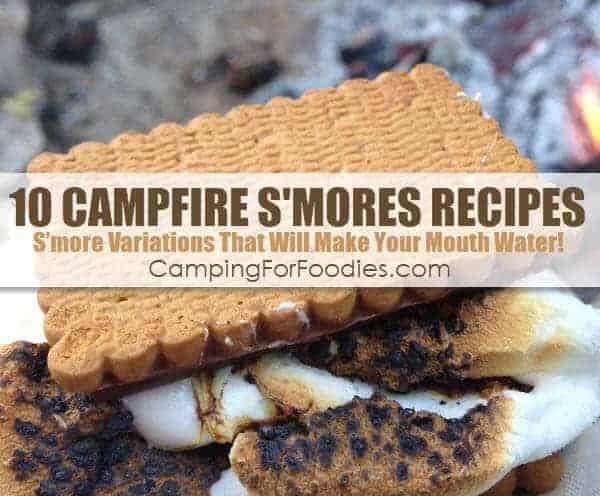 ---
---
Easy Camp Meals For Two Instead Of Four
Because we usually camp with other couples and because many families have four members, I create most of my recipes to feed 4 campers.
But, when we camp alone, I easily scale these recipes back to feed two. Here are some of our favorites.
---
---
932°F Heat Resistant Leather Long Sleeve Insulated Grill Gloves
---
---
Easy Smoked Chicken Legs On A Pellet Grill
You can make as many or few chicken drumsticks you need to feed a couple. This recipe is soooooo simple. The spicy dry rub can be made and stored in a cool, dry place for up to a year. Then, just rub it on the drumsticks and let the portable pellet smoker do the rest of the work!
Green Mountain Davy Crockett Sense Mate Electric Wi-Fi Control Foldable Portable Wood Pellet Tailgating Grill with Meat Probe
---
---
---
Easy Grilled Mahi Mahi With Mango Salsa
Fish fillets are really awesome for camping dinners because you can make as many or as few as you need. This Mahi Mahi is topped with a fresh and simple mango salsa that is slightly sweet with a little bit of heat from a jalapeno pepper.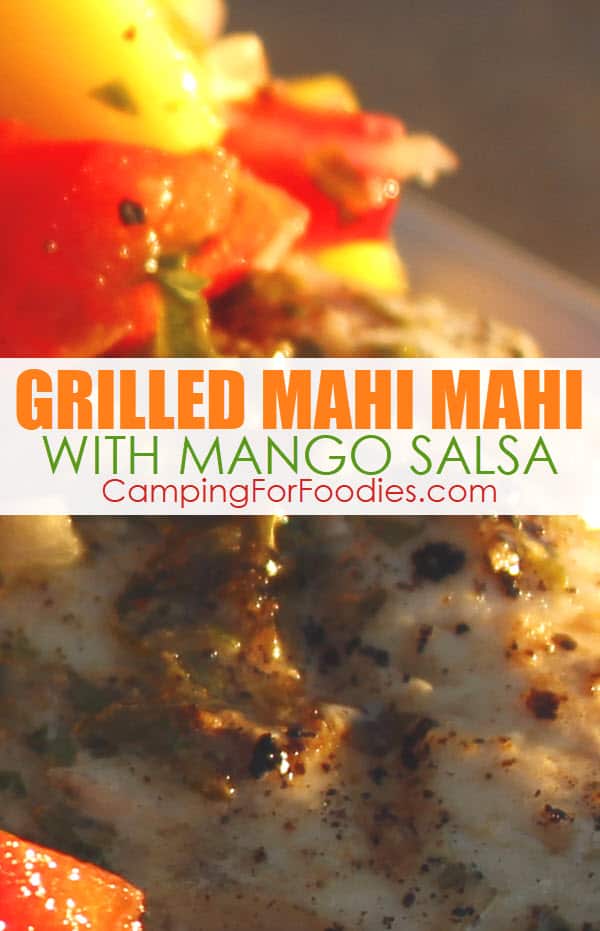 ---
Panzanella Salad No Cook Camping Recipe
One of my favorite meals to make during hot summer camping trips … salad! This panzanella salad is filled with traditional salad ingredients like leafy greens and tomatoes but it becomes a true meal when you add the Italian bread pieces. As one of our best no cook camping meals, you'll enjoy this refreshing salad that can be scaled up or down as needed.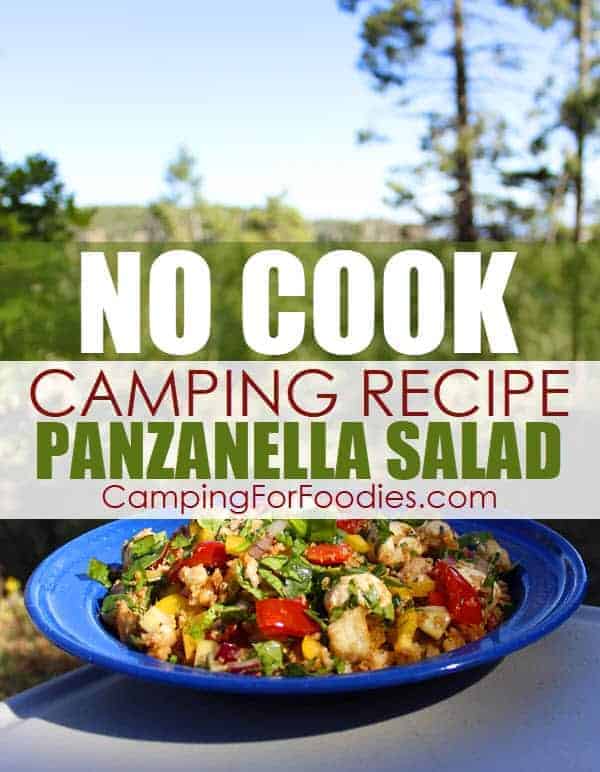 ---
Camp Casual Bowl & Servers Set
---
Ham And Cheese Salad Stuffed Tortillas No Cook Camp Recipe
Unless a salad is really substantial, my husband will only consider it a "side dish" … I make it a main course by tossing it and wrapping it in a tortilla like with this ham and cheese salad wrap. The recipe is written to make four wraps but can easily be scaled back for two.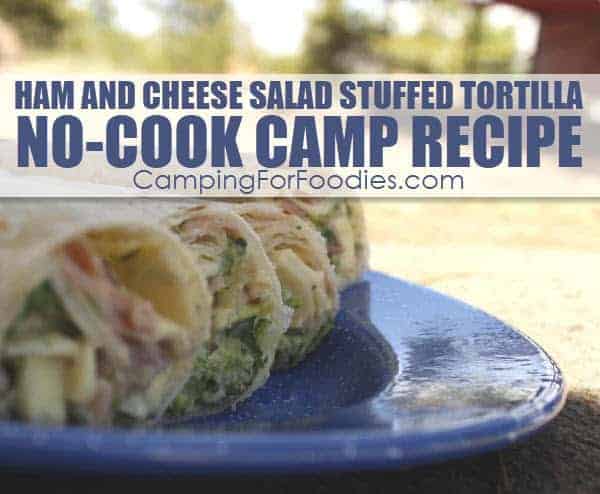 ---
---
---
Camping Flexible Cutting Mats
---
---
---
Campfire Donuts Dutch Oven Camping Recipe
This 3-ingredient sweet treat uses refrigerator biscuits so you can make as many as you want. One package usually contains 8 biscuits so instead of making 8 donuts, make 2 for each of you (because really, who can stop at eating only 1 donut???) and bake the other 4 biscuits according to the package directions … then top them with jam or sausage gravy for breakfast!
---
Lodge Camp Dutch Oven Lid Lifter
---
ReInventable Leftovers Creating Easy Camp Meals For Pairs
Ok, so "re-inventable" is a word I use to describe how I make some of our favorite family-sized meals when I am camping with only one other person.
My husband HATES LEFTOVERS unless I re-invent them into something different for the second go-round.
Here's how I make some of our most beloved recipes and serve them as two different meals.
---
Campfire Dutch Oven Chili Recipe
There are a couple of ways to make one of the most beloved winter camping recipes into a meal for two. You can prepare this chili as a make ahead dinner and freeze it in portion sizes with two servings … then, just take the amount you need to the campsite, defrost and reheat for a quick meal.
Alternatively, you can make the entire recipe at the campsite and eat bowls of chili the first night then re-invent the leftovers into chili-mac, chili dogs, chili burritos or chili-topped eggs for breakfast that can be served on plates or wrapped in tortillas for breakfast burritos.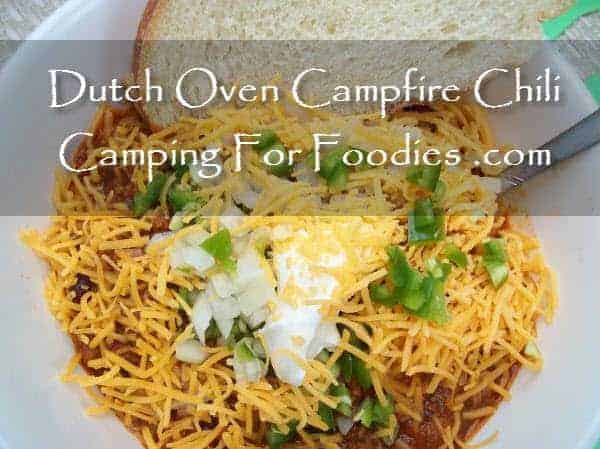 ---
---
Lodge Manufacturing Parchment Paper Dutch Oven Liners
---
---
---
Rosemary Spiced Nuts Camping Snacks Recipe
We love munching on camping snacks during our trips! These spiced nuts are incredibly tasty and store well in a sealed container. They serve 4 – 6 so when you are camping with only two people you will have leftovers … and I'm guessing you'll be happy you don't have to share them the next day!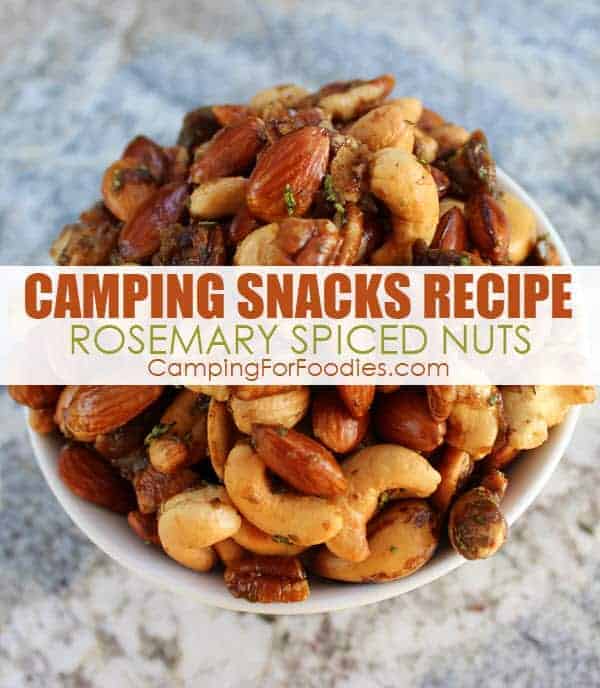 ---
Rubbermaid Easy Find Lids Food Storage Containers
---
Campfire Hot Cocoa
Cool nights around the campfire are perfect for sipping a warm cup of cocoa! This homemade mix stores well and can make up to 16 servings … one single cup at a time!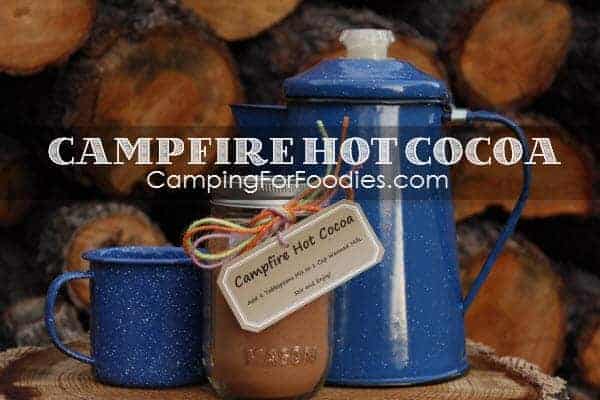 ---
Get More Unique Recipes For Awesome Camping Food