Fast And Easy One Pot Recipe
This is one of our best Dutch oven camping recipes for meat and potato lovers! You could shake on some steak seasonings and grill an expensive cut of meat for dinner or you can make a great family meal with this budget-friendly steak option.
The secret to an amazing quick and simple Dutch Oven Steak dinner is using a flavor-packed marinade and cutting flank steak into strips for a fast-cooking, gourmet-tasting, affordable steak camp supper.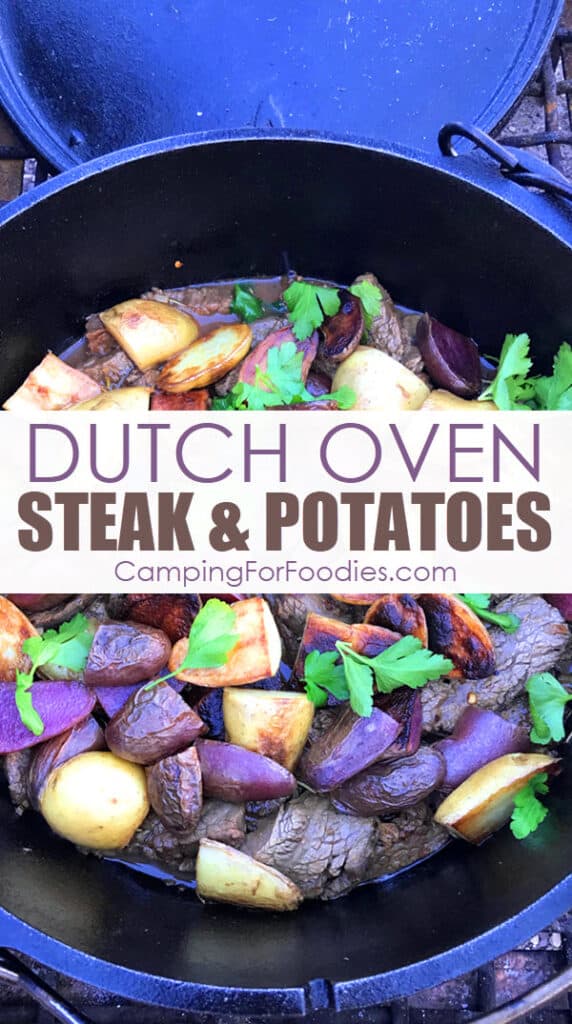 Psst we're compensated…see our disclosures.
Prep To Make Flank Steak Dutch Oven Marinade
This is one of the simplest homemade marinade recipes you can make because you are just measuring ingredients … no chopping of herbs or cloves garlic today! Just combine some soy sauce, Worcestershire, olive oil (or vegetable oil) and Sriracha.
Fresh and quick marinades make some of the best easy camping meals!
A great way to turn a tough cut of beef into delicious tender steak is by slicing it against the grain into thin strips.
When you are finished with that, you'll combine the steak strips in a shallow bowl or plastic sealable bag with the marinating liquid and keep it in a refrigerator or cooler for 12–24 hours.
---
Methods Of Cooking Dutch Oven Steak And Potatoes
If you are making this as one of our campfire recipes, you'll need to get your fire going in order to cook over a medium high heat of campfire coals or charcoal briquettes.
This recipe does not require a specific degree oven, it uses bottom heat only, so making this as one of our camp stove recipes is a great option too. Get your stove ready for cooking on a level surface.
---
How To Cook Steak In Dutch Ovens
Step 1. Prepare your ingredients as directed. You didn't have to chop anything when you prepared the marinade (yesterday) but now you'll need to chop some garlic and slice some fingerling potatoes.
Camping Flexible Cutting Mats
Step 2. Prepare your heat source for cooking over medium-high heat. I use my 12-inch camp Dutch oven for this recipe. You can also use a large cast iron skillet but you will need to cover it with a lid or aluminum foil later in the cooking process.
Step 3. Heat oven then add oil and potatoes. You always want to add oil to a preheated oven or cast-iron skillet so let the vessel get hot by adding heat to the bottom of the pan then add the oil followed by the potato wedges.
Step 4. Cook potatoes then remove from hot oven. You want the potatoes to get golden brown on the outside and tender on the inside, this will take about 15-20 minutes. Then, remove them from the oven and set them aside for a bit.
Step 5. Melt butter in the Dutch oven and add spices. Once the butter melts you're going to add the garlic, thyme, rosemary and pepper flakes to the bottom of the Dutch oven. It will only take seconds to burn garlic in a hot skillet so keep stirring and as soon as the garlic is fragrant, you'll be ready to add the meat.
Step 6. Brown the steak strips. This is a great recipe for busy camp days because the cook time is so fast. It will only take about 5 minutes to brown the outside of the steak strips. You'll want to shake the excess moisture off of the steak before adding it to the cast iron pan because you don't want to boil it, you just want the perfect sear.
Step 7. Add potatoes back, cover and heat through. The first time the potatoes were in the pot, they were thoroughly cooked so the next time you are placing them back into the large pot, you are just combining them with the steak and sauce. They only need a little bit of time to heat through with the lid on the oven, about 2 more minutes. Don't let this go too long because the perfect steak is just cooked through so it is not overly cooked and rubbery.
Step 8. Top with parsley and serve hot. With the steak and potatoes in one pot, you have a full gluten free camping food meal. If you want to round it out with an easy veggie, add a simple side salad too.
---
Recipes Similar To Cast Iron Steak
If you like this recipe, we have lots more one pot camping meals.
If you are willing to use more than one pot, try these other similar camping dinner recipes too!
Who doesn't love a good pot roast? This Camp Oven Roast Beef is made with a beef chuck roast and potatoes. It creates a yummy sauce with a Mexican flavor profile from beef broth, fire roasted diced tomatoes, green chile peppers and Mexican seasoning blend.
These Dutch Oven Beef Sandwiches use only 3 ingredients and require NO prepping! Just let the beef roast simmer … low and slow … with the peppers and their juice to create shredded beef sandwiches that are a little tangy and mildly spicy.
We have tons of Dutch oven chicken recipes so it is hard to pick a favorite. The amazing flavors in our Dutch Oven Latin Campfire Chicken are easily achieved using prepared salsa, a blend of seasonings, sweet potato cubes, black beans and fresh cilantro.
The mushroom gravy in our Dutch Oven Beef Stroganoff tastes incredible! We enjoy this warm and hearty comfort food over mostaccioli or egg noodles.
I always serve these incredibly tasty Dutch Oven Pork Chops with a side of mashed potatoes and fresh green beans. The sauce for these chops is slightly sweet and salty and oh so good!
Enjoy this meat-eaters favorite chili! It is spicy and filled with steak instead of ground beef.
Print This Camping Dutch Oven Steak Recipe
Prep Time 5 minutes
Cook Time 30 minutes
Additional Time 12 hours
Total Time 12 hours 35 minutes
Ingredients
Marinade Ingredients
1/3 cup soy sauce
1 tablespoon Worcestershire sauce
1 tablespoon olive oil
1 tablespoon Sriracha hot sauce
Steak & Potatoes Ingredients
1.5 pound flank steak, fat trimmed and sliced against the grain into thin strips
2 tablespoons olive oil
1.5 pounds petite fingerling potatoes, quartered
4 tablespoons unsalted butter
4 garlic cloves, minced
1/2 teaspoon dried thyme
1/2 teaspoon dried rosemary
1/4 teaspoon crushed red pepper flakes
Fresh parsley, optional
Instructions
Combine the soy sauce, Worcestershire, olive oil, and Sriracha in a gallon size plastic sealable bag. Add the steak strips, seal the bag and toss to coat. Marinate in a refrigerator or cooler 12 – 24 hours.
Heat a 12-inch Dutch oven over medium-high heat, add the olive oil and the potatoes wedges. Cook until the potatoes wedges are golden and tender, stirring occasionally, about 15-20 minutes. Remove the potatoes, set aside and cover to keep warm.
Add the butter to the Dutch oven to melt. Then add the garlic, thyme, rosemary and pepper flakes, stirring constantly just until the garlic is fragrant … make sure you don't burn it (it will take less than a minute.)
Now shake off the marinade before adding the steak strips to the pot. Stir them as they cook until they are browned, about 5 minutes. Don't overcook the steak strips here, you just want all sides of the meat to be lightly browned.
Add the potato wedges back to the pot, stir with other ingredients, cover with the lid and heat through, about 2 more minutes.
Remove the Dutch oven from the heat, top with parsley and serve hot.
Recommended Products
As an Amazon Associate and member of other affiliate programs, I earn from qualifying purchases.
Nutrition Information:
Yield:
4
Serving Size:
1
Amount Per Serving: Calories: 691Total Fat: 36gSaturated Fat: 14gTrans Fat: 0gUnsaturated Fat: 19gCholesterol: 165mgSodium: 1437mgCarbohydrates: 38gFiber: 4gSugar: 3gProtein: 52g
---
More Yummy Camp Meal Ideas
Get creative with your next camping meal plan. We have awesome recipes for every meal of your trip!