Fast And Simple Campfire Glazed Grilled Carrots Camping Recipe
Some of the best campfire recipes are veggies … they have such great flavor when they are charred!
These glazed grilled carrots are slightly sweet and a little tangy.
This easy Campfire Glazed Grilled Carrots Camping Recipe allows you to cook them over a campfire, with a charcoal or gas grill.
Just toss the carrots in a little oil and salt, grill them and brush with a flavor-packed simple glaze.
They make a great side for a delicate fish or chicken main dish.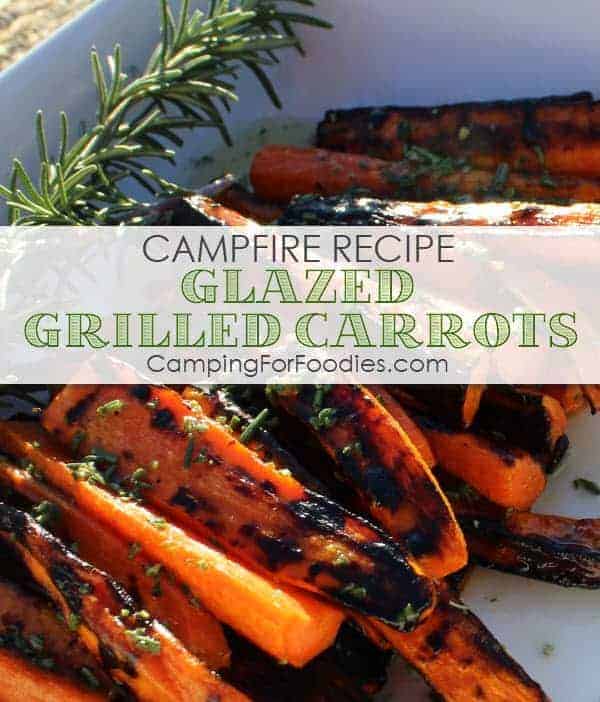 Psst we're compensated…see our disclosures.
Campfire Glazed Grilled Carrots Camping Recipe
---
Step 1.
Start your campfire or charcoal briquettes.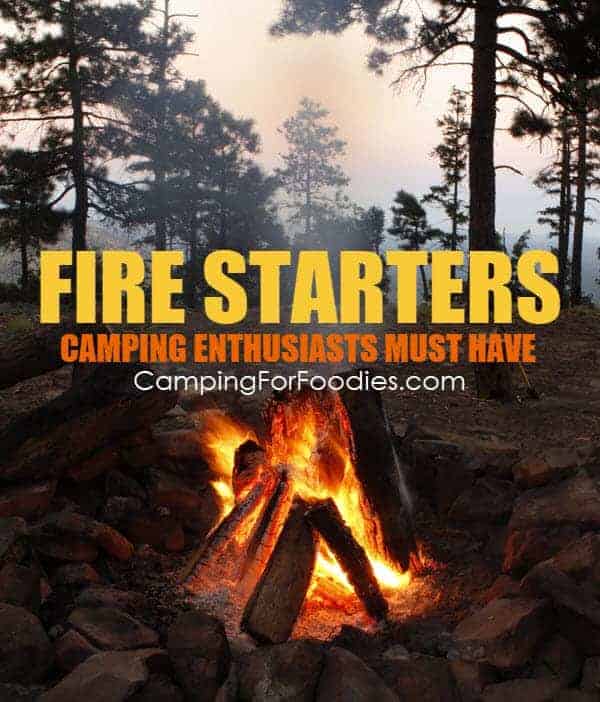 Camp Cooking Tip: When you are cooking over a campfire, you need to start the fire early enough so you have coals (rather than flames) at the time you begin cooking.
One of the biggest mistakes camp cooks make is trying to cook over flames … yikes!
If you find it a challenge to start your campfires, don't worry … we've got help!
Check out our Fire Starters Camping Enthusiasts Must Have post for tips and you'll never have trouble starting your campfires again!
&
---
Step 2.
Prep your ingredients.

Camping Flexible Cutting Mats
There is not much prep work for this easy Campfire Glazed Grilled Carrots Camping Recipe!
You just need to chop some carrots and fresh rosemary. 
I like using my Camping Flexible Cutting Mats for prep work at the campsite.
They are lightweight, come in 3 sizes for different tasks, easily clean and they hang on hooks when you are done with them … they look like a little piece of camp art!
&
---
Step 3.
Toss the carrots in a little olive oil and salt.
---
Step 4.
Grill the carrots till charred and softened.
---
Camp Cooking Tip: Place the carrot sticks perpendicular to the gaps in the grill grate to make sure you don't lose the carrots in the coals.
It is even easier to use a broiler basket or a grill basket if you really want to play it safe and avoid grilling on the risky side. LOL
&
---
Step 5.
Mix the sauce ingredients and brush over carrots toward the end of their cooking time.
---
It is easiest to use a Silicone Basting Brush to apply the glaze to the carrots.
Make sure you use one that has a high heat temperature rating, especially if you are cooking this Campfire Glazed Grilled Carrots Recipe over a hot campfire or even a hot charcoal or gas grill.
You also want to protect your hands and wrists with Extreme Heat Resistant Gloves when you are cooking in those really hot environments.
---
One of my favorite recipe pairings for this Campfire Glazed Grilled Carrots Recipe is my Soy And Garlic Grilled Halibut Fillet Recipe.
They are both fast, easy and grilled.
This makes a great meal after a full day of hiking (or whatever your favorite camping activity happens to be) when you want a yummy meal that requires little prep and cooking time!
Serve and enjoy!
&
---
Print This Campfire Glazed Grilled Carrots Camping Recipe
Prep Time 10 minutes
Cook Time 10 minutes
Total Time 20 minutes
Ingredients
1 bunch (about 1 pound) carrots, scrubbed, patted dry and cut to approximately 4-inch long sticks
2 teaspoons olive oil
1 tablespoon fresh lemon juice
1 teaspoon honey
1 teaspoon fresh rosemary, minced
1/2 teaspoon salt, divided
1/8 teaspoon freshly ground black pepper
Instructions
Prepare campfire or charcoal grill for cooking with medium-high heat.
In a bowl, toss the carrots, olive oil and 1/4 teaspoon salt.
Place carrots cut-side down on the campfire grill grate or charcoal grill and cover. If you are using a grill with a cover, perfect. If not, you can use a big pot lid, metal sheet pan or foil as a lid.
Grill for 4-5 minutes, until the carrots develop sear marks and are beginning to soften. Flip, cover, and grill for another 4-5 minutes.
In small bowl, mix lemon juice, honey, rosemary, 1/4 teaspoon salt and black pepper. Brush over carrots the last few minutes of cooking.
Recommended Products
As an Amazon Associate and member of other affiliate programs, I earn from qualifying purchases.
Nutrition Information:
Yield:
4
Serving Size:
1
Amount Per Serving: Calories: 26Total Fat: 2gSaturated Fat: 0gTrans Fat: 0gUnsaturated Fat: 2gCholesterol: 0mgSodium: 265mgCarbohydrates: 2gFiber: 0gSugar: 2gProtein: 0g
---
---
---
If you need camping recipes and menu ideas, you can find them here at the Camping For Foodies Camping Recipes list.
Don't miss a thing…sign up for Camping For Foodies email updates!
Your purchase of our products will help support World Vision ® Building a better world for children.