Fire Starters Camping Enthusiasts Must Have!
One of the most important camping tips is to make sure you can start your fires!
Most campfires are started for pleasure but you may have a need for emergency fire survival technologies and camping safety too.
No matter the reason, these are fire starters camping enthusiasts must have in their campfire gear collection!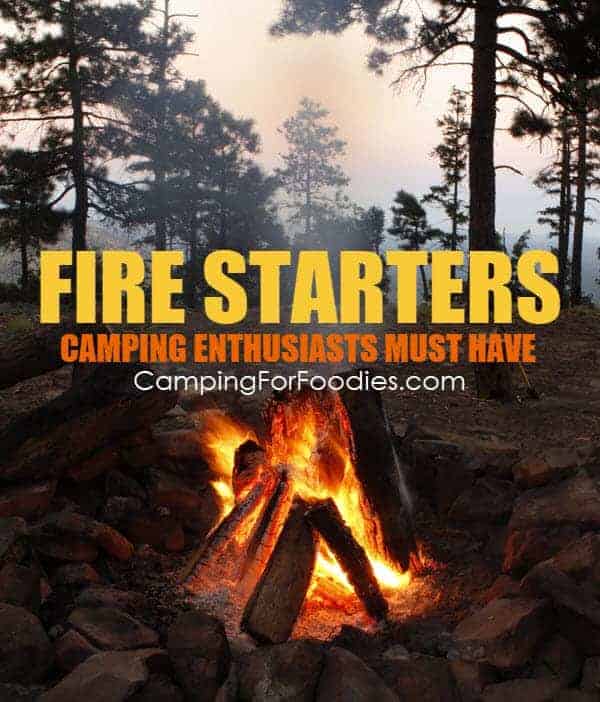 Psst we're compensated…see our disclosures.
Fire Starters Camping Enthusiasts Must Have
The best camping gear is reliable and ready any time you need it.
---
Easy To Use Fire Starters For Camping
When you are more interested in enjoying the views surrounding your campsites … than you are about the challenge of how to start a campfire … you need the simplest way to get the flames going.
Some people think it is "cheating" to use fire starters rather than going through the process of gathering kindling, wadding up newspaper and starting a fire with a single match …
but …
you don't have to feel guilty about taking the easy way out!
Here are some of the coolest and most affordable fire starters camping enthusiasts gotta have in their gear box!
---
Pine Mountain 100% Fatwood STO Starter Stikk
Pine Mountain 100% Fatwood STO Starter Stikk
Do you know what "FATWOOD" is?
Some people call it "nature's best fire starter" … here's why.
After logging occurs, old pine stumps are left for waste. Those stumps contain a high concentration of natural resin (sap) … over a period of time the "stumpwood" hardens and the resin concentrates creating an all-natural, 100% organic, chemical-free fire starter.
Fatwood is made from splitting those stumps and harvesting the best fire starter created in nature.
These Pine Mountain 100% Fatwood STO Starter Stikks are great for starting campfires and charcoal fires.
You just light the stick with a match or lighter … then … watch it burn.
They are the perfect fire starters for camping because they are portable and lightweight.
&
---
InstaFire Granulated Fire Starter
InstaFire Granulated Fire Starter
The best type of fire starter for camping is the one you will actually use for the type of camping you do!
The InstaFire Granulated Fire Starter is great for people who camp in all types of weather conditions and locations.
It burns directly on top of water, sleet, snow or even ice … after lighting, it will sustain winds of up to 30 mph for 25 minutes/pouch.
This all natural, eco-friendly fire starter is made from recycled wood, volcanic rock and a blend of food-grade paraffin wax.
And, get this … the leftover ash is a natural fertilizer!
These fire starters are great for recreational activities enjoyed outdoors like camping, backpacking, snowmobiling and hiking …
but …
they are also excellent to keep in storage for emergency preparedness purposes.
Each handy packet starts up to 4 fires/pack.
&
---
Light-A-Fire All Natural Fire Starter Pods
Light-A-Fire All Natural Fire Starter Pods
Use a pod … start a campfire!
These Light-A-Fire All Natural Fire Starter Pods instantly light grills, smokers, wood stoves and fireplaces in addition to campfires.
You only need one pod to light a fire and each pod burns for 15 minutes.
These non-toxic camping fire starters are made of wood shavings and food-grade wax which does not add taste or odor to food. 30 pods come in a sturdy bucket that is handy for storage and transportation.
&
---
Shefko EasyFire Natural Fire Starters
Shefko EasyFire Natural Fire Starters
Another outstanding all-weather camping fire starter that is easy to use comes in a puck form.
The Shefko EasyFire Natural Fire Starters have a guaranteed 30 minute burn time.
A puck measures 3.5" in diameter and is made from cedar sawdust and highly refined wax that leaves no residue or toxic chemical waste.
These starters are great for camping but they can also be used in fireplaces, pellet stoves, wood stoves, BBQs and survival/emergency kits.
&
---
The Easiest Way To Start A Campfire
We really could not believe how easy it was to start a campfire with these little gadgets called Pull Start Fire camping fire starters!
We did a video in real time so we could document our experience with these cool little gadgets that we determined to be the easiest way to start a campfire!
&
Pull Start Fire Pull String Firestarter
&
---
DIY Fire Starters Camping Families Need
If you want to get the best deals on camping fire starters, just make your own using household waste and gathered materials that are FREE!
You can make homemade camping fire starters out of lots of things like shredded paper, empty toilet paper rolls, pine cones, paraffin wax, egg cartons and dryer lint!
Who knew dryer lint could actually be considered camping gear?!?
---
How To Make Homemade Fire Starters Using Dryer Lint Easy DIY Camping Project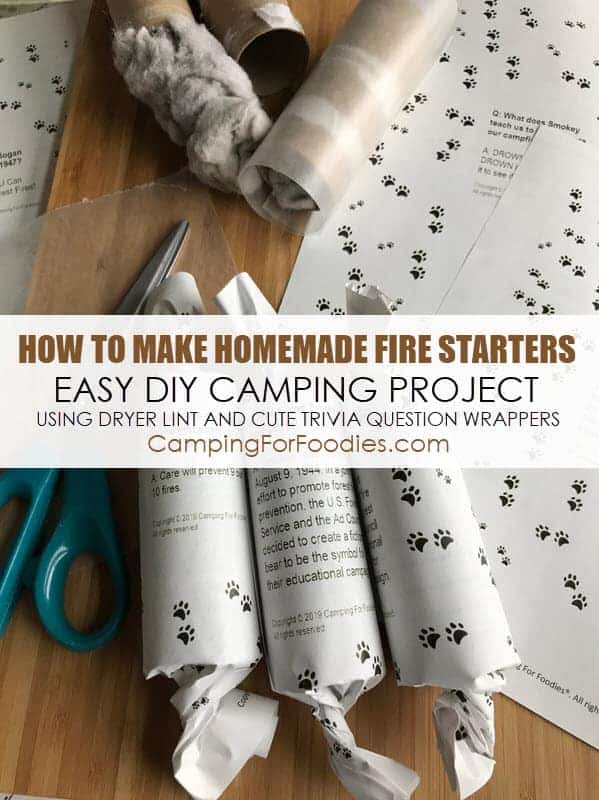 We use homemade fire starters that are made from dryer lint while camping. How to make them is really simple and the entire project takes mere minutes!
You can even make them to give as inexpensive gifts! We have full instructions with photos for making homemade fire starters for your next camping trip!
&
---
Emergency And Survival Camping Fire Starters
How to Stay Alive: The Ultimate Survival Guide For Any Situation
If you find yourself asking, what would Bear Grylls do?
You probably need some emergency camping fire starters!
In case you don't know … Bear Grylls, is that British guy who is a former SAS serviceman, survival instructor and honorary lieutenant-colonel.
He is now a famous adventurer, writer, television presenter and businessman.
One of his books is How to Stay Alive: The Ultimate Survival Guide For Any Situation.
&
---
Emergency Survival Kit With Fire Starter
Emergency Survival Kit With Fire Starter
If you had to bring 3 survival tools camping what would you bring and why?
Every survival expert will tell you that a fire starter is an essential piece of emergency gear you MUST carry.
The other two tools are up for debate depending on which professional you follow. But, why stop at 3 tools when you can easily carry 13?
The Emergency Survival Kit With Fire Starter is a 13-in-1 outdoor survival gear tool that includes a survival bracelet, fire starter, whistle, wood cutter, water bottle clip and tactical pen … as well as … emergency blanket, scraper, compass, swiss card, flashlight, black box etc.
The kit dimensions are 4.1 x 1.8 x 6.3 inches and weighs less than one pound!
This emergency survival kit is durable, has a waterproof carrying case and easily fits in a backpack.
&
---
---
Ultimate Survival Technologies BlastMatch Fire Starter
Ultimate Survival Technologies BlastMatch Fire Starter
Most emergency fire starters require you to do quite a bit of work and require two hands.
This Ultimate Survival Technologies BlastMatch Fire Starter is unique because it has a spring loaded rotating flint bar that allows you to use it with only one hand!
If you are in an emergency situation and have one injured hand … this one-handed design could save your life!
You'll get thousands of strikes out of this fire starter that can be used in all weather conditions making it awesome for backpackers, hunters, snowmobilers and off road vehicle enthusiasts.
&
---
---
---
Firestarter Genuine Issue Magnesium Survival (sometimes called an army fire starter)
Firestarter Genuine Issue Magnesium Survival
Some people want an "army fire starter" to start their campfires.
They usually are referring to a government issue magnesium shaving edge with a sparking insert.
This Firestarter Genuine Issue Magnesium Survival is the genuine G.I. Aviation Fire Starter which allows you to make a spark in just about any weather conditions.
&
---
TinderQuik Firestarting Tabs
TinderQuik Firestarting Tabs
If you are using some sort of spark-creating camping fire starter, you need to gather natural tinder that is in the area of your campsite to start your fire.
The alternative is using some sort of manufactured product like these TinderQuik Firestarting Tabs.
They can be lit with tools like magnesium fire starters, flint strikers, ferro rods, or just plain matches and lighters.
You simply light the cotton tab and then add kindling.
The Tinder-Quik tabs burn for 60 seconds or more …
even in harsh environments including damp and windy conditions …
they are windproof and waterproof.
&
---
Tinder Shreds
Tinder Shreds
Another form of manufactured tinder includes Tinder Shreds that are made up from natural shredded pine tinder shreds and coated with a water-resistant paraffin wax.
Each bundle is 2 inches and burns up to 8 minutes each.
They light quickly and easily with a spark or flame.
Because they are lightweight and easy to carry, they are perfect for camping, hiking and backpacking.
&
---
Some Camping Fire Starters Require Matches
If the fire starters camping buffs decide to use are the type that create a spark to ignite the fire … that's great!
But, some fire starters require you to provide the ignition with a lighter or matches. Don't forget to pack your fuel!
---
UCO Stormproof Match Kit with Waterproof Case AND UCO Titan Stormproof Matches
If your camping fire starters are lit with a flame (rather than a spark) you should carry waterproof matches.
This UCO Stormproof Match Kit With Waterproof Case includes 25 extended length windproof and waterproof matches, 3 strikers in a match case that holds up to 40 matches.
These matches burn up to 15 seconds and will re-light after being submerged in water.
The plastic case floats and keeps matches dry. There is a striker on the outside of the case which is replaceable.
These UCO Titan Stormproof Matches burn up to 25 seconds … are windproof, waterproof, and will light after getting wet.
Each match is just over 4 inches long … almost double the length of a standard match. 25 matches and extra strikers come in a box.
& 
UCO Stormproof Match Kit with Waterproof Case
UCO Titan Stormproof Matches
&
These cool little matches make awesome camping stocking stuffers during the holiday season!
---
The "He-Man Fire Starter Stick"


Garden Torch
Ok, so "he-man fire starter stick" is not the official name of these propane-powered camping fire starters!
It is my husband's name for his beloved garden torch!
He uses this thing to kill weeds at home in our yard … and … start our campfires in the great outdoors!
I use it (actually, I ask him to use it) to melt the cheese on my Cast Iron Skillet Breakfast Nachos Camping Recipe!
So, what I'm trying to say is … this piece of gear that uses camping propane as fuel is an all-around handy piece of equipment!
It is also the only camping fire starter that uses propane so you know it had to make our best propane camping gear list!
& 
---
Campfire Meals
There is NO way we could talk about fire starters, camping and lighting campfires without mentioning our favorite meals to prepare over a fire while camping!
Well, actually, it is hard for us to just pick one single recipe so we've compiled 20+ Easy Campfire Recipes you have to try!
And don't forget to follow the fire prevention guidelines when going camping … you'll make Smokey Bear a happy camper!
&
---
Campfire Games
After you start your campfire with these cool fire starters camping enthusiasts love, you'll probably want to play a few campfire games!
&
---
Campfire Cooking Equipment
Thinking you want to expand your collection of campfire cooking equipment? You are not going to believe the super cool gadgets that help you cook like a pro over the fire!
&
---
---
---
If you need camping recipes and menu ideas, you can find them here at the Camping For Foodies Camping Recipes list.
Don't miss a thing…sign up for Camping For Foodies email updates!
Your purchase of our products will help support World Vision ® Building a better world for children.