Grilled Tortilla With Veggies And Black Beans Burrito Camping Recipe
Looking for vegetarian camping recipes that make for a hearty, hand-held, slightly warm, meal for your next camp trip?
My recipe for this Grilled Tortilla With Veggies And Black Beans Burrito Camping Recipe will do the trick!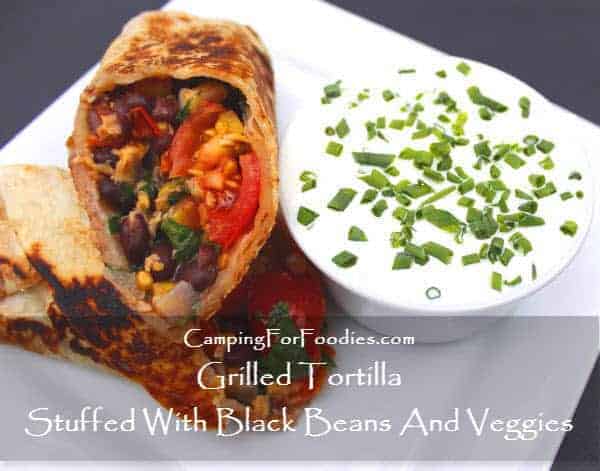 Psst we're compensated…see our disclosures.
Grilled Veggie Tortilla Camp Recipe
---
Shhhh, don't tell my family it's meatless
I don't like to talk about vegetarian meals to my regular camp crowd because most of them think a meal without meat is just a starter snack.
So, when I road-tested this recipe on a recent camp trip, it took a few bites before anyone even noticed this totally satisfying and delicious recipe is actually meatless.
I love using canned beans as a meat substitute because they have great texture, are full of protein and save on the coveted cold storage space in the RV refrigerator or camp cooler (whichever you are using.)
The fresh cilantro, chives and lime really liven-up this yummy meal that can be served as easy camping lunches or for dinners.
---
How To Make Veggie Camping Burritos
Heat a large skillet to medium heat and add the butter
Lodge Cast-Iron Skillet L10SK3ASHH41B, 12-Inch
Using cast-iron cookware at the campsite is almost "mandatory" for every meal including these campfire burritos.
This cast-iron skillet is perfect for cooking on a camping stove or directly over a campfire … and cleaning cast-iron cookware is a breeze too!
&
&nbsp
---
After the butter is melted, sauté the veggies till softened
New Star Foodservice 42849 Enameled Aluminum Lime Squeezer, Green
Getting the most juice out of your citrus is easy when you use a tool like this lime squeezer.
It is smaller than a regular citrus juicer and is made specifically to fit the size of limes.
You will love this tool for making this camping burritos recipe as well as making a fresh limeade beverage to wash it all down!
&
&nbsp
---
Then stir in and heat the remaining veggies and seasonings
Lodge ASHH41 Silicone Hot Handle Holder, Red
If you have a cast-iron skillet but don't have a silicone hot handle holder to go with it, you are missing out!  
The high heat resistance silicone protects hands up to 450 degrees and is designed to fit snugly on Lodge traditional-style handles.
You'll love it for this vegetarian burrito recipe or any other camp meal for that matter!
&
&nbsp
---
Remove from heat and stir in the cheese and cilantro
Camp Cooking Tip: If your stuffing mixture has lots of liquid because your tomatoes are super juicy or you didn't drain the beans or corn enough, just use a slotted spoon to drain then distribute the bean mixture.
OXO Good Grips Brushed Stainless Steel Slotted Spoon
Stainless steel utensils are great at the campsite because you can lean them on hot cookware without problems.
This particular stainless steel slotted spoon also has a hole in the handle for hanging on hooks in an RV or in a camp kitchen.
These grilled veggie burritos have a great crunchy texture as long as you drain the excess liquid before stuffing and grilling the tortilla.
&
&nbsp
---
Spoon heated bean mixture in center of tortillas and fold closing in the edges
Heat a grill pan or large skillet
Add enough oil or cooking spray to lightly coat the pan.
You are going to crisp the tortilla now, turn until all sides are toasted and golden brown (this will take about a minute or two per side).
Lodge LPGI3 Cast-Iron Reversible Grill/Griddle, 20-inch x 10.44-inch
If you are making this grilled veggie burrito recipe to feed a big crowd, using a griddle will speed up the process and allow you to cook more at the same time.
I love the versatility of this cast-iron reversible grill/griddle … you can cook pancakes in the morning and flip it over to grill steaks in the afternoon with one piece of equipment!
&
&
&nbsp
---
Camp Cooking Tip: If you are cooking these burritos over a campfire, a cast iron pancake griddle pan works great but if you are using a smaller skillet or grill pan you may have to toast these in batches.
They crisp so quickly that batch cooking still allows everyone to eat together (depending on how many campers are in your group.)
---
Serve it
Serve warm with a side of sour cream garnished with chopped fresh chives.
KitchenAid Shears with Soft Grip (Black)
The easiest way to chop chives for this grilled stuffed burrito recipe is actually not to chop them at all!
I like cutting fresh chives with kitchen shears to make quick work of it.
I especially like the protective blade guard that comes with this pair that is also dishwasher-safe with stainless steel blades and soft grip handles.
&
&
&nbsp
---
Storing Vegetables While Camping
If you like including camping veggies on your menu, you should know how to keep food fresh while camping.
We've got simple tips for you!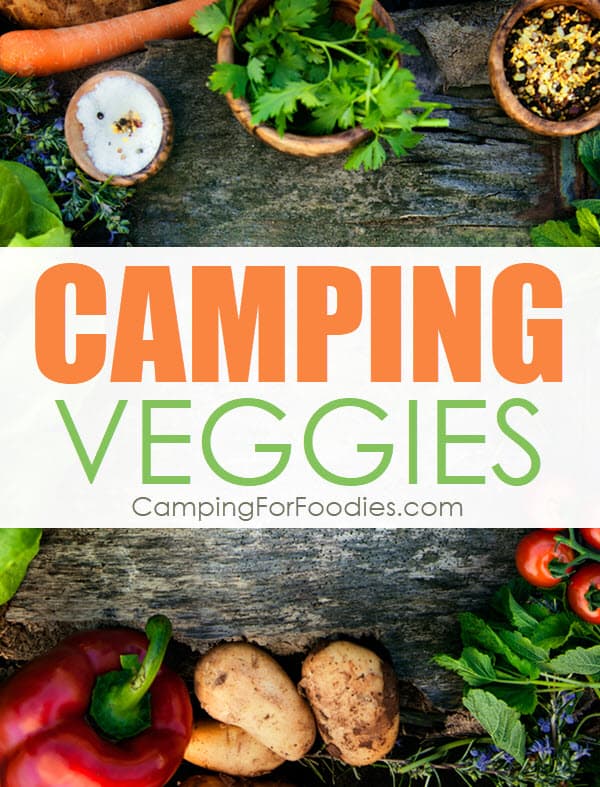 ---
More Camping Wraps
If you love eating wraps at the campsite, we have more ideas you should try!
This Pesto Tomato Wraps Easy Camping Recipe uses 5 simple ingredients and is on your table in 3 minutes!
Wrap a salad in a tortilla and get this yummy Ham And Cheese Salad Stuffed Tortillas No Cook Camp Recipe.
Enjoy a "walkable breakfast" with this Bacon Avocado Breakfast Wraps Camping Recipe and this Breakfast Burrito Camping Recipe.
---
Print This Grilled Tortilla With Veggies And Black Beans Burrito Camping Recipe
Prep Time 20 minutes
Cook Time 20 minutes
Total Time 40 minutes
Ingredients
1 tablespoon butter
1/2 onion, chopped
1 clove garlic, finely chopped
2 jalapeno peppers, seeded and finely chopped (use less if you don't like too much heat)
20 cherry tomatoes, halved
15 oz can of black beans, drained
1/2 cup frozen corn, defrosted and drained
1 teaspoon ground cumin
Juice of 1/2 lime
Salt and pepper to taste
1 cup shredded cheddar cheese
1/4 cup fresh cilantro, chopped
6 large flour tortillas
1/2 cup sour cream (optional)
1 tablespoon fresh chives, chopped (optional)
Cooking spray
Instructions
Heat a large skillet to medium heat and melt the butter.
Add the onion, garlic, jalapeno peppers and tomatoes stirring gently till softened.
Then add the black beans, corn, cumin, lime juice, salt and pepper, continuing to stir until the mixture is heated through.
Remove the pan from the heat and stir in the cheddar cheese and cilantro.
Spoon heated bean mixture in center of tortillas and fold closing in the edges. NOTE: Drain the excess liquid through a slotted spoon before stuffing and grilling the tortilla … otherwise they will be soggy rather than crispy.
Spray a light coating of cooking spray on the grill pan.
Add the folded burritos to a grill pan to crisp, turning to toast all sides.
Serve warm with a side of sour cream garnished with chopped fresh chives.
Recommended Products
As an Amazon Associate and member of other affiliate programs, I earn from qualifying purchases.
Nutrition Information:
Yield:
6
Serving Size:
1
Amount Per Serving: Calories: 438Total Fat: 16gSaturated Fat: 8gTrans Fat: 0gUnsaturated Fat: 6gCholesterol: 35mgSodium: 457mgCarbohydrates: 58gFiber: 9gSugar: 8gProtein: 17g
---
Find more simple and yummy camp stove recipes for your next menu plan!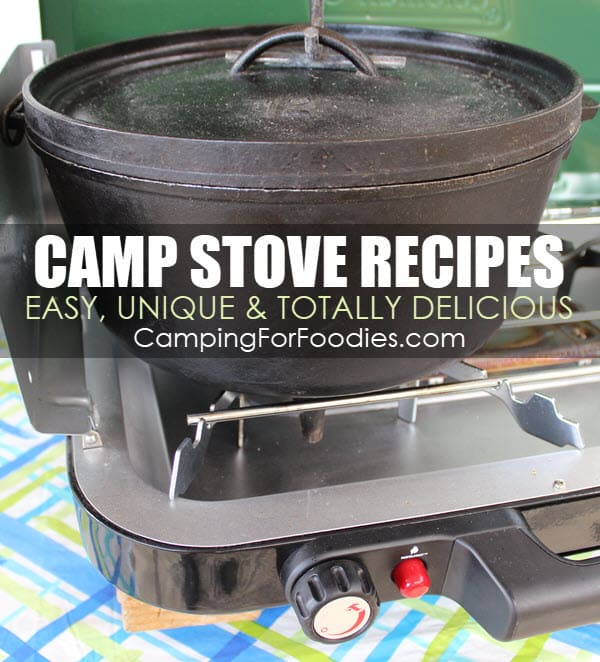 ---
No time to look for recipes, create a menu and write a grocery list? No Problem! Get our 3-Day Dutch Oven Camp Menu Plan here!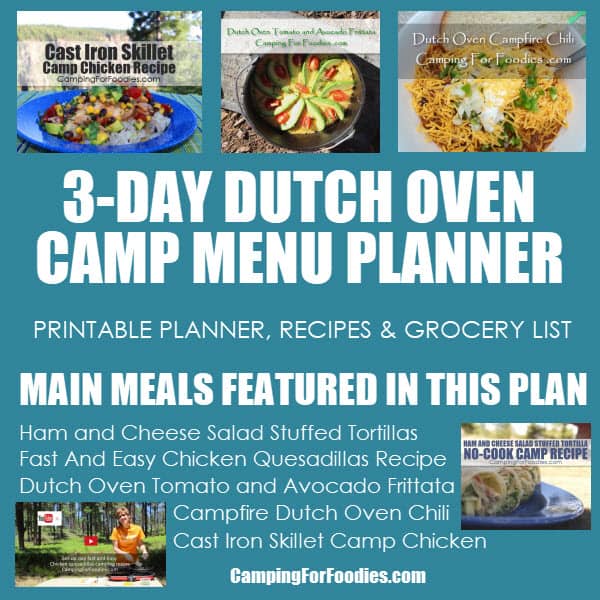 ---
---
If you need camping recipes and menu ideas, you can find them here at the Camping For Foodies Camping Recipes list.
&
Don't miss a thing…sign up for Camping For Foodies email updates!
&
Your purchase of our products will help support World Vision ® Building a better world for children.