How To Grill Sweet Corn Over The Campfire (or charcoal grill if you must)!
There are not many campfire recipes that start and end in the produce section and become a main course!
Grilled veggies, fruit … heck anything … and especially campfire corn on the cob … is taken to new levels of flavordom (yes, I know this is not a real word) with the char of campfire coals.
This cooking corn in the husk technique works on a BBQ grill with charcoal too but why not get a bit more adventurous than that?!?!
I'm guessing you will love, Love, LOVE the flavor of the char versus boiling the precious kernels of summer fun. 
Psst we're compensated…see our disclosures.
Corn On The Cob Campfire Recipe
This recipe serves 4 but is easily scaled up to feed large crowds or down to make camping meals for two or solo campers.
And, when it is in season (peak is May through September), sweet corn is super cheap which is great when you are cooking for big groups!
---
5 Easy Steps For Cooking Corn On A Campfire
You'll be eating campfire corn all summer long if you try this easy technique for grilling sweet corn in the husk!
There are five simple steps to roasting corn over a campfire or a charcoal grill.
Step 1: Remove silk.
Pull back the husks enough to get all of the annoying threads out of there.
Otherwise you will be flossing your teeth at the same time you are eating the corn. LOL
---
Step 2: Soak in water.
Fold the husks back around the corn and soak them in cold water for about 30 minutes.
You want the corn to steam inside the husks before the husks dry out and begin to burn.
---
The size of the crowd you are feeding and the number of ears of corn you need to soak will determine the container size necessary for soaking.
For small batches, a standard stock pot works fine.
But for larger quantities, coolers work well.
You may need a 48-Quart Cooler or even something as large as a 120-Quart unit.
&
GSI Outdoors 5.75-Quart Stock Pot
Coleman 48-Quart Performance Cooler
Igloo 120-Quart Polar Cooler
&
---
Step 3: Grill on medium.
Campfire cooking is the tricky part.
I like to cook in a big fire ring so that I can keep a fire going on one side of the ring while I drag a few hot coals under my cooking rack.
Don't put flames under your corn … just coals.
You want those little beauties to roast nicely … not turn into flares and smoke signals!
How long to cook corn on campfires?
Turn the corn about every 5 minutes or so, they are done when tender which will take about 30 minutes but keep checking tenderness throughout your cooking time because time will vary with each campfire.
If you are camping in a remote area without campfire grates and grill racks, you may have to bring your own campfire cooking equipment like we do.
---
The Perfect CampfireGrill, Pioneer, 18-Inch Diameter Cooking Surface With Travel Tote Bag
Steven Raichlen Best of Barbecue Cast Iron Tuscan BBQ Grill – 14″ x 14″ Cooking Surface
Texsport Outdoor Camping Rotisserie Grill and Spit 24″ x 16″ Grilling Surface
&
If you are camping in a location that already has grates set up to cook over campfires, that's great!
But, if you don't you may have to bring your own.
There are tons of different styles of campfire grill grates.
The Perfect CampfireGrill is lighter weight and more portable.
The Steven Raichlen Best of Barbecue Cast Iron Tuscan BBQ Grill is more rugged but not super big.
The Texsport Rotisserie Grill and Spit has a larger cooking surface and has multiple functionality.
---
If you need to use a charcoal grill instead of cooking your sweet corn over a campfire, here are a few options in portable charcoal grills.
&
Cuisinart CCG-190RB Portable Charcoal Grill, 14-Inch
Weber 121020 Go-Anywhere Charcoal Grill
Coleman RoadTrip Sport Charcoal Grill
&
---
Step 4: Pull back husks.
Caution…the corn is hot!
I like to use rubber gloves when removing the husks because they will be hot.
---
Because the corn will be hot, you should be prepared with heat-resistant gloves!
Silicone, neoprene rubber and leather are popular options for keeping you safe from burns while cooking around campfires.
&
MaxyLife Supreme Silicone Heat-Resistant Grilling BBQ Gloves
Artisan Griller Heat-Resistant BBQ Gloves With Textured Palms
G & F 100% Premium Grain Leather BBQ Grill Gloves With Cotton Lining
&
---
Step 5: Slather with basil butter.
Yep…I said basil butter!
It is sooooooooooo much tastier than regular butter and I have a super-simple recipe that you can make at the campsite or at home.
You can even make it in advance and freeze it until ready to use!
Here is my recipe for basil butter.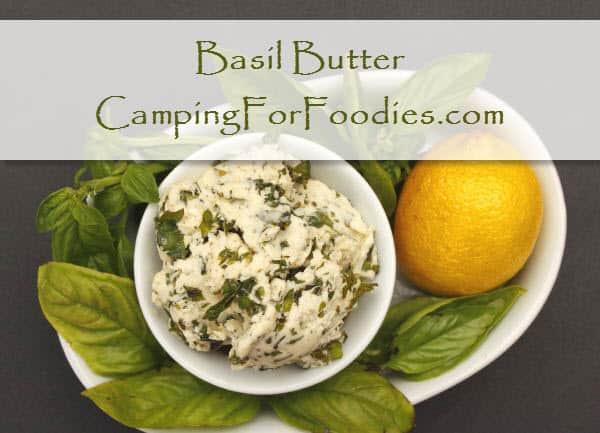 ---
How To Make Corn On The Cob While Camping Without Fire
Making corn on campfires is just one way to prepare camping corn on the cob.
But, what if you are camping without fire due to fire restrictions and you can't have fires or use charcoal?
You can use your camping propane with a portable camp stove or RV stove and just boil the corn.
Here's how to cook corn while camping using propane as the heat source …
Bring a big pot of water to boil, drop in the peeled corn on the cob, cover the pot and bring it back up to a boil. 
The corn will be tender in approximately 5-7 minutes.
Need more camp stove recipes? We've got them!
&
---
Print This Campfire Corn On The Cob Recipe
Prep Time 5 minutes
Cook Time 30 minutes
Additional Time 30 minutes
Total Time 1 hour 5 minutes
Ingredients
8 Ears of sweet corn
Water for soaking (about 2 gallons)
Salt, to taste
Instructions
Pull back the husks and remove silk from corn.
Fold the husks back around the corn.
Soak in cold water about 30 minutes.
Grill on medium heat turning every 5 minutes or so until the corn is tender, about 30 minutes. NOTE: Cooking time will vary depending on your specific campfire and elevation so keep checking tenderness throughout the cooking time.
Carefully pull back husks wearing protective gloves so you don't burn yourself.
Top with Basil Butter for serving. Get the recipe here https://www.campingforfoodies.com/basil-butter-recipe/
Recommended Products
As an Amazon Associate and member of other affiliate programs, I earn from qualifying purchases.
Nutrition Information:
Yield:
4
Serving Size:
1
Amount Per Serving: Calories: 153Total Fat: 2gSaturated Fat: 0gTrans Fat: 0gUnsaturated Fat: 2gCholesterol: 0mgSodium: 4mgCarbohydrates: 33gFiber: 4gSugar: 7gProtein: 5g
---
We just love cooking different styles of camping food when we are out in the wilderness.
Try a few new recipes on your next trip!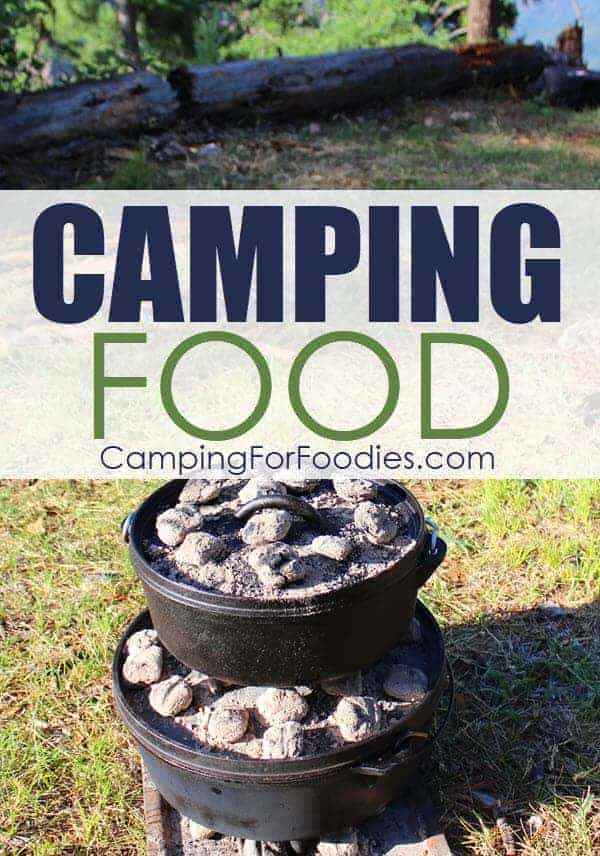 ---
No time to look for recipes, create a menu and write a grocery list? No Problem! Get our 3-Day Dutch Oven Camp Menu Plan here!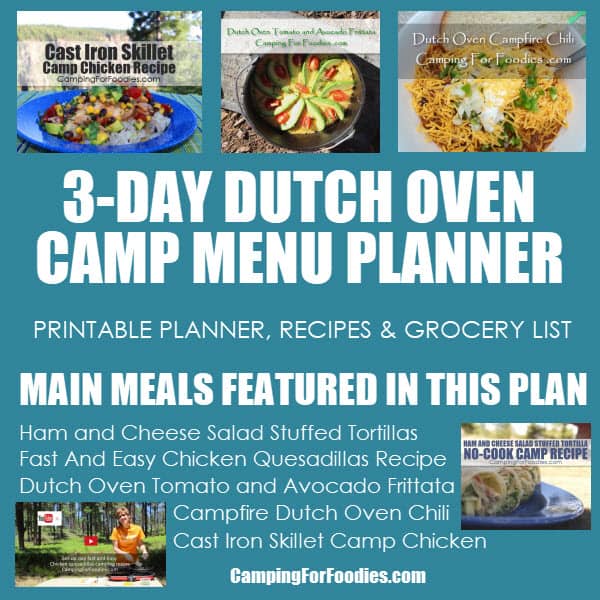 ---
Our Cool Camping Products Make Great Gifts!
Cutting Mat
Mat Set
Shaker Set
Hammock
&
---
If you need camping recipes and menu ideas, you can find them here at the Camping For Foodies Camping Recipes list.
Don't miss a thing…sign up for Camping For Foodies email updates!
Your purchase of our products will help support World Vision ® Building a better world for children.