How To Keep Bugs Away While Camping So You Can Enjoy The Great Outdoors!
Some camping tips will make your adventures so much more comfortable … others will actually keep you healthy!
If you think mosquitoes, flies and bugs just come with the territory when camping?
Think again!
We know how to keep bugs away while camping so you can relax and enjoy the great outdoors and we're sharing our tips with you!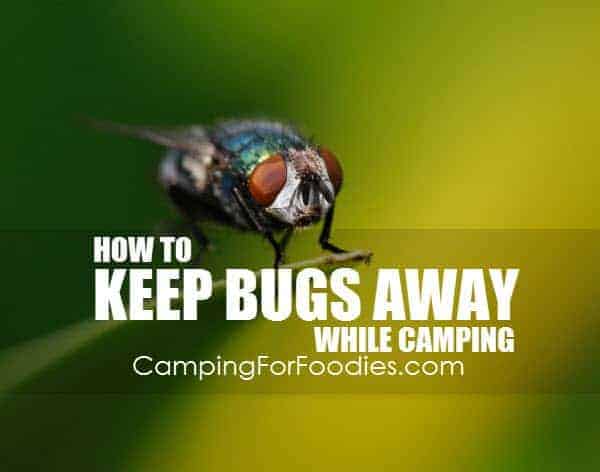 Psst we're compensated…see our disclosures.
How To Keep Mosquitoes, Flies And Bugs Away While Camping
Don't forget, it is important to control pests for your comfort as well as health and your personal safety while camping!
There are 5 major ways to keep flies, mosquitoes and other bugs away from your campsite:
Moisture and dirt elimination to keep mosquitoes and flies away while camping
Odors that keep bugs away while outdoors
Spray barriers to get rid of flies and bugs outside
Physical barriers for keeping bugs away while camping
Light and electricity to keep bugs away from your campsite
---
1. Moisture & Dirt Elimination To Keep Mosquitoes & Flies Away While Camping
Camp Chef Collapsible Garbage Can
People are surprised when I say, "Stay Dry!" in response to their question of how to keep mosquitoes away while camping. Mosquitoes, flies and other bugs are attracted to wet and dirty environments.
Before you even set up camp, you can help to minimize the attraction of bugs by choosing a camp location that is dry. Try to avoid areas with standing water like ponds and puddles. 
How to keep flies away starts with a clean and dry campsite. Here are a few DO's and DON'T's:
DON'T: leave open food around your site.
DO: dispose of food waste in a container you can close like this Collapsible Garbage Can With Zipper Lid.
DO: wash your dishes and cookware immediately after use.
&
---
Some odors attract bugs and others repel them.
We do as much boondocking as possible … and our favorite place is camping in National Forests … which has some drawbacks including grazing cattle.
When you are wondering how to keep flies away from you … let them hang out with the cows!
We avoid setting up near the grazing cattle because the flies, mosquitoes and other bugs swarm to them!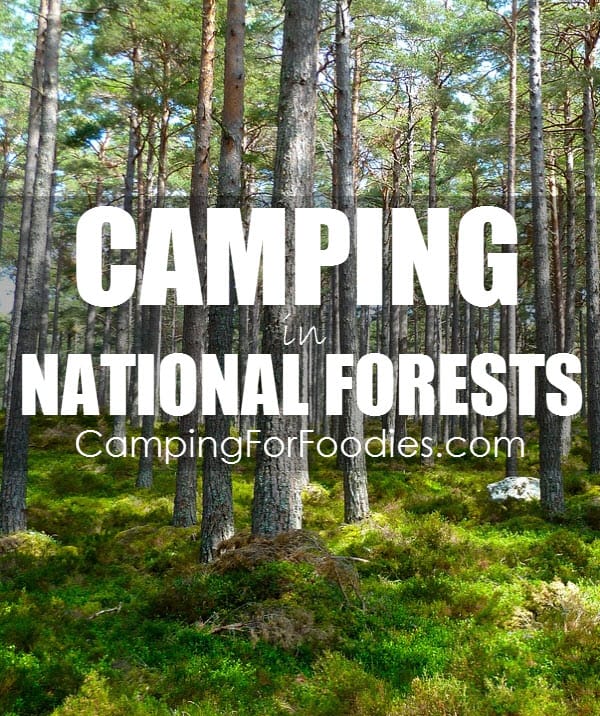 &
---
2. Odors That Keep Bugs Away While Camping
If you have a camping mosquito who wants to join your party, here are a few smelly options you might want to try.
---
Dead Down Wind Hunting Odor-Elimination System
Some bugs are attracted to scents associated with bodies and hygiene products …
you smell bad, the bugs like it …
you smell good, the bugs like it …
you don't smell at all, you like it!
You don't have to be a hunter to use a Clothing, Gear And Body Scent Elimination Kit.
This system contains laundry bombs, dryer sheets, biodegradable wash towels, body soap, shampoo and more!
You can actually eliminate scents from clothing, gear and your body with this stuff that is gentle on humans and the environment.
&
---
How To Keep Mosquitoes Away With Scents
Most people know mosquitoes hate citronella; did you also know they have an aversion to herbs like lavender, mint, lemon balm and sage?
---
---
Premium White Sage Smudge Sticks
Love campfires as much as you hate bugs?
One of my favorite options for how to keep mosquitoes away incorporates one of my favorite camping activities … tending the campfire!
When you throw Sage Smudge Sticks into your campfire they produce scents that deter the pesky bugs.
It is important to not attract them in the first place, but, you'll need to continue to use these devices to keep mosquitoes away while camping through the duration of your trip.
Dang, that means we need to have another campfire! LOL
&
---
Citronella Mosquito Repellent Coils
Oh, don't we love good old Citronella Mosquito Repellent Coils?!?!
They have been around forever … because they work!
Each coil burns 5-7 hours and has a range of up to 10 feet.
The one thing I don't love about these things … they almost look like toys to young kids so do some "Don't touch this" training if you have little ones camping with you.
&
---
---
P.S. If you love s'mores enough to use a candle that smells like them, you'll probably like new and interesting smores ideas to try too!
---
Thermacell Portable Mosquito Repeller
The Thermacell Portable Mosquito Repeller is a DEET-free mosquito repellent for camping and other outdoor activities.
It uses a fuel cartridge to heat a repellent mat that releases allethrin … a synthetic copy of the natural repellent found in chrysanthemum flowers!
You will get a 15-foot protection zone that provides 12 hours of relief from this lightweight, cordless and portable device.
&
---
3. Spray Barriers That Keep Bugs Away While Camping
Creating an invisible barrier is a popular way to keep bugs away while camping.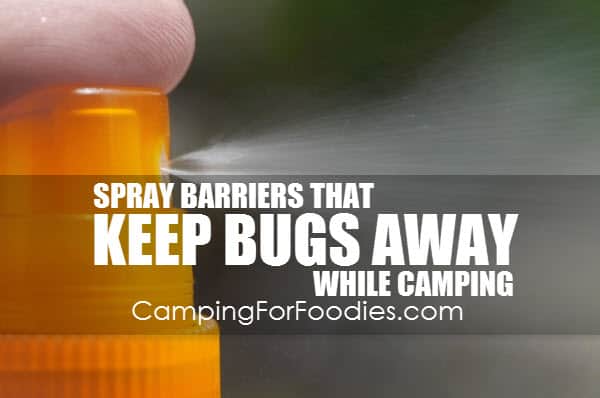 ---
---
---
Black Flag 190095 Propane Insect Fogger (NEW VERSION) for Killing and Repelling Mosquitoes, Flies, and Flying Insects Outdoors
Insect foggers are used to spray barriers.
They immediately clear large areas of mosquitoes and flies around camp.
Although effective, how to keep mosquitoes away with insect foggers is not usually easy while camping because most foggers are electric requiring a normal household plug and long extension cord … items not easily accessible on camping trips.
If you think fogging is a good option for you, consider this Propane Insect Fogger which is powered using camping propane that comes in cylinders (either tall-14.1 oz. or short-16.4 oz. canisters) rather than electric … making this unit super portable and easy to use in remote locations. 
Foggers use insecticides to treat the surrounding area by dispensing odorless fog to immediately clear bugs from the area for up to 6 hours.
&
---
Did you ever think killing flies and bugs could actually be FUN?
Probably not!
The Bug-A-Salt uses regular table salt to eliminate bugs by spraying it in a shotgun pattern to eliminate bugs on the first shot … well … depending on the aim of the shooter!
The gun is a fun way for adults to win the battle over bugs!
This gadget is not intended to be used by kids.
Bug-A-Salt 2.0
Shoots Regular Table Salt To Kill Flies
&
---
Would you be surprised if I told you these bug shooting contraptions to keep bugs away are some of the most popular camping gifts for men?
I'm thinking, you're not too surprised! LOL
---
4. Physical Barriers That Keep Bugs Away While Camping
Sometimes the bugs are so ferocious that an invisible deterrent won't be enough to stay bug-free and a physical barrier is the only thing that will keep bugs away while camping.
Most gear has gaps … which means mosquitoes, flies and bugs can find their way in to tents and RVs … do your best to keep tents zipped and RVs screened throughout your trip so you don't have to deal with trying to chase the insects out.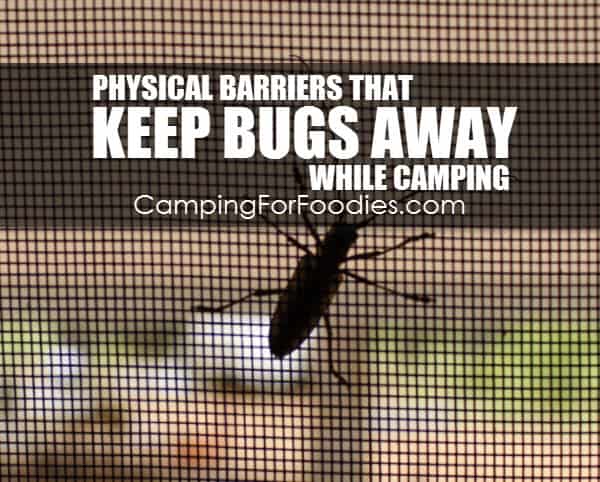 ---
---
---
---
---
5. Light And Electricity To Keep Bugs Away While Camping
Did you know you can use lights and electricity to deter pests?
---
Electric Bug Zapper Fly Swatter Zap Mosquito
After the sun goes down, bugs tend to be attracted to lights so try to stay darker than the campsite next door … LOL!
But seriously, try to keep the light level low and consider using an Electric Bug Zapper Racket to swat bugs that invade your campsite.
Not only are zapper rackets effective, they can be a fun "game" with competitive campers keeping score!
&
---
These lights that keep bugs away are great but there are times you need a specific light for a specific task.
Our campsite lights post has some really cool ideas for multi-purpose/multi-powered camping lights.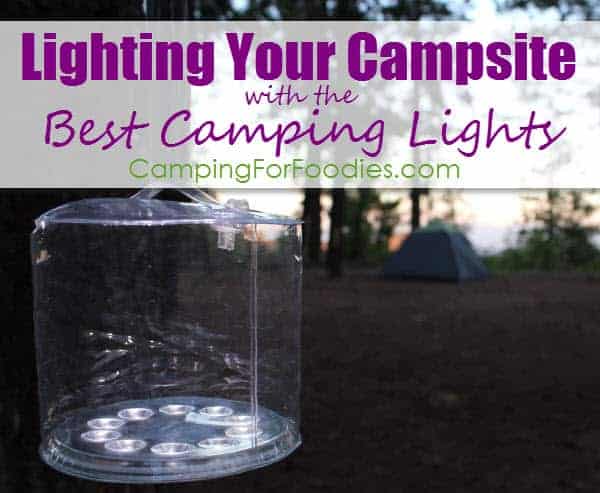 ---
You won't forget to pack your bug spray or any other gear if you use our camping checklist when you pack!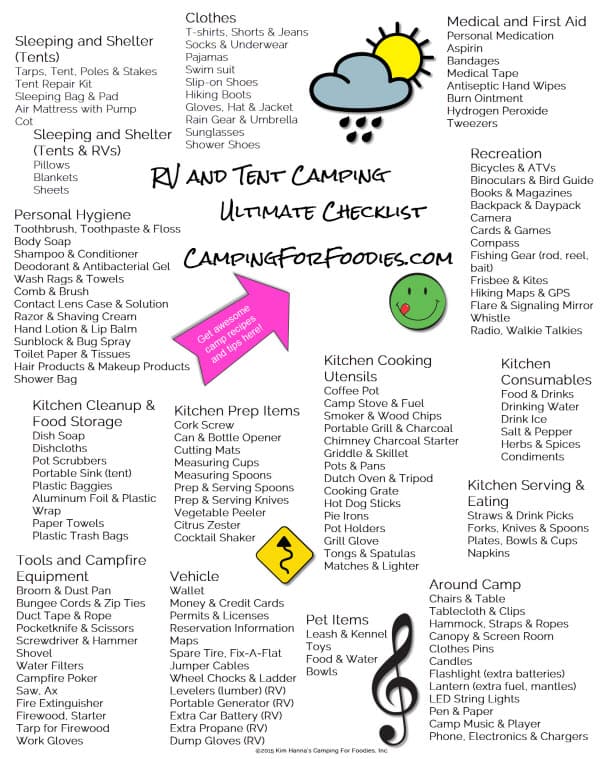 ---
---
---
If you need camping recipes and menu ideas, you can find them here at the Camping For Foodies Camping Recipes list.
Don't miss a thing…sign up for Camping For Foodies email updates!
Your purchase of our products will help support World Vision ® Building a better world for children.