How To Prepare For Your Well-Being!
When it comes to the importance of camping safety, personal protection of yourself and your loved ones is at the top of the list because if you are personally in danger or your possessions are at risk, you can't have a positive experience in the great outdoors.
We do a lot of camping in remote areas and are always aware of our surroundings making personal safety while camping one of our top priorities.
Psst we're compensated…see our disclosures.
How Dangerous Is Camping?
Our family's camping experiences have been excellent. Over many years of camping, we have been in very few situations where we felt unsafe
Obviously, the most serious concern would be dying while camping but less severe forms of safety concerns may also be unsettling for tent campers and RVers, alike.
The way you protect yourself will probably change depending on where you are camping.
The good news is … you can control most safety factors, here are some tips on how to prepare for your well-being in the wilderness.
---
Safety And Security When Camping Alone
In addition to all of the other personal camping safety tips we will be talking about, solo campers should take extra precautions when camping alone.
Here are things to consider when asking, "How do you stay safe while camping solo?"
Create a personal space bubble. Maintain a secure distance from others and be aware of your surroundings so you don't get trapped without an avenue for escape.
Don't share your camping locations publicly on social media. It is fine to share information privately with people you know and trust.
Travel with a large dog … for friendship and protection.
Be confident when you speak with strangers. Criminals looking for victims prefer frail, weak and vulnerable targets.
Don't advertise you are traveling solo … you never know who you are talking to and what motives they have until you get to know them better.
Set up your camp so it looks like you are not alone … several pairs of shoes at the doorstep, a group of camp chairs, a large dog bowl filled with water, large sized men's t-shirts and jeans hanging on your clothesline etc.
Caravan with other campers who you know and trust. You don't have to do everything together but you can share some aspects of your trips … especially with other solo campers.
Situate your vehicle so you can drive away immediately in an emergency situation. This is one of our RV tips 101 for women traveling solo.
Designate an emergency contact person when you are camping alone.

This is the one person who you will constantly update regarding the times and locations of your travels as well as when you will be in and out of phone and internet range.

You can use an app for this like Life360. It is one of the best camping apps for health and safety … especially for single campers.

Carry emergency contact information on your person at all times.

In the event you are hurt and need emergency medical treatments, you should carry a small note with your other identification that lists:

Your emergency contact person's name and phone number.
What you are doing (ex. Hiking the Turkey Springs Trail, out and back).
Where you are camping (ex. Campsite location Coconino National Forest on Forest Road 300 just east of milepost 2, immediately behind the water tank).
Make, model and where your vehicle is parked (ex. Silver F350 truck in parking lot GPS 34°25'28.9″N 111°24'04.0″W).
Any illnesses or allergies you have that need to be considered during emergency medical treatments.

Use a Personal Locator Beacon (PLB) if you do solo activities like hiking, rock climbing, canoeing, etc. where you might need emergency help in the wilderness.
ACR ResQLink 400 – Buoyant GPS Personal Locator Beacon (Model: PLB-400)
---
Campsite Security
Practice these camping security techniques to maintain a secure campsite that protects your valuables, and in turn, protects you too.
If you don't employ campsite security techniques, you run the risk of attracting thieves to your camping area which means your personal well-being is compromised too.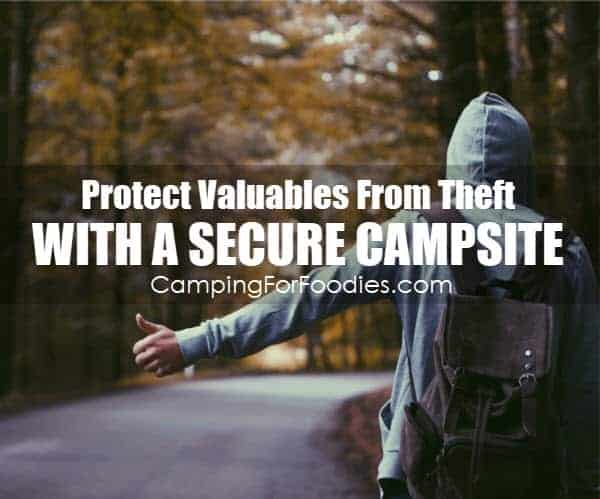 ---
Camping Bear Safety Tips
How do you protect yourself from animals while camping?
Well, most wild animals are more afraid of you than you are of them so just enjoying them from a distance is usually enough to keep you and your family safe during your camping trips.
Wild bears are one of the most feared beasts so we have an entire post with life-saving information dedicated to sharing safety tips while camping in bear country.
---
How To Find Safe Campsites
Do your research before you go to new campsite locations.
Read reviews from several sources and beware of the dates of the reviews. Older reviews may have been great before a change of management resulted in the facility deteriorating into a place you don't feel safe staying at for even one night.
Ask other campers about specific locations. Online groups and forums are great resources for finding real-world, personal experiences from fellow campers.
Check crime statistics from local authorities.
Study the area surrounding the campground or RV park so you know if you are going to be in a safe neighborhood or a crime-ridden part of town on the wrong side of the tracks.
If your research fails: When you arrive at your camping location, no matter how good you felt about it during your research process, if you have an unsettled feeling about the place … trust your intuition … just leave.
---
Choosing The Safest Campsite
Choosing a campsite with personal safety in mind. Here are some things you should consider?
Is there cell service in case you need to make an emergency call?

In the same campground, you can find sites that have a good signal strength and others that are in the "dead zone" with limited or no coverage at all.

Can the site be easily accessed by others? Do you have multiple escape routes if you need to flee or will you be trapped in case of emergencies?
In remote or sketchy areas, do the local surroundings lend themselves to setting up some type of security system? Some campers set up a trip wire that alerts them of approaching people and animals. The most rudimentary type of system will use string or fishing line and cans tied to it that contain marbles or rocks that make a noise when they are "tripped" letting you know something is approaching your space.
---
Campsite Security Devices
If you use appropriate camping security equipment, you can increase your enjoyment knowing you have protected your well-being as much as possible.
A layered defense gives you time to react to a dangerous situation with an early warning system. Some camping security products can help too.
Use locking mechanisms to secure your camping gear as well as your vehicle doors and windows, even if you are leaving for a short time. Remove valuables from view so you don't invite trouble.
Motion detector devices can either sound an alarm and/or turn on an LED light outside your RV or tent. The audible alarm will notify you of movement and the light will illuminate the outside campsite area so you can see what is happening … but … be aware that friendly wildlife may be the reason it is triggered so every activation may not be dangerous. One caution: these things can scare your camping neighbors right out of their sleeping bags in the middle of the night so use these devices prudently to avoid unintended consequences!
Carrying self-defense weapons can protect you if you know how to use them against attackers. Depending on what you are comfortable with and trained to use, self-protective device options may include:

Baseball bats for fighting back against an attacker.
Heavy mag light flashlights for lighting and a weapon to fight off an aggressor.
Ring of keys held between your fingers, pointing outward to create a self-defense weapon used while resisting an attacker.
Taser guns for stunning an attacker giving you time to escape.
Pepper sprays for driving away an aggressor although the range of spray depends on the style of pepper spray you carry, some can spray approximately 10 feet.
Possibly even firearms – if you carry a gun you should know the local laws, be licensed and trained in how to use it. You don't want a criminal to be able to force the gun out of your possession and use it against you.

Use camping security lights and glow in the dark stakes, illuminate potential tripping hazards and pack the proper first aid items are just some of the camping safety tips for families you really need to know.
Personal Security Door Stop Alarms are security devices that can be set up so you are notified if someone opens your RV door.
Personal Security Door Stop Alarm
---
Best Behavior For Personal Camping Safety
Stay vigilant at camp and on excursions. Meet your neighbors and set the tone for a friendly but guarded relationship. Trust your instincts with strangers and do not disclose your itinerary.
If you are using the public restrooms it is good to partner up with a campmate so you are not in a vulnerable situation alone … there is safety in numbers. Check the facility area before using it. Keep your valuables out of site from others but in site for yourself.
Don't lose your life protecting your possessions.
NEVER go with an attacker even if they demand you do so. Most criminals want your money and your valuables, give them what they want so you don't endanger your life and get away from them as quickly as possible.
Keep your phone charged so you are always ready to dial 911. This is important even if you are boondocking without power, here's how to charge phone while camping without electricity.
Predators are looking for easy targets. The more unafraid you appear, the better your chances of survival. Speak to them directly in a loud and firm voice maintaining eye contact and stay assertive.
Keep friends and family members up-to-date on your specific camping locations (GPS coordinates are ideal) so they can send help if you need it.
Always be ready to drive to safety. If you are camping in an area that makes you feel uncomfortable, don't extend your stabilizers, awnings or slides … do stay hooked up with a clear path to the exit road so you can drive away immediately, if necessary.
"Puff-up", especially when camped in a remote location. Safety in numbers is a deterrent for criminals. Set up camp with extra chairs, tents, and other camping equipment to make it look like there are more people camped at your location.
Insects and insect bites are a source of health concerns. Here are some great ideas for how to keep bugs away while camping.
Know exactly where you are camped in case you need to call for help … GPS coordinates are best.

If you are at a campground, know the physical street address (including city, state and zip code) as well as the specific campground and site number.
If you are boondocking, know the agency's jurisdiction, name of road, milepost and identifying landmarks. (ex. Coconino National Forest on Forest Road 300 just east of milepost 2, immediately behind the water tank).

Stagger your schedule so wrongdoers don't know when you are at your campsite or away from it.
Being able to avoid food poisoning is an important aspect of personal health safety so get all of our tips on camping food safety before your next trip.
---
Camping Safety Statistics
Lots of campers enjoy staying in National Parks across the United States.
Did you ever think of the possibility of dying in a National Park?
The U.S. government publishes morality statistics regarding deaths in National Parks.
You might be surprised to learn that about a quarter of the deaths inside National Park boundaries are intentional … until you dig a little deeper.
Here are some interesting numbers from the Calendar Year 2014 – 2016 Report:
Mortality Rates:

NPS (National Park Service) Mortality Rate: 0.1 deaths/100,000 recreational visits
Overall U.S. Population Mortality Rate: 844 deaths/100,000 people
Three Categories of NPS Mortality Statistics:
Unintentional Deaths

53% of NPS deaths are due to unintentional causes

33% of unintentional deaths: Drowning
31% of unintentional deaths: Motor Vehicle Crashes (MVCs)
17% of unintentional deaths: Falls
Medical Deaths

22% of NPS deaths are due to medical causes

49% of medical deaths occurred while the individual was engaged in a physical activity (e.g. hiking, biking, swimming)
Intentional Deaths

25% of NPS deaths are due to intentional causes

Suicides account for 95% of all intentional deaths
Source: NPS Mortality Statistics
As you can see, camping in a National Park is a very safe place to camp … especially when it comes to personal safety factors that are out of your control.
---
Security While Camping Is Important
The more secure you feel, the more you will enjoy camping.
You don't want to have a false sense of security … you do want to have a confident approach to your personal safety so you can maximize the gratification of being out in nature and filling your soul.
---