Closed since the onset of Covid-19 in March 2020 and now under the ownership of the San Manuel Gaming and Hospitality Authority, the Palms Casino Resort, just west of the Las Vegas Strip, is scheduled to open on April 27.
Featuring two towers with 766 hotel rooms and suites, it will be Vegas' first resort entirely owned and operated by a Native American tribe. San Manuel also owns and operates Yaamava' Resort & Casino on tribal land 60 miles east of Los Angeles.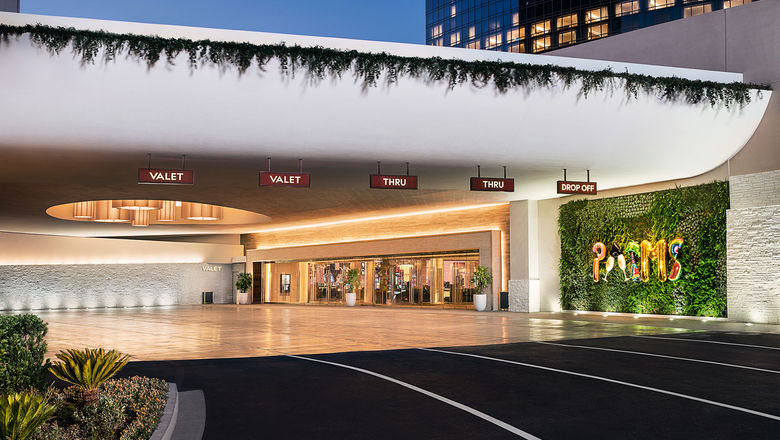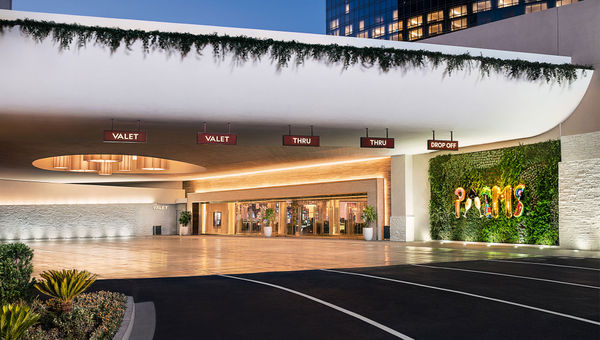 The entrance to the Palms Casino Resort, the first Native American owned and operated resort in Las Vegas. Photo credit: Palms Casino Resort
"The San Manuel Tribe simply loves people, and that's what they lead with: an extreme commitment to the community, to the employees, to visitors to Las Vegas and around the world," said General Manager Cynthia Kiser-Murphey. "Their commitment to people is just amazing, and that's a game-changer for hospitality."
The Palms, which opened in 2001, rose to prominence by hosting the MTV reality show "Real World." Guests can still stay in the Real World Suite as well as 10 other themed suites, including the basketball-inspired Hardwood Suite, the bowling-themed Kingpin Suite, and the Cinema Suite.
Casino with a new look
While some amenities will be familiar to those who have played and stayed at the Palms in the past, San Manuel has also put its stamp on several areas of the property, including a reimagined 95,000 square foot casino.
The bookmaker, operated by William Hill, also has new screens, technology, revised seating and a lounge atmosphere. "We're super excited about this," Murphey said. "It's adjacent to our central bar, called Tonic Bar. And we create a real energetic atmosphere around that."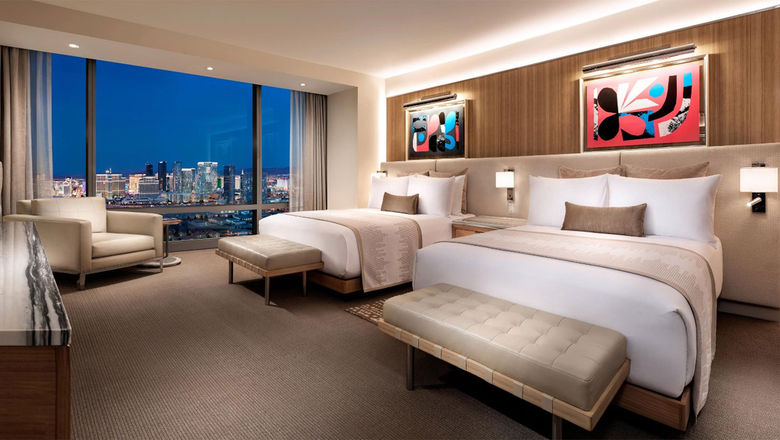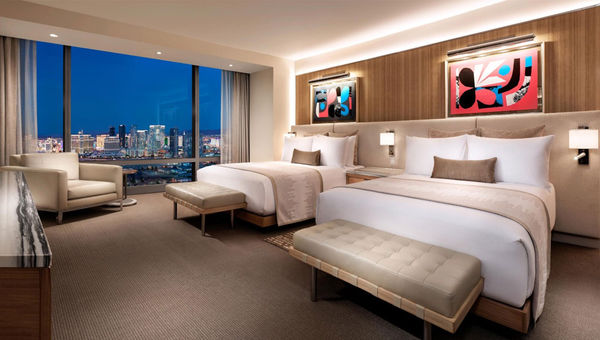 A queen room at the Palms, which reopens April 27 after being closed for more than two years. Photo credit: Palms Casino Resort
Vibrant artwork by a local graffiti artist energizes the hallways and floors of Brenden Theaters. The 14-screen theater features new reclining seats, two IMAX screens and additional food and drink options.
The new owners have also refreshed the 73,000 square foot multi-level pool area. It has two main pools, daybeds and 39 cabanas, many with their own private pool or jacuzzi. DJs will spin a mix of open format, top 40 and other music in the Greek-inspired oasis on the weekends.
Restaurants include the new Serrano Vista Cafe as well as leftover Scotch 80 Prime, Chef Michael Symon's Mabel's BBQ, Send Noodles, the Eatery, Rojo Lounge at Palms Place, Tonic, Unknown Bar, AYCE Buffet and Tim Ho Wan.
spa day
The Palms' 17,000-square-foot spa offers 15 treatment rooms, including two couples treatment suites. The resort also has over 190,000 square feet of meeting, convention and event space. The Pearl, a 2,500-seat theater, will open this summer.
Like Yaamava, the Palms will be part of Club Serrano's loyalty program.
About 50% of employees return, Murphey said, offering some continuity with the past. The back of house upgrades demonstrate San Manuel's commitment to employees and an emphasis on customer service, she said.
"We're going to project that togetherness to somebody who walks through the door because that's who our tribe is. It's about welcoming people. And really being in love with people," Murphey said.