Merlin Entertainmentoperator of Legoland theme parks, Sea Life aquariums and other attractions, partnered with Oracle earlier this month to deploy its point-of-sale and hospitality technology to improve the guest experience at Merlin's 130 attractions in 25 countries.
To achieve this goal, said Lee Cowie, chief technology officer at Merlin, "we look at every step of the customer journey."
"Where are we deploying technology that removes friction on guests? Does it really allow the guest, the customer, to engage with us, to interact with us? And how do we then make it really simple so that person can enjoy the experience of using well-integrated, well-trained technology?" says Cowie.
Cowie called Oracle's technology a "central part" of Merlin's digital customer experience. While the company already employs an in-house technology team and builds its own technology, Oracle's particular solutions, which Cowie described as "turnkey," allow Merlin to focus on larger projects.
Specifically, Merlin will use Oracle's Micros Simphony Point of Sale and Hospitality Opera Property Management technology. They will allow customers to do things like pre-order food at attractions, manage hotel reservations through their mobile phones, and seamlessly check in and get a room key.
Cowie said the systems will be integrated over the next few years across Merlin's portfolio of attractions, which includes Madame Tussauds, Alton Towers in England and Gardaland Resort in Italy.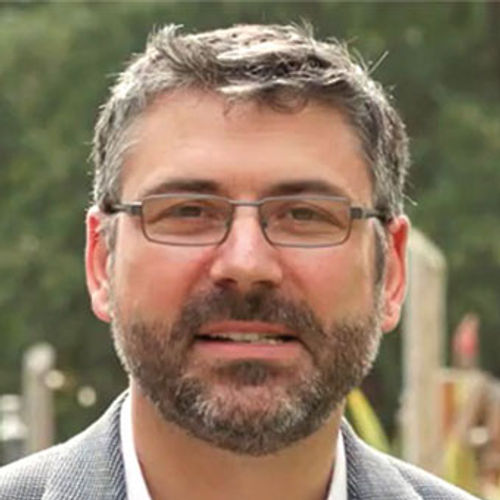 Lee Cowie
According to Cowie, the No. 1 thing his customers want is a "frictionless experience."
"Guests expect to ride a world-class roller coaster and experience a world-class experience in a truly immersive environment," he said. "And at a very basic level, technology shouldn't get in the way of that – it's kind of the bare minimum. But technology in our parks is much more than just getting out of the way."
For example, Cowie said, customers can already pre-register for an attraction. When they buy a ticket they can provide their license plate number and when they arrive the doors will open automatically. Theme park purchases may be charged to a guest's hotel room.
One of Oracle's systems will specifically help restoration sites. Technology helps prioritize orders and get them into the hands of customers faster. This addresses what has always been the main complaint of theme park goers: waiting in long lines, which is also not good for the parks. Queuing time is time that could be spent buying goods or food.
Merlin has already used technology to solve this problem and reduce wait times. In attraction lines, queue lengths are monitored by sensors to understand load factors. Information is collected on areas of the park that are busier than others to match staffing patterns.
Bottleneck areas are adjusted to help customers navigate more efficiently. Cowie said Merlin is looking to add features to its mobile app that will guide customers away from crowded areas by suggesting less traveled parts of parks.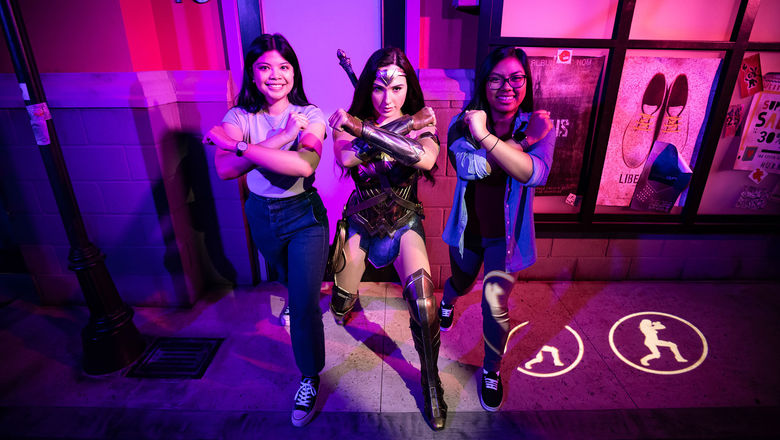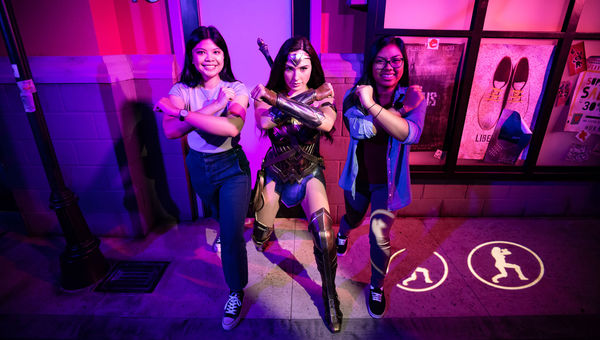 Guests having fun at the Justice League exhibit at Madame Tussauds Orlando. Photo credit: Merlin Entertainments
While Merlin hopes its partnership with Oracle will make its user experience even better, customer-facing, behind-the-scenes technology making attractions more seamless is becoming the norm.
And Cowie said the entire attractions industry is turning to technology to enhance the immersive physical environments they offer. This future will likely further merge the physical and digital environments.
Augmented reality and virtual reality — even the metaverse — are coming to the fore, Cowie said, and are "the next step in digital evolution."
"As they start to become more mainstream and more real," he said, "you see how digital technology is really going to enhance the physical experience."