Mind-Blowing Gifts For Active Women Who Camp, Hike And Fish!
These camping gifts are so fun!
Our roundup of the best camping gifts for her include ideas for active woman who hike, fish, bike and ride ATVs while they camp.
Whether you are looking for Mother's Day, her birthday, anniversary, Christmas or just because … she'll love receiving these presents.
Yes, Hubby, I would like one of each please!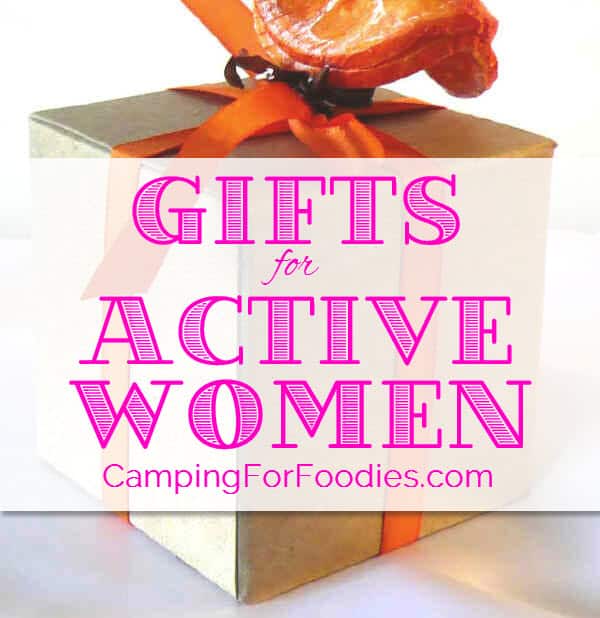 Psst we're compensated…see our disclosures.
Gifts For Active Women
There are soooooo many fun activities to do while experiencing the great outdoors!
We have hand-selected super cool gifts for women who enjoy different experiences.
Scroll through them all or jump to the section based on gifts for her specific interests:
---
Gifts For Women Who Camp
---
---
Hammock With Accessory Bag
The best camping gifts for her are the ones that make it easy to relax at the campsite!
This "I'm Unplugging" Hammock is a great way to unplug in the great outdoors!
It is awesome to kick back in this hammock where she will have easy access to her favorite book, drink and sunglasses right beside her in the attached accessory bag!
Check out the video to see it in action!
&
---
Unplugging and going outside is one of the best stress relief methods!
Who knew a cool hammock would also be good for her health!?!
---
---
Camp Casual Travel Map Throw
Cooler weather camping is waaaaaaay more fun when you can keep your body temperature comfortable.
This Camp Casual Travel Map Throw has a fun retro fabric on the front and a velvety soft fabric on back.
It's machine washable which is important because the cleanest women on the planet tend to get just a little dirty on camping trips.
It is one of those unique glamping gifts for her to snuggle into on chilly camping trips!
&
---
Using cute glamping accessories is a fun and easy way for DIY glampers to feel the luxury in the great outdoors!
---
These adorable hand-crafted sweet treats are available in sugar cookies, chocolate sugar cookies, red velvet, Mathca green tea, Ginger Spice, or shortbread cookies.
These cookies make cute camping gifts for ladies with a sweet tooth that would welcome a break from baking themselves!
They are made to order and are individually wrapped for freshness and packaged in bubblewrap so they arrive just as cute as you'd expect!
&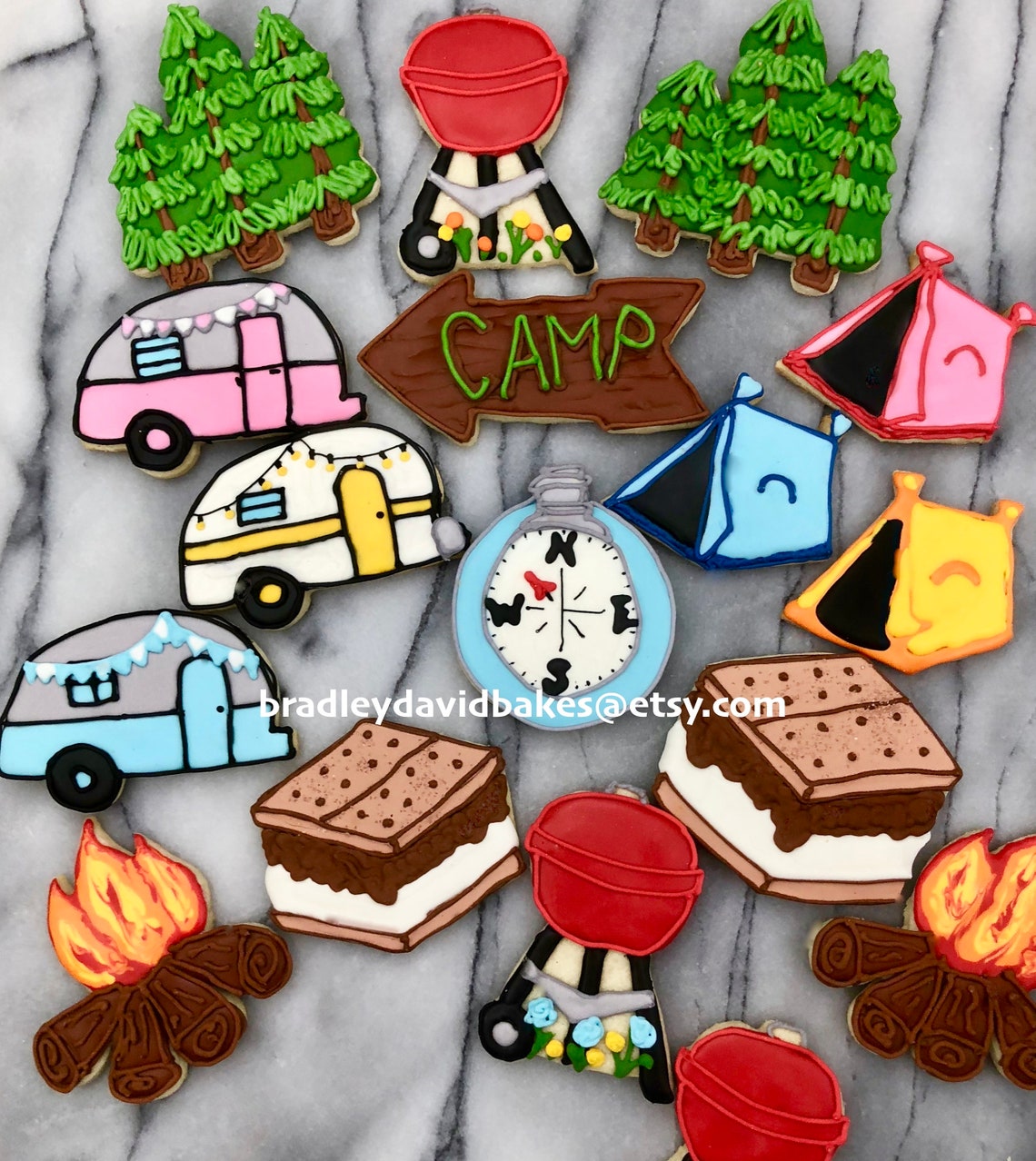 Custom Hand Crafted Camping Themed Cookies

&
---
24000mAh Rugged Solar Charger
Keeping electronics charged while camping has some challenges.
These 24000mAh Rugged Solar Chargers make great camping gifts for women who want to stay connected while in the wilderness.
This little gadget will keep devices charged but it won't be able to do anything with the "Can you hear me now?" question … which is actually part of the reason we all love camping … right?
Because sometimes you deliberately just want to be out of range so they CAN'T hear you! LOL
&
---
There are so many cool gadgets to charge phones without electricity while camping … they all make good camping gifts for ladies who prefer to be off-the-grid while experiencing the great outdoors.
---
Phone Armband
For women who are active and moving around the campsite … without purses … camp clothes with no pockets … makes it tough to carry a phone in the great outdoors.
A Phone Armband makes awesome camp gifts for women who don't want the hassle of carrying it … but … still want their phone readily available during camping trips.
&
---
---
Checker Board Eclipse Camping Table
Got game-playing camping women on your list?
This Checker Board Eclipse Camping Table Set makes fantastic camping gifts for her!
She'll be able to keep the game going without missing a beat to get up for a snack or refreshing drink because of this totally cool 2-level-topped table!
There is even a zipper pocket to hold the checker game pieces that are included with the table!
&
---
What Is The Best Camping Table?
When you are considering which type of camping table is the best one for you, spend some time thinking about how you want to use it, how sturdy it should be and how easy it must be to set up, tear down, transport and store.
---
---
---
Camping, The Camper's Journal
Photos are not the only way to capture camp trip memories … Journals work great too!
This Camping, The Camper's Journal has writing prompts including: location, date, weather, people, activities and room to capture additional thoughts. It is a spiral bound, hard cover, 200 page journal.
Journals are excellent camping gift ideas for her if she likes sharing camping tips and locations with other friends who camp!
&
---
---
---
---
---
Like the idea of vintage camper gifts?
We do too!
See our top 21 picks!
---
Hammock With Accessory Bag
This "I'm Unplugging" Hammock made our roundup list of camping gifts for her!
Because … when you think about it … is there a single woman on the face of the earth who would not want her favorite book, drink and sunglasses right next to her in the attached accessory bag while relaxing in a hammock at the campsite?!?
Ummm, none that we know of!
Check out the video to see it in action!
&nbsp
---
---
---
Night Out Camper Women's PJ Set
The nice thing about giving PJ gifts to camping women is that you can never have enough comfy pajamas!
This Night Out Camper Women's PJ Set is perfect for mild-weather camping trips with a short sleeved top and separate pants.
These pajamas are super soft because they are made from pre-shrunk cotton and they are machine washable!
The sweet design makes me want to pack my bags and head out on a camping trip!
&
---
Handheld Hummingbird Feeders
We have ALWAYS enjoyed attracting hummingbirds to our campsite (yes, this includes my husband!)
But … after we attended a hummingbird festival, we realized we were totally missing out because we could not get as close to the tiny critters as they were with these mini Handheld Hummingbird Feeders in the demonstrations!
These cool little gadgets make great outdoor gifts for her to enjoy getting up-close and totally personal with her high-speed wing flapping friends!
&
---
Heart Shaped Pie Iron
Looking for sweet but practical camping presents for her?
These Heart Shaped Pie Irons are a great idea for the girl who likes "campfire cooking on a stick" but also likes to add a little extra love to everything she does for her friends and family … at home and at the campsite!
&
---
These cute Camping Dish Towels make great little gifts for women who camp without the luxury of having an automatic dishwasher (the electric kind or the teen-aged human kind!) LOL
So, when active women need to slow down to manually do the dishes at the campsite, the way to make that unpleasant task a little more enjoyable is with cute camp kitchen accessories!
The adorable graphics and popular camping quotes, Home Is Where You Park It and Life Is Better When You're Camping, make these towels utterly unique gifts.
Home Is Where You Park It Towel
Camping Dish Towel Set
&
---
---
P.S. If she love s'mores enough to use a candle that smells like them, she'll probably like new and interesting smores ideas to try too!
Putting together an edible goodie basket is a fun surprise!
---
Gifts For Women Who Hike
---
---
Hiking can take you to some really beautiful places and once you get there, you need to sit on a rock to soak up all the scenery.
The Lightweight Backpack Cooler Chair has changed all of that!
The super smart 3-in-1 design means this cool piece of hiking gear is a lightweight backpack, and mini stool chair plus a built-in cooler bag all in one convenient package!
These epic little gadgets make awesome hiking gifts for women but they are also great for tailgating and kids sporting events too!
Lightweight Backpack
Cooler, Stool, Backpack Trio
Portable Folding Stool
&
---
GoGirl Female Urination Device
Finding a decent facility to pee near campsites is usually easy but that is not always the case when hiking on trails in the wilderness.
That's why the GoGirl Female Urination Device is one of the most popular gift ideas for women who hike and backpack.
No more squatting … she just holds the GoGirl against her body to form a seal … aim and go.
&
---
Which Is The Best Female Urination Device?
The lack of flushing toilets out in the wilderness can be a challenge if you let it … so … don't let it.
The best female urination device is not the same for everyone.
The biggest thing that makes one the "best" is your personal comfort level so just relax and test out a few until you are happy with the feel, pack-ability and clean-ability of the device that is right for you. 
---
Paracord Bracelet Survival Gear Kit
Emergency gear does not have to look drab and boring!
This brightly colored Paracord Bracelet Survival Gear Kit has all the functionality desired by active women … compass, fire starter, emergency knife and whistle … they also have quick release buckles and come in bright pink and basic black! 
The 2-pack means you don't have to choose which color she'll like best!
Yes, please, I'll take them both!
&
---
Keep Calm And Hike On Sports Water Bottle
Staying hydrated while on the trail is important.
This water bottle and carabineer clip make perfect hiking gifts for her that are functional and fun!
The Keep Calm And Hike On Sports Water Bottle is made of stainless steel and has a 21oz capacity.
It features 2 twist-on caps: the first is an easy-flow drinking spout and second is a standard cap. 
The thin profile design fits most cup and bike bottle holders.
A carabineer clip is also included!
&
---
Take a Hike Photo Frame 8-inch, 4×6
There are many ways to keep the memories from a beautiful hike … photos are especially great!
This totally cute Take A Hike Photo Frame has raised accents of a walking stick, backpack and boots.
The frame stands horizontally and can accommodate a 4″ x 6″ picture.
&
---
---
Hydration 2L Bladder Backpack
Serious hikers know it is important to always carry plenty of water on hikes.
It is so convenient to have the water available with a Hydration Backpack and it's really nice to have the weight of the water evenly distributed with comfy straps and pockets for phones and keys!
These things are so awesome and they make affordable gifts when it comes to hiking gear.
&
---
---
UV Resistence Bandana Scarf Set
Wearing sunscreen while hiking is important and it is also a good idea to wear some sort of head protection.
UV Resistence Bandana Scarfs make unique hiking gifts for women who don't like to wear wide-brimmed sun hats.
These can be worn around the head to protect the head and ears from the sun and a second bandana can be worn around the neck for extra protection too.
This set comes in fun bright colors but there are more options like cammo, boho and florals!
&
---
---
Collapsible Dog Bowls
Women who hike with their dogs know it is a challenge to avoid wasting water when giving dogs a drink on hiking trails.
They tend to waste lots of water if they drink from a stream of water begin slowly poured out of a bottle.
Carrying a bulky water bowl does not work either.
But, these Collapsible Dog Bowls are the perfect solution!
They can be clipped to the outside of a backpack and they make great gifts for the owner as well as the dog!
&nbsp
---
---
---
Gifts For Women Who Fish
---
---
---
---
Fishing Wrap Tumbler
Some of the best fishing happens early in the morning and I don't know a fisher-woman who wants to start casting before enjoying a nice strong cup of java!
I say, have one cup while loading the gear and grab another one to go in this Fishing Wrap Tumbler!
It makes a fun gift for women but to be totally honest, men love this one too!
&
---
---
Fish Oven Mitts
Whether she is pan-frying the catch of the day or throwing it back and cooking her latest catch from the grocery store, when it comes time for cooking, women who fish will love using these Fish Oven Mitts!
They measure 6×16.5 inches so they cover hands and wrists.
They are cute enough to display when not in use and make fun fishing gifts for her and the camper wall she hangs them on!
&
---
---
Fishing Lure Spinnerbait Kit With Portable Carry Bag
Do you know how many is too many when it comes to lures?
You can't have too many lures!
This Fishing Lure Spinnerbait Kit contains 16 lures with sharp treble hooks and brightly colored strike-attractor sleeves and it's all contained in a handy portable carry bag.
These lures make awesome fishing gifts for women and outdoor girls who can jig with the best of the guys!
&
---
Portable Fish Finder
Some women embrace fishing technology while others say using fishing gadgets is "cheating" so you have to be the judge before considering this gift.
If you are dealing with a high-tech fishing woman, you need to get this Portable Fish Finder for her!!!
It works on any kind of water … lake, river, sea … and from docks and boats!
It detects and displays water depth, approximate fish location, short and tall weeds, sand and rocks on seabed.
It's not quite like shooting fish in a barrel, but it's getting close! LOL
&
---
---
Fishin'-Opoly
Move over Monopoly, the fish are in town!
This totally popular Fishin'-Opoly game is still a buy, sell and trade kind of game but it's with fish!
If a player lands on snag and gets all hung up … they sit out of the game for three turns.
There are instructions for traditional play or a condensed one hour version.
I wonder if there is anything uncool about being the worm? LOL
&
---
---
---
---
DrySak Waterproof Dry Bag
Just because fishing includes water … that does not mean ladies like having their gear all soggy and gross!
This DrySak Waterproof Dry Bag makes a great gift for women who fish and enjoy other water-based activities but like keeping their clothes, electronics and other accessories nice and dry.
The bag comes in two sizes and tons of fun colors!
&
---
---
TrailHeads Women's Power Ponytail Headband Black/Reflective Silver
Riding bicycles on camping trips is one of the most popular activities … especially when camping in National Parks with awesome bike trails!
This Women's Power Ponytail Headband is awesome camping gear for women who have long hair and want to keep it snug while wearing a headband to keep her ears warm in cooler weather.
This headband is made from polyester/spandex making this sweat wicking headband highly breathable and water resistant.
It comes in fun color options too!
&
---
Jewelry for cyclists makes unique outdoor gift ideas for her.
This fun design is available in Sterling Silver Bicycle Earrings and a Sterling Silver Bicycle Charm to hang on a necklace or charm bracelet. 
& 
Sterling Silver Bicycle Earrings
Sterling Silver Bicycle Charm
&
---
Gifts For Women Who 4-Wheel ATV
---
---
---
Homemade DIY Gifts For Ladies Who Love The Outdoors
---
How about adding a really special touch by giving DIY gifts to ladies who love campfires?
These Homemade Fire Starters use empty toilet paper rolls and dryer lint … and … they really work!
They are so cute because they feature trivia questions about Smokey Bear!
---
Thinking you might want to do a little DIY camping gift holiday giving?
Check out our Campfire Hot Cocoa post!
It's warm, yummy and makes thoughtful, inexpensive and unique gifts for ladies who love to camp!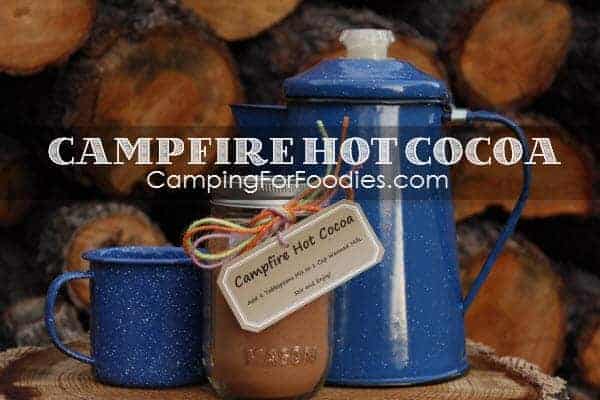 ---
Get More Camping Gift Ideas From These Posts!
---
The Christmas holiday season is one of the biggest gift-giving times of year!
---
Our Christmas Gifts For Campers And RV Owners: 100+ Ideas For This Holiday Season post is updated daily during the shopping season so you can see which are the most popular gifts of the year!
---
Small gifts that fit in a Christmas stocking are perfect for giving all year round!
Our 100+ Camping Stocking Stuffers For RV And Tent Campers post features some of the best camping stuff for women, men and kids that start under $10!
Some of them even start below 5 bucks and they are NOT JUNK!
&
---
Pin It For Later!
---
Get Fun Camping Wrapping Paper And Creative Gift Wrap Ideas here!
&
---
No time to look for recipes, create a menu and write a grocery list? No Problem! Get our 3-Day Dutch Oven Camp Menu Plan here!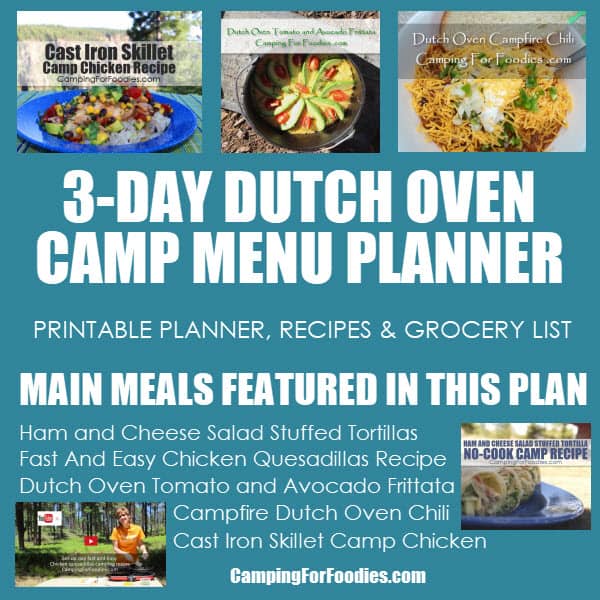 ---
Our Cool Camping Products Make Great Gifts!
Cutting Mat
Mat Set
Shaker Set
Hammock
&
---
If you need camping recipes and menu ideas, you can find them here at the Camping For Foodies Camping Recipes list.
Don't miss a thing…sign up for Camping For Foodies email updates!
Your purchase of our products will help support World Vision ® Building a better world for children.
---
Pin It For Later!