VENICE, Italy — "Upgraded." "Extraordinary." "Raised." "Top of the line." A "bling bling" spirit.
Those words flew through the air like confetti as Norwegian Cruise Line (NCL) executives circled writers and travel advisors during a preview of the line's newest ship, Norwegian Prima, as was still under construction near Venice.
The brand's executives are right to be delighted. The Prima is the first new ship class of a new class of the same name, NCL's first new ship class in a decade. There are six Prima ships on order, with the second, the Viva, scheduled for 2023.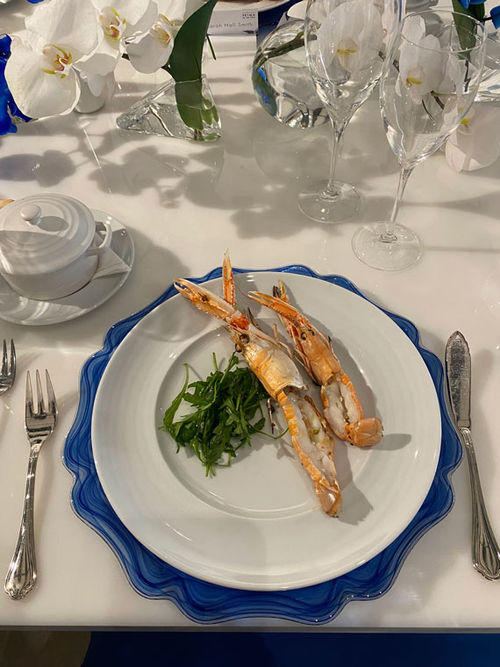 New Zealand langoustines, a sample of the seafood that will be prepared on the Norwegian Prima. Photo credit: Andrea Zelinski
With the new class comes an effort to reposition the brand at the high end of the "contemporary" category.
"We are definitely looking to make our ships more upscale," said Norwegian Cruise Line CEO Harry Sommer.
Leaders showed off the three-story Penrose Atrium, topped with 7,300 pounds of glass in a constellation-inspired ceiling, during a visit to the Fincantieri shipyard. They offered samples of what they described as premium fresh seafood, including New Zealand scampi, and gushed about the $2 million art collection that will adorn NCL's first-ever outdoor sculpture garden.
The change is in the hands of Frank Del Rio, CEO of NCL's parent company, Norwegian Cruise Line Holdings (NCLH). Del Rio, whose industry experience is steeped in high-end lines since he co-founded Oceania Cruises in 2002, has sought to improve the quality of NCL's product since coming under his leadership in 2015. .
In that time, he didn't see the same "meticulous" attention to detail in the design, vessel maintenance and service of NCLH's upscale sister brands Oceania and Regent Seven Seas, Sommer said. NCLH has since invested over $2 billion in its fleet.
Until then, Sommer said, NCL hadn't been given the tools, the money, or "the passion and vision to drive the brand forward," he said. "That's what Frank added."
Key elements to elevating NCL are its design, maintenance, investment, crew, food, activities and entertainment, Sommer said.
"We are committed to making each of them the best in the contemporary market," he said.
Food is a major focus on the Prima.
"There aren't 14 right ways to do beef and chicken," Sommer argues, so Norwegian is removing its rotating menu on the Prima and will instead offer permanent menu offerings. To provide fresher seafood, it will be delivered on the first day of the cruise and then again halfway through.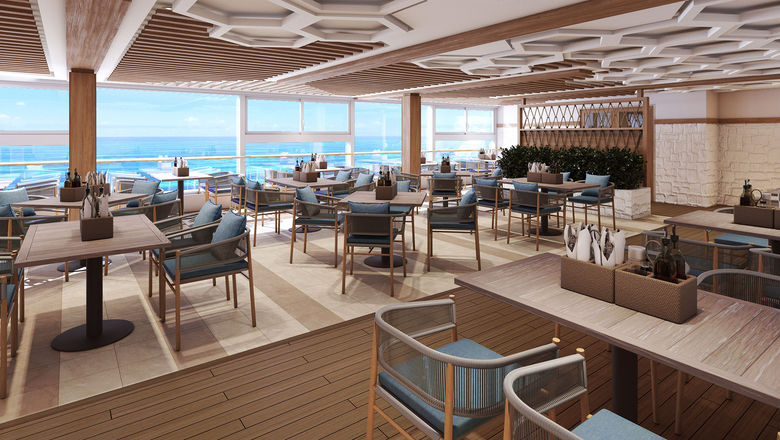 Guests staying at the Haven on Norwegian Prima will have access to Palomar, a Mediterranean seafood restaurant. Photo credit: NCL
The brand has spent four years delivering new food and beverage options, said Mark Kansley, senior vice president of hotel operations, including a "premium" dining room with 11 different offerings. In total, the ship will house 18 restaurants, including the new upscale Palomar, which will prepare fresh seafood with a Mediterranean flair and will be available only to guests of the upscale Haven "ship-in-a-suite" resort. ship".
Other stylistic changes on the new 3,215-passenger ship include a 750-seat theater that can be converted into a dance hall, nightclub or stage for a game show. Another difference on this ship is the $6 million investment in art – more than the line has ever spent on a single ship – including over 700 pieces of commissioned originals.
Some of these quirky pieces will be in the outdoor sculpture garden, which will be part of a large outdoor space known as Ocean Boulevard, also a first for the NCL brand.
There are also onboard changes in nod to the pandemic, such as touchless taps and doors.
"One of the most important parts of this is that it has to be invisible to the guest," said Andrew Brown, director of SMC Design, who helped conceptualize the public areas on the Prima, including the ship's Infinity Beach. "You don't want the guest to go on vacation and be reminded of these things. It has to be transparent. It has to be organic."
What is in a class category?
The NCL brand is changing, said John Lovell, president of Travel Leaders Group. He pointed out that the Haven concept had already tilted the range towards a premium product when it was unveiled in 2011.
"No one rests on their laurels in this industry, otherwise someone else is going to pass you by," he said. "They raise the bar."
Lovell dislikes product labels such as "contemporary" and "premium". He said, "You can find some of the most luxurious products on a contemporary brand."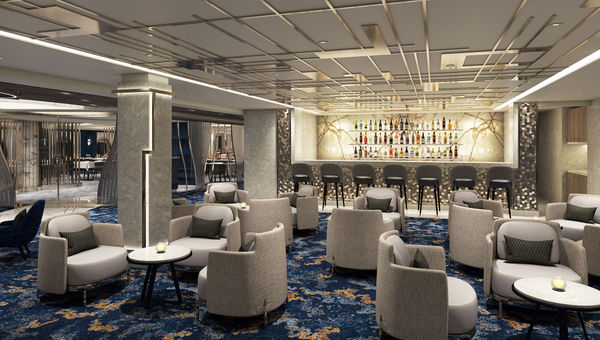 The Belvedere Bar will be a contemporary cocktail bar on Norwegian Prima. Photo credit: NCL
But Tom Baker, president of the Cruise Center in Houston, said he found the brand's "elevating" posts "peculiar" and wondered if they were "a gimmick."
"I don't know why they're trying to make this a premium product," Baker said, adding, "I love NCL, don't get me wrong."
He said it could be seen as a way to boost stock returns as NCLH, like the rest of the cruise industry, tries to recover from the pandemic.
If NCL makes a real shift to premium, he said, it only increases competition at that level. "They all jump over their backs to grab the same customer."