One Pot Spaghetti Camping Recipe: Simple 5 Minute Prep!
Looking for good and hearty camping dinner recipes you can make in one single pot?
This easy one pot spaghetti camping recipe has a ton of flavor from the spicy sausage and the fresh basil … and it only takes 5 minutes to prep!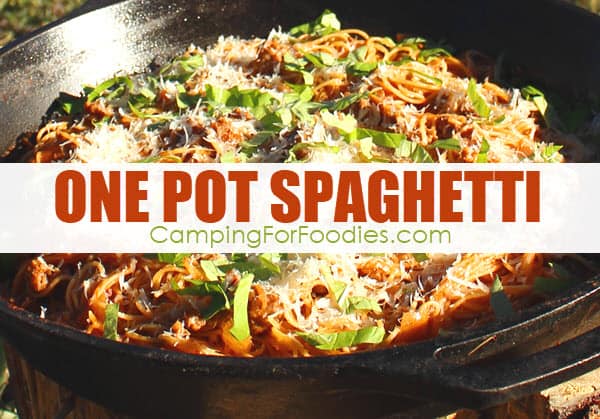 Psst we're compensated…see our disclosures.
How To Make Camping Spaghetti In One Pot
This is one of our easy camping meals that is really fast to prep AND does not sacrifice flavor in the process.
---
Step 1. Prepare the veggies and measure out all ingredients.
You only have to chop a bit of onion and garlic for this easy camping pasta recipe so the prep work is pretty quick.
Camping Flexible Cutting Mats
---
Step 2. Set up your cooking gear.
If you are making this as one of our campfire recipes, you'll need to get your fire going in order to cook over coals (not flames) … you can also use charcoal briquettes.
When you are making this as one of your winter camping recipes, it is really nice to use the heat of the campfire to warm your body as you cook your dinner!
If fire restrictions prevent you from using an open flame … or you just prefer cooking with propane, you can also make this as one of our camp stove recipes so get your stove ready for cooking on a level surface.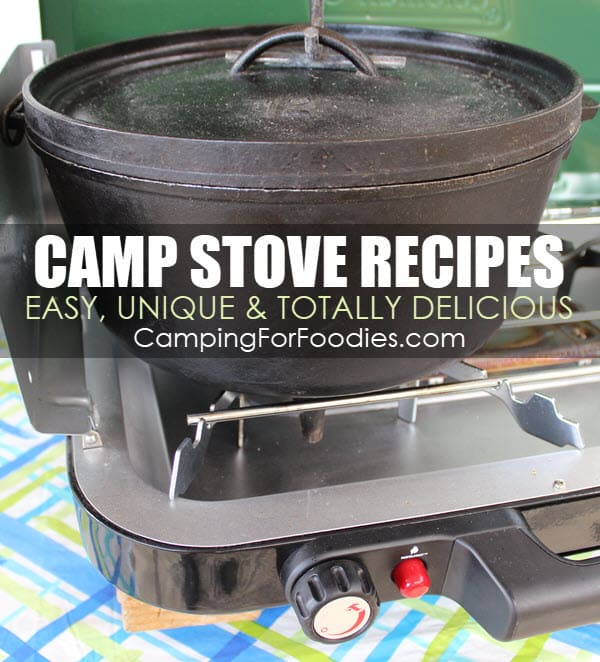 ---
Step 3. Cook the veggies and the sausage.
I like making this as one of our Dutch oven camping recipes and I use my 12-inch oven for this recipe but you can use a cast iron skillet (like I did when I took these photos) or a non-stick skillet if you are cooking over a propane stove.
Over the medium-high heat of a campfire or camp stove, saute the onion and garlic in the olive oil … stirring until they are softened.
Then, add the sausage … while it cooks, break it up so it has nice bite-sized pieces … cook it until it is just shy of being completely cooked.
Sausage is a great ingredient to add lots of flavor to a dish. I also use it in my Dutch Oven Spaghetti And Meatballs recipe which is an amazingly yummy homemade drunken meatball and sauce recipe made with a splash of red wine.
---
Step 4. Add the liquid.
Now it is time to add the liquid directly to the pot, it will consist of the spaghetti sauce and water which you will bring up to a boil.
Add the salt and pepper now too.
Camp Cooking Tip: You can avoid boiling pasta at the campsite by pre-boiling it at home and just re-heating it at the campsite or you can just boil it directly in the sauce, like we are doing with this camping one pot pasta.
---
Step 5. Add the pasta to the pot and cook.
You are going to add the dried pasta to the sauce and stir it in to submerge it into the sauce so it can boil in there.
At this point, you need to reduce the heat to a simmer and let the spaghetti cook to your liking.
We like our pasta al dente and with a thin spaghetti it usually takes about 10 minutes to cook.
Camp Cooking Tip: When you are cooking over a campfire or with charcoal briquettes, just remove
as many coals as necessary to lower the heat. If you are cooking over a propane
stove, just turn the knob down. Remember that cast iron equipment retains heat
for longer periods of time that other camp cookware materials so it won't be an
instantaneous heat reduction.
---
Step 6. Add the cheese and basil.
Using fresh basil and Parmesan cheese to top this simple pasta camping meal really makes the flavors come to life. Enjoy!
---
More Camping One Pot Pasta Recipes
We have tons of one pot camping meals that don't contain pasta but here are a few that do.
This Dutch oven beef stroganoff camping recipe is classic comfort food that is made easy for the campsite by cooking everything in one pot.
If you like tomato-based pasta dishes, you've gotta try this Dutch oven pasta stuffed manicotti! It is restaurant-quality food designed for outdoor camp cooking with minimal effort!
Pre-cooked chicken makes this one pot creamy Cajun chicken camping pasta come together really quickly! Add some cream cheese for a velvety-smooth texture … and … a bit of heat from a jalapeno pepper and a spice blend. Your dinner will be on the table in about a half hour!
This Greek tomato and feta pasta salad is one of my favorite make-ahead camping recipes that boasts a tangy flavor from the feta cheese and Kalamata olives.
If you are willing to do a little more work and use multiple pots, this pasta in garlic sun dried tomato cream sauce tastes AMAZING!
Love the idea of drunken meatballs for dinner? Try this yummy camping spaghetti and meatballs recipe.
---
Print This One Pot Spaghetti Camping Recipe
Prep Time 5 minutes
Cook Time 30 minutes
Total Time 35 minutes
Ingredients
1 tablespoon olive oil
1 large onion, chopped
2 cloves garlic, finely chopped
1 pound bulk ground hot Italian sausage
24 oz. spaghetti sauce
6 cups water
Salt and pepper, to taste
16 oz. package dried thin spaghetti
1/2 cup chopped fresh basil
1/2 cup fresh parmesan cheese, grated
Instructions
Prep your ingredients and cooking equipment.
Heat your large cast iron skillet or Dutch oven over medium-high heat of a campfire or camp stove.
Add the olive oil to the pot.
Once the oil is hot, add the onion and garlic stirring until they are softened.
Now add the Italian sausage to the pot, breaking it up and frying it until it is almost fully cooked.
Add the spaghetti sauce, water, salt and pepper to the pot, bringing the mixture to a boil.
Break the pasta in half and stir it into the sauce.
Reduce the heat to a simmer and continue cooking until the spaghetti is cooked to your desired tenderness (it will take approximately 10 minutes.)
Serve topped with fresh basil and Parmesan cheese.
Recommended Products
As an Amazon Associate and member of other affiliate programs, I earn from qualifying purchases.
Nutrition Information:
Yield:
4
Serving Size:
1
Amount Per Serving: Calories: 768Total Fat: 42gSaturated Fat: 15gTrans Fat: 0gUnsaturated Fat: 30gCholesterol: 79mgSodium: 2024mgCarbohydrates: 60gFiber: 6gSugar: 14gProtein: 35g
---
Get More Camping Food Ideas!
Get awesome recipes for every meal of your trips!