Outdoor Cooking Like A Pro!
When you are making your Dutch oven camping recipes, you might need a few tips.
Cooks who know how to use a Dutch oven while camping, really look forward to cooking on their trips!
Psst we're compensated…see our disclosures.
What Do You Use A Dutch Oven For?
Cast iron Dutch ovens are versatile pieces of cooking equipment that are important tools at home and at the campsite.
Home vs Camping Cookware
The models designed for home kitchens often have an enamel coating that offers a wide range of color options while camping ovens are usually black and have legs.
Le Creuset is a brand leader in the home cookware market. Camp Chef and Lodge are two brand leaders for campfire cooking equipment.
Lodge is the main brand that makes Dutch ovens for both indoor home and outdoor camping applications.
Lodge 7.5 Quart Enameled Cast Iron Dutch Oven
Lodge 8 Quart Deep Camp Dutch Oven
These heavy duty cooking pots are wonderful for making braised meats and throwing in a few root vegetables for a hearty one-pot meal.
There are several differences between Dutch ovens that are designed for home kitchen use and outdoor campsite use.
Material: Enameled Dutch ovens are beautiful but they are not intended for the extremely high temperatures and open flame cooking that outdoor Dutch ovens can stand. If you ever put a light-colored pot over a campfire you will soon see why black cast-iron Dutch ovens are more compatible with a harsh outdoor environment. They can handle so much heat and the soot from campfire smoke, flames and ash won't stain the rugged black cookware.
Lid Design: Home Dutch ovens have a flat lid but outdoor camping ovens have a flanged lid. You need the lip around the lid to hold hot coals on the top of a camp oven.
Bottom Design: The bottom of the Dutch oven is an important differentiating feature between indoor and outdoor Dutch ovens. At home, you may begin a recipe with your flat-bottom oven sitting on stovetops (usually to sear meat) then finish the cooking on racks that sit inside kitchen ovens (usually to finish with a braising cooking process.) When you are at the campsite, on the other hand, your Dutch oven IS THE OVEN so you are just moving the heat source to achieve the particular cooking process called for in the recipe. The support legs help you do exactly what you need to do.
So, if you're asking yourself, Can I use a regular Dutch oven for camping? The answer is, No, unless you are cooking as "gently" as you do at home.
---
Why Do Some Dutch Ovens Have Legs?
Many camp Dutch ovens have legs so you can place hot coals under the oven while avoiding direct contact between the coals and the bottom of the oven. This design prevents scorching the food inside the oven.
The legs also allow you to easily add or remove coals from the oven to adjust the heat … higher and lower as you cook.
You'll use this technique in delicious Dutch oven recipes, like my Dutch Oven Pork Chops And Rice, that call for searing meat at a high heat, then adding liquid and waiting for it to come to a boil then reducing the heat so the food can simmer to cook through.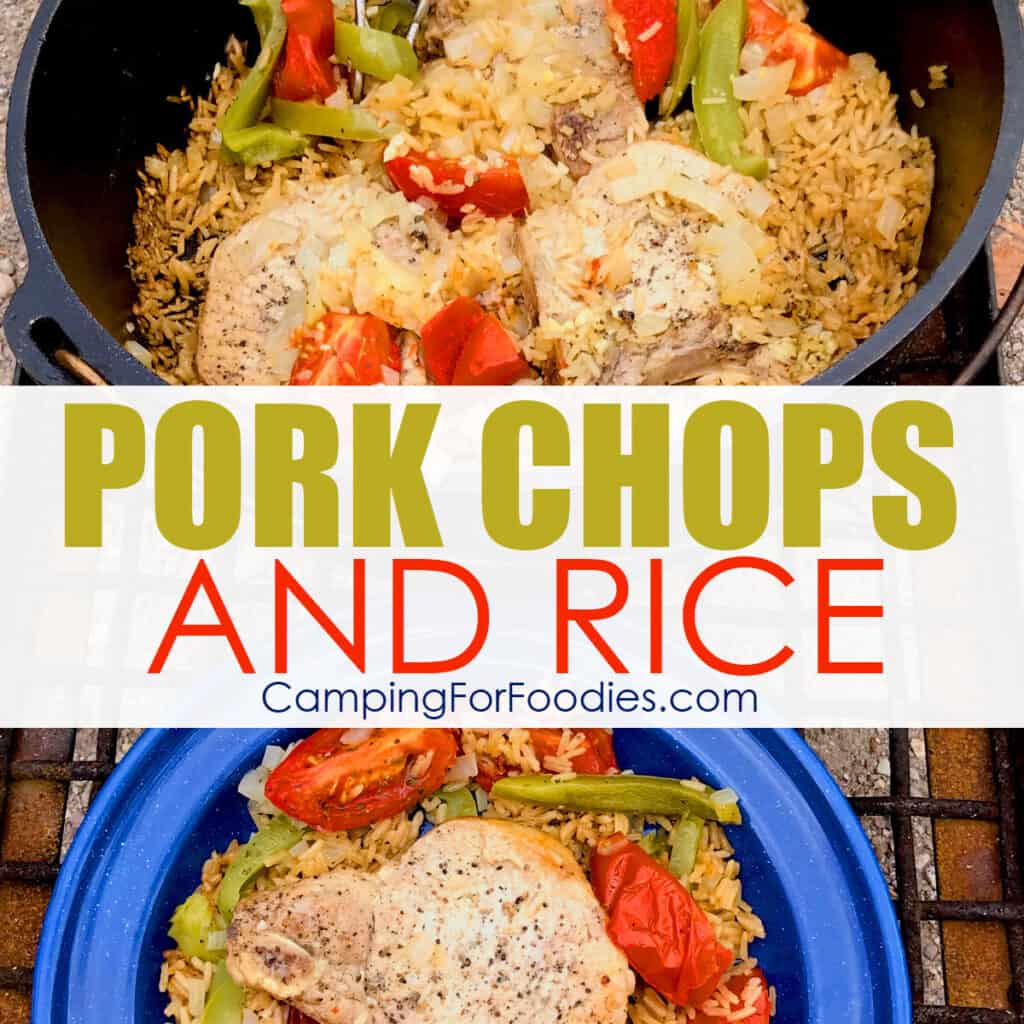 ---
Why Is Cooking In A Dutch Oven Better?
Cooks like the flexibility and ruggedness of Dutch ovens.
At home, you can go directly from your stove top to your conventional oven.
At the campsite, you can go from bottom heat to surrounded heat by just moving the heat source to change the cooking method (more on this later.)
Withstands High Heat
At the campsite, you can use your cast iron Dutch oven to cook directly over your campfire.
It is great for searing meat then slow cooking it for long cooking times resulting in fork-tender results.
Maintains Heat Longer
Cast iron is a material that stays hot for longer periods of time which is great when you are simmering and braising.
---
Can You Use A Dutch Oven On The Stove?
One of the best things about using your camp Dutch oven is
the ability to use it with multiple heat sources.
It is perfect for cooking with campfires and charcoal briquettes, but it is also great for cooking with camping propane.
It works like a conventional oven when you use a Dutch oven
dome.
It works like a regular cast iron pot on a stove when you
just have the propane flame from below.
We live in Arizona and are often camping during times of open fire and flame restrictions.
That's when we make our yummy camp stove recipes which allow us to cook with our Dutch ovens because the flame is easily regulated and controlled.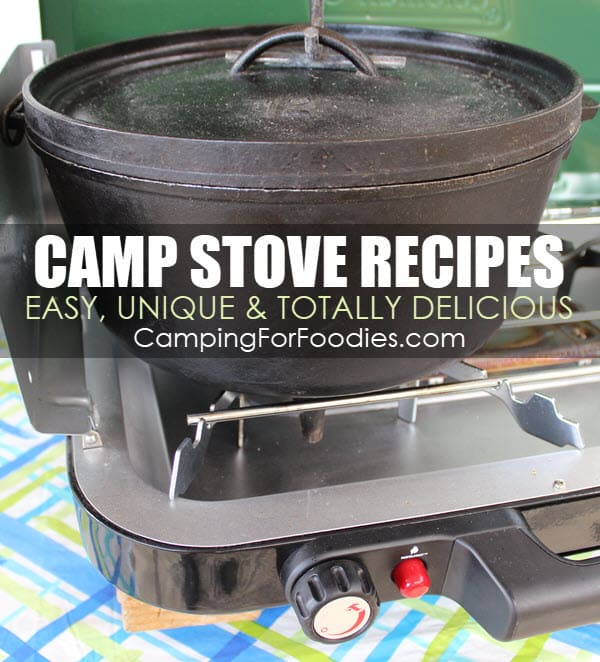 ---
How To Cook With A Dutch Oven Outdoors In Windy Conditions
One of the most challenging things about Dutch oven cooking
in outdoor settings is the weather … especially the wind.
Wind impacts your camp cooking process in two ways:
It adds oxygen making your coals burn faster and hotter … but that's not all.
It also blows heat away from your Dutch oven … robbing it of the energy needed to cook at proper temperatures.
The end result is that you will use more coals in windy conditions than you use in calm conditions.
Dutch Oven Tables
You can compensate for windy conditions by using a Dutch oven table with wind guards.
Lodge Camp Cooking Table
Dutch Oven Windscreens
Another option is to use Dutch oven windscreens that are lightweight folding screens.
Lightweight Compact Folding Camp Stove Windscreen
Other Wind Blocking Options
You can also just block the wind with some of your camping gear … we often use stacked firewood to obstruct the wind like we did when we made this Dutch Oven Dutch Baby.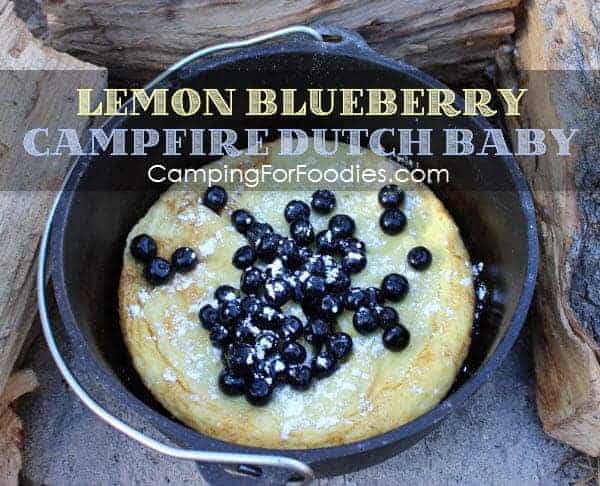 ---
Deep Dutch Oven vs Regular
For campers who are planning on baking bread or doing a lot of other baked goods like pies and cakes, you want a standard depth Dutch oven.
This design allows your baked goods to evenly cook … browning the top without burning the bottom.
Different brands have different names for these ovens including classic, standard and shallow Dutch ovens.
If you are planning on doing a lot of soups and stews, you want a deep Dutch oven.
The bigger the crowd, the larger the oven you'll need. One of the best Dutch oven recipes for feeding a large group is my Dutch Oven Goulash Camping Recipe. It is one of those delicious meals that won't break the bank because it calls for relatively inexpensive meat that is combined with macaroni and beans so it easily stretches to feed lots of hungry campers.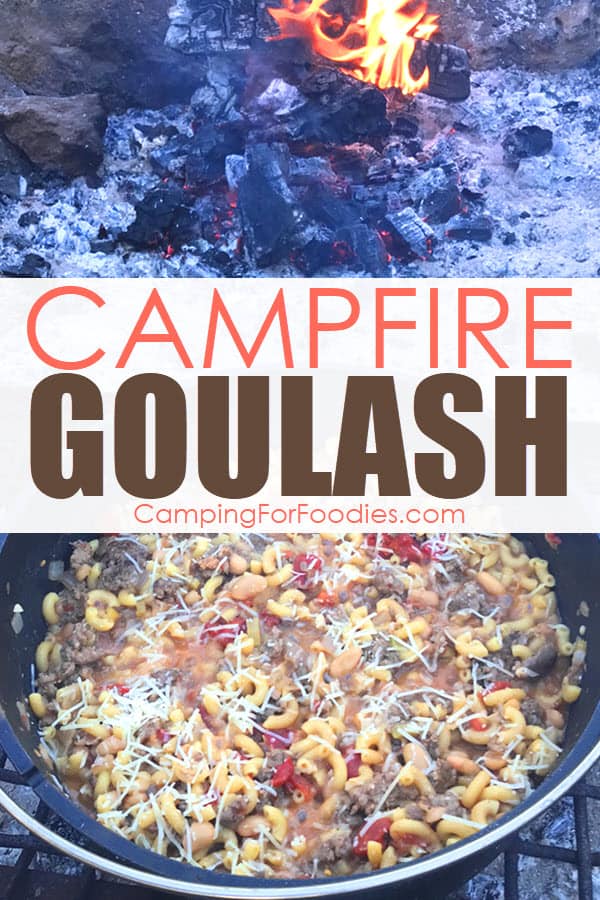 If you need a morning camping meal for a crowd, consider the hearty breakfast that is always popular … the Dutch Oven Mountain Man Breakfast.
Check out all of our easy camping meals for large groups that will fill every meal of your menu from sun-up to sun-down!
---
Different Cooking Techniques
You can use almost any type of cooking method with your oven.
The cooking method you use dictates where you place the coals and in what quantities.
Baking: Use a 3:1 ratio, placing more coals on top of the oven lid.
Roasting: Use a 1:1 ratio, evenly dividing coals below the bottom of the oven and on top of the lid.
Simmering & Stewing: 4:1 ratio, placing more coals below the oven.
Frying & Boiling: no ratio, place all coals below the oven.
If you are trying to maintain a general cooking temperature of about 350 F degrees, you can use the "ring method" which means you place coals in a circular pattern, almost touching each other, around the top and bottom of the Dutch oven. The top coals will be resting against the lid flange and the bottom coals will be placed under the bottom of the oven around the outside edge. You will need less coals at the bottom because the Dutch oven is tapered so it is wider at the top than it is at the bottom.
If you are unsure of the number of coals you need for baking at a more specific temperature, this Dutch oven temperature chart is a useful tool so you can count out the exact number of briquettes you must light to get started.
---
Examples Of Recipes That Use Various Cooking Methods
Brown And Simmer
Browning meat and simmering food with your Dutch oven is great for soups stews and chilis like we did when we made our Campfire Chili.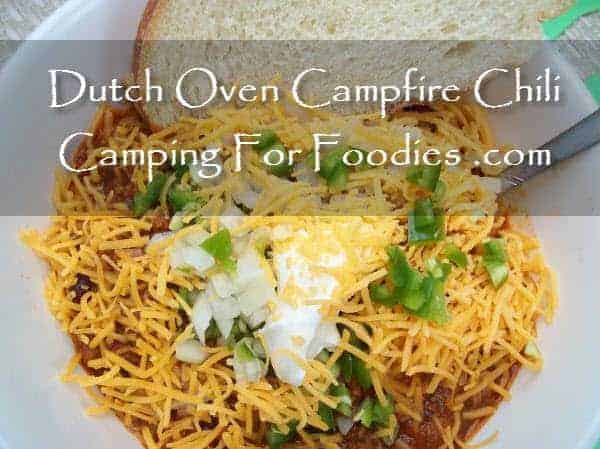 ---
Deep Fry
---
Bake
You can easily bake with coals on the top and bottom of your camp Dutch oven like we did when we made our Campfire French Toast.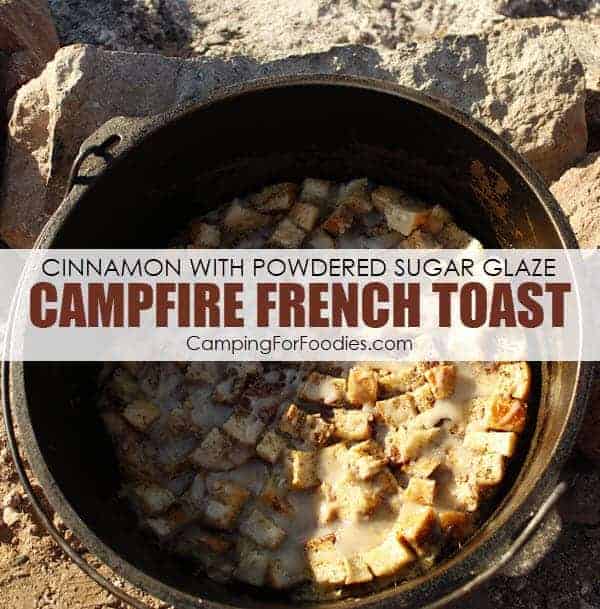 ---
Examples Of Delicious Recipes Using Different Camp Oven Gear
Here are some ideas on the types of easy Dutch oven recipes you can make with different cooking techniques and equipment.
Campfire Grill Grates
You can place a Dutch oven inside a campfire ring by setting it on a grill grate. The stability of a grate that is sitting on the ground is a benefit.
Make sure your campfire ring is large enough so you have room to place the Dutch oven over hot coals rather than flames. Then, you can steal coals from the fire by dragging them under the oven to increase heat … or … pull them away to reduce heat.
We used a grill grate when we made our Camping Nachos.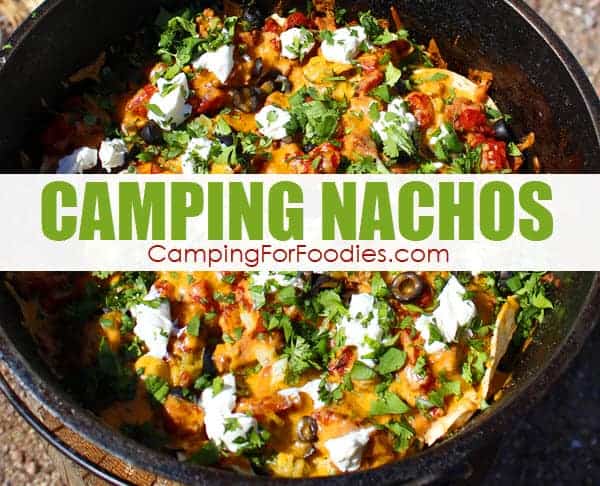 ---
Dutch Oven Tripods
You can also cook directly over your campfire using a tripod. These gadgets are nice because you can stand while you are cooking.
There are two great ways to adjust the heat when cooking with a tripod:
Move coals directly under the oven to increase heat, remove them to reduce heat.
Using the chain, lower the Dutch oven so it is closer to the coals to increase heat, raise the Dutch oven so it is further from the coals to reduce heat.
The drawback to using tripods is that they sway when you stir them and can be tough to manage in windy conditions.
We used a tripod to cook our Campfire Stew.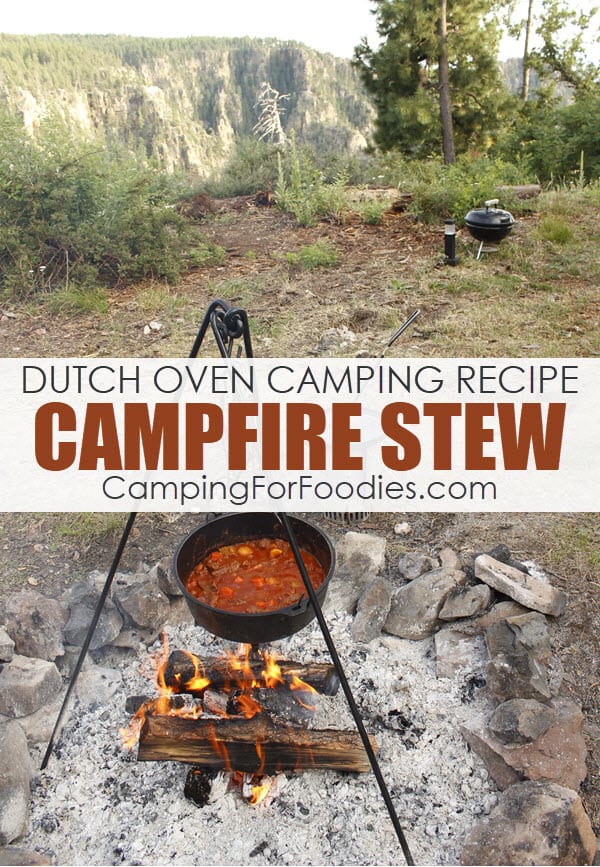 ---
Heat-Resistant Ground Barriers
If you want to place your Dutch oven directly on the ground and cook with charcoal briquettes or campfire coals, you'll need some sort of barrier so the earth does not rob most of the heat away from your oven.
We like using an old cookie sheet or cast iron griddle like we did when made our Camping Dutch Oven BBQ Ribs.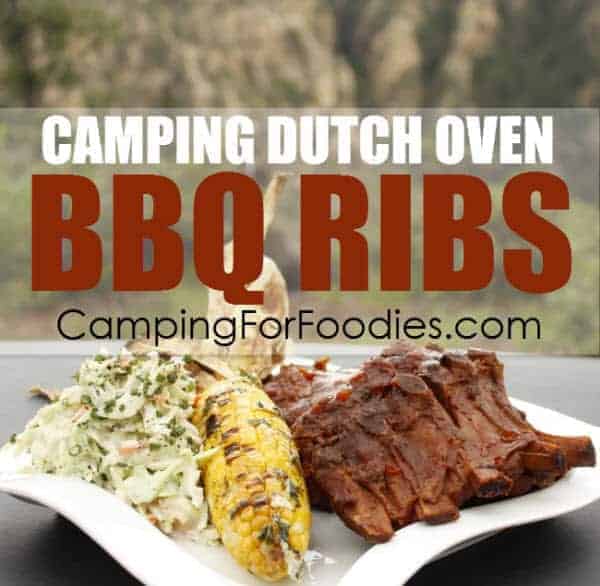 ---
Baking With Parchment Paper Liners
When you bake a cake at home, you usually take it out of the oven and transfer it to a cooling rack. You want it to stop baking and start cooling as soon as it is done because you don't want it to dry out.
This is even more important when you are using a cast iron Dutch oven at the campsite because it will retain heat for a REALLY LONG TIME!
The campsite solution for cooling baked goods: line your Dutch oven with a parchment paper liner so you can lift the baked goodie out of the oven and place it in an open area for cooling. That's what we did when we made our Camping Smores Dutch Oven Brownies.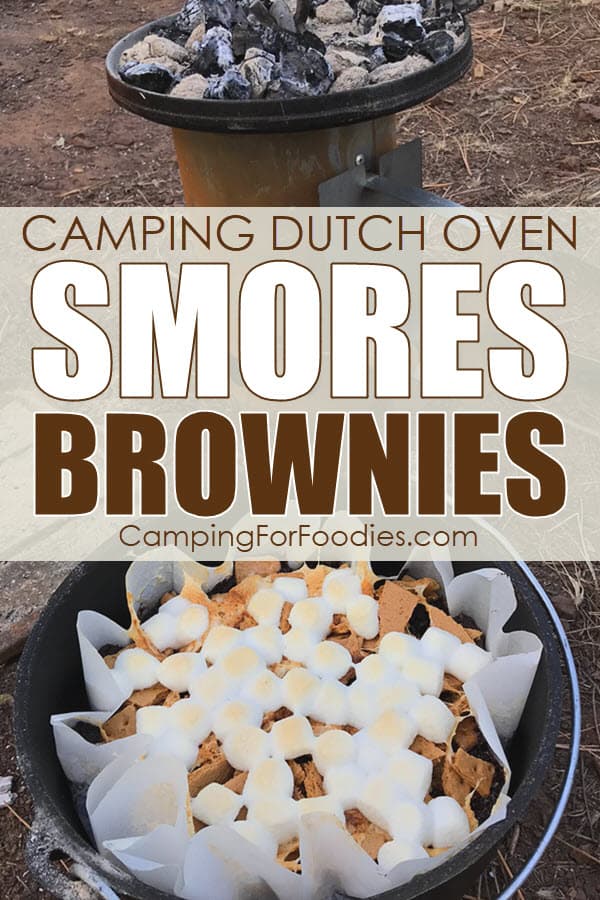 If you don't want to deal with that, just make something like my Dutch Oven Blueberry Cobbler or upper-crust apple pie that you can remove from the heat and just scoop out the warm dessert.
---
Stack Cooking With Dutch Ovens
When you are preparing camping food making multiple Dutch oven recipes at the same time, you can stack them for cooking and baking.
This allows you to use less coals and minimizes the amount
of ground required too.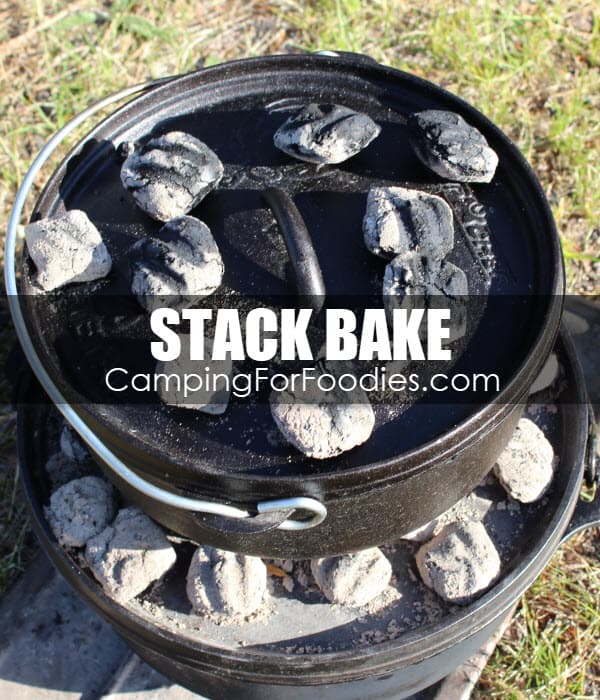 This is how we made our Dutch Oven Breakfast Pizza which is baked in a 12-inch standard depth Dutch oven.
When you stack cook, you'll want to prep all of your ingredients in advance so everything is ready to cook at the same time. It is easiest if the two recipes call for similar cooking temperatures.
Then, you'll prepare your coals and place the larger Dutch oven on the bottom (if they are different sizes), then place the smaller oven on top of the lid of the first oven. That's what we did when we made our Camp Dutch Oven Coffee Cake when we served it with the pizza.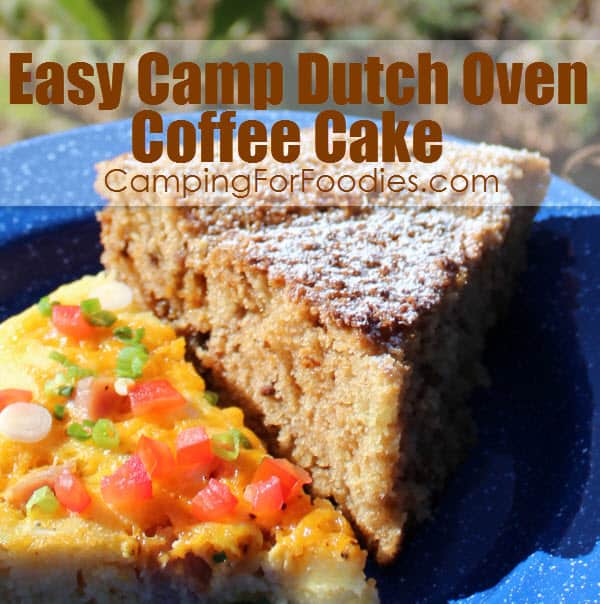 ---
Different Heat Sources For Dutch Oven Camp Cooking
The fact that Dutch ovens can be used for any type of cooking method with any type of fuel makes them multifaceted. That is an important benefit when you are trying to plan a simple camping trip and pack minimal gear.
Propane: Place your oven on a camp stove or RV stovetop if you want to cook with propane. This is really handy if you are dealing with fire restrictions during hot and dry weather. Try these camp stove recipes rather than cooking with coals.
Campfire: It is really difficult to get enough heat from campfires made with soft wood unless you have a really large fire that has been burning a long time. It is better to produce coals from hardwoods like oak and mesquite.
Charcoal Briquettes: The easiest way to make Dutch oven baked goods is by using charcoal briquettes because of their uniformity. They are consistent in the way they burn and they are really easy to light … especially if you use a charcoal chimney starter.
Weber Rapidfire Chimney Starter
You'll want to place a barrier between the ground and the coals so the earth does not soak up most of the heat from the briquettes. We like using an old cookie sheet or a cast iron griddle to prevent the loss of heat into the ground.
Lodge Pre-Seasoned Cast Iron Reversible Grill-Griddle
---
Dutch Oven Cooking Utensils
You'll find some really fun gear to add to your camping
kitchen collection.
---
Cast Iron Cookware Care
Take care of your equipment and it will last a really long time … generations, actually.
Just remember, for the best results … NEVER use soap to clean your cast iron cookware. The good news is that a bit of warm water and the wipe of a paper towel is usually sufficient to clean cast iron after normal uses.
The only way you should ever clean up your cast iron gear with more stubborn, stuck-on food is by using hot water and a scrub brush. There are 4 simple steps for good cast iron maintenance:
Water-Wash
Dry
Season
Store
See our entire post for more details and tips on cleaning and seasoning cast iron Dutch oven cookware.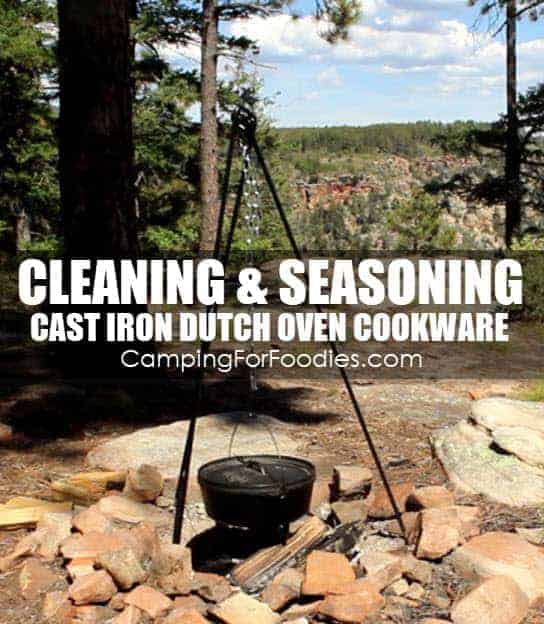 ---
Tips From The Pros On How To Cook With A Camp Dutch Oven
One of the best ways to avoid hot spots when cooking with camping ovens is to turn the lid and bottom pot in opposite directions every 10 – 15 minutes throughout the cooking time. The traditional way of turning camp ovens is by using a Dutch oven lid lifter but you can also use my husband's favorite things … extreme heat-resistant welding gloves.
Did you know you should use a whisk broom to remove ashes from the lid of your Dutch oven as the coals burn down? Get more Dutch oven cooking tips to help you move from beginner to pro!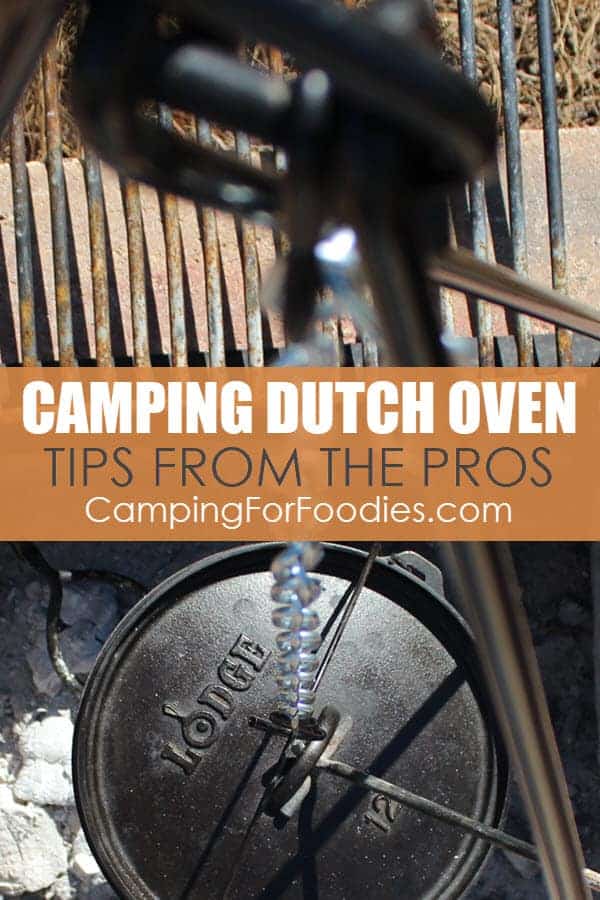 ---
Find Your Perfect Dutch Oven: A Shopping Guide
Thinking you need a new Dutch oven? Don't buy one until you learn how to determine the best Dutch oven for camping that will fit YOUR needs.
A good place to start is to think about your style of camping. Are you a tent camper, backpacker or do you enjoy RV camping?
It is a good idea to think about the different material and models available so you are not disappointed after the first time you use your new gear.
For example, if weight is an issue, an aluminum Dutch oven might be a better option than a cast iron oven for you.
And don't forget, the first thing you have to do is season new cast iron cookware before its first use. If you decide you want a cast iron Dutch oven but you don't want to have to go through the seasoning process yourself, you need to purchase a model that is pre-seasoned by the manufacturer.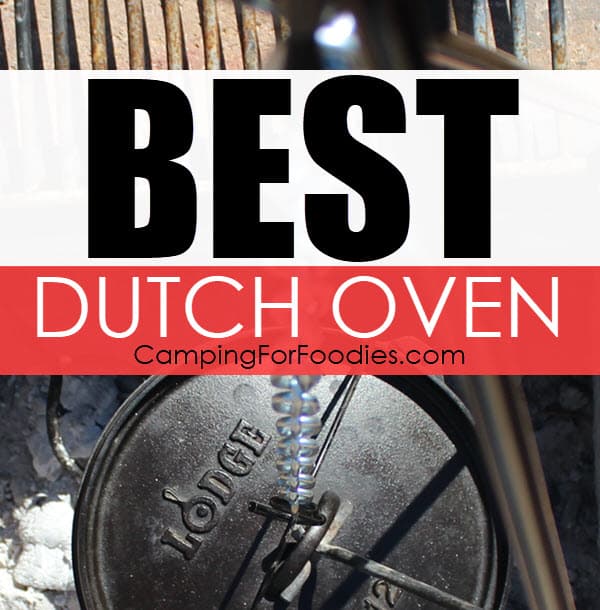 ---
Meal Ideas For Outdoor Cooking
On your next camping trip, there is no good reason to throw some hot dogs in a frying pan over a fire pit and call it dinner! Expand your mind when you think about your camp kitchen and don't be afraid to get creative with good food.