Quick Strawberry Basil Bruschetta Camping Recipe
This is one of our really fast and fabulous vegetarian camping recipes!
Don't let the strawberries fool you … this Strawberry Basil Bruschetta Camping Recipe is only slightly sweet and the goat cheese makes it a little tangy.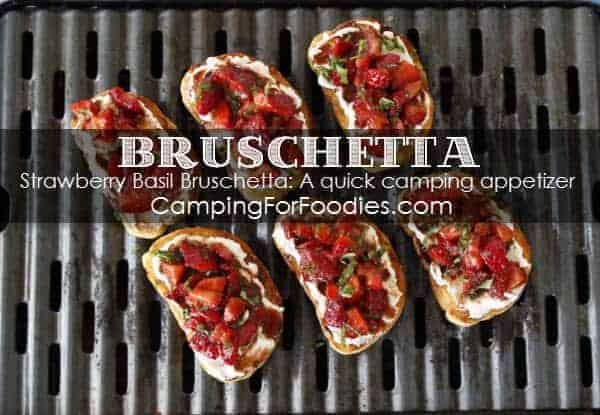 Psst we're compensated…see our disclosures.
Quick Strawberry Basil Bruschetta Camping Recipe
Chop a few ingredients, grill a few slices of bread and layer it all to make a camping appetizer fit for a 5-star restaurant.
Your foodie friends will love this slightly sweet and savory quick appetizer! 
---
Camp Cooking Tip: I use many different methods to toast bread on camping trips.
If I have a campfire going, I will toast the bread over the fire using a grill grate.
It is also easy to toast bread using a camp stove toaster and your propane camp stove.
When I took the pictures for this blog post, we were camping with fire restrictions so I used a propane grill to toast the bread.
---
Step 1. Set Up Your Cooking Environment
This Strawberry Basil Bruschetta is almost a "raw" no-cook recipe except for toasting the bread.
---
Gear Options For Toasting The Bread
Weber Go-Anywhere Gas Grill
When I made this recipe and took photos for this post, I toasted the bread using this Weber Go-Anywhere Gas Grill which uses 1-pound propane bottles (the same kind you use with your camp stove.)
This grill produces 6500 BTU-per-hour and has a 160 square-inch total cooking area.
&
---
Coleman Classic Propane Stove
We have several different propane camp stoves including the old classic!
Just like the propane grill, this Coleman Classic Propane Stove uses 1-pound propane bottles that we refill rather than buying new bottles each time we empty one.
This stove is great in breezy conditions because of its shield design that blocks wind.
&
---
Stansport Folding Camp Stove Toaster
When we are toasting bread with our propane camp stove, we use a toaster to hold the bread near the flame.
This Stansport Folding Camp Stove Toaster is made of rust resistant steel and folds for easy storage.
&
---
Texsport Heavy Duty Over Fire Camp Grill
We use a grill grate when toasting bread over the coals of a campfire.
This Texsport Heavy Duty Over Fire Camp Grill is made with heavy-duty folding steel and is designed to handle heavy cast iron cookware.
The legs fold for easy transportation and storage.
&
---
Step 2. Macerate The Berries
Combine the balsamic vinegar, olive oil, sugar, salt, pepper, strawberries and basil in a non-reactive bowl and set aside to macerate the strawberries.
---
Step 3. Get Goat Cheese To Room Temperature
You'll need the goat cheese warm enough to be at a spreadable consistency so get it out of your camp cooler or RV refrigerator.
---
Step 4. Toast The Bread
Now you'll drizzle a bit of olive oil on both sides of the bread … then toast it with whichever method you choose.
---
Step 5. Top The Bread
Spread equal amounts of goat cheese on the bread then spoon the strawberry mixture on top.
---
Step 6. Garnish And Serve
Finish off the bruschetta with a bit more basil before serving. 
Enjoy!
---
More Strawberry Basil Combinations
If you like the combination of fresh strawberries and basil, try Kona Grill's Secret Strawberry Basil Lemonade Recipe! 
It is totally yummy!
---
Print This Strawberry Basil Bruschetta Camping Recipe
Prep Time 10 minutes
Cook Time 6 minutes
Total Time 16 minutes
Ingredients
1/4 cup balsamic vinegar
About 1/4 cup olive oil, divided
1 teaspoon sugar
1/4 teaspoon salt
1/8 teaspoon black pepper
1 cup cubed strawberries
6 large fresh basil leaves, sliced and divided
1/2 cup goat cheese
6 slices Italian bread (about 1/2 – 3/4 inch thick)
Instructions
In a non-reactive bowl, toss the balsamic vinegar, 1 tablespoon olive oil, sugar, salt, pepper, strawberries and 4 sliced basil leaves. Set aside to macerate the berries.
Bring the goat cheese to room temperature.
Slice the bread and drizzle both sides with olive oil.
On a preheated grill, campfire or propane stove, toast the bread until browned, about 3 minutes per side.
Spread the goat cheese on toasted bread then spoon berry mixture over cheese.
Garnish with remaining basil leave slices and serve.
Recommended Products
As an Amazon Associate and member of other affiliate programs, I earn from qualifying purchases.
Nutrition Information:
Yield:
6
Serving Size:
1
Amount Per Serving: Calories: 205Total Fat: 14gSaturated Fat: 4gTrans Fat: 0gUnsaturated Fat: 9gCholesterol: 9mgSodium: 288mgCarbohydrates: 15gFiber: 1gSugar: 4gProtein: 6g
---
If you want more unique and simple camping food options for your next trip, try some of these!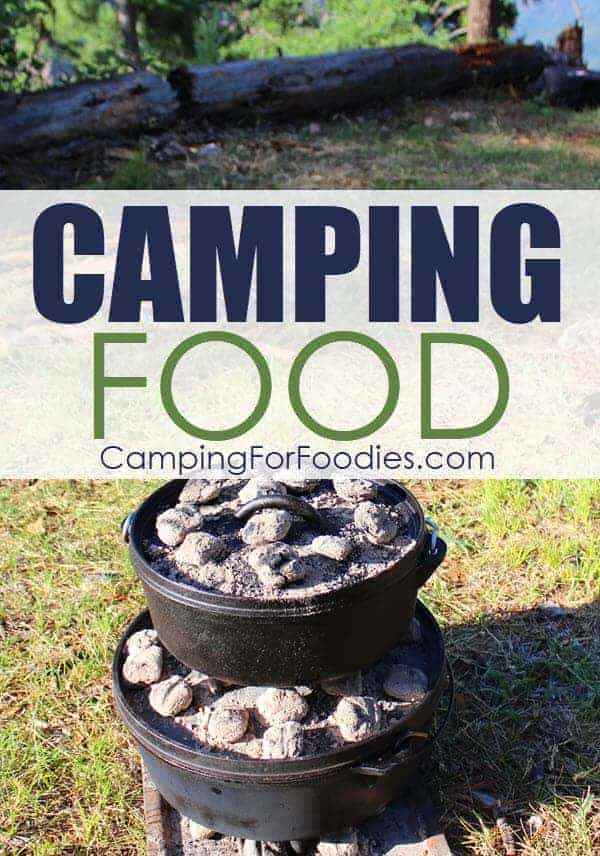 ---
---
---
If you need camping recipes and menu ideas, you can find them here at the Camping For Foodies Camping Recipes list.
&
Don't miss a thing…sign up for Camping For Foodies email updates!
&
Your purchase of our products will help support World Vision ® Building a better world for children.