Simple And Fun Halloween Camping Activities!
There are tons of ways to enjoy your Halloween camping trips!
Plan some frighteningly friendly fun with these awesome Halloween camping activities the kids and adults will enjoy.
Psst we're compensated…see our disclosures.
Halloween Camping Games
Add a Halloween holiday twist to ordinary games. Here are a few ideas…
Eyeball Egg Toss
Create an eerie feel to an egg toss game by using black electrical tape or magic markers to draw an eyeball on the egg.
You can use raw eggs to add an extra-gross feel to the competition when an egg is dropped … or just use hard-boiled eggs to keep clean-up to a minimum.
Each team of two people toss their egg back and forth, when a team drops their egg … they are out of the game.
---
Glow Stick Pumpkin Bowling
Make 10 glowing bowling ball pins from bottled drinking water by activating the glow stick and dropping it into the bottle … then replacing the screw-on lid.
Now, use a mini-pumpkin as the bowling ball and play a game fit for the Halloween holiday!
Glow Stick Set With Connectors
---
Wicked Witch Ring Toss
Place a Halloween costume witch hat on the ground and use glow stick necklaces as rings to toss around the hat.
The camper with the most rings around the hat is the winner.
Satin-Soft Black Witch Hat Party Accessory
---
Hot Pumpkin Toss
Just like a game of Hot Potato, toss a mini pumpkin around a circle while playing music, when the music stops, the player holding the pumpkin is out of the game.
---
Candy Bar Bingo
Play a game of bingo but replace the board chip markers with mini bite-sized Halloween candy.
Fun Size Halloween Candy Assortment
---
Spooky Treasure Hunts
Hide little Halloween themed items (like cheap Halloween rings, mini candy bars etc) around the campsite and draw a haunted treasure map for the hidden items.
The camper who finds the most treasures wins.
Glow in The Dark Halloween LED Flash Rings
---
Host A Halloween Party With Fellow Campers
Host a party with your camping friends by incorporating these ideas…
Invite Halloween campers to dress up in their favorite costumes.
---
Plan a trick or treat event for the kids and pets.
Make sure you have pet-safe treats like dog bones … it's an extra bonus if they are Halloween-themed!
Halloween Bone Bons Organic Dog Treats
---
Have a costume contest where everyone gets to vote for their favorite costume ideas in categories like …
most unique camping-themed outfit etc.
---
Hold a Halloween ball with a glow dance party and play fun Halloween music like Monster Mash (Bobby "Boris" Pickett and the Crypt-Kickers), Thriller (Michael Jackson), Ghostbusters (Ray Parker Jr.) etc.
---
Hang Halloween camper lights around your campsite to add a creepy or cute and spooky feel to your event.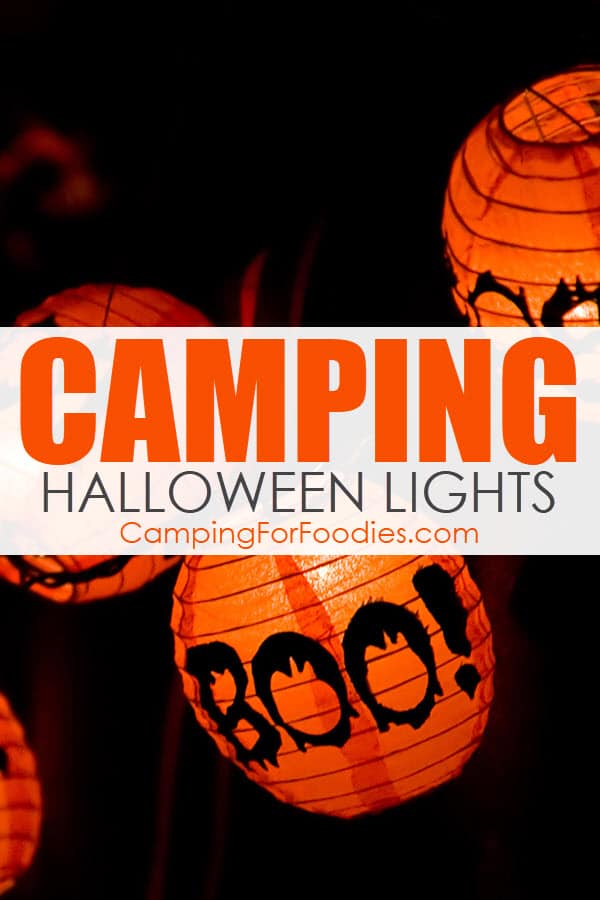 ---
Display camping Halloween decorations around the party area and serving tables … as well as your tents and RVs!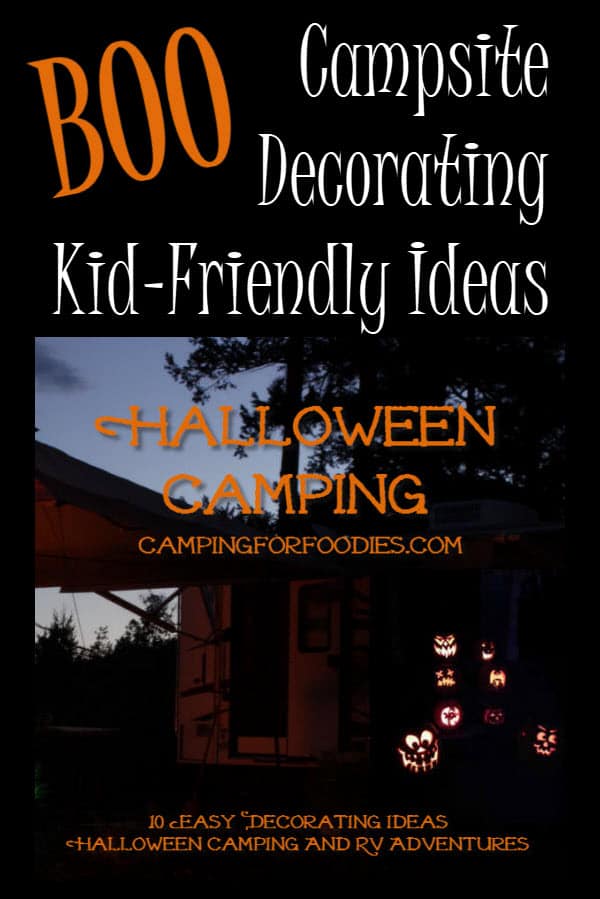 ---
Serve some yummy treats with these fun Halloween camping food ideas.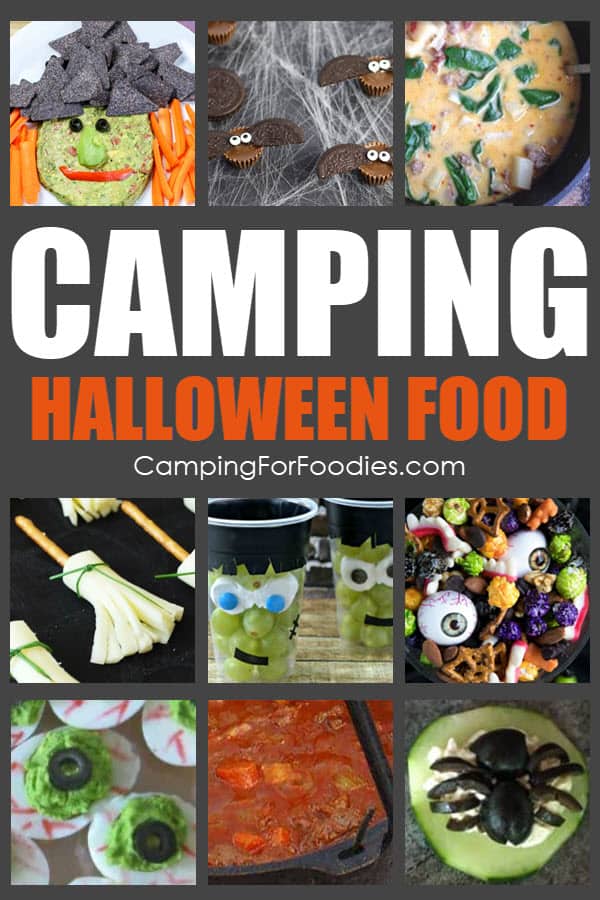 ---
Festivities In The Halloween Spirit
It just wouldn't be Halloween without a few spooky stories and costumes!
Here are some ideas to make it easy at the campsite…
---
You can tell scary stories if you like the chilling aspect of the holiday.
Scary Stories to Tell in the Dark: Three Books to Chill Your Bones: All 3 Scary Stories Books with the Original Art!
---
If you need to stay away from the frightening stories, go for a little-kid friendly option instead and everybody can sleep better at night. LOL
It's Pumpkin Day, Mouse!
---
Show scary movies after dark if you have a way to play them.
Halloween is a classic.
Halloween
---
Or, something a bit more kid-friendly like It's the Great Pumpkin, Charlie Brown.
It's the Great Pumpkin, Charlie Brown (Remastered Deluxe Edition)
---
Simple Costumes
If you want to dress up but don't want to wear full-blown outfits, here are some easy options.
Face painting is fun for kids of all ages and if you use a kit with stencils, you don't have to be an artist!
Face Paint Kit For Kids With Stencils
---
Using temporary Halloween tattoos and glow in the dark stickers are quick and easy alternatives to wearing complete Halloween costumes.
BOO Bunch Tattoos 6 Designs Including: Witch, Green Monster, Vampire, Mummy, Werewolf And Jack-o'-lantern
Want a variety in one convenient package?
This Halloween Craft Kit contains stickers, stampers, party favors and temporary tattoos … it's like camping Halloween costumes + Halloween camping activities + Halloween camping decorating ideas … all rolled-up in one neat little box!
Halloween Craft Assortment Kit Including Halloween Temporary Tattoos Halloween Stickers, Halloween Stampers Foam Stickers
---
Halloween Arts And Crafts
Do some Halloween crafts like pumpkin painting and carving … and you'll get cute decorations out of the project to display during your trip.
Who doesn't love carving a pumpkin for Halloween?
This is one of the most fun Halloween camping ideas because kids and adults can get creative with fun or spooky designs.
One of my totally non-artistic friends carved a pumpkin with a lot of detail in the design and I was amazed at how easy it was when she told me she "cheated" by using pumpkin carving kit stencils!
The Ultimate Pumpkin Carving Kit With 10 Pop-Out Stencils
The pumpkins are so cute … WOW!!!
These are easy and fun Halloween camping crafts that will also decorate your campsite for the rest of your trip!
A quick caution about carving pumpkins at the campsite … carving tools are sharp and pumpkins can be awkward to handle so take extra precautions … especially when small kids are carving your jack o lantern!
Practice good camping safety tips to make sure everyone has a fun-filled camping adventure!
If you don't feel comfortable with sharp objects, just paint the pumpkins.
Pumpkin Paint Kit, Acrylic Paints Halloween Decorations
---
More Halloween Camping Craft Ideas
Photo Credit: sustainmycrafthabit.com
Pick up a few rocks around your campsite and paint them with funny zombie faces then set them out as decorations during your trip.
Photo Credit: katherinerosman.com
Turn lollipops and coffee filters into cute ghosts with this edible craft project.
Photo Credit: www.simpleeverydaymom.com
Create adorable zombies that you can hang around camp as decorations after the kids finish this easy craft.
Photo Credit: easyfeltcrafts.com
Enhance your pencils with these lovable bats made out of felt and a few simple hand-sewn stitches.
Photo Credit: jinxykids.com
Don't throw out the egg carton after breakfast … Make these fun ghosts and then use them to embellish your camp decor.
Photo Credit: dollarstoreliving.com
See how easy it is to make these Dollar Tree DIY pretty pumpkins on your Halloween camping trip then use them to adorn your tables.
---
More Tips For Halloween Camping
Experiencing the great outdoors in autumn is unique and exhilarating. Get tips on fall camping so you are fully prepared for your Halloween adventure.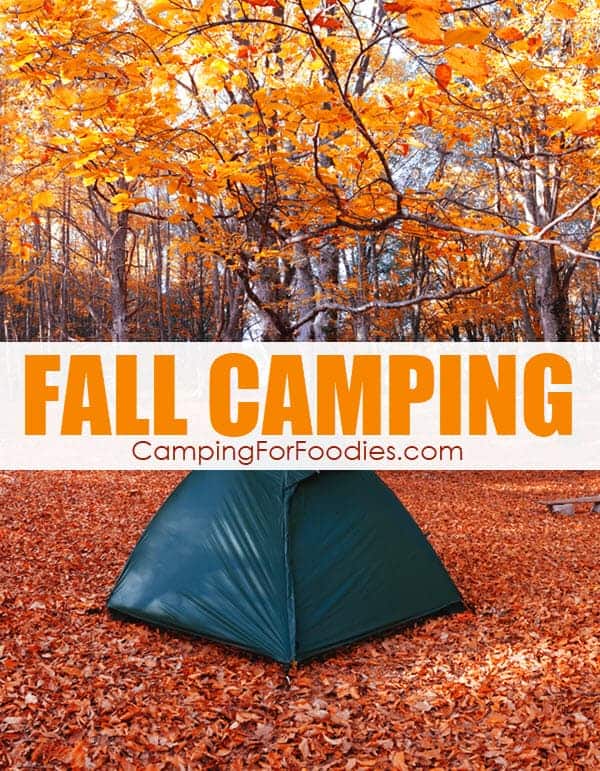 ---
---
Our Cool Camping Products Make Great Gifts!
---