Simple Bacon And Cheese Quiche Camp Dutch Oven Recipe
This is one of my favorite camping breakfast ideas!
When you want a hearty, warm, savory breakfast that is easy and ready for the whole crew to eat at the same time… try this Bacon And Cheese Quiche Camp Dutch Oven Recipe.
Using a prepared pie crust helps to make this "camp cooking friendly" (although there is nothing wrong with rolling dough while camp cooking!)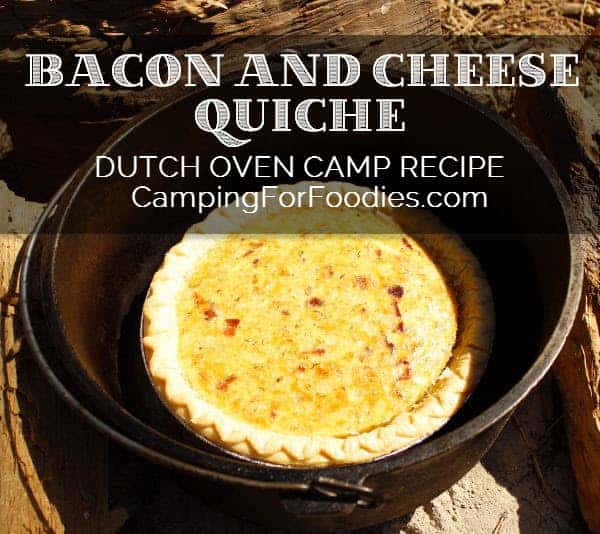 Psst we're compensated…see our disclosures.
Bacon and Cheese Quiche Camp Dutch Oven Recipe
---
Coleman Camp Oven
Camp Cooking Tip: This Bacon And Cheese Quiche Camp Dutch Oven Recipe is easy enough to make in a camp Dutch oven, RV oven, solar oven or camp oven.
This little Coleman Camp Oven warms up over a camp stove and then folds flat reducing the amount of space required for storage and transportation.
Whichever oven you decide to use, make sure you level the stove before you begin cooking.
That usually means starting on level ground, setting up a table then the stove and oven.
If you need to level with shims, flat rocks found on the ground at the campsite usually work pretty well.
&
---
---
If you are using a camp Dutch oven and need a little help knowing how many coals you need to maintain a certain temperature for the size of oven you are using, check out our Dutch Oven Temperature Chart for more information and helpful cooking tips!
&
---
This quiche is a hearty breakfast to start your camping day on a savory note.
Add a touch of sweetness with some fresh fruit on the side and don't forget the cup of camp coffee!
If you are making camping meals for two, enjoy it hot for breakfast … refrigerate the leftovers and serve it cold the next day as one of our easy camping lunches with a refreshing salad.
---
Like the idea of bacon and cheese but don't want to deal with the crust?
Try this Dutch oven bacon scramble!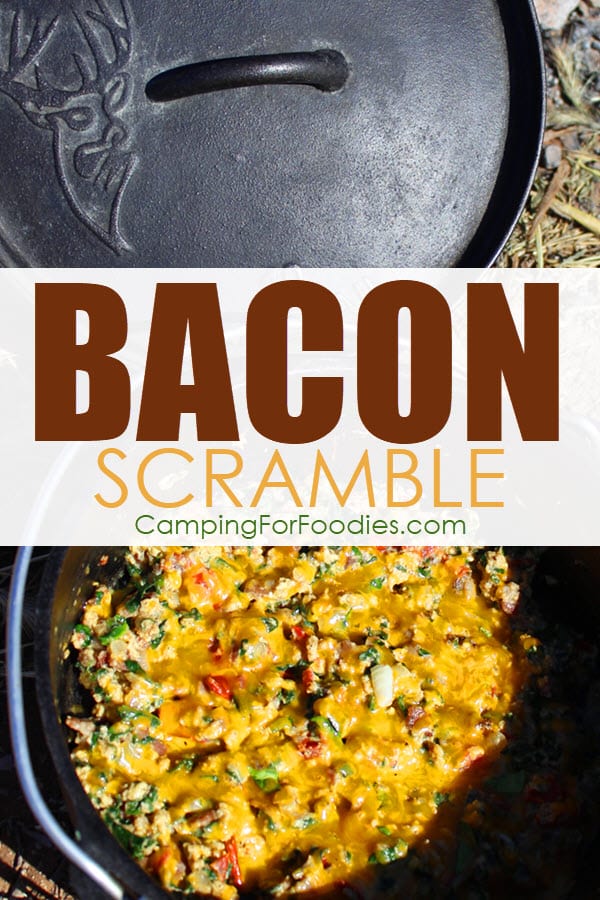 ---
Print this Bacon And Cheese Quiche Camp Dutch Oven Recipe
Prep Time 20 minutes
Cook Time 45 minutes
Total Time 1 hour 5 minutes
Ingredients
8 slices bacon
1 small onion, chopped
4 eggs
2 tablespoons milk
2 tablespoons all-purpose flour
1 teaspoon dried parsley
1/4 teaspoon dried thyme
Salt and pepper to taste
1 (9 inch) unbaked pie crust (I get the ones in the freezer section and use it according to the instructions on the package but if you are more ambitious, you can make your crust from scratch 😉)
1/4 cup shredded mozzarella cheese
1/2 cup shredded cheddar cheese
Instructions
Preheat oven to 350 degrees (for 12-Inch camp Dutch oven, use 25 charcoal briquettes placing 17 on top and 8 on bottom). See our Dutch Oven Temperature Chart https://www.campingforfoodies.com/dutch-oven-temperature-chart/ for more information.
Fry bacon in skillet, remove to drain and cool then crumble.
Reserve 1 tablespoon of grease in skillet and sauté onion until soft.
In a large bowl, use fork to beat together eggs, milk, flour, parsley, thyme, salt and pepper.
Then add crumbled bacon, onion, mozzarella and cheddar cheese; mix well.
Pour mixture into pie crust.
Bake for 45 minutes, or until lightly brown on top and firm in the middle. Turn the bottom and lid of the camp Dutch oven 1/4 turn in opposite directions every 10 minutes to ensure even cooking.
Let cool slightly before slicing. Serve warm.
Recommended Products
As an Amazon Associate and member of other affiliate programs, I earn from qualifying purchases.
Nutrition Information:
Yield:
4
Serving Size:
1
Amount Per Serving: Calories: 533Total Fat: 33gSaturated Fat: 13gTrans Fat: 0gUnsaturated Fat: 17gCholesterol: 227mgSodium: 900mgCarbohydrates: 36gFiber: 1gSugar: 1gProtein: 21g
---
This Bacon and Cheese Quiche Dutch Oven Camp Recipe pairs well with a side my Fresh Summer Fruit Tossed In Honey Mint Syrup!
&
---
Dutch Oven Quiche Camp Cooking Tips
---
Surpahs Superior Nested Mixing Bowl Set of 4 Bowls w/ Color Matached Complementary Lids
Because space and weight is almost always an issue when camping, I like to use kitchen equipment that does double-duty.
For example bowls that "nest" and also have lids are great for mixing as well as carrying ingredients to your campsite and bringing home any leftovers from your meals.
Although, I'm pretty sure you won't have any leftovers with this Bacon and Cheese Quiche Camp Recipe!
&
---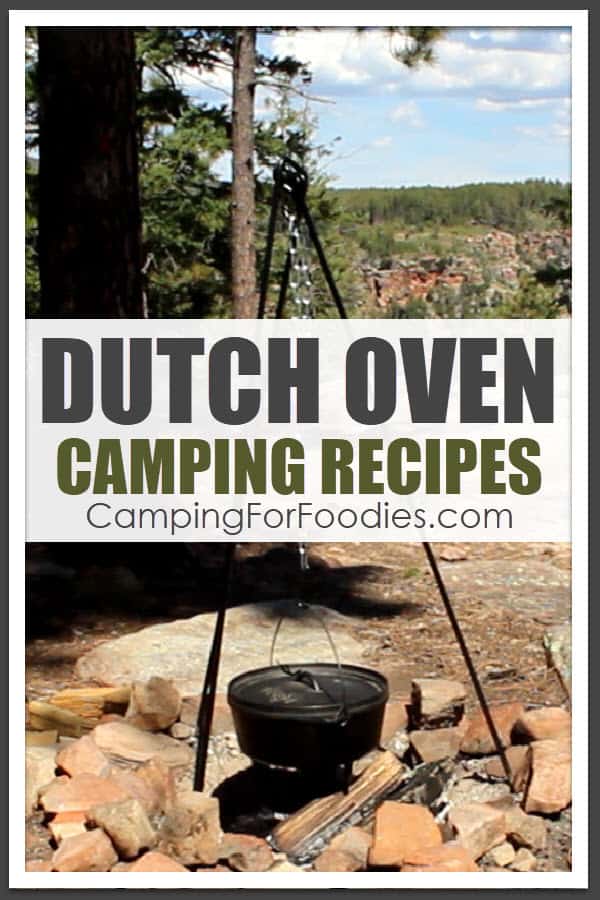 See all of our yummy breakfast, appetizer, dinner, side and dessert camp Dutch oven recipes your family will love! Check out our Dutch Oven Recipes For Camping post!
---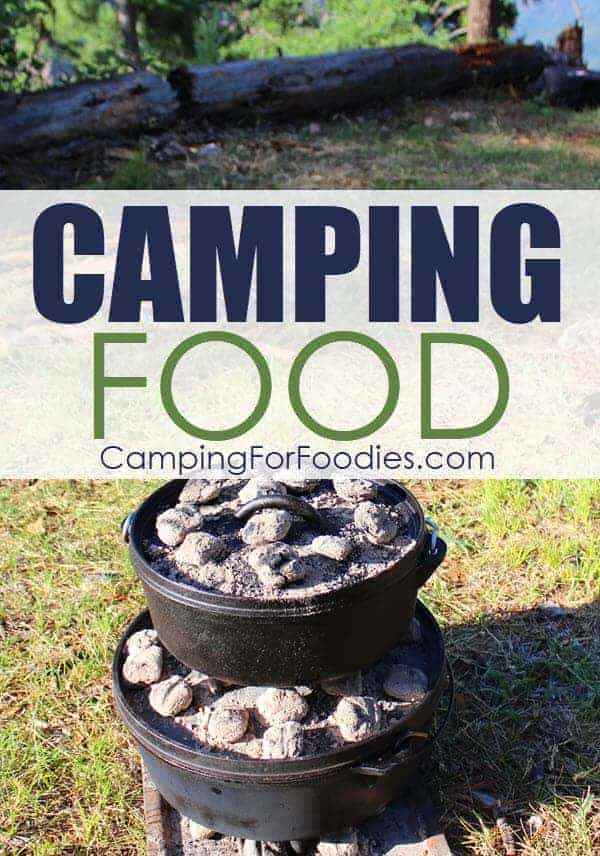 If you like to try different flavors and methods of cooking your camping food, we have tons of ideas for you!
&
---
No time to look for recipes, create a menu and write a grocery list? No Problem! Get our 3-Day Dutch Oven Camp Menu Plan here!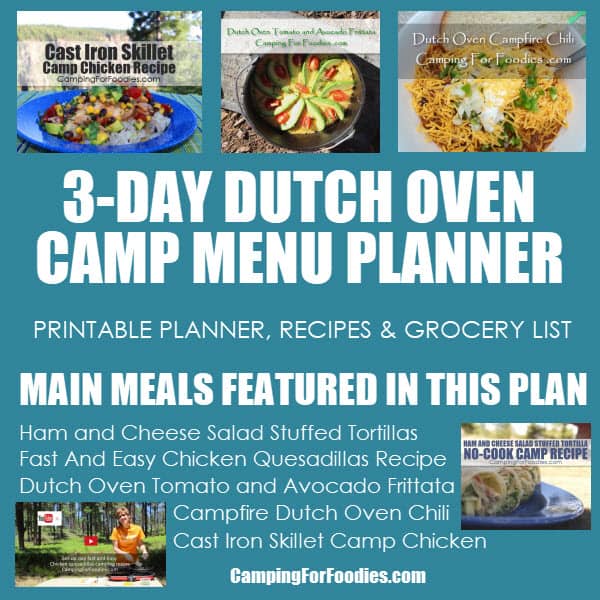 ---
Our Cool Camping Products Make Great Gifts!
Cutting Mat
Mat Set
Shaker Set
Hammock
&
---
If you need camping recipes and menu ideas, you can find them here at the Camping For Foodies Camping Recipes list.
Don't miss a thing…sign up for Camping For Foodies email updates!
Your purchase of our products will help support World Vision ® Building a better world for children.