Thanksgiving Dutch Oven Classic Sage Sausage Dressing Camp Recipe!
How to avoid World War III: Don't mess with the family favorite camping Thanksgiving dinner recipes!
This Dutch oven classic sage sausage dressing recipe is a blend of holiday flavors … sage, poultry seasoning, onions, celery … but as our family tends to do, we add a little extra to the classics!
For this Thanksgiving favorite, we added a little garlic and rosemary and have not changed our recipe since.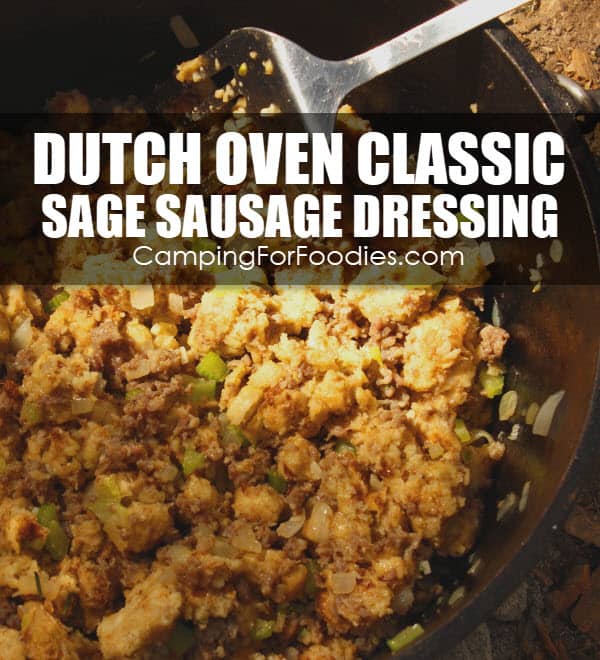 Psst we're compensated…see our disclosures.
Dutch Oven Classic Sage Sausage Dressing
When we make this at home it bakes in the regular oven but when we make it at the campsite, it's Dutch oven all the way!
This recipe can be made in a Dutch oven, camp oven, solar oven or RV oven. (Obviously, I prefer a Dutch oven … he he)
Lodge Camp Dutch Oven, 4 Qt
Coleman Camp Oven
Portable Solar Oven
&
---
Preheat Dutch oven to 325 degrees (for a 12 inch Dutch oven you need 23 coals total = 16 Top/7 Bottom).
NOTE: baking times vary depending on outside air temperature, elevation and humidity so be ready to make adjustments as necessary.
See my Dutch Oven Temperature Chart post for more information and tips.
&
---
Disposable Foil Dutch Oven Liners
Camp Cooking Tip: Thanksgiving dinner clean-up at the campsite can be challenging.
If the people I am camping with are willing to pitch in to help with cleaning after dinner … GREAT!
If they are more of the "I'll keep the campfire going while you do the dishes" type, then I try to use disposable gear like Disposable Foil Dutch Oven Liners (make sure you get the right size liner because it is not easy to fit a 14″ liner in a 12″ Dutch oven!)
Oh, one more camping tip … I try to avoid camping with "campfire tenders" unless I am doing my only-once-a-year hot dog and canned beans menu. LOL
&
---
I bet you have some classic recipes that your family and friends expect to be on the table at specific holidays. 
We certainly do!  Some of them are not my favorites but I partake because it is part of our tradition. 
Others, I am happy to help myself to second (and sometimes third) portions! 
Note:  If you want to cook this in a regular oven, just spoon the combined mixture into a greased 2-quart baking dish and you won't have to stir during cooking.
---
If you are using charcoal briquettes with your Dutch oven, a Rapidfire Chimney Starter is great because it is a fast, efficient and clean way to light your charcoal.
Chop your veggies on cute retro RV camper trailer Flexible Cutting Mats!
They are lightweight and easily hang from hooks. And, make sure your cast iron cleanup is not almost effortless with these Cast Iron Pan Cleaners.
&
Rapidfire Chimney Starter
Flexible Cutting Mats
Cast Iron Pan Cleaners
&
---
Print This Thanksgiving Dutch Oven Classic Sage Sausage Dressing Camp Recipe!
Ingredients
1 pound loaf day old bread
1/2 teaspoon poultry seasoning
1 cup chicken broth
2 eggs – beaten
1/3 cup butter
1 cup onions – diced
1 cup celery – chopped
16 oz bulk sage sausage
3 cloves garlic – minced
Pinch fresh rosemary – chopped
Instructions
Heat the 12-inch camp Dutch oven.
Combine in a bowl: bread, poultry seasoning, chicken broth, eggs.
Melt the butter in the Dutch oven.
Sauté the onions and celery.
Add and lightly brown the sausage, then add the garlic and rosemary.
Add the bread mixture to the Dutch oven and stir to combine.
Bake at 325 degrees for approximately 20 minutes. Occasionally stir the mixture throughout the cooking process … because this dressing is being cooked directly in the Dutch oven (and not in a separate baking dish) it will get crispier (which our family loves) but it will also have a tendency to burn so keep stirring to avoid that.
Nutrition Information:
Yield:
6
Serving Size:
1
Amount Per Serving: Calories: 604Total Fat: 26gSaturated Fat: 13gTrans Fat: 0gUnsaturated Fat: 10gCholesterol: 96mgSodium: 723mgCarbohydrates: 89gFiber: 33gSugar: 8gProtein: 19g
---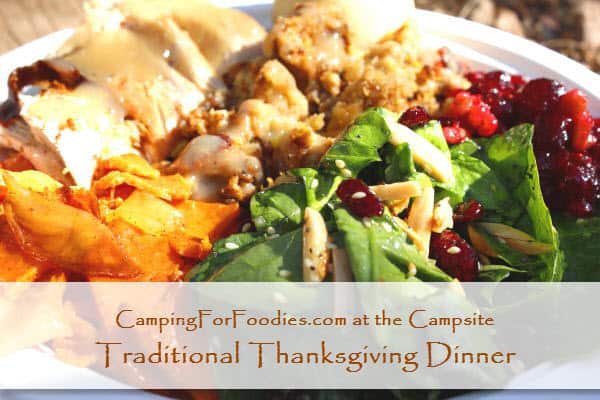 This is one of the recipes we make when we are camping on Thanksgiving. See our entire menu on our Traditional Thanksgiving Dinner At The Campsite post.
&
---
Get tips for cooking the big meal on our Thanksgiving Dinner At The Campsite With Camping For Foodies post.
&
---
Get trip planning help on our Easy Tips for a Thanksgiving Camping Trip post!
&
---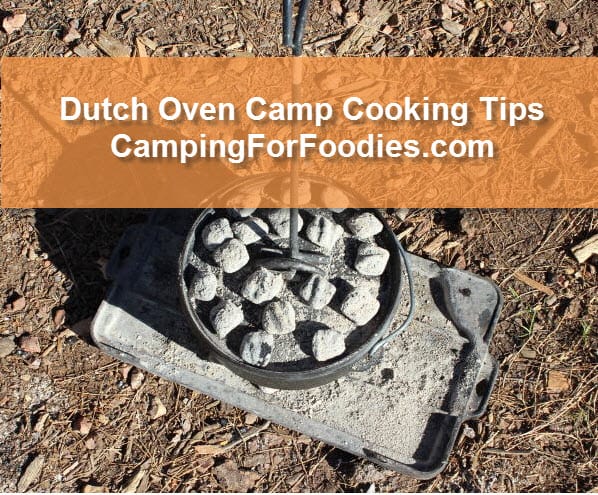 Check out our Dutch Oven Camp Cooking Tips post for more helpful info to cook like a pro with your camp Dutch oven!
&
---
No time to look for recipes, create a menu and write a grocery list? No Problem! Get our 3-Day Dutch Oven Camp Menu Plan here!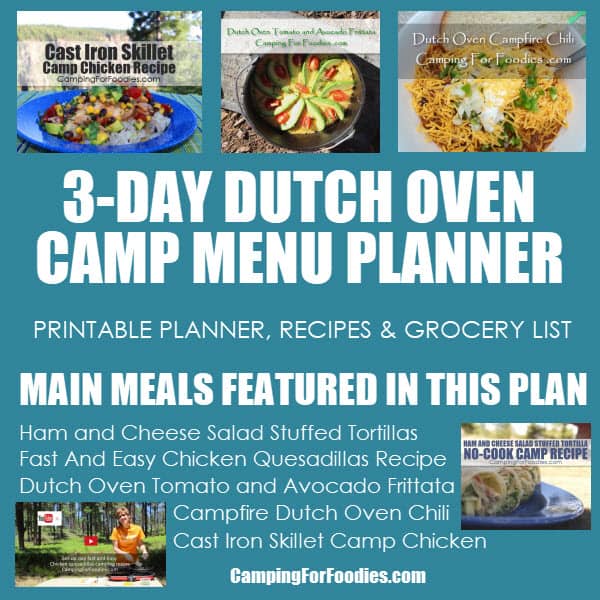 ---
Our Cool Camping Products Make Great Gifts!
Cutting Mat
Mat Set
Shaker Set
Hammock
&
---
If you need camping recipes and menu ideas, you can find them here at the Camping For Foodies Camping Recipes list.
Don't miss a thing…sign up for Camping For Foodies email updates!
Your purchase of our products will help support World Vision ® Building a better world for children.