The Best Camping Drinks For Adults That Are Worthy Of A Toast!
Our camping recipes list would not be complete without a few cocktails!
What's your preference: Shaken Or Stirred?
Camping is a time to unplug, rest and relax. When we camp, we like to spend time with family and friends while enjoying good food and cocktails.
Not all camping cocktails need to contain alcohol but they certainly can if that's your preference.
We've got options for both in our awesome recipes for the best camping drinks! 
Psst we're compensated…see our disclosures.
Yummy Camping Drinks For The Entire Crew
We have some drinks that contain alcohol and are for adults only. Others are booze-optional so kids can enjoy the alcohol-free version! So, our list is organized with…
camping alcoholic drinks
fun camping drinks with optional booze
---
Camping Drinks For Adults Only
Mochatini Camping Cocktail Recipe
With a flavor combination of chocolate, coffee and cream, this Mochatini is a yummy treat to sip after dinner.
This is one of the best boozy camping drinks to make if you are wanting something a little sweet but not a big dessert.
And, if you need some ideas for dinner, we can help you make some AMAZING camping food too!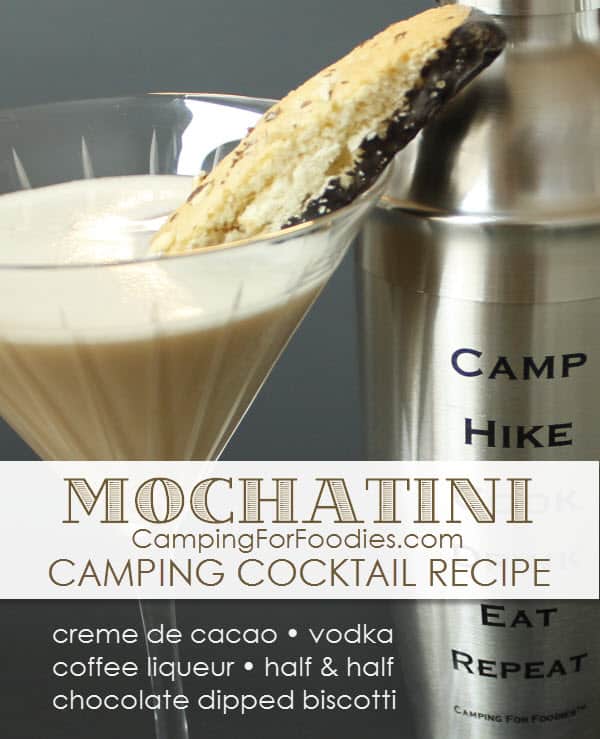 ---
Fruit Martini Cocktail Recipe aka Fruity-Tini Camping Martini
The fruity flavors in this drink come from the booze and juice. Add some Apple Vodka, Watermelon Pucker, Banana Liqueur and Cranberry Juice to your shaker and create an amazing cocktail that says, Welcome to Summer!
---
5-Piece Camping Cocktail Shaker Gift Set.
There is no better way to get a drink really cold than to shake it with ice.
We love our 5-piece camping cocktail shaker because it is stainless steel which means it gets drinks really cold almost immediately, it won't break during travel, it has a sleek design and it has a fun camp-themed message.
It makes a great gift that you don't even have to wrap because it comes in a decorative box!
Shaking your camping cocktails is just one way to enjoy an icy cold beverage.
Check out these 19 hacks to learn how to keep drinks cold when camping!
Camping Themed Cocktail Shaker Gift Set
---
---
Camping Flexible Cutting Mat
When your camping drink recipes call for sliced fruit, it is great to have a flexible cutting mat for the task!
We love our Camping Flexible Cutting Mat because it is lightweight, has a totally cute camping design and it can be hung from hooks when we are not using it.
It makes a great gift too!
Camping Themed Flexible Cutting Mat
---
Ginger Beer Moscow Mule Cocktail Recipe
One of the most refreshing summer cocktails is the Ginger Beer Moscow Mule.
The combination of lime and mint really cools the palate. There are lots of variations to this cocktail and can even be made without alcohol too!
---
Moscow Mule Copper Mug Set
The traditional way to serve a Moscow Mule Cocktail is in a copper mug because it keeps the drink so icy cold.
Some even come with a copper straw to make sure your cocktail stays cold as long as possible!
This set comes with 4 mugs, copper straws, a shot glass and spoon.
Copper/Rose Stainless Steel Moscow Mule Mug Set
---
Snugglin' In The Hammock Cocktail Camp Recipe
Sipping a sweet & fruity, cool & refreshing camping drink while relaxing in a hammock at our favorite campsite is how this camping drink got its name.
Just make sure you take the time to relax in the hammock because shakin' a yummy camp cocktail is really hard work … whew! 
---
Raspberry Lemon Drop Camping Cocktail Recipe
When you want to enjoy a slight pucker, this camping cocktail recipe will do the trick!
The tartness of the lemon contrasts nicely with the sweetness of the raspberries and earthy flavors of the fresh rosemary.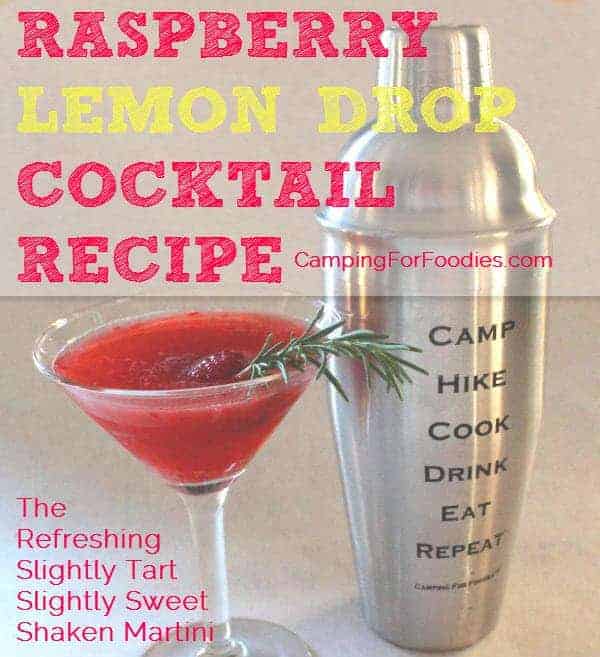 ---
---
Sonoran Sunset Sensation Cocktail
This super-simple cocktail uses only three ingredients that combine to resemble the color of a gorgeous Arizona sunset. It serves one but can easily be scaled to serve large groups of campers in mere minutes!
---
With Or Without Alcohol Camping Cocktail Drink Recipes
These are some of the best drinks for camping because they are alcohol-free so every camper in your crowd can enjoy them. For the adults who want a spiked version, you can easily add a shot of your favorite booze.
Lemon Mint Cocktail aka Mint-Kissed Lemontini Camp Recipe
If you are looking for kid-friendly camping drink ideas, you found the perfect one right here!
This is one of the best camping drinks the entire family will enjoy!
Our Lemontini is the most refreshing, freshly shaken lemonade recipe you will ever taste … kids of all ages go WILD over it!
This starts as a non-alcohol camp drink so for the adults in the crowd who want their drink spiked, just add a shot of vodka to the shaker (it's all in the recipe so check it out and enjoy!)
---
Chocolate Covered Almond Mocha On The Rocks
You don't have to miss your favorite coffee house when you are in the wilderness! This camping coffee drink is easy to make if you brew a little extra java in the morning. It's a non-alcoholic drink that is kid-friendly. But, for adults who want an alcoholic version, you can just add a shot of booze to the shaker along with the other ingredients.
---
---
Red Grapefruit Fizz Cocktail
Did you ever hear about Arizona's 5 C's? The state was built on Copper, Cattle, Cotton, Citrus and Climate. So, when we want a super-refreshing drink, we shake up a bit of grapefruit, orange and lime + a few extra ingredients to create this alcohol-free cocktail. Prefer an adult version? Just add a shot of vodka or gin.
---
Cucumber Lemonade Chiller
You can't get much more refreshing than combining fresh lemon, cucumber and mint! These ingredients are muddled then shaken so they are icy cold and strained from a cocktail shaker and served over ice.
---
Campfire Hot Cocoa
Not all camping happens during the hot summer months! For those times when the air is a little chilly and you need a warm camping drink, it's time to heat up the milk and make a cozy cup of Campfire Hot Cocoa!
This easy recipe consists of 4 simple ingredients to make the dry mix. If you want to give it as a fun gift, just add it to a mason jar with a cute ribbon and label … pair it up with an adorable camping-themed mug and BAM … You're done!!!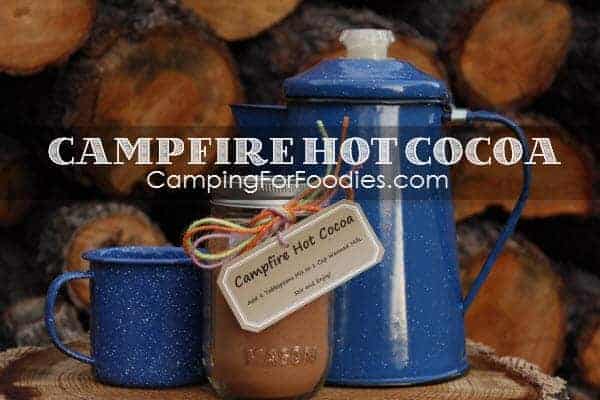 ---
Wanderlust White Camp Mug
There are sooooooo many unique camping-themed mugs you are bound to find one that is the perfect gift … for yourself or for someone you love!
Yes, it is ok to give yourself a gift every so often! LOL
Camp Casual Wanderlust White Mug
Warm You Up Camping Beverages
---
Camping Food Pairings For Happy Hour
Campers cannot live on cocktails alone! We've got some really awesome recipes that are great to serve with your afternoon drinks.
We highly recommend:
Easy Blue And Cheddar Cheeseball
Camping Nachos
Strawberry Basil Bruschetta Camping Recipe
Dutch Oven Campfire Spinach Dip
Fresh Guacamole Appetizer Snack
Flatbread With Prosciutto, Charred Tomatoes, Fresh Mozzarella And Basil
Stuffed Baby Bells Dutch Oven Campfire Appetizer
Rosemary Spiced Nuts Camping Snacks
See all of our camping snacks and appetizers!